What's not to love about Kbeauty? The Koreans have come a long way to perfecting problems of fine lines and tiger scars on the face and its about time now that Malaysians follow in the footsteps too. Your moisturizer is as important as brushing your teeth in the morning, and one should neglect, well neither one.
The proper moisturizer can do wonders for your skin and face and its time you found proper skincare, one that would tackle your condition. That's why these Korean moisturizers listed below would be a perfect fit for anyone with any type of skin condition.
Why is it so important to choose a moisturizer?
In simple terms, a moisturizer helps reduce skin problems. Your skin needs the proper nutrients to help it not be too dry or rather too oily. Its sole purpose is to ensure that your blemishes are camouflaged and a moisturizer acts as that 'tool' to keep your skin protected at all times.
How do I choose a moisturizer?
It all depends on your skin type actually. If you have oily skin, you would need to go with an oil-free gel moisturizer and if your skin is sensitive you would need to stay away from anything that has harsh chemicals in it. For combination skin, on the other hand, you would need to go with a light and easy moisturizer.
As for dry skin, opt for something a little heavier and concentrated. If this is all still too confusing for you, have a look below at some of the Korean moisturizers that could do your skin some justice.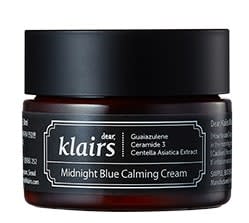 Klairs Midnight Blue Calming Cream
RM 81.5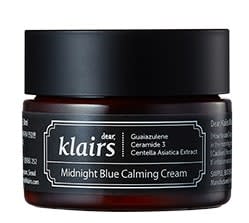 add_circle
Suitable for sensitive,eczema and psoriasis prone skin
add_circle
Fragrance-free
Klairs' Midnight Blue Calming Cream comes to the rescue for those with acne-prone and dry, irritated skin as it proves to do more good than harm.
Do not let the blue in the cream worry you though, as it is completely harmless. The colour comes from the key ingredient, Guaiazulene, a dark blue crystalline hydrocarbon that originates from chamomile oil.
Why the blue ingredient is important you ask? Apart from being an all-rounder in products such as shampoos and soaps, it helps with inflammation and irritation. It also comes with Centella Asiatica, which is beneficial in the department of harsh skin conditions such as eczema and psoriasis.
There's also 'madecassoside', an active skincare ingredient from the plant itself. It can boost antioxidant activities when exposed to wounds or cuts, then eventually strengthening the skin and help increase blood circulation.
Among its many benefits, it has been a generational use as well for the people in India, mainly for its anti-ageing properties. Cruelty-free and fragrance-free, this one's perfect for you.
---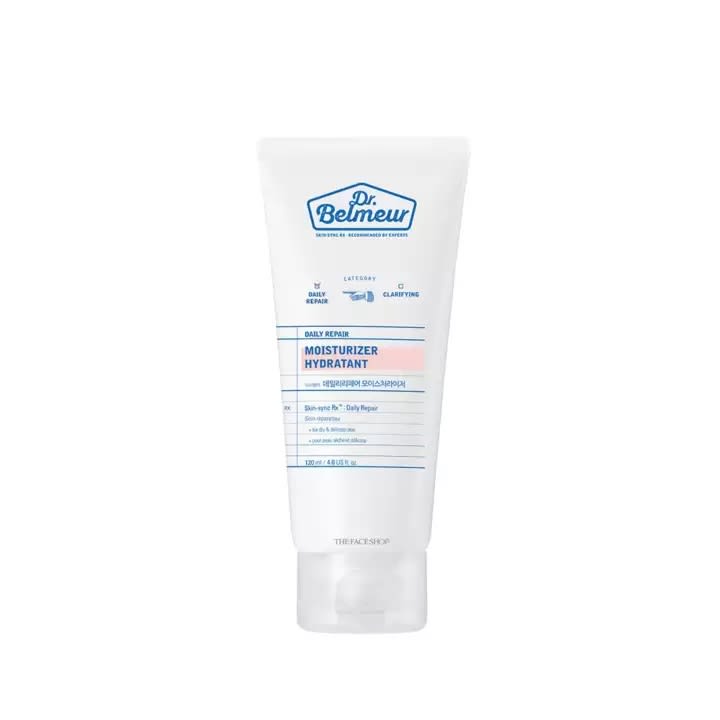 The Face Shop Dr. Belmeur Daily Repair Moisturizer
RM 97.2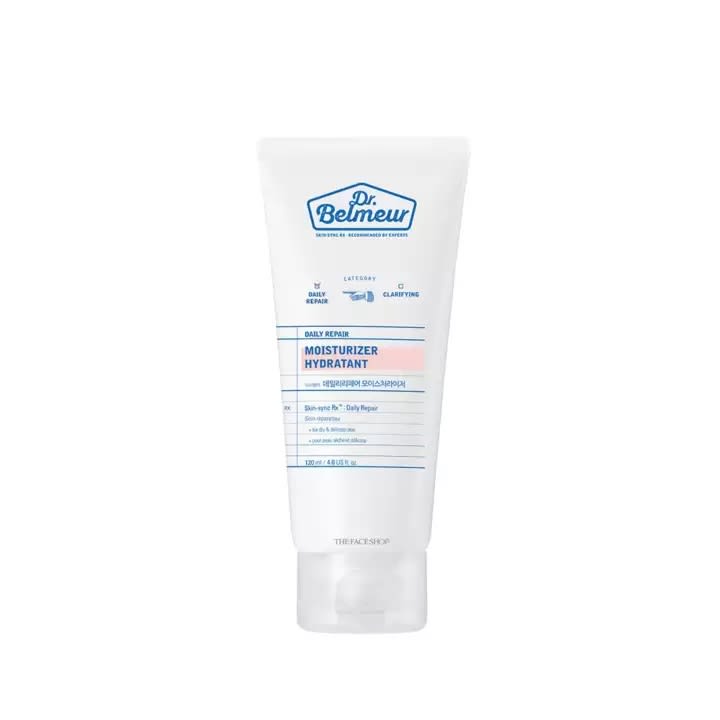 add_circle
Suitable for sensitive skin types
add_circle
Convenient packaging
People with sensitive skin have it hard at all times. One wrong move and you will end up having skin that would sting and redden for the following days to come. Luckily with The Face Shop's Dr. Belmeur Daily Repair Moisturizer, your dry, sensitive skin will be left feeling calm and protected.
This low-irritant moisturizer is also formulated with some of the best plant-based ingredients which are specifically targeted for normal to dry skin types, too.
Containing Skin-sync RX, which is Dr. Belmeur's very own custom made formula that offers solutions for common skin problems, the three key ingredients formulated from it are, phytosphingosine, moroheiya and birch tree sap. All of which have their benefits and also help form a moisture barrier to calm the skin.
There's also phytosphingosine in the ingredients to help replenish your skin's natural barrier. Also, moroheiya is used to restore the moisture within the skin's barrier by retaining moisture.
Additionally, this product is also completed with birch tree sap, which has a high level of vitamins and antioxidants needed to soothe and calm redness for healthier-looking skin.
Another added advantage from this moisturizer? That it is free of 10 additives, including parabens and artificial fragrance.
---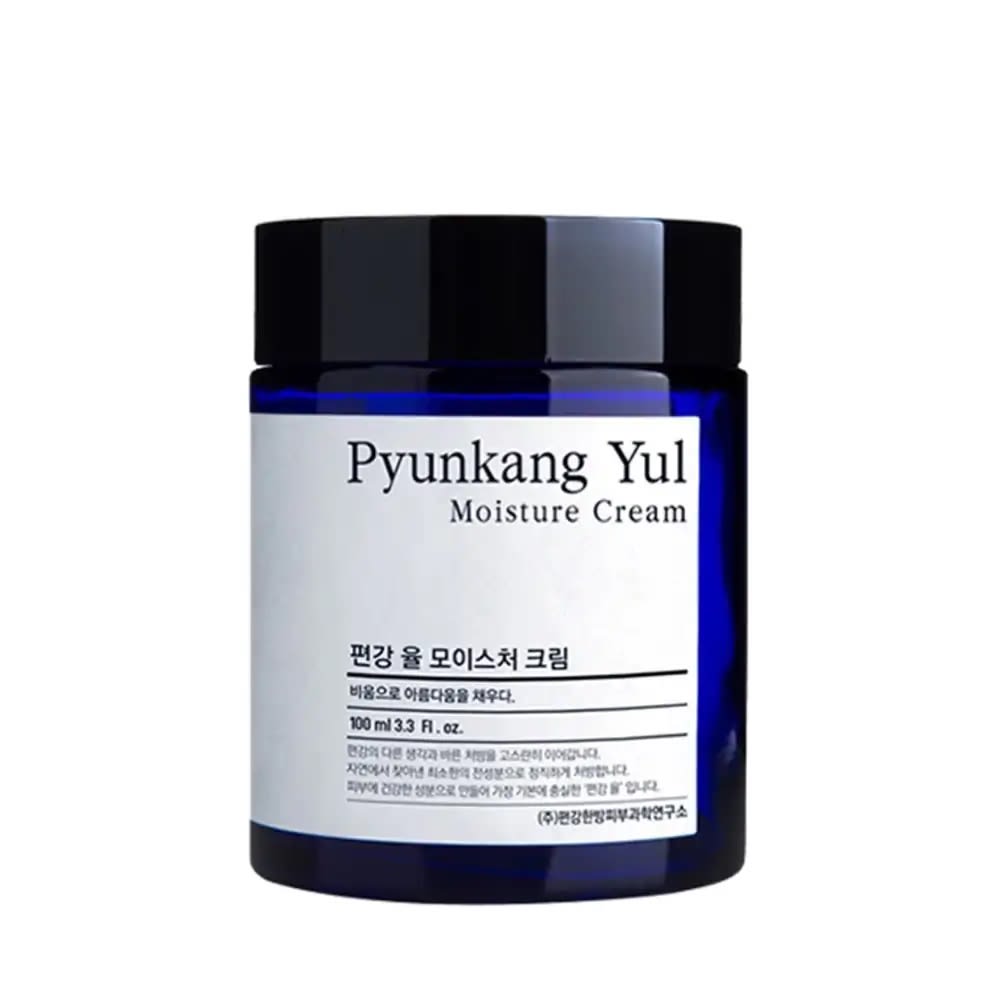 Pyunkang Yul Cosmetic Moisture Cream
RM 80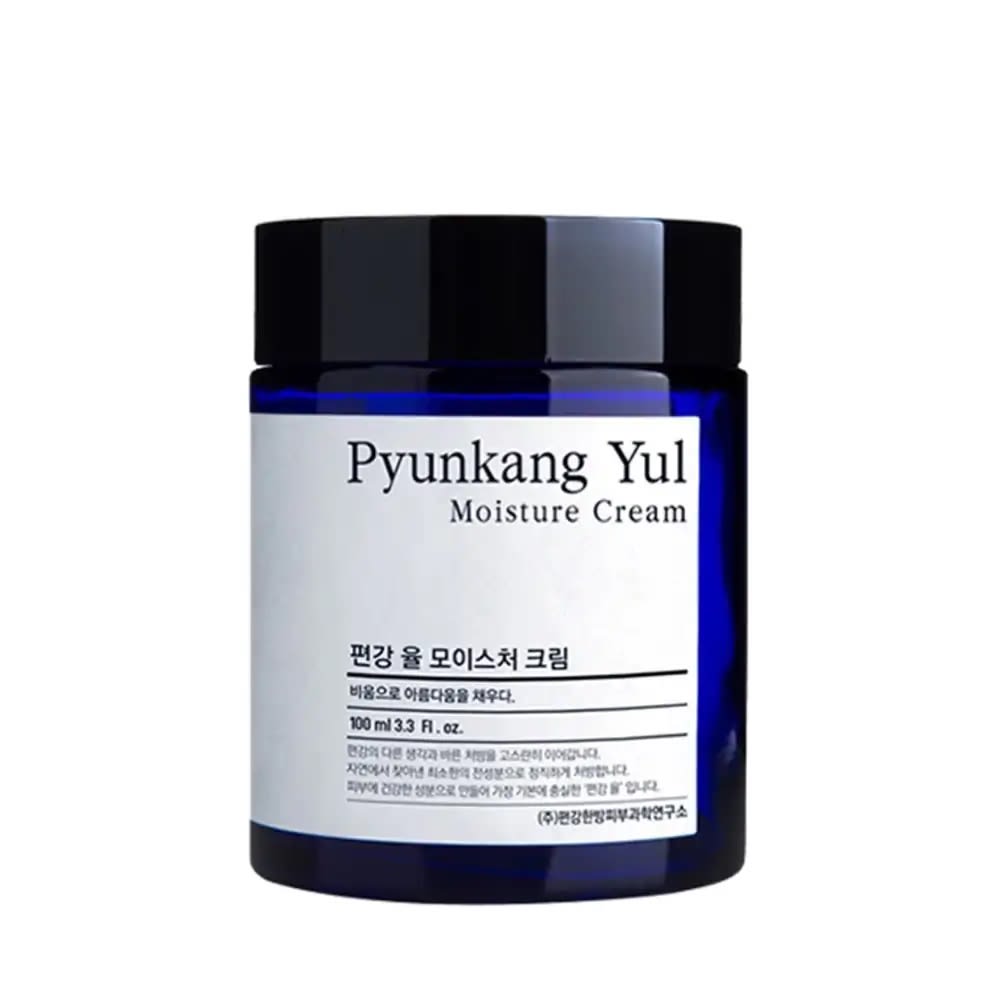 add_circle
Suitable for use of babies and adults
add_circle
Suitable for sensitive skin
add_circle
Creamy texture
Pyunkang Yul's Moisture Cream is what you would need for your sensitive, acne-prone, dehydrated skin. Formulated with safe and chemical-free ingredients, this fragrance-free cream is even suitable for the use of children.
This cream is made with their trademarked star ingredient - the Coptis Japonica root extract, also known as Goldthread. It's an Asian herb that's high in antioxidants that gives your skin that cooling sensation when applied on your face. It helps to balance your facial oils too.
There's also have jojoba oil that's rich in fatty acids and can treat inflamed skin. Besides, it can mimic the human sebum, leaving your skin stabilised; that's a perfect match for acne-prone and oily skin.
Shea butter is also an important ingredient in the list as its high concentrations of fatty acids and vitamins make it an ideal cosmetic ingredient to soften your skin.
With an incredible amount of antioxidants such as vitamin E and polyphenols, it can gather anti-inflammatory properties, that aid with dehydrated skin. There's a host of other worthy ingredients that can give your skin a supple finish and grease-free texture.
---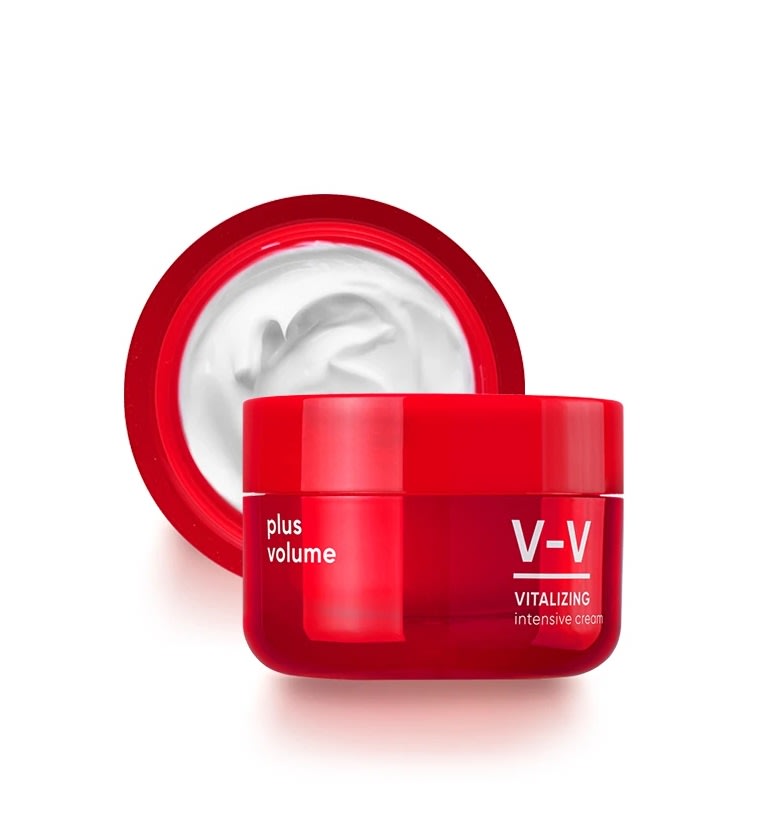 Banila Co. VV Vitalizing Intensive Cream
RM 106.32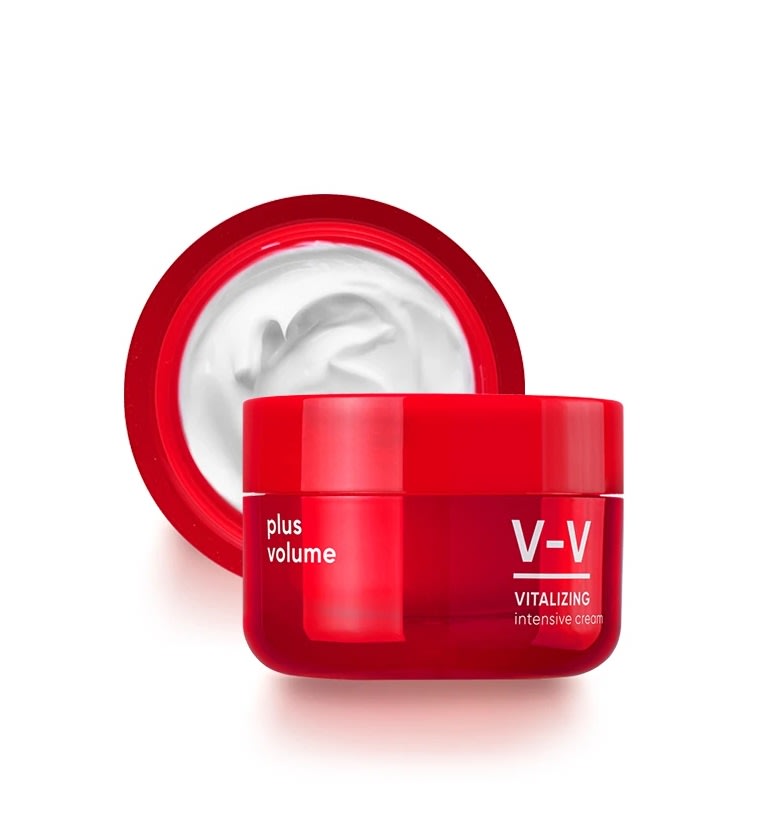 add_circle
Has a very rich, creamy feeling
add_circle
Perfect for ageing, matured skin
add_circle
Cares for wrinkled skin
remove_circle
May leave a sticky residue
As time goes by and fine lines start to appear out of thin air, keep it at bay with Banila Co's VV Vitalizing Intensive Cream. Yes, it is as intensive as it sounds.
The cream itself is made up of Banila Co's three signature ingredients - V-collagen, Mega Pump up System and Volume Berry Complex.
The V-collagen is made up of five different types of collagens which are pine collagen, fermented bean collagen, fungal collagen, Phyto collagen and low molecular weight collagen.
Collagen, as you all know, is the 'key' in cosmetics as it helps increase elasticity and firmness of the skin. It also prevents new wrinkles from forming while smoothening out existing ones.
With the added moisture, collagen can work its magic for hours by providing a firm lifting effect on the skin.
Mega Pump Up System, on the other hand, comprises of peptides and amino of silks. They both can maintain the elasticity of your skin and clear it off wrinkles, thanks to the use of silk peptides.
The Volume Berry Complex is inclusive of wine tannin, pomegranate estrogen and tomato beta-carotene. The combo can help fight free radicals and leaves skin looking radiant.
---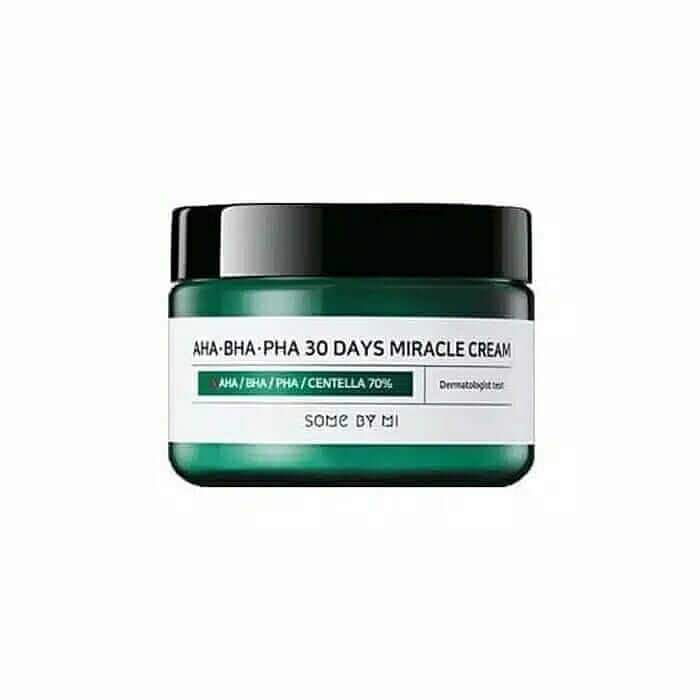 Some By Mi AHA BHA PHA 30 Days Miracle Cream 60g
RM 41.8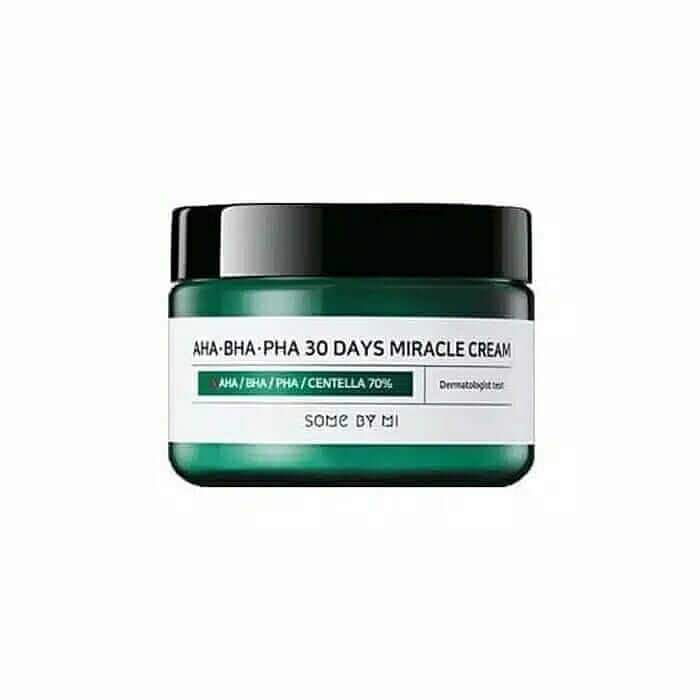 add_circle
Suitable for acne prone skin
add_circle
Is able to calm skin irritations
remove_circle
May have a light scent
With miracle in its name, this one is sure to work wonders for your acne-prone skin! This cream by Some by Mi! is made with four different Centella components - Asiatic acid, madecasic acid, asiaticoside and madecassoside.
While Centella itself has proven to have potent antioxidant properties rich in amino acids to help soothe upset and compromised skin, these four components don't fall short from the list.
Asiatic acid is an active antioxidant that helps boost the dermis layer of the skin and helps reduce the glycation effect. While madecassic acid is biologically the most active component of Centella, contributing to skin regeneration, wound healing and moisturizing properties.
Asiaticoside and madecassoside are used to help reduce the redness, anti-scaling and reduced itching feeling of the skin.
Also completing the ingredient list are tea tree extract, lavender, rosemary oregano and thyme to help treat troubled spots with their herbal advantages. You might just as well start to believe in miracles after getting this wonder cream.
---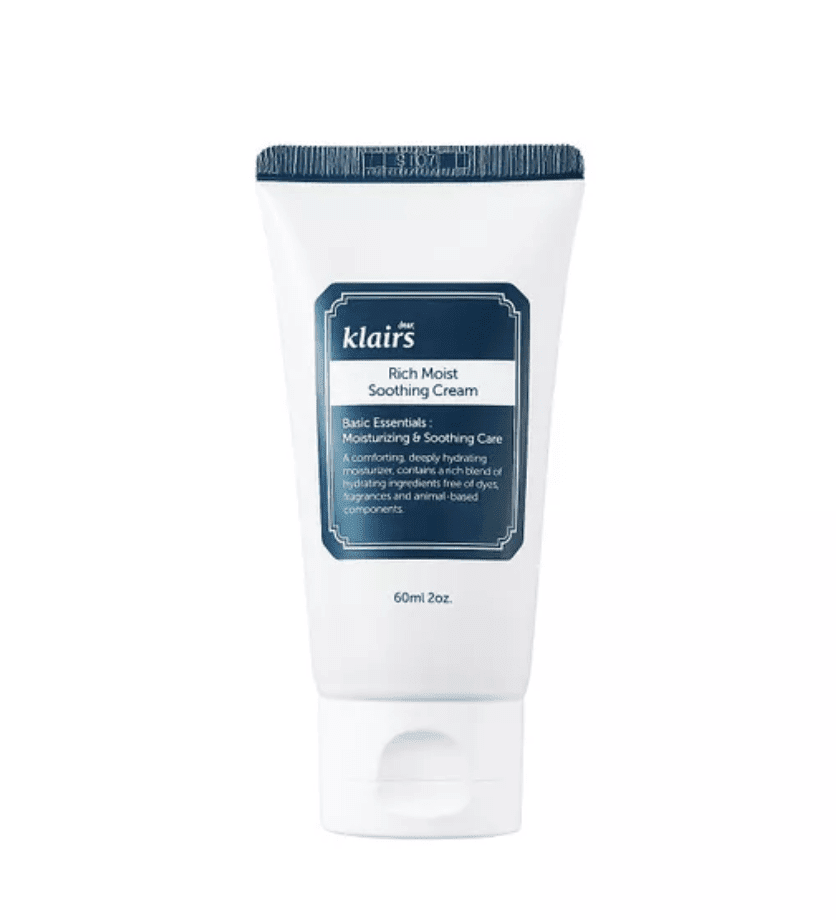 Klairs Rich Moist Soothing Cream
RM 77.5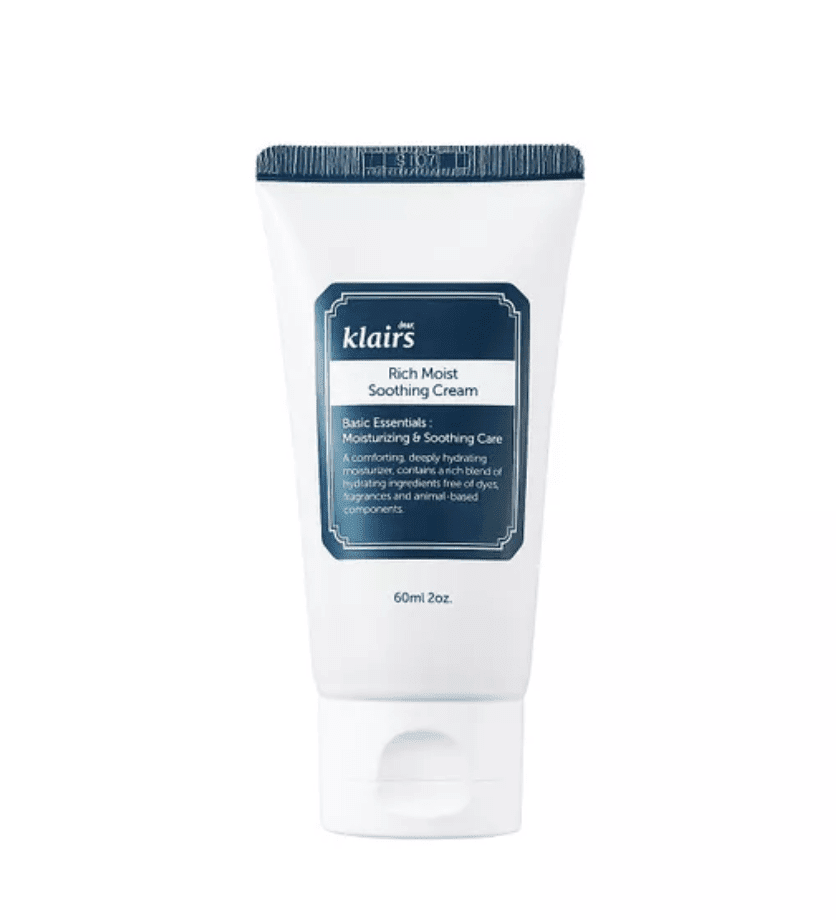 add_circle
Soothing texture for irritated skin
add_circle
Hydrating for dry skin types
add_circle
Anti-ageing lines are treated well
remove_circle
Not suitable for oily skin types. Results in oily patches
Fit for all seasons and weathers, Klairs' Rich Moist Soothing Cream is an all-year rounder bargain. When your skin lacks moisture, it tends to get irritated. Klairs' have designed this cream so that it can give the right amount of moisture to your pores, helping with redness and dry patches.
This lightweight cream is combined with ceramide 3, lipidure and shea butter, for the well being of your skin texture. Ceramides are made of lipids that help with forming the skin's barrier and helping skin retain moisture.
To get rid of permeability, it can lock moisture into your skin, stopping it from being dry and itchy. Lipidure is often used in skincare products due to its excellent retention abilities and for shielding the skin from irritable substances.
Besides, shea butter extract for the body, especially for the face helps condition, tone and soothe your skin. This moisturizer also has yeast from beta-glucan for the regeneration of new skin cells. Travel-sized, Klairs' soothing cream will be able to show changes if used regularly.
---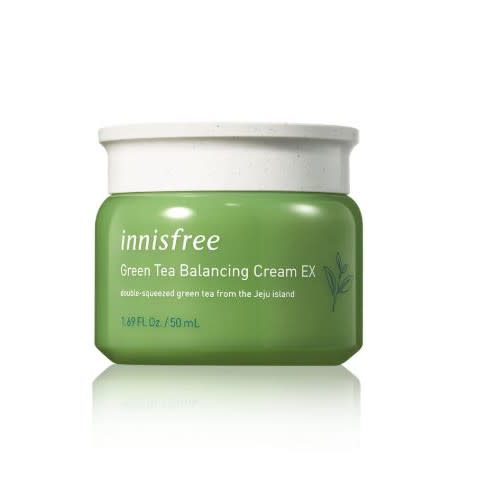 Innisfree Green Tea Balancing Cream EX 50ml
RM 53.99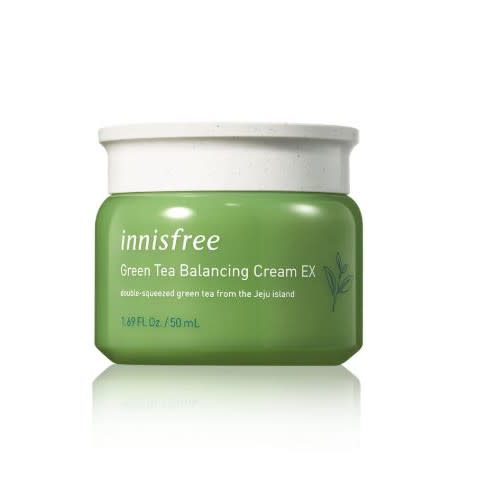 add_circle
Scent is likeable
add_circle
Works well for combination skin
add_circle
Creamy, moisturizing texture
remove_circle
Might cause acne breakouts for some skin types
It is not a complete list of Kbeauty products without Innisfree in it. It always is tricky to find a suitable product for combination skin as you would need one that covers multiple skin types. Thankfully, Innisfree's Green Tea Balancing Cream EX is able to help with that problem.
Without leaving an oily residue when applied, this eco-friendly cream comes rich in amino acids, antioxidants and minerals, for the replenishing of the skin.
Green tea is beneficial for many parts of your body. So, with their organically grown Jeju green tea and enriched with 16 amino acids, they can benefit your skin more than just keeping it moisturized.
It also acts as a powerful antibacterial agent for treating acne and unclogging pores. Also beneficial is cocoa butter which helps create a virtual shield to lock in hydration. That works to maintain the skin's oil-moisture levels.
This moisturizer is grease-free and not sticky. So, your skin will be left feeling soft and hydrated all day long.
---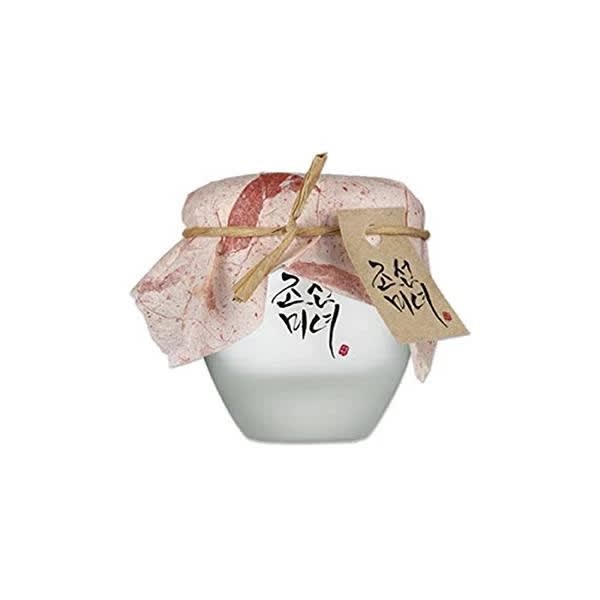 Beauty Of Joseon Dynasty Cream 60g
RM 73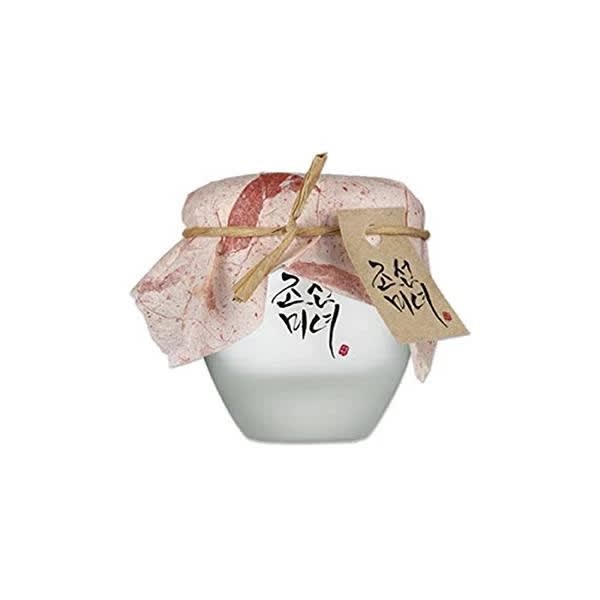 add_circle
Works well for combination skin
add_circle
Rich consistency
add_circle
Does not give acne outbreaks
remove_circle
Sticky texture
remove_circle
Might not show immediate changes for extreme dry skin types
Beauty of Joseon Dynasty's Cream has a very regal-looking packaging and it looks like it's meant to be used by the queen only. However, we're all queens when it comes to taking care of our skin, aren't we?
Infused with Hanbang, a traditional Korean herbal medicine, this one reaps a very traditional benefit. Dating back to centuries ago, Hanbang has been used to treat illnesses and maintain overall health.
However, along the way, it has paved a way towards Korean skincare. Hanbang skincare combines traditional with modern, which is why you might notice the merging of ingredients like niacinamide, shea butter and glycerin that's formulated with the product.
Rather than targeting a specific skin problem, it seeks to treat the whole foundation of the skin, for the betterment of it. Pretty impressive right?
Beauty of Joseon Dynasty also combines the likes of ginseng and honey extract to tighten skin and form a protective barrier to fight irritable factors. This luxurious and pampering cream deserves to be every woman's skincare routine.
---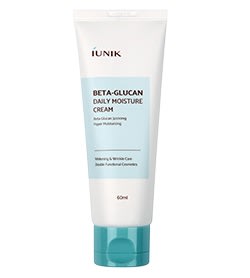 Iunik Beta Glucan Daily Moisture Cream 60ml
RM 26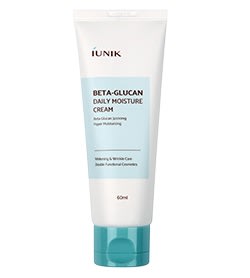 add_circle
Fragrance-Free
add_circle
Cares for wrinkled skin
remove_circle
Might sting for sensitive skin types
Iunik's Beta Glucan Daily Moisturizer Cream has a very impressive set of ingredients catered for your skin needs. One of its key ingredients is placed within the product name itself - Beta-glucan.
It is derived from mushrooms and comes with great antioxidant properties that help improve the look of redness and other signs of dry skin; all the while being 20% better in retaining moisture than hyaluronic acid.
You also have Centella Asiatica extract that works wonders for wrinkled and aged skin preventing future blemishes and being able to increase antioxidant activities and blood circulation for the skin.
It also can do wonders for acne sufferers, by speeding up the healing process and minimizing scarring. The best ingredient of all? Their specially made red fruit complex comprising of prunus, raspberry, strawberry, peach and Punica (Latin for pomegranate).
With prunus being able to leave skin feeling soft and smooth, raspberry is high in vitamin C and antioxidants, to help protect the skin from UV damage.
While strawberry is naturally acidic, it can remove extra sebum on the skin and is very purposeful in lightening blemishes. You then have peach which does wonders for tired-looking skin and it tightens the pores too.
Also, Punica, which is helpful in cellular regeneration, keeping sagging skin at bay. Now that's some ingredients worthy of its list right?
---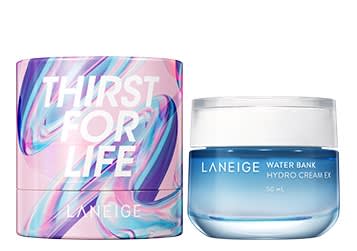 Laneige Water Bank Hydro Cream 50ml - Thirst For Life Edition
RM 155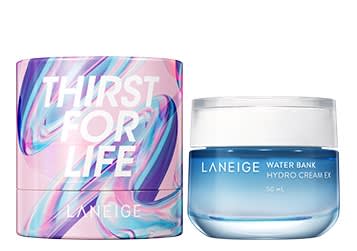 add_circle
Works well for combination skin
add_circle
Does not leave a sticky residue
add_circle
Does not give acne outbreaks
remove_circle
Alcohol may sting for some users
You would want this on your list, mainly for the packaging itself. Laneige's Water Bank Hydro Cream 'Thirst for Life' edition comes with a very catchy psychedelically coloured box that will be the envy of others.
That aside, the formula in this moisturizer can improve skin's moisture with many of its beneficial ingredients. They use their very own 'Green Mineral Water' that has been extracted from a range of vegetables such as kale, watercress and beetroot, through the ocean brew.
There's also their beautiful skin purification process with the antioxidant effect of garden cress. It can remove harmful and active oxygen to help improve the skin's defensive abilities.
Additionally, the Hydro Cream is able to keep the skin feeling fresh and moisturized throughout the day. Born from over 25 years of moisturizing research, you'll be able to feel as cool as a cucumber with each use.
Also, the Thirst for Life Edition was launched to inspire people to bring about a change in their lives and take a leap of faith, to better themselves. So why not purchase a product that could do wonders for your skin?
---
Disclaimer: The pricing shown is just a good indication of how much these products are worth. The prices could change based on the e-commerce promotions that are going on. If some of the products are not available, do email us at [email protected] Thank you!
Like writing about great products? We're hiring! Learn how you can write for us!