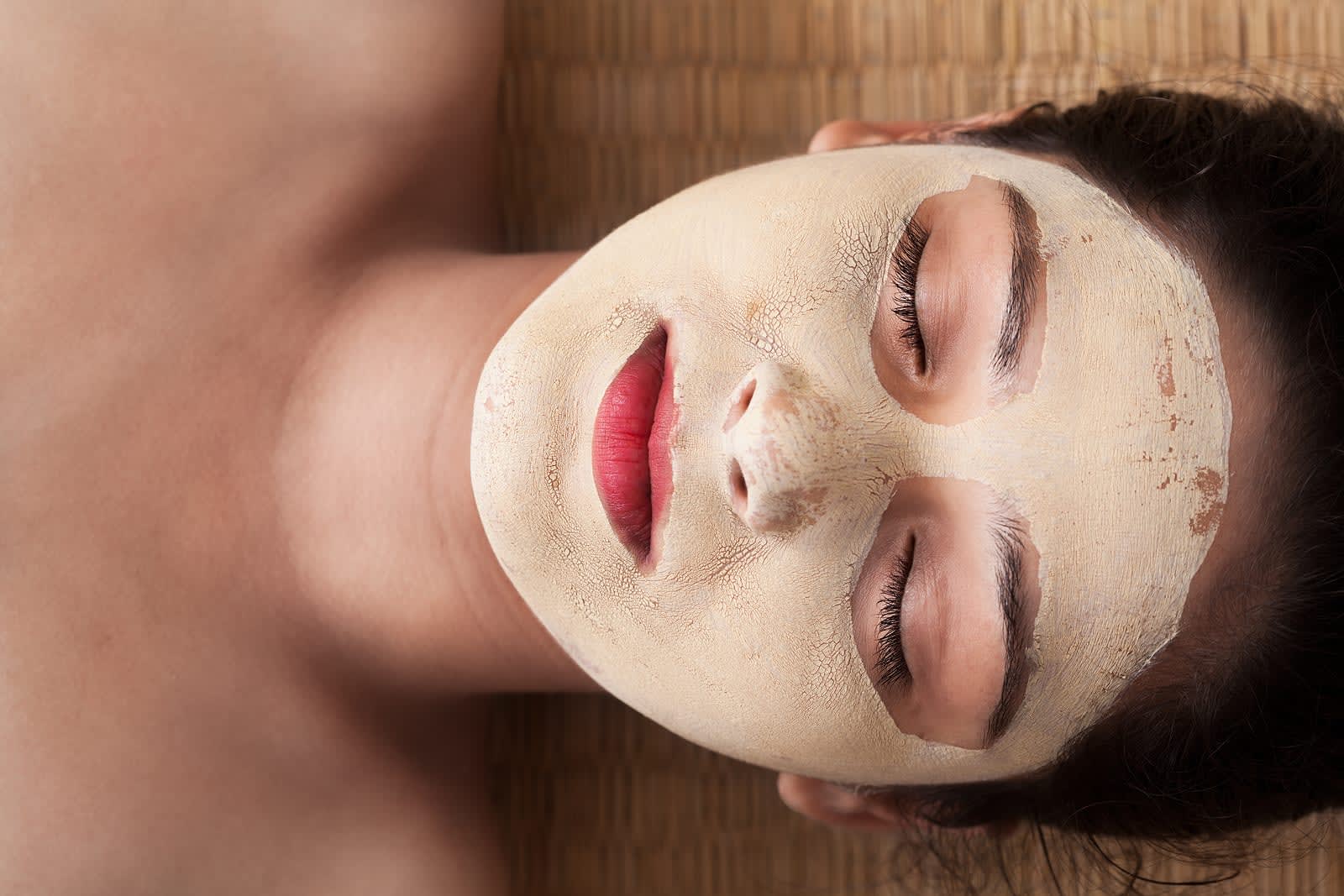 Face masks are one of the much-loved skin care products. They're easy to put on, fun to use and are great at conveying results. In my opinion, they are one of the little joys in life — like lying in bed with freshly washed-sheets after a long day of wearing it once you get home.
We know that they feel oh so incredible and give you some of the most uncompromising luxurious feelings. Even better with some wine and candles are involved. My favorite thing about applying a good face mask is the consistency of the mask, the comforting smell and the overall tightened and toned feeling after.
Although a facial mask can be your at-home solution to treat a particular skin condition, it is imperative to pick the right item products fitted to your requirements. Listed below are some of the best face masks available in Malaysia targeted to specific skin conditions:
1. DR.JART+ Rubber Mask Firming Lover
Best Korean face mask for firming - with Salicylic Acid
Price from RM25.30
If toned, revitalised and supple skin is what you're after, then the Dr. Jart+ Rubber Mask Firming Lover is your best bet to achieve just that. A 2-step mask, the serum of this mask is formulated with Salicylic Acid, red seaweed and berry complex to help your skin firm up and stay moisturised. The rubber mask is also specifically made from algae to react with calcium to calm and cool your skin, allowing actives to cling to moisture, giving you the maximum benefits possible from a face mask!
Our Review
This two-step face mask has a great formula consisting of salicylic acid, red seaweed and berry complex to support natural skin elasticity and result in instant tightness. One use is all it'll take to brighten your complexion and leave your skin feeling more supple!
Read Full Review
8 people added this to their wishlist
2. Bioaqua Natural Green Tea Oil Control Sheet Mask
Best face sheet mask for oily skin and large pores
Price from RM8.85
Greasy looking skin is a big no-no to anybody. Natural green tea extract being the active ingredient in this mask helps improve the appearance of large pores on the skin surface and draws out impurities from oily and congested skin. This mask also does a great job at ensuring the skin looks refreshed and hydrated after use.
Just the right lift-me-up your skin is craving for. That too without breaking your bank balance!
5 people added this to their wishlist
3. Hada Labo Retinol Lifting + Firming Mask 4's
Best facial lifting mask with collagen to even skin tone
Price from RM25.00
Facial lifting? Clinical procedures? Needles? NAH. This mask delivers in high concentration Elasgrow and fermented soy milk, active ingredients which acts as collagen and elastin booster that helps maintain the firmness and density of the skin.
This serum-soaked mask has rich anti-aging properties that do not just lift the skin but also leaves the skin looking youthful and plump. Soy also aids in reducing the appearance of dark spotting on the skin if any. Quick and fast results for even skin tone!
4. Aztec Secret Indian Healing Clay
Best clay mask for blackheads and acne-prone skin
Price from RM43.00
Queen Cleopatra herself swore by this, it was the Holy Grail to her beauty regime. The secret to her controversial beauty has finally been decoded! Clay mask contains Bentonite clay which acts as the superior ingredient that helps remove the buildup of dead skin cells and dirt that has been accumulated on our skin.
Absorbing excess oils is one of the most powerful traits of clay mask that leaves our pores unclogged and skin feeling squeaky clean. This mask is specifically designed to help acne prone skin as it can speed up the process of healing active breakouts.
In the event that you have oily or acne-prone skin, you should need to focus on clay masks when out looking for a skincare routine and the Aztec clay mask is one of the best we have available in our Malaysian market.
4 people added this to their wishlist
5. Bioaqua - 92% Aloe Vera Facial Masks
Best for sensitive skin and to reduce redness
Price from RM8.49
Need an instant thirst quencher for your skin after a long day in the sun? Aloe is widely known as an ingredient that offers immediate gratification for conditions such as inflammation and redness of the skin.
If you suffer from skin that has been damaged by heat due to excess exposure to the harsh rays of the sunlight, aloe instantly provides hydration and moisture as well as soothes the irritated skin at that point of time.
Regular use of this mask on the area of skin where redness occurs can speed heal the sensitive area over time.
4 people added this to their wishlist
6. Laneige Malaysia Water Sleeping Mask 70 ml
Best overnight face mask for dry skin
Price from RM108.78
Screams hydration! This mask is a great beauty tool that provides intensive hydration and maximizes overnight water supply to the skin that retains the moisture of the skin while you are deep in relaxing sleep.
The best part of this mask that makes it highly popular in the Malaysian market is that it is highly efficient and permeable overnight, so it is best applied before hitting the sack. Snow Water ingredient in the mask revitalizes and restores the skin by strengthening the skin barrier.
Also, Chestnuts in the mask aid in removing dead cells of the skin to ensure the water supply to the skin is uninterrupted. As a bonus, the light gel texture of this mask and the aromatic scent allows good and calm sleep throughout the night.
More: 8 Intensive Skincare Face Masks You Can Sleep In
7. Dr.Rashel Charcoal Peel Off Black Head Mask for men
Best Cheap Peel Off Mask For Men
Price from RM11.20
For you awesome male readers who would like to go that extra mile to up their skin regime, this affordable face mask that does the job may come in handy. Considering that this blackhead remover mask has activated charcoal which deep cleanses the skin to keep it free from dirt and looking smoother and is a peel-off mask that saves their time, should give no reason for the boys to slack on their facials!
8. Laneige Clear C Peeling Mask 70 ml
Best exfoliating mask to remove dead skin
Price from RM79.90
Flaky skin? We got you covered! You can now easily address the issue of removing dead cells and impurities to keep skin texture supple and moisturized. Raspberry seeds, konjac granules and strawberry seeds in the mask gently exfoliates the skin and gets rid of all the dead skin layer to reveal a more even and nourished skin.
Also, the natural fruit acid in the mask allows gentle massage which gives a dewy touch to the skin.
2 people added this to their wishlist
9. Freeman Feeling Beautiful Honeydew & Chamomile Sleeping Mask
Best face mask with coconut oil for normal skin
Price from RM19.92
Spa in the comfort of your own home? Why not? The highlight of the mask is the fast absorbing cream consistency that works for normal skin to dry skin, which when left overnight ensures us waking up to a rejuvenated skin that has an instant boost minus the mess.
Honeydews are filled with antioxidant, chamomiles are calming and the key ingredient that sets this mask apart from others of its kind, the deep moisturizing Coconut oil conditions the rough skin to bring back life into the skin.
10. Dermalogica Charcoal Rescue Masque
Best charcoal face mask for brightening
Price from RM179.00
Charcoal masks have been breaking the beauty feed for some time now! What is it that leaves this mask much spoken about? Activated binchotan charcoal containing volcanic ash, bamboo extract, and sea salt exfoliates the skin and at the same time absorbs any skin-deep impurities that are clogging up the skin.
Sulphur that is in this mask encourages cell regeneration which immediately gives the skin a luscious look without much effort! This mask does not only act as a detox for the skin, but with the Chilean wild mint used as a key ingredient in this mask, the skin results in seeming more nourished due to the performance of dual action exfoliation that speeds up the pore refining and congestion reducing process.
You can now safely bid goodbye to breakouts if regular use of the mask is maintained. What does this promise? Definitely an upbeat glow to your face in no time!
11. Peter Thomas Roth Therapeutic Sulfur Masque
Best for cystic acne and combination skin
Price from RM207.00
Actively formulated ingredients in this mask; Eucalyptus, Sulphur, and Clay are not only experts in oil absorbing and deep pore cleansing of the skin to keep the much-dreaded acne at bay, but also provides a therapeutic and medicinal skin cleansing experience that makes this formula of mask helping to maintain the softness of the skin.
This mask is also widely known as being ideal for preventing the acne from making its comeback if the usage of this mask is continued diligently. On a side note, it contains aloe and kaolin that calms the skin, so you are not really hurting your pores from all the intense cleansing performed from within.
1 people added this to their wishlist
12. Innisfree Korea Real Squeeze Pomegranate Mask
Best organic anti-wrinkle face mask for glowing skin
Price from RM29.97
Wrinkles are not just specific to age, it is also due to harsh skin conditions, and the skin being neglected with no proper TLC. Keep wrinkles at bay now with this one easy luxury step, the Pomegranate mask! Pomegranates are a superfood that is widely known for its skin tightening properties that also leaves the skin radiant and glowing.
This triple layer sheet mask also ensures it keeps the skin hydrated and most importantly healthy from the inside with its Jeju green complex ingredients. Perfect for an instant pick-me-up that saves you time and effort!
2 people added this to their wishlist
More: Sheety Skin? These 10 Sheet Masks Will Sort You Out!
13. Innisfree Korea Real Squeeze Blackberry Mask
Best natural Korean face mask for long haul flights
Price from RM22.50
Catching a long-haul flight? Seems like it is taking forever to reach your destination? No worries, we have got your back. You can always use this extended period of time to catch whip up a quick face mask.
You don't have to compromise on your beauty sleep and still be looking like a million bucks when landing, ready to start your day! In flights, the air does not carry much moisture leaving our skin feeling dry, uncomfortable and yucky throughout flight duration.
This triple layer sheet mask has a deep moisturizing after effect that helps skin absorb the essence of the mask best. Your skin will look supple and hydrated with no signs of flakiness. Blackberry, tangerine, cactus, camellia leaves and orchids which are the main ingredients in this mask. They ensure the healthy retention of the skin and protect the texture of the skin.
This mask is super handy as it is hassle free, weightless and can be easily disposed of after one-time use. Win!
Disclaimer: The pricing shown is just a good indication of how much these products are worth. The prices could change based on the e-commerce promotions that are going on. If some of the products are not available, do email us at [email protected] Thank you!