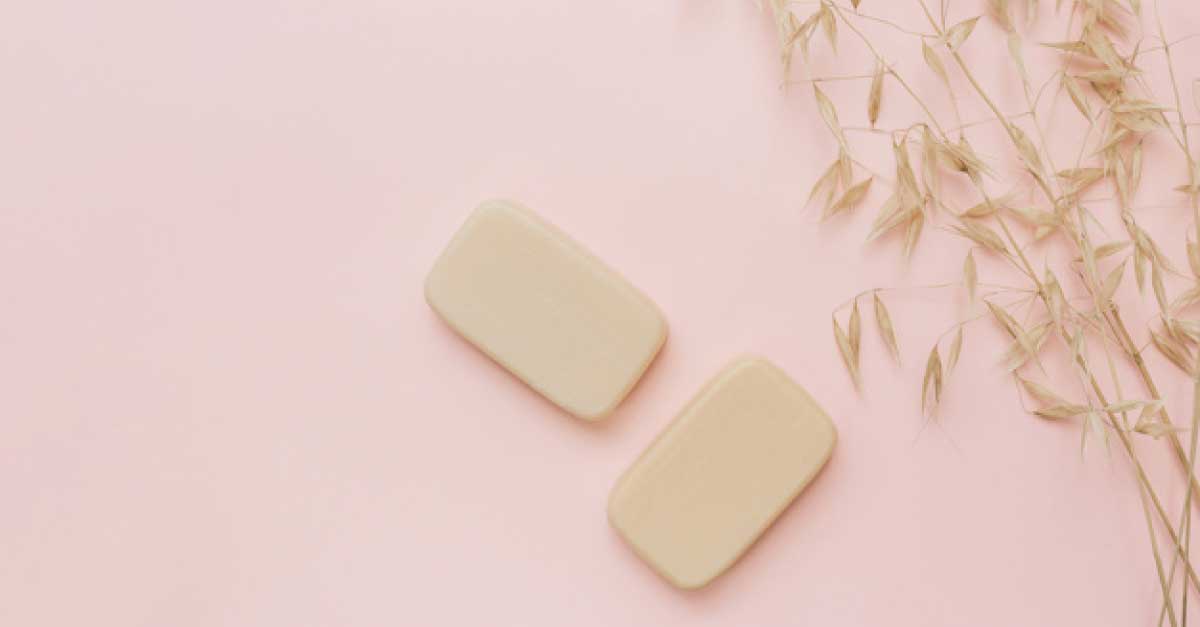 Some may refer to soap bars as old-fashioned or primitive and indeed, they are. Before liquid soaps were invented, they were the only options that were available. The good news is that soap bars generally contain fewer chemicals in comparison to their liquid counterparts that are commonly pumped out of plastic bottles. Additionally, they also have more environmentally-friendly packaging and are easier to travel with - no leakage, no liquid allowance limit whatsoever.
In a nutshell, soap bars may arguably have more pros than cons. Should you be convinced to convert, here are some great options to have in the shower!
Best for oily skin - suitable for face
Price from RM35.00
This homemade soap bar contains green clay which has great detoxifying power to clear your pores of impurities and balance your skin's oil secretion. Similarly, lemongrass oil is another effective ingredient that has natural antiseptic cleansing abilities and works as aromatherapy too.
Best chemical-free soap bar - suitable for sensitive skin
Price from RM20.00
Coco Veda specializes in making skincare products using Virgin Coconut Oil and they're one of the best in the sensitive skin department. Most, if not all of their products are 100% pure - such as this Coco Milk soap bar. Primarily made of coconut milk, it is a natural skin moisturizer with splendid soothing properties to calm any irritation you might experience.
Best organic face soap bar - suitable for dry skin
Price from RM95.00
This is possibly the best all-around soap bar. It can be used as a face soap, body soap, hand soap and even a shaving soap for both men and women. The key ingredient is 100% unrefined dead sea mud from Israel. Helpful to encourage blood circulation and skin regeneration, dead sea mud also works to tighten pores, draw out impurities, toxins and dirt particles, and relieve skin conditions such as eczema, acne and psoriasis.
This soap bar also has a hefty amount of organic Shea Butter that has a high concentration of fatty acids and vitamins for super soft and moisturised skin.
Best with essential oils
Price from RM10.50
Essential oils are well known for aromatherapy and were used for healing purposes from as early as ancient Egypt. Lavender, in particular, is a wonderful stress reliever to help ease the mind and body but beyond that, it's also used to treat skin inflammations. This handcrafted soap bar is formulated with only 5 ingredients: Shea Butter, Lavender Essential Oil, Moroccan Argan Oil, Coconut Oil and Palm Oil - almost as natural as natural can get!
Best without palm oil - suitable for eczema
Price from RM20.00
If you're on the fence about palm oil-related skincare products, The Soap Cellar makes wholly natural soap bars. This variation for instance, is made using only organic Shea Butter, natural honey extract, and ground oatmeal. It's specifically intended for people with eczema and psoriasis as it's mild yet highly effective when it comes to relieving itchiness and irritation.
Best olive oil low pH soap bar - suitable for dry skin
Price from RM21.50
Did you know that the skin's optimum pH level is at 5.5? At this precise pH level, the skin is protected from infections, firmness is ensured and moisture is locked in. Simply put, it's nothing but the best for the skin. Olive oil, on the other hand, is naturally rich in squalene which is a potent emollient and natural antioxidant. This also makes it a very good skin moisturiser.
Best with salicylic acid - suitable for acne
Price from RM11.00
Although the main ingredient in this bar of soap is sulfur (8.5%) and there is only a 2% salicylic acid content, sulfur works just as efficiently to fight acne.
Salicylic Acid is a chemical exfoliant that helps to reduce the appearance of any acne scars and blemishes that you might have after a breakout. It's worth noting that this is a fully plant-based soap bar and it's formulated without parabens, alcohol, and sodium lauryl sulfate.
Best with tea tree oil
Price from RM36.00
Tea Tree Oil, otherwise known as Melaleuca, is an essential oil that's highly effective to treat cuts and wounds due to its powerful antiseptic, anti-bacterial and anti-fungal properties. It is also amazing for aromatherapy as it helps to boost your immune system, relieve tense muscles and fight off infections!
Best with glycerin and grit
Price from RM25.00
We know how crucial it is to exfoliate our skin every now and then because it doesn't just leave the skin smooth, but also bright and glowing. This L'occitane Almond soap bar smells absolutely delightful and it uses almond shells as exfoliators to scrub away unwanted dead skin cells. At the same time, these aren't as harsh on delicate skin as plastic microbeads in your run-off-the-mill soaps are. Also, it contains glycerin to keep your skin well hydrated and to retain the smoothness that you've worked hard for.
Best with zinc - suitable for men
Price from RM6.50
Our skin naturally holds a good 5% of our body's zinc. Hence, a zinc deficiency could slow the healing of wounds. Additionally, as zinc also works to regulate the activity of oil glands in our body, acne may also be a symptom of insufficient amounts in your body. To replenish any lack, pick up this soap bar and your body will be functioning as it should again!
Penafian: Harga yang disenarai adalah semata-mata rujukan harga produk. Harga produk mungkin akan berubah, bergantung kepada promosi dan diskaun oleh pedagang e-commerce. Jika adanya produk yang sudah tidak dijual, sila emel kepada [email protected]! Terima kasih!