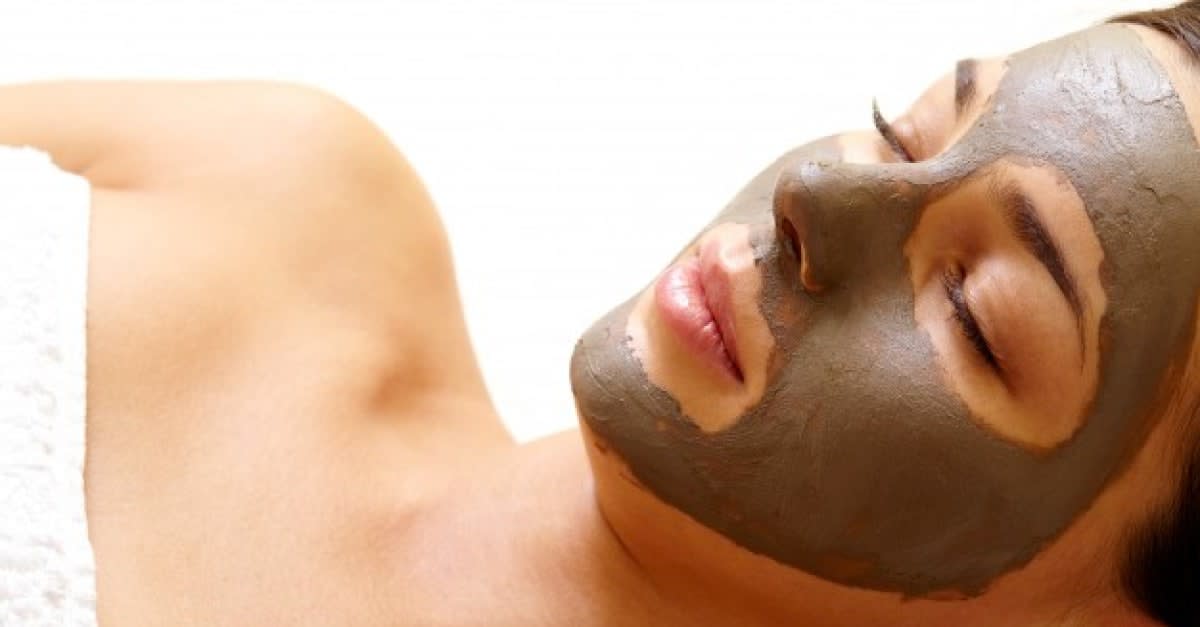 Excess shine isn't the only problem that comes with oily skin. It can take a toll on your skin condition, such as clogging pores and seemingly creating pimples out of thin air. Being at peace with excess oil is no longer an option; it's time to conquer it.
Perhaps, one of these 9 facial masks targeting excess oil may be of your assistance according to your special needs.
1. Innisfree Super Volcanic Pore Clay Mask 2X
Best Korean clay mask for oily skin
Price from RM45.00
This beloved clay mask from Innisfree has caused an explosion among skincare fanatics. That is because the mask has 6 main functions: pore minimizing, sebum controlling, exfoliation, brightening, exfoliation and skin soothing.
These are all possible thanks to the volcanic minerals contained within the Super volcanic capsules that not only exfoliates, but also absorbs sebum.
2. ORIGINS Clear Improvement® Active Charcoal Mask To Clear Pores
Best mask for oily skin and large pores
Price from RM64.00
Another fan favourite, this charcoal mask uses nature's gift to create wonders on your skin. Containing bamboo charcoal, this ingredient can draw out all the gunk from deep inside your pores.
Meanwhile the white china clay properties absorb external triggers like oil, dirt and pollutants. All in all, you're giving your skin a good, thorough cleansing and brightening it at the same time.
3. FRESH Umbrian Clay Purifying Mask
Best face mask for oily, dehydrated and sensitive skin
Price from RM256.00
Dry AND oily at the same time? It's more common than you'd think. The Umbrian Clay Purifying Mask has detoxifying minerals in it to clear up skin imperfections and congested pores without stripping the skin of its natural moisture. It also forgoes the use of irritants like paraben, sulfate and phthalates.
4. GLAMGLOW Bubblesheet™ Oxygenating Deep Cleanse Mask
Best sheet mask oily skin
Price from RM36.00
Besides being refreshingly fun to apply, this mask goes beyond the gimmicks by cleansing the skin of dirt, oil and debris using fizzy 3D microbubbles. The unique bamboo charcoal formula uses Green Tea Teaoxi technology and amino acids to oxygenate and revitalize the skin for a more radiant appearance.
5. HERBIVORE BOTANICALS Blue Clay - Spot Treatment Mask (Cambrian Clay)
Best facial mask for oily skin with pimples
Price from RM99.00
Blast those blemishes with the Blue Clay Spot Treatment Mask. This 100% natural product uses a plant-based and organic formula containing mineral-rich Cambrian Blue Clay.
That exact mineral is quite effective in removing toxins and impurities to essentially detoxify the skin, making this mask quite suitable for removing blemishes. Not only that, but the mask also maintains the skin's natural moisture barrier to keep it from drying out.
6. BOSCIA Luminizing Black Mask
Best vitamin C mask for oily skin and blackheads
Price from RM139.00
There is almost nothing more satisfying than removing a peel mask and watch the blackheads leave your skin. This charcoal peel-off mask goes a step further, using the antiaging effects of vitamin C to not only minimize the occurrence of excess oil, but also treat hyperpigmented areas and reduce the appearance of lines and wrinkles.
7. MARIO BADESCU Special Mask For Oily Skin
Best mask for extremely oily skin
Price from RM94.00
Need something a little stronger? Mario Badescu's Special Mask for Oily Skin is curated to regulate the oil levels on the skin by cleansing out pores that have been clogged by oil, dirt and debris. The mask works to diminish pores and prevent the occurrence of blemishes, while keeping the skin functioning at its optimal level
8. L'Oreal Paris Pure Clay Mask (Detoxify)
Best cheap face masks for oily skin
Price from RM28.33
Looking for something with a more realistic price tag, but still works? L'Oreal's Pure Clay Mask takes the powerful detoxifying effects of charcoal and uses it to draw out the gunk and oil trapped inside your pores. You then get to enjoy instant cleansing and smoother skin as well as a fresh and healthy glow.
9. Kiehl's Rare Earth Deep Pore Cleansing Masque
Best face mask for oily combination skin
Price from RM122.26
Combination skin doesn't always require a combination of different products. This mask acts as your one-stop solution to cleaner and hydrated skin. It features mineral-rich Amazonian White Clay, sebum-absorbing Bentonite as well as hydrating aloe vera to keep oil and moisture on your skin at their optimum levels.
Disclaimer: The pricing shown is just a good indication of how much these products are worth. The prices could change based on the e-commerce promotions that are going on. If some of the products are not available, do email us at [email protected] Thank you!