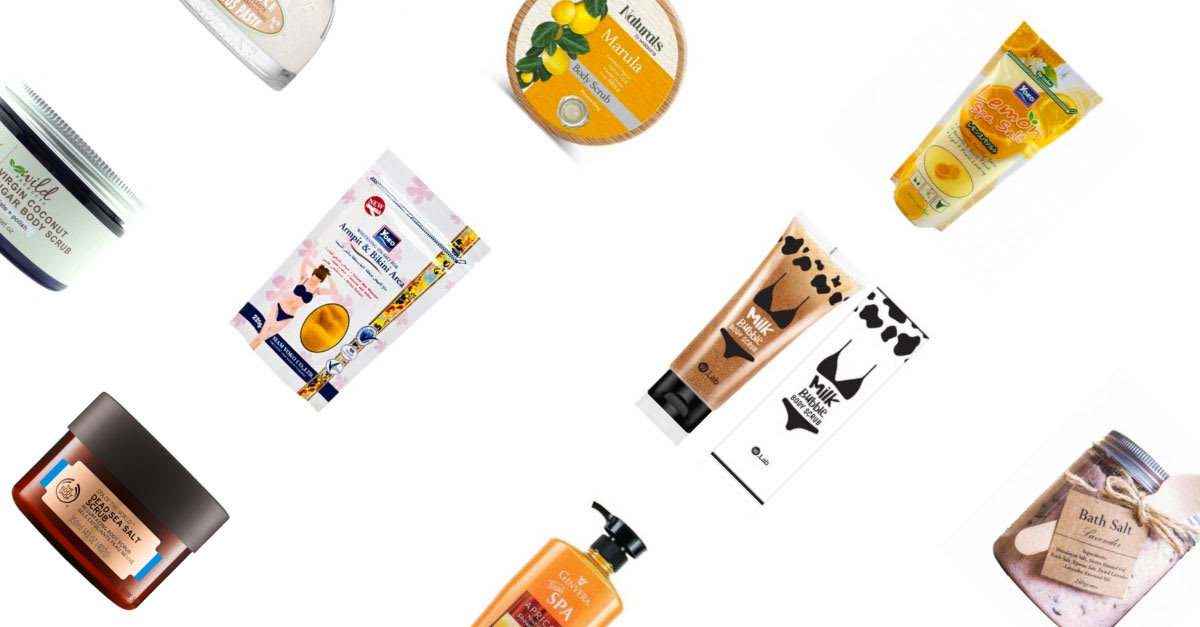 Body scrubs are one of the most underrated products you can add to your beauty routine. Shower your skin with some love by incorporating a rich and moisturizing body scrub during your bath time! Looking for soft and silky smooth skin? You're at the right place!
1. Body Breakfast Coffee Scrub
Organic body scrub with coffee
Price from RM80.00
It's normal to have cellulite and stretch marks, but if you're looking to improve the appearance of them, try out a body scrub infused with caffeine like this one!
The Body Breakfast Coffee Scrub is made of 100% natural and organic ingredients such as caffeine, dead sea salt, sugar, cocoa and other nourishing ingredients to help improve your skin texture, improve body acne, give you soft skin and many more benefits!
2. L'Occitane Almond Delicious Paste
Best oil-based almond body scrub
Price from RM170.00
The price might be steep, but the L'Occitane Almond Delicious Paste is a luxurious and rich scrub for your body! Made with almond oil, almond butter, almond shells and sugar crystals, this nutty scrub is rich in vitamin E and will exfoliate your body to give you skin as smooth and soft as a baby's butt.
3. Tiny Tree Lavender Bath Salt
Lavender body scrub for eczema
Price from RM35.00
Frustrated at your dry and itchy skin from eczema? Try out this lavender salt scrub from Tiny Tree! This scrub contains lavender essential oil which has anti-inflammatory properties, sweet almond oil to hydrate the skin, as well as Himalayan salt, rock salt and Epsom salt which can help bring relief to the itchiness and redness.
4. Naturals by Watsons Marula Body Scrub
Best drugstore body scrub for dry skin
Price from RM12.75
Revitalize your dry skin with this African marula infused body scrub! Hydrating and nourishing, the Marula Body Scrub helps to repair and moisturize dry skin while getting rid of dead skin cells. The nutrient-rich marula will leave your skin feeling like it's brand new!
5. W.Lab Milk Bubble Body Scrub
Korean body scrub
Price from RM123.00
Designed to be a 3-in-1 product, this body scrub also acts as a body wash and massage gel that uses finely ground walnut shell powder and milk protein extract to create a scrub that won't irritate even the most sensitive skin! You can easily create lather and cleanse your skin with this multipurpose product.
6. The Body Shop Almond Milk & Honey Gently Exfoliating Cream Scrub
Best cream body scrub for sensitive skin
Price from RM106.50
Sensitive skin sufferers, you don't have to fear body scrubs anymore with this cream body scrub from The Body Shop! It's enriched with organic almond milk and honey that can calm and hydrate sensitive skin. Hypoallergenic, dermatologically tested and organic, this body scrub will exfoliate and moisturize your skin without causing any irritation.
7. YOKO Spa Salt [#Lemon]
Cheap lemon body scrub
Price from RM11.90
We all know of the brightening effects that vitamin C in lemons can give. Combine that with a salt scrub, and what you'll get is a treat for your skin! The YOKO Spa Salt in Lemon exfoliates the skin and removes the dead skin cells while brightening it. Apply and massage some onto your elbows and knees for a brighter look!
2 people added this to their wishlist
8. Wild Products Virgin Coconut Sugar Body Scrub
Best coconut body scrub for acne
Price from RM62.00
Go nuts for coconuts! This body scrub is made of organic extra virgin coconut oil to moisturize and repair the skin, vitamin E to brighten the skin and rosemary leaf extract that has antibacterial properties to treat acne. After using this scrub, you can flaunt your smooth and bump-free body in that bikini!
9. Nature's Lab Antioxidant Body Scrub
Gentle full body scrub
Price from RM79.00
Treat your body to an invigorating shower with Nature's Lab Antioxidant Body Scrub! It's formulated with Gingko Biloba to repair the skin from sun damage and boost collagen production, with chamomile to soothe and hydrate the skin. Baby soft skin? Check.
10. The Body Shop Spa Of The World Dead Sea Salt Scrub
Best sea salt body scrub for oily skin
Price from RM169.00
Sea salt can absorb excess oils and detoxify the skin, which is great for treating oily skin. This body scrub from The Body Shop uses sea salt from the Dead Sea as an exfoliant. It's rich in minerals so your skin will feel revitalized and nourished. Say goodbye to greasy and clogged pores, and say hello to flawless skin!
11. YOKO Whitening Spa Salt for Armpit & Bikini Area
Herbal body scrub products for brightening
Price from RM12.03
This body scrub from YOKO uses salt, natural herbal extract and vitamin E to exfoliate and brighten the skin, who doesn't want brighter skin? Although this is targeted for the armpit and bikini area, you can still use this for other parts of your body that needs some of that brightening magic!
12. Wunderbath Body and Face Scrub A Rose From Frank Wunderscrub
Best face and body scrub for women
Price from RM45.90
Do you like to DIY or customize your beauty products? This DIY scrub and mask from Wunderbath will be your new holy grail! Created for breastfeeding moms, you can customize this exfoliant by adding honey, yoghurt or even breastmilk to it to create the perfect consistency to exfoliate your face or body, and even as a mask!
13. Tanamera Himalayan Rock Salt Scrub
Moisturizing body scrub for men
Price from RM28.00
Tanamera Himalayan Rock Salt is made of Himalayan salt, which is able to detoxify the skin, improve blood circulation and relieve muscle ache. This body scrub is also infused with grapeseed oil, coconut oil, jojoba oil and other different oils that will moisturize and nourish your skin. Dear men, smooth skin is attractive! Sincerely, everyone else.
14. Claire Organics Lemongrass Ginger Scrub With Organic Raw Cane Sugar
Best hydrating body scrub for ingrown hair
Price from RM33.00
Bumpy skin? Ingrown hair? Pesky body acne? This Lemongrass Ginger Scrub will do the trick! This body scrub is infused with lemongrass and ginger that can remove even the most stubborn ingrown hair.
Lemongrass is antibacterial, which can prevent bacterial infections and ingrown hair, while ginger is an antioxidant and anti-inflammatory to reduce inflammation and redness. Combine all that with sweet almond oil and organic raw cane sugar, and you're going to get a body scrub that can kick serious butt!
15. Ginerva Real Spa Apricot Nourishing Shower Scrub
Body scrub and body wash
Price from RM13.80
Ginvera's Real Spa Apricot Nourishing Shower Scrub is a body scrub and body wash in one. Pamper your skin every time you shower with this 2-in-1 product! Gentle and hydrating enough for everyday use, your skin will be glowing and smooth every day without being stripped off its moisture.
Disclaimer: The pricing shown is just a good indication of how much these products are worth. The prices could change based on the e-commerce promotions that are going on. If some of the products are not available, do email us at [email protected] Thank you!