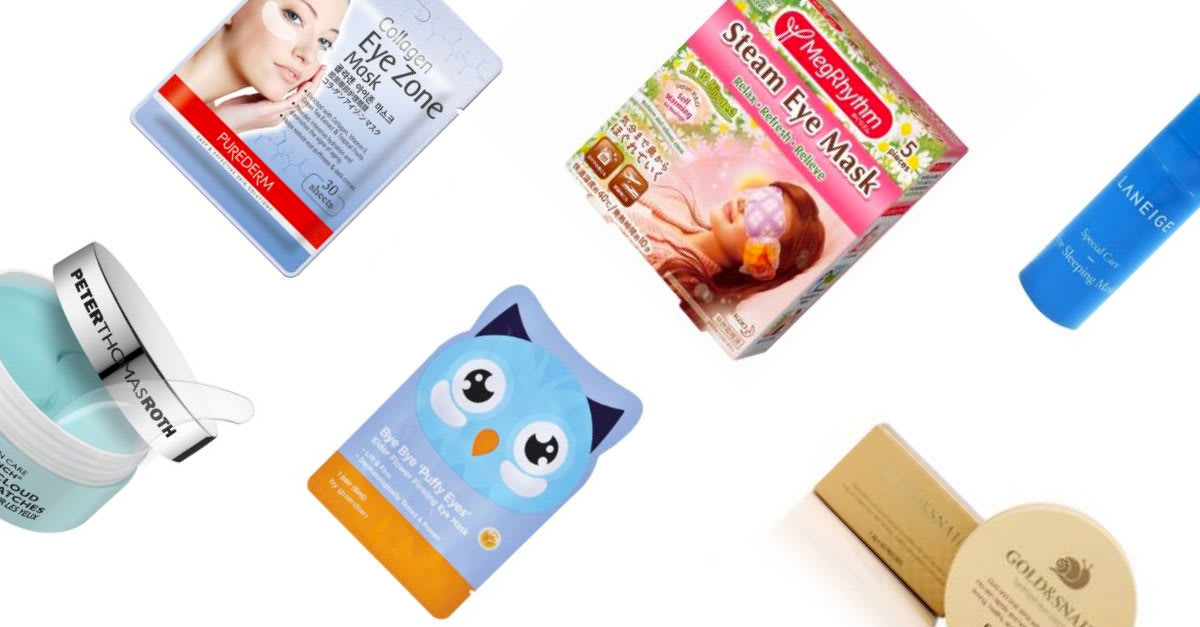 As they say, the eyes are the windows to the soul. You can now bid adieu to ugly dark eye circles, puffiness and fine lines for good! We've listed some of the best eye masks and under-eye patches especially for the delicate skin around your precious peepers.
1. Purederm Collagen Eye Zone Mask
Best moisturising eye sheet mask which contains collagen
Price from RM58.00
Treat yourself to a super moisturizing collagen eye mask that is natural, highly absorbing, quick to use and is also chock-full of vitamins and whitening properties. The after effect? The under-eye of your skin is much fairer, pores are less visible and eye bags and wrinkles are a thing of yesterday.
2. Bioaqua Natural Gold Osmanthus Eye Mask
Soothing gold eye mask for dark circles and wrinkles
Price from RM14.95
Get the full package with this gold eye mask. It minimizes eye bags, panda eyes, wrinkles, delays the process of aging and is super-duper hydrating - all at once. As you put on this eye mask, the gold osmanthus extract gives you a luxurious, royal treatment that'll make you feel like a queen.
3. Kao Steam Eye Mask Chamomile-Ginger Aroma
Best Japanese eye mask
Price from RM23.00
An eye mask that emits an aroma? We're not kidding here! This steam bath based Japanese eye mask exudes a pleasant chamomile-ginger aroma that helps to relieve fatigued eyes after a long day at work. All you need is a mere 10 minutes for eyes that glow and twinkle!
4. Petitfee Gold & Snail Hydrogel Eye Patch
Best under eye mask for eye bags
Price from RM31.00
If you are one of those who wake up in the morning with panda eyes due to lack of sleep, then this under eye mask is for you. You all do know the benefits of snail secretion in beauty products, don't you? In fact, it is made using real snail secretion to hydrate and diminish puffy eyes. The gold powder, on the other hand, helps brighten the under eye area.
5. Guardian Bye-Bye Puffy Eyes Mask
Best for puffy eyes
Price from RM3.56
For starters, this eye mask has a cute owl packaging. On the other hand, it's affordable – real value for money! But the real deal is the elderflower extract in this dermatologically tested mask. It's used to lift, firm and combat puffy eyes to make your peepers appealing again.
6. Peter Thomas Roth Water Drench Hyaluronic Cloud Hydra-Gel Eye Patches
Best hydrating eye mask
Price from RM291.00
Lack of hydration is one of the major causes of dryness around the skin of the eye area. Watch how this revolutionary water-based eye mask hydrate deep into the skin while fading those dreaded panda eyes and wrinkles. You achieve super-duper H20 hydrated skin that is plump, dewy and moist. Not mission impossible after all!
7. Laneige Eye Sleeping Mask 5ml
Best eye mask for sleeping
Price from RM12.00
Sleep like a baby at night and wake up with moist, bright and healthy eyes in the morning with this cult-favourite sleeping eye mask. Don't forget to use the ceramic ball attached to give a relaxing massage to your skin. Your eyes will thank you!
8. Dermalogica Positive Eye Lift DePuffing Eye Treatment And Masque
Best anti-aging gel eye mask
Price from RM401.00
Restore the youth around your eyes with this tingling cream gel eye mask. The specially formulated ingredients banish puffiness and dark circles. Besides, it also brings back the skin density around the eye area due to aging. When stress at work has gotten under your skin, you can also use this eye mask as a quick "pick-me-up".
9. Korean Spa Eye Mask
Best Korean eye mask
Price from RM14.90
Create your own spa at home with this Korean eye mask. Formulated with zero fragrance, it creates a spa-like feeling; reducing fatigue, improving the flow of blood circulation, and minimizing panda eyes. It's a godsend for stressed-out eyes due to long hours of usage. After using, simply dispose of the mask – right into the bin.
Disclaimer: The pricing shown is just a good indication of how much these products are worth. The prices could change based on the e-commerce promotions that are going on. If some of the products are not available, do email us at [email protected] Thank you!