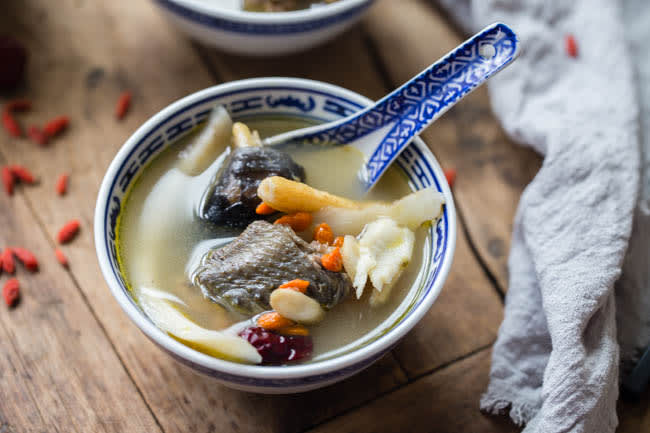 A slow cooker is probably the only electrical appliance in the kitchen that you would want to work slowly. This countertop kitchen helper does most of the hard work, just leave it while it cooks up a warm meal for you. So, get yourself one of these slow cookers and you won't have to deal with pots or stoves – just pop the ingredients in and you're good to go.
1. Pensonic Slow Cooker PSC-82
Best slow cooker for one person
Price from RM55.90
You don't need cheesy takeouts when you have a trusty slow cooker. From its classic outlook, you'd know immediately that this is a pretty straightforward kitchen helper as it does what slow cookers are meant to do. Keeping your meal warm and nutritious in its little crock pot, this slow cooker saves you from fatty takeouts.
2 people added this to their wishlist
2. Elba Slow Cooker ELB-ESCD6538SS
Best for parties and large family
Price from RM150.00
Going for a casserole dish for your next family reunion? Take this home with you! As heat circulates evenly throughout this crock-pot, this slow cooker is ideal for party dishes like casseroles. And with its 6.5-litre capacity, you are sure to feed the whole crowd with your ratatouille or moussaka without the help of an oven.
3. Khind Baby Porridge Slow Cooker BP-12
Best slow cooker for baby food
Price from RM109.00
With its microcomputer controls, you can choose the type of baby food that's suitable for your child's age from the four phases of cooking patterns provided. Use the preset option to prepare your baby's food the night before and your child will cheer to a bowl of beautifully cooked brekkie the next morning.
4. Panasonic NFM15W-SV Ceramic Pot Slow Cooker
Best for students
Price from RM149.00
Students and small kitchen appliances make a good marriage. This slow cooker may be small, but its decent functions make cooking easier for students and hostelers as well. When you are busy with assignments, just leave this cooker unattended and it will still cook up a nutritious meal and keep it warm for you for hours.
5. Khind Soup Cooker SC680C
Best for soup and whole chicken
Price from RM240.00
Who doesn't love chicken soup? And the best chicken essence always comes from a whole chicken. With this large cooker, you can cook your very own double-boiled soup with a whole chicken in it! Other than savoury soups, you can even impress your family with sweet soups for dessert using this very helpful soup slow cooker.
6. Cornell Slow Cooker CSC-D50C
Best for bone broth
Price from RM148.00
This slow cooker has a ceramic inner pot that allows you to brown your preferred bones before pouring enough water into it to turn into stock. This is no stock pot but its adjustable temperature controls and unique Japanese heat-resistant glass lid ensures the temperature of the stock is on point to obtain gelatinous and flavourful broth.
7. Elba Electric Purple Clay Slow Cooker EPCC-E5032 (BR)
Best for Indian food
Price from RM135.90
The best Indian dishes make good use of spices and with that in mind, you'll need a slow cooker like this to bring out the flavours of the spices. The inner pot of this cooker is made from purple clay and this material's unglazed surface absorbs traces of ingredients in it, which helps create a dish with more complex flavours.
8. Philips Viva Collection All-In-One Cooker HD2137
Best programmable slow cooker with timer
Price from RM575.26
This is an intelligent cooker and you bet it is! From sautéeing veggies, searing meat to braising stocks, this incredible cooker has an aluminium alloy inner pot that allows you to do all that with its easy-to-clean design. Just program this baby to the cooking time you desire, and you'll have a yummy dish ready without any hassle.
9. FABER Slow Cooker FSC 515 SS
Best for beginners
Price from RM51.00
Slow Cooker for Dummies? Check. This slow cooker is nothing too complicated, especially for beginners. With its simple operating buttons, this slow cooker does what most slow cookers do. So, start with a regular-sized slow cooker like this and slowly cook your way up, mastering one-pot wonders one at a time.
10. Hanabishi Slow Cooker HA5500A
Best slow cooker for beef
Price from RM129.00
Slow cookers cook beef to its perfect tenderness and this Hanabishi slow cooker is here to do just that! With its non-stick ceramic pot, heat is distributed more evenly through the cuts, which helps to tenderize the meat without overcooking it. This results in succulent, tender pieces. It is definitely a melt-in-your-mouth experience. Yum!
Disclaimer: The pricing shown is just a good indication of how much these products are worth. The prices could change based on the e-commerce promotions that are going on. If some of the products are not available, do email us at [email protected] Thank you!