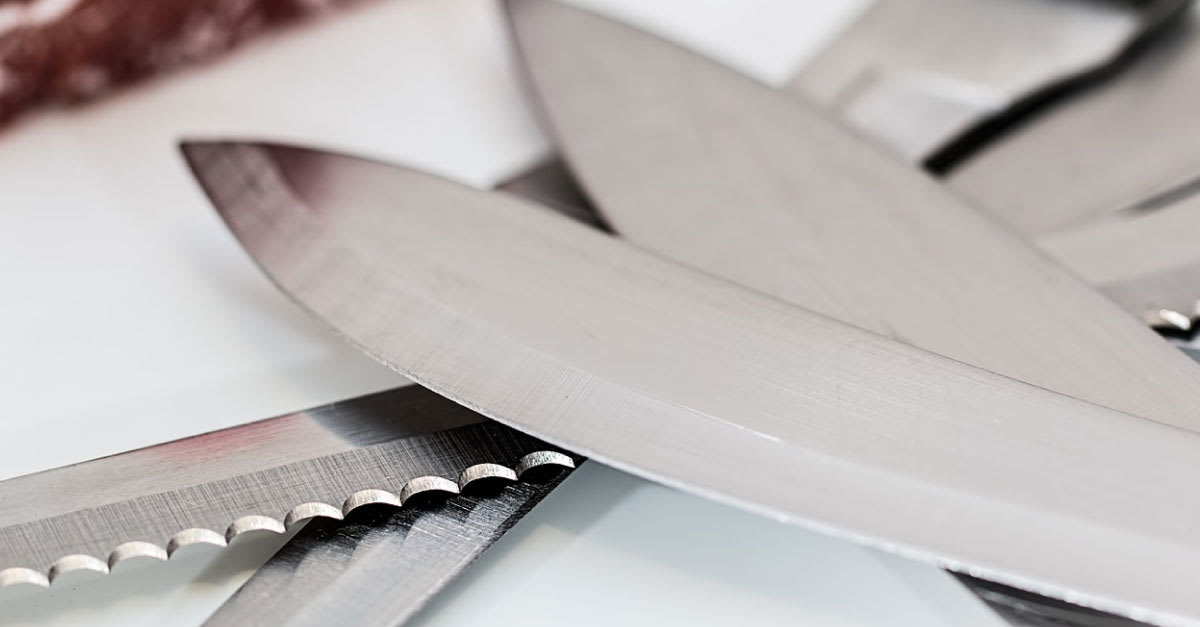 A knife or a blade is best appreciated when they're at its sharpest. Unlike many other home tools, they actually require regular maintenance for best results and precision.
Get maximum durability out of these handy tools when you use any of these electric knife sharpeners below.
1. Zhaolida Electric Speedy Diamond Knife Sharpener
Best ceramic, diamond knife sharpener
Price from RM111.40
Work with less manual effort and ensure your kitchen knives are no longer blunt. This speedy knife sharpener with diamond and ceramic material guarantees great sharpening quality. It is perfect for all types of knives, from stainless steel to ceramic. With the right amount of pressure and appropriate angle guide, the sharpening will be precisely accurate.
2. DMD Electric Three-Stage Diamond Knife Sharpener
Best 3-stage electric knife sharpener for knives and scissors
Price from RM108.95
Unlike regular sharpeners, this three-stage knife sharpeners results in a professional grade sharpness at all time. You utilise its built-in guide slots which hold the blade at the ideal angle for maximum sharpness. The diamond grinding wheel delivers a fine and smooth knife surface. Perfect for knives, scissors and even household tools.
3. Swifty Sharp Electric Knife Sharpener
Best affordable electric knife sharpener with wheels
Price from RM18.00
If you only need a simple, affordable sharpener for small-duty jobs, you can restore sharpness of small hand tools with the Swifty Sharp Electric Knife Sharpener. It features several guided knife slots for different functions, allowing you to use this sharpener for many purposes.
4. Nuevo Electric Multi-purpose Sharpener
Best portable electric knife sharpener - perfect for Swiss knife
Price from RM49.00
Swiss knives are handy in many ways, so it makes sense to always have the blades in tip-top shape. This small portable sharpener features a high-speed rotating sapphire stone which refines the blade to exactness. It's one sharpener that's compact in design yet competent.
5. Automatic Multifunction Electrical Knife Sharpener
Best knife sharpener with suction pad
Price from RM59.90
An electric knife sharpener requires a firm grip while being used. With even the slightest carelessness caused, you could sustain an injury. This knife sharpener has a suction pad to help grip the surface, letting you work without any worries. It functions with two options of grinding wheels; coarse and fine. Easily alternate between both choices.
6. Kyocera Electric Diamond Ceramic Knife Sharpener
Best ceramic rod electric knife sharpener
Price from RM255.00
This knife sharpener is both efficient and easy to use. With a knife guide slot, you can easily sharpen the knife at a fixed angle. Claiming as a user-safe sharpener, dust grounds will be trapped within the cover, leaving you free from any allergy attacks. You can easily control an even pressure of your sharpening and ensure the knife maintains its quality.
7. Ruixin Pro Professional Knife Sharpener
Best heavy duty, steel electric knife sharpener for serrated knife
Price from RM95.00
Extend the lifespan of your cutleries and ensure the metal remains solid with this quality sharpener, a perfect choice for a professional kitchen or butcher shop. With five optional angles, it's best suited for serrated knives, cleavers and chef's knives.
8. NEW Kitchen Electric Knife Sharpener
Best for cooking knives
Price from RM69.00
If you are on the lookout for a basic, electric kitchen knife sharpener, this would be an ideal choice. It is easy to use and is suitable for flat stainless-steel knives. It has a stone material of brown fused alumina with a density of 120grit and 180grit, letting you sharpen your knife to precision.
9. Happyhome Electrical Knife Sharpener
Best handheld electric knife sharpener
Price from RM89.00
Use this handheld electric knife sharpener feel like a professional blacksmith. This sharpener is convenient for blunt knives, scissors and even nail files, ensuring the tools are in perfect shape at all times. You can now rest easy and not worry about damaged gear.
Disclaimer: The pricing shown is just a good indication of how much these products are worth. The prices could change based on the e-commerce promotions that are going on. If some of the products are not available, do email us at [email protected] Thank you!