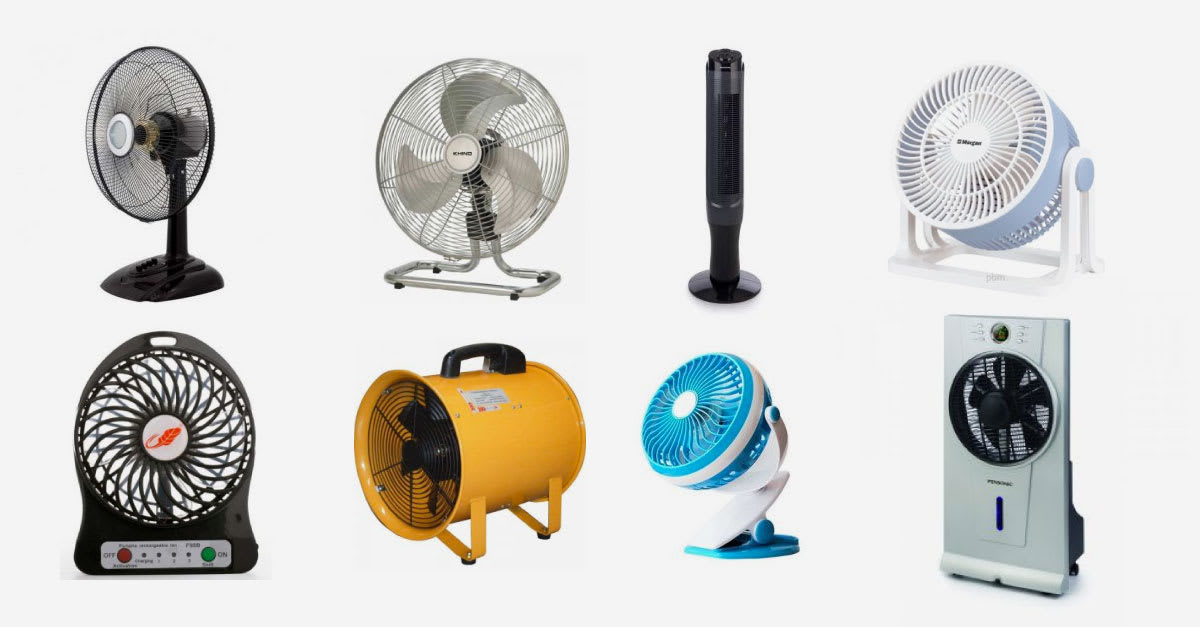 Malaysia is well-known for its hot and humid weather. But to use the air-conditioner 24/7 is not always the best option unless you don't mind having a skyrocketed electricity bill.
While we do have our trusty ceiling fans, you can't bring or move them to wherever you want, especially for outdoors when the heat strikes you directly. Thus, a portable fan is a top-notch appliance to have in Malaysia. We've discovered these top 12 portable fans to help you stay cool.
1. Pensonic Tower Fan PTW-200
Best tower/floor fan
Price from RM121.50
This sophisticated design tower fan is just perfect for a modern household. The fan comes with a timer function which can be set up to two hours duration.
What's more interesting is that the fan has a wide angle automatic swing, able to cover more space with heavenly, crisp air. Also, the tower fan has a removable rear cover to aid cleaning process.
2. Sharp 16" Table Fan PJT16
Best oscillating table/desk fan
Price from RM129.00
This portable fan from Sharp is a good bargain. The fan is suitable to be placed on a table, be it the dining table, coffee table or office desk. Item has 16 inches blades and comes with three-speed control.
The table fan is awarded five stars excellent performance for being an energy saving appliance, making it not only affordable but helps you to save money too.
3. Khind 18" Industrial Floor Fan Model FF1801
Best portable industrial metal fan
Price from RM210.28
Industrial fans are commonly sturdier than others. Running with a high-performance motor, this industrial fan from Khind has a pair of 18 inches blades made out of corrosion-free metal, assuring a gust of high-speed wind. It is suitable to be placed on the floor and comes with an adjustable fan head thus air can be directed to anywhere you desire.
4. Morgan Breezer Circulation Fan MFQ-SB35W
Best portable circulation fan
Price from RM105.00
The Morgan Breezer Circulation Fan promotes a better air circulation, which eliminates heat and provides cool and clean air. The fan comes with a three-speed setting option and an adjustable tilt position for your convenience.
Its easily dismantled feature aids cleaning process, so you can always ensure your fan is spotlessly clean. The fan also has a one-year local supplier warranty.
5. Portable Rechargeable Mini Leaf Fan with LED Light
Cheapest mini battery powered portable fan
Price from RM14.00
A mini fan comes in handy when the scorching heat starts coming at you. With its battery-powered feature, you can bring this affordable fan wherever you go. The battery has a five-hour charging time and can last for three to five hours.
Despite being small, the fan comes with a three-speed mode like any other portable fan and includes LED light feature.
6. Benma Portable Ventilation Fan 12" 520w
Best portable exhaust fan
Price from RM329.00
This heavy-duty portable ventilator is suitable for a big area, like halls or event spaces. The ventilator has a metal body and blades that can blow high-speed air. Despite being designed for industrial use, the fan operates with minimum sound thanks to its anti-vibration foot mounting and stand. Achieve better air ventilation without frustrating sounds, anytime, anywhere.
7. Pensonic Box Fan 16-inch PEN-PBF147
Best portable box fan
Price from RM155.00
Old but gold, the box-design portable fan sure does have a nostalgic feel. Once a famous design for portable fans, the box-case pattern remains relevant until today, as it provides more stability to the fan, making it sturdier. The fan comes tilt adjustable for focus cooling with up to three-speed options.
8. KYATSU ML-168 Portable Mini USB Fan
Best clip on portable fan
Price from RM13.89
This clip-on fan from Kyatsu operates on a high-quality motor, assuring maximum wind speed with minimum noise. This modern-design portable fan makes a good baby stroller accessory. The fan comes in a compact size, which makes it very handy, and is battery powered too, making them suitable for travelling. Clip the fan anywhere you want and enjoy cool breeze instantly.
9. Pensonic Mist Fan PEN-PAC321H
Best portable cooling fan with mister - good for outdoor use
Price from RM366.00
This three-in-one portable fan combines the function of fan, ultrasonic mist and ioniser. The multi-purpose fan will provide not only cool breeze but also cleaner and fresher air. The item has a three-speed setting and timer functions. Besides, the fan is equipped with built-in wheels so you can move them around with ease.
10. Faber FSF Tornado V Stand Fan
Best pedestal fan with remote
Price from RM145.00
Pedestal fans are quite popular among Malaysian households. Its tall, standing size with an adjustable tilt head and its oscillation function make the fan a handy household item.
With a touch of technology, this Faber pedestal fan uses a digital panel with remote control for speed and oscillation setting. Configure the fan as you wish while you sit back and enjoy the breeze.
11. German Technology Tower Bladeless Fan
Best bladeless fan
Price from RM149.90
A bladeless fan is an innovation of portable fans. The fan assures more safety and ideal for little children, all due to its bladeless feature. Cleaning them is also very easy as there should be no trouble in dismantling the fan. This German Technology fan has a timer function with step-less speed control, easing user's experience without sacrificing quality.
2 people added this to their wishlist
12. Portable USB + Micro USB mini Fan
Best USB portable fan for mobile phone - good for travel
Price from RM7.90
This portable mini fan can be connected to your device, making it greatly convenient. Just plug it into your device to instantly enjoy the cool air.
The fan can be connected to both the smartphone and laptop as it has a two-in-one plug – a USB and Micro USB port. Enjoy your little fan in the office, outdoor or for travel.
13. Outdoor Camping Combo Portable 18 LEDs Light Tent Lantern & Fan
Best outdoor portable fan with light
Price from RM46.79
This 2 in 1 combination of portable fan and LED light is the perfect gear for the outdoor enthusiast. The fan comes with a hook for easy handling. Just hang the fan in the tent or carry them anywhere you go. Item is battery powered with up to two-speed options.
14. FUJIBIN 20" INDUSTRIAL STAND FAN
Strongest, most powerful, high speed pedestal fan
Price from RM170.00
The portable fan from Fujibin comes with an extra thick aluminum blade and covered by a solid metal body, making fan sturdier and stronger. The fan runs on a copper coiled motor, which ensures product performance. Item produces high-speed air which eliminates heat instantly, giving sensations of coolness and comfort.
Disclaimer: The pricing shown is just a good indication of how much these products are worth. The prices could change based on the e-commerce promotions that are going on. If some of the products are not available, do email us at [email protected] Thank you!