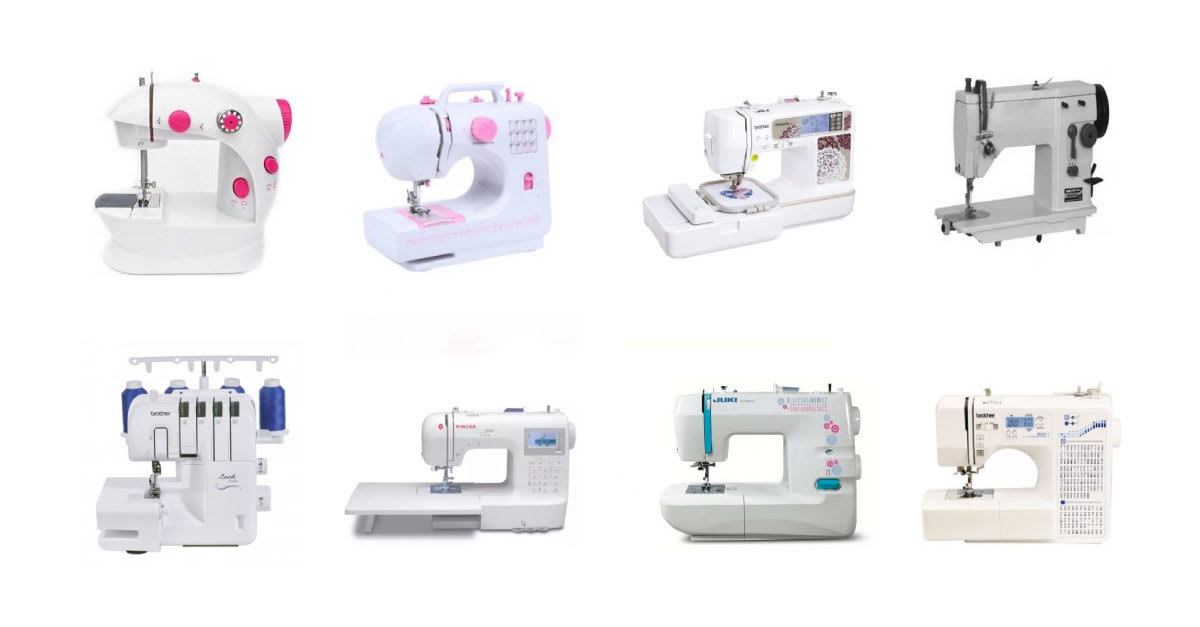 Sewing is a passion for many, and a profession for few. While it takes beginners more than just needles and threads for their pursuit, a pro will settle only for the best. No matter what your need is, we have a little bit of something for everyone. Browse through our wide array of sfewing machines that will work wonders.
1. Mini Sewing Machine with Double Threads
Best cheap mini sewing machine with foot pedal - good for kids
Price from RM27.00
This little portable sewing machine with a chic look will certainly be a good addition to your sewing tool collections. It provides perfect stitch control ranging from delicate silks to tough denim. The automatic thread rewind feature and control button will save your time and energy.
2. idrop FHSM-506 12 stitch pattern mini sewing machine
Best small sewing machine
Price from RM150.00
Are you looking for a smaller version of the high-performance sewing machine? If yes, then this mini sewing machine is a good bargain for you. It comes with a sleek and decent body as well as an ultra-durable motor technology with strong power and long service life.
You can customize various sewing options including 12 stitch patterns just the way you want it. Sew it, lock it, reverse it as you may!
More: 7 Portable Sewing Machines that are Sew Worth the Money
3. Brother NV955 NV-955 Embroidery Sewing Machine
Best for embroidery
Price from RM2,399.00
This is an upgraded version of its predecessor, which is renowned as one of the best embroidery sewing machines in Malaysia. It is specially designed for home use – versatile for embroidery on a wide range of fabric.
With an average speed of 450 stitches/minute, this machine also boasts more than 1000 built-in embroidery patterns. More is yet to come! This sewing machine is equipped with a touchscreen panel, memory card and thumb drive slot – now can use your own customized patterns too!
4. Handy Stitch Hand-Held Electric Sewing Machine
Best portable and handheld electric sewing machine
Price from RM19.90
You may not fancy sewing, but there are times you still need to do some basic stitching to patch up some of your clothes. If that's the case, a handheld and easy carry unit fits you best. This handheld sewing machine is suitable to use on a number of fabric types, so it will prove handy for you to mend and make some quick stitches.
5. Zigzag 20U23 Industrial Sewing Machine
Best industrial sewing machine for leather
Price from RM5,598.00
This industrial grade sewing machine is in a totally different league, particularly aimed for heavy users for business purposes. Make your project look handmade with a variety of stitching methods including beeline and zigzag. On top of that, get your perfect figure-of-eight stitches to finish your sewing project with the best quality. Sew your way through a diverse range of materials ranging from thick fabrics like leather to medium and thin fabrics used to make garments.
6. Brother 2104D Overlocker Machine
Best overlock and serger sewing machine
Price from RM1,199.00
Making your own clothes, or even curtains are not a hassle anymore when you can professionally finish the hems and seams with an overlocker machine from this trusted brand. With this superb 4-thread overlock sewing machine, you can do blind and narrow hemming, rolled hem, pintucks, and flat locks – all in a breeze.
7. Singer 1408 PROMISE Sewing Machine + Platform
Best simple sewing machine with table
Price from RM589.00
If you aim to own a simple and decent sewing machine, Singer brings you this model with all the basic features you need in one unit. It's equipped with an extension table for your convenience and automatic bobbin winder to make set-up a breeze.
Now, for a smooth head start, pick from one of the four presser feet. Whether it's the ever-versatile all-purpose foot, zipper foot, buttonhole foot or button sewing foot, get it done in style.
8. Singer 9100 Stylist PROFESSIONAL Sewing Machine
Best programmable and heavy duty sewing machine for quilting
Price from RM1,688.00
Forget the foot controller – adjusting this machine's speed is now just a slide away. With a programmable needle system, your quilting project is now one step easier. Threading a needle got you down? This machine has got that covered too! On top of that, the extension table gives you a larger space to work with – DIY enthusiasts, this one's for you!
9. JUKI HZL-355ZW-C Home Sewing Machine
Best home sewing machine
Price from RM1,040.00
If you are a minimalist looking to own a machine for domestic uses, you will certainly fall for this model. After all, less is more!
Change your stitching length smoothly depending on the fabric and have fun in stitching from the comfort of your home with 26 different stitching patterns. Additionally, you can make use of the auxiliary box to conveniently store your sewing accessories.
10. Brother FS101
Best professional sewing machine
Price from RM1,299.00
Another quality product from Brother, this sewing machine is a perfect fit for top-notch professionals. It boasts a rate of 850 stitches per minute and a 7-point feed for various fabrics. It will be your perfect companion during your sewing exploration.
11. KONWA KW2908DX
Best button sewing machine
Price from RM5,300.00
A button stitching machine is definitely for those with an industrial need. Now KONWA is offering the best from its range of products. This machine is suitable for sewing buttons on a wide range of fabric from fine to extra heavy material. Uniquely, it is single threaded and comes with chain stitch.
12. Singer 151811J Lockstitch Sewing Machine
Best lockstitch sewing machine
Price from RM599.00
Are you an avid fan of the vintage Singer sewing machines? Then, satisfy yourself with this model that comes with a traditional design for the antique model fans. It serves the purpose with a single needle and lockstitch function. Moreover, it has a maximum stitch length of 5mm and can only sew straight stitch patterns.
13. Brother Mechanical Sewing Machine XL-2630
Best mechanical sewing machine
Price from RM899.00
Whether you are a novice or an old-timer, if you are in for the best bargain, suit yourself with this mechanical sewing machine from Brother. Start up your own project and use this all-in-one machine to make life easier for you.
It is equipped with a user-friendly interface and can be easily operated and maintained – one of the advantages of a mechanical sewing machine. Additionally, it can stitch almost any type of material you desire.
14. Singer 3223G Simple 23-Stitch Sewing Machine
Best sewing machine for beginners
Price from RM699.00
Begin your journey in sewing with this perfect-fit model for newbies. With 23 built-in stitches, you can test and try all the mixed style stitches and master your sewing skill. Fret not about bunching of the fabrics, the adjustable stitch length and width will prevent that!
Disclaimer: The pricing shown is just a good indication of how much these products are worth. The prices could change based on the e-commerce promotions that are going on. If some of the products are not available, do email us at [email protected] Thank you!