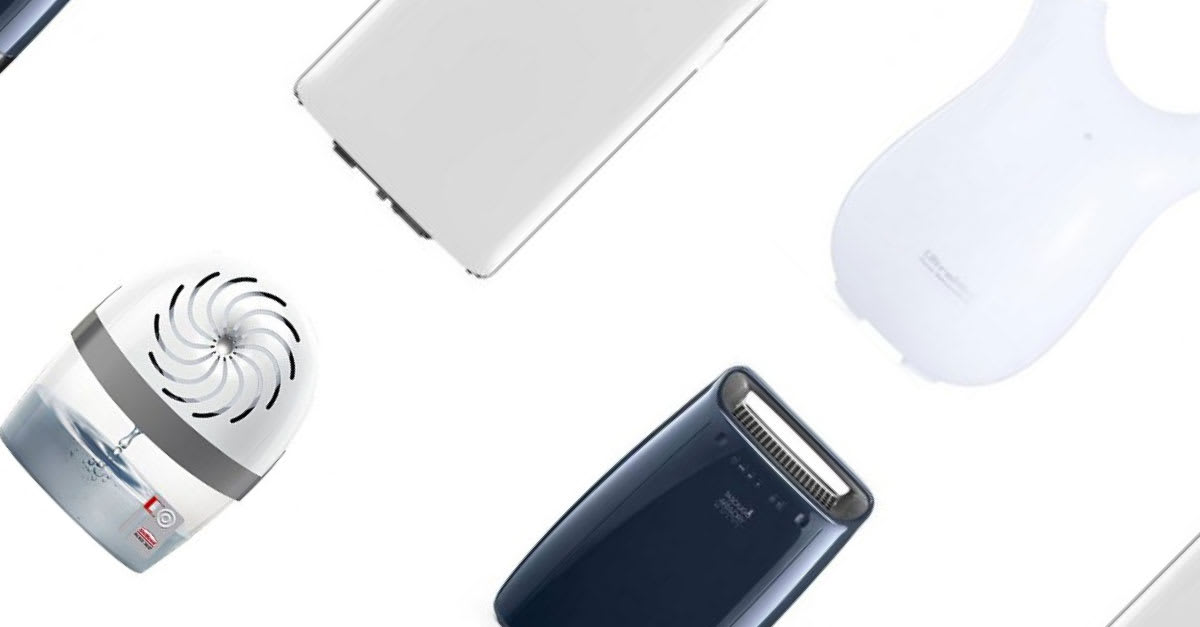 Managing the humidity of your home is essential as it not only helps keep your home comfortable, it is also healthier in the long-run as it helps with respiratory problems and prevents mould. Those who are prone to allergies should definitely invest in a dehumidifier. Want to make your life easier? Check out the list we have curated below for the best dehumidifiers around!
1. De'Longhi DEX14 Dehumidifier
Best dehumidifier for rooms
Price from RM965.00
Feeling frustrated with the amount of mould in your home? This dehumidifier from De'Longhi will help with that! With the built-in air filtration, it'll improve the air quality in your rooms and remove excess moisture. Although it doesn't come with a humidistat and has a slight noise, it is still an excellent quality product that gets the job done.
2. KEMING Mini Dehumidifier
Best mini dehumidifier for home and bathrooms
Price from RM89.90
Don't underestimate a mini dehumidifier – despite its size, it does the job well by decreasing the humidity in the air, especially on hot days! Don't worry if you're a light sleeper, the noise is subtle enough for you to get a good night's sleep. On top of that, it works well even in bathrooms.
4 people added this to their wishlist
3. MeiLing MD-01 Dehumidifier
Best for babies and asthma
Price from RM329.00
Babies and people with respiratory problems like asthma are easily affected by poor air quality. This dehumidifier from Mei Ling removes harmful contaminants, ensuring the air is fresh just like the sea. Additionally, the noise levels can be adjusted, making it silent enough for babies.
3 people added this to their wishlist
4. Morphy Richards Dehumidifier DE35E
Best dehumidifier with a drainage hose
Price from RM1,298.00
This dehumidifier from Morphy Richards has a tank capacity of up to 4 litres and a timer that can be set to auto shut-down for convenience. For easy drainage, it also comes with handy drainage hose and wheels for portability. Drain water from the tank hassle-free!
5. Delonghi DEX16F Dehumidifier
Best quiet dehumidifier with humidistat
Price from RM1,399.00
To easily check the humidity in your home and keep it at an optimal level, invest in this dehumidifier from Delonghi which also comes with a humidistat. Compared with the previous models, this is a much better version as the noise-level has greatly been reduced and operates much quieter. If you have a larger budget, opt for this dehumidifier!
6. UniBond Aero 360 Pure Moisture Absorber Dehumidifier
Best cheap dehumidifier for tabletops
Price from RM85.00
Prevent mildew and mould while improving the quality of air in your home with this dehumidifier from Unibond! It's small and portable, so you can easily place it on your tabletop. A great option to ensure proper absorption of excess moisture in the air anywhere in your home.
3 people added this to their wishlist
7. Portable Ultra-Mini Semiconductor Dehumidifier
Best portable dehumidifier with an air purifier
Price from RM186.45
This ultra-mini dehumidifier that also acts as an air purifier is extremely portable and lightweight! Move this around from room to room with ease. Super quiet and fashionable, prevent mildew in your home caused by excess moisture with this dehumidifier!
8. Hisense HAP-09JSN 1.0HP Portable Air Cond
Best dehumidifier fan
Price from RM1,217.00
This portable air conditioner from Hisense provides cooling air for your home! There are many modes available such as sleep mode, super cool mode and smart mode. It also comes with a remote for your convenience, so you don't have to walk up to the device to change the settings.
1 people added this to their wishlist
9. STADLER FORM ALBERT Dehumidifier 70m2 4.6L
Best for large rooms
Price from RM1,888.00
This dehumidifier is ideal for large sized rooms as it has a coverage of up to 753 square feet! This is also an all-in-one dehumidifier that comes with a humidistat, drainage hose and wheels at the bottom for easy manoeuvrability. Plus, it's noise-free as well. For a price like this, we bet that you'll be utterly satisfied with your purchase.
Disclaimer: The pricing shown is just a good indication of how much these products are worth. The prices could change based on the e-commerce promotions that are going on. If some of the products are not available, do email us at [email protected] Thank you!