Everybody deserves to be confident with their skin but sometimes that is easier said than done. The skin is an organ that is unique to everyone. With that said, there are subtle differences in demands and flaws between each and everyone's skin. With that, beauty facial masks are specially designed for several skin types and requirements that help users address specific skin concerns without breaking the bank.
There's a great variety of facial masks in the market today, so it is important to pick the masks that best suit your skin needs. From clay masks to chemical exfoliants and sheet masks, here are some of the best beauty facial masks in Malaysia.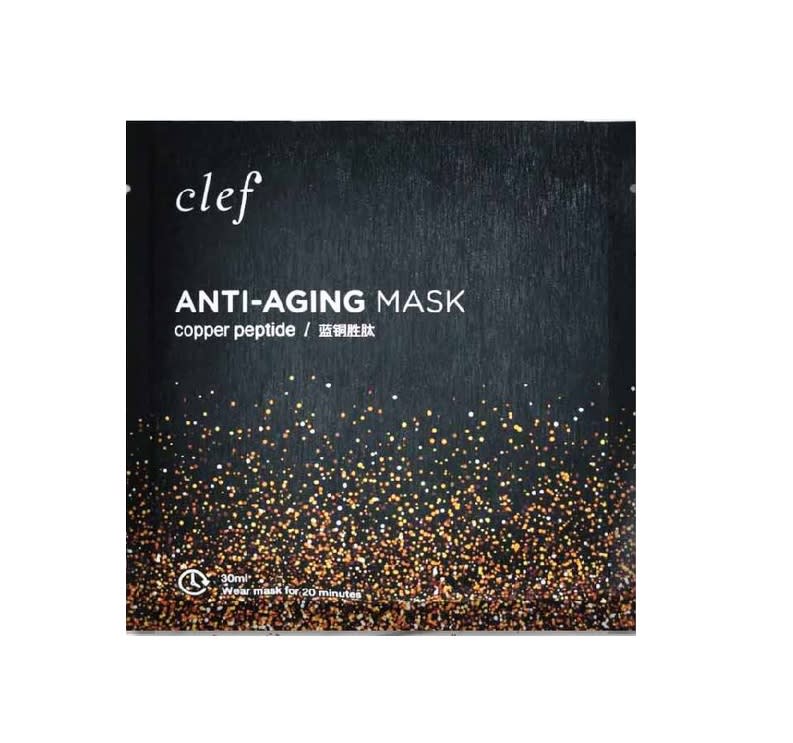 Check Clef Copper Peptide Mask price below:
add_circle
Contains Copper Peptide
add_circle
Boosts Collagen Production
add_circle
No harmful ingredients
add_circle
Suitable for sensitive skin
remove_circle
High commitment due to the cost
Why its Our Top Pick
Want glowing skin? Clef is one of the most popular skincare brands in Malaysia today. It has come to our attention that this brand focuses on uprooting skin issues with clean and effective ingredients. Their products aren't to treat skin flaws but to uproot them. Not only are the results fast, but they are also safe and long-lasting. 
Made in Malaysia, their skincare ingredients are indiscriminately friendly to all skin types and accommodative to high-humidity countries like Malaysia. That is one of the reasons why it is our top pick. Besides, it has a long list of satisfied customers that had amazing results just after 3 boxes of usage.
Features
With Copper Peptide as the star ingredient, this mask can boost your skin's Collagen and Elastin production which leaves the skin bouncy and fades acne scars within 21 days of regular usage. Its 9 main functions targeted to heal and strengthen the skin: reduce pigmentation, increase elasticity, reduce wrinkles, repair damaged skin, brighten, increase firmness, minimise pores, moisturise and fade scars.
Clef Copper Peptide Mask is unique for its ultra-thin and breathable Tencel sheet mask that maximises the nourishment of the skin. Made with only the cleanest ingredients, this sheet mask is fit for even the most sensitive skin type.
Testimonies
There is much hype about this beauty facial mask and it is well-advocated by several beauty bloggers too as it shows remarkable skin changes after 2 weeks of usage. Common praise would be its ability to brighten, moisturise and fade acne scars thanks to its collagen-boosting property. 
Besides that, users love how smooth the skin appears and feels with obvious texture improvement and fine lines reduction. In essence, this product has die-hard fans as they could achieve the best skin condition ever they've ever seen.
Promising Review
"Absolutely love it! I've always had issue with redness around my T-zone area. This mask has helped me to calm the redness and speed up the healing of my acne and scarring. Used it consecutively for 5 days straight then once every 2 days after that. After 3-4 weeks (3 boxes), I've managed to achieve the ideal glowing skin I've always wanted!" – Melanie L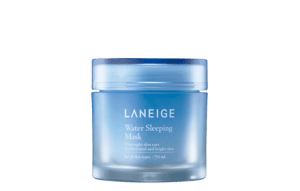 Check LANEIGE Water Sleeping Mask price below:
add_circle
Free from harmful ingredients
Hydrate your skin overnight with Laneige Water Sleeping Mask where you can start your day with supple skin and a hard-to-miss beautiful glow. 
Features
Laneige Water Sleeping Mask ensure users a look as though they had a well-rested night. Formulated with Pro-biotics Complex and Sleeping Micro Biome™, this popular Korean sleeping mask strengthens the skin's defence so that you appear well-rested with a bright and clear skin complexion. 
Moreover, with probiotic complex, the mask prevents transdermal water loss by enhancing the skin protective barrier. On top of that, it contains hydrating agents that penetrate and delivers hydration effectively. 
Testimonies
Many beauty gurus swear by this Korean overnight mask because they never fail to wake up looking refreshed and ready to go. Their skin always looks supple, hydrated and well-moisturised. Users typically use this product to lock in the moisture overnight and prevent the skin's transdermal water loss. However, there are a few users who dislike its stickiness after application. 
Promising Review
"Amazing light weight mask. My brother introduced this mask to me while I was visiting him in CA for our birthdays. Applied this the night before and woke up hydrated, glowing and smooth. Incredible product!!!!" – Alyssa T.
More: 8 Intensive Skincare Face Masks You Can Sleep In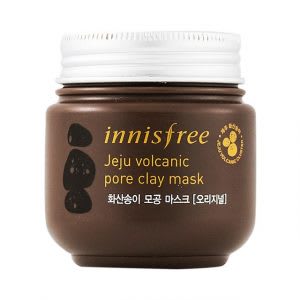 Check Innisfree Jeju Volcanic Pore Clay Mask price below:
add_circle
Suitable for oily and acne prone skin
add_circle
Doesn't dry out the skin
Innisfree's clay mask provides an affordable pore-clearing solution to those with oily skin and congested pores.
Features
This Korean product features a clay mask made from Jeju volcanic clusters to intensively absorb excess oil and give the pores a deep cleanse. Jeju volcanic cluster is a remarkable ingredient in effectively absorbing sebum and dirt from your pores. Furthermore, its 3-in-1 formulation removes sebum, brightens skin and treats blemishes while soothing and moisturising the skin. 
Testimonies
The most relatable benefit that users shared would be the improvement in overall sebum production of the skin. Users also noticed lesser breakouts after consistent usage. Aside from that, its Jeju Volcanic Clusters helped users to remove stubborn blackheads, leaving the skin looking brighter without drying it out as other clay masks do.
Promising Review
"This product is a hold grail product, bought it on recommendation of my friend and then I cant look back. This has been my best friend since then. I have oily skin and this is just perfect for that it cleans my pores so well and doesn't dry my skin which others masks often do. If you are looking for something that cleans your pores, control excess oil and also doesn't leave skin much dry you should definitely go with this. I am in love. Worth buying" – Prar B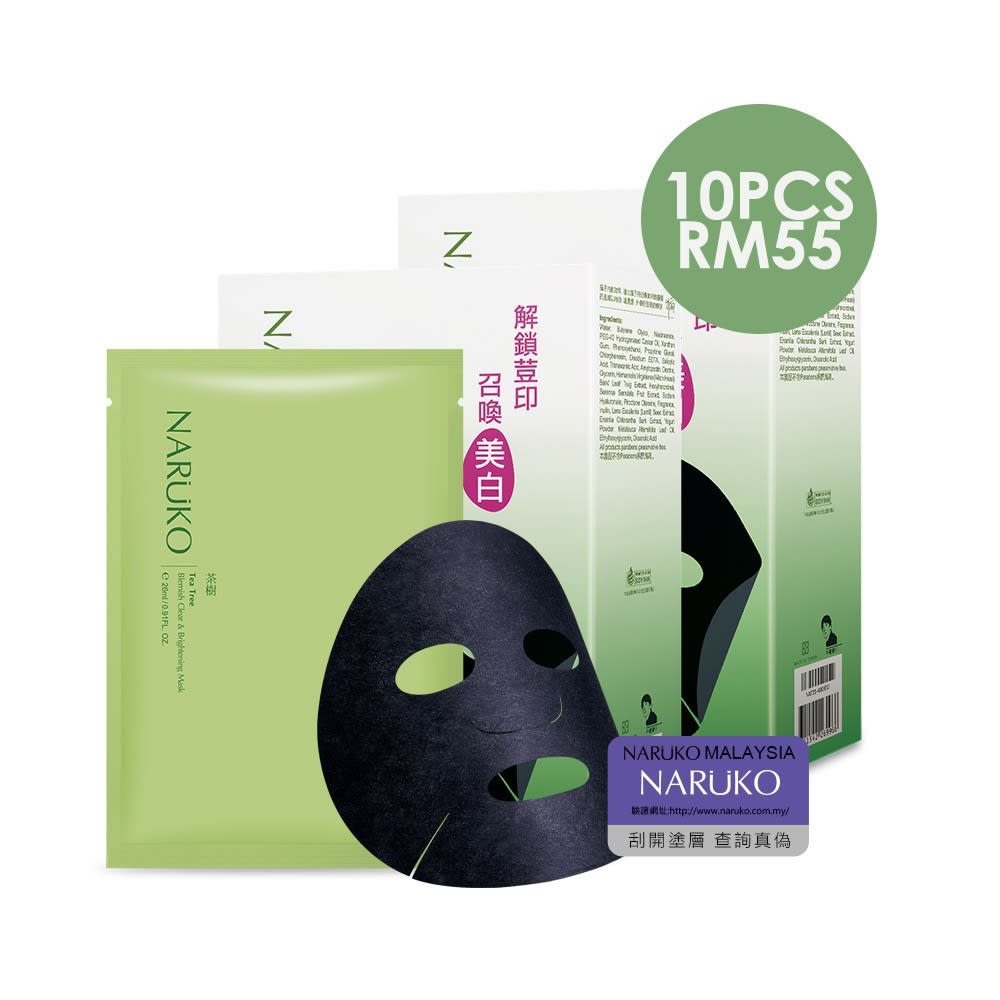 Check Naruko Tea Tree Blemish Clear & Brightening Mask price below:
add_circle
Prevents oily skin
add_circle
Calming effect on irritated skin
Say goodbye to oily skin and angry-looking pimples with Naruko Tea Tree Blemish Clear & Brightening Mask. As a bonus, it brightens the skin effectively which is a major help if you have dull, uneven spots due to long term acne scarring and pigmentation.
Features
This sheet mask contains activated charcoal which plays a role in absorbing excess oil, in turn reducing acne breakouts. It also contains a blend of Yogurtenerights® Balance, Sodium Hyaluronate, Snow Fungus and Witch Hazel to help regulate sebum control to prevent oily skin. Moreover, it contains Salicylic Acid which prevents acne and Australian Tea Tree Oil to calm irritated skin.
With brightening ingredients like Synovea® HR, Niacinamide and Tranexamic Acid in this formulation, the skin receives ample boost in achieving a healthy glow. 
Testimonies
What's best about this sheet mask is not only do users get oil and acne control, but they also receive a brightening effect due to its potent formulation. Some users are faithful towards this particular facial mask series as it also calms and hydrates the skin, leaving the skin plump and dewy-looking. 
Promising Review
"Essence dried down to a matte finish. The pesky pimples were slightly less painful and alot less red, they look brown almost. My skin looked hydrated, smooth, and very bright. My skin also felt soothed and hydrated. Definitely a repurchase especially for when acne strikes! Continued use will eradicate those pesky pimples!" - Elaine
More: Sheety Skin? These 10 Sheet Masks Will Sort You Out!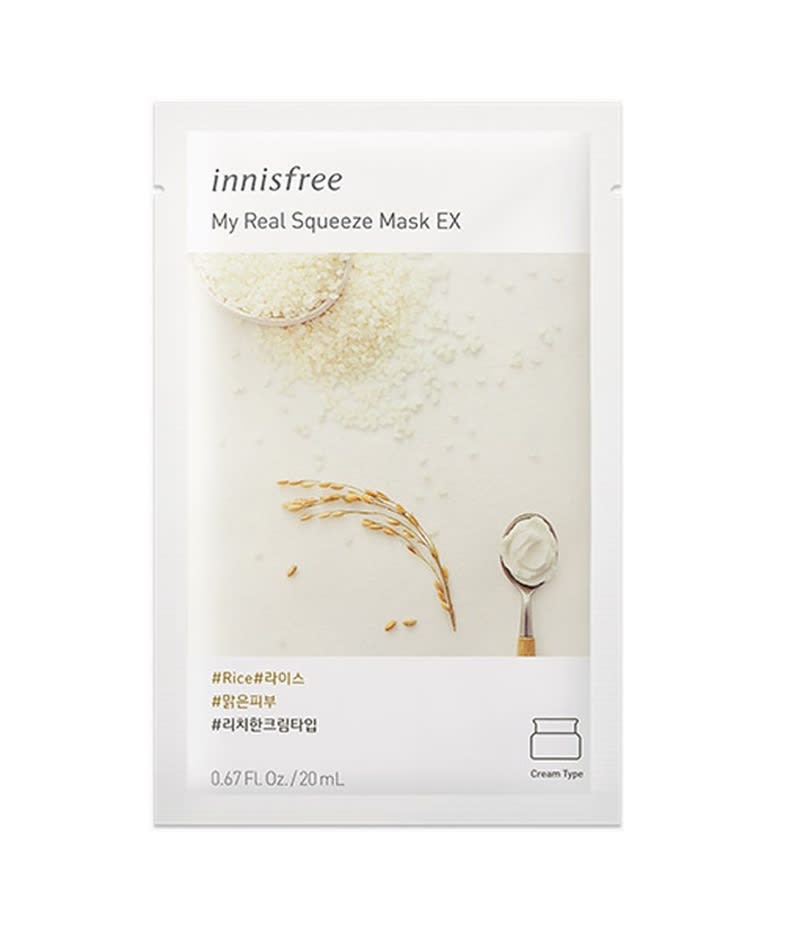 Check Innisfree My Real Squeeze Face Mask (Rice) price below:
add_circle
Suitable for uneven skin tone
add_circle
Rich cream essence
Innisfree has a wide range of selections when it comes to its My Real Squeeze Face Mask series which can help users with specific needs. Their rice mask variant is formulated especially for those who aim to brighten their skin and achieve dewy-looking skin. 
Features
This mask has 20ml worth of rich-cream essence with abundant nourishment from rice where it leaves dull skin clear and transparent. The rice ingredient can naturally brighten the skin, achieving a whitening effect after usage. Besides that, this facial mask is rich in active ingredients that are slowly extracted through a cold brew squeeze process at low temperatures to ensure the best benefits.
To top it off, it has Jeju green complex (green tea, tangerine, cactus, camellia leaves and orchid) and rice which helps users attain flawless, dewy-looking skin. 
Testimonies
Innisfree has a huge fan base for its My Real Squeeze Face Mask (Rice). It is one of the best facial masks because users love its efficacy in brightening their skin. The effects are significant that they only require 2 masks in a week to maintain the results. Aside from that, users reported that their skin feels well-moisturised, smooth and refreshed after application.
Promising Review
"I have tried every type of mask in the My Real Squeeze mask range and I find the Rice fomula works best for skin whitening and making the skin tone even. The rich cream moisturizer absorbs well into the skin and it helps to lighten the dark patches on my skin. I have some dark patches on my skin because of old acne scars and the Rice mask works in lightening the spot. After removing the mask, my skin also feel supple, plump, and refined. Even though my favorite My Real Squeeze Mask is the Manuka Honey, I use the Rice mask about once or twice a month to help keep my skin bright and fresh" – Jaj S.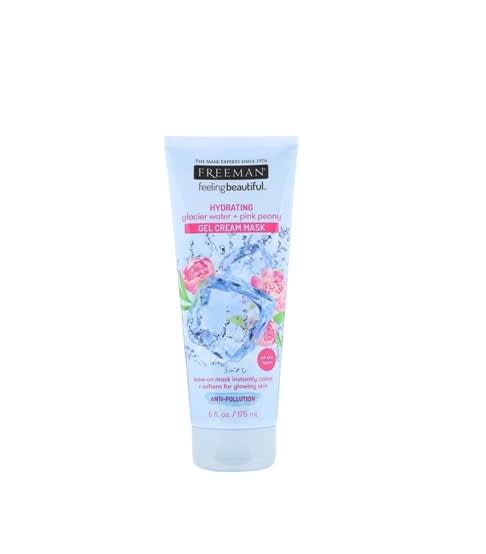 Check Freeman Hydrating Glacier Water And Pink Peony Face Mask price below:
add_circle
Lightweight formula
add_circle
Leaves skin soft and smooth
Maintaining the skin with skincare products doesn't always have to be expensive. You can quench skin's thirst at an affordable price with Freeman Hydrating Glacier Water And Pink Peony Face Mask.
Features
The stand out feature of this gel-cream mask is its dual function as a wash-off treatment and as an overnight mask. A thicker layer of the mask acts as a wash-off treatment which delivers instant nourishment and hydration to the skin while a thinner layer acts as an overnight mask to ensure optimal hydration and moisture retention until sunrise. 
Next, the refreshing Glacier Water replenishes dry and dull skin while delivering soothing effects. The formulation contains Pink Peony, also known as the queen of flowers which delicately calms and smooths the skin to achieve petal-soft skin. 
Testimonies
According to its long list of good reviews, users especially love how plump and soft their skin feels in the morning. This lightweight hydrating mask provides hydration so adequately that users report cleaner pores and a reduction in acne breakouts. Another plus point is its ability to soothe and cool irritated skin. 
Promising Review
"I really loved this mask! I ended leaving it on for about an hour (before) washing it off. My skin felt SUPER soft and still does! The scent is not overpowering and the texture is good, the only drawback is that the mask felt a little sticky/oily but that easily washes off"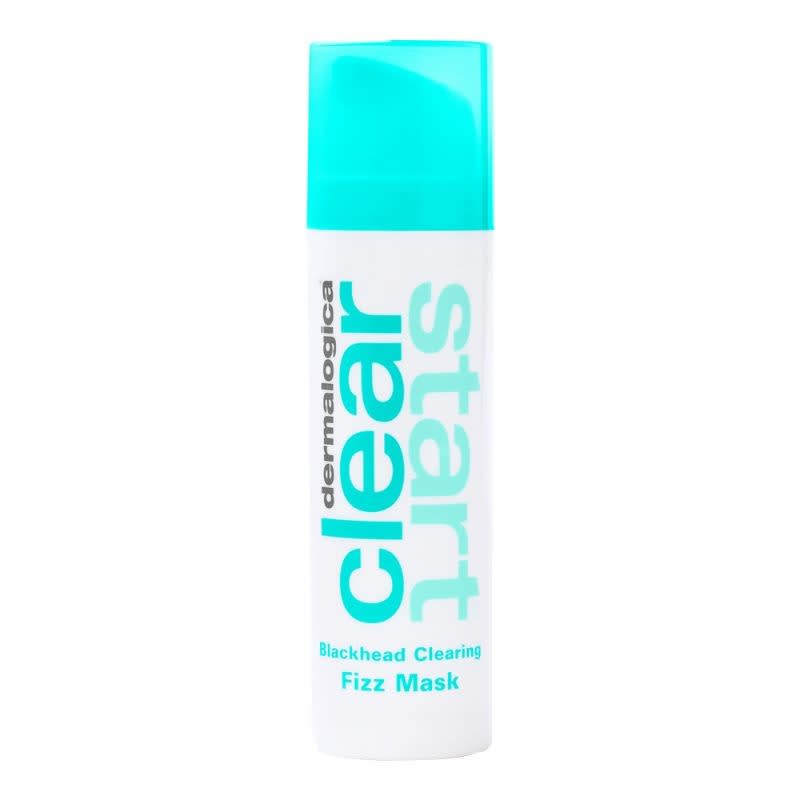 Check Dermalogica Blackhead Clearing Fizz Mask price below:
add_circle
Works efficiently to clean out pores from blackheads
add_circle
Can be used by all types of skin
Features:
Removing annoying, stubborn blackheads can be a hassle; especially if they are as visible under the sun. But with dermalogica's blackhead clearing fizz mask, you'll find your skin less oily and smoother looking after every usage!
With ingredients like sulfur that clears out pores and kaolin clay that helps absorb excess oils, this face mask is definitely for those looking to clear out their blackheads and pores.
Testimonies:
Through the usage of dermalogica's blackhead-clearing fizz mask, 97% saw less oily skin after just one use whereas 92% saw smoother-looking skin after one week of usage. Additionally, some users were really impressed with the way the product managed to open up their pores and clean them out.
Promising review:
'This product took everything out of my pores without irritating my skin, this is my new holy grail for blackheads.' – Alma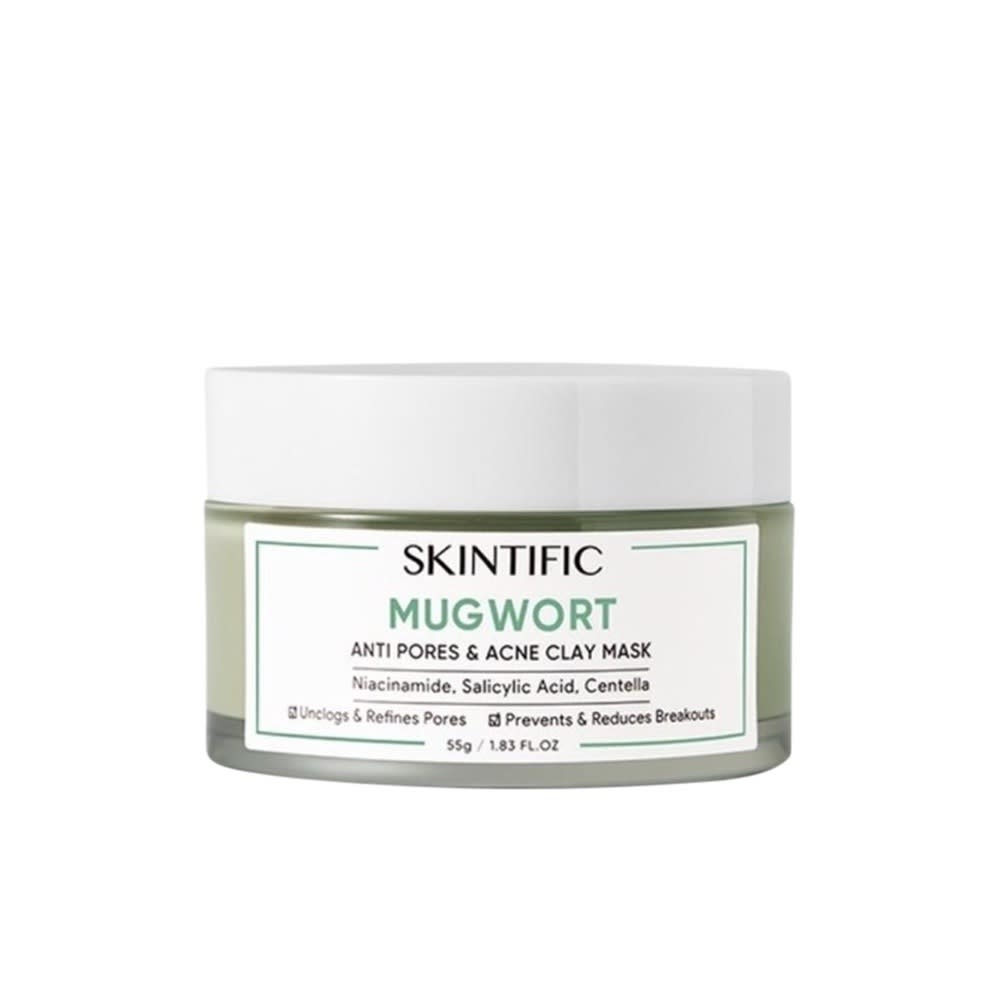 Check SKINTIFIC Mugwort Anti-Pore & Clay Mask price below:
add_circle
Can calm redness, and inflammation on the skin
Features:
If you're looking for a facial exfoliator in the form of a mask, then you've stumbled upon the right one!
This clay mask from SKINTIFIC contains salicylic acid in it that functions as a chemical exfoliator for the surface of the skin as well as in the pores; it is also an anti-inflammatory agent that can block the effects of certain enzymes that contribute to inflammation.
With the help of salicylic acid, it can penetrate deep into the skin to remove dead skin cells that cause clogged pores and breakouts; excess sebum or oil that can be found in the pores will be dried out too. As a result, this will evidently prevent breakouts from happening or reoccurring.
Testimonies:
From using this clay mask from SKINTIFIC, 89% of users feel that their pores have shrunk and 83% feel that their skin tone has become more bright and even after consistent use.
Promising review:
'I thought the mask would be hard to clean but then when you apply it on your face, it is actually really soft and easy to clean whether you wash with water or towel. I really recommend this product for anyone that has red skin because it really helps!' – Case
---
What are the benefits of facial masks?
In a nutshell, a facial mask provides an instant boost while targeting specific skin needs as there is a facial mask for every skin concern. 
Sheet masks:
They typically hydrate and moisturise the skin for over 15-30 minutes before needing to be taken off.

Every sheet mask contains its very own star ingredient to provide specific benefits. 

These can vary brightening, anti-ageing, sebum control, texture improvement, spot treatment or pigmentation reduction. 
Clay masks:
Another type of mask is the clay mask which usually contains kaolin clay and other ingredients to help with oil control and sebum production. 

Suitable for oily skin, this type of mask can contain specific ingredients to deep clean the pores, resulting in cleaner skin with lesser blackheads and acne breakouts. 

Some clay masks act as physical scrubs to help users achieve smooth supple skin.
Gel masks:
There are also gel-like masks that are lightweight and offers multi functions as a nourishing, hydrating wash-off treatment or either an overnight moisturiser. 
Other masks:
Lastly, some facial masks contain gentle chemicals to exfoliate the skin's epidermal layer to promote cellular regeneration, unclog pores, reduce blackheads and brighten the skin.