In this day and age, with the amount of electricity mankind uses, power failures are inevitable whether you like it or not.
Since we are in a world where most items from cleaning tools to entertainment options have gone digital, it's more evident that having a durable and reliable power station will be a worthy investment tool to have with you at all times.
Rather than waiting to ask Tenaga Nasional Berhad when the electricity for your home will be back, just save yourself the headache and get a power station set like the Jackery Solar Generator 1000 Pro set or any of the their power stations like the Explorer 500.
---
Jackery: Creator of World's First Outdoor Portable Power Stations
From the get go, Jackery has been designing Earth-friendly products for your daily or travel needs. Founded in 2012 in California, USA, Jackery went out to the world with a vision to offer green energy.
The brand started out with a bang by launching the world's first outdoor portable power stations. Two years later, they also made another feat by releasing the world's first portable solar panels.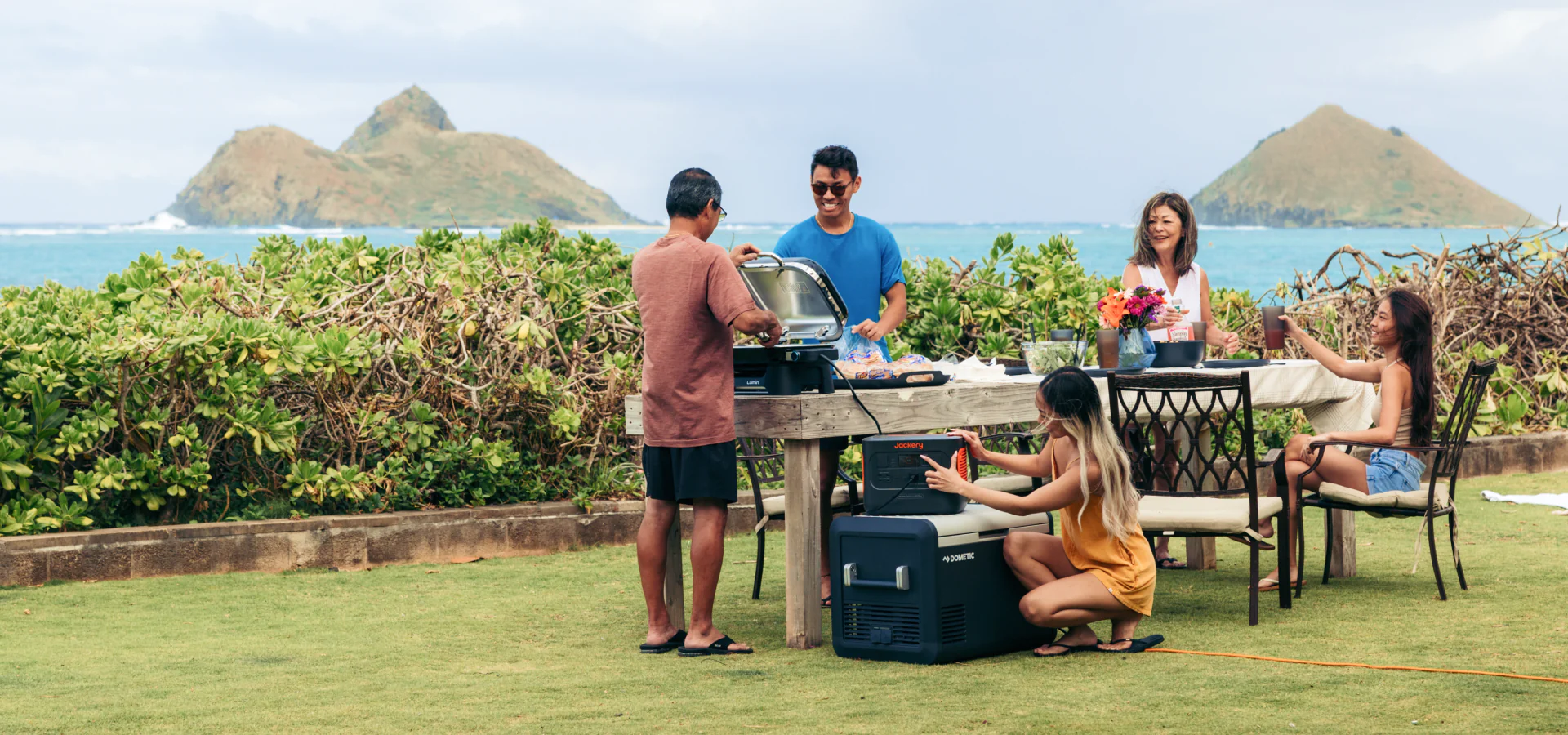 Aim to produce solar generators for the great outdoors, Jackery's products are made to meet the power needs of every nature-lover. Rather than confining yourself to the park for a nature retreat, power stations like the Explorer series are great for enabling global adventurers enjoy the outdoors sustainably and seamlessly.
To date, Jackery is recognised as a global leading brand in the solar generator industry, and has accumulated millions of units sold since.
---
About: Jackery Solar Generator 1000 Pro set & Explorer 500 Power Station
For a better understanding of the series, ProductNation was offered to try the Solar Generator 1000 Pro bundle and a Jackery Explorer 500 power station.
To further explain, the Solar Generator 1000 Pro bundle consists of a high-capacity Explorer 1000 Pro Power Station & an advanced SolarSaga 100W Solar Panel. This set is a great value buy as a fully equipped solution for harnessing solar energy capture, usability, and safety, powering you and your family's ultimate outdoor experience.
Otherwise, you can get them all separately if the bundle is not what you're after.
For the Explorer 500 Portable Power Station unit we got, it is meant for charging low to high-power appliances for long hours. With a high battery capacity of 518Wh, a foldable handle, an ergonomic design, and industry-leading BMS technology, this power station is also great for outdoor excurisons and does well as emergency home backup solutions. It is also easy to carry around at just 6kg in weight.
To note, the Jackery Portable Power Station series in Malaysia consists of 3 options: Explorer 240, Explorer 500 and Explorer 1000 Pro. Whichever power stations you opt for, they are some of the lightest and most portable rechargeable lithium battery generators on the market.
With all of that said, here's what went down.
---
Specifications: Jackery Explorer Series
Jackery Explorer 1000 Pro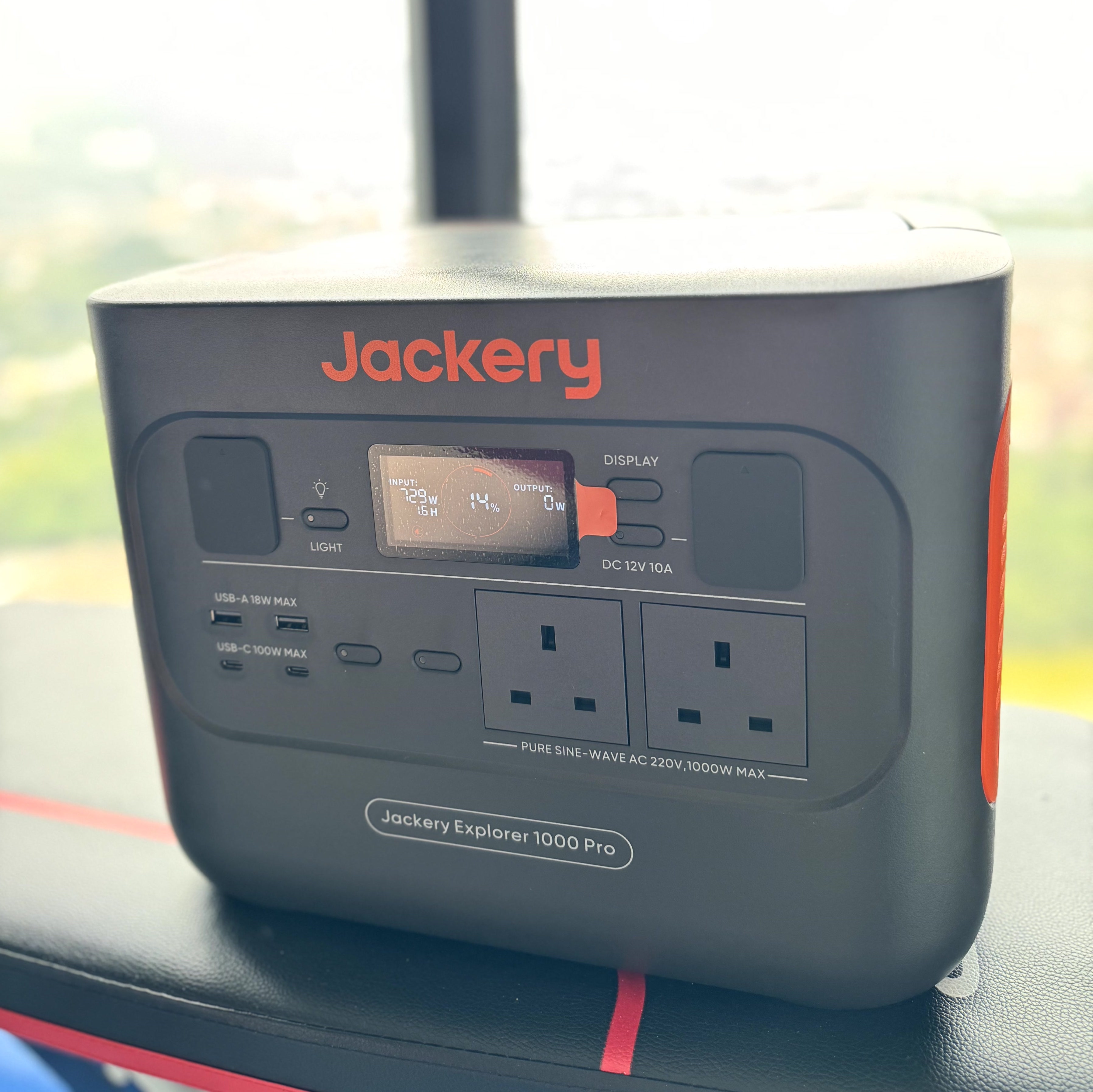 Capacity: 1,002Wh
Dimensions: 26.2cm (W) x 34cm (H) x 25.5cm (D)
Net Weight Approximately: 11.5kg
AC Input: 230V, 50Hz, 10A Max
AC Output: 230V, 50Hz, 1000W (2000W Peak)
USB-C Input/Output: 100W Max, (5V, 9V, 12V, 15V, 20V up to 5A)
USB-A Output: Quick Charge 3.0x2, 18W Max
Car Port: 12V⎓10A
Cell Chemistry: Lithium-ion
Cycle Life: 1000 cycles to 80%+ capacity
Charging times: 1.8 Hours (AC adapter), 5.44 Hours (Car adapter) or up to 9 Hours (SolarSaga Solar Panels)
Warranty: 3 Years
Jackery Explorer 500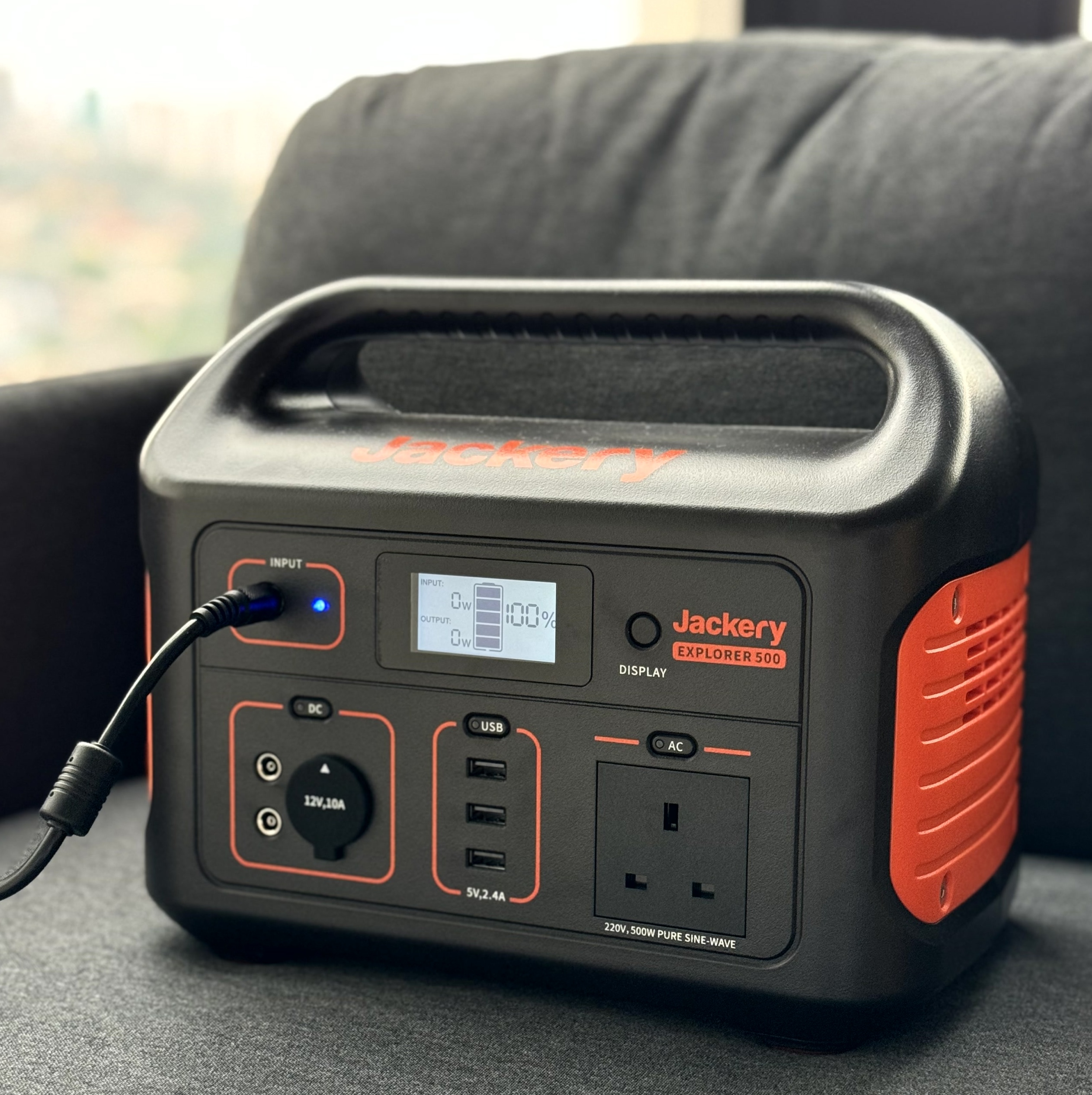 Capacity:

518Wh

Dimensions: 19.2cm (W) x 30cm (H) x 24.2cm (D)
Net Weight Approximately: 6kg
AC Input: Doesn't support direct AC charging - use external AC charger provided
AC Output: (x1) 230V, 50Hz, 500W (1000W Peak)
USB-C Input/Output: n/a
USB-A Output: (x2) 5V⎓2.4A
Cell Chemistry: Lithium-ion
Cycle Life: 500 cycles to 80%+ capacity
Charging times: 7.5 Hours (Car & AC adapter) or 9.5 Hours (SolarSaga 100W Solar Panel)
Warranty: 2 Years
Jackery SolarSaga 100W Solar Panel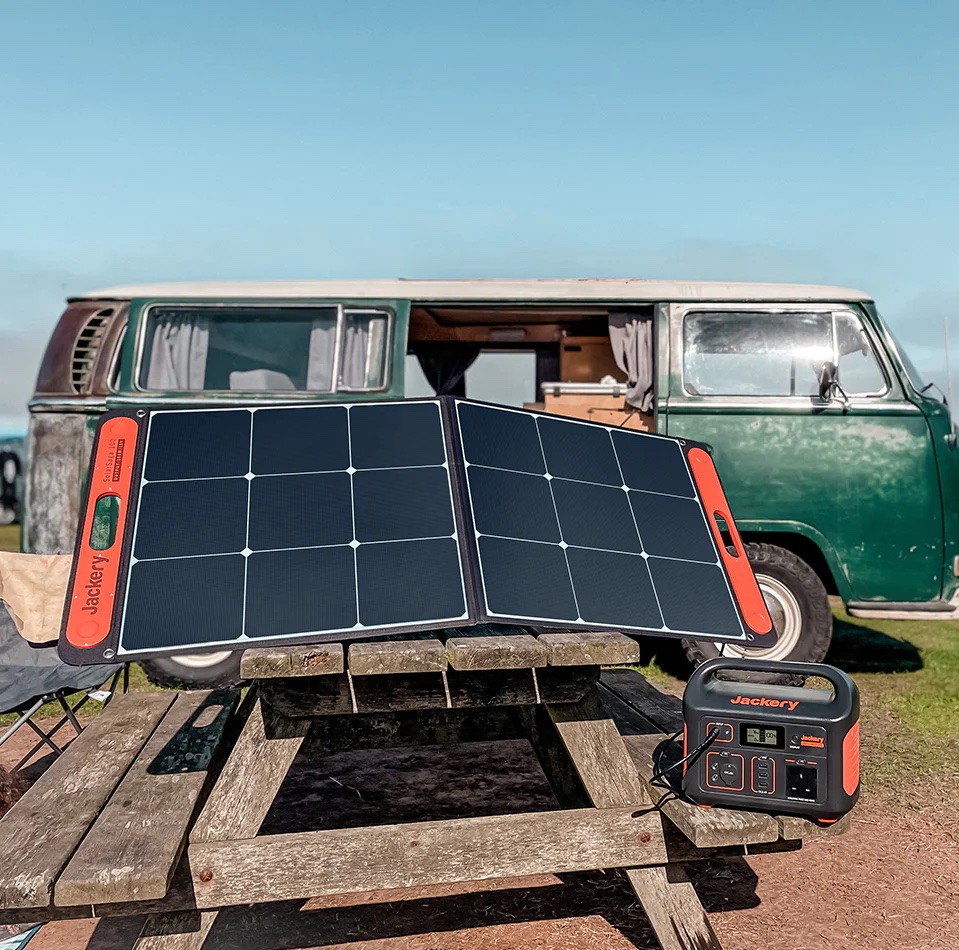 Dimensions: 122cm x 53.5cm x 0.5cm (unfolded)
Net Weight Approximately: 4.69kg
Waterproof: IP65
Material: Monocrystalline Silicon Solar Cells
USB-A Output: 5V⎓2.4A
USB-C Output: 5V⎓3A
Peak Power: 100W
Power Voltage: 18V
Power Current: 5.55A
Open Circuit Voltage: 21.6V
Short Circuit Current: 6A
Efficiency rate: 23%
Warranty: 2 Years
---
Jackery Power Stations & Solar Generator Reviews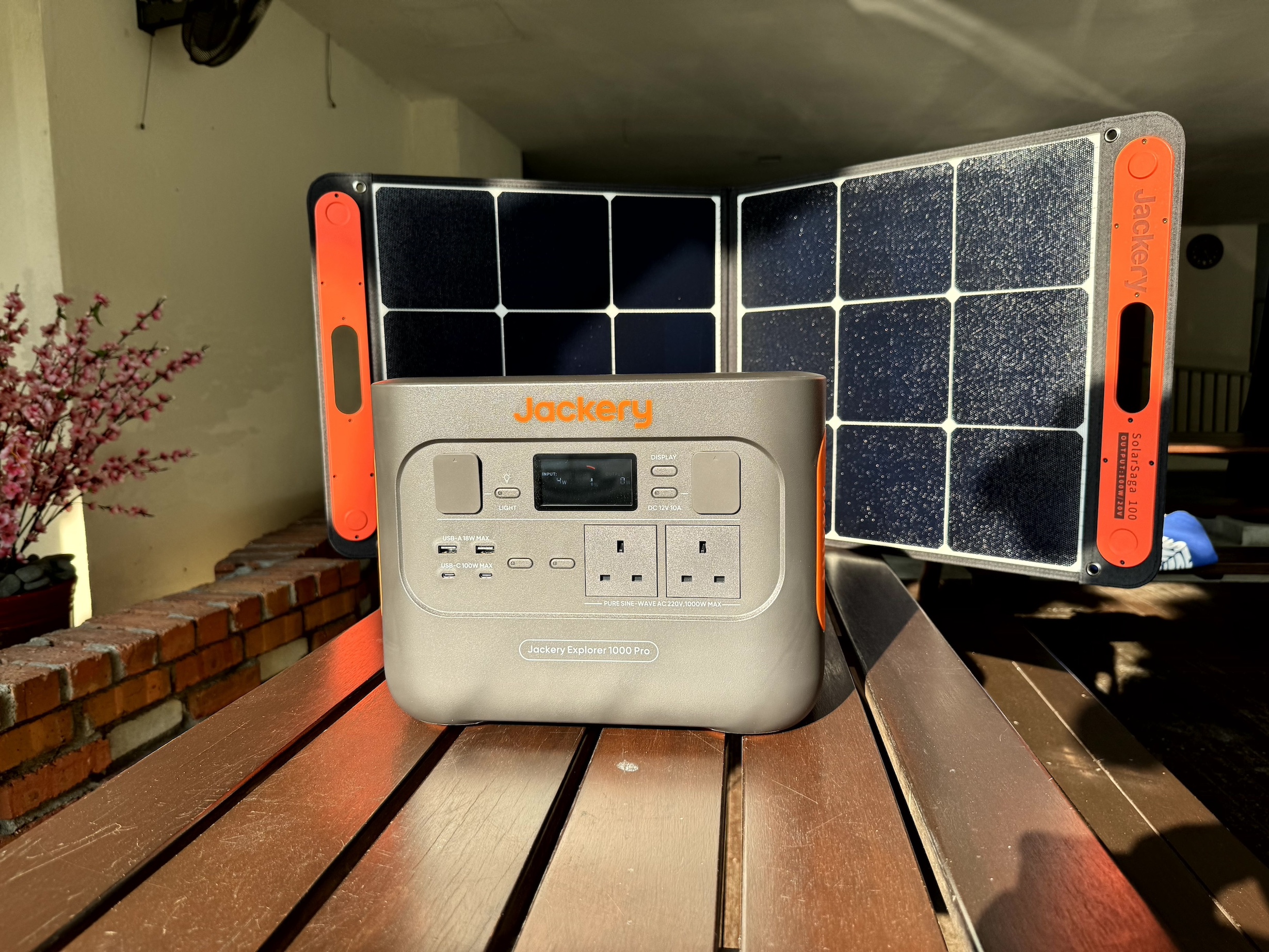 - Design
Although simple in colours (themed orange with grey highlights), the products have a pleasant design to use and are quite easy to navigate around with. 
For example, the power stations are fitted with hand holders to enhance their portability. It's even the same for the solar generator panel, which was interesting since it conveniently has a cable pocket for us to easily store the cables without losing them.
Both the power stations are also fitted with an LCD screen so that we can easily check the display to know how much battery is left and how much output power is used too.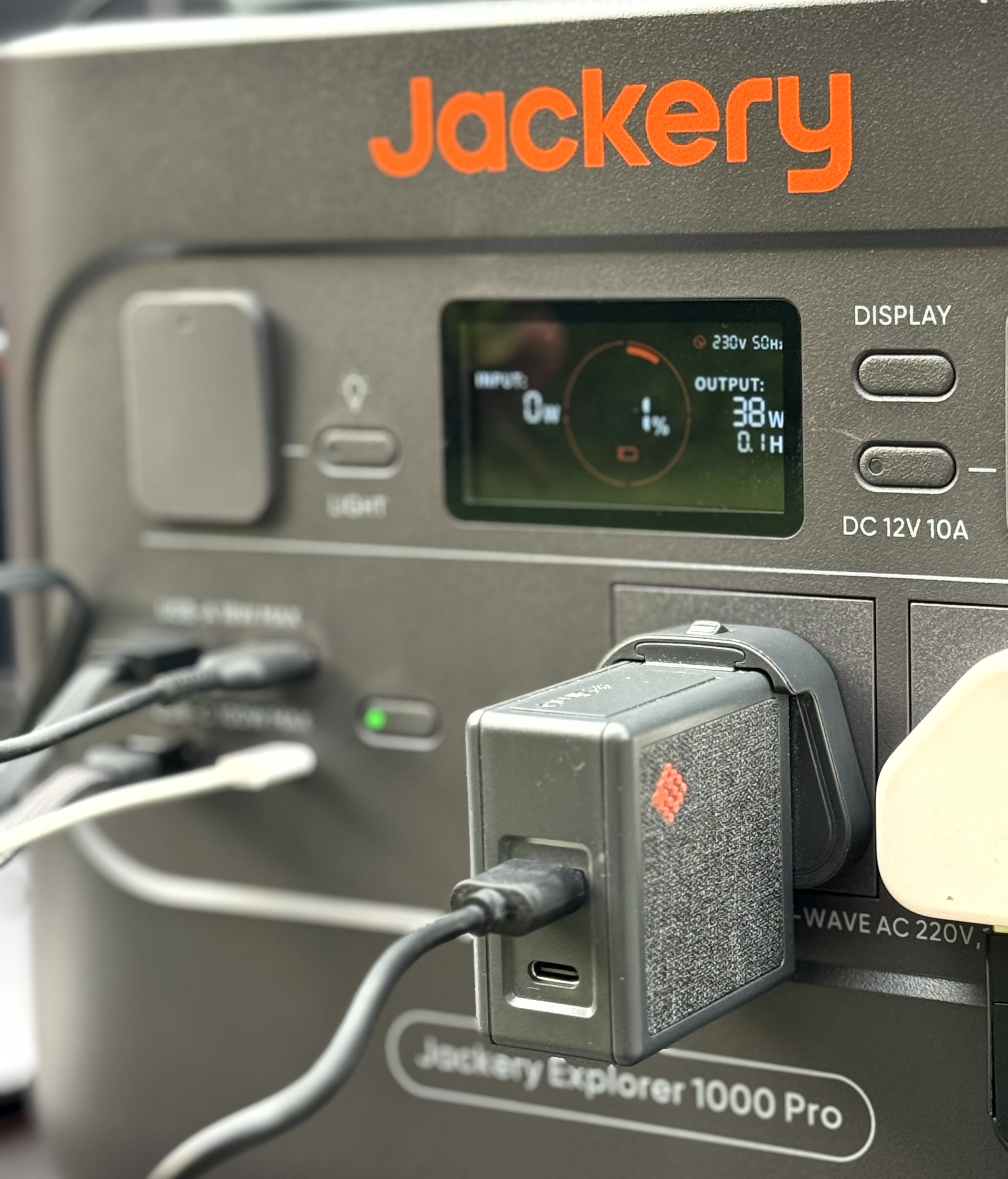 Moreover, the power stations have a hard, matte finish surface which we think reduces the look of excess fingerprint smudges. Meanwhile, the solar generator panel feels durable and sturdy.
Additionally, a privilege you can enjoy is the assured quality inside out of the Power Stations and Solar Panels. This is backed by the fact that Jackery brands themselves have won recognitions such as a Prestigious SEAL Sustainable Product Award and has an Industry First Carbon Footprint Verification by TÜV SÜD.
A difference between the two power stations? The Explorer 500 seemed a little more plastic-ky in its design compared to the Explorer 1000 Pro. Not only that, but the Explorer 1000 Pro is designed with 4V-0 fire rating fireproof material and has 9 temperature sensor detectors which work to maintain its working temperature.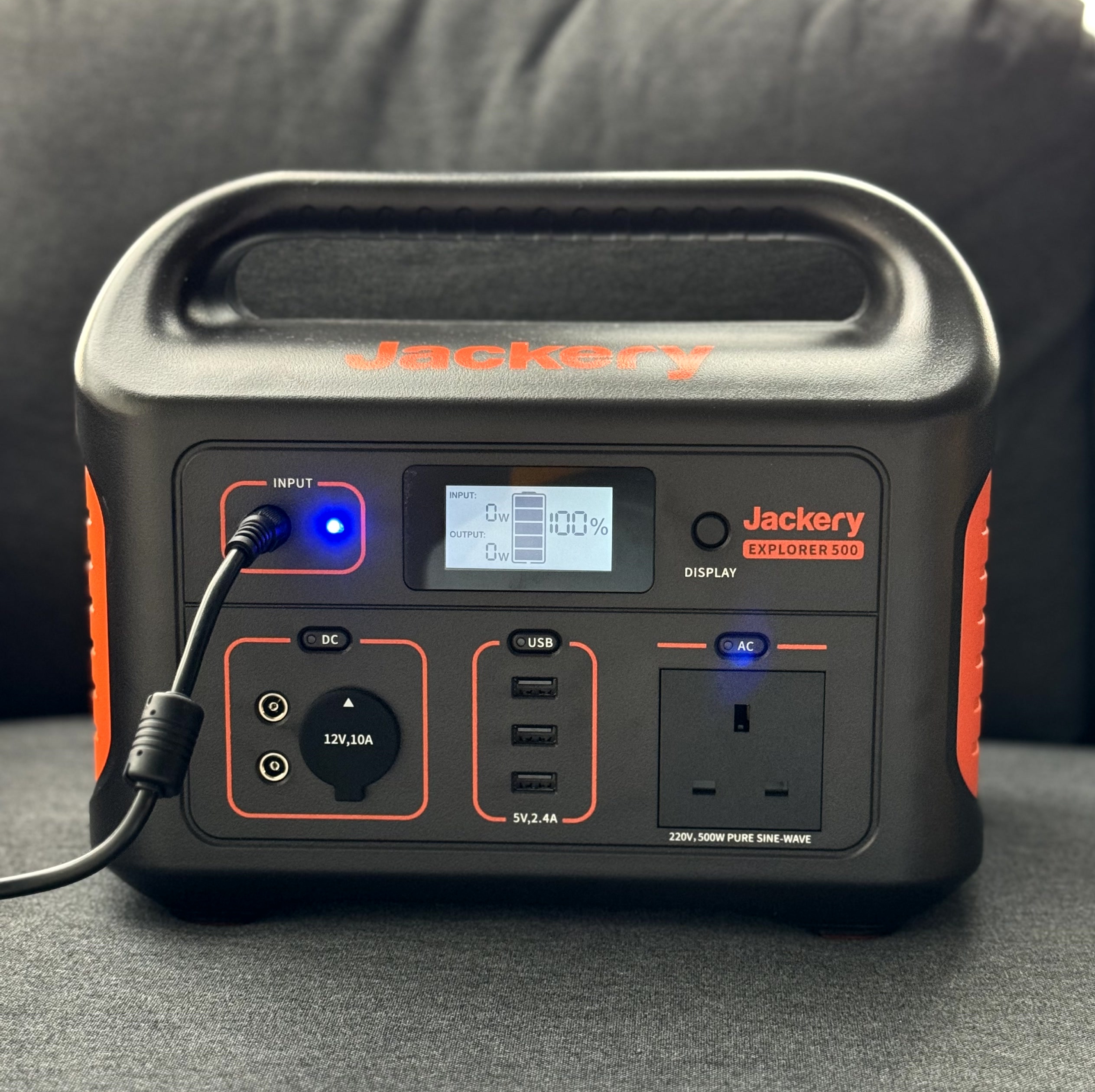 Additionally, we wished for the Explorer 500 to also have a car adapter instead of just a UCB-C port, which the Explorer 1000 Pro has both. 
One more design that could be improved would be that the cables are labelled with numbers so that beginners would know which cable should be used for whichever port.
---
- Safety Features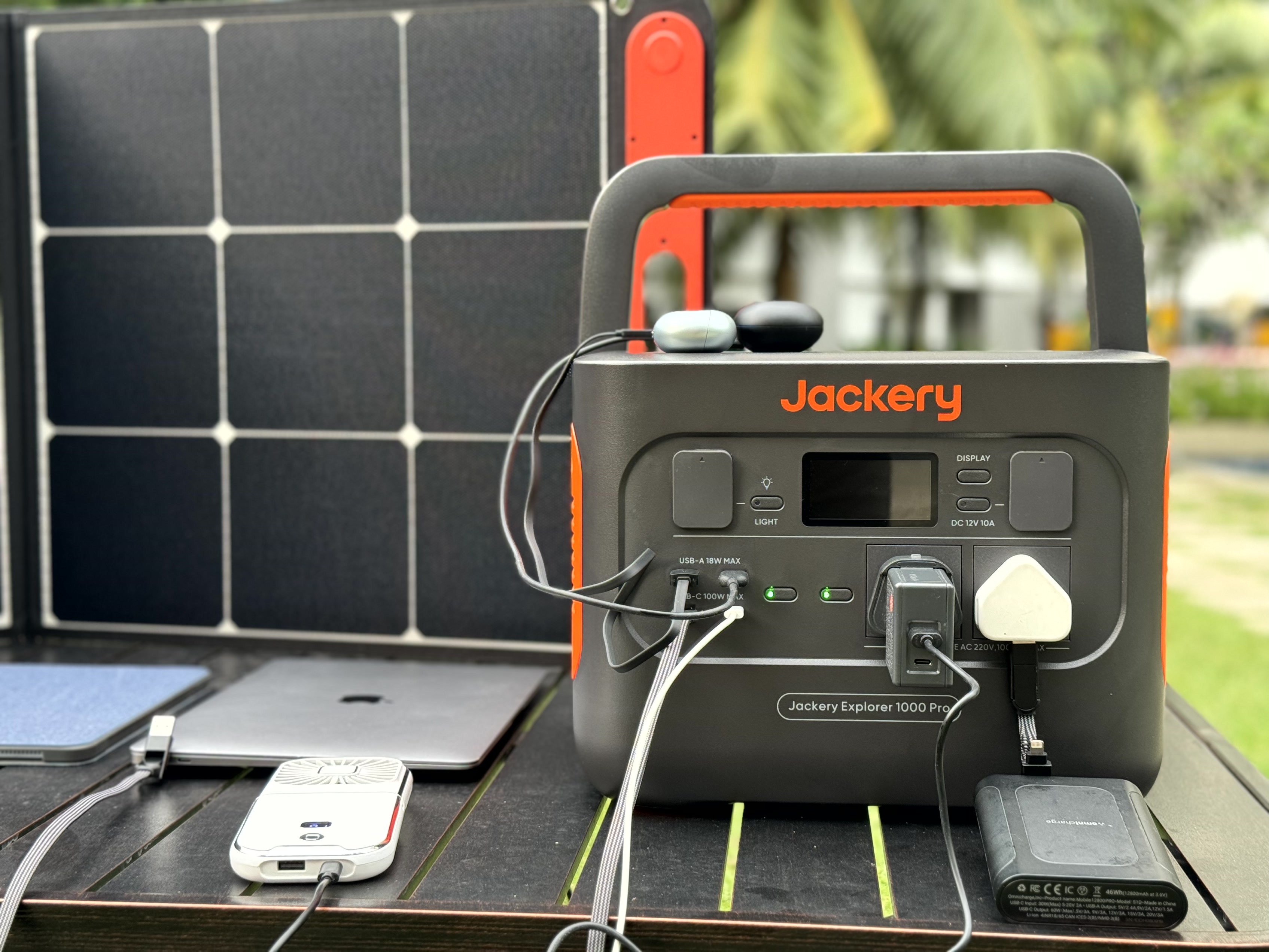 With such a powerful tool like a power station, there's bound to be worries about safety use. Rest assured that Jackery has several safety features in place.
First of all, there's no need for worrying about charging risks. Both the Explorer 1000 Pro and Explorer 500 feature an industry-leading Battery Monitoring System (BMS) to ensure that the stations don't overcharge. Not only that, both power stations also has a pure sine wave inverter that helps to deliver stable power to your devices.   
Especially for the Explorer 1000 Pro, its BMS has 12 levels of protection, with the list of accidents the BMS overlooks include overvoltages, high temperatures and short circuits. 
When it comes to working temperature, both power stations are fitted to have a working condition range stat withstand extreme weather. For instance, the power stations are able to work in weather conditions from as low as -10, all the way to as hot as 40℃. This means you can bring them to almost all of your travel destinations.
Should you need to have a reliable source of backup power, the Explorer 1000 Pro can be on standby for more than 365 days at 100% charged capacity. 
---
- Certifications & Warranty
Jackery is also committed to adhering strict safety protocols as per indutry standard in order to make their products safe for all.
The Explorer series, which includes the Explorer 1000 Pro and Explorer 500, is certified with a Class B Electromagnetic compatibility (EMC CE). This Class means that usage as well as its radiation emission are safe for residential environment. Plus, this class rating is akin to appliances such as a television.
Besides the EMC CE, both power stations are also UL Certified for its overall safety use. The certification signifies the fact that power generators have gone through rigorous testings in order to deem it safe and free from significant risks to users. 
Additionally, all of Jackery's products are manufactured in an industry leading automatic factory under a traceable MES (Manufacturing execution system). This is done so in order to track and record a smooth manufacturing process of products, which in turn ensures quality and safety maintenance of each Jackery product.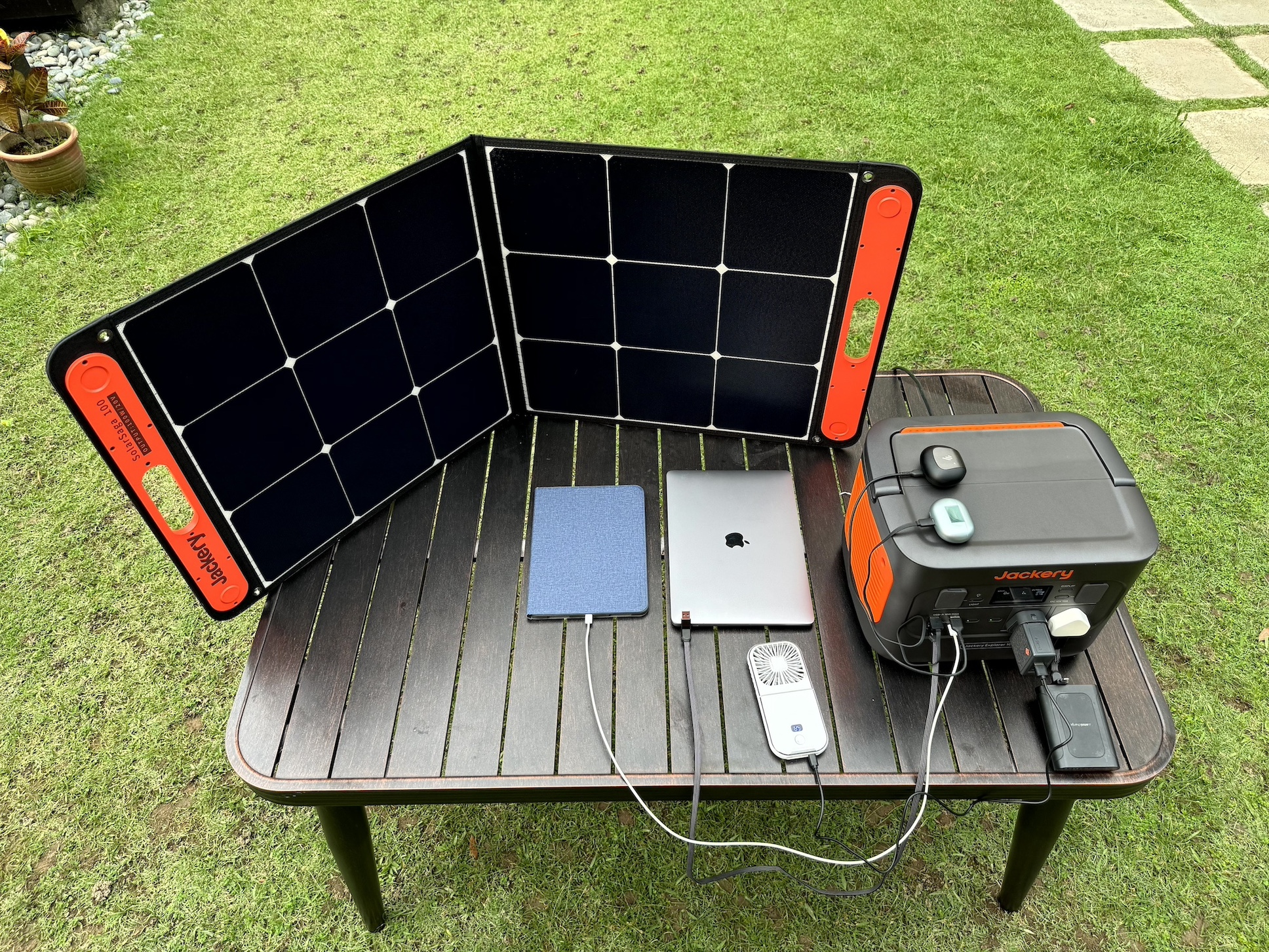 Not forgetting; should you need assistance in servicing your products, the power generators and solar panels are equipped with warranties too.
With purchase of the Explorer 240, Explorer 500 and Solar Generator panel will be 2 years of warranty whereas warranty for the Explorer 1000 Pro is 3 years. If you decide to purchase the Solar Generator 1000 Pro set, you get 5 years instead.
---
- Performance
After about 2 weeks worth of use, we think you won't go wrong with these Jackery products. 
For instance, we found our expectations exceeded as Jackery power stations charge items quite fast. We tested both power stations by charging multiple devices, and we're happy to find that the output is speedy regardless of the models. Electric flow was also constant with no signs of overheating or such.
For clarity, the ports were all being utilized (the 3x USB-A + AC Adapter). In our time spent, everything was consistent with no signs of battery being charged inconsistently across our devices.
Moreover, charging the power stations did not really cause any issue, with all times expected and as stated by Jackery (as long as 7.5 hours with a car/AC adapter).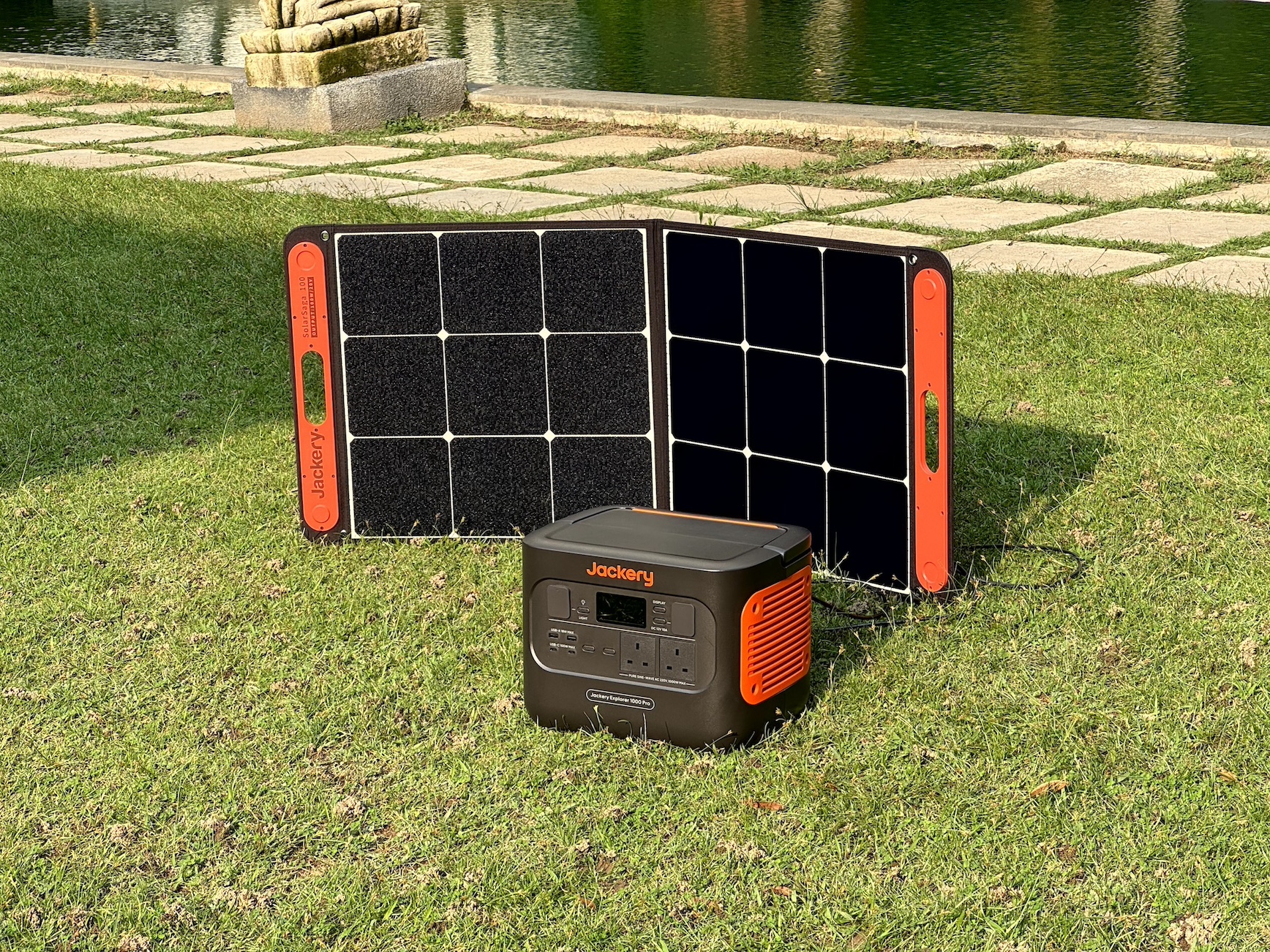 Now, when it came to charging with the solar generator panel, we did come across difficulties as Malaysia was facing rainy and cloudy weather during the stint of our review. As a matter of fact, Jackery shared that we'd be able to charge the power stations in under 10 hours with the solar generators. 
But alas we needed 13 hours to charge them. We believe that this might be due to the lack of strong sunlight and that the weather was unpredictable at times (sometimes it rained in the morning, and sometimes in the afternoon). Hence, the inconsistency has led to a longer charge time instead.
Still, you won't go wrong with the solar generator panel. Perhaps when the rainy weather subsides, we'll be able to get better results.
---
Conclusion
Our rating: 9/10
So, is Jackery worth it?
All items worked just as intended, and anyone looking to invest in the Jackery Explorer 500, Jackery Explorer 1000 Pro and Jackery SolarSaga 100W Solar Panel will not be disappointed. We highly recommend getting the Jackery Solar Generator 1000 Pro Set for the best value and warranty offer. 
In the brand's entirety, we found little to no issues when trying to use all the products. They were easy and straightforward to use, save for the slight confusion when it came to figuring out which cable goes to which port (that would be a design improvement we look forward to in future newer series).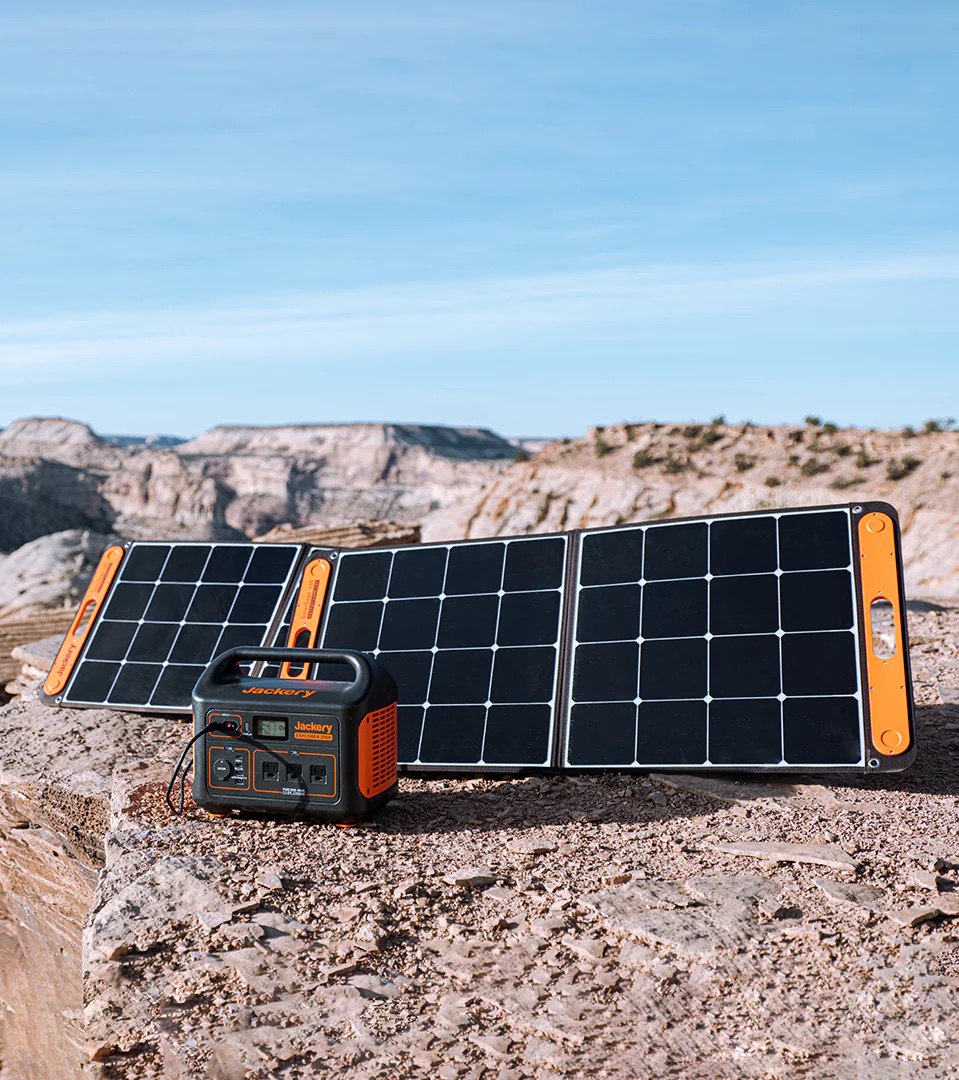 If you need to choose, the Solar Generator 1000 Pro set is perfect for most situations, with the Explorer 1000 Pro perfect for travel as due to its incredible amount of safety feature and standby capability of up to 365 days. Meanwhile, the Explorer 500 is light and works great as a power station for outdoors be it in hot weathers to mountaineous terrains. Plus, the power stations can be charged up to 4 ways which makes them versatile.
To note, with the SolarSaga 100W Solar Panel, it is recommended to use multiple units of it to charge the Portable Power Station series for fast charging benefits. Otherwise you will have to time your schedule right to charge your items with the solar generator when it's the rainy season; we imagine you won't have any issues when the weather clears up.
Buy: Jackery Power Stations & Solar Panels in Malaysia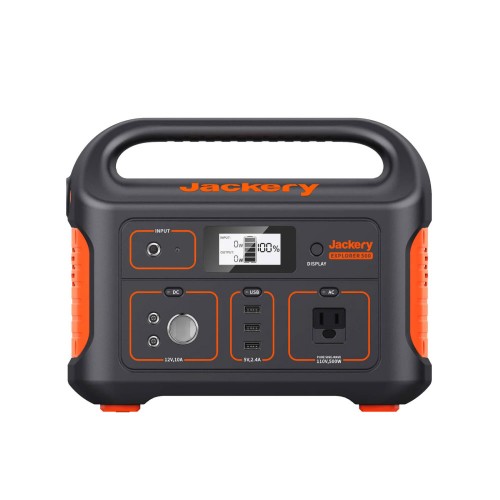 Check Jackery Explorer 500 price below:
add_circle
Great portability (not as heavy as we thought)
add_circle
Easy to operate
add_circle
Big battery capacity
add_circle
Supports solar charging
remove_circle
No USB-C charging option
remove_circle
Charging time can be faster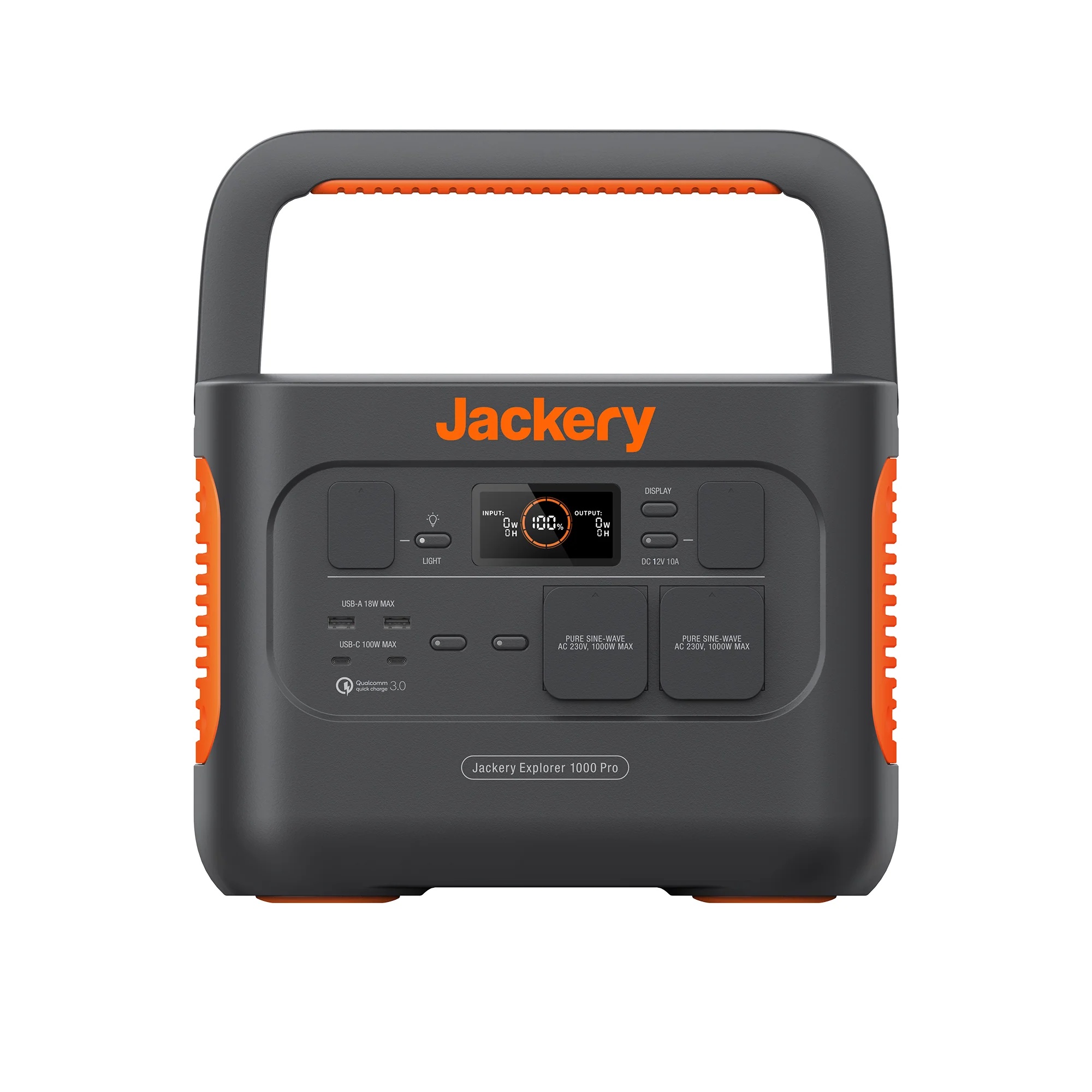 Check Jackery Explorer 1000 Pro price below:
add_circle
Great portability
add_circle
Easy to operate
add_circle
Big battery capacity
add_circle
Many ports to use
add_circle
Supports solar charging
remove_circle
Bulky & heavy
remove_circle
Slow charging when used with solar panel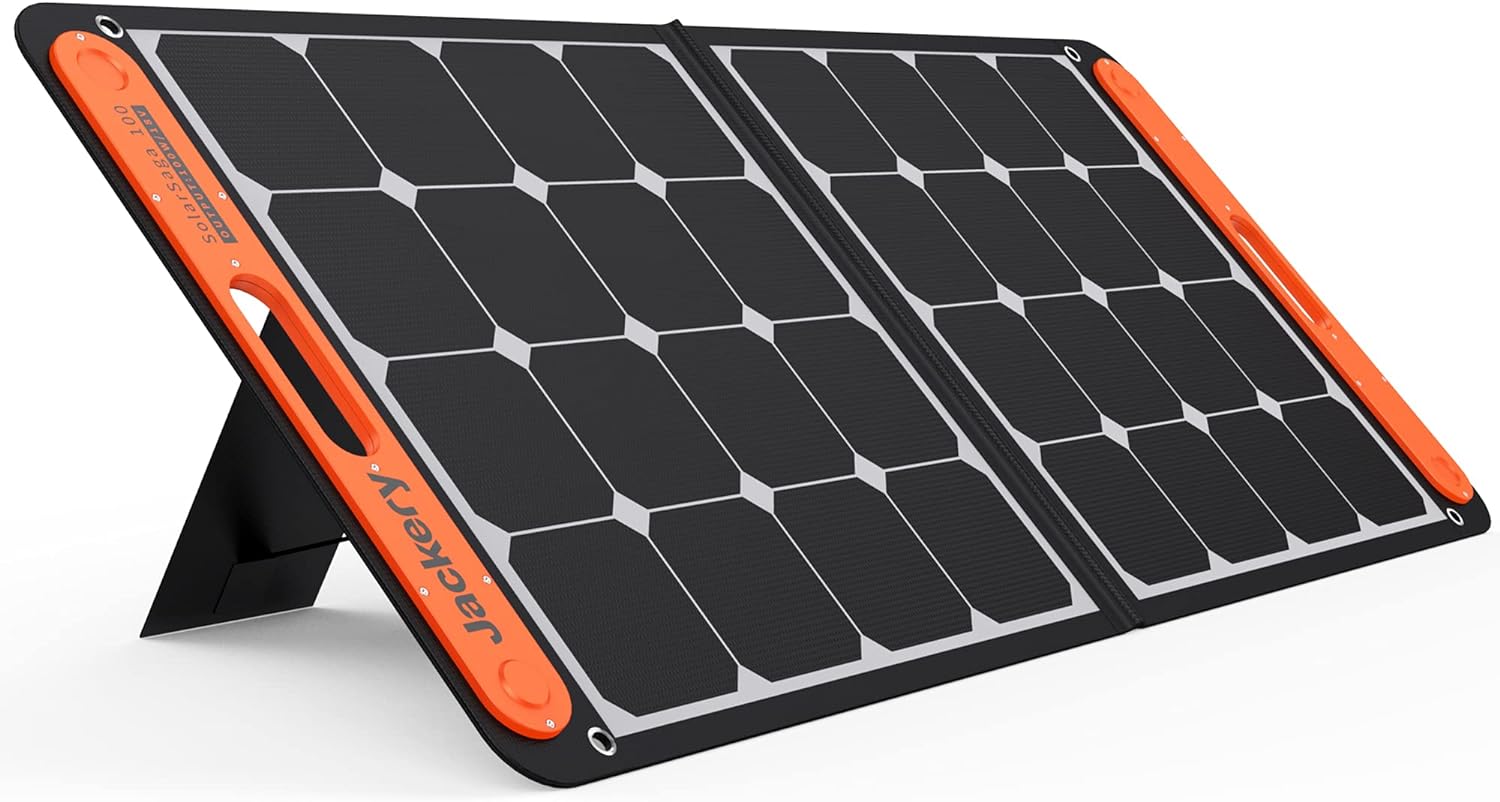 Check Jackery SolarSaga 100W Solar Panel price below:
add_circle
Good portability
add_circle
Easy to operate
remove_circle
Slow solar charging