L'Occitane wants you to embrace the powers of the Immortelle flower at its utmost potency through the newly reformulated Divine Cream. Formulated to be more powerful in anti-ageing powers, this cream contains Retinol, Vitamin C, Vitamin E and an abundance of hydrating ingredients for a more youthful, radiant, and healthier skin.
In the grand symphony of life, resilience isn't inherent; it's cultivated over time. Just as we grow stronger through the trials of life, the Immortelle flower, too, thrives and becomes more resilient with each challenge nature throws its way.
The Immortelle flower's secret lies in its response to adversity. The harsher the environment, the greater the Immortelle's antioxidant content and anti-aging prowess. This remarkable flower boasts 2X more anti-ageing molecules than its counterparts in other regions.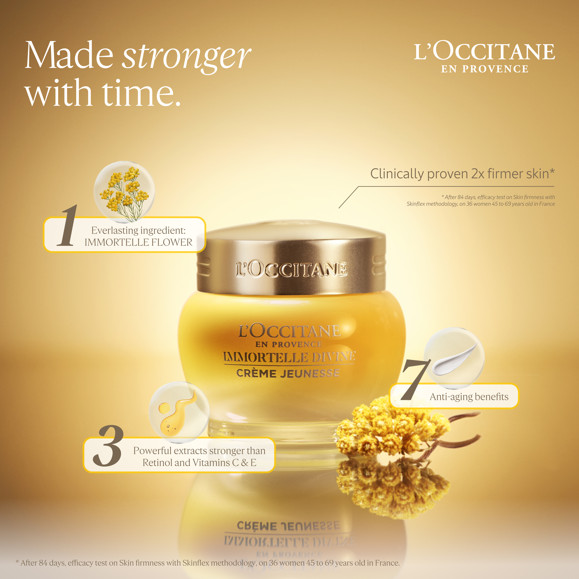 Experience New Radiant Benefits with Divine Cream:
Boost in Radiance by +54%**

Reduction in Age Spot Appearance by -12%*

Improved Skin Tone Evenness by +18%**

Wrinkle Reduction of -19% after just 1 month
Their understanding of this miraculous flower has deepened through years of dedicated research. They have harnessed the flower's strengthening and antioxidant powers to create the upgraded Immortelle Divine Cream. With consistent use, your skin will follow the path of resilience, just like the Immortelle flower.
1, 3, 7 - The New Divine Cream
1 - Everlasting Ingredient: Immortelle Flower
3 - Power Beyond Compare: Surpassing Retinol in renewal, Vitamin C in brightening, and Vitamin E in antioxidation
7 - Age-Defying Marvel: Offering a bouquet of anti-ageing benefits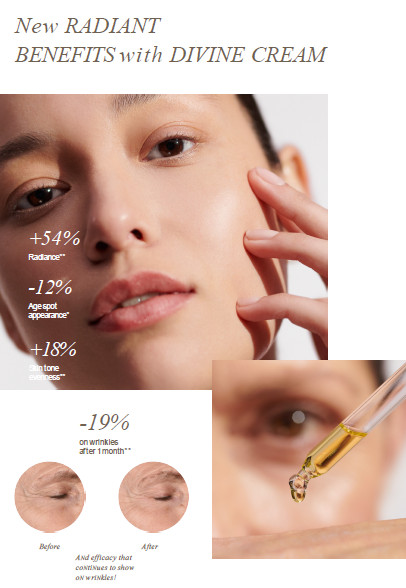 Discover the Reformulated Divine Cream, designed to target the 7 signs of ageing:
Wrinkles

Age spots

Firmness

Loss of radiance

Uneven skin tone

Skin density

Uneven skin texture
Join the conversation on social media at @loccitanemy with hashtags #WeAreMadeStronger, #NoOneIsBornResilent, and #LOccitaneMalaysia. Upgrade your skincare routine with the New Immortelle Divine Cream and experience the transformative power of resilience. Visit L'Occitane's official website to discover more.