Regardless if you need it for a food business or home use, there's no denying the amazing benefits of utilising a food vacuum sealer. It's inevitable that vacuum sealing your food does help to reduce food costs as well as wastage! 
Planning on choosing a vacuum sealer over zip lock bags, Tupperware, or glass jars? Go ahead and browse below for a range of vacuum sealers that will suit your every need.
9 Best Vacuum Sealer Machines for Food - Reviews in Malaysia 2023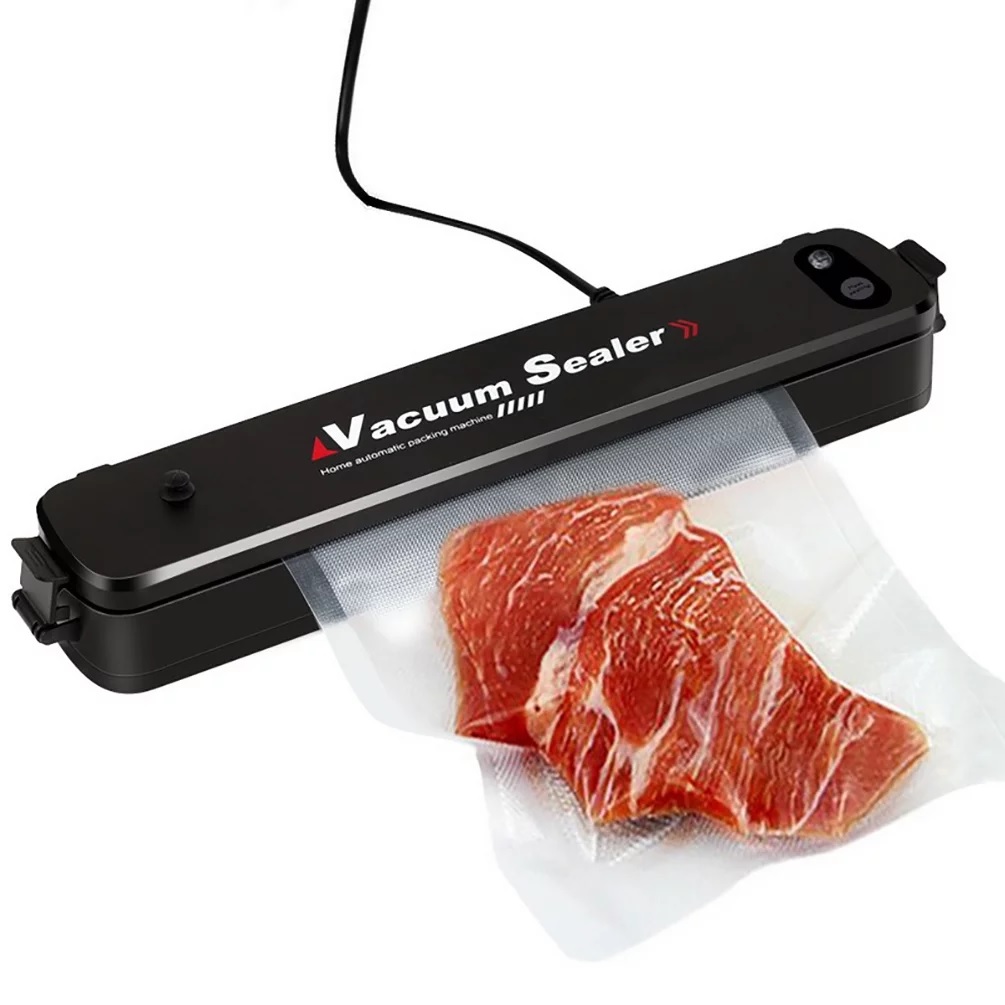 Check Vacuum Sealer Machine Automatic Vacuum price below:
add_circle
Has a one-click function that draws out the air and seals the bag at the same time
add_circle
Comprise of various lock settings for dry, wet, oil, powder, and various other kinds of ingredients that are easy to control
add_circle
Various packages can be sealed at the same time which is both efficient and time-saving
Why is this our top pick?  
Stocking up food ingredients in the refrigerator can extend their shelf-life, but for how long? If you want to ensure that these food ingredients retain their freshness for a long time, then a vacuum food sealer is what you need. It aims to prolong the freshness of your food and enhance its flavours. 
This vacuum sealer is easy to operate as it comes with an easy-to-use control centre placed on the top panel. Plus, it vacuum seals your bags and containers with minimal noise and vibration. Together with a safety lock design, how could you say no to this vacuum food sealer?  
Overview   
What's more interesting about this vacuum sealer is its multi-layer heat material and hot seals that keep air out and prevent freezer burn, food spoilage, and waste. You can be ascertained that your food ingredients will not lose their flavour and nutrition. 
Moreover, its 60 kPa large suction instantly sucks air out of bags and containers in a swift instant which extends the shelf-life of your food ingredients by eliminating most of the air from bags and containers. Also, it prevents fresh air from entering them, thus reducing oxidation to preserve its flavour and quality. Adding to that, the act of sealing also prevents the growth of microorganisms that can cause food spoilage. 
Details   
Has a 60 kPa large suction power that vacuums out the air in spaces of bags and containers in an instant

Its 300 mm extended seal supports various sizes of sealed bags 

Supports a multi-package sealing task that efficiently enables you to seal multiple packages at a time  

Comes with an external exhaust and water inlet 
Who is this for?   
With a smart one-button function that is straightforward to use, this is great even for the elderly and children. Adding to that, it's designed with a two-sided lock design that makes it reliable and safe. 
Planning on sealing liquid products but afraid of a spill? Fret not as this vacuum sealer comes with a built-in sink that gathers any excess liquid. Whether you intend to vacuum-seal dry or wet food, this vacuum sealer comes with a 2-in-1 function that can do both.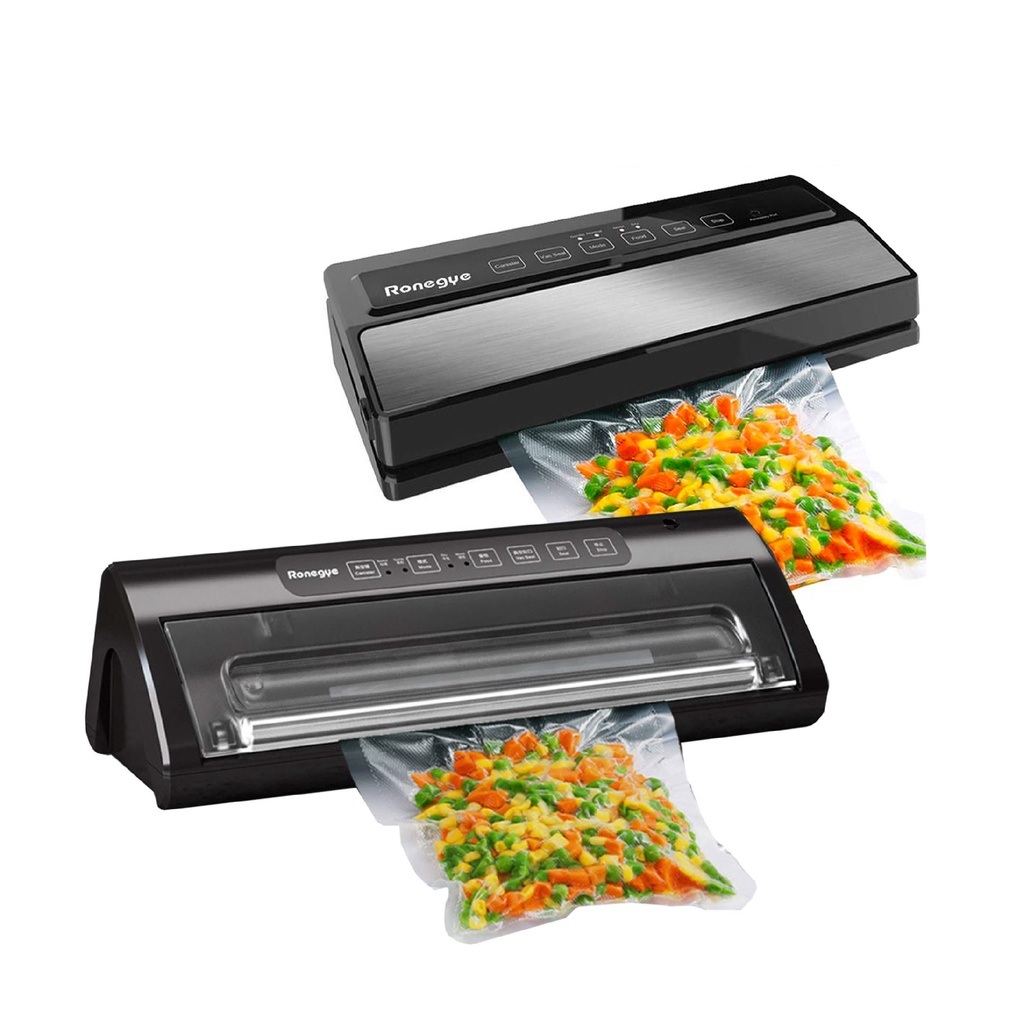 Check Emiliya Vacuum Sealer price below:
add_circle
Safe to use as it offers a 3-layer safety protection
add_circle
Efficient and easy to use as it's designed with improved technology for an effective vacuum sealing
add_circle
Comes with an accessory port to vacuum jars and containers as well
Overview  
With such effortless vacuum sealing, Emiliya Vacuum Sealer is one vacuum sealer that'll attract you from the start. Designed with a built-in cutter that's useable on meat, vegetables, or dry foods, the Emiliya Vacuum Sealer can seal almost any kind of food. For instance, you can opt to vacuum seal your food before freezing them to avoid freezer burns, thus maintaining its quality as well as its flavours after defrosting. 
Also, the Emiliya Vacuum Sealer comes with an external pump that offers strong air pressure for efficient suction for containers. You can expect about 10 minutes for the suction of air to complete. It also offers up to 30 cm of vacuum sealing width which makes it easier for you to vacuum-seal many packages at once or bags up to a 30 cm mouth opening.  
Details   
Designed with a built-in cutter to seamlessly cut the sealed bags

Vacuum-seals any kind of food 

Made with high-quality stainless-steel panel that ensures a long-lasting operation
Who is this for?   
As a bonus, the Emiliya Vacuum Sealer comes with a built-in bag cutter so you need not have to manually cut the sealed bags once it's done. 
Together with its powerful suction and accessory port for container or jar attachments, you will never go wrong with the Emiliya Vacuum Sealer. It's especially versatile for vacuum-sealing bags and containers for sous vide cooking and other meal preparations.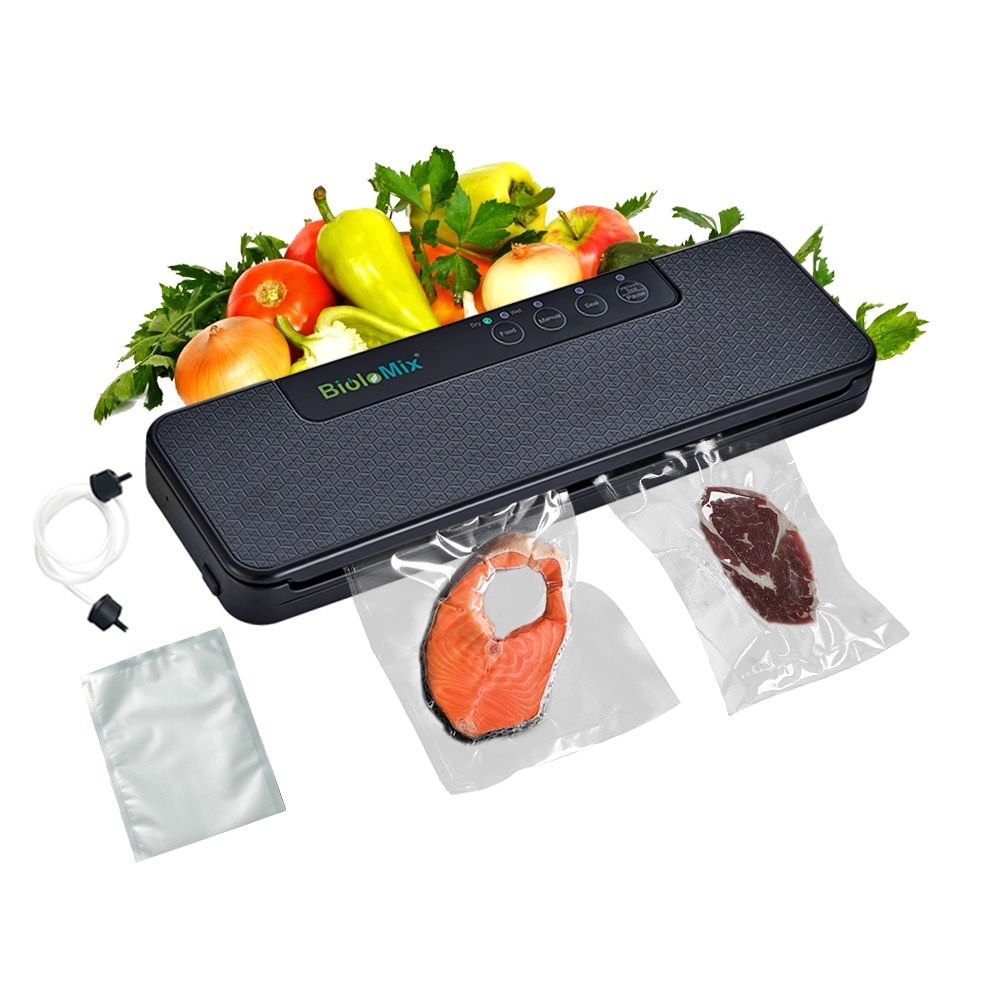 Check BioloMix W230 Automatic Vacuum Sealer Wet or Dry Food price below:
add_circle
Seals both wet or dry foods based on two selectable modes to choose from
add_circle
Multi-preservation that vacuum-seals not just bags but bottles and containers as well
add_circle
Compact and lightweight thanks to its small size which makes it convenient to be stored away in your cupboard
add_circle
One-touch operation enables the vacuum sealer to operate under a powerful suction based on either dry or wet vacuum modes
Overview  
Apart from effectively extending the shelf life of food, a food vacuum sealer inevitably contributes toward making your cooking and meal preparation that much easier and more economical as well. Say hello to BioloMix W230 that's capable of sealing both dry and wet food and preserving them for a long time!
BioloMix W230's small and slim design makes it practical to be stored in your cupboard easily. Still, don't be deceived by its small size as this vacuum sealer comes with a powerful suction that withdraws all the air to retain the quality and freshness of your food. Besides that, this vacuum sealer also comes with a pump hose for external vacuuming that vacuums jars, bottles, and containers. 
Details   
Comes with dry/wet function settings for optimal sealing

Removes all the air effectively to maintain quality and extend freshness of food 

Seal bags within 6-12 seconds and vacuum seal them in under 30 seconds
Who is this for?   
Vacuum sealers are known to preserve food 5 times longer than zipper bags. BioloMix W230 works efficiently at ensuring that, which is useful for if you have wet food to pack constantly. Plus with a 32 cm extended sealing gap, you can easily vacuum seals multiple packs at a single time!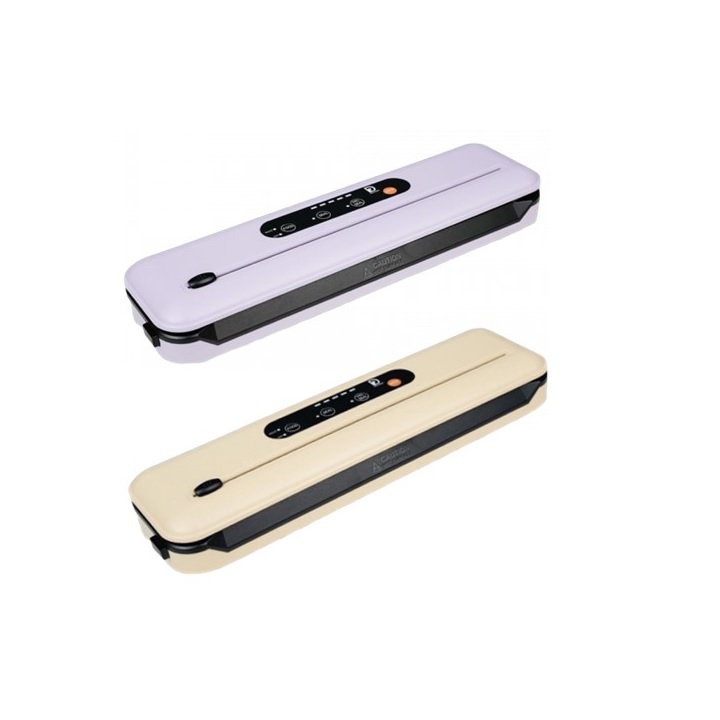 Check Delfino Magic Vacuum Sealer price below:
add_circle
Helps preserve food ingredients whilst locking in their optimal freshness
add_circle
Its status display screen and touch-sensitive buttons make it user-friendly so you're aware of its 'operating' mode status
add_circle
Designed with Dry and Moist Food mode, plus a Pulse Vacuum mode that preserves various types of food, including soft and delicate food
add_circle
Designed with an NTC intelligent temperature protection that automatically switches off the sealer when the temperature rises due to continuous vacuuming
Overview  
The right vacuum sealer will decrease the amount of oxygen in the packaging by eliminating air and creating an impermeable space. It also prevents freezer-burn and ensures that the food stays 5 times fresher. Not forgetting, it also retains the vibrant colours and flavours of the food. 
Delfino Magic Vacuum Sealer is yet another vacuum sealer with a powerful suction that doesn't shy away from its functional features. Comprising a 2-mode capacity, you can choose the right operation to seal either dry or moist food accordingly. To top that, the Delfino Magic Vacuum Sealer also comes with a built-in bag cutter and heat-sealing feature. This avoids the need to manually cut the bags once after it's been sealed. 
Details   
Operates on 2 modes that enable you to seal either dry or moist food ingredients

Comes with a 15 ml liquid overflow capacity to prevent damage to the motor 

Removes oxygen that warrants the growth of bacteria which ultimately causes food spoilage
Who is this for?   
Delfino vacuum sealer highlights a distinguished feature that not many vacuum sealers have. It features a 15 ml liquid overflow capacity that helps maintain the flavour and moisture content of your food. At the same time, it removes excess liquid into the overflow compartment. To make things easier for you, this overflow compartment is removable which enables it to be cleaned separately on its own without damaging the motor.  
Check Xiaoda Smartda Vacuum Sealer price below:
add_circle
Lightweight and small to allow it to be stored away neatly
add_circle
Easy to operate as its 2 operating modes are visible on the side of the panel
add_circle
Has a built-in UV lamp that sterilises your food ingredients
Overview 
The purpose of a vacuum sealer is rather apparent which is to withdraw air out from packages and seal the bags shut. But how about a vacuum sealer that's built with antibacterial purposes as well? Xiaoda Smartda Vacuum is built with ultraviolet sterilisation and preservation that illuminate food ingredients within these sealed packages to combat any bacteria present on the food's surface. 
With a 30 cm sealing length, you'd be able to seal several packages all at once! To boot, this vacuum sealer also operates on a 60 kPa vacuum suction which is capable of instantly removing air from the packages. Moreover, the 2 visible operating modes which are the Sealing button and Vacuum button enable you to operate each one seamlessly according to your needs. 
Details    
Comes with a 30 cm lengthened seal which makes it compatible with various vacuum bags of different specifications

Has 3 methods of sealing; individual sealing, fresh-keeping box, and vacuum sealing
Who is this for?   
The Xiaoda Smartda Vacuum Sealer preserves the colour, taste, and freshness of all your food ingredients. It's also perfect for preparing vacuum-sealed pouches for sous vide cooking. Moreover, this vacuum sealer offers a specific wavelength of ultraviolet rays that destroy the molecular structure of bacteria and achieve rapid sterilisation. 
Because of that, bacteria will have no room to breed, and you can be assured your food ingredients will be kept at their most nutritious and freshest condition.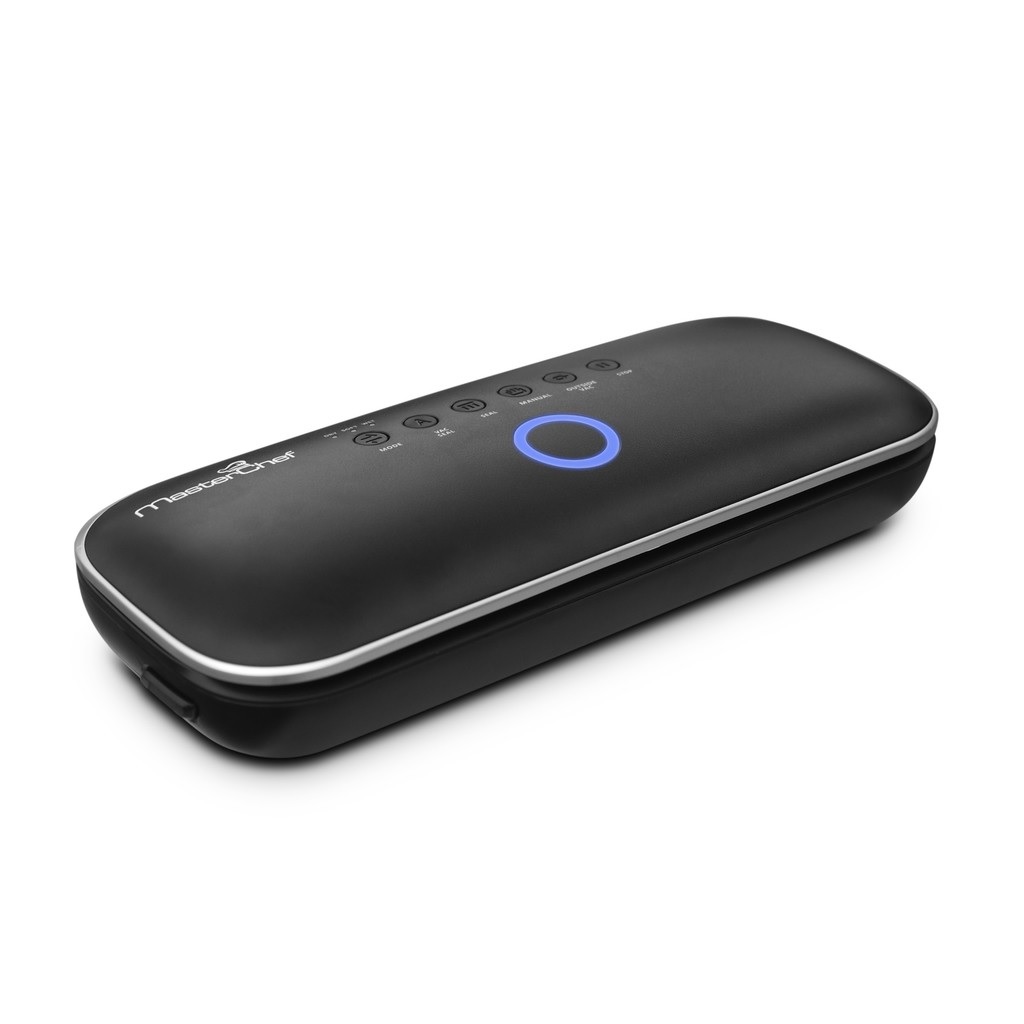 Check KIMOZO Household Vacuum Sealer price below:
add_circle
Protects food ingredients from dehydration and freezer burn
add_circle
Ensures that the sealed food tastes better by retaining the moisture, juices, and flavour of the food
add_circle
Prevents the sealed food ingredients from producing a slimy film on their surface or releasing a bad odour
add_circle
Designed with a 30 cm lengthened seal that vacuums and seals several packages at once
Overview 
Have leftovers that you'd wish to keep in their most nutritious and tastiest state? The Kimozo Household Vacuum Sealer is your answer. Its 3 modes of food sealing work well be it for wet, dry, or soft food. Whether you choose to operate this vacuum sealer manually or automatically, trust that this vacuum sealer marinates your food well by delivering flavour into your meat 2 times faster. 
Better yet, this vacuum sealer preserves your food 3 to 5 times longer as compared to food stored in plastic containers or bags. However, the duration as to how lasting the food in vacuum-sealed packages will be, depend entirely if you're storing it in the refrigerator, freezer, or pantry. 
Details    
Comes with 3 modes of sealing for dry, wet, and soft food 

Has the ability to automatically vacuum and seal food packages or manually by pressing and holding onto the vacuum
Who is this for?   
In short, the KIMOZO vacuum sealer offers you convenience at vacuum sealing your food ingredients either automatically or manually. It also prevents the fats in the food from going rancid and from changing colour as they otherwise would if stored in the freezer, unsealed.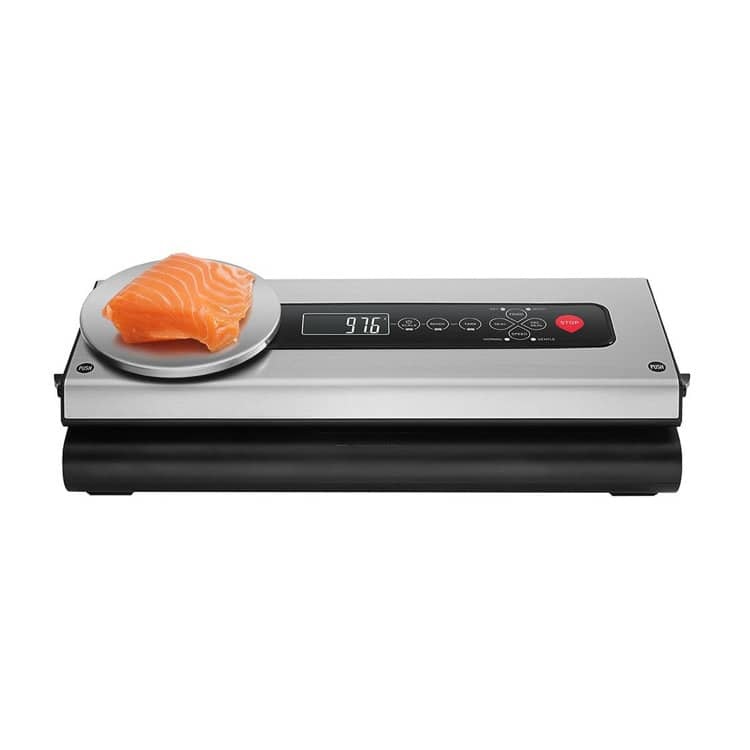 Check VORTEX 2-in-1 Weight Scale Food Vacuum Sealer price below:
add_circle
Easy to use as it's designed with multiple selectable modes that offer you the best way to seal and preserve your food
add_circle
Comes with dual-power sources that make it easy and convenient to charge at any place
add_circle
Long-lasting and efficient as it offers a strength-to-weight advantage
add_circle
Corrosion-resistant
add_circle
Single-touch operation that automatically turns off after each usage
Overview  
Have you imagined a vacuum sealer that can do more than just vacuum sealing? Well, the VORTEX 2-in-1 Weight Scale Food Vacuum Sealer does. It comes with a digital scale that lets you portion your food and prepare accordingly.
With a 30 cm wide vacuum and sealing size, this vacuum sealer removes air as much as possible from  big or multiple bags to create an airtight seal that locks in the food's flavours and freshness.  
Details   
Consists of multiple sealing modes that are ideal for dry and/or moist food 

Can be used to marinate meat or various other food items for ready-meal preparations   

Has a built-in weighing scale to easily portion and weigh the food before sealing    

Offers a 30 cm wide vacuum and sealing size
Who is this for?    
With a 15-year experience in the industry, VORTEX has attained a good reputation for delivering high-quality household appliances, you'll need not fret over VORTEX's 2-in-1 vacuum sealer's quality. It offers an instant and convenient way of keeping your food fresh! 
More to that, this vacuum sealer comes with a built-in scale that allows you to weigh the food before sealing it. When you don't wish to use the scale anymore, you can easily store it at the bottom of the vacuum sealer.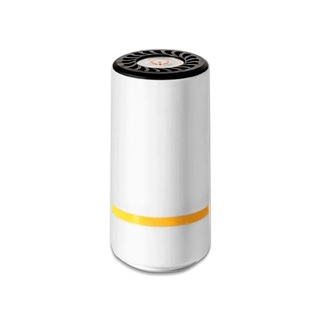 Check Multipurpose Electric Pump Portable Vacuum Sealer price below:
add_circle
Easy to use as it removes air quickly from the bags with the press of a button
add_circle
Though compact it offers a powerful vacuum-sealing
add_circle
Its portability makes it convenient to be kept away easily or to carry along wherever you go
Overview  
Looking for a vacuum sealer that you wish to bring for your travels? This portable vacuum sealer can easily be packed in your suitcase and be brought along anywhere. Don't be deceived by the compact size of this portable vacuum sealer, however. With just a single touch, it vacuums about 4.6 L of airflow per minute. 
Regardless of its strong suction, it operates on minimal noise and heat. This cordless portable vacuum sealer is ideal to have in the kitchen especially when there's minimal counter space. Even better, it also serves as an ideal travel companion if you have lots of leftovers from your camping trip that you want to take home. 
Details   
Vacuums 4.6L of airflow per minute

Made of high-quality ABS material that's both durable and eco-friendly  

Comes with a built-in 500 mAH battery
Who is this for?   
Compact and handy, this vacuum sealer is convenient to bring along anywhere. Its powerful vacuum technology eliminates excess air from bags instantly. Users complimented that the pump size of this portable vacuum sealer is comfortable to hold onto and it's easy to use as well. Charging it is also practical as well, as it is USB-chargeable.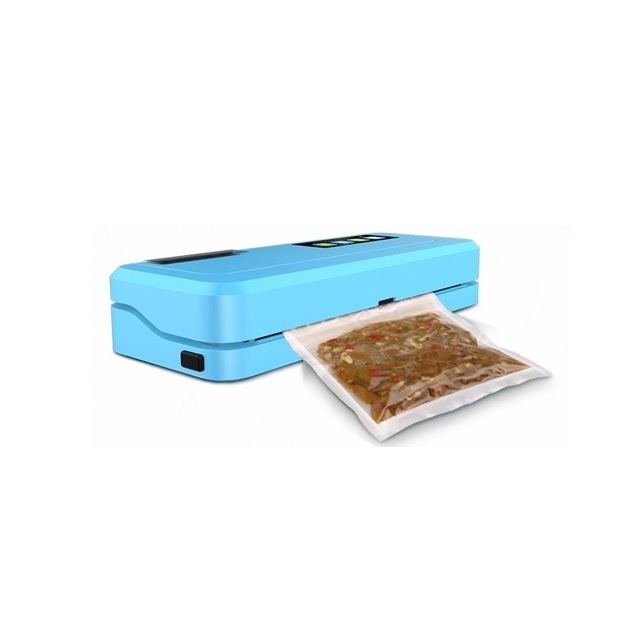 Check P290 Vacuum Sealer Machine price below:
add_circle
Offers rapid heat dissipation despite the number of times this machine is used to vacuum-seal bags
add_circle
Clear operating buttons on the control panel that makes it easy to operate the machine
add_circle
Ergonomically-designed that separates moisture from the vacuum sealing
Overview  
With the capability of vacuum sealing more than 500 bags per day, the P290 vacuum sealer machine is what you need especially for heavy usage. It offers a good heat dissipation effect so it's safe to use despite vacuum sealing for many hours at a time. 
Designed with a new research turbine technology, the P290 Vacuum Sealer Machine offers a powerful driving force that intensifies its suction power compared to its counterparts. To boot, this vacuum sealer can vacuum seal bags with a width of up to 20 cm. Once the sealing task is completed, this vacuum sealer blinks its LED to remind that the bags have completed their sealing.
Details   
Equipped with overheat protection thanks to its temperature resistance of up to 300° C    

Perfect for sous vide cooking 

Suitable to vacuum seal liquid products
Who is this for?   
Users couldn't be happier with this vacuum sealer. This lightweight vacuum sealer is easy to operate as well which makes it even more convenient to handle with ease. It offers a powerful suction making it suitable to seal various types of bags of varying food ingredients.
FAQ: 
What is the use of vacuum sealers? 
A vacuum sealer is designed to eliminate air from the space surrounding your food. Its heated sealed bars seal the sides of the bag together, preventing air from penetrating the bag. The reason for such elimination of air is to avoid food spoilage and ensure it remains fresh and at its exquisite taste for a long time.
What are the benefits of vacuum sealing?
The main benefit of vacuum sealing your food is to extend its shelf life. However, the amount of time that these vacuum-sealed bags will last depends entirely on whether you're storing them in the freezer, refrigerator, or pantry. 
Another benefit of vacuum sealing your food is that it helps to preserve and protect the quality of your food. When all air is removed from the bag and containers, this prevents the growth of bacteria from breeding, protecting the food from freezer burn and reducing dehydration. All these certainly minimise food wastage. 
Also, the food ingredients can retain their freshness for a much longer period compared to traditional storage methods. The best part of this is that you're preserving your food without the use of any chemicals to do so. 
Last but not least, as vacuum sealing removes all the air from the bag, you can certainly expect more room in your refrigerator, freezer, and pantry shelves as vacuum-sealed packages will now be taking up that much less room.
How to choose a vacuum sealer? 
With a wide array of vacuum sealers in the market, how do you choose the right one? 
Well, first and foremost, it's important to think about how frequently you intend to use it, as well as the number of food ingredients that you wish to seal in a given time. This is because different vacuum sealers come with different capacities and capabilities. Thus, it's important to know your needs for it first before settling on one. 
Another important point to note is you'll need to decide what kinds of food that you will be vacuum-sealing. 
If the food item requires you to eliminate most of the air from the bag, then you may want to opt for an external vacuum sealer. If, however, you're sealing more delicate food ingredients then, it's best to go for a chamber sealer that doesn't withdraw most of the air. This chamber vacuum sealer will get rid of most of the air and replace it with inert gas instead. 
Lastly, choose a vacuum sealer that does the vacuum-sealing task efficiently and at an instant speed. Do be sure to inspect its features, specifications, suction power, and speed of vacuum. This will assure that you get successful sealing of your food ingredients.