Modern games nowadays are available on multiple platforms, including hand-held consoles, standard home video consoles and PCs. Naturally, gamers can use several input options when playing their favourite games, but that doesn't change the fact that some games are just easier to play on consoles.
In this article, we have listed down some recommendations for the best gaming controllers available for PC gameplay. We also share some tips on how you can install and use a controller on your PC.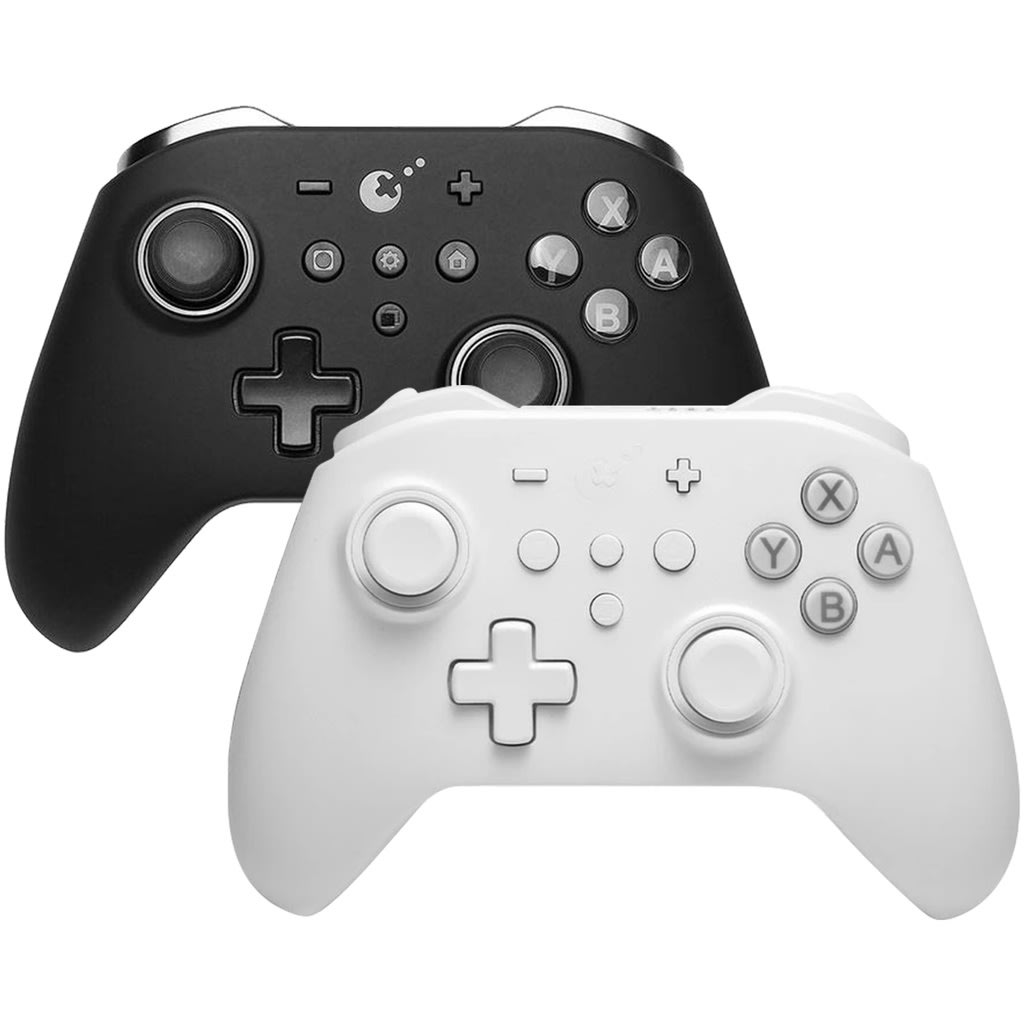 Check Gulikit King Kong 2 Pro Controller price below:
add_circle
Supports wired and wireless mode
add_circle
Long-lasting battery
add_circle
Supports automatic gaming
remove_circle
Without RGB lighting
Why It's Our Top Pick?
Supporting both wired and wireless connection, the Gulikit King Kong 2 Pro Controller will never let you down in all-day gaming. It is compatible with Windows PC, Android devices as well as Nintendo Switch.
Overview:
Engineered with a new patented electromagnetic stick, the Gulikit King Kong 2 Pro Controller ensures precise control and movement. The buttons covered with conductive rubber are anti-stick and most importantly have 50 million times ultra-long life.
On a single full charge, the built-in lithium battery can run for up to 25 hours. It also supports semi-automatic and automatic repeat shooting so you can always stay one step ahead. The 32-bit ARM dual CPU ensures faster gaming response with up to 10 minutes of AI automatic operation. 
Details
Somatosensory shooting aid for FPS

Supports motion sensing

Almost no power consumption during standby
Who is this for?
Doesn't matter if you are a rookie or an E-sports player, the Gulikit King Kong 2 Pro Controller is an excellent game controller that can meet different gaming needs. In case the battery is running low during gameplay, you can use the Gulikit in wired mode. Its ergonomic design gives you the perfect grip without any strain.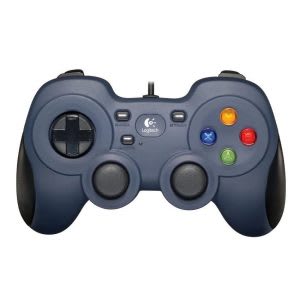 Check Logitech F310 Wired USB price below:
add_circle
Programmable buttons
remove_circle
Plain design
Overview:
The Logitech F310 Gamepad is cheap but comes with extensive game support. You can play hits and classics on PC with the Logitech F310 Gamepad PC Controller. It is easy to set up and use using the Logitech profiler software. The buttons and controls are fully programmable, giving you extensive control just like using a keyboard and mouse. 
The wired controller comes with a 1.8-meter cord. You can play your favourite games from a comfortable distance from the monitor.
Details
Works with Android TV

Familiar console-like layout

Exclusive 4-switch D-pad
Who is this for?
The Logitech F310 Gamepad PC Controller is inexpensive but does its job well. The wired controller features a traditional layout design so you can adapt and game in no time. You can enjoy long and comfortable play sessions credit to the smooth curves and contoured rubber grips. The D-pad has 5 individual switches to deliver a more responsive, tactile feel.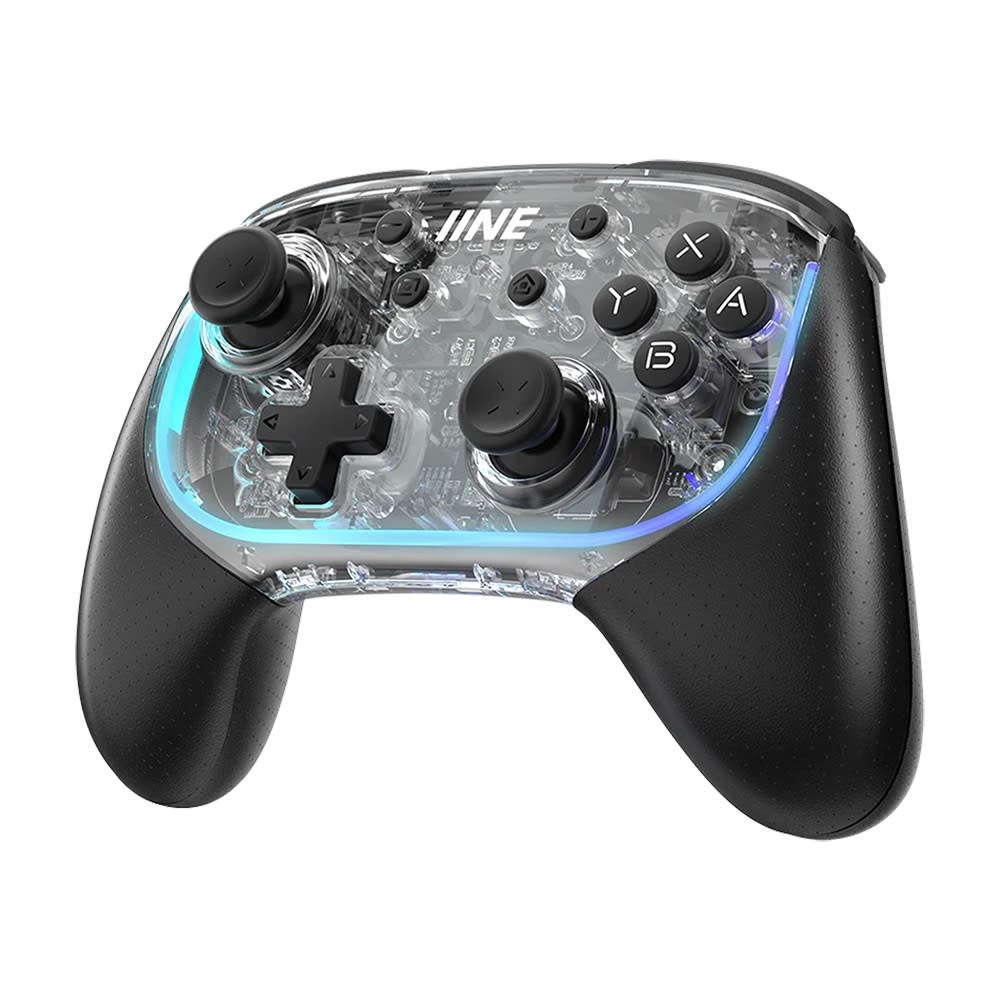 Check iiNE Phantom Elite Pro Mechanical RGB Alps Controller price below:
add_circle
Supports turbo auto-fire
remove_circle
Not budget-friendly
Overview:
The iiNE Phantom Elite Pro Mechanical RGB Alps Controller delivers stronger feedback every time you press or hold on to its durable mechanical gaming buttons. The controller is equipped with an HD Liner vibration motor and RGB lights strip, creating a more immersive gaming experience.
Furthermore, the iiNE controller supports turbo auto-fire, customizable macro settings and a wake-up function. It is compatible across multiple gaming platforms, including Switch, PC, Android and iOS devices.
Details
Comes with an axis gyro sensor

Supports multimode connection

Flashy RGB effect
Who is this for?
If you're looking for a decent wireless PC controller, you won't go wrong with the iiNE Phantom Elite Pro Mechanical RGB Alps Controller. It comes with mechanical buttons which have a longer lifespan and give you more tactile feedback. The iiNE controller has wide compatibility across various gaming platforms so you can enjoy your favourite games across different devices using the same controller.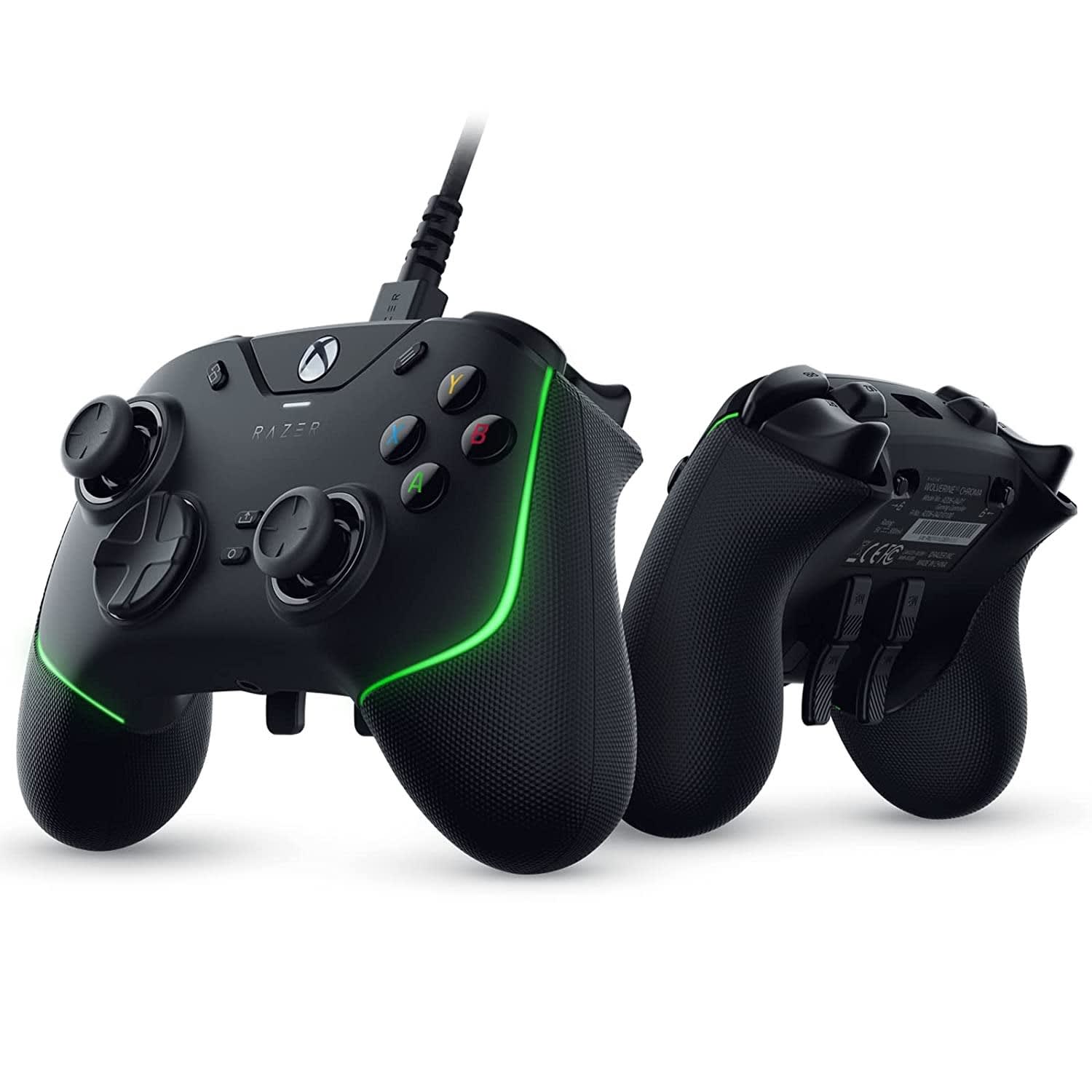 Check Razer Wolverine V2 Chroma Controller price below:
add_circle
Improved ergonomics design
add_circle
Comes with ample remappable buttons
Overview:
Experience greater immersion with the customizable 16.8 million colours and lighting effects on the Razer Wolverine V2 Chroma Controller. Featuring 4 different triggers and 2 remappable bumpers, you get supreme control and a more personalised play style.
The mecha-tactile action buttons give you ultra-responsive actuation and greater tactility for competitive and high-paced gameplay. Moreover, the L-shaped handgrips plus non-slip rubber grips deliver natural and effortless control for all-day gaming.
Details
Hair Trigger Mode with trigger stops

3m wired cable with strain relief

3.5mm analogue audio port compatible with Xbox and PC
Who is this for? 
If budget is not a concern, think no more and grab the Razer Wolverine V2 Chroma Controller. It gives you greater control with up to 6 customizable multi-function buttons. Supporting Hair Trigger Mode, you'll get the advantage to move and fire faster thanks to the reduced travel distance to the main triggers.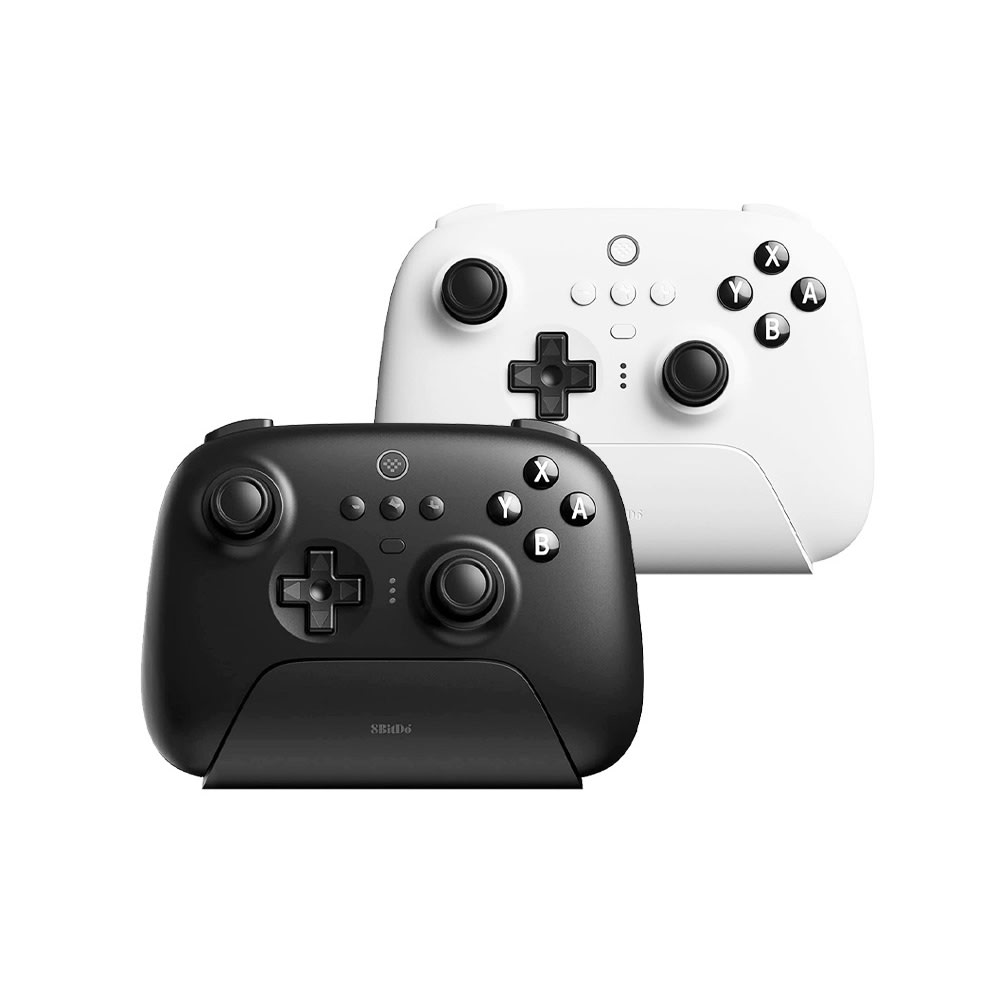 Check 8BitDo Ultimate Bluetooth Controller price below:
add_circle
Value for money
add_circle
Comes with a multifunctional charging dock
remove_circle
Plain design
Overview:
The wireless edition of 8BitDo Ultimate Bluetooth Controller works with Switch via Bluetooth and Windows by connecting its 2.4G adapter. To offer you the ultimate gaming experience, it also features rumble vibration as well as motion controls.
Coming with a multifunctional charging dock, you can charge the 8BitDo controller easily by docking it. It will also automatically switch on/off while it is docked/undocked. The battery is claimed to last up to 22 hours. 
Details
Hall effect sensing joystick

Automatically switch off when docked

Supports motion sensing
Who is this for? 
The 8BitDo Ultimate Bluetooth Controller is a worthy controller which offers a good comprehensive package. You'll get customizable buttons, better motion control and a long-lasting rechargeable battery. The controller is compatible with Nintendo Switch, PC and mobile. Not only that, but it also comes with a multifunctional dock that greatly improves the overall user experience.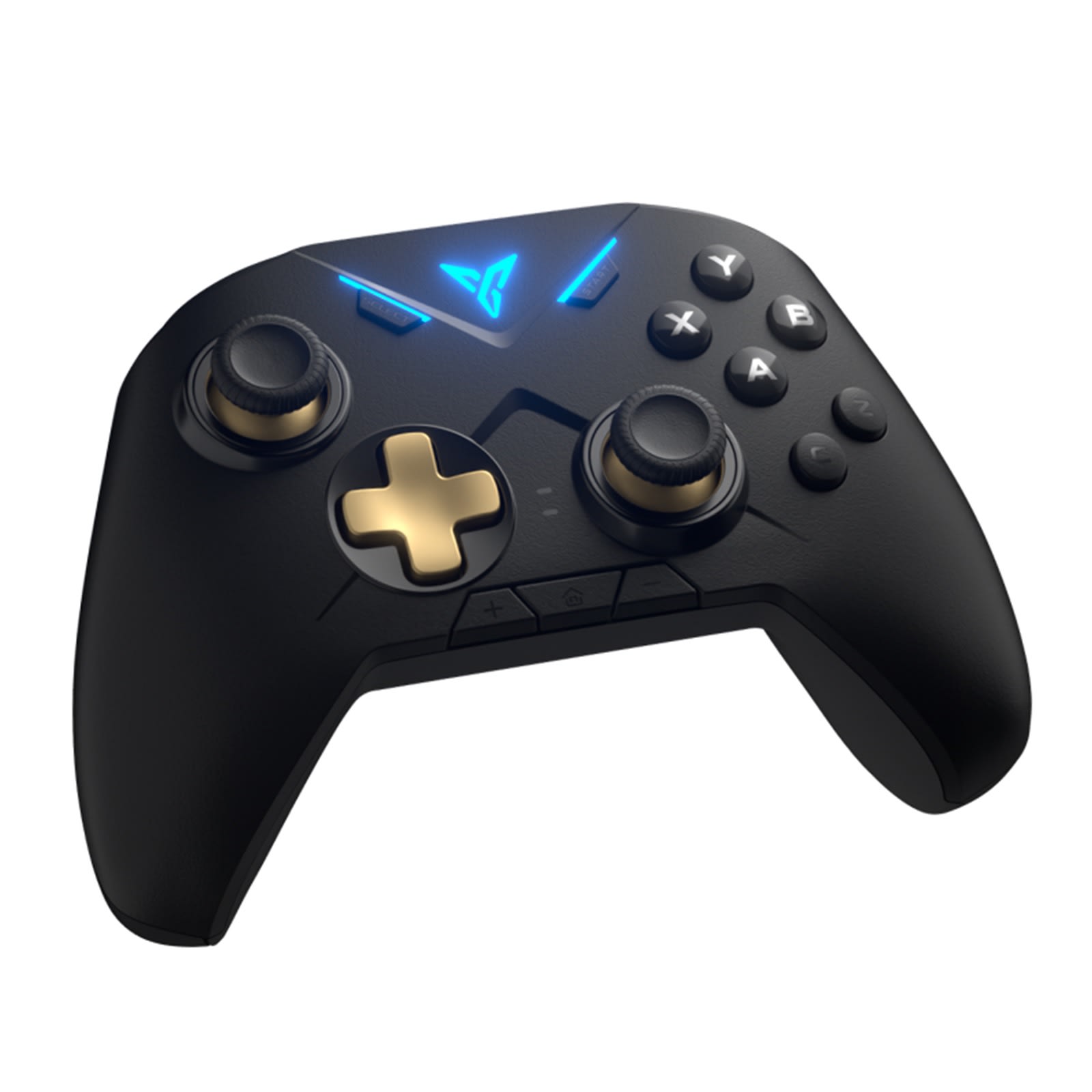 Check Flydigi Vader 2 Pro Multi-Platform Controller price below:
add_circle
Multi-platform compatibility
add_circle
Long-lasting battery
remove_circle
Only one colour is available
Overview:
Introducing the Flydigi Vader 2 Pro Multi-Platform Controller designed with devoted craftmanship to provide precise control with uncompromised comfort.  The Flydigi logo glows out with colourful RGB light with more than 16.8 million colours.
You can enjoy a full set of powerful and free exclusive configuration functions by downloading the Unique Flydigi PC Space Station on your PC. Integrated with a 6-axis gyro sensor, the Vader 2 Pro provides great motion control for pixel-level precision. 
Details
80 hours of battery life

2.4 GHz wireless and wired connection

Japanese ALPS detachable rocker
Who is this for? 
Enjoy motion sensor games? Consider getting the Flydigi Vader 2 Pro Multi-Platform Controller. It has an asymmetric vibrating motor with multiple speed levels, joystick curve adjustment and macro combo programming. More importantly, the built-in motion sensing comes with individual sensitivity adjustment, allowing more precise aiming in FPS games. Not to forget, you also get the cool and trendy RGB light that shines in the dark!
Check GameSir T3 Remote PC Controller price below:
add_circle
Budget-friendly
add_circle
Dual mode connection
remove_circle
Only compatible with PC and Android TV Box
Overview:
Wired or wireless is not a question on the GameSir T3 Remote PC Controller. Being a dual-mode controller, the T3 allows gamers to enjoy the freedom to switch between different connection modes.
The asymmetrical dual motors with 3-gear adjustable levels deliver the right speed for the right scenes, bringing you to real gaming battles. On the other hand, you can expect 40 hours of non-stop playtime thanks to the 400mAh lithium battery.
Details
1.8m cable length

Plug and play

3-gear turbo speed
Who is this for? 
The GameSir T3 Remote PC Controller creates multi-level performance and interactivity with its interesting 3-gear turbo speed. Gamers can escape low battery anxiety as the controller is equipped with a big 400mAh lithium battery and also work perfectly in a wired connection. No setup or installation is required as the T3 supports plug-and-play.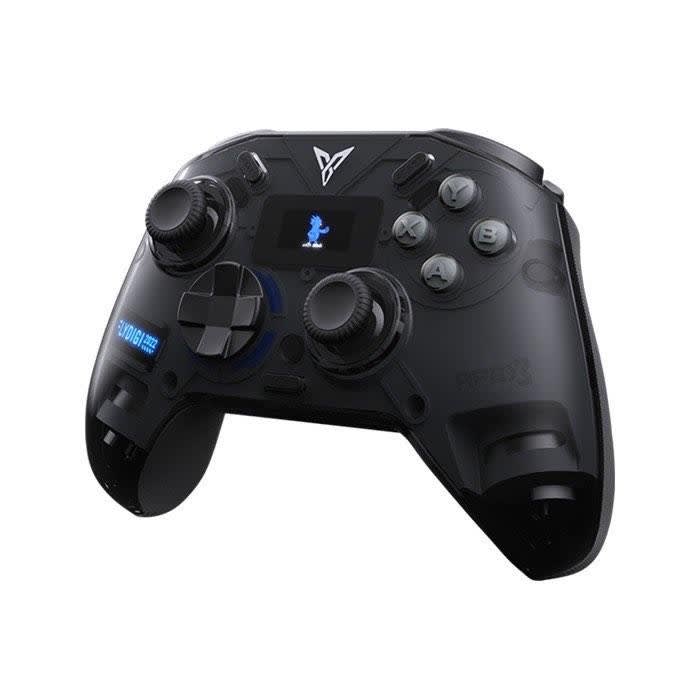 Check Flydigi Apex 3 Force Feedback Elite price below:
add_circle
Optional charging dock
add_circle
Mechanical paragraph feel buttons
remove_circle
On the expensive side
Overview:
A gaming controller with a built-in full-colour LED display screen, the Flydigi Apex 3 Force Feedback Elite stands out among the crowd. You'll feel the real accelerator and gun trigger with fingers thanks to the innovative force feedback triggers. 
With high-precision somatosensory, the Flydigi controller can manipulate turns and enable precision shooting to give you a real-to-life gaming experience. Moreover, an optional magnetic charging dock is available to hold and charge the controller.
Details
ABXY mecha-tactile buttons

6-axis motion sensing

Hybrid 8-direction D-pad
Who is this for? 
For those who wish for a personalized gaming controller, look no further than the Flydigi Apex 3 Force Feedback Elite. Its customizable LED display screen allows you to replace the Pic and Gif and built up your personalized controller. On performance, the Flydigi also excels in high-precision pixel-level displacement and positioning.
FAQ
How to install a PC controller?
Wired controller
Setting up a wired controller is straightforward. Just connect its USB cable to any USB port available on your computer.
Wireless controller
A wireless controller should come with a USB receiver out of the box. The receiver is used to transmit a signal to and from it. Unlike a wired controller, you need to connect the USB receiver to an unoccupied USB port on your computer. Then find and turn on the power button of your wireless controller.
Some controllers can also be connected through Bluetooth. Just turn on your Bluetooth on the compatible device and search for the controller, and you're good to go!
Installing software
Most PC controllers now don't come with a software CD. You might need to visit the manufacturer's website to download any drivers or software available for the controller, in case the driver installation doesn't pop out automatically, but most of the time, you do not need to install extra drivers with modern controllers. 
Follow the instructions to install the controller drivers. You may need to configure, customize and set up the controller to work with the games on your computer in the associated software.
Related articles