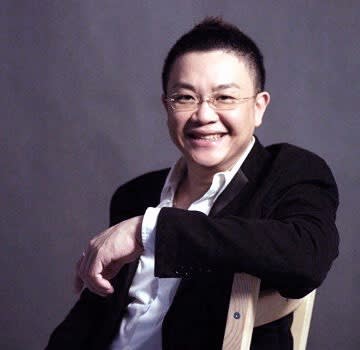 Featuring:
Designer & Stylist
Peter Lum
Peter Lum is not only a designer and stylist, but also the creative director and founder of "Styled by Peter Lum"; a label that specialises in timeless and classic apparel. He is notable for reworking traditional designs and re-imagining them for today's women using his abilities and knowledge.
"Cheongsams are just timeless and elegant pieces with such a strong history and cultural heritage. When worn correctly and well, the vision can be truly memorable. It's like apples and pears to 'compare' a normal dress to a cheongsam. There is no comparison!" - Peter Lum
Cheongsams are figure-flattering Chinese gowns that gracefully highlight a woman's features. It's no surprise that they're becoming increasingly trendy to wear, particularly for important occasions like Chinese New Year.
While there are almost too many possibilities when it comes to cheongsam in Malaysia, finding one that is both Malaysian and distinctive may be a challenging task. Because, once again, you don't want to appear like everyone else.
Fortunately, we've compiled a comprehensive selection of 5 diverse, yet inspiring cheongsams online or many call it Chinese New Year dresses to purchase this year in the list below.
---
Table of Contents
Disclaimer: The products listed in this article do not constitute any endorsement by Peter Lum.
---
Top 5 Cheongsam Dress Styles in 2022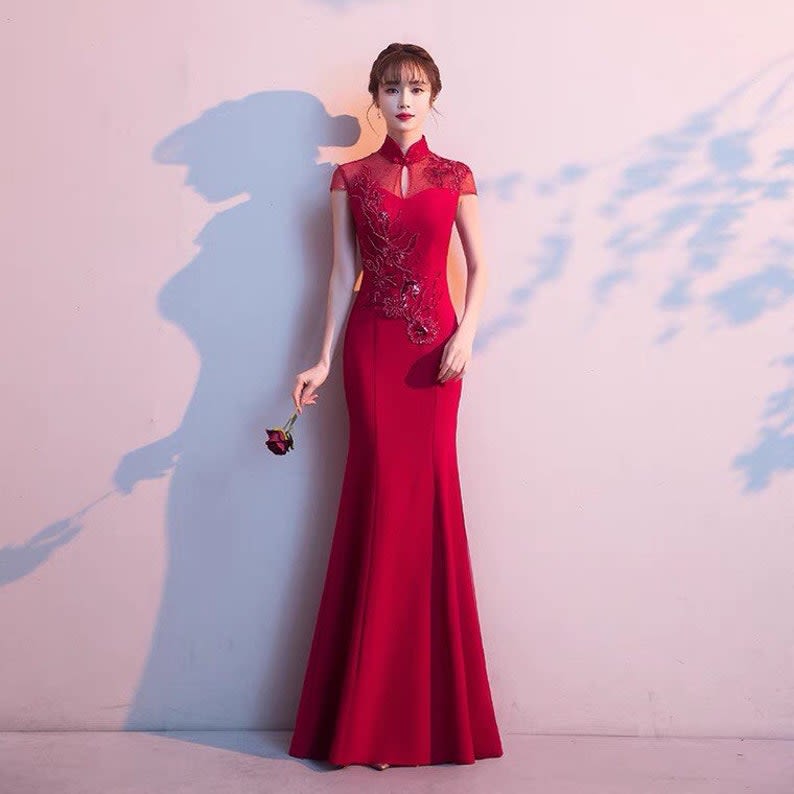 Check QipaoMood: Mermaid-Tail Dress price below:
If you're planning to go a little extra with your cheongsam style, perhaps for corporate events and dinners, you might want to give this style a go.
Overview
The Mermaid Tail Cheongsam is a fun and nice cheongsam alternative, although it can date quickly. You should think about where and when you'll be wearing it. But as Peter Lum said, "If you're enjoying the dress's whimsy and drama, why not?"
Great for: Weddings, cocktail events
---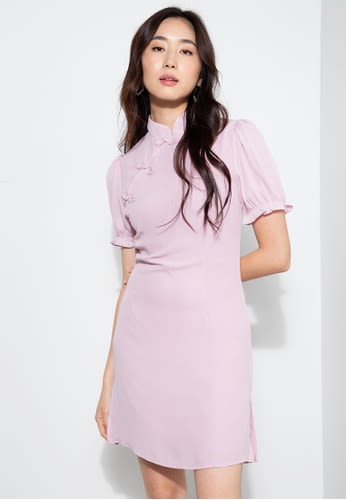 Check Zalora: Puff Sleeve Mini Cheongsam Dress price below:
For a timeless design, a short cheongsam is versatile for many kinds of event. As it is not too traditional looking, it's a great option for first-timers who wish to feel comfortable but still want to celebrate the spirit of Chinese New Year in a vibrant outfit.
Overview
This Cheongsam is of a sheath dress design that comes in a solid tone, short puff sleeves and a mandarin collar. It has a back zip fastening and is made out of polyester. It's also the perfect option for petite girls who would still like to wear cheongsam without looking stumpy.
Great for: Festive celebrations
---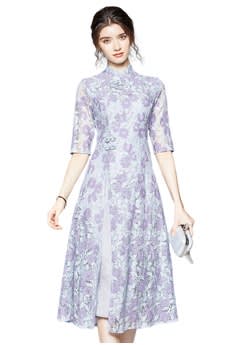 Check Sunnydaysweety: Lace Chinese Cheongsam price below:
According to Peter, when the right sort and grade of lace is used, lace cheongsams can be stunning. That being said, we have to include this style on our list.
Overview
This particular lace Chinese cheongsam style of our choice comes with a stand-up collar and mid sleeves cutting. Why do we love it? Simply because it appears modest due to its midi length, but still maintain the classic tunic style to shape the waistline of the wearer!
Great for: Festive and party celebrations
---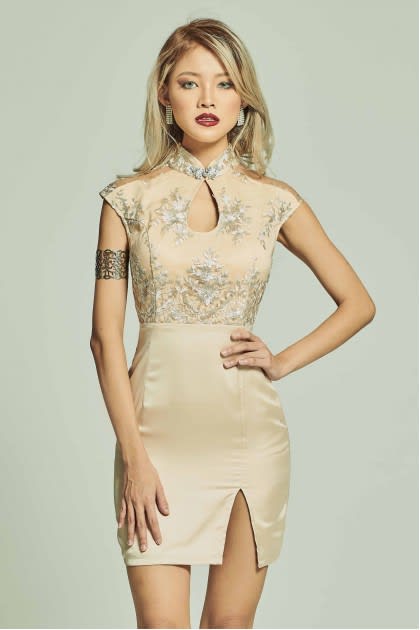 Check Freja Collection: Qinx Embroidered Lace Cheongsam price below:
Don't want to be contained by the usual Cheongsam styles in Malaysia? Maybe this one will pique your interest.
Overview
This embroidered lace cheongsam has a high neckline, padded bust and invisible zip on the back. What makes it so special and sexy is the peek-a-boo laced window above the bustline and the back, along with a high slit located at the thigh area. So if you're looking for the one to spice things up on a private occasion or casual meet-up, this might be the one for you.
Great for: Parties and dinner dates
---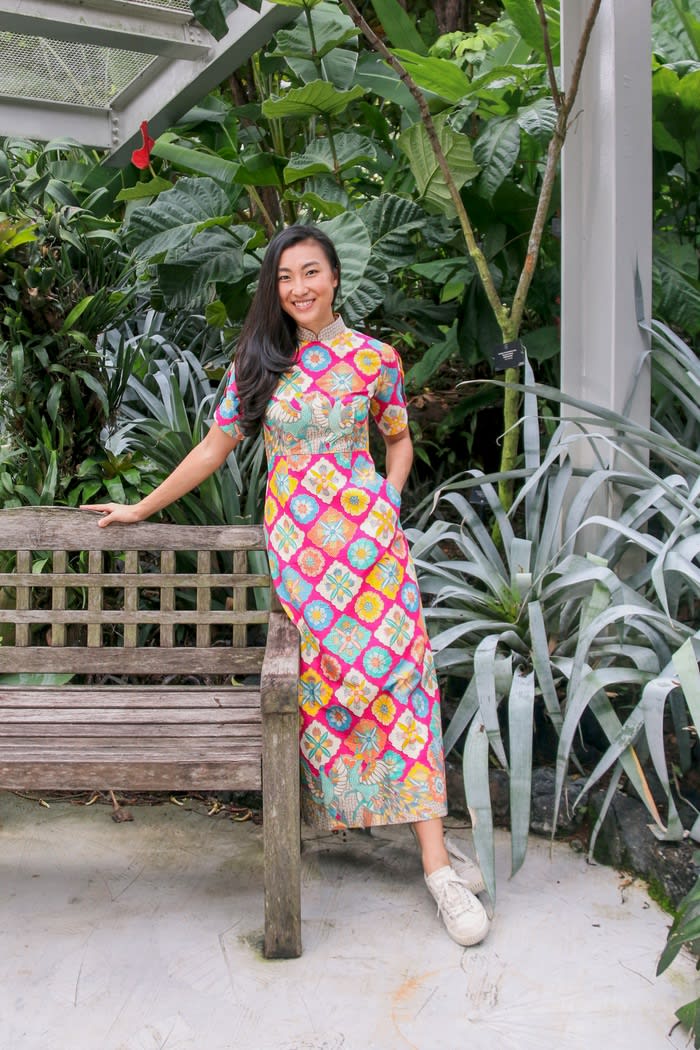 Check YeoMama Batik: Chiyoko Batik Maxi Cheongsam Dress price below:
A lover of the traditional Batik motif? You have to look at YeoMama's selection.
Overview
This maxi cheongsam dress made out of handprint batik will guarantee that you'll stand out in the crowd. Because the material is cotton, this makes the dress so wearable in our hot tropical weather.
Not only that, but because the prints and colours are so bright and whimsical, you'll surely uplift the cheerful spirit of the new year and bring smiles to people's faces. There's nothing more South East Asian than this one!
Great for: Festive and party celebrations
---
---
From a designer or stylist perspective, can everyone wear a cheongsam?
According to Peter Lum, a lady dressed in a well-cut and tailored Cheongsam is a sight to behold. Not only it's timeless, but it's a classic too! That being said, he exhorts every Malaysian lady to celebrate the occasion by wearing a cheongsam. Just pick the best one for yourself and wear it like a true lady!
View this post on Instagram
---
How do I style or elevate my cheongsam?
Here are some tips for you to elevate your cheongsam;
Pick a Cheongsam with quality fabric:
In short; poor-quality fabric and construction will fall apart quickly, and will look cheap.
So do look for a well-tailored cheongsam that uses good materials to ensure the correct fall and drape of the cheongsam when worn.
Find the right fit:
If you are not blessed with a slender body, you can consider wearing body-shapers to smooth out the extra bumps or correct brassiere to give the bust some definition.
Heels:
A pair of heels can help to improve your posture (particularly, a hunched back) when wearing a cheongsam. High-heels can make the wearer stand straighter and help to elongate the legs and spine.
Heels also help make the wearer appear slender too.

---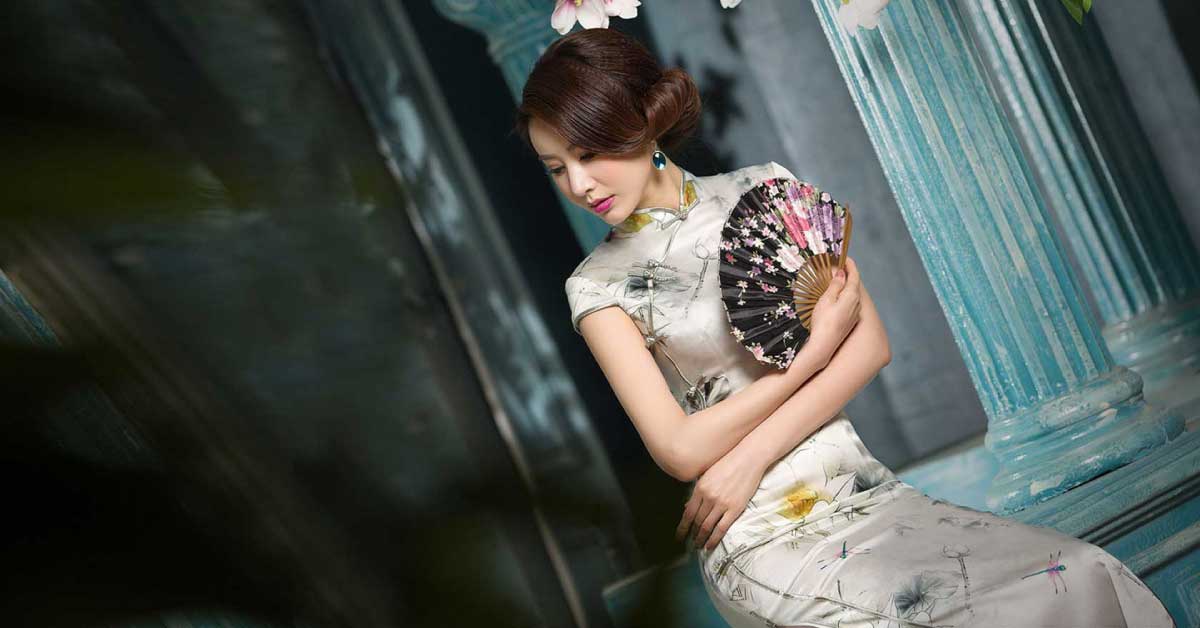 Common Cheongsam Styling Mistakes
Avoid mangling up traditional attire:
Although it's a movement for the younger ones to pair them with sports shoes, Peter still thinks that a pair of heels are best for the cheongsam.
But if heels are not your thing or for comfort, he advises the wearer to try pairing with ballerina pumps as it would help to retain the feminine and allure of the garment.
Maintain your poise:
Cheongsams are rather fitted and usually comes with mile-high slits.
Hence, gentler steps while walking and sitting, minding the slits would help to avoid any uninvited wardrobe malfunctions.
Do not undo any of the Chinese frog buttons:
Unless you have every intention to take the garment off, undoing the Chinese frog buttons (at the collar) would make the whole look a mess and rather unbecoming.