Looking to replace your vacuum cleaner that doesn't seem to clean your home effectively? The Samsung Jet 90 premium may be the one for you.
It comes with a variety of features, including multiple brushes that are interchangeable to ensure optimal cleaning performance. With that, the vacuum cleaner can easily clean hard floors and carpets effectively. Cable management and storage problems are also out the window as this cordless vacuum cleaner comes with a charging station.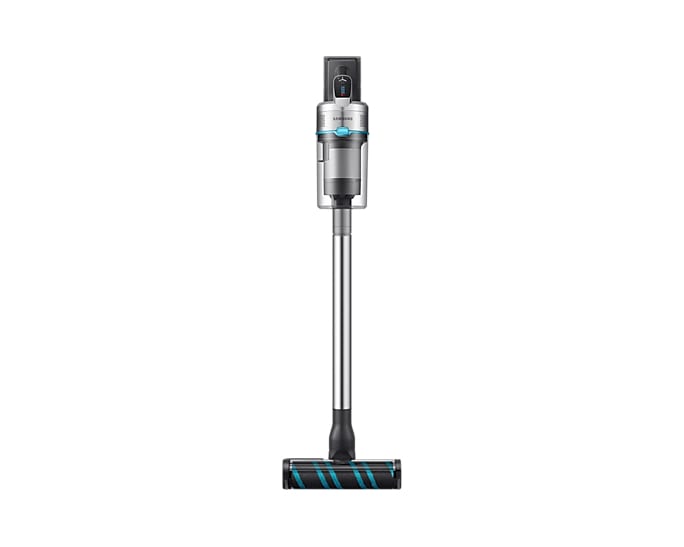 From

RM3,299.00
Check Samsung Jet 90 Premium price below:
Strong Suction Power
Samsung Jet 90 premium offers powerful cleaning with its Digital Inverter Motor that generates suction power of up to 200W. Its strong suction power allows users to clean every corner of the house easily while also being able to effectively clean hard floors.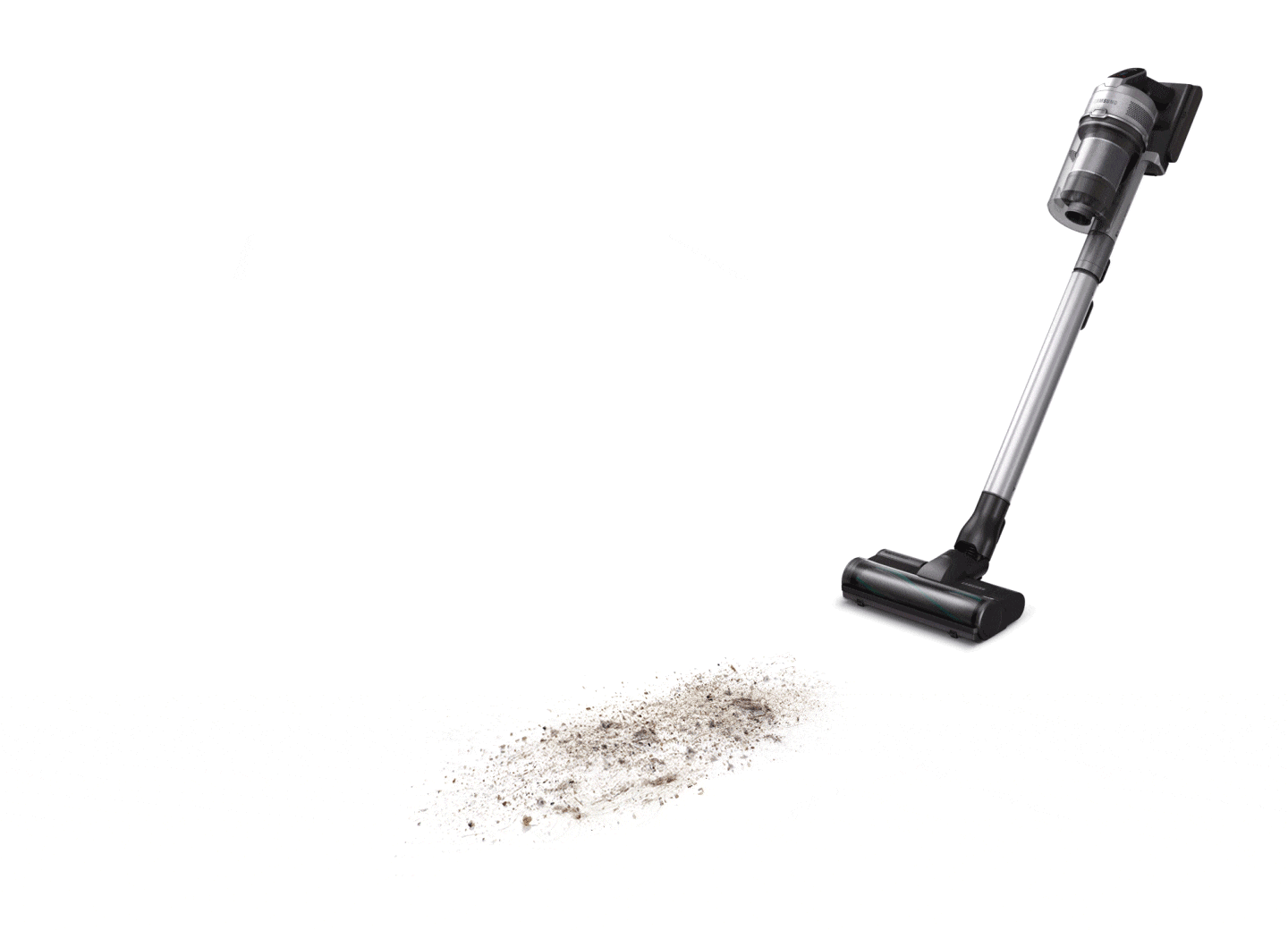 The air system's aerodynamic design also optimises the airflow, while multi-cyclonic air filtration traps fine dust particles. It maintains a high energy efficiency level while providing strong suction power as the airflow is optimised by multiple air blades and cyclones.
Releases Clean Air
A Multi-layered Filtration System protects your family from dust or bacteria that is released in the air by vacuum cleaners. Clean air is released as the filtration system traps 99.999%* of dust** and reduces allergens***.
* Tested based on IEC 62885-2, CL.5.11 using the Max mode by SLG Prüf- und Zertifizierungs GmbH. Results may vary depending on actual usage.
** Refers to particles in the size range of 0.5 to 4.2µm.
*** Based on the Allergy UK Seal of Approval by BAF (British Allergy Foundation).
The filtration system consists of three levels:
a main cyclone and metal mesh grille filter
a micro filter
a fine dust filter
The first level picks up large dust particles, the second level filters fine dust and the third level traps micro dust.
Z Station
Z Station makes charging your cordless Jet 90 premium vacuum cleaner much easier. Simply place the vacuum cleaner and it charges automatically. Storing it is also made easier as the Z Station is designed with a 7-degree slant, making it easier to park and detach the machine.
The design is slim and minimalistic, so it doesn't take up much space and can be placed anywhere. It also comes with a dual charging adapter, so users can charge two batteries at the same time, with only about 3.5 hours for a full charge.
4 Type of Brushes for optimal cleaning performance
Now, for the ultimate reason why you should get the Samsung Jet 90 premium. The vacuum cleaner comes with four types of brushes that are interchangeable to suit your cleaning preferences. The four types of brushes are:
Spinning Sweeper: Mop with reusable microfibre mop pads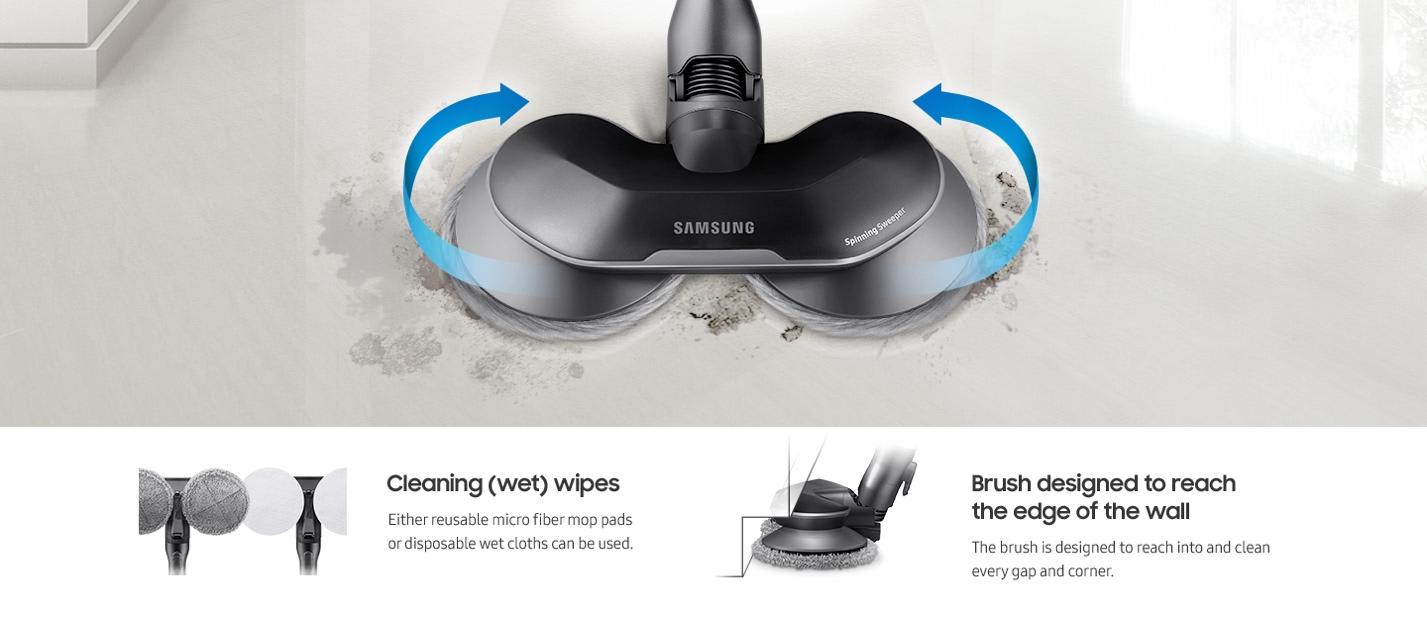 Soft Action Brush: Optimized for cleaning fine dust on hard floors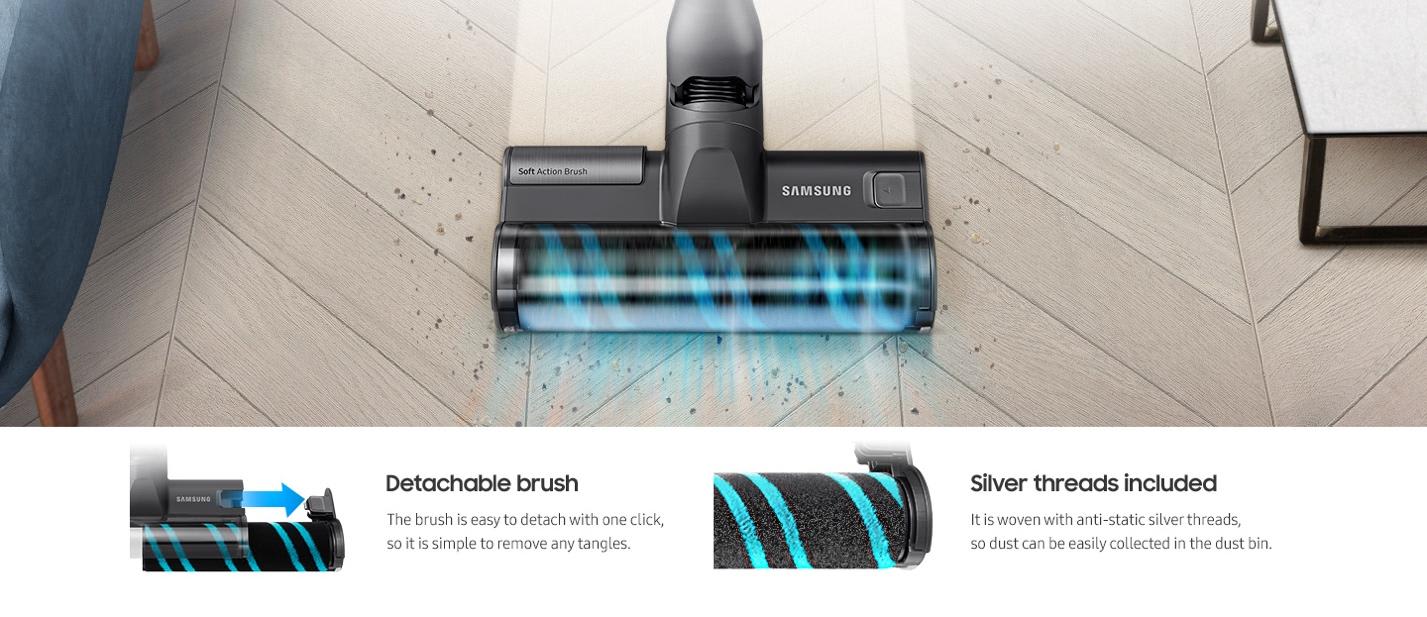 Turbo Action Brush: Suitable for carpets/rugs
Mini Motorized Brush: Cleans dust, particles, and pet hair on sofa/bed/mattress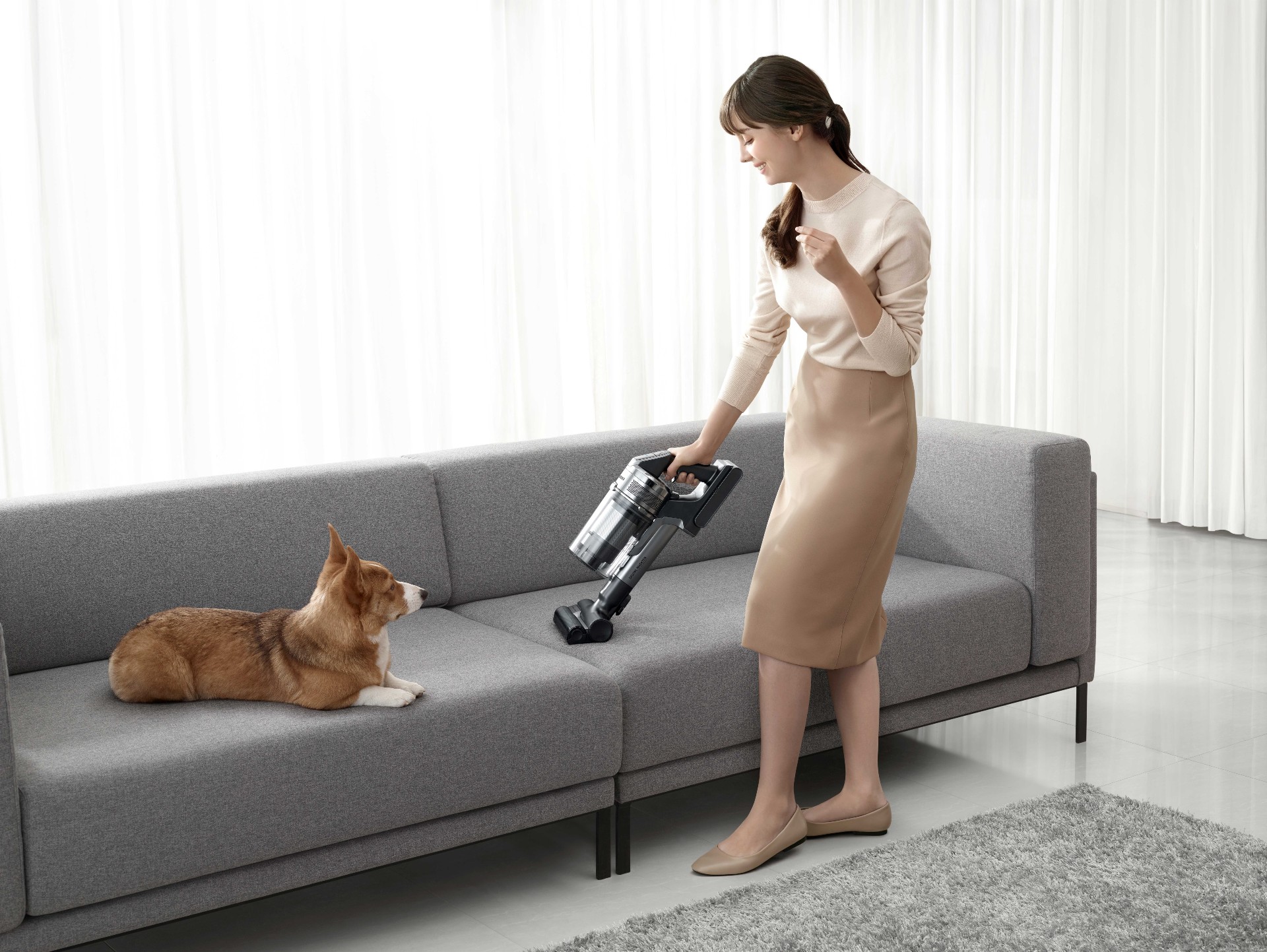 Changing between brushes is very simple and the brushes are also very easy to clean. This feature is very useful especially for homeowners with rugs or carpets at home.
Fully Washable Bin
Dust is collected in a washable bin that can be easily detached to keep it hygienically clean every time. The whole 0.5L dustbin, including its multi-cyclone system, is fully washable, so it can be kept clean and fresh.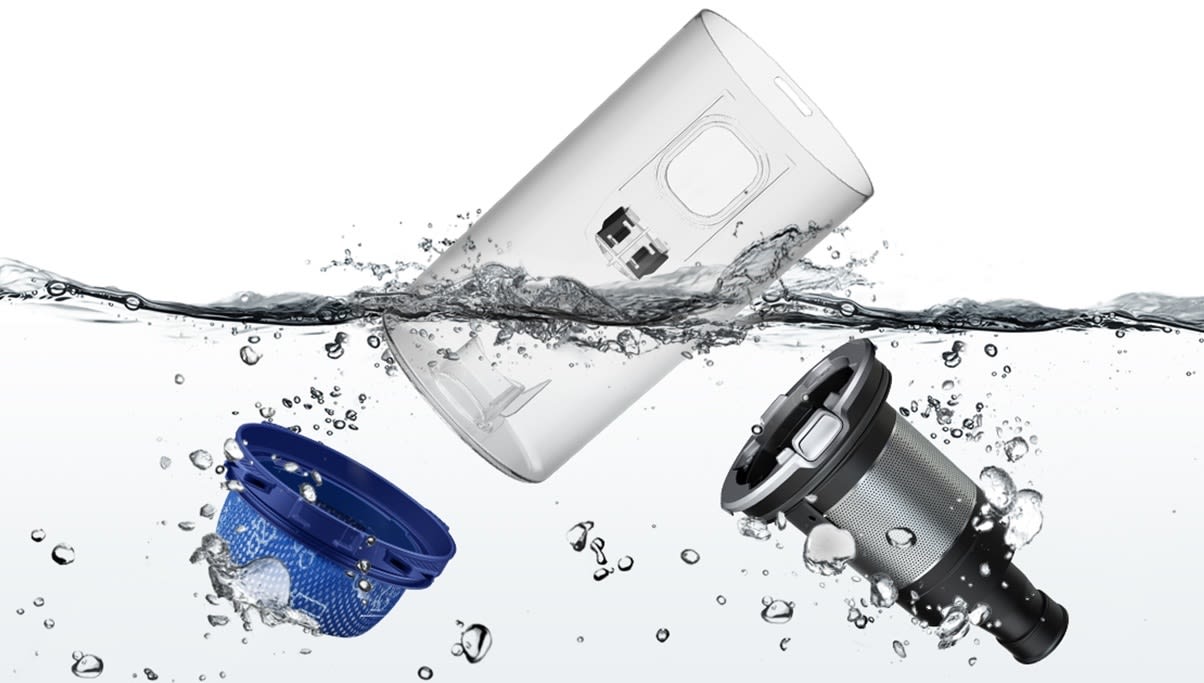 To clean the dustbin, simply remove it without having to detach the pipe from the body and just tip the dust out. Cleaning the vacuum cleaners' dustbin can be quite a hassle sometimes but this is all made easier with the Jet 90 premium.
Removable and Longer-lasting Battery
One main concern for cordless vacuum cleaners is the battery life as typical cordless vacuum cleaners can barely last a whole cleaning session. The Samsung Jet 90 premium, on the other hand, comes with a high-capacity battery that can maintain high-power suction for up to 1 hour.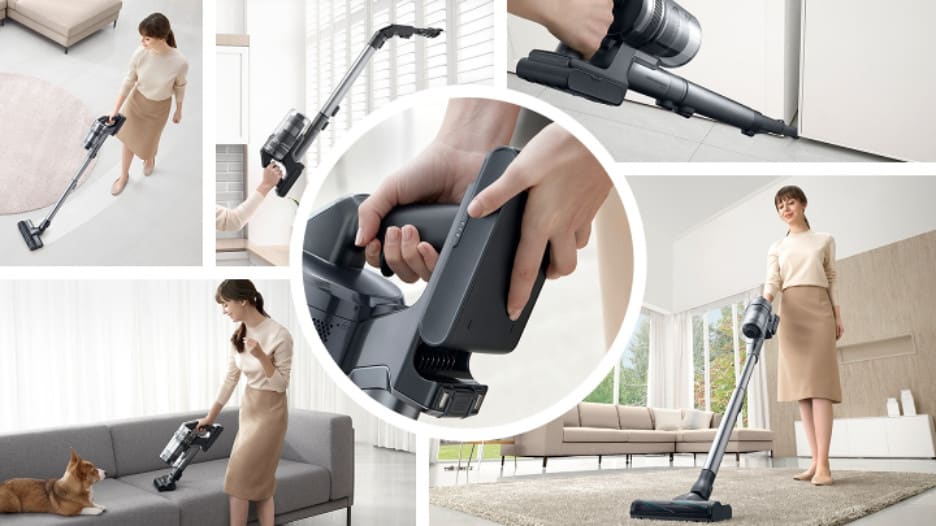 Users no longer have to worry about the vacuum cleaner dying halfway into cleaning their room and the best part is that the battery of the Jet 90 premium is very durable and retains 70% of its original performance up to 500 cycles*. If you need longer battery life, you can simply replace the battery with a spare** to continue cleaning up to 2 hours.
*Maintains 70% capacity after 5 years of use at 100 cycles/year. 1 cycle: total use of battery from a full charge. Results may vary depending on usage. Based on internal testing
*Spare battery sold separately
Compatible with Clean Station™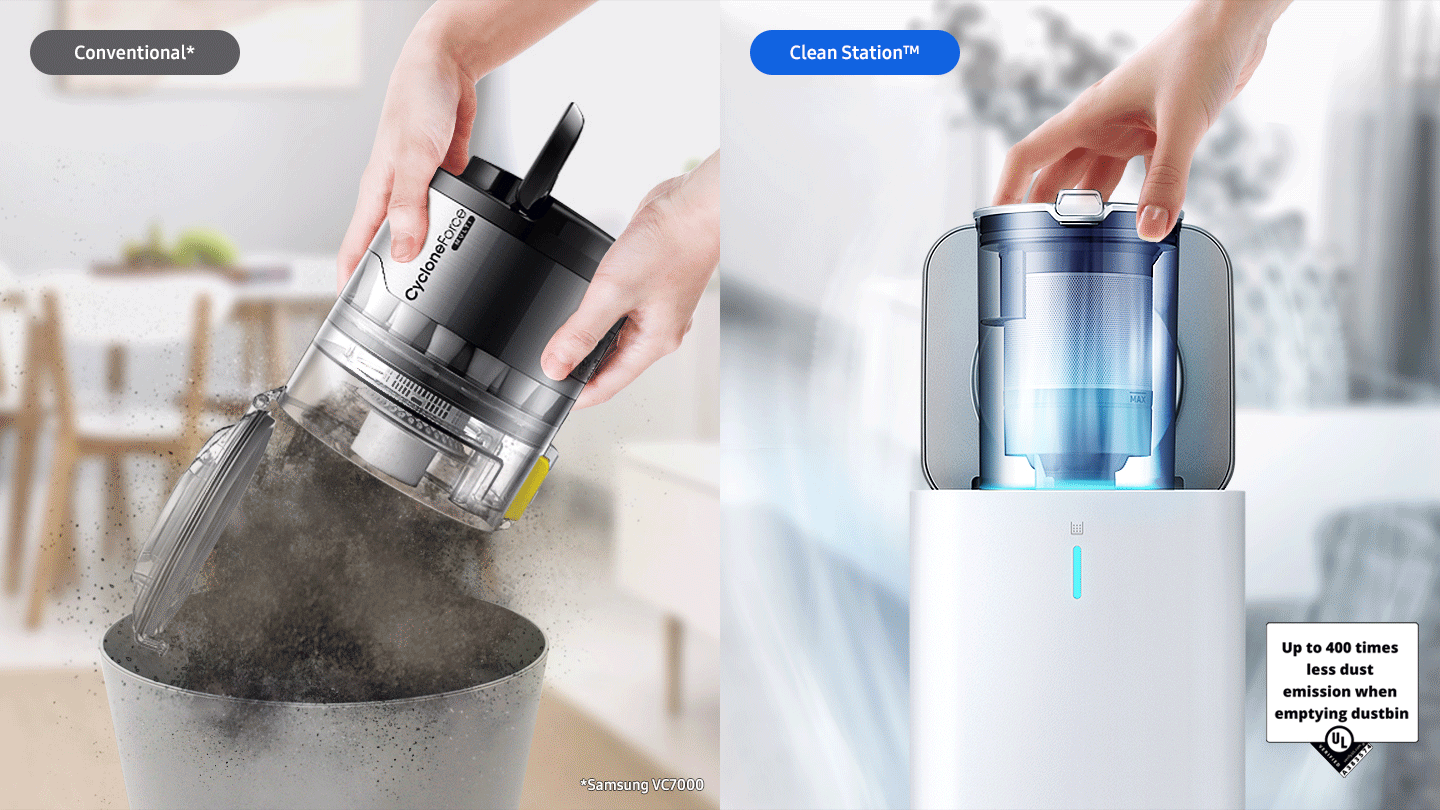 If you are a very busy person and want an easier alternative to clean your vacuum cleaner, you can buy the Clean Station™ which is an internal Dust Bag that allows users to automatically clean the dustbin. The Clean Station™ also cleans your dustbin more hygienically and ensures that no dust particles or allergens are released into the air.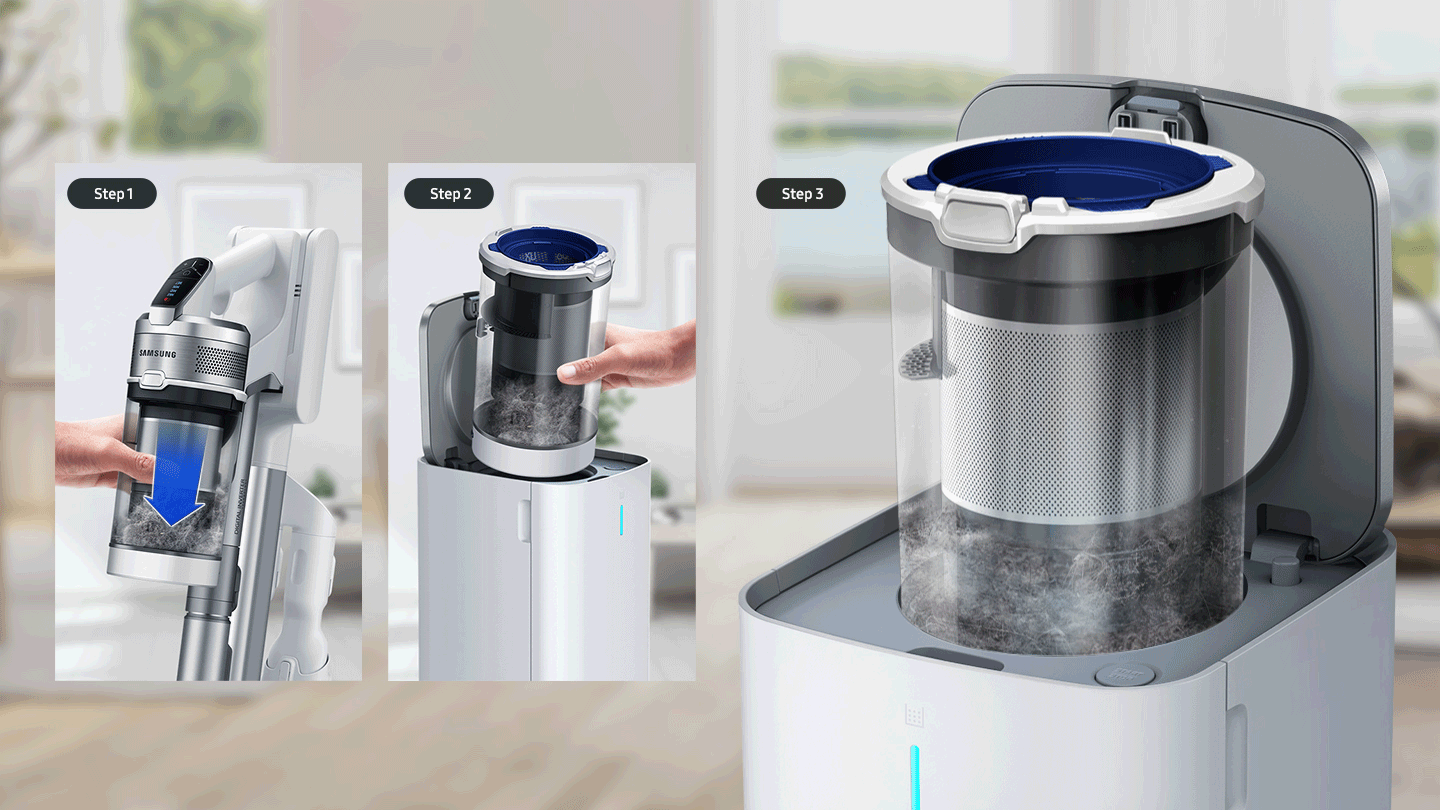 To operate the Clean Station™, simply detach and place the dustbin on top of the Clean Station™, which will automatically empty the dust, without you having to separate the pipe or the cyclone. We would recommend the Clean Station™ to those who are busy with long working hours or are hardly at home as it saves a lot of time.
---
In conclusion, the Samsung Jet 90 premium is a very all-rounded vacuum cleaner where it does more than your average cleaning device. With many features and multiple brushes to clean different surfaces, it does it all while providing users with convenience. The dustbin is easy to clean, and the battery life is sufficient. We would recommend this vacuum cleaner for homeowners with larger homes who have pets or have surfaces that are hard to clean.