With more than a year into the Covid-19 pandemic, many have spent months separated from their friends and family due to the lockdown and travel restrictions. 
During such trying times, why not send a care package to them as an act of love and support? After all, the pandemic shouldn't stop us from giving and receiving love as well as encouragement to and from those that matter most. 
Scroll down to have a look at 11 unique care packages in Malaysia that we've handpicked for specific groups and needs. 
---
11 Best Care Package Recommendations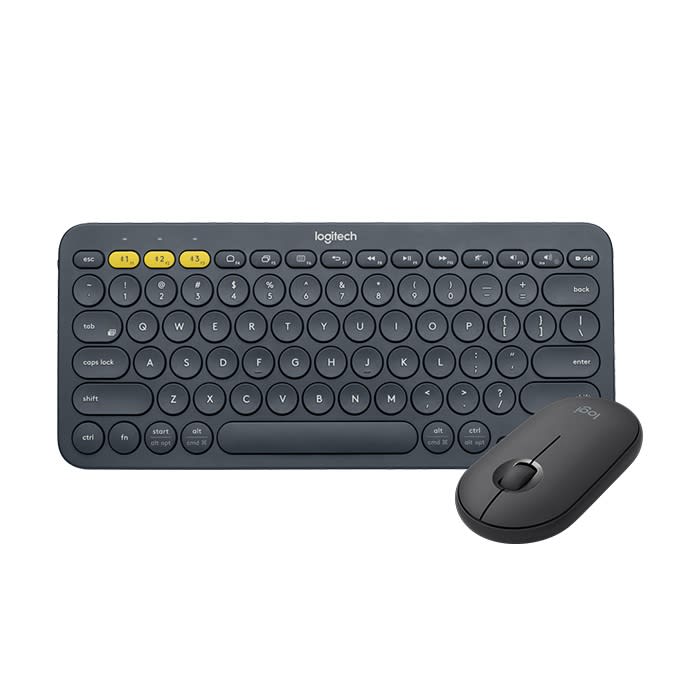 Check Logitech K380 Bluetooth Multi Device Keyboard + Pebble M350 Wireless Mouse - Black price below:
The long hours that college students spend on the computer would be made easier with the convenience of this Logitech Bluetooth keyboard and mouse bundle. On the lightweight and minimalistic keyboard, it offers the versatility of typing away anywhere on any Bluetooth-compatible device. 
You can also say goodbye to annoying mouse clicks as the Pebble M350 is an ultra-portable wireless mouse that operates silently. What's more, both the keyboard and mouse are energy-saving with a battery life of at least 18 months. Clearly, this care package would be a lifesaver for any college student.
Consists of: 
1x Logitech K380 Bluetooth Multi Device Keyboard

1x Pebble M350 Wireless Mouse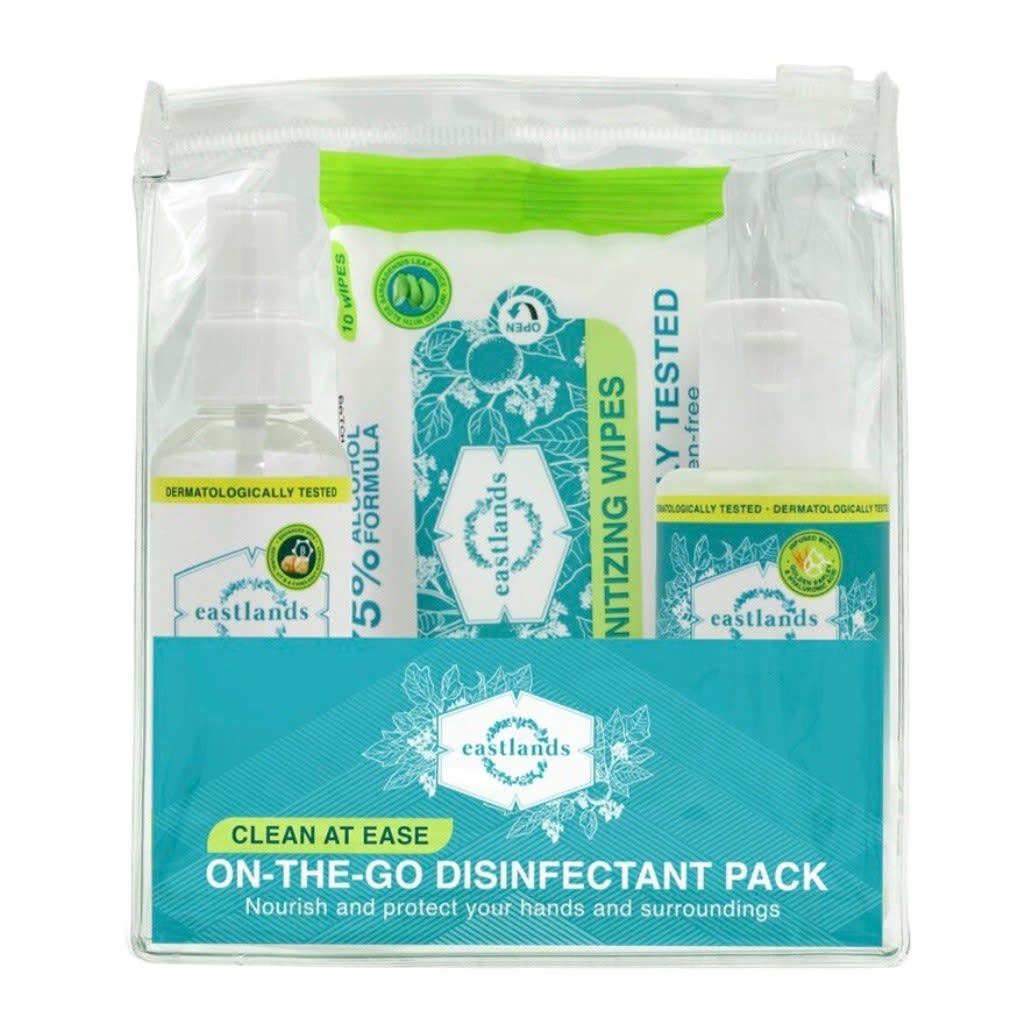 Check Eastlands On-the-Go Disinfectant Pack price below:
Everyone knows that especially during this time in the history of humankind, cleanliness is next to Godliness. And so, this super-affordable disinfectant pack is the perfect care package to protect your loved ones against the virus during this pandemic. 
It comes in a handy ziplock bag and contains a sanitising spray, antibacterial hand wash, and sanitising wipes. Moreover, each item is enriched with different skin nourishing ingredients such as vitamin B and E, hyaluronic acid, as well as aloe and corn oil to prevent dry skin from frequent sanitising. 
Consists of: 
1x sanitizing spray (50 ml)

1x hyaluronic acid antibacterial hand wash (50 ml)

1x sanitizing wipes (10 wipes)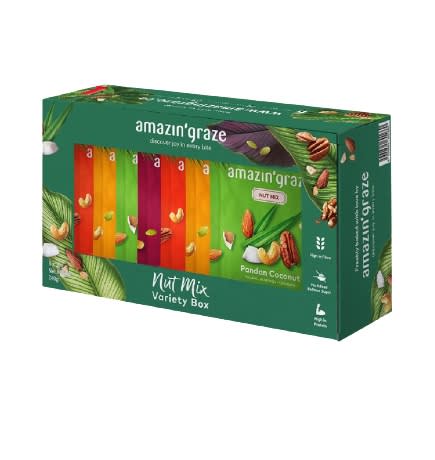 Check Amazin' Graze Nuts Variety Box (8 x 30g) price below:
Spending more time indoors means a higher tendency to snack, especially for those who have a habit of snacking out of boredom rather than hunger. Instead of reaching for that bag of potato chips or ice cream, why not opt for a healthy nuts snack instead? 
This fun-sized nut mix from Amazin' Graze come in four tasty flavours, all packed into one convenient box. It's a great gift idea too to send to someone who is in need of some guilt-free snacking. 
Consists of: 
2x Coconut Curry Lime Nut Mix

2x Sweet Chilli Nut Mix

2x Pandan Coconut Nut Mix

2x Zesty Maple Glazed Nut Mix.

Halal certified.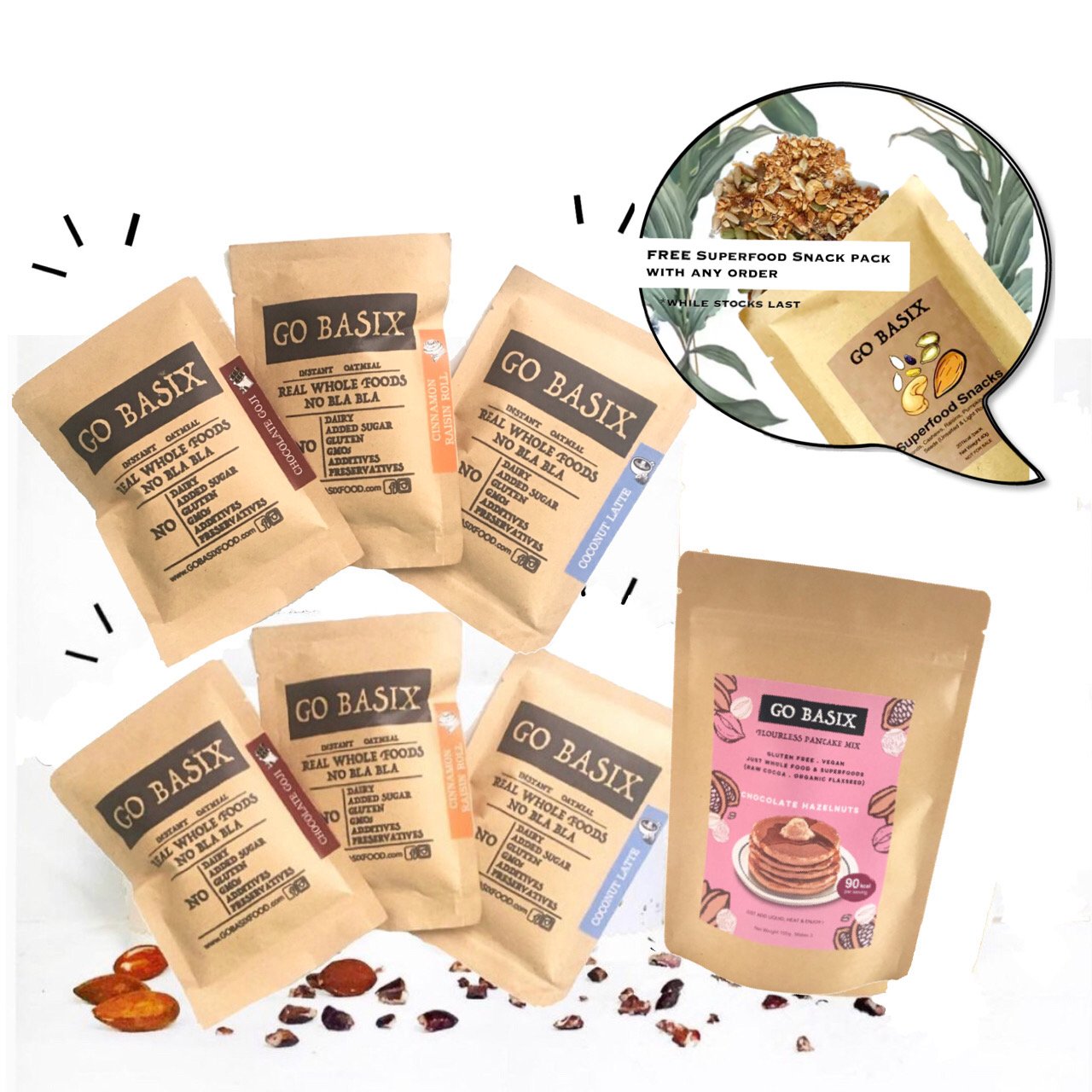 Check GO BASIX Food Gift Box - A Week Stay Home Kit price below:
If you know someone who loves making their home breakfast the cafe-style, this care package is ideal for the chef at heart.
GO BASIX is a local brand that understands the importance of healthy yummy meals. Therefore, their creative blends are not only 100% natural but are also free of additives, gluten, dairy and refined sugar. This means a meal package that's perfect for anyone from all walks of life.
In this home care package variant, each one consists of a set of six oatmeal blends (which you can customise the flavours to include) along with a pancake flour mix. Not only that but to help you get started, purchases from GO BASIX are equipped with recipe guides that are easy to understand even for beginners.
Consists of:
6x Gourmet Oatmeal 55g 
1x Flourless Pancake Mix 105g 
1 gift box with a personalised card 
GO BASIX Smart Recipe guides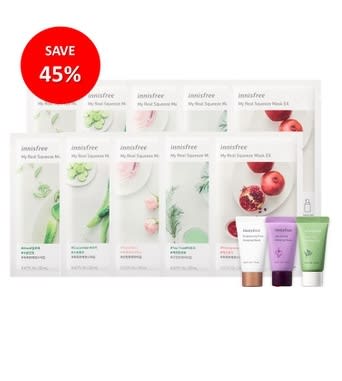 Check My Real Squeeze Mask Value Set price below:
For those in need of some tender loving care, this Zalora exclusive Innisfree mask value set is the way to go. The set is an absolute bargain as it has 10 assorted My Real Squeeze sheet masks along with three trial-sized sleeping mask packs. 
Whether your skin requires hydrating, purifying, moisturising, or soothing, this mask bundle has it all to rejuvenate your skin and keep the lockdown fatigue away. One can simply switch among the different mask types according to needs and preferences. 
Consists of: 
10x My Real Squeeze Mask (Cucumber, Aloe, Tea Tree, Rose, Pomegranate)

3x Sleeping Mask (Green tea, Orchid, Brightening Pore)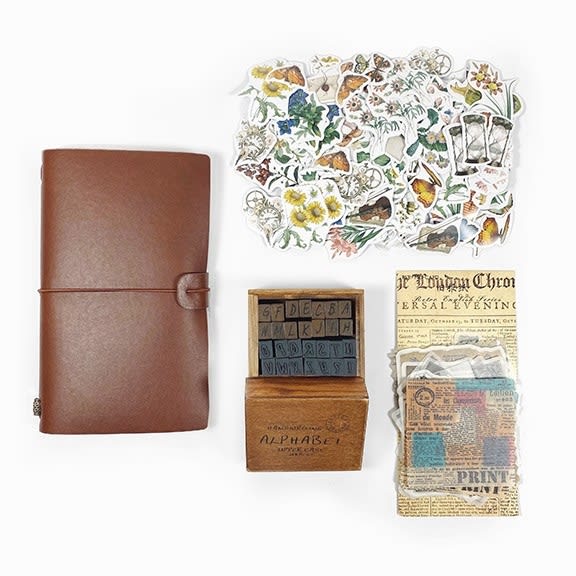 Check My Journal Vintage Bundle price below:
If you know of someone stuck in quarantine, why not send them this classic vintage journal for them to pen down their thoughts? 
Journaling can be a therapeutic and effective way of relieving stress and anxiety – something that would benefit many people during the coronavirus lockdown. This journal bundle here by Loka Made has all the essentials necessary for one to kickstart journaling. 
Consists of: 
1x Travel notebook (random colour)

1x wooden alphabet set (random design)

Washi deco stickers Vintage Newspaper (60 pieces/20 designs x 3)

Deco stickers Candy Poetry Flowers & Plant (200 pieces)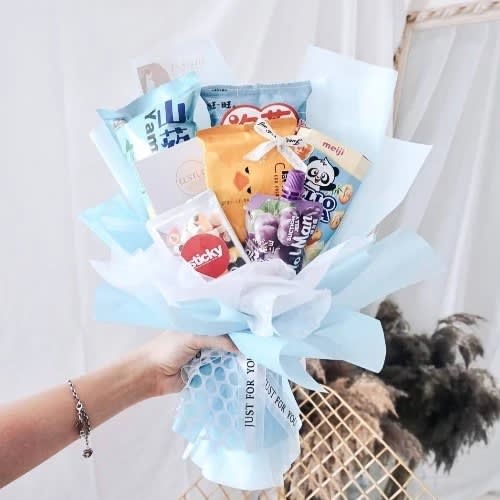 Check Mini Snacks Bouquet price below:
Constantly missing your friends and looking forward to the next hangout session? Well, you don't have to wait till then to show your appreciation for the friendship you have. Just send them this Mini Snacks Bouquet and they'll be sure to feel your love for them from afar. 
This pretty bouquet has six types of tasty snacks and is packaged beautifully either in black, blue, purple or green bouquet wrapping. You can also add a personalised note with the free message card as well. 
Consists of: 
6 pieces of snacks (as per picture; different colours come with different snacks)

A bouquet of Baby's Breath

1x message card

Halal snacks can be requested by leaving a remark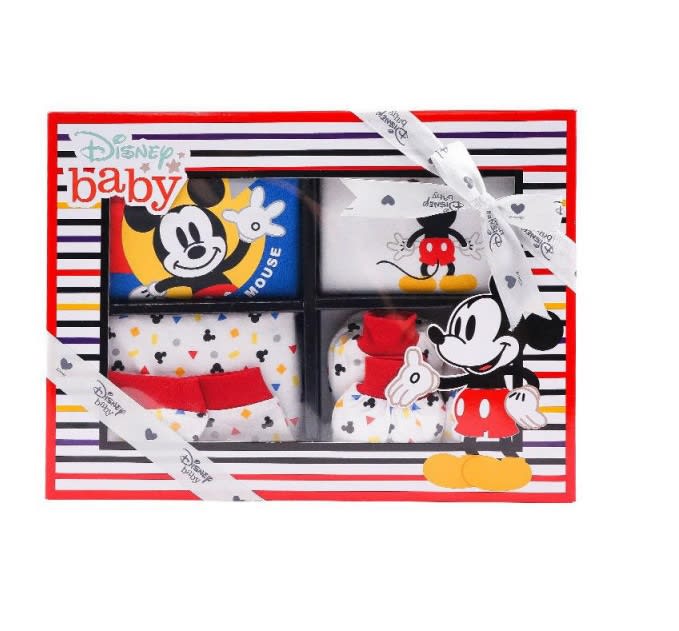 Check Anakku Disney Newborn Baby Gift Set Unisex price below:
This Disney-themed unisex newborn baby gift set is perfect for new or expecting mothers. The set comes in an adorable white and blue colour scheme featuring the faces of Mickey and Minnie. 
In this five-piece set, you'll get a long sleeve top, long pants, mittens, booties, and bonnet. They are all made from good-quality fabric and is designed to fit zero to three-month-old babies. 
Consists of: 
1x long sleeve top

1x long pants 

1x mittens

1x booties

1x bonnet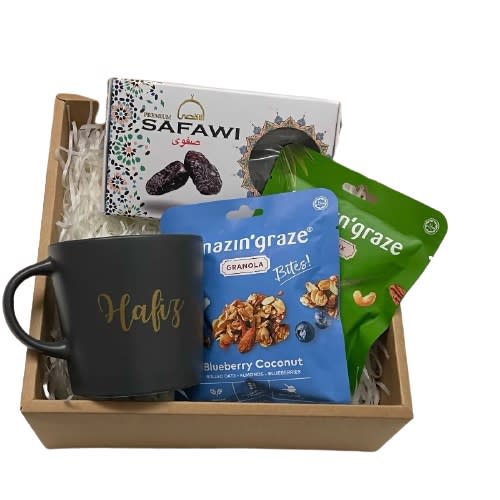 Check Personalised Healthy Care Box with Mug price below:
Want a more personal touch to your care packages? This personalised health care box is great for birthdays, anniversaries, and just about any special occasion for that extra special someone! 
Besides giving them a cool personalised mug, you can add a personalised wish on the box and message card too to fit the event. Not to mention, you can customise the mug and font colour to your recipient's liking as well. Also included are some healthy snacks from Amazin' Graze and Safawi dates. 
Consists of: 
1x Personalised coffee mug (available in light grey, dark grey, light pink, black)

1x box of Safawi dates 200g

2x Amazin' Graze Granolas/Mix Nuts

1x gift box (W23.5 x L23.5 x H9.5 cm)

1x message card

Halal certified