You may have come across the brand Eucerin while browsing in Watsons or Guardian pharmacy. Or, you may have seen it online and heard about it from friends and family. Whether you're familiar with the brand or not, Eucerin is a popular yet trusted brand that solves many common skin concerns such as acne.
If you're looking for a lotion, moisturizing cream, a toner or even a body wash, Eucerin has you covered. Their range of skincare products is wide, including several that repairs dry skin and some that speeds up wound healings.
Before you get started on your shopping spree, you may want to be informed about its range of products. Here, we review some of the best Eucerin skincare picks.
Recommended Products:
add_circle
Smoothens dry and flaky skin
add_circle
Provides 48-hour moisture
add_circle
Doesn't clog pores
add_circle
Safe for sensitive skin
remove_circle
Has an unpleasant smell
Extremely rich in moisture, the Eucerin Advanced Repair Cream is a lifesaver for those with extra dry and flaky skin.
Its main ingredient is ceramide 3, known as a natural skin barrier that prevents permeability and protects the epidermis from external damage. This locks moisture into your skin, preventing dryness and irritation.
The Eucerin Advanced Repair Cream is also fortified with a combination of natural moisturizing ingredients that intensively hydrates the skin, strengthen the skin's natural barrier, and provides 48-hour hydration.
And the best part is, despite being so effective in moisturizing the skin, the cream is made to be non-greasy. Thus, there's no need to worry about your skin feeling oily after application. And because it's non-greasy, it won't clog your pores at all!
Many reviewers have shared how powerful the cream is in providing moisture It's especially ideal for people with diabetes, eczema, or anyone with dry and sensitive skin.
Promising review: "Having diabetes, my skin is very dry and flaky sometimes. After using Eucerin Advanced Repair Cream, I felt the difference the very first day! It's smooth, not greasy, and moisturizes very well. I finally found my dry skin cream that works!" - Dwhite
---
add_circle
Reduces wrinkles and fine lines
add_circle
Suitable for all skin types
add_circle
Main ingredient is hyaluronic acid which has many skin benefits
The Eucerin Hyaluron-Filler Night Cream is perfect for reducing the visibility of wrinkles and fine lines to help you achieve a rejuvenated look. Thus, it is targeted at those whose skin concerns are wrinkles.
This night cream's main ingredient is hyaluronic acid. To note, hyaluronic acid is well-known for its skin benefits as it retains moisture in the skin. That leads to a reduction in the appearance of fine lines, creates a plumping effect, and alleviates dry skin.
The Eucerin Hyaluron-Filler Night Cream contains not 1 but 2 types of hyaluronic acid. There's glycine-saponin, which actively increases the skin's natural hyaluronic acid production, and concentrated dexpanthenol which reinforces the skin's overnight regeneration process.
After application, the skin is plumped up from the inside out, creating a skin texture that is extremely soft and well-cared for.
Despite its priciness compared to other Eucerin products, the night cream has satisfied many users thus far, with many reviewers sharing that they are currently buying their second or third bottle.
Promising review: "I only use a tiny amount and my skin is hydrated without the oiliness of most creams. No breakouts from this product and I am highly acne prone. Love this product!" – Crystal44
---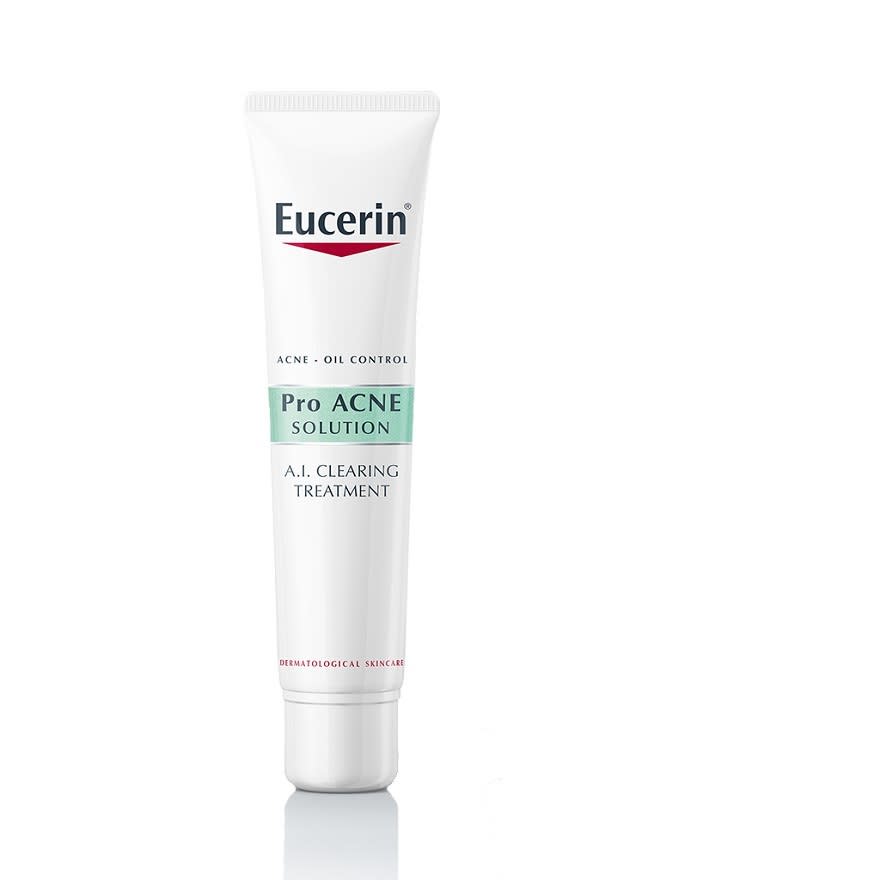 add_circle
Reduces pore size
add_circle
Improves skin appearance
add_circle
Reduces post-acne marks
add_circle
Doesn't clog pores
add_circle
Anti-bacterial
remove_circle
Not fragrance-free
Acne is just plain annoying, and sometimes painful, which is why we recommend the Eucerin Pro ACNE Solution A.I. Clearing Treatment. It not only reduces the appearance of acne but also fades acne marks and acne scars.
This treatment is made from a combination of peeling agents, which are glycolic acid, salicylic acid, and polyhydroxy acid. These ingredients are known to unclog pores, remove dead skin, reduce bacteria, and prevent new blemishes from forming. Additionally, the formula also contains Licochalcone A which has been clinically tested to reduce inflammation.
With anti-bacterial properties, the cream significantly reduces papules, pustules, and other red bumps on the skin while greatly reducing the appearance of your pores. However, do take note that the cream is lightly fragranced.
Many users agree that their skin starts to visibly improve after just one week, and over time, their skin becomes clearer and smoother-looking. Considering its highly affordable price and the many benefits it brings about on your skin, this acne treatment solution is a gem that you wouldn't want to miss.
Promising review: "I love Eucerin ProAcne Solution because it helps to reduce my acne scars. I will definitely introduce this product to my family and friends." - Muhammad Syafiq
---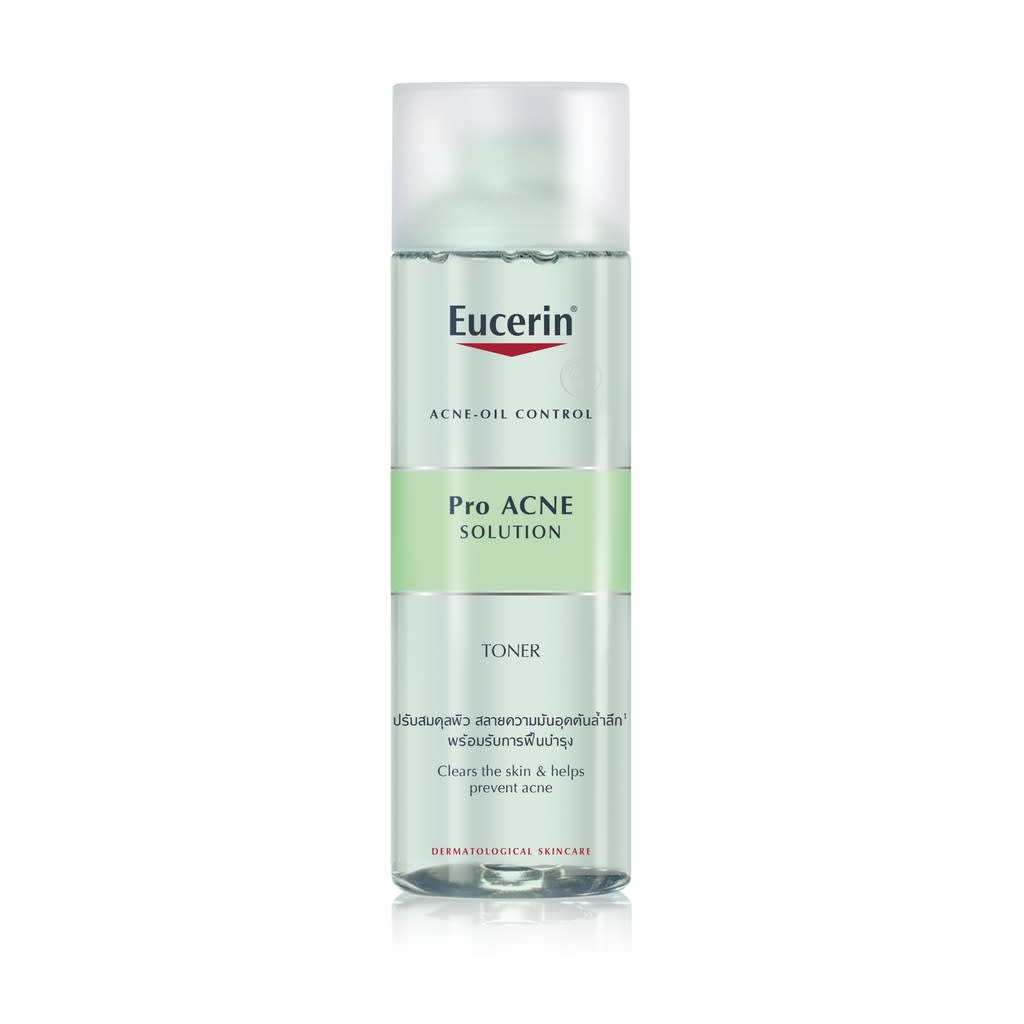 add_circle
Clarifies the skin
add_circle
Intensively cleanses the T-Zone area, Anti-bacteria
remove_circle
Contains fragrance
As you've read in its name, the Eucerin ProACNE Solution Toner is an ideal toner for those who wish to battle acne. It is particularly effective in thoroughly cleansing the T-Zone and other problem areas, thus clearing the skin and preventing acne from forming.
The formula contains anti-bacterial properties that inhibit the growth of bacteria, fortified with 2% lactic acid which has the ability to unclog pores without over-drying the skin. It not only clears acne but also prevents blemishes from forming. Therefore, the toner is suitable for those with mild to moderate acne and for people with oily and blemish-prone skin.
Other than just clearing up acne and preventing blemishes, the toner also moisturizes the skin well, making it a fine base for subsequent skincare products such as moisturizer and primer.
The toner has high ratings, with many users praising how effective it is in clearing the skin from acne, blackheads, whiteheads, scars, and other blemishes.
Promising review: "I truly live Eucerin products. It works on me and this is like the 3rd time I'm buying it." - l*****p
---
add_circle
Reduces dark spots
add_circle
ultra-light formula that has quick absorption
add_circle
suitable for all skin types
remove_circle
Results can be slow
If you wish to achieve skin that is smooth, renewed, and even radiant, the Eucerin Ultrawhite Spotless Double Booster Serum is your go-to skincare product. With a light emulsion, the serum is dermatologically proven to reduce dark spots, prevent dark spots from appearing again, and even out the skin tone.
This product is actually 2 serums in 1 bottle; a combination of 2 serums that work in different ways.
The first is thiamidol, a patented ingredient that is clinically proven to tackle the root cause of hyperpigmentation and prevent its re-appearance. Meanwhile, the second is a concentrated hyaluronic acid, known as one of the most effective moisturizing substances, that attracts and retain moisture in the skin.
You can expect results to be visible after about 2 weeks of use. Your skin will gradually improve over time with regular use. Known for its ability to correct dark spots, the serum has generally received favourable ratings. However, do note that some people may find the fragrance to be too strong.
Promising review: "After using this concentrate serum my pigmentation became lighter." - shaa
---
add_circle
Reduces pigmentation and de-colouration
add_circle
Suitable for all skin types
add_circle
Evens out the skin tone
add_circle
Reduces excess sebum
If your skin concern is mainly dark spots, hyperpigmentation, and dullness, you may want to try the Eucerin Ultrawhite Spotless Cleansing Foam. It does an excellent job of whitening, brightening, and evening out the skin tone and texture.
Living in a hot country such as Malaysia, your skin is bound to have a little pigmentation. This cleansing foam is, therefore, a lifesaver for many Malaysians, as it addresses the root cause of hyperpigmentation: by reducing melanin production.
This cleanser is not only clinically and dermatologically tested to reduce dark spots, but also proven to prevent their re-appearance! The first results are only visible after 2 weeks, so it's highly recommended that you use it regularly in order for your skin to improve over time.
Free from alcohol and colourants, the cleansing foam is also great at removing excess sebum in the skin, especially around the T-Zone area. Overall, the product has garnered many positive reviews, with many saying that it's such a value buy.
Promising review: "Just squeeze it in small quantities, and the foam is sufficient to cover and brighten up my face. So worth it." Norlida M.
---
Common User Experiences about Eucerin
Ask any dermatologist, and most of them will agree that Eucerin is a trusted brand, with products that are effective in tackling the specific problems that they were created to solve.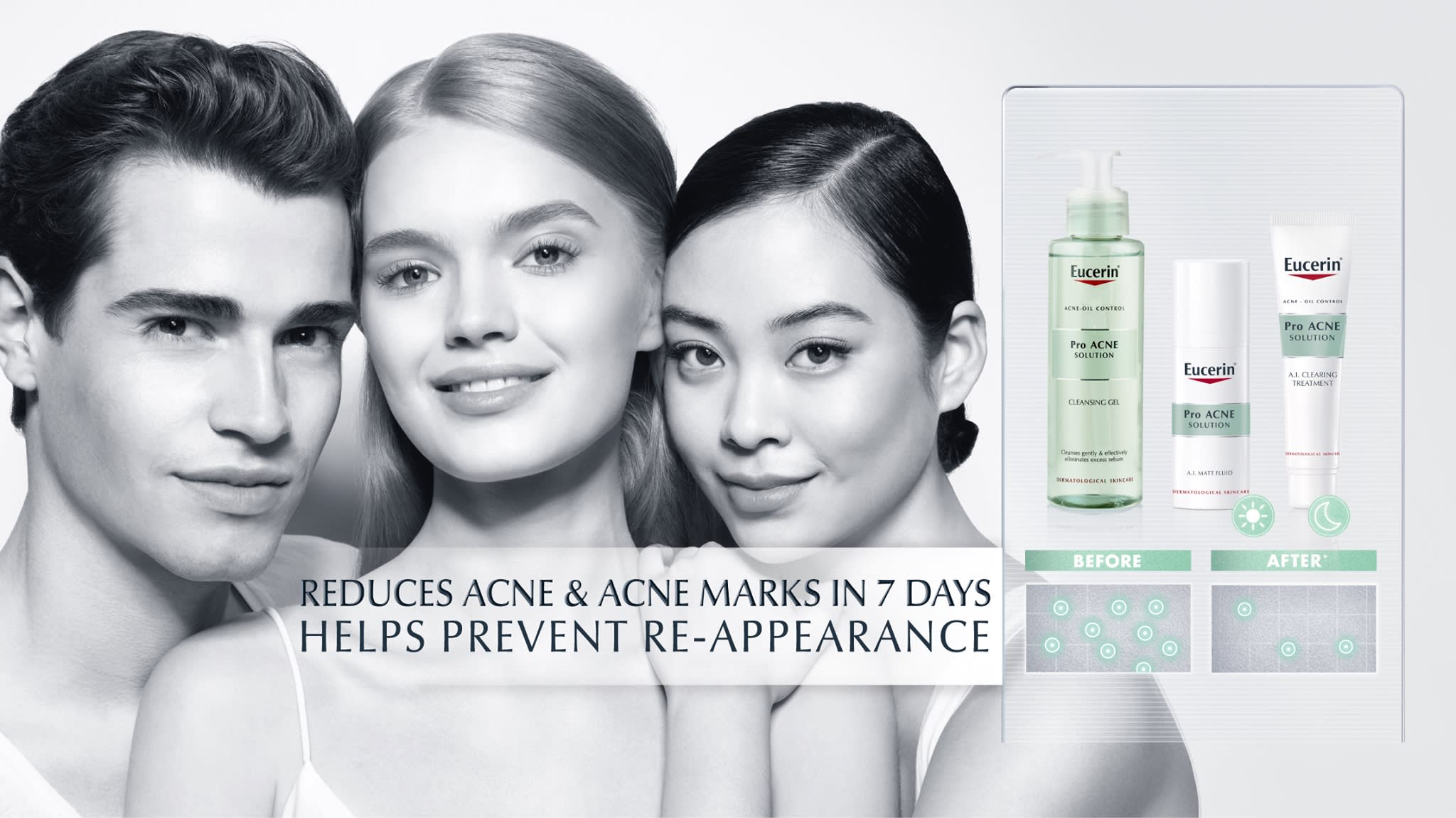 Eucerin's acne products are particularly popular in the market. Their ProAcne Solution line consists of:
Toners

Serums

Cleansing gels

Scrubs

Makeup cleansing water
The whole line is dedicated to helping people solve their acne problems. Many of these products have been regularly reviewed by Youtubers, receiving so much praise for their ability to tone down inflammation and reduce acne marks.
Apart from that, Eucerin also has a product line for ageing skin and is well-received by the market. These include:
Eye creams

Moisture boosters

Serums

Spot correctors.
3 main skin concerns are addressed with these products:- wrinkles, hyperpigmentation, and loss of skin elasticity. Overall, many users have shared that these ageing products are excellent in lifting up key facial areas.
---
About Eucerin
Eucerin's history dates back to 1900, when Dr Isaac Lifschützl created a sleek ointment base consisting of water, oil, and Eucerit, naming the product Eucerin. After a series of successful patents, the first Eucerin products were introduced in the German market, and since then, the brand gradually expanded worldwide.
Today, the brand is widely recognised as one of the most trustworthy skincare brands.
Eucerin categorises its products based on major skin concerns. They are acne-prone skin, ageing skin, dry skin, diabetic skin, atopic dermatitis, hypersensitive redness-prone skin, and uneven skin. The brand then further categorises the products based on specific skin issues, such as age spots, hyperpigmentation, wrinkles, etc. This makes it convenient for consumers to find the right product.
As dermatological research and development are at the heart of the brand, Eucerin is extremely active in discovering ground-breaking science in skincare formulas. They are committed to developing more effective solutions and superior products that solve consumers' skin concerns.
Disclaimer: The pricing shown is just a good indication of how much these products are worth. The prices could change based on the e-commerce promotions that are going on. If some of the products are not available, do email us at [email protected] Thank you!