The pursuit of fashion does not strip off its inarguable statement that it has become an expensive daily affair. As it's a living staple of peoples' daily lives, the clothing industry scrambles to align their marketing strategies just because the quest for good fashion will never be extinct.
And so, booms the plethora of trends that promote a minimalist yet flexible wardrobe to butter away the lavish expenditure splurged on fashion. Cue, the Capsule Wardrobe.
Many of us belong to the category of being guilty of cluttering piles and piles of clothes. Well, the Capsule Wardrobe, a closet-reducing approach, is technically a little wardrobe that is made up of extremely useful clothing pieces that you are so head-over-heels in wearing.
All you have to do is keep timeless clothing pieces that you know you would wear again. The result? Your Capsule Wardrobe will only consist of clothing pieces that you can effortlessly match with each other to form new combinations of outfit coordination every day for a season.
Advantages of having a Capsule Wardrobe:
Helps you save more time when you dress up

Saves money and energy on things that matter in life

Only shop once a season

Every single clothing piece becomes meaningful

You'll want to wear everything, every time.
Several public figures have been living with such practicality. Similar to having a work uniform, former USA President Barack Obama wears only grey or blue suits. He did not want to decide on what to eat or wear as he has too many other decisions to make. Facebook founder and entrepreneur Mark Zuckerberg also practices this belief.
Even actress Drew Barrymore has limited her wardrobe and only thoughtfully shops for clothes. This decision has made her feel more sane and happy; getting dressed no longer feels like a battle for her.
If you are inspired to adopt this trend, we will make things superbly easy for you.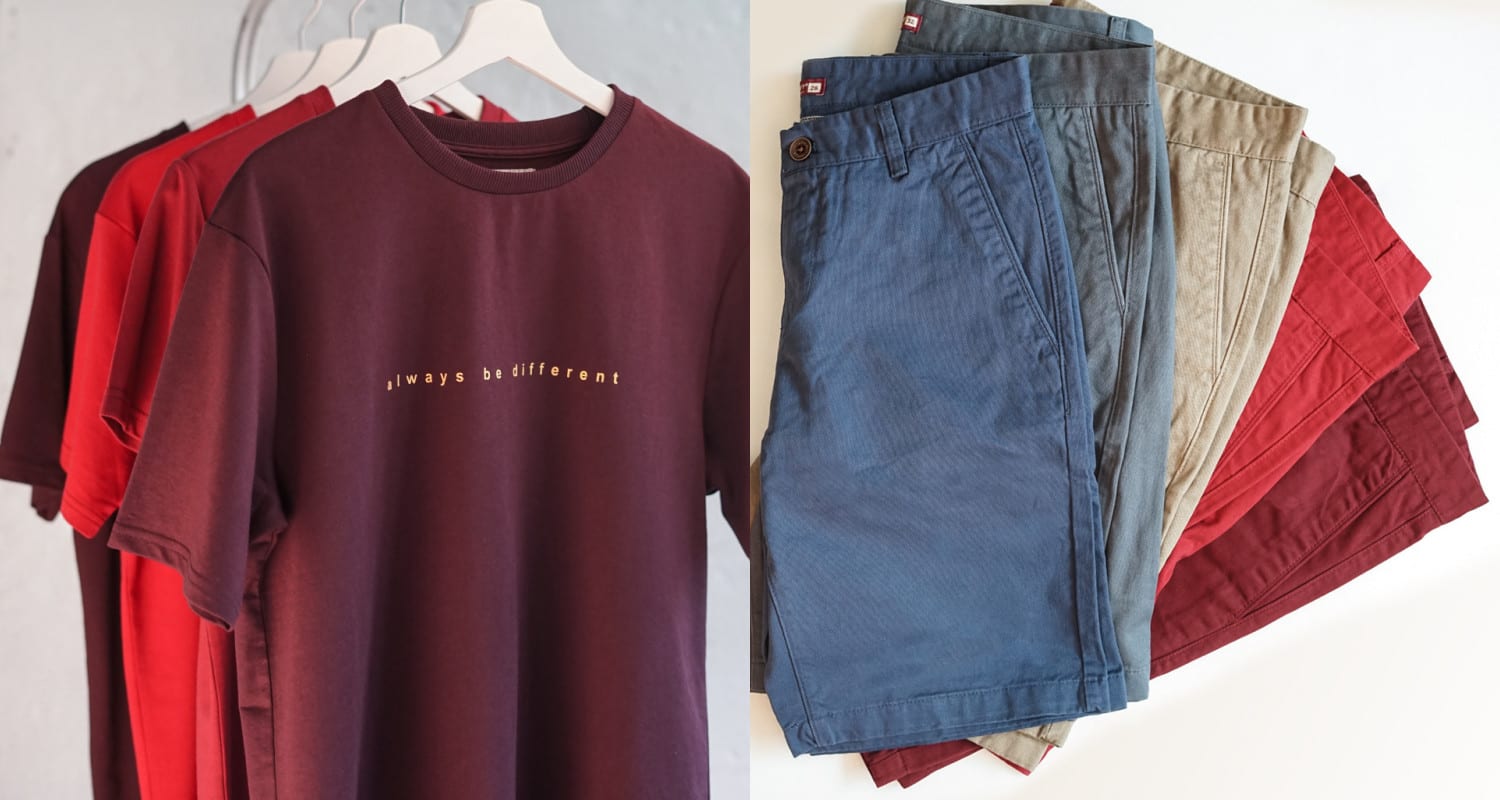 Factory Outlet Store (F.O.S) has established itself as a fashion clothing retail chain in Malaysia that specialises in affordable and quality clothing pieces and accessories. Since 1997, this store has established a firm footing and currently has over 65 outlets to date in both East and West Malaysia.
The COVID19 pandemic has engulfed the world from any easy access to our daily affairs. Thus, most businesses have resorted to online platforms to reach their customers. With that, F.O.S. too has gone onto several online marketing platforms such as Shopee to reach its clientele.
Not only will F.O.S. help in simplifying your wardrobe, but they also have lucrative steals for all its customers, such as the special promotion of 3 pieces of clothing for just RM49.00, only at Shopee!
With a wide array of collections on F.O.S. via Shopee, rest assured that your fashion style can stay just as interesting.
F.O.S. Capsule Wardrobe Idea for Women: 12 Pieces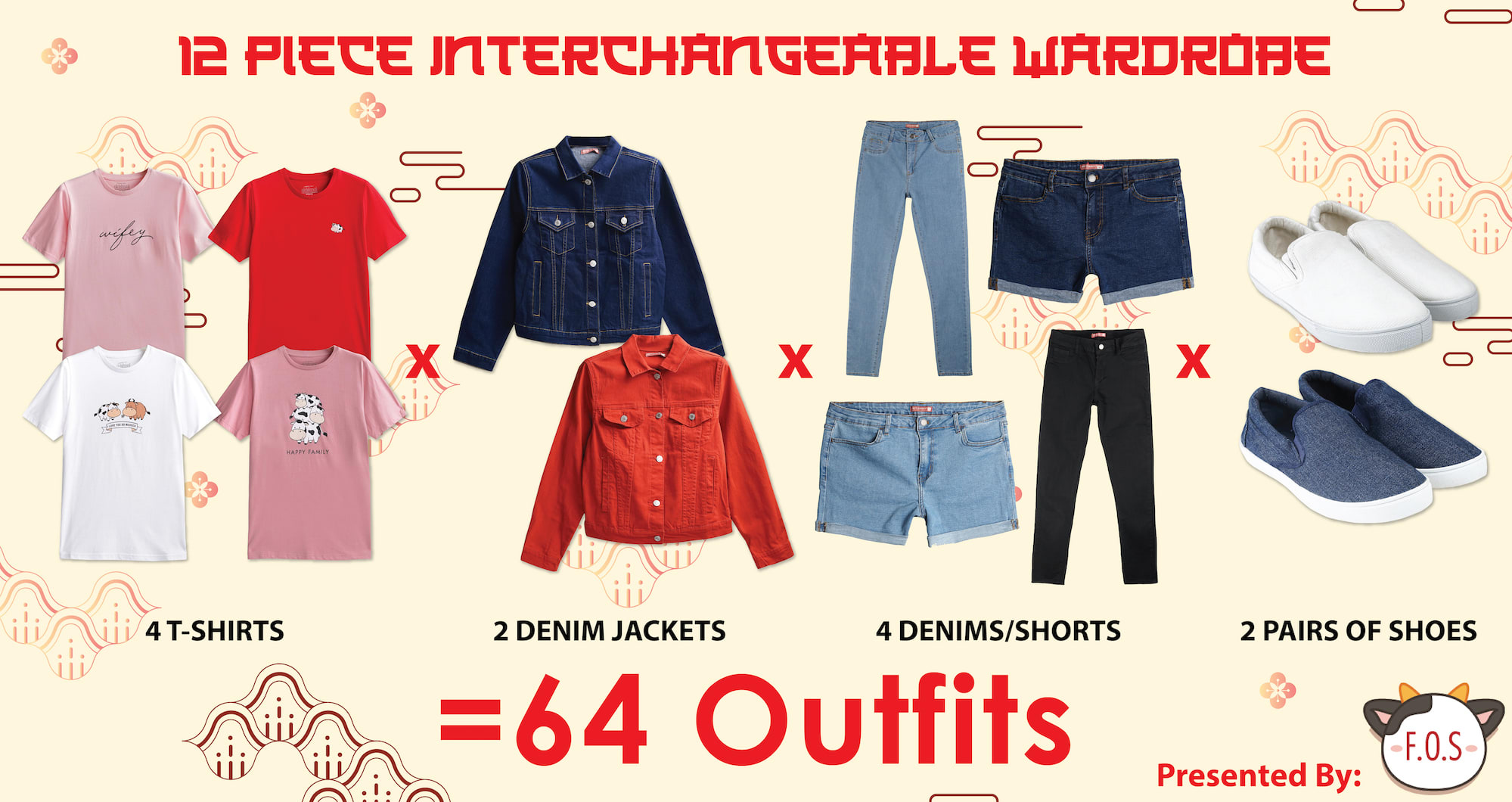 Women will always want an outflow of ceaseless ensembles to don. But the money needed can be hard to swallow. How about owning an array of pieces at such an affordable budget? F.O.S. recommends this 12-piece range of interchangeable wardrobe of 64 outfits for just less than RM 350!
Go paint the town red by putting together any of the Chinese New Year edition women's graphic tee with a denim jacket. And with some denim shorts or long pants, you will look as chic as ever for this festive season!
F.O.S. Capsule Wardrobe Idea for Men: 14 Pieces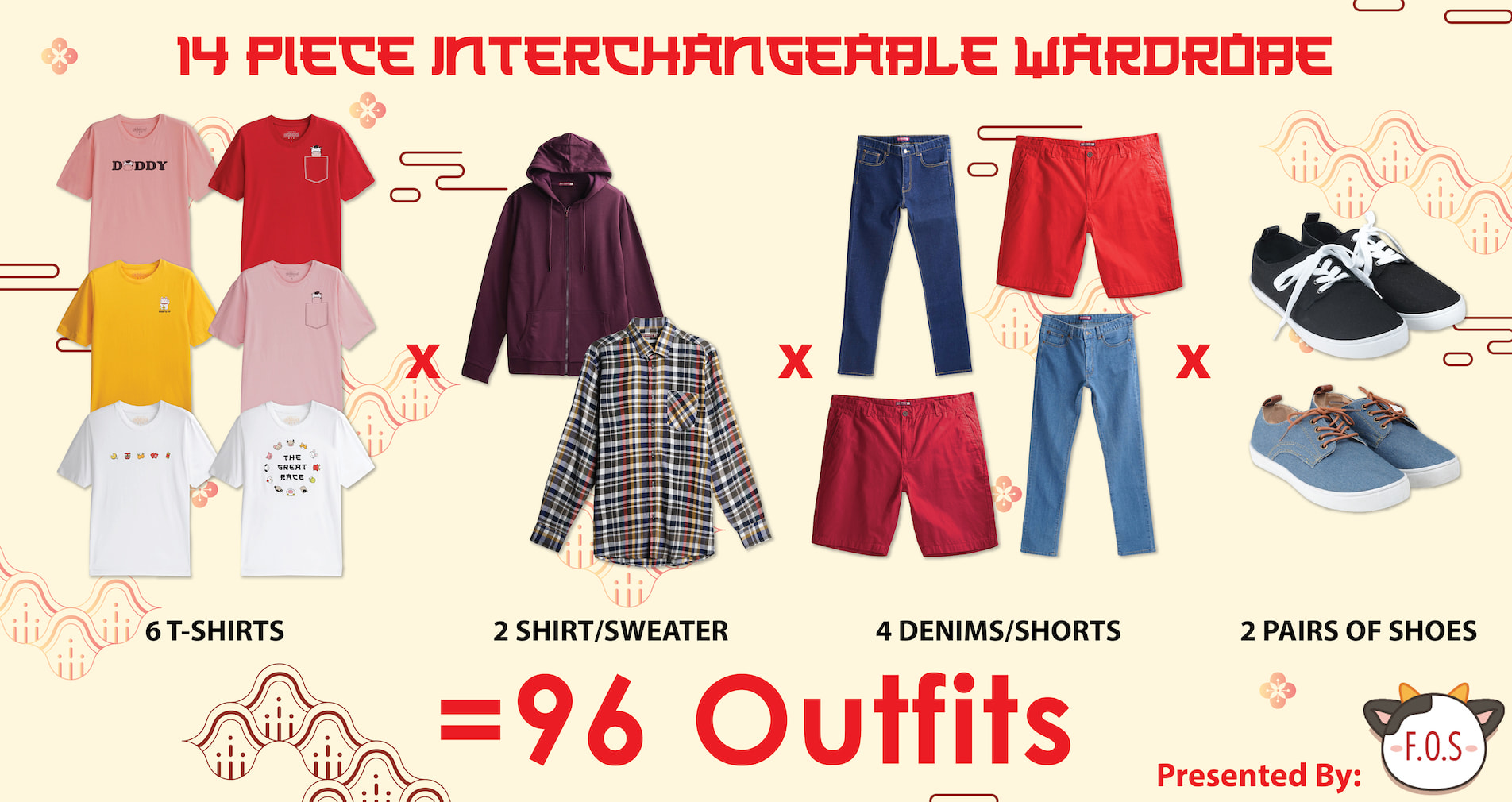 For a 14-piece interchangeable wardrobe of 96 outfits, you can have a combination of both top and bottom with a budget of less than RM 450.
As Chinese New Year is just around the corner, you will be glad to know that there is a collection of men's graphic tee in Chinese New Year series and sweatshirt that will go well with some chino Bermuda shorts.
You will also not want to miss out on the men's long sleeve flannel shirt that will look great with any denim wear.
F.O.S. Capsule Wardrobe Idea for Men: 11 Pieces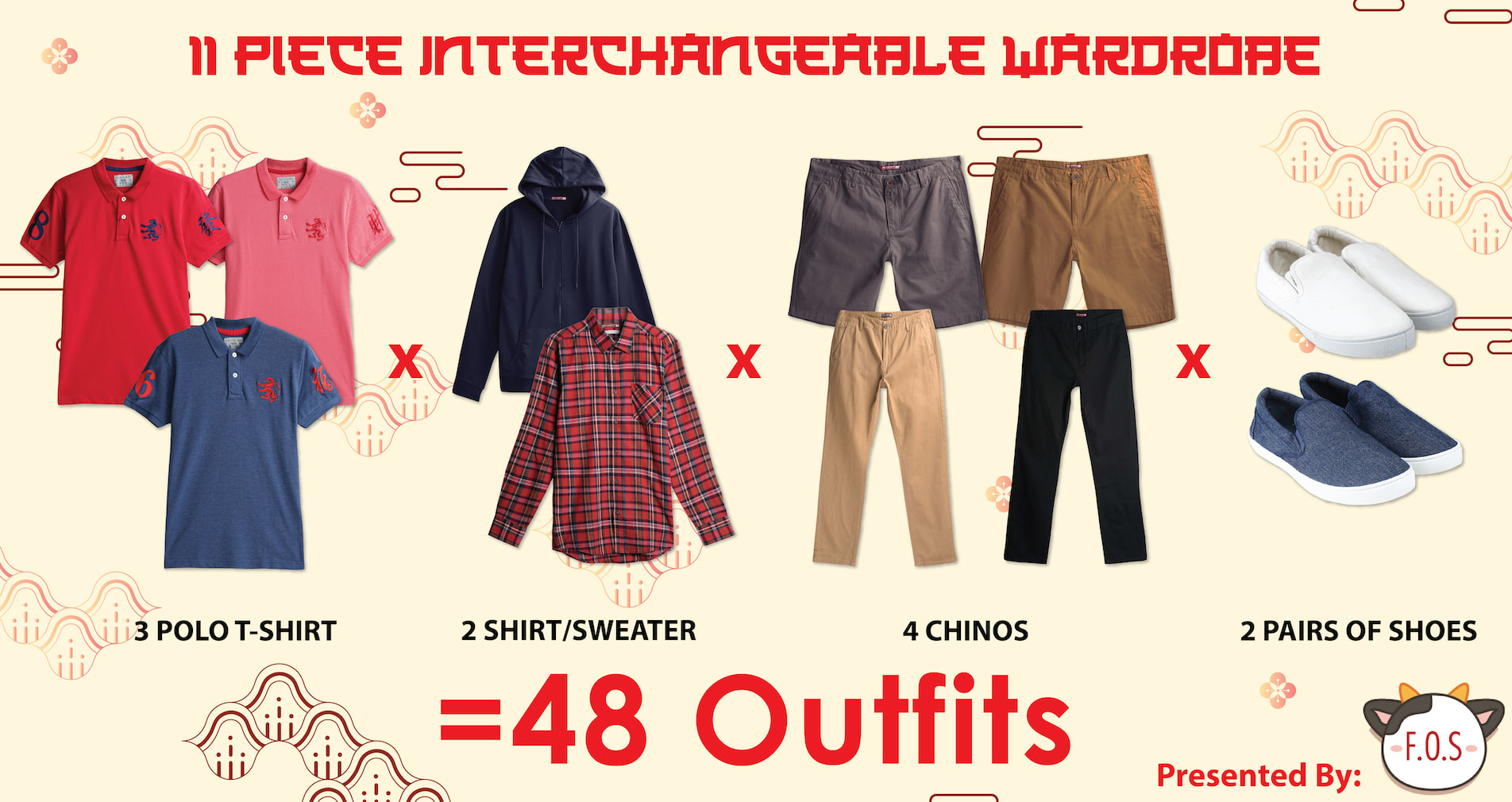 For just less than RM 450, you can also have an 11-piece interchangeable wardrobe of 48 outfits! This collection range has more of a reserve streak to it, and it will be the perfect combination to wear when you hop on your way for house visiting.
This collection boasts polo t-shirts in assorted colours and hoodies that will look great with both short and long chino pants. If you are going home to your in-laws or your girlfriend's family's house, then the long sleeve flannel t-shirts paired with the long denim pants will have you looking dashing as ever!
F.O.S x Shopee Malaysia Promo: 3 for RM49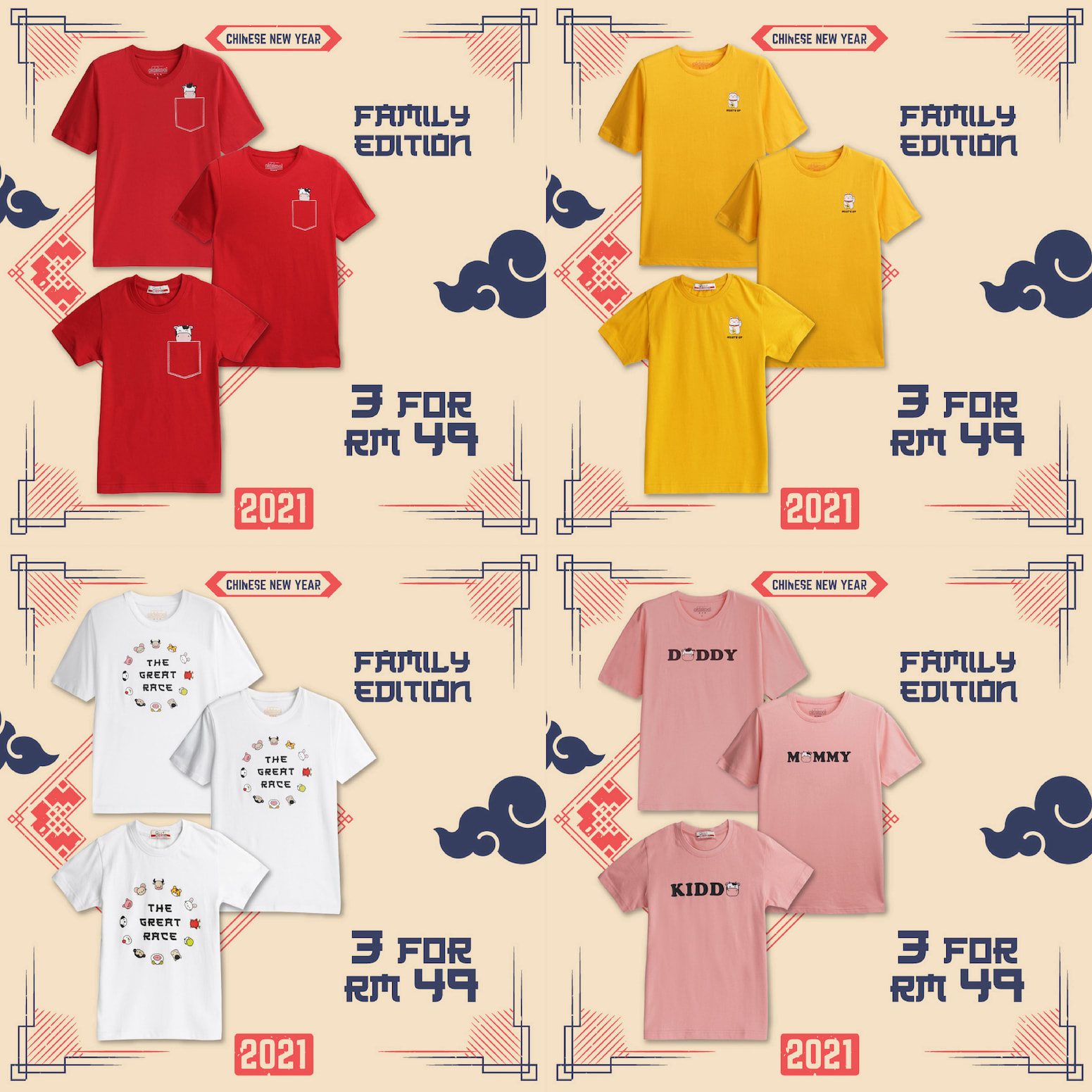 If you're going to show up in matching clothing, there's no better place to get affordable ones than from F.O.S!
This collection features 4 different designs for men, women and kids as well. Originally sold at RM 19 per piece, you can now get 3 pieces for RM 49! The designs are available in several colours: - one in the prosperous Chinese New Year red colour, one in mustard yellow, one in white and one in baby pink.
F.O.S. keeps it minimalistic with graphics too, where one has a cow, one with the fortune cat, and one with a circle of zodiac animals. Finally, there's also one with the artistic word 'kiddo' which has a cow caricature representing the vowel 'o'.
The COVID19 pandemic has placed both consumers and businesses on a difficult pedestal. Thanks to these numerous online platforms, it has made online purchasing all the more advantageous for both parties.
With just a click of a button, enjoy the luxury of having your order delivered to your doorstep by F.O.S. Aside from their affordable Chinese New Year collection, the additional discounts available are up to 21 % off!
Note that there are exclusive steals for prices as low as RM 9 which can be found for a limited time only such as on F.O.S. official website, Shopee and Lazada.
Additionally, for purchases beyond RM40 and above, Shopee is granting free shipment for your order. Happy shopping!
This article is sponsored by F.O.S Malaysia.
---
Disclaimer: The pricing shown is just a good indication of how much these products are worth. The prices could change based on the e-commerce promotions that are going on. If some of the products are not available, do email us at [email protected] Thank you!