If you've come across the Russell Taylors brand, you may assume that it is a western brand, owing to its English name. But it is, in fact, a local brand that serves consumer as well as commercial-grade kitchen appliances to the Malaysian market.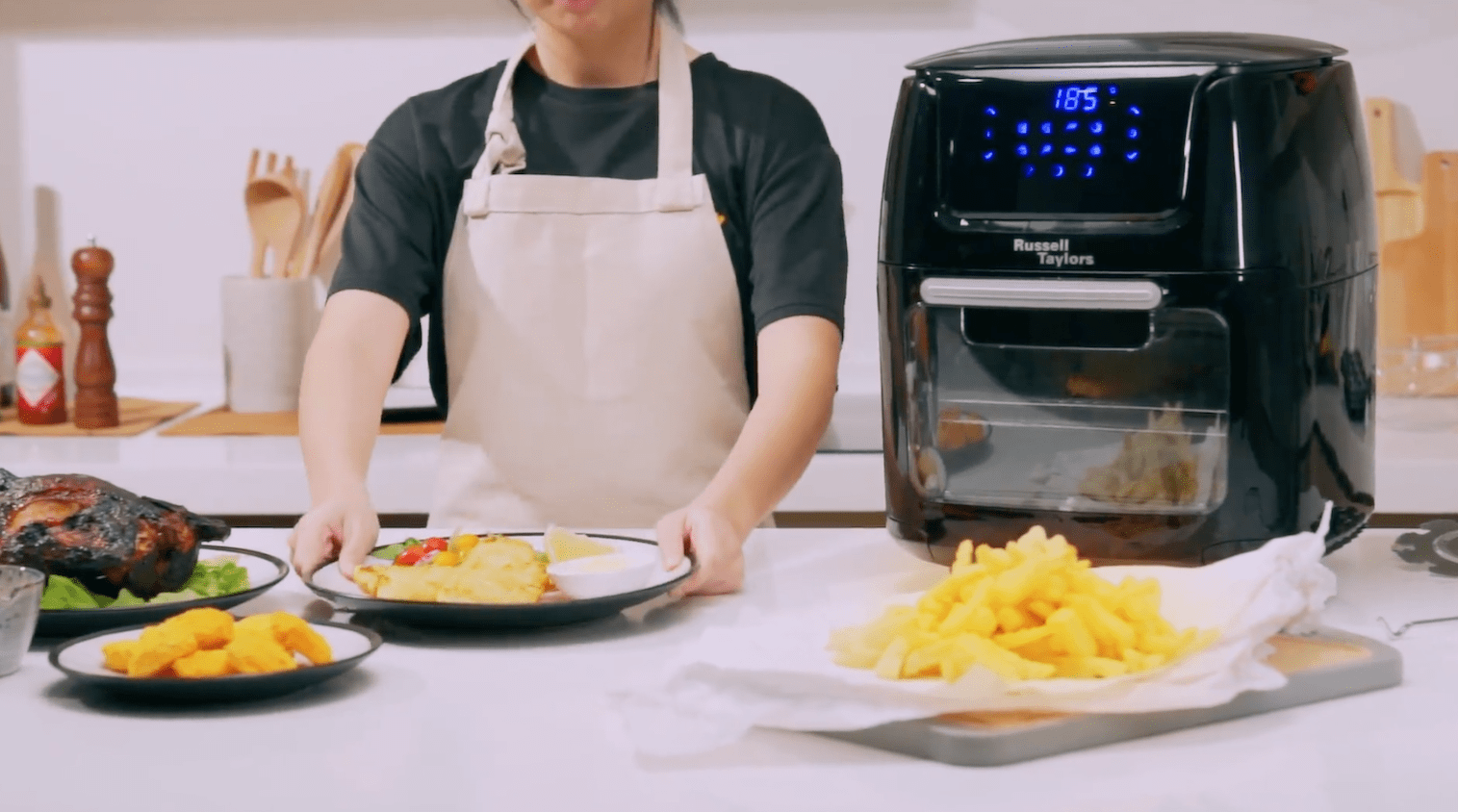 With quality comparable to that of popular brands like Tefal or Phillips, Russell Taylors have made a firm mark in the industry and are especially popular online. Some of these popular assortments of appliances include stand mixers, electrical pressure cookers, and bread makers. 
There's no need to be sceptical of investing in a Russell Taylors product. In fact, worry not as we will be reviewing 5 popular products offered by the brand as well as the brand's history itself. 
---
Recommended Russell Taylors Products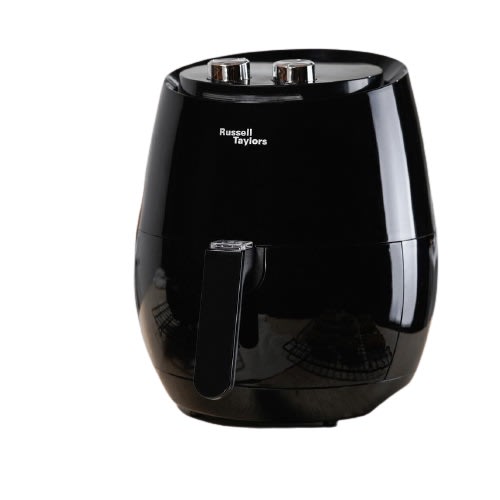 Check Russell Taylors Air Fryer AF-34 XL 4.8L price below:
add_circle
4.8L capacity serves up to 6 pax
add_circle
Built with rapid air technology that cooks food well
remove_circle
Dryer cooking results
Fried foods don't necessarily have to be unhealthy. With the Russell Taylors Air Fryer AF-34 XL 4.8L, you can savour a healthier version of fried foods as it enables you to cook fries, fried chicken, and snacks that contain up to 80% less fat. In fact, because this is an oil-less fryer, you can even eliminate the oil altogether. 
The air fryer is built with rapid air technology that cooks your food in a quick and efficient way. It also contains an adjustable thermostat that you can control with a dial knob, giving you full control over the cooking temperature.
Although the product is marketed as an air fryer, it does more than just frying. In fact, this air fryer is also a multicooker that can grill, roast, and even bake foods. To add, in order to prevent the risk of scalding your hands, the air fryer has a cool-touch hand grip to ensure maximum safety. 
Based on the reviews, users love how it preps delicious fried foods that are, at the same time, less oily. The cooker is reported to be easy to clean and does not leave any lingering smell of oil or baking odour. However, cooking results may be dry especially if you opt for oil-less cooking.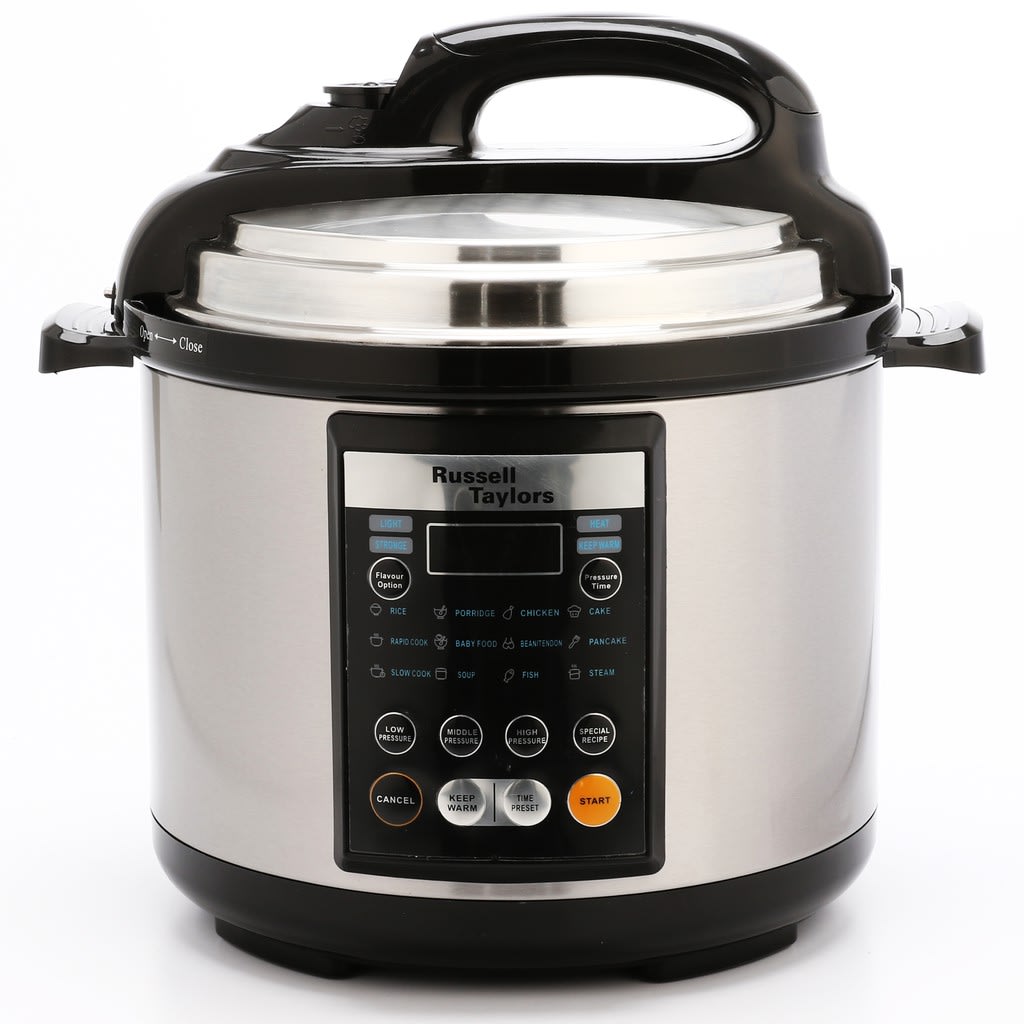 Check Russell Taylors 4L Electric Pressure Cooker PC-40 price below:
add_circle
Up to 70% energy savings
add_circle
Sensor touch operational panel makes it user-friendly
add_circle
Auto-lock lid enhances safety, Dishwater-safe inner lid
remove_circle
Lid bent after handling high pressure, Thin pot
Efficient and innovative, the Russell Taylors 4L Electric Pressure Cooker PC-40 cooks your food 70% faster than conventional steaming, boiling, and braising. In turn, this translates to energy savings of up to 70% for your household.
What enhances safety is that the pressure cooker's airtight lid remains locked whenever there is still pressure inside the unit. This means it will only be opened once all the pressure has been released. Another safety feature includes a child lock option, which is especially beneficial for parents with young children in the house as steam pressure is especially dangerous and can burn the skin.
Built with 10 smart programs, you can conveniently cook a wide range of foods, including soup, stew, curry, and vegetables. Also, compared to conventional cooking, the pressure cooker retains more nutrients and vitamins in the food, reducing carcinogenic toxins in your meals and offering a healthier alternative. 
Overall, the pressure cooker is reported to be a value-for-money product that cooks quite well. On the downside, it's not able to handle very high temperatures, as one particular user commented that the lid actually bent after handling high pressure and that the pot is rather thin. Another downside is that steam will leak from the pressure valve.
Check Russell Taylors Bread Maker Large 2.0LB price below:
add_circle
Non-stick inner pot makes it easy to clean
add_circle
19 preset programs
add_circle
User-friendly and uncomplicated operation system
add_circle
Programmable timer
remove_circle
Not precise enough to bake dense big loaves
The Russell Taylors Bread Maker 2.0LB (1kg) BM-10 is created to simplify and shorten the bread-making process. Unlike the traditional method of making bread, all you have to do is pour the necessary ingredients into this bread maker. Then with a push of a button, plus some patience, and you'll have a fresh loaf of bread that's ready to serve.
This bread maker is built with 19 preset programs, ranging from basic functions like dough and mixes to more advanced programs like for stir-fry and rice wine. It'll definitely fulfil your cravings for any pastry, be it a French loaf, whole-wheat bread, rice bread, or cake.
Other useful functions include the 15-hour programmable delay timer function that enables you to prep the ingredients but cooks it at a later time. There's also the important "Keep warm" function that warms the bread for up to 60 minutes. Another convenient feature is the Transparent viewing window that's placed on top of the bread maker so that you can take a sneak peek at the fully-automated baking process.
The bread maker is favoured for baking soft, fluffy, delicious bread with crispy skin. Nevertheless, it is critiqued to be quite noisy as the motor tends to make a cracking and whirring noise. Despite advertised as being able to bake a loaf size of up to 1kg, the bread maker is not exactly hot enough to bake that big of a loaf thoroughly, as commented by one user.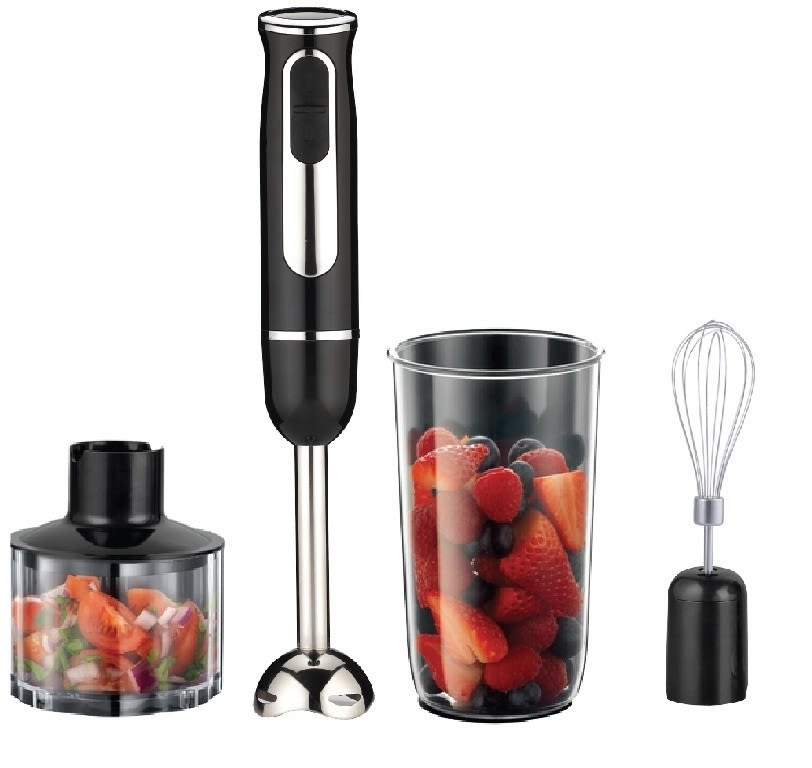 Check Russell Taylors Hand Blender Set 600W HB-6 price below:
add_circle
Powerful motor
add_circle
Multifunctional
add_circle
1-year warranty
add_circle
Stainless steel blades
The Russell Taylors Multifunction Hand Blender Food Processor HB-6 makes meal preparations so much easier and faster. As a multipurpose and versatile blender, you can use it to make several liquids and consistencies including smoothies, pesto, cake batter, soups, tomato sauce, and various Indian dishes. Not only that, but you can even use it to chop garlic, meat, and vegetables.
This food processor's companions include a stainless steel detachable shaft that's made for pureeing ingredients to make soups. There's also a 500ML chopping attachment for chopping smaller portions of fruits and vegetables to make salsa or sauces. 
Not forgetting, there's a whisk to whip up smooth and consistent mixes ideal for making omelettes and mousses. The set also includes a 600ML beaker that complements the shaft as it is a great place to blend and have your smoothies in.  
Equipped with a powerful low-noise motor, users love its quiet yet high-quality blending performance. Its 2-speed operation is also useful for catering to different types of blending. However, one disadvantage is that the food processor easily over-heats, as shared by one user who experienced a rubber burning smell whenever the blender turns on. 
Therefore, we suggest to turn on the processor for a few seconds consecutively. Alternatively, have it on for a maximum of 30 seconds and let it cool down completely before the next use.
Check Russell Taylors 500W 4L Stand Mixer SM-500 price below:
add_circle
Has an anti-slip rubber base to provide stability
add_circle
Up to 6 speed levels with a pulse level
add_circle
Mixes up to 1kg of flour
Mixing ingredients to prepare the batter for pastries can be tiring and time-consuming, but all of this changes with the Russell Taylors 500W 4L Stand Mixer SM-500. With a capable 500W motor, the stand mixer works to mix heavy concoctions thoroughly and is said to work great for mixing mashed potatoes and chocolate-chip cookie dough.
The stand mixer has 6 levels of speed as well as a pulse function, complemented with a planetary mixing motion setting to evenly whisk, mix, and knead ingredients to perfection. To ensure that the stand mixer stays firmly on the table, it is equipped with an anti-slip suction base. 
This stand mixer also comes with 3 useful complementary attachments: a dough hook that's great for kneading yeast dough, a beater for heavier cake mixtures, and a wired whip to perfectly thick, creamy batter and lighter mixtures.
The stand mixer is praised mainly for its powerful motor that mixes ingredients thoroughly. Users also love how easy it is to clean the stainless steel bowl. However, it has a reputation for being very noisy when in use.
About Russell Taylors' Products 
In addition to the aforementioned products in this article, the Russell Taylors brand is well-known for several other products. To list, Russell Taylors Malaysia offers 7 categories of appliances: air fryers, bread makers, pressure cookers, slow juicers, hand blenders, snack makers, and stand mixers.
Russell Taylors' air fryers are particularly favoured for being able to perform and offer a healthier alternative to fried foods. The brand's air fryers have made an appearance in many Youtube reviews and blogs, most of which feature its superior quality and oil-less cooking option.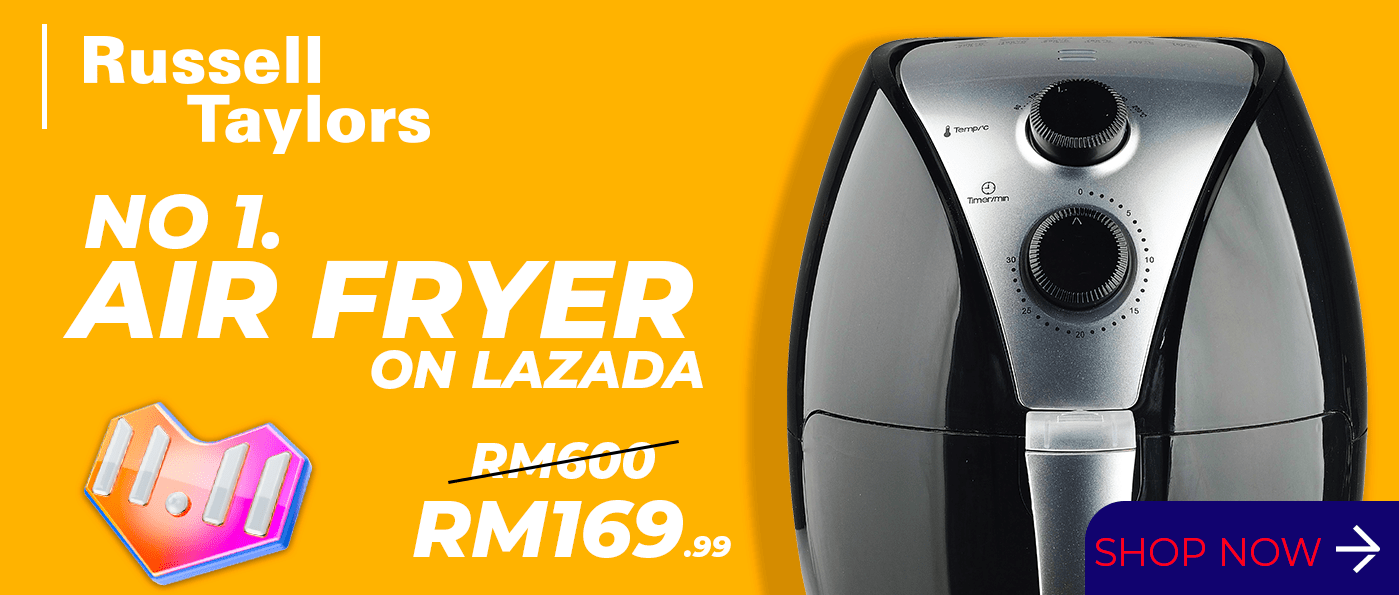 Additionally, Russell Taylors' pressure cookers are praised for being durable yet affordable. The products have generally received positive reviews, especially on how compact it is and how easy it is to clean their components.
We won't forget to mention Russell Taylors bread makers, having garnered a reputation for baking fluffy home-made bread. With a relatively inexpensive price tag, their bread makers offer a lot of features and benefits that users generally find practical.
---
About Russell Taylors Malaysia
So, which country is Russell Taylors from and who is Russell Taylor's founder? Well, the Russell Taylors brand was founded in 2013 by a young Malaysian named Satish Raguchandran who operated his business as a one-man show. Yes, this is an actual, proudly Malaysian label that has climbed to become a top brand on Lazada.
Driven to meet the market's needs, the brand offers quality yet affordable products, delivering only the best value for money items that add meaning to the consumer's life.
Russell Taylors don't only aim to be a renowned household brand, but it also seeks to fulfil its duty as an environmental steward. This vision has since been progressed with initiatives such as optimising production to reduce waste, adopting green practices in its business-related operations, and supporting local as well as state environmental efforts. 
Additionally, Russell Taylors implement diversity in its brand philosophy, implementing inclusive policies and ensuring equal work opportunities in order to foster an environment of mutual respect.
Presently, Russell Taylors plan to continue expanding its operations through organic growth as well as strategic mergers and acquisitions.
Disclaimer: The pricing shown is just a good indication of how much these products are worth. The prices could change based on the e-commerce promotions that are going on. If some of the products are not available, do email us at [email protected] Thank you!