The Amazfit T-Rex recently showed up on our radar as one of the most rugged smartwatches on the market right now. This smartwatch has a 12-military grade certification and is said to be able to withstand extreme conditions. Naturally, we had to take it out for a spin and test it out for ourselves. Here's our review of it! 
Amazfit T-Rex Specifications
Model
Display

1.3 inch AMOLED display

Resolution 360 x 360

Always-on display

Corning Gorilla 3 tempered glass + anti-fingerprint coating

Material (Body)

High-strength polymer material

Military certified outdoor rugged sport smartwatch

Material (Wristband)
Battery

390mAh (2 hours charging time)

Up to 20 days of daily use

66 days for basic watch mode

20 hours of GPS continuous working time

Connectivity
Colours

Camo green

Army green

Khaki

Rock Black

Sensors

BioTracker PPG Bio-Tracking Optical Sensor

3-axis acceleration sensor

Geomagnetic sensor

Ambient light sensor

Other Features

Supports both Android 5.0 and iOS 10.0 and above

Amazfit APP for smartphones.

5 ATM certified waterproof (up to 50 meters depth)
First look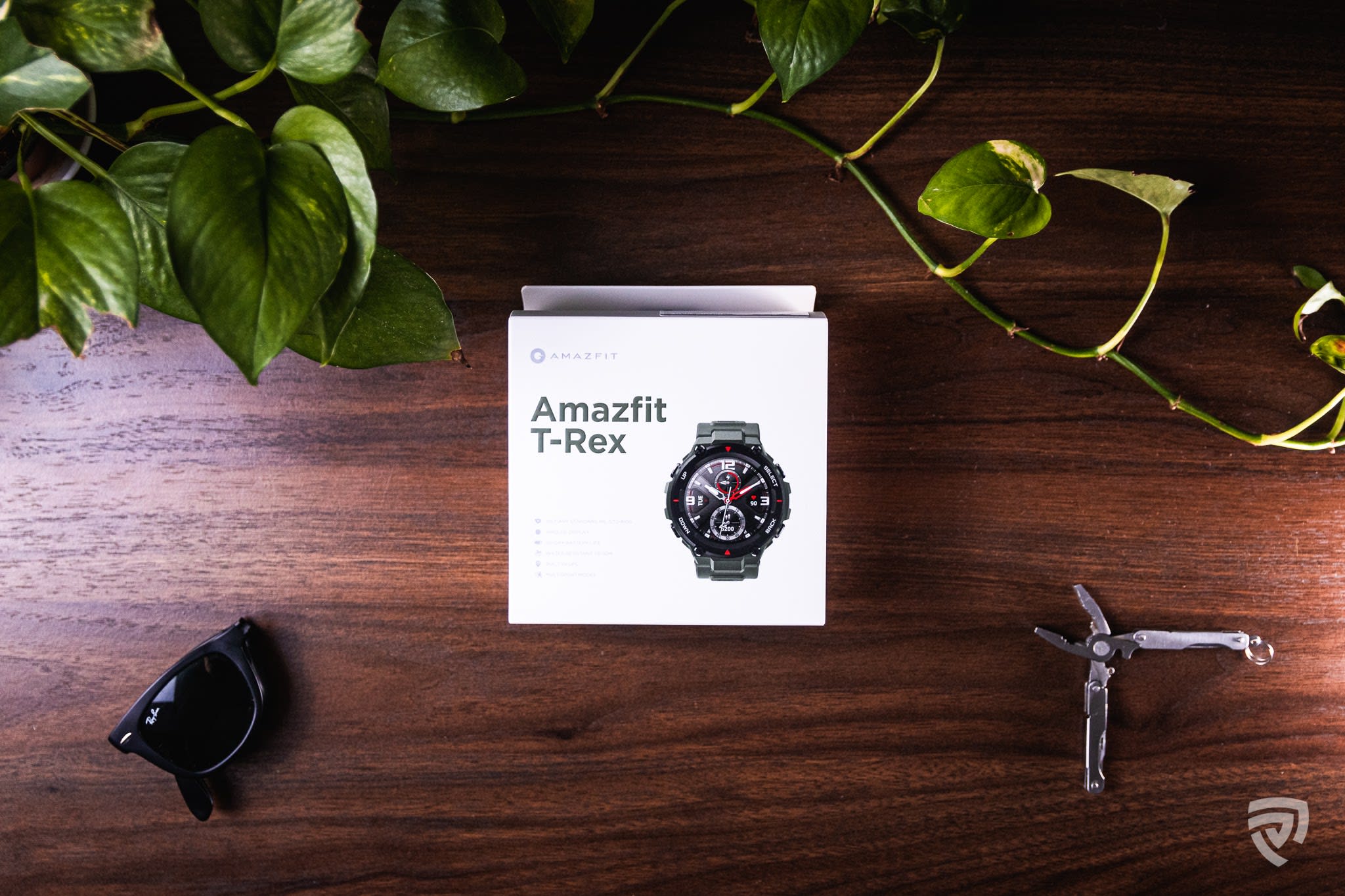 In the box is the Amazfit T-Rex, a magnetic charging cable and an instruction manual. The watch's face comes with a printed protective sticker at first, and removing this reveals the AMOLED screen ready to be turned on. On the side of the watch's face are four buttons: Up, Down, Select and Back. It is attached to a silicone strap which can feel flimsy at certain times, nonetheless, decent at most. The watch has no removable mechanism and its sensors are located on the underside of its face. 
At first glance, the watch looks pretty great. We were surprised by how light the watch is. In comparison to a few of our other watches, it is similar in size, but significantly different in terms of weight. 
To turn on the watch, hold onto the Select button until Amazfit's logo appears. A QR code will come up for you to scan and install the brand's app on your smartphone. On the app, you can fill in information such as your height, weight and other relevant details for accurate health tracking. When pairing the watch to your device, the former will automatically begin a firmware upgrade. It's a simple process and once this is done, you're pretty much set to start using the watch. 
The app offers a variety of styles for watch faces to use on the T-Rex. In our experience, it took approximately 45 seconds to download a style. We consider this slightly slow as we've experienced watches where the change was almost instantaneous. Nonetheless, we were happy with the amount of styles that we got to choose from. 
Design and UI
The watch has a heavy duty-look to it that is quite similar to G-Shock watches. Accessing the watch's menu options is pretty straightforward and possible simply by scrolling through the screen. Swipe left for the Notification panel, and right for Menus, Workouts and Settings. 
The watch has a 1.3-inch AMOLED always-on display. Colours are great and with the variety of watch faces to choose from, it's possible to either have an analogue screen or a digital one based on your preference. Among the best things about an AMOLED screen is that we got to enjoy true colours even under direct sunlight and could see everything without having to increase the screen's brightness.
With the auto-brightness feature, the T-Rex is also capable of adjusting its screen's visibility on its own based on your surroundings. We also liked that for the always-on display, the brightness wasn't too glaringly high to the extent that we found it disturbing. 
The T-Rex's strap is made from silicone and feels slightly stretchy. While we wish that it was slightly firmer, its softness made it comfortable to sleep with at night and it wasn't very disturbing, so this might be a good thing.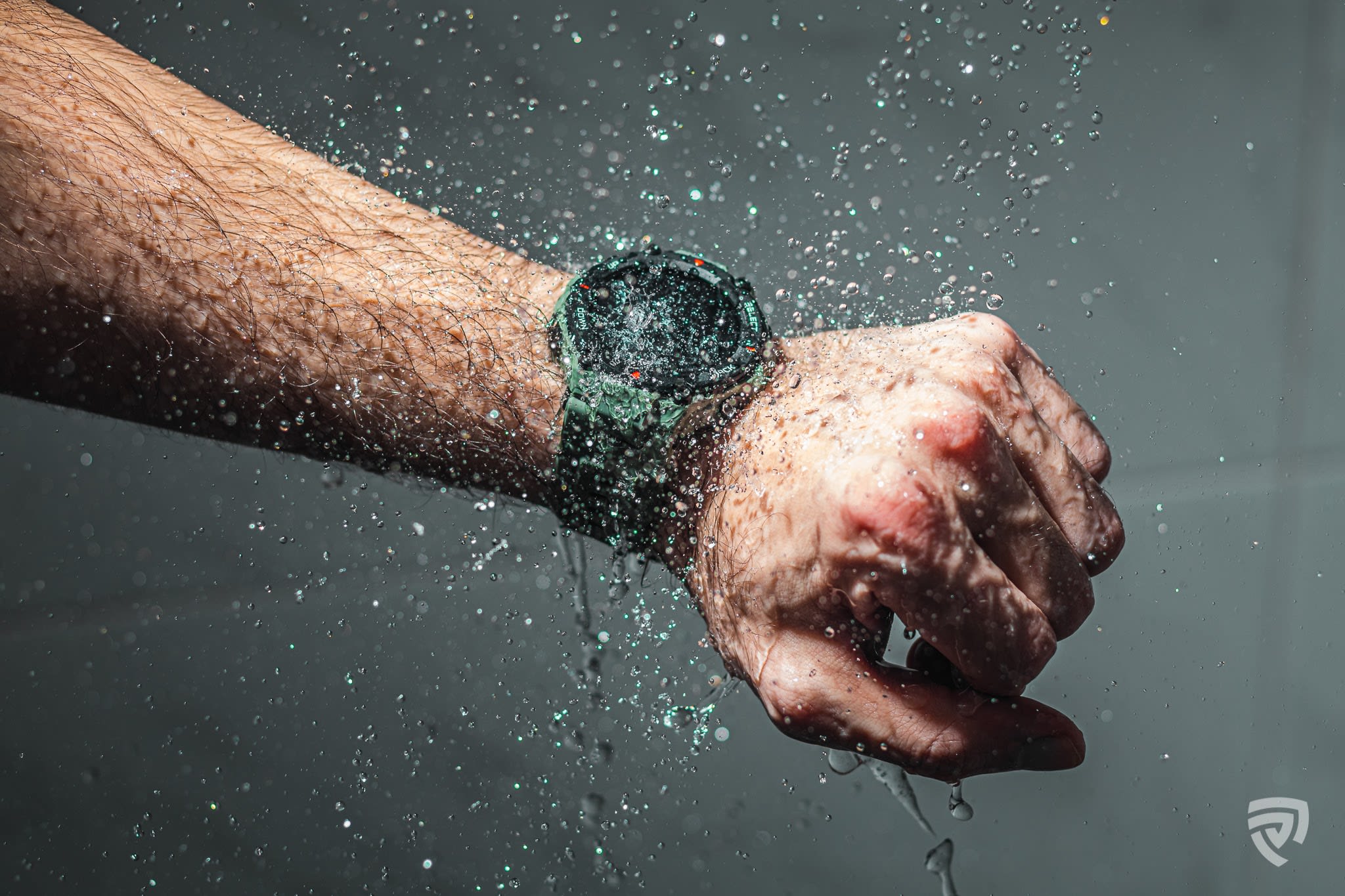 The watch has excellent build quality and is comfortable to wear. In fact, we would rate the T-Rex a solid 4 out of 5 in this aspect because of its sturdiness and ability to withstand knocks and bumps. We knocked ours against the table a few times and noticed that there weren't any dents or scratches on it too. Additionally, the watch is water resistant and built to withstand conditions up to 70°C heat and -40°C cold.
Features
We were pretty impressed with the sleep tracking function on the T-Rex. We tested this for 5 days and discovered that the data presented is much more comprehensive than our previous fitness smartwatches where there was often a tendency for data to drop off during the later part of the night. 
This watch tracks deep sleep and light sleep data, as well as when we woke up in the middle of the night. It also analyses sleep quality and offers advice on how to improve it – for eg. what time to go to bed, how long to sleep and how to improve overall wellbeing and heighten energy levels.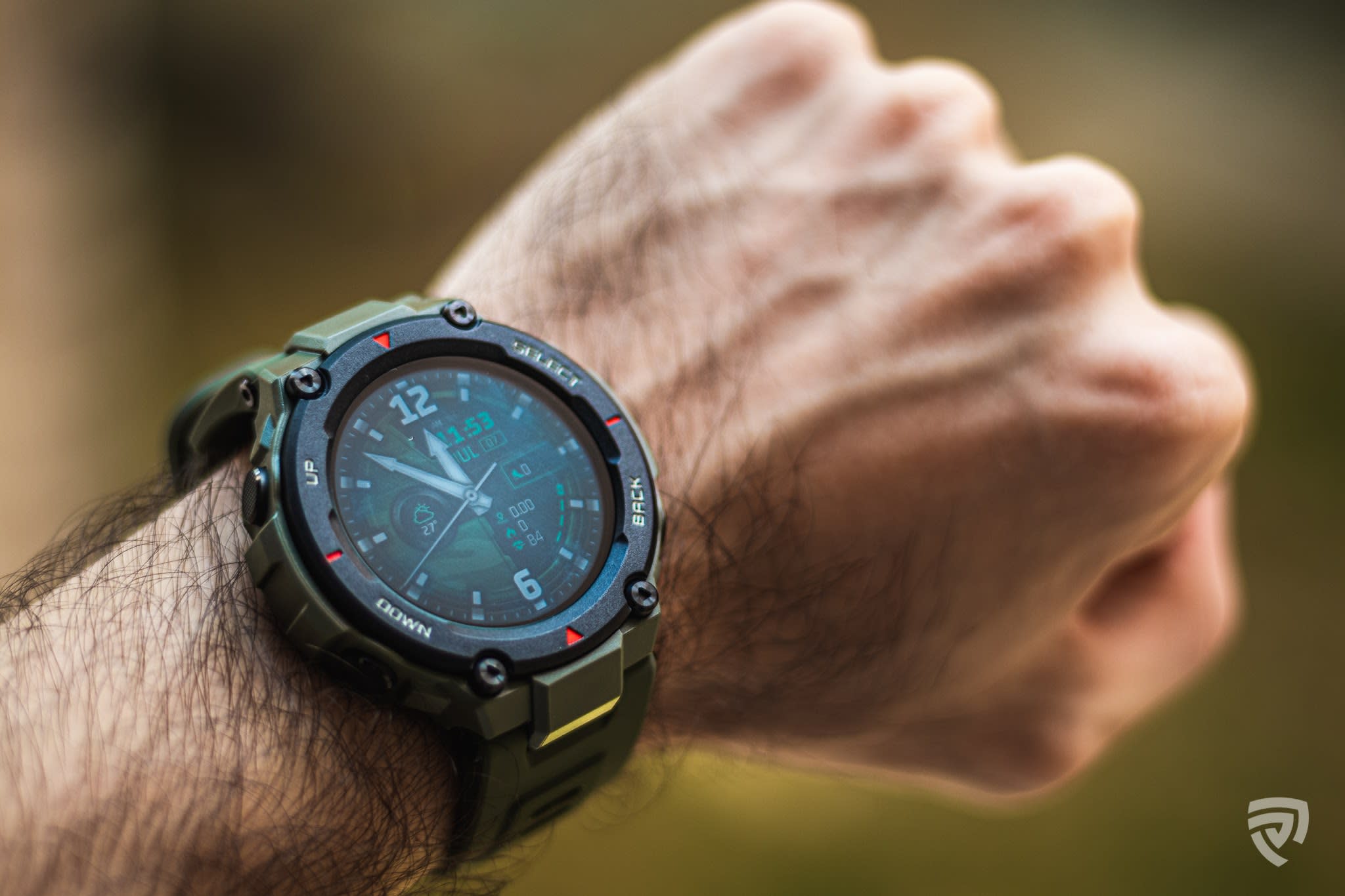 The T-Rex's tilt to wake feature is among the best we've ever experienced. Incredibly sensitive, the screen lights up with the slightest of motions. We've struggled a little with some of our previous fitness smartwatches in terms of this, thus we are quite taken by the T-Rex in this aspect. Because of the feature's efficacy, we had to turn it off at night while we were sleeping so as to not be disturbed. This can be easily scheduled on the app according to the hours of your preference. 
The heart rate tracker is also more reliable than we've encountered with other smartwatches. To test this feature, we set it to one minute intervals. The sensors then measured the data and relayed it in a graph format, providing us with information of when our heart rate increased and decreased. If you're exercising, it's possible to use this information to adjust your intensity accordingly, further allowing you to achieve the best results through constant heart rate monitoring. 
For music controls, the T-Rex offers everything one would expect with the exception of having a mic and a speaker. This means that it's not possible to play music directly on it, however it's possible to control the music playing on your smartphone through play, pause, forward and rewind controls on the watch. 
Pros and cons
As with all products, the T-Rex had excellent qualities and certain ones that we felt could be improved. We came up with this list after two weeks of using it: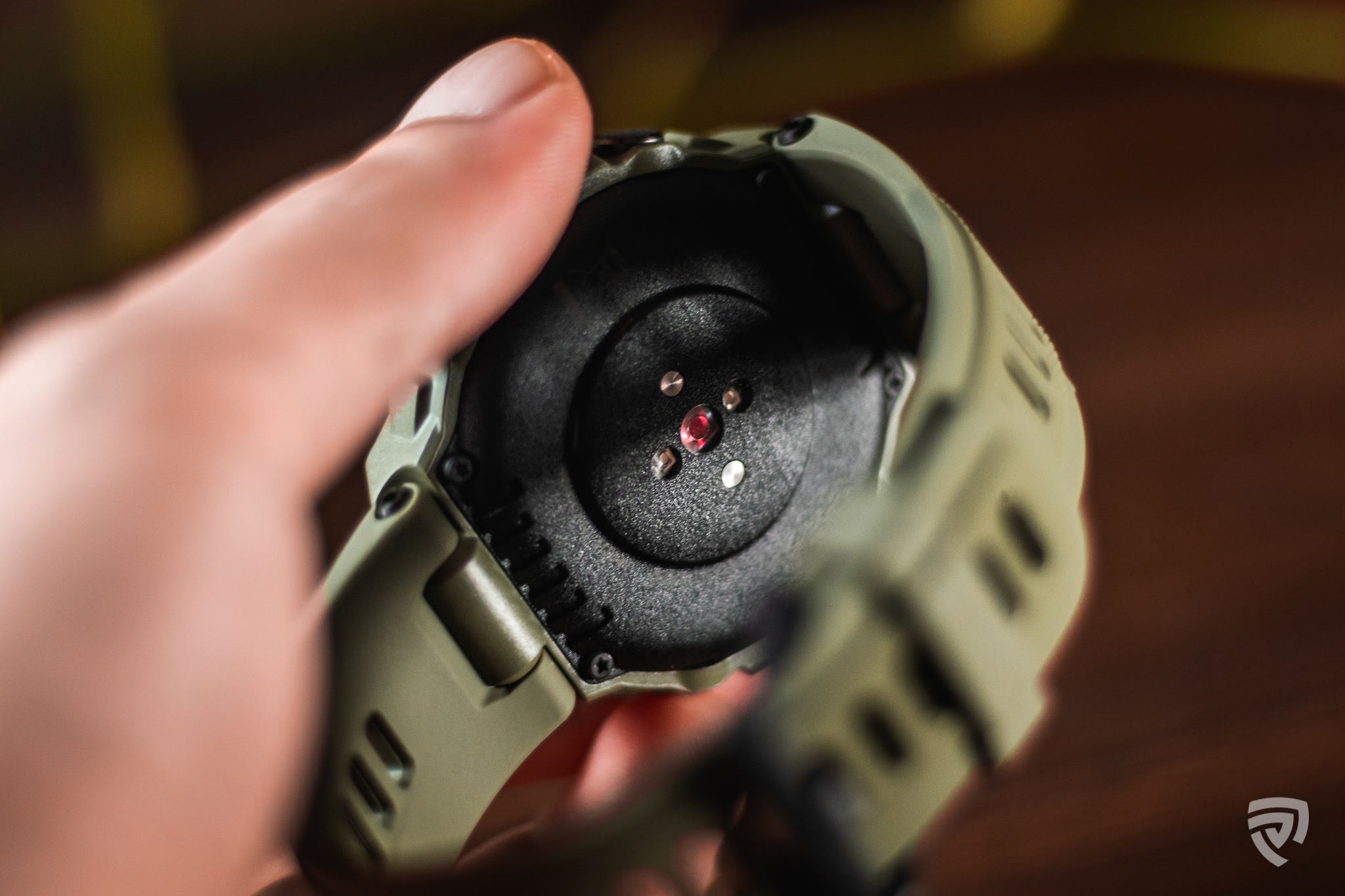 Pros

Battery life – The watch's battery life is among its most impressive features. When we first took it out of the box, it had 57%  battery on it and this lasted us a week thereafter. Where other smartwatches would have probably lasted two days at maximum, the T-Rex was able to go on for a week with the same amount of usage. This means that the watch will be able to stay powered for about two weeks on 100% charge, and even longer if your notifications, vibrations and the always-on display is turned off. 
Build quality – The watch is pretty much built like a tank. Whether you hit it against the wall or scratch it on surfaces, scuffs do not appear. The screen and edges of the watch is incredibly durable and resistant against harsh conditions. For such a lightweight watch, we're truly impressed by how heavy duty it is. 
Fitness aspects – The watch truly lives up to its name with the wide selection of workouts that it is able to track from cycling to swimming, threadmill use, etc. Additionally, when tracking, it keeps all information displayed on screen for the duration of the workout so that you won't have to continuously tap on the screen to monitor your progress. The watch covers information such as your heart rate (highest and lowest), calories burned, reps completed and whether your workout is a light or intensive one.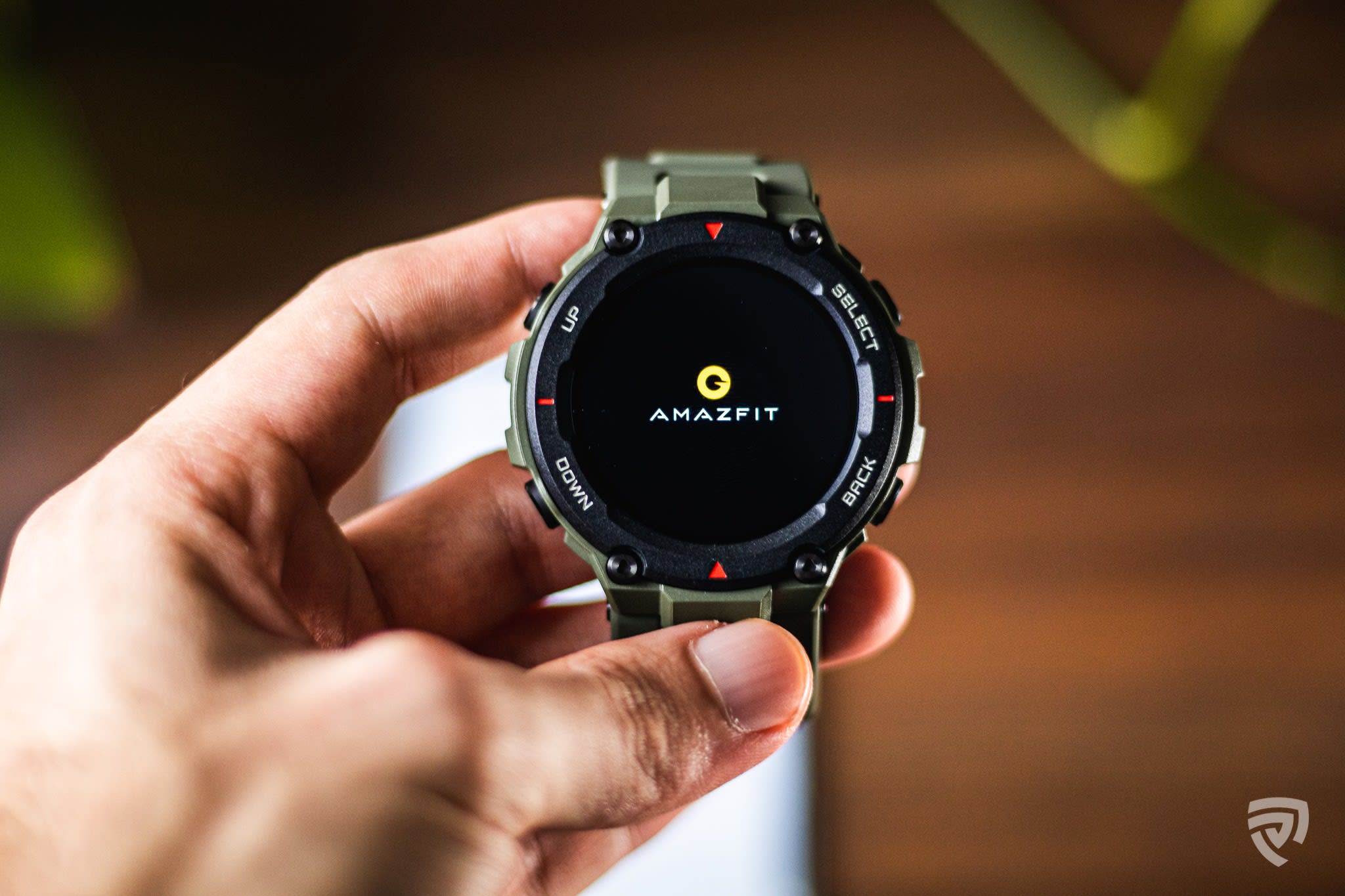 Cons

Notification Alerts – To find out whether you have new alerts, users have to check this themselves by swiping to the notification panel. There is no indicator otherwise and this makes it inconvenient to stay updated with alerts of high importance. Additionally, users can only view notifications on the watch, however no action can be taken after. We would much prefer if we could interact with notifications and be able to send replies, or relay the notification to our phone where we will then be able to see it on a larger screen and do more. 
UI – As compared to the OS on other smartwarches, the T-Rex's UI performs less smoother. Navigating through it was frustrating at times because of its delayed response to instructions. For people who intend to use the watch daily, the day-to-day buildup of lag might become a potential cause for annoyance. However, this is an issue that can be easily solved with a software update. Thus, we hope we see this soon. 
Verdict: Who is the Amazfit T-Rex for?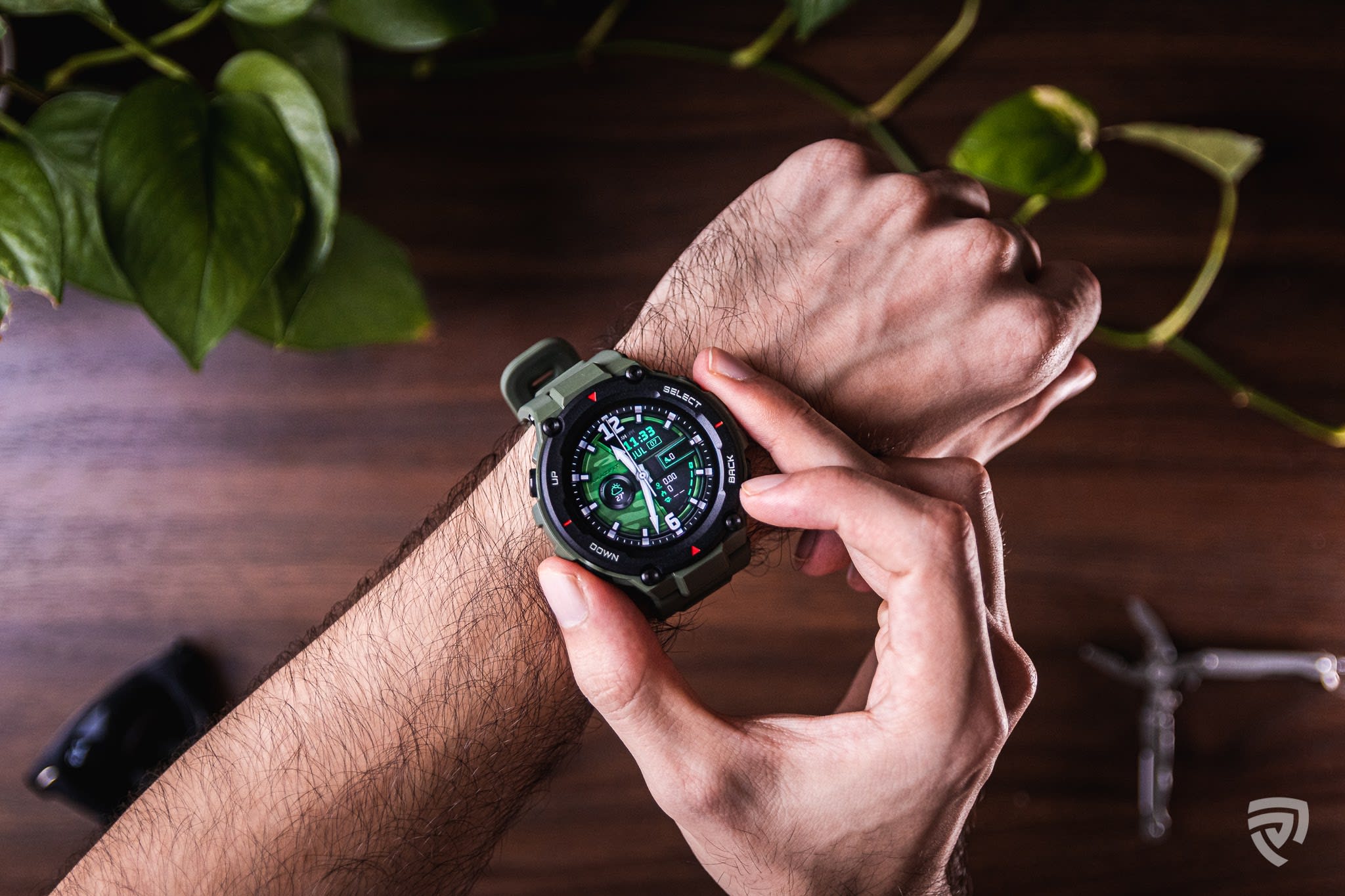 The Amazfit T-Rex is first and foremost a fitness smartwatch, and it truly performs well in this area. It has lots of fitness features and its tracking ability is the way to go for anyone wanting to be supplied with really thorough information. Furthermore, although it is not a budget smartwatch, it is still reasonably priced and this makes it a good option for those who would like to refrain from spending the big bucks. 
However, if you're a user looking to integrate a smartwatch into your daily lifestyle which includes work as well, this may not be the best option, but also not the worst. Our verdict is that it falls somewhere in the middle. We hope our review helps you to make an informed decision now that you know what to expect! 
From

RM499.00
Check Amazfit T-Rex price below:
add_circle
Durability and Build Quality
add_circle
Battery Life (15-20 days)
add_circle
Workout Selections
add_circle
Bright AMOLED Screen
add_circle
Sensitive Tilt-to-Wake Feature
add_circle
Powerful GPS Tracking
remove_circle
Notification Alerts Not the Best
remove_circle
Delayed UI Response
The Amazfit T-Rex is an extremely durable smartwatch. It resists knocks and bumps, is water resistant up to 50 meters deep and is able to withstand extreme conditions. True to the brand's name, it serves the purpose of a fitness smartwatch well and has an impressive ability to track a wide selection of workouts. Its tracking abilities are in-depth and thorough, perfect to ensure you never miss any information!