With Father's Day around the corner, it is undeniable that we're thinking about all the ways that we can celebrate dads and the contribution that they make to our families. Particularly, we're recalling how in America, Huggies launched its Special Delivery diaper boxes last year and featured dads with babies on these boxes for the very first time. 
These diaper-box designs, three of which had men with babies and four with women and babies, were a historic first as fathers have traditionally been assumed to be disconnected from the role of taking care of children. However, this is not true as dads can very much be involved with "domestic" tasks such as changing out diapers, shopping for the home and preparing meals too.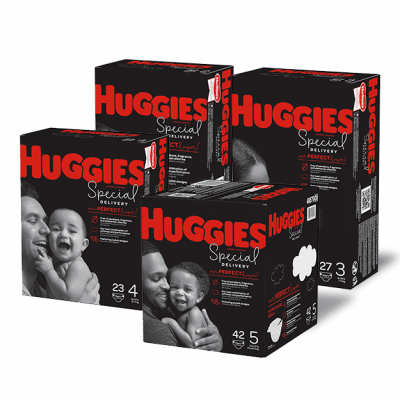 Furthermore, the brand had also ensured that they included African American representation – a step that the recent weeks have highlighted to be incredibly important. Orlando Thompson, the African American model featured on the box, commented that "There's a stereotype that's out there that dads in general, not just a particular race, are not connected to their kids and not affectionate... This should have been displaced a long time ago."
Indeed, we agree with Thompson and think that parents, in general, should always be celebrated equally.
Huggies' Special Delivery diapers have only been launched in America so far. However, we're hoping that we will soon be able to see something similar in Malaysia because we believe that representation of fathers in caretaking, nurturing roles are equally as important. In fact, we hope that more brands will look towards expanding and diversifying the various portrayals of people that they feature on their products. Nevertheless, we look forward to celebrating dads in the upcoming week – thank you for all that you do for us! 
---
And for all our parents who might still be in search of the perfect pair of diapers for your little one, Huggies is currently delivering free diaper samples straight to your home! Register here to have a sample sent to you, accompanied by pregnancy and baby care tips, and exclusive offers from Huggies. We hope that your parenting journey will be made easier with every little bit of assistance that you get!