Nothing comes close to a parent's love for their child. As a parent, you want to raise your child in the best environment for their health and development. One of the ways to do this is to ensure that your child breathes clean air. An air purifier is how you can do that. 
There are air purifiers in all shapes, sizes and materials, but you need to take extra precautions when it comes to babies and young children. Certain kinds of filtering or purifying materials may not be suitable for children (or even adults sometimes). 
This list of the best air purifiers should aid you in finding one that's right for you and your family.
---
Top 7 Air Purifiers In Malaysia For Babies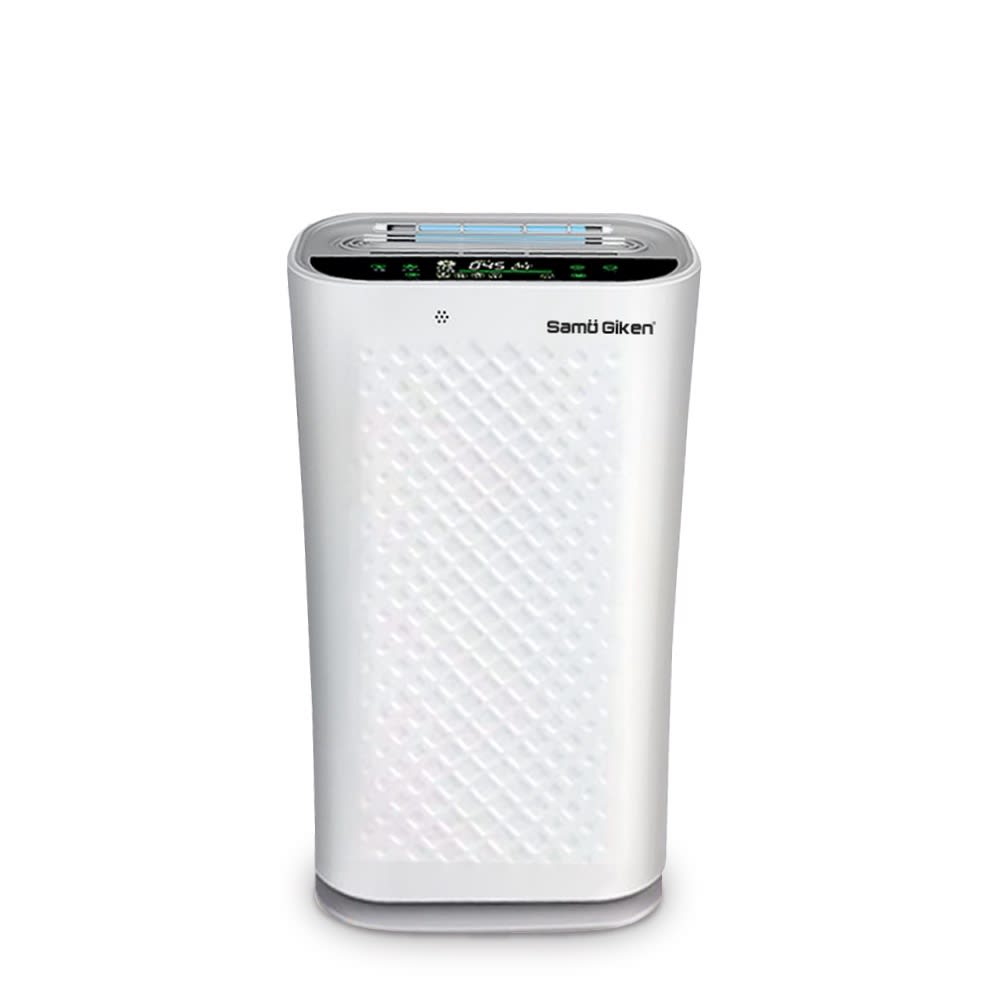 Check Samu Giken Home Air Purifier AP807 price below:
add_circle
Air quality indicator
add_circle
Multilayer filter
Why It's Our Top Pick?
The Samu Giken Home Air Purifier AP807 stands out as our top pick due to its exceptional combination of features aimed at creating a healthy environment, especially for babies. 
From efficient multi-layer filtration to real-time air quality monitoring, this air purifier offers a comprehensive solution to ensure your baby breathes only the cleanest air, promoting overall well-being.
Overview
Designed with a built-in dual smart sensor, the Samu Giken Home Air Purifier AP807 can monitor air quality. Its multilayer filters include a HEPA filter, a Photocatalyst filter, and an activated carbon filter. These work to capture PM2.5 particles and remove haze and smoke. 
With a low noise level of up to just 50dB, you can leave it on as your baby sleeps through the night and conveniently set the timer for when you want it off. 
Details
Power (W): 35W

CADR: 220m3/h 

Weight: 4.5kg

Dimensions: 33cm x 20cm x 63cm

Sound level: 24-50dB 
Who is this for?
If you are looking for a lightweight and easy-to-control for the wellness of your baby, say yes to the air purifier by Samu Giken. 
It has a multilayer filter, such as a HEPA filter, or activated carbon filter, that is highly efficient to eliminate haze, smoke, and PM2.5 particles and kill the germs. Additionally, it has a Dual Smart Sensor feature that monitors the harmful substance in the air all day.
As a result, it brings fresher and healthier air to your house, making it the one of best air purifier for your baby.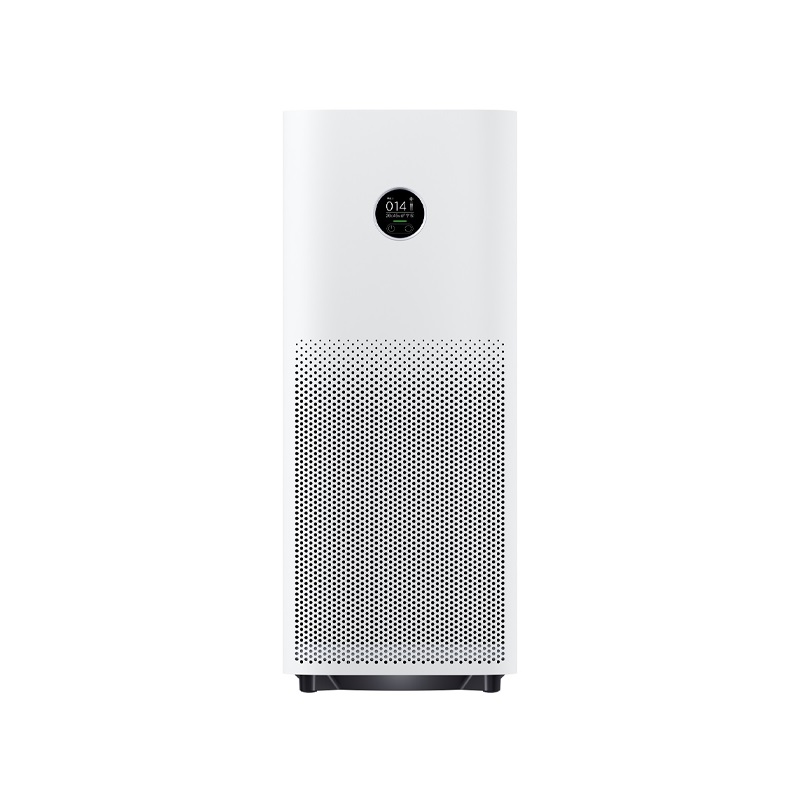 Check Xiaomi Mi Smart Air Purifier 4 Pro price below:
add_circle
Extensive coverage area
add_circle
Effective elimination of pollutants and viruses
remove_circle
Slightly pricier
Overview
In a world where clean air is a necessity, the Xiaomi Mi Smart Air Purifier 4 Pro emerges as a quiet guardian, ensuring your living space is a haven of pure, refreshing air. With an impressive Particle Clean Air Delivery Rate (CADR Particle) of 500m³/h, this purifier silently works its magic.
It effortlessly handles pet hair, cooking fumes, smoke, odours, and even reduces airborne viruses like H1N1, making it a perfect choice for health-conscious households.
Details
Power (W): 50W

Weight: 10kg

Dimensions: 320 x 320 x 732 (mm)

Sound level: 65dB

Filter: HEPA Air Filter

Voltage: 100 – 240V
Who is this for?
The Xiaomi Mi Smart Air Purifier 4 Pro is tailor-made for parents prioritising their baby's health and happiness. With an expansive effective coverage area of 35-60㎡, this air purifier ensures that every nook and cranny of your home fills with clean, pure air. It's the perfect choice for families with infants, toddlers, or young children, as it works diligently to eliminate potential allergens and airborne irritants.
With its comprehensive air-quality monitoring and real-time display, the Xiaomi Mi Smart Air Purifier 4 Pro ensures a breathable space where your baby can thrive safely.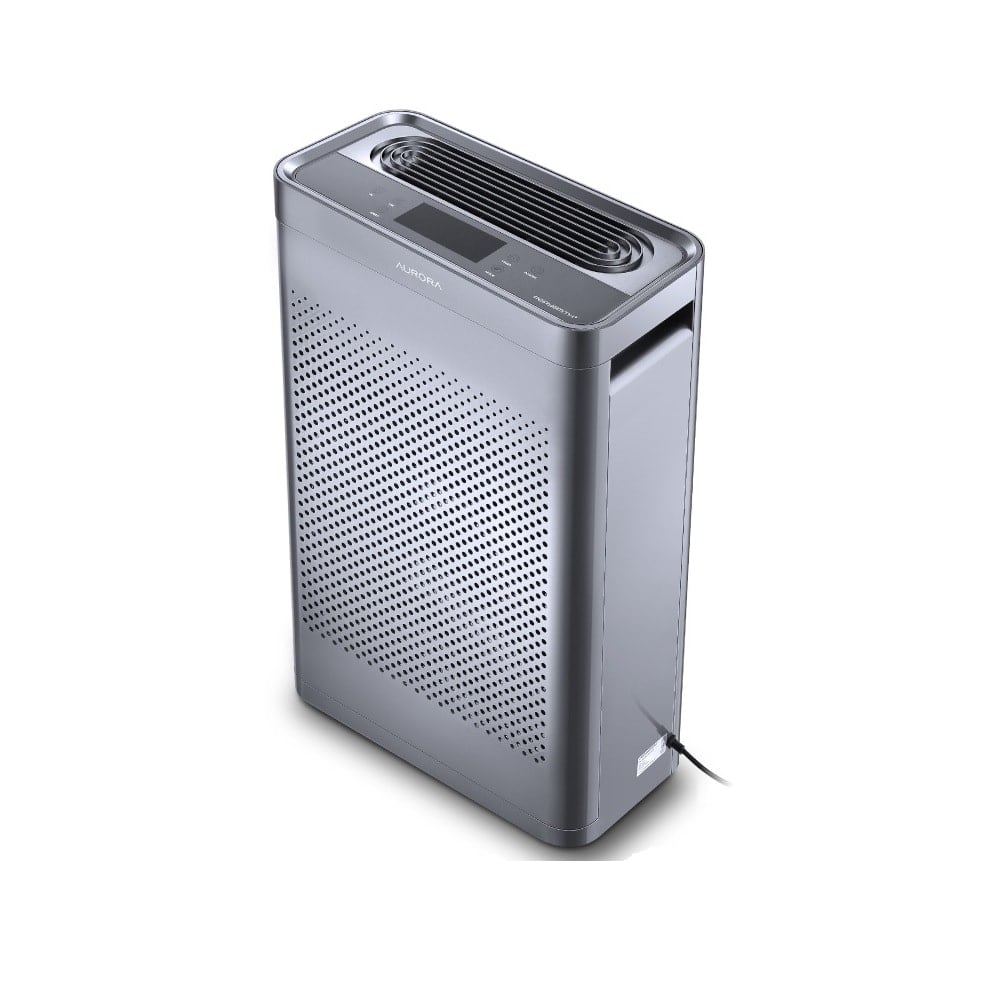 Check PerySmith Air Purifier AURORA Series H13 price below:
add_circle
Low noise level
add_circle
Good control panel interface
add_circle
Equipped with ionizer and UV light
add_circle
It has Aurora UV light with super short wavelength for killing bacteria and viruses
add_circle
Removes most types airborne contaminates for clean air
remove_circle
Short filter replacement duration
Overview  
Discover the PerySmith Air Purifier AURORA Series H13, a breakthrough in air purification to provide the optimal environment for your newborn baby. Unleash the power of Aurora smart technologies, a fusion of active and passive purifying methods, ensuring a serene and clean breathing space.
Further, this air purifier has an Anti-H12 (High-Efficiency Particulate Air Filter), which can eliminate up to 99.5% of particles, including viruses and micro-dust. The added Anti-H13 Smoke-Free Charcoal Hepa Filter further refines the air quality, making it a haven of purity for your little one.
Details
Power (W)45W

Weight: 4.2kg

Dimensions: 436 x 226 x 635 (mm)

Sound level: 25dB

Filter: H12 HEPA

Voltage: 220 – 240V (50/60Hz)
Who is this for?
This air purifier by PerySmith is a great budget choice for parents welcoming a newborn baby into their lives. Providing fresh, clean, and safe breathing environment is important to promote the well-being and comfort of your baby.
Moreover, it is ideal for families striving to create a healthy atmosphere, as it has comprehensive filtration and cutting-edge UV light technology features.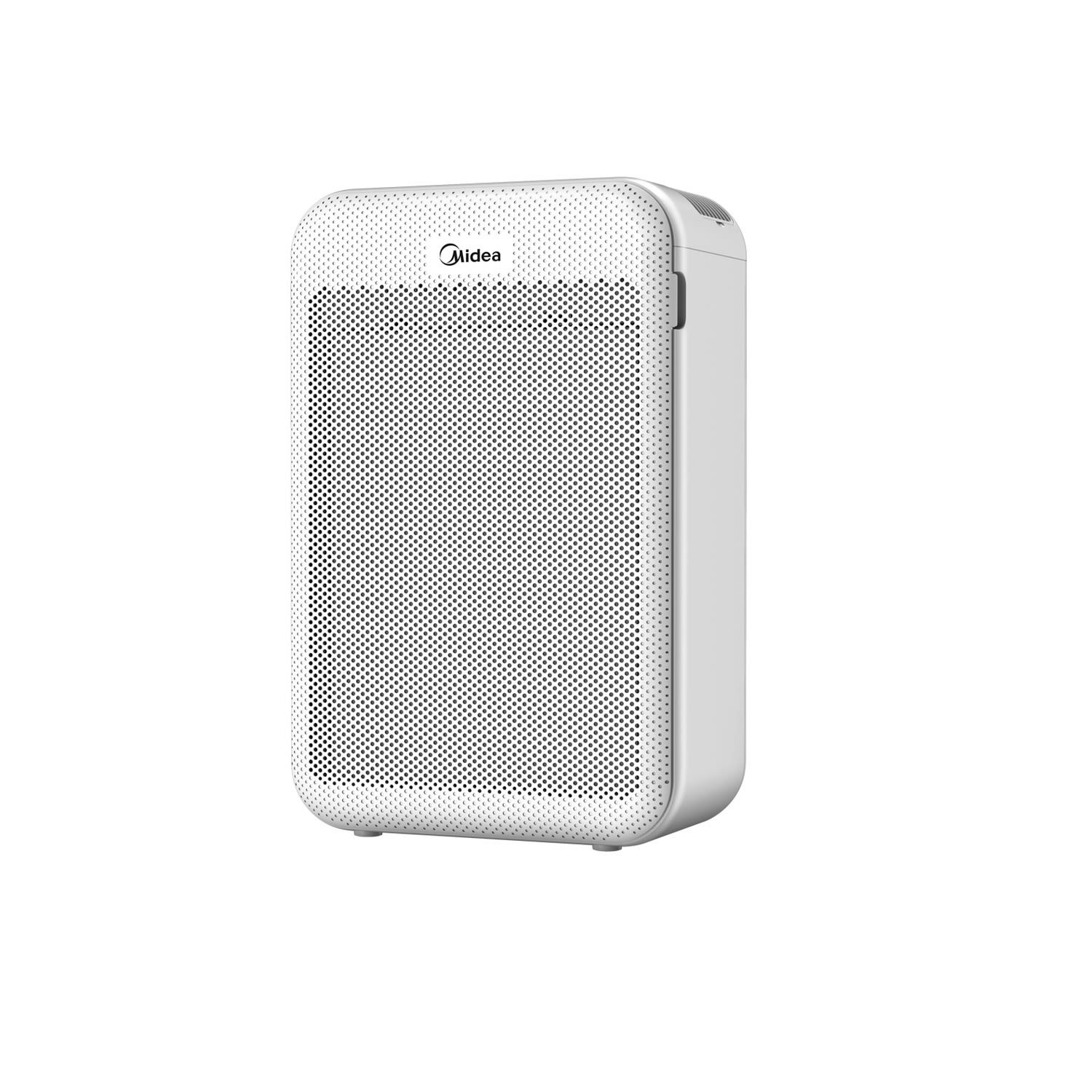 Check Midea MAP-28BD price below:
add_circle
Screen shuts off automatically on Sleep mode
add_circle
360° All-Round Purification
add_circle
Filter replacement indicator; PM2.5 air quality indicator
add_circle
Air quality sensor
add_circle
It provides a child lock for extra safety
add_circle
Effectively removes allergens, bacteria, viruses
Overview
This product by Midea is a breath of fresh air for families seeking an environment conducive to the well-being of their children, especially those dealing with asthma. air Equipped with a genuine HEPA Filter, it ensures efficient elimination of viruses and pollutants.
With its user-centric design features and an intuitive air quality indicator, you can look at your filter usage status which allows you to monitor and optimise your air environment. Plus, it offers versatility with various speed settings for different scenarios; this purifier seamlessly blends into your lifestyle, providing convenience at your fingertips.
Details
Power (W): 36W

Weight: 7.4kg

Dimensions: 200 x 360 x 554 (mm)

Sound level: 55dB

Filter: HEPA fIlter

Voltage: 220 – 240V (50/60Hz)
Who is this for?
The Midea MAP-28BD Air Purifier is an ultimate game changer, mainly for families with children and dealing with asthma. Plus, this air purifier goes the extra mile in creating a clean and nurturing air environment that is important for children's health. Also, its HEPA filter thoroughly eliminates viruses and allergens, making it a must-have for households where health and well-being are paramount.
With its child-friendly features, silent mode, and comprehensive filtration system, this purifier is a perfect companion for those striving to create a sanctuary of fresh and clean air for a better living.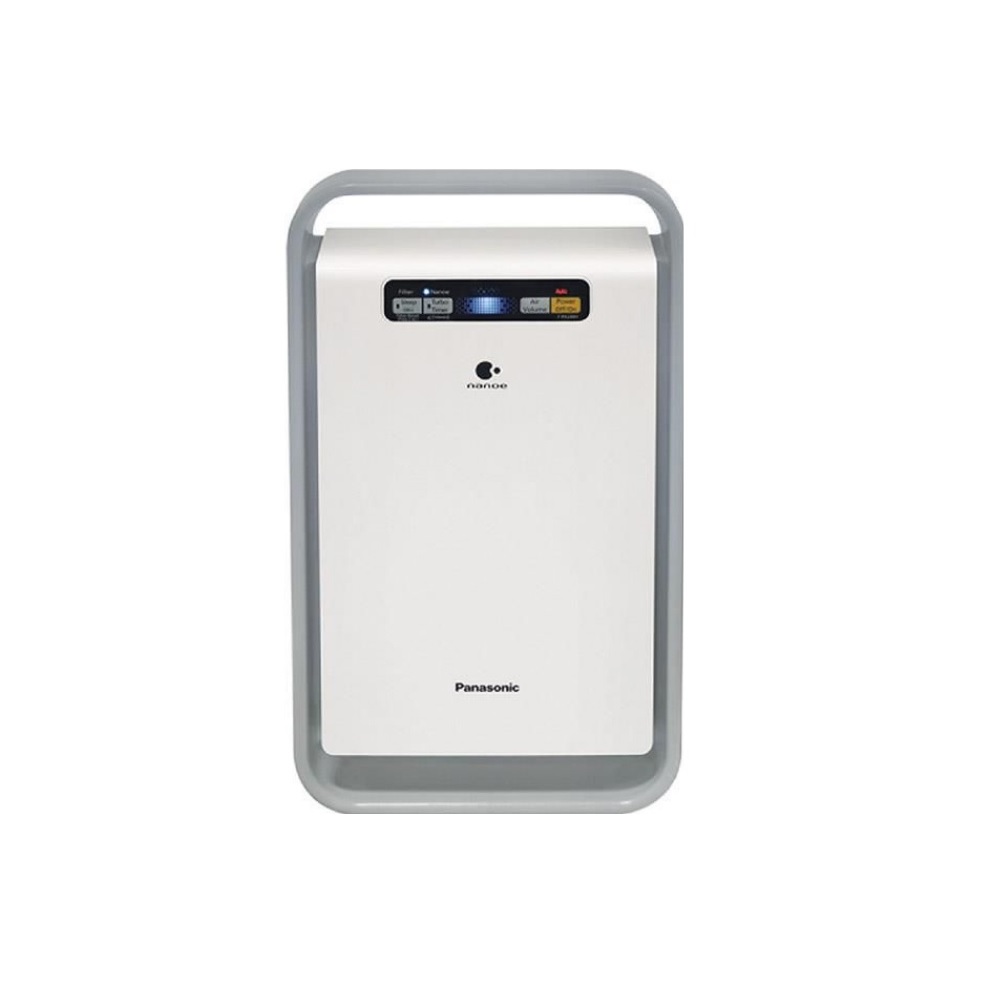 Check Panasonic F-PXJ30A price below:
add_circle
The nanoe™ is six times longer lifespan than normal ion
add_circle
Designed with sleep mode to ensure a peaceful environment
Overview
If your child has a dust allergy, this air purifier by Panasonic is the ideal solution to solve the problem. Its composite air filters consist of 3 types of technology named Super Allergy-buster, Green Tea Catechin and Antibacterial Enzyme. These technologies essentially work to effectively eliminate 17 kinds of viruses, bacteria and allergens up to 99%!3
Moreover, it has a 3D circulation flow divided into two modes – "Side airflow" and "Front Airflow" to remove pollutants accordingly to certain direction.
Details
Power (W): 32W

Weight: 4.8kg

Dimensions: 520 x 300 x 189 (mm)

Sound level: 44dB

Voltage: 220V

Speed: Low/ Medium/ High

It has 3 modes: Auto mode, Turbo Mode, Sleep Mode (8 hours)

Designed with 3D Circulation Airflow
Who is this for?
Suppose you are suffering from sinusitis or allergies. In that case, you can say goodbye to a runny nose or itchy throat caused by the polluted air as this Panasonic F-PXJ30A air purifier has come to the rescue! 
With its nanoe™, it has a high effectiveness rate in removing viruses. Plus, the nanoe™ is much tinier than the size of steam particles that can deeply penetrate cloth fabrics to restrain dirt. This means those kind of dirt will not go through the filter easily!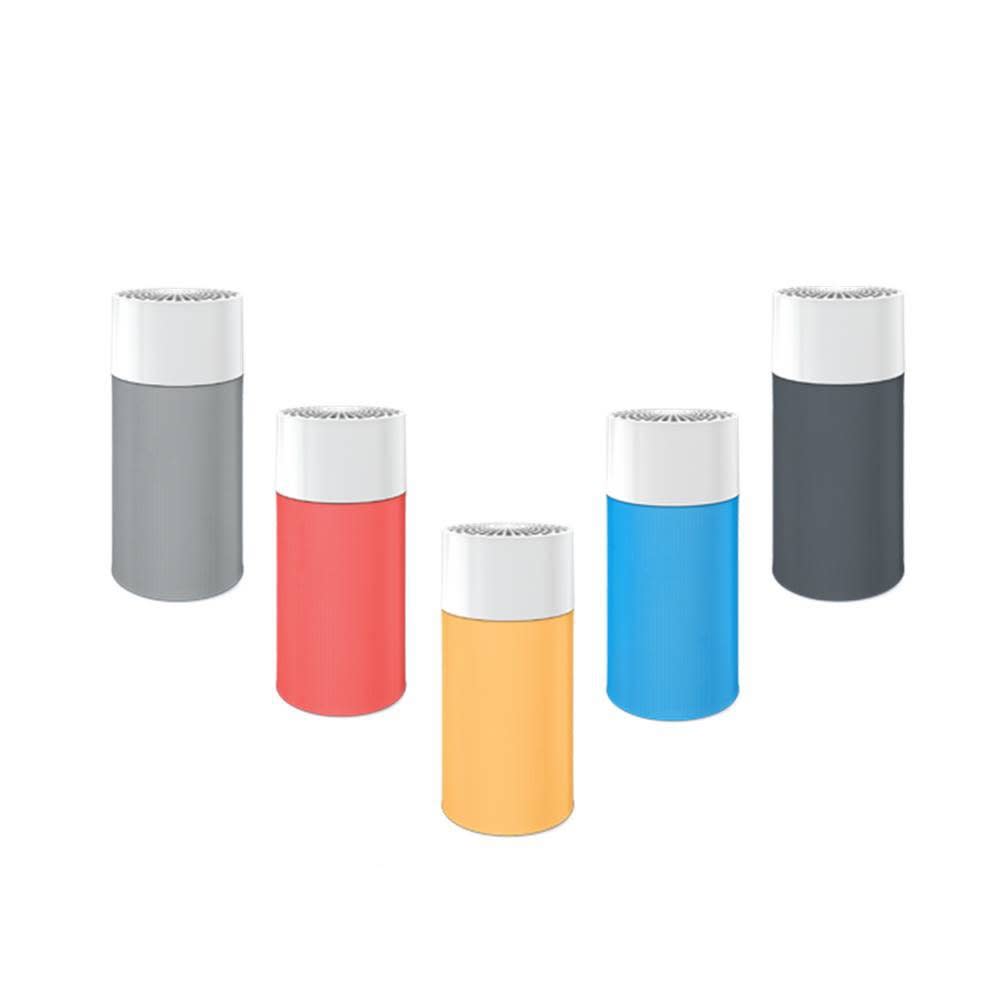 Check Blueair Joy S price below:
add_circle
360° air intake
add_circle
Energy-efficient
add_circle
One-button speed conttol
remove_circle
No WiFi connectivity
remove_circle
No air quality sensor
remove_circle
Pricey for its size
Overview
Keep the air in your baby's room safe at all times with this user-friendly air purifier. 
Blueair's Joy S is designed for use in rooms of up to 16 m², featuring a unique 360° air intake. The combination of mechanical and electrostatic filtration allows it to capture that are as small as 0.1 microns. 
Thanks to its HEPASilent™ technology, your baby can sleep through the night while it's on with no trouble at all. Plus, it's energy-efficient, running on just 1.5W of power when at normal speed.
Details
Power (W): 1.5 - 10W

CADR: 131m3/h 

Weight: 1.5 kg

Dimensions: 424 x 203 x 203 (mm)

Sound level: 17 - 46dB

Voltage: -
Who is this for?
If you are looking for a compact air purifier that effectively gives fresher air to your little one, this Blueair Joy S air purifier ticks off all the boxes. It consists of an advanced filter equipped with unique HEPASilent Technology. With the technology, it has the capability to catch every airborne contaminant down to 0.1 microns, such as pollen, dust, smoke, and allergens.
Besides, it is designed with a unique 360° air intake, ensuring it is fully efficient wherever you place the air purifier. Aside from that, this product is easy to maintain and control as it has one-button speed control.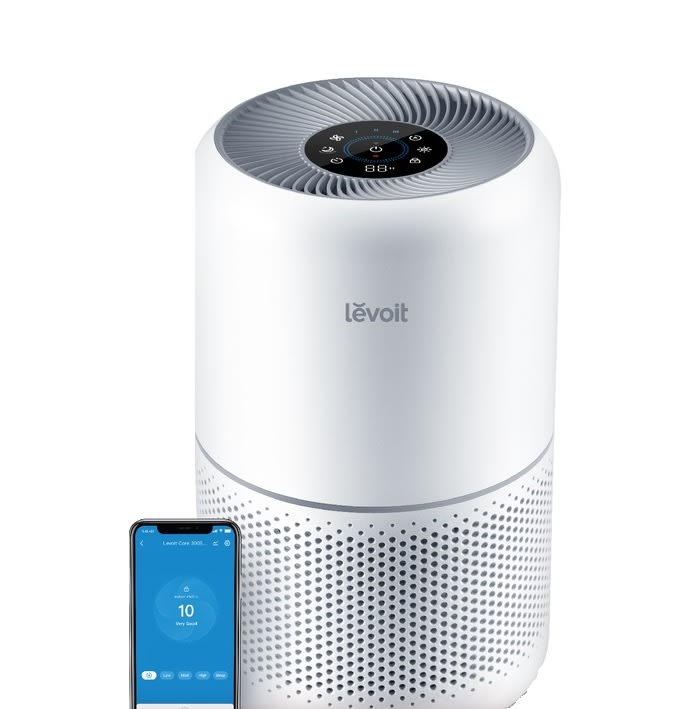 Check Levoit Core 300S price below:
add_circle
Has built-in programmable timer; can customise schedules
add_circle
'Undisturbed Operation' mode lets you turn off the display light automatically
Overview
Premature babies are in a vulnerable state. An air purifier can alleviate one concern at least air quality.  An air purifier can minimise your baby's exposure to harmful particles. 
The Levoit Core 300S is an award-winning air purifier and with good reason. Running on only 15W of power, its H13 True HEPA filter captures at least 99.97% of airborne particles while its High-Efficiency Activated Carbon Filter effectively neutralises odour. 
Thanks to Levoit's AirSight™ Plus Technology, this air purifier is twice as sensitive as an infrared laser. It scans the environment and updates your air quality. Parents will be happy with its quiet operation thanks to the  QuietKeap Technology that keeps noise levels as low as 22dB. 
Details
Power (W): 33W

CADR: 187m3/h 

Weight: 3.4kg

Dimensions: 22cm x 22cm x 36cm

Sound level: 24-48dB 
Who is this for?
Are there air purifiers you can operate with just your voice? Well, it does exist! This Levoit Core 300S Smart Air Purifier provides convenience features of Smart Control if you are a busy parent. You only need to sync the device with Vesync App Control to access the voice assistant and settings fully.
It also features AirSight™ Plus Technology, which is twice as sensitive as an infrared laser, scans surrounding air for particles, and automatically updates your air quality. Therefore, no more sneezing and nose block in the morning, and you can start your day with a smile!
---
FAQ:
- How does using an air purifier contribute to my baby's wellbeing? 
Babies have a smaller lung capacity than adults; they breathe up to 60 times a minute. Hence why whatever is in the air will circulate within their respiratory system, exposing them to more allergens, gases and other unwanted pollutants. By using an air purifier, you're ensuring that your baby breathes the freshest air possible. This will be beneficial to your baby's health as it lowers the risk of exposure to harmful particles, minimising the risk of allergies, respiratory illnesses and damage to internal organs.
- Are air purifiers safe for babies?
As new parents, you're probably both thrilled and terrified. You may be acquainted with new parent concerns such as if the water is warm enough, whether we will get enough sleep, and how to know if your baby is crying because he or she is uncomfortable, sick or just hungry. Ever had the thought about what the air quality is like in your baby nursery?
While humidifiers and warmers aren't suitable for use in a nursery, air purifiers are and may play an important part in your child's health and development. What do you mean by that? Air purifiers extract the tiniest particles from the air, trap them in a filter, and recirculate clean air into your living area.
Most air purifiers are absolutely safe to use around your newborn provided you take some basic measures. Filtering air purifiers eliminate pollutants from the air, making them beneficial for your child's health.
Air purifiers that create ozone are an exception to this rule. Instead of absorbing pollutants, these purifiers create the harmful chemical ozone, either purposefully or unintentionally. These air purifiers have been classified as harmful by the EPA for both adults and children. Even in little amounts, ozone may harm the lungs.
If you're searching for an air purifier to use near your kid, avoid using one with an ozone-generating filter.
---
- How to choose the best air purifier for your baby? 
Ensuring better air quality in the house is vital for everyone, but decreasing indoor air pollution in the nursery is much more crucial than ever if you have (or are expecting) a baby. Toxins and allergens in the air can affect a babies' well-being and development by affecting their lungs, immune system, and brain. 
Type of filter
True HEPA air purifiers are the safest for children's bedrooms. Activated carbon filters give an additional layer of air filtration for maximum safety. 
Noise level
A quiet machine is also recommended for a nursery. While a soft and gentle rumbling is great for them, a loud buzzing or active fan might interrupt their sleep.
Avoid those with ozone-generating filters
It's also worth noting that the United Stated Environmental Protection Agency(EPA) warns against using ozone-producing air purifiers, which have been ruled to be harmful for both adults and children. 
Ozone is a byproduct of ionising and UV air purifiers. It is hamrful to the lungs and is thus not something you want in your home. Ozone emitters are air purifiers that create ozone on purpose.
---
- Should I get an air humidifier or air purifier?
People are often confused between air humidifiers and air purifiers. Both affect the quality of air, but in different ways. They are, in some respects, complementary to one another. 
We realise how difficult it is to know which option is best for your child so we've ironed out the details for you.
An air purifier cleans the air by extracting impurities directly from it and recycling it at a consistent pace to keep contaminants at bay while filtering those that are already there.
However, you should be aware that it has no effect on the humidity level of that air as it neither removes nor adds moisture to it.
A humidifier comes to the rescue in this situation. It functions to  on the state that allows those infection-causing molecules to thrive, which is always a high humidity level.
Low humidity permits pathogenic molecules of diseases like the flu, cough, and sinusitis to grow, and when the pollutants are removed (by using a humidifier), the contaminants do not survive, and the toxins are also removed indirectly from the atmosphere.
It is fair to assume that both are safe to use in a baby nursery. The difference is that one cleanses the air while the other maintains the same humidity level.
Related articles