Ever woken up on 'the wrong side of the bed'? Sleeping on a mattress that's not meant for you can cause backaches, sore muscles and sleep disturbance, which is pretty common among stressful, working adults.
Many take this for granted, but investing in the right mattress is essential to achieving better overall well-being. After all, getting higher-quality sleep means less grouchiness in the morning and improved productivity throughout the day.
But, how do we know which mattress works the best for us? After all, when choosing a mattress, one has to factor in their lifestyle, sleeping position, and age group. To start, we got in touch with Malaysian-made Joey Mattress and got the chance to spend 20 nights with their mattress.
What Type of Sleeper Are You?
Before we get started on the review, it's essential for you to determine your sleeping style. This is, after all, the first step to finding the perfect mattress. Are you a back, side, or stomach sleeper? It may not seem important, but identifying this actually helps you to find out the best firmness level of the right mattress.
We've come up with a brief table on the type of mattress best suited for you based on your sleeping position below.
Back sleepers

Medium-firm mattress.

Requires support for the spinal and lower back.

Maintains proper spinal alignment.

Prevents pain and discomfort from developing.

Side sleepers

Medium-firm or soft mattress.

Requires neck support for proper spinal alignment.

Vulnerable pressure points at the shoulders and hips.

Stomach sleepers

Firm mattress.

Requires support for hips and stomach.

Most physicians do not recommend stomach sleeping due to the high risk of discomfort and pressure.
Table 1
About the Author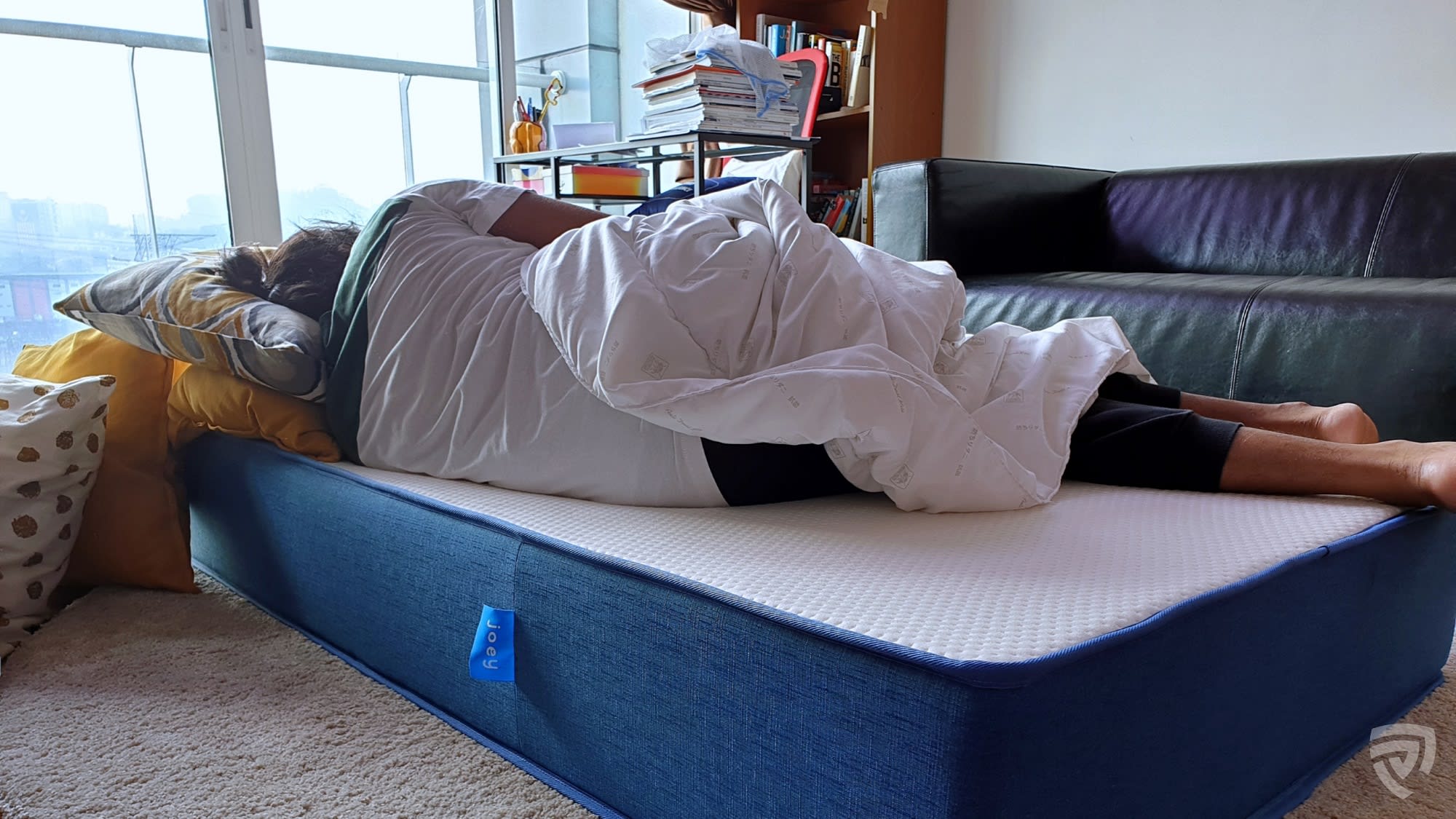 Sleeping position: Side-sleeper
Current mattress type: Soft
Age: Early 30s
Lifestyle: Very active - I exercise outdoors and attend dance classes several times a week
Average hours of sleep: 5 - 6 hours
Problems: Mild insomnia and constant body aches, probably because of my active lifestyle
Spending My Nights With Joey
J Foam Comfort and J Foam Support - What Are They?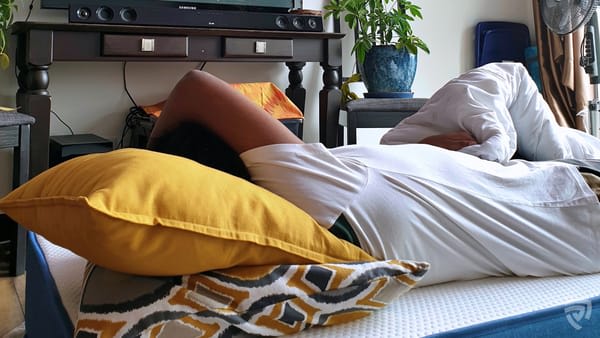 Joey Mattress is engineered with J Foam Comfort and J Foam Support. J Foam Comfort gives the mattress that soft yet sturdy feeling, as well as breathability and durability. It is also engineered to provide the body with that maximum, deep pressure-point relief.
I put this technology to the test by jumping onto both my current mattress and Joey Mattress. On my mattress, I noticed a rough spring-back feeling that gave my back a little discomfort. On the latter, however, it allowed me to sink softly into the mattress, before holding me back up firmly. Since I started sleeping on this mattress, I've been waking up with my body feeling pressure-free and light.
On the other hand, the high-resilience J Foam Support technology helps align the body comfortably and correctly. As a side sleeper, it's only natural that I own a soft mattress which offers little support for my back, and waking up with minor aches is something I'm accustomed to. From my third night sleeping on Joey Mattress, I could already feel the difference. From then on, I would wake up feeling fresh, with little-to-no backaches.
It's a Pretty Cool Mattress
It's cool for a reason - this mattress is able to absorb body heat that we produce at night. The heat is then expelled through the breathable micro-cell foam structure that allows fresh air-flow in and out freely. Due to limited space at my apartment, I placed my mattress right in the middle of my living room, below my air conditioner. Although my living room could get warm in the middle of the night, this mattress keeps me cool until my alarm goes off.
Understanding Zero-motion Transfer Tech
Now that's quite a mouthful. So what exactly is Zero-motion Transfer Tech? It provides maximum isolation, meaning you should not feel any movement on your mattress. The mattress is great for light sleepers, as you'll still be sound asleep if someone hops on to the mattress.
Unfortunately, I did not get the chance to experiment with that as I live alone; plus I'm a heavy sleeper. However, I did test it out with a mug of water and a bowl with chopsticks. After jumping on the bed, neither did the water spill nor the chopsticks roll off the bowl. This means worry-free slumber parties for me!
Size does matter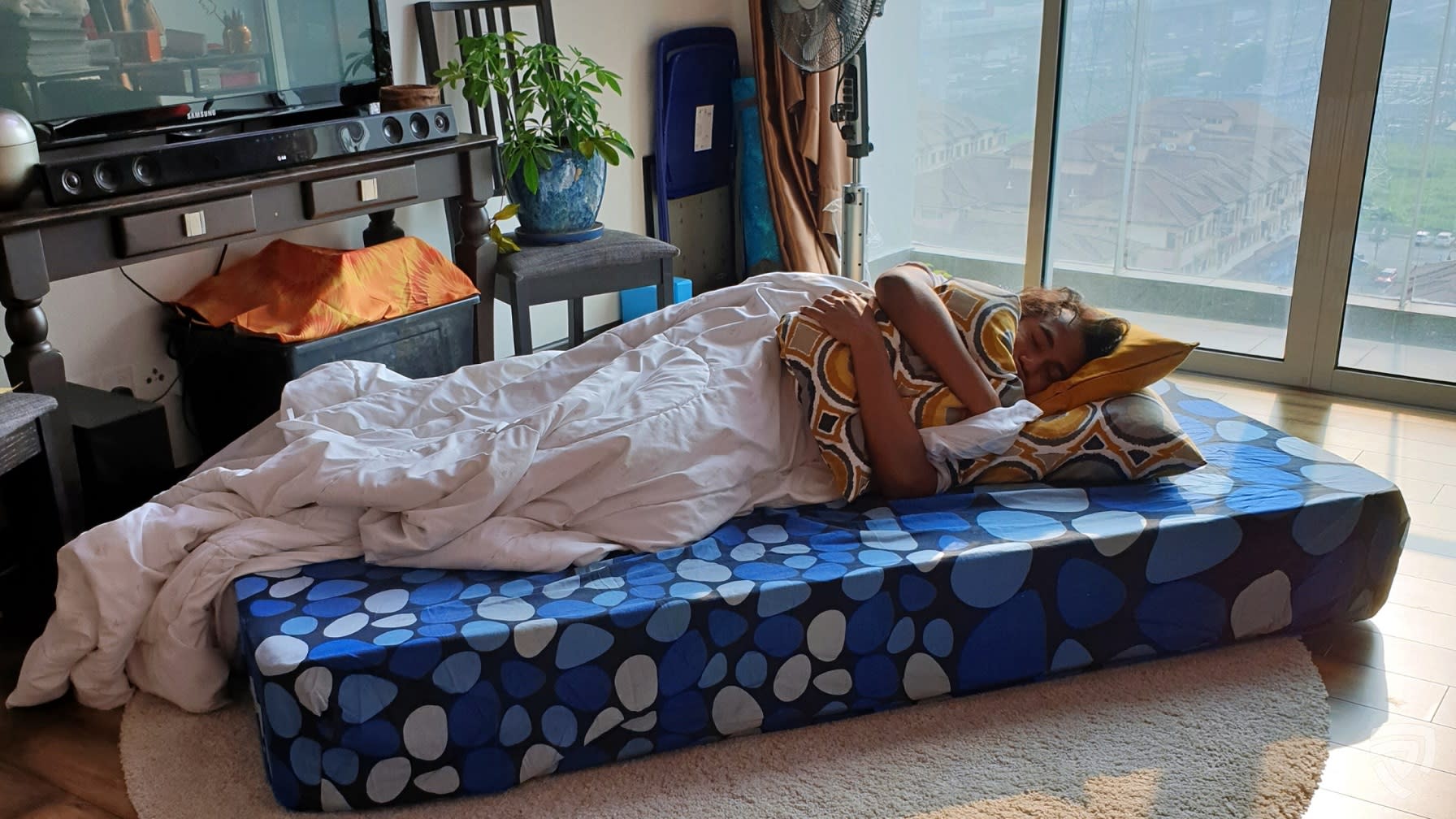 I tested out on a single-sized mattress due to the limited space I have in my apartment. However, I find it a tad bit too small for me as I toss and turn a lot when I'm sleeping, switching from position to position throughout the night. Some mornings, I'll find myself halfway on the floor. So if you are anything like me, I'd suggest you buy a queen-sized mattress instead, just like my current bed size.
Product Info
Material

Top knit: 68% Polyester, 32% Viscose.

Underside fabric: 100% Polyester

Type
Foam
Firmness level
Medium-firmness
Sizes

Single (91cm x 190cm x 23cm)

Super Single (107cm x 190cm x 23cm)

Queen (152cm x 190cm x 23cm)

King (183cm x 190cm x 23cm)

Delivery
Next-day delivery within the Klang Valley region
Warranty
10-year limited warranty
Country of Origin
Malaysia
Type of Sleepers
Ideal for back sleepers
Table 2
Verdict
I don't usually get good quality sleep as I sometimes suffer from insomnia. If luck is on my side, I can steal a good six hours of shut-eye, and about three to four hours on days my insomnia comes out to play. The lack of sleep results in backaches and muscle soreness in the morning, decreasing my mood and energy levels.
However, since I started using Joey Mattress 20 days ago, I slept like a baby, as compared to my current spring mattress. That's when I felt the actual quality of a foam mattress. Plus, my body is also less tired in the morning.
Joey Mattress is probably one of the best mattresses I've slept on. Being a side sleeper, I've never thought that a medium-firm mattress could help with my back aches and body soreness.
One of the perks of getting this mattress is being able to try it for 99 nights first, before deciding to purchase it. This in itself removes the hassle of having to search and scour the Klang Valley for the best mattress in Malaysia, and it's something that we praise Joey Mattress for.