Quick question: who here enjoys waking up to a big red pimple staring straight at you in the mirror? I thought so. Unfortunately for many of us, simply washing your face twice a day isn't enough to get rid of them. In fact, they're so reluctant to leave, that they sometimes leave behind dark spots and scars that take forever to heal. Let's not even get started on how physically painful they can be at times. Talk about petty.
That's where these 8 acne creams swoop in to hopefully, save the day. Have a look!
Himalaya's Acne-n-Pimple cream contains 5 kickass ingredients that work together to combat acne: aloe vera, Silk Cotton Tree, Five-Leaved Chaste Tree, lentils and alum. These ingredients not only contain cooling and anti-inflammatory characteristics, which subdue existing acne, but they are also antiseptic, meaning that they will put up a fight against the bacteria causing the acne in the first place.
---
As a spot treatment cream, this product helps subdue acne and reduce redness to get your face back to its original blemish-free state. With natural products like cucumber, chamomile, licorice, aloe vera, lavender oil and many more cooling ingredients, this cream effectively soothes inflammatory acne while rebuilding collagen at the affected sites.
---
This innovative product is the first of its kind to treat both the causes and effects of blemishes by biologically imitating healthy sebum. It's all about the ingredients: a blend of fatty acids and a combination of both salicylic acid and citric acid to help prevent and eliminate acne. It also soothes inflammation, keeping the skin smooth and scar-free post-breakout.
---
Benzac AC Gel is a potent acne treatment that utilises benzoyl peroxide by drying up the skin, causing oil-clogged pores to be cleansed. At the same time, it has antiseptic properties that kill acne-causing microbes, while thinning out sebum, essentially taking away its clogging abilities.
---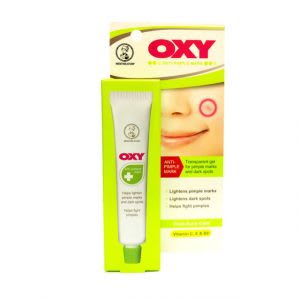 So those pimples finally disappeared from your face, but not before leaving behind their just-as-frustrating shadow counterparts. Oxy's Anti-Pimple Mark has ingredients that will help those spots fade away all the while smoothening your skin and protecting it from further breakouts.
---
This acne gel has a unique 3-in-1 formula which reduces dark spots, as well as prevents and improves the appearance of depressed scars. It also keeps your skin blemish-free, preventing future breakouts thanks to its anti-bacterial properties.
---
With natural ingredients and vitamins that act to soothe hypersensitive skin, this acne cream is perfect for prevention of acne caused by an oily and irritated skin. Yadah has come up with a unique BSASM complex which protects your skin from free radicals, smoothens rough skin texture and controls sebum, so look forward to smooth, healthy skin.
---
Body acne is different from face acne in the sense that it combines natural factors like sweat, dirt and bacteria, with friction from your clothing, making it very aggravating to deal with. Thankfully, this product uses a gentle formula containing lemon, aloe vera, fruit extract and tea tree oil, all of which are known for its cooling and antiseptic effects. These effectively kill acne-causing microbes while staying gentle on sensitive skin.
---
Disclaimer: The pricing shown is just a good indication of how much these products are worth. The prices could change based on the e-commerce promotions that are going on. If some of the products are not available, do email us at [email protected] Thank you!