The back-to-school, college season has officially begun! As a school bag will then become you or your kid's daily wear, you'd want to ensure that it ticks off all the functionality boxes such as comfort, multiple compartments and so forth, apart from looking for a popular brand of school bag. 
Below you'd find a list of recommended school bags that will help fulfil a child's nursery school to college needs!
Top 11 School bags in Malaysia - Reviews & Trends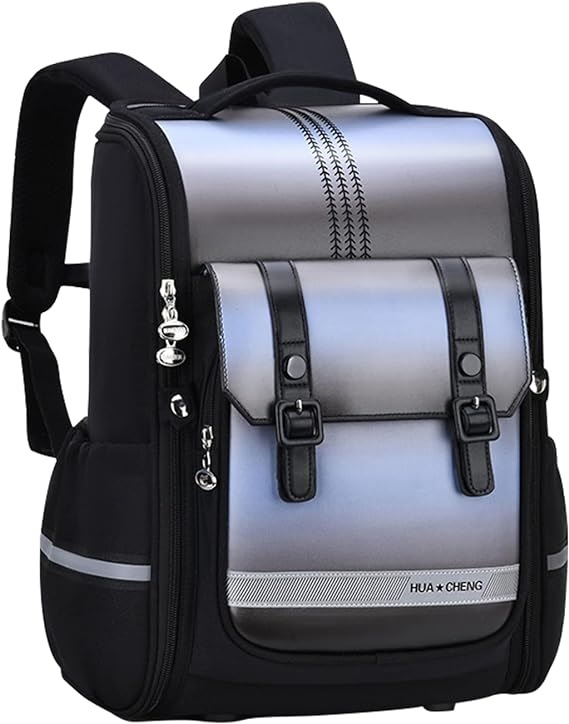 Check Waterproof Primary School Bag price below:
add_circle
Suitable for nighttime use
add_circle
Easy to access compartments
Why it's our top pick 
School-going children often have a heavier burden than we know – the sheer amount of large textbooks often have a heavy weight that will cause long-term issues to their spine. Not to mention the unpredictable weather we have in Malaysia, all which make this waterproof primary bag a necessity.
Overview
What makes the Waterproof Primary School Bag stand out as one of the best school bags for children is its functionality, all designed to make your kid's school life just a bit easier. Its large capacity paired with a multi-compartment design, elastic side pockets, and flip zipper ensures there's a place for everything, from textbooks to snacks.
The most important thing however is its spine protection, with thick 3D cushioning to keep young backs comfortable and supported, as well as the non-slip chest buckle that adds extra security and comfort during wear. When paired with the 180-degree opening that allows easy access to the essentials, this school bag becomes the ultimate tool a kid could have.
Details
C

omes in 2 sizes: 38cm / 41cm

Available in different colours
Has multiple spacious compartments
Waterproof and scratch-resistant material for durability
Reflective safety strip on the front and straps for enhanced visibility
Who is this for?
This school bag is tailor-made for primary school students and their parents who seek the best in terms of comfort, safety, and durability. The waterproof and scratch-resistant material ensures it can withstand the wear and tear of active young students. 
Plus, the added reflective safety strips make it a smart choice for ensuring your child is visible and safe during their daily commute to school!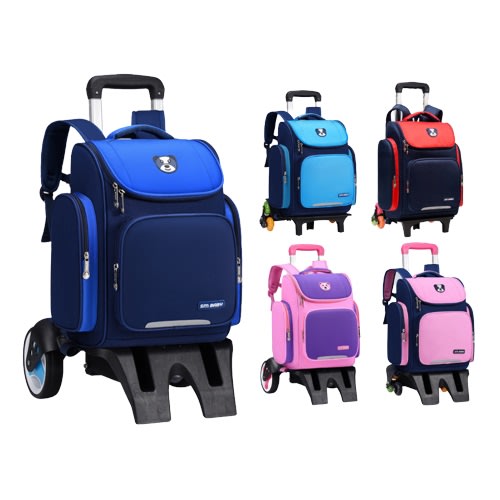 Check Trolley School Bag price below:
add_circle
Various colours
add_circle
Large capacity
Overview 
Trolley bags prove to be ideal and practical as your child wouldn't face the difficulty of carrying the heavy weight of books on their shoulders all the time. These bags come in a range of colours. You can also choose between 2 wheels and 6 wheels that would best accommodate your children's preference and handling while climbing the stairs at school. 
The bag's interior comes with a large capacity that can fit all the school essentials of your child. Not only that, this trolley school bag is made of waterproof fabric that will ensure its durable lifespan. Plus, its premium 3D cushion will also add some comfort to your child when carrying it.  
Details   
Comes with a luminous reflective strip

Has a stable trolley structure
Who is this for?  
This trolley bag is praised for its spacious capacity and sturdy appeal. Besides, it comes with neat-looking seams and a light frame. Regardless of those, the trolley bag certainly feels strong; a quality that was felt by the previous shoppers.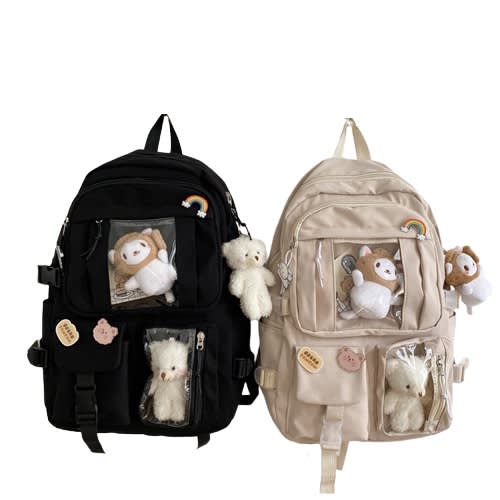 Check Large-Capacity Japanese School bag price below:
add_circle
Various colours and pockets available
add_circle
Fits a 15.6-inch computer
Overview 
Fancy a simple bag that allows you to be stylish yet doesn't compromise on capacity? This Japanese-inspired school bag has it all which includes a main zipper compartment that allows you to fit your books and even a 15.6-inch computer. 
If that's not enough, the exterior of the bag is also designed with multiple compartments where you can fit smaller-sized personal items. Plus, it also comes with a side pocket to store your water bottle. 
Details 
Made of nylon material 

Consists of multiple compartments
Who is this for?  
Most praises are directed at the bag for its great quality and arrangement of multiple pockets, as well as its spacious interior. Therefore, those who are looking for a school bag that lets you show off your style, as well as fit almost anything into it can consider this option.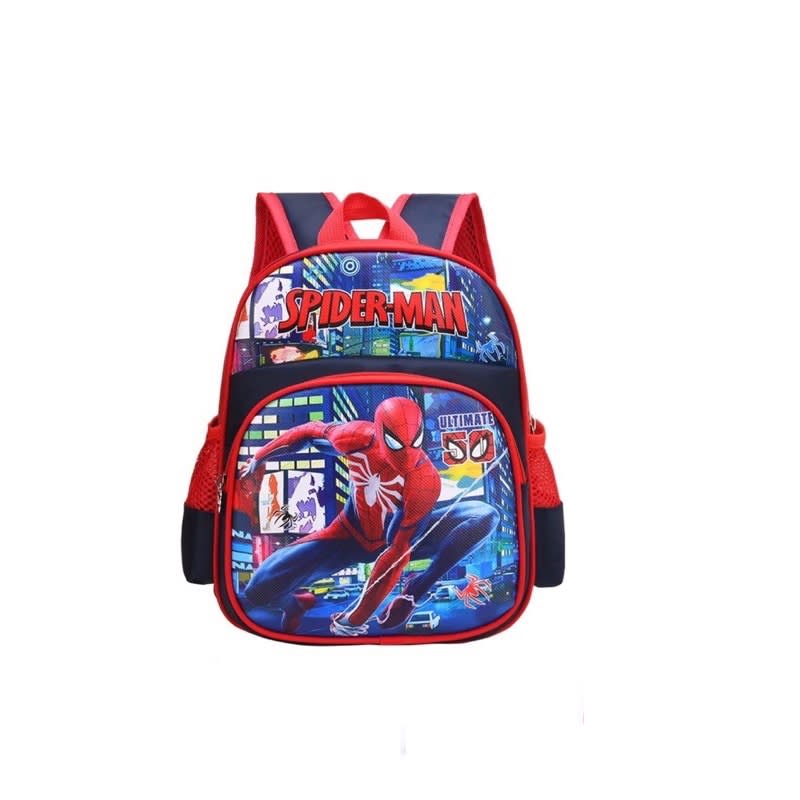 Check BBKid Kids School Bag price below:
add_circle
Various designs
Overview 
Compact and lightweight bags designed with any of your child's favourite cartoon characters will have them loving it the moment they see it. That's what you get with BBKid's school bag series which contains designs ranging from the shows Frozen and Spiderman to Peppa Pig and lots more! 
Weighing at just 350g, this school bag will take the pressure off your child's back. Adding to that, it has 2 zipper compartments and a side pocket to insert their water bottle.
Details  
Suitable for kindergarten-goers 

Measures 32x24x12 cm in dimension
Who is this for?  
Some users complimented that this school bag is fitting for their kids to bring to their nursery. Plus, the back of this school bag consists of good air permeability that helps ensure your child feels comfortable while carrying this school bag.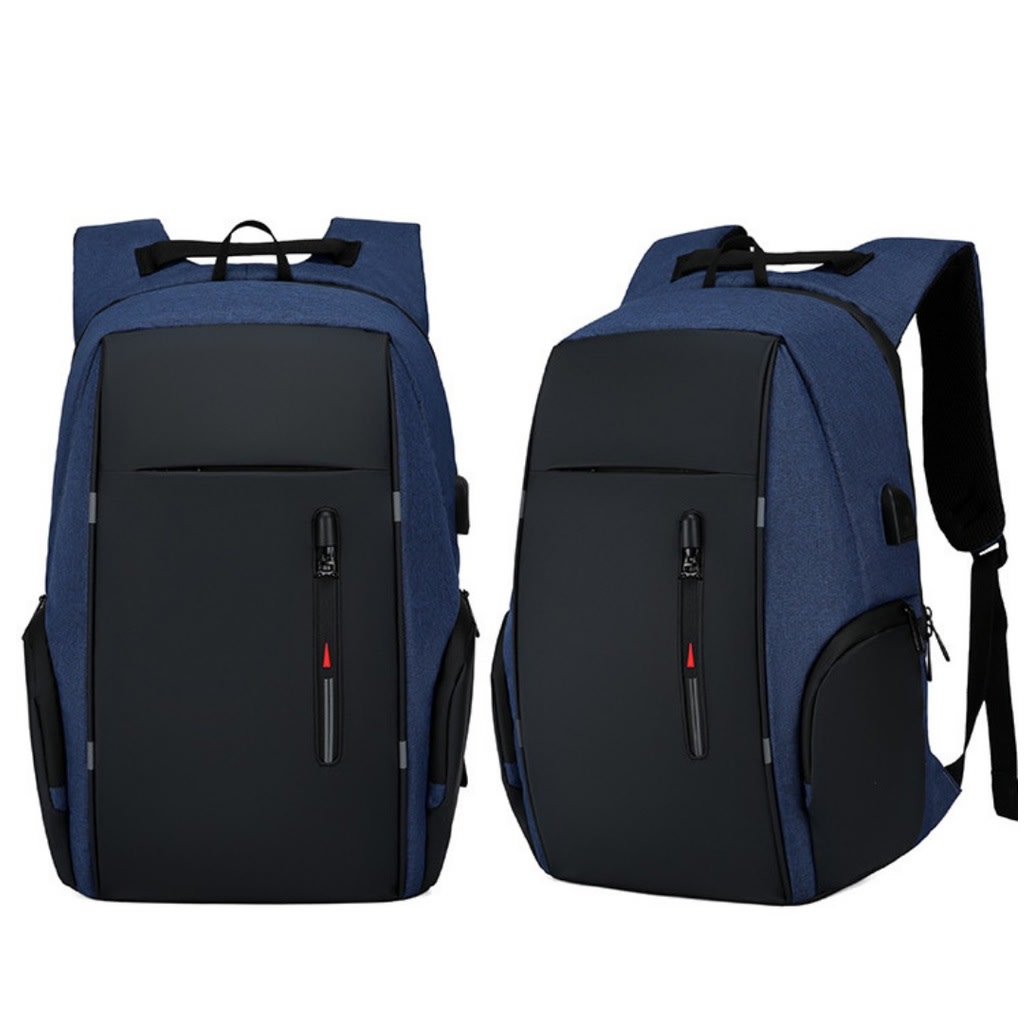 Check College School bag price below:
add_circle
Various colours
add_circle
Water-resistant
add_circle
Multiple compartments
Overview 
A school bag that's fitting for college-goers would contain enough compartments to fit a student's lecture notes as well as their laptop and its accessories. Therefore, why not go for a school bag such as this multifunctional bag which is designed with multiple compartments?
On its interior, the bag contains a laptop compartment with a buffer that can fit a 15.6-inch laptop. It also has 4 other built-in compartments to place stationeries, power bank, handphone and so forth. On its exterior, it contains 2 outer zip compartments and 2 side zip pockets to place your bottle and/or umbrella. 
Details 
Designed with reflective elements as safety precautions during the night

Has a 36L to 55L capacity 

The luggage strap can be modified to transform the backpack into luggage
Who is this for?  
The best part of this school bag is that it also consists of a built-in USB cable to allow for easy USB charging. Moreover, it's always best to keep your belongings safe on campus grounds. That said, you need not have to worry of the safety this bag as all its zips are anti-theft.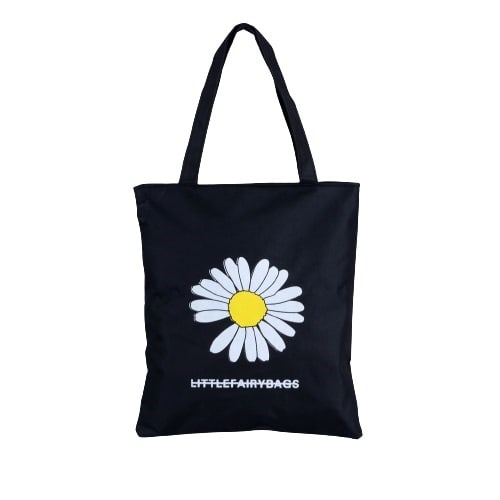 Check Student Tote Bag With Zip price below:
add_circle
Various designs
Overview 
Tote bags are noted for their strong and durable qualities. With good care given to these bags, they can last for over a year! The fascinating aspect of this tote bag is that it comes with a zipper closure. This ought to keep all your personal belongings safe. 
Adorned on a black background, the tote bag comes in a range of printed designs. Looks aside, the bag is spacious enough to carry books, a water bottle, a lunchbox, and many more belongings! 
Details 
Made with Oxford cloth 

Measures 33x39 cm 

Has an inner zipper pocket
Who is this for?  
Tote bags are incredibly useful! Besides playing their role in helping to carry books to classes, they also serve the purpose of carrying groceries too. They're a wonderful accessory to have and make a wonderful gift idea as well. Though affordable, users complimented how this tote bag is made of high-quality fabric material.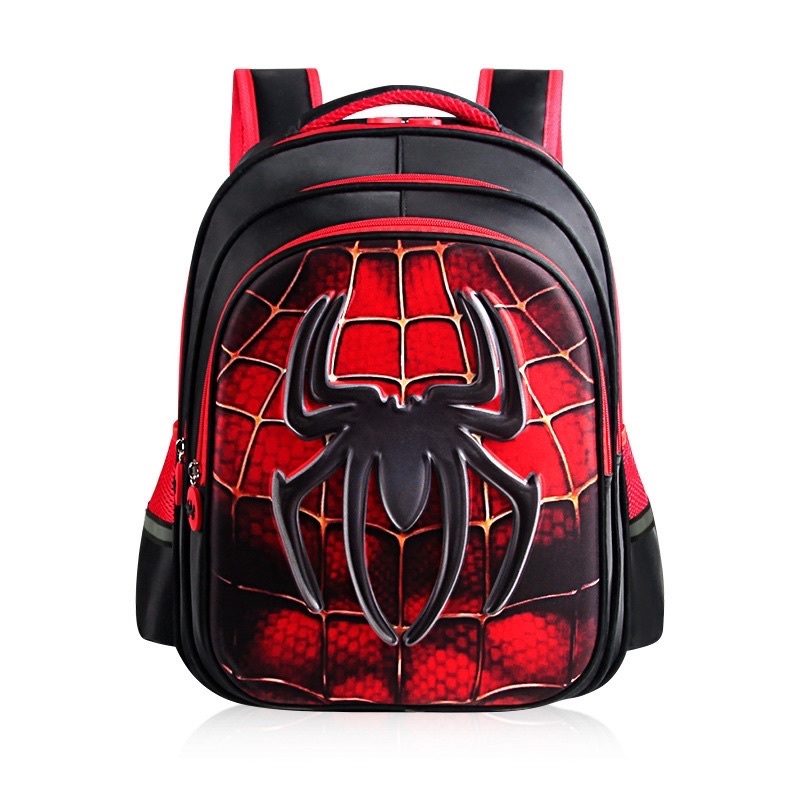 Check 3D Marvel Heroes School Bag price below:
add_circle
Sufficient compartments and storage
Overview
Introducing the 3D Marvel Heroes School Bag, the ultimate choice and the best school bag for boys who are avid fans of their favourite superheroes. Designed to make going to school an adventure, it's crafted with waterproof fabric, ensuring that your child's belongings stay dry and protected, no matter the weather.
The bag also features two zipper compartments, providing ample space for books, notebooks, and school essentials. Furthermore, the comfortable and adjustable shoulder straps guarantee a perfect fit for your child, whether they're heading to class or embarking on an exciting field trip! 
 Details
Dimensions : 30 x 22 x 42 (L x W x H)(cm)

Suitable for primary school children

6 different available designs to choose from

Consists of 3 zipper compartments and elastic side pockets

Has padded and adjustable shoulder straps 

Crafted with nylon waterproof fabric for added durability
Who is this for?
This trendy school bag is the perfect choice for boys who are passionate about their favourite superheroes and want to showcase their enthusiasm at school. With an eye-catching design, it's lightweight and durable, making it suitable for boys of all ages and ensures they're always ready for action. 
Check Disney Frozen II Elsa Primary School Bag price below:
add_circle
Brightly coloured design
add_circle
Licensed product
Overview
Help your girls brave the hectic school life with everyone's favourite ice queen, Elsa! Your little girls will be squealing with delight when they lay eyes on the Disney Frozen II Elsa Primary School Bag. This bright and colourful backpack is just the right size to fit the aspiring little princesses in them! 
Designed to be convenient, the school bag comes with padded shoulder straps and has sufficient compartments to store books, stationery and snacks cases with ease. Besides that, this bag also comes with side pockets to place their water bottle.  
Details
Dimensions: 30 x 40 x 14 (W x H x D)(cm)

Made with durable and high quality material

Comes with padded shoulder straps

Has sufficient compartments and storage

Designed with side pockets
Who is this for?
Nothing can ever go wrong with Disney-inspired themes. Made with high-quality materials, this school bag is suitable for school-going children from 6 years and up, making sure that it's as comfortable as it's eye-catching.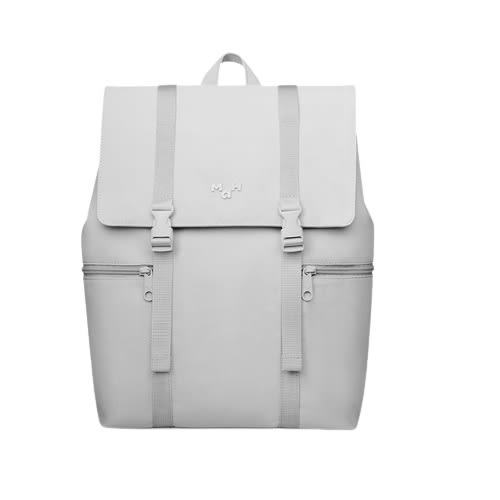 Check MAH Siro Casual School Bag price below:
add_circle
Various colours
Overview 
Made with polyester material that comes with a matte leather finish, this school bag consists of a range of solid colours. It comes in 2 different sizes that can fit either a 14-inch or a 15.6-inch laptop. What's nice is that its organised compartment designs allow you to place your various belongings and keep them tidy. 
Not to mention, the interior of this school bag comes with a protective sleeve to protect your laptop or iPad, an inner zip pocket and sorting pockets. 
Details   
Various compartments

Comes with a choice of 2 different sizes  

Soft bag quality
Who is this for?  
The simplicity of this school bag that comes in a range of solid colours will suit your everyday style! Made in a high-quality and durable material, this school bag comes with a 1 cm high-density sponge shoulder strap that's complete with 3 layers. This lays off the pressure of the weight of the bag on your shoulders.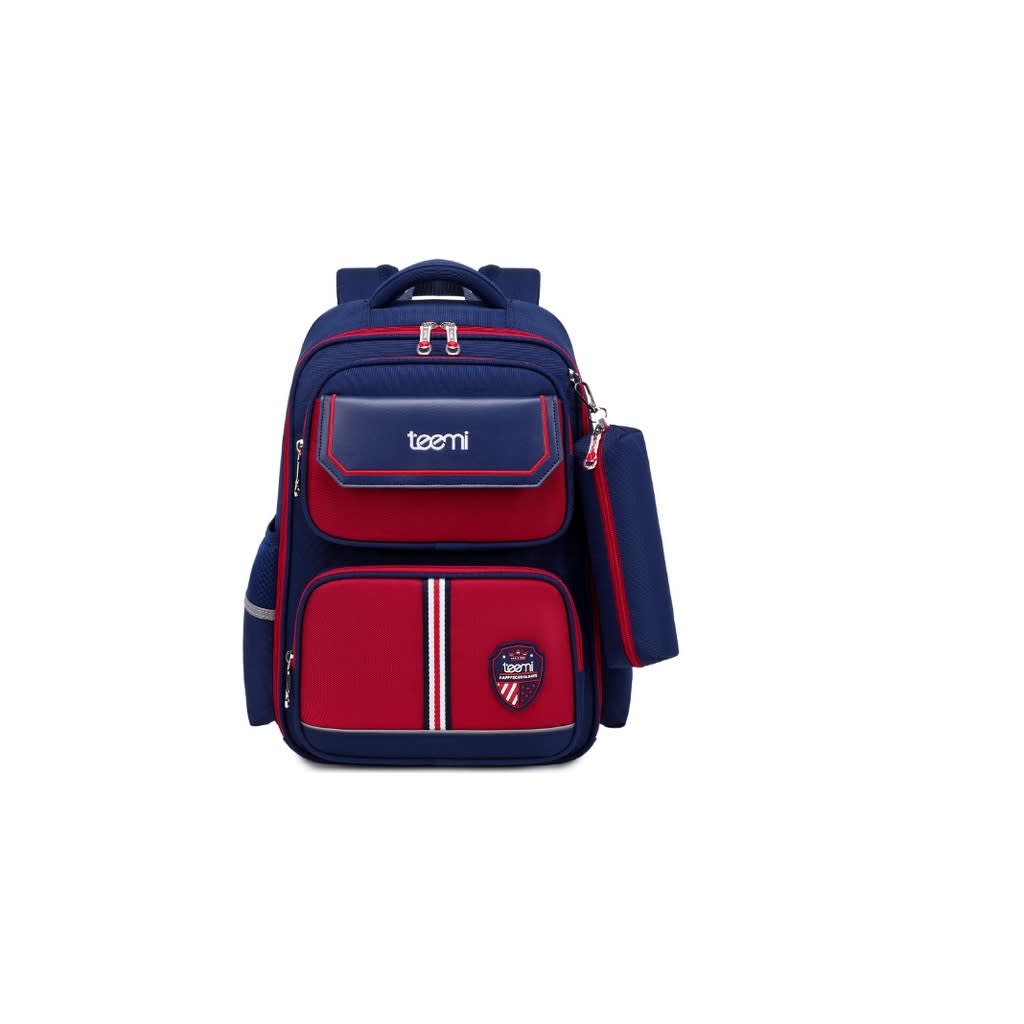 Check TEEMI Kids Orthopedic Primary School Bag price below:
add_circle
Water-resistant
add_circle
Comes with a free pencil case
add_circle
Breathable back panel
Overview 
The compact class schedules of children these days can result in needing to bring a load of textbooks every day to school. This can utterly affect their back over time. 
Thanks to TEEMI's school bag range, your children will be carrying this school bag to school with comfort. The mesh shoulder straps are S-designed and have soft cushioning that comes with good ventilation so your children feels cool when they carry this bag for long hours. 
To boot, its robust two-way zippers ensure a smooth opening and give easy access on either side of the bag. The accompanying side pockets too enable your children to fit their water bottles and foldable umbrella. 
Details 
Comes with reflective safety accents for use in dark environments 

Has multiple inner and front compartments and an inner sleeve 

Ergonomically-designed 
Who is this for?  
This school bag has a box X reinforcing stitch that withstands forces from all directions. This ensures the durability of this school bag. Its multiple compartments provide make it easy for your child to keep things organised in their bag. In addition, the S-shaped curved shoulder straps evenly distribute the weight of the bag around your child's shoulders and back.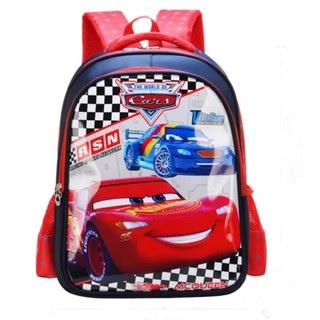 Check JMALL Pre-School Nursery School Bag price below:
Overview
It can never be easy watching the small ones begin at nursery school, which is why you can ensure they're carrying everything they could need for their first day with the JMALL Pre-School Nursery School Bag. Compact in size and lightweight, the kids can carry the bag to the nursery without any discomfort at all. 
Even though it has a small size, the capacity inside is large enough for your children to store their stuffed toys, pencil cases, spare clothes, and anything else they might need for a day at kindergarten. What's more, there's multiple designs available to appease any kid, from superheroes to princesses, there's something for everyone! 
Details
Dimension: 38 x 28 x 16 (H x L x D)(cm)

Made of nylon material

Suitable for 4-6 years old

Comes with side mesh pockets

More than 20 designs to choose from
Who is this for?
This nursery school bag is made of nylon material and it comes in good quality. Its shoulder straps are also thick, which other than being comfortable, is suitable for children between 4-6 years old who need less pressure on their shoulders. 
FAQ: 
- How do I choose a school bag?
When choosing a school bag, it's important to take into consideration of its quality and benefits for your or your child's backs. The aesthetics of it should become secondary. 

It's also ideal to choose a school bag that's comfortable and visible even in dark environments. This ensures that over time, the bag will not cause any harm to you or your child's back. The best way to choose a bag is to look for one that's lightweight but sturdy at the same time. 

Another important aspect to look into is the compartments that the bag contains. Various compartments allow more room to place multiple belongings. 
Related articles