Nobody can resist oozy, sweet, hot chocolate that envelops and explodes in your taste buds. Robust and bold chocolate never fails to carry a luxurious and romantic touch when it flows like a waterfall down a chocolate fountain machine. So it is definitely popular among couples, families and friends since it is a great and fun date or social idea.
While tea time spent with loved ones over a chocolate fondue meal in restaurants and cafes is nice, they can get pretty expensive. Luckily, you're able to have a chocolate fountain machine right at your home. Here are the best chocolate fountain machines to buy in Malaysia.
Top 8 Best Chocolate Fountain Machines in Malaysia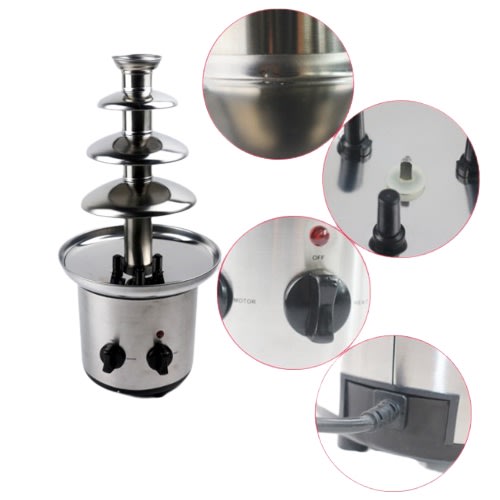 Check 4-tier Stainless Steel Chocolate Fountain Machine price below:
Why It's Our Top Pick?
A stainless steel chocolate fountain within an affordable range? Say no more. Not to mention, this one has 4 tiers of plates and a in-built heater. Talk about being easy to operate and maintain!
Overview
With its cascading chocolate waterfall design, this 4-tier stainless steel chocolate fountain machine serves with its never-ending abundance of sweetness effortlessly. Utilising its built-in heater and accompanied by a firm stainless steel base, it can accommodate a minimum of 1000g of chocolate. Not to mention, it is reasonably priced! 
Details
Detachable parts for easy cleaning and storage

Material : Food Grade Stainless Steel 

Size: Diameter 21.5 CM X 46CM

Base Capacity : 1800g
Who Is This For?
Whether for a party or for your 'mukbang' videos, this would be a good purchase since it can enhance your food experience tenfold, which will make viewing it enjoyable as well. Enjoy your strawberries and any other citrus fruits balanced with good, high quality sweet chocolate on this 4-tier chocolate fountain!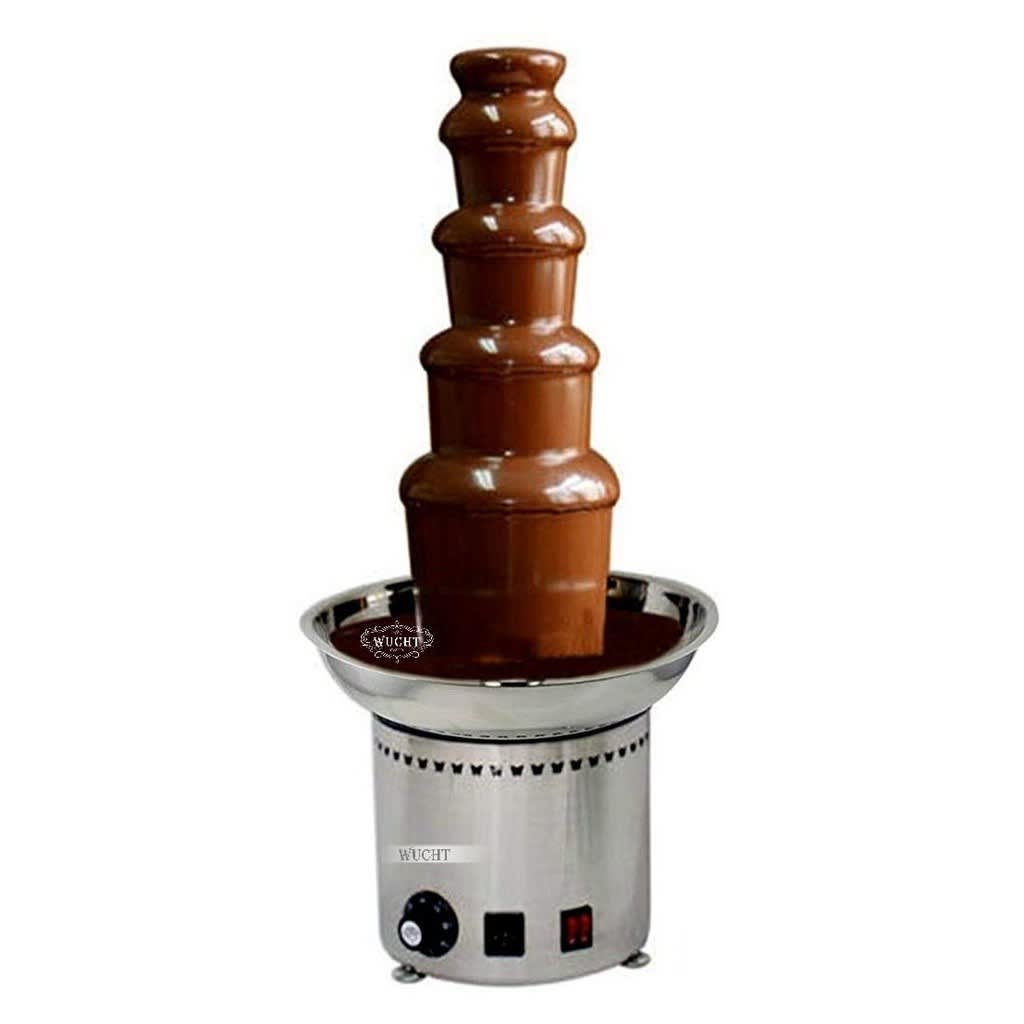 Check WUCHT 5-tier Chocolate Fondue Machine price below:
add_circle
Easy to operate
Overview
Utilising a tall and firm Archimedes screw, the WUCHT hot chocolate fountain is an attention grabber. Due to its 5 tiers of plates, it'll slowly drip the chocolate down elegantly for a smoother eating experience. If you want to, spice it up with alcohol or any flavour that you prefer, and watch the crowd enjoy dipping their tidbits into the pool of hot chocolate.
Details
Automatic temperature control

It has heating stability

Temperature control: 86-212°F/30-110°C
Who Is This For?
The WUCHT Chocolate Fondue Machine is ideal for events like a wedding reception due to the big tower which can accommodate a large amount of chocolate. A sweet ending to a hectic and happy wedding with just the right amount of chocolate to dip would be appreciated by the large crowd!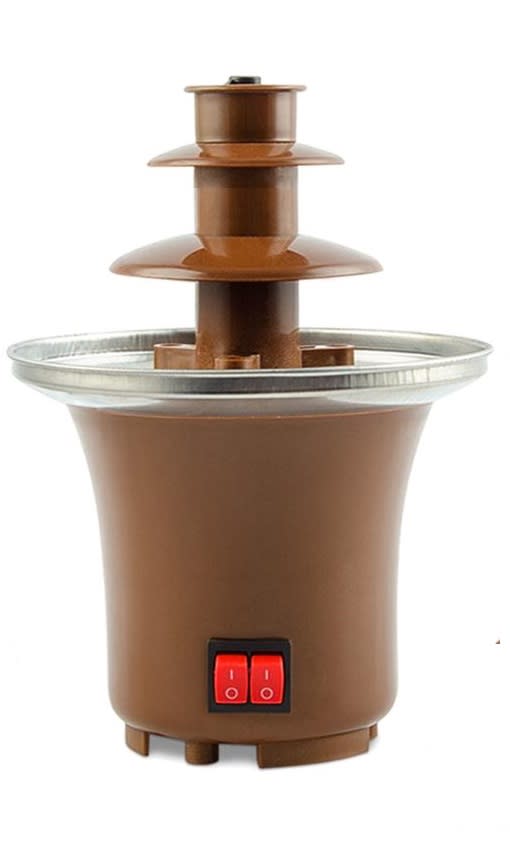 Check Mini Elegant Chocolate Fountain Machine price below:
add_circle
Easy to assemble
Overview
Purchasing a large chocolate fountain machine can be both costly and space-consuming. If you decide to get a fountain machine for your home, a mini chocolate fountain machine would be an excellent choice as it'll also make the experience more personal. 
With only three tiers of plates, this mini elegant chocolate fountain machine can be just as satisfying as a large chocolate fondue machine, and you will not be disappointed! Moreover, made with stainless-steel, easy maintenance is also guaranteed.
Details
Power: 220V – 240V

Voltage: 50Hz / 65W

Fused 3-tier chocolate fountain with plastic auger motor; stainless steel bowl

Heated tank holds up to 24 ounces of melted chocolate
Who Is This For?
Is it your desire to simply sit back and relax, surrounded by nothing but good food? Then you have found a match that makes you feel like you're in a 5-star restaurant!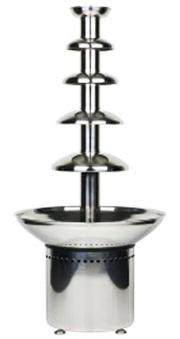 Check Fresco 5-Tier Commercial Chocolate Fountain Maker price below:
add_circle
Easy to assemble
Overview
Nothing beats the quality of a stainless steel hot chocolate fountain, which ensures the unwavering flavour of the chocolate. Plastic-based chocolate fountain machines tend to be hard to clean, and they may not even melt the chocolate effectively. So, splurging to get the best stainless steel chocolate fountain machine would be especially worth it!
Details
80 cm height 

Consists of 5 tiers 

Able to hold 6-8 kg of chocolate
Who Is This For?
Hosting a big buffet in a hotel would be a lot more joyous with the addition of this stainless steel chocolate fountain machine. Once the crowd kicks in, you won't have to worry about pre-melting the chocolate, which may be necessary if you have a plastic chocolate fountain machine.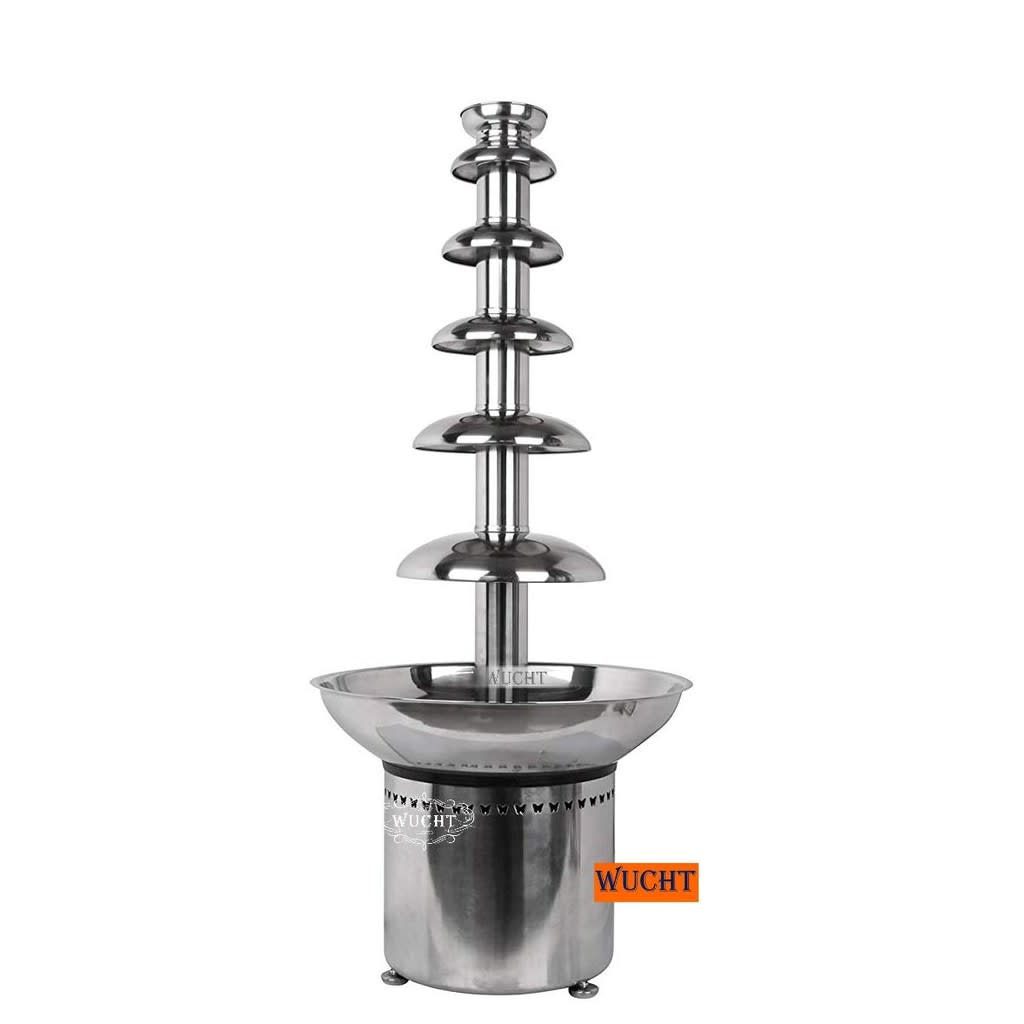 Check WUCHT 6-tiers Chocolate Fountain Machine price below:
add_circle
Suitable for gatherings
Overview
The bigger, the better! Although it is tall, this 6-tier chocolate fountain machine would not affect the consistency or taste of the chocolate as it flows down the plates ever so elegantly. In fact, it'll look beautiful and majestic while serving its purpose of satisfying the crowd's chocolate craving.
Not to mention, the wide space of the chocolate bowl itself gives more room to dip and taste various foods without any hesitation.
Details
6-tiers unique chocolate waterfall

Automatic temperature control

Has heating stability

Temperature Control: 86-212°F/30-110°C
Who Is This For?
Anywhere with a big crowd would benefit from this ever-so-giant 6-tier hot chocolate fountain machine! Parties, weddings, hotel buffets, and so on will become even more colourful with the addition of this chocolate fountain machine.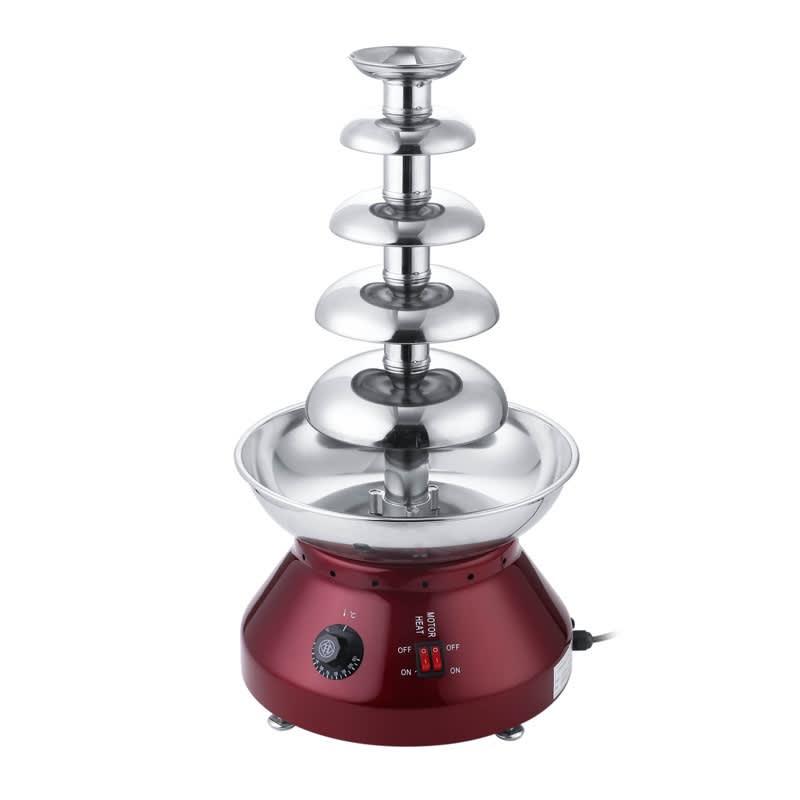 Check Five Layer Commercial Fountain Machine price below:
add_circle
Stylish design
Overview
A typical chocolate fountain machine can only operate for a limited amount of time. If you were using it for commercial purposes, it would not suffice. For example, a hotel buffet, dessert shop, or any type of large-scale celebration may use it for an extended period of time. 
This eye-catching five-layer commercial fountain machine can stir chocolate so smoothly for a longer period of time as well as handle a larger amount of chocolate in one go.
Details
Dimension (L x W x H): 33*33*62cm

Power Consumption: 230W

Input Voltage: 220V
Who Is This For?
In a crowd, a sweet, decadent chocolate melt can never go wrong. So if a larger quantity of chocolate is required, this five-tier chocolate fountain would be an instant crowd favourite.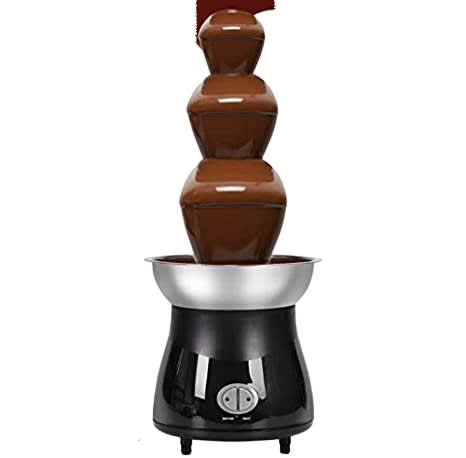 Check WUCHT 12" Chocolate Fountain Machine price below:
add_circle
Easy installation
Overview
This Auger style fountain has a lovely spiral that creates a visually appealing fountain, to accommodate thicker chocolate melt which is required for a better flow down the tiers. Because thinner chocolate may not be as rich as thicker chocolate melt, so a machine like the WUCHT 12" Chocolate Fountain Machine is a good choice for those who prefer rich chocolate besides an aesthetically pleasing chocolate fountain machine.
Details
Perfect for bakeries, restaurants, and catering events

3-tiered auger-style fountain

Great for dipping fresh fruit, marshmallows, pretzels, and cookies

Holds up to 1kg of chocolate

Auger style fountain: Spiral fountain creates a beautiful cascading effect giving you more time to entertain guests.
Who Is This For?
This is a perfect choice for those that want to own a beautiful, spiral chocolate fountain that can run for hours. Simply drop your favourite chocolate melt into the fountain, and have fun with coating pretzels, marshmallows, and fruits alike.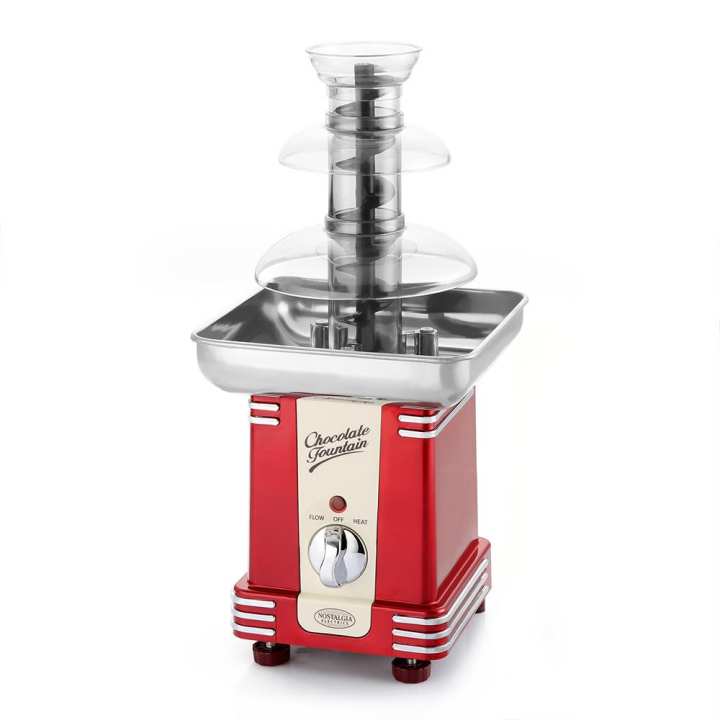 Check Nostalgia Electrics RFF500 Three-Tier Chocolate Fondue Fountain price below:
add_circle
Easy to assemble the fountain
Overview
Small business owners are frequently perplexed by the various sizes of chocolate machines. It would either be too large, which would be costly, or it would be too small, which would be insufficient. 
This retro-styled chocolate fountain machine is a steal because it has the right proportions to accommodate small businesses with a smaller crowd. It can also be a good choice for personal use!
Details
Three tier fountain

Uses Auger style machine
Who Is This For?
The beautiful retro-style fountain complements the chocolate's cascading effect. As a result, it would be a good addition as it can attract customers to your small business.
FAQ:
- How to use a chocolate fountain machine?
Setting up most machines shouldn't be a problem as there will be a manual with instructions. It may differ based on the machine, but basically all the chocolate machines tend to have the same operational system. 

For hygienic reasons, make sure you wipe the machine well before operating it. 

It is also important to preheat the chocolate (preferably, in the microwave) before pouring it into the machine. 

While you wait for the chocolate to preheat, you may also heat up the machine. 

Heating up the chocolate would ensure that it does not harden right away in the machine. Once the chocolate is in the machine, it will start to flow. Then go ahead and enjoy!
- Things to dip in a chocolate fountain:
We recommend foods that can be eaten in one bite, and are on the dry side or would not easily spill. This helps to create a neater, pleasant experience. Moreover, the surface of the food shouldn't be prone to any juice leaking out in order to keep the chocolate pure.
Some foods for example are:
Strawberries

Marshmallows

Grapes

Biscuits

Bananas