Motorcycle and scooters alike are seen to be one of the popular types of vehicles to own on the road., being both affordable and practical. Needless to say, this would demand that you possess a good protective helmet as well. 
What comes down to a good helmet is the safety and comfort that it provides. As there's such a wide array of helmet brands in the market, we've listed down the best of the safest motorcycle helmets we think will make your search much easier. 
Top 10 Helmets for Scooters in Malaysia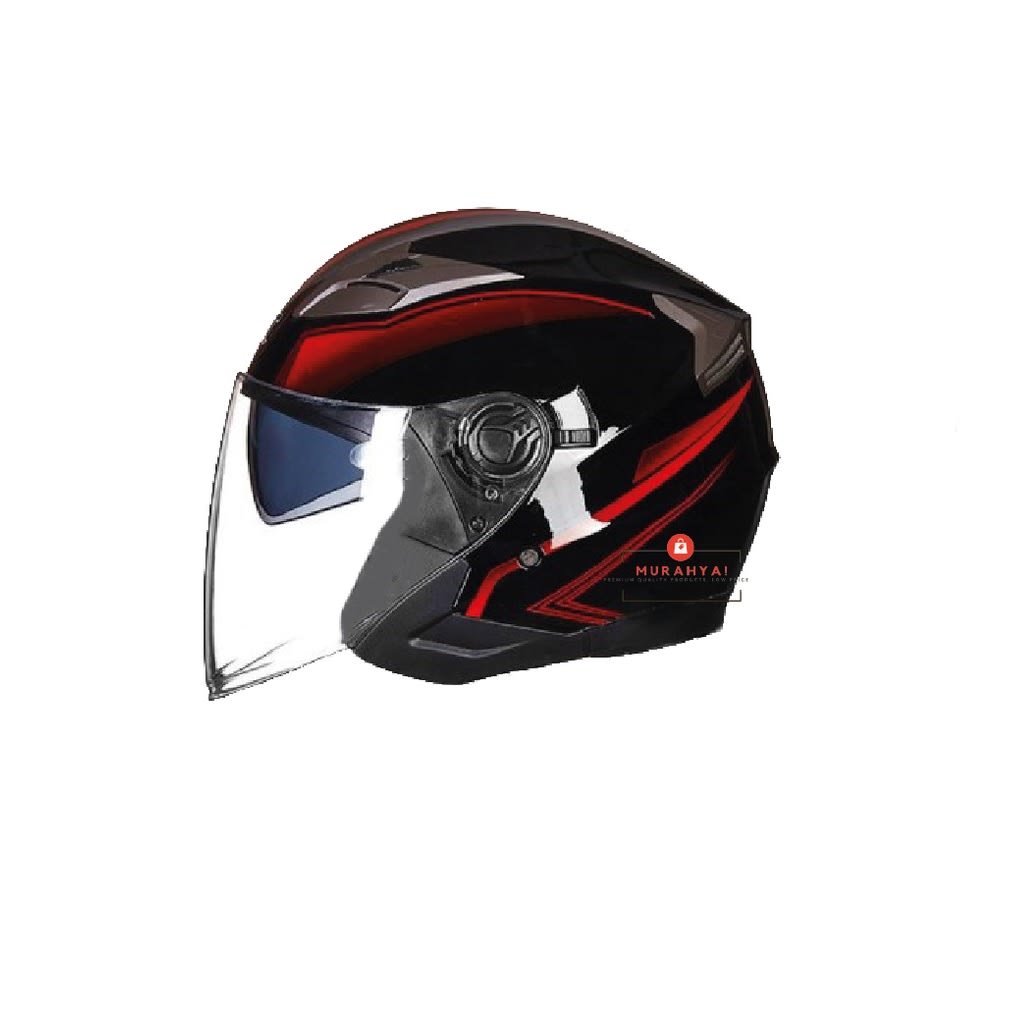 Check GXT Helmet price below:
add_circle
Comes in various sizes and colours
add_circle
Made of ABS material
Why It's Our Top Pick? 
With a comfortable soft 3D padding ERP liner, this helmet uses a breathable technical fabric that's hypoallergenic. 
For starters, its built-in flip-up lens is both windproof and anti-dazzle which makes it easy for you to manage according to your preference. Plus, its intake and exhaust ports guarantee plenty of room for good air ventilation to keep you cool under hot, humid rides. 
Overview     
GXT helmet is made of a multi-density EPS safety buffer layer that's energy absorbent. This advanced helmet design allows for reduction in wind noises due to its sleek and lightweight design. To get a more secure and long-lasting fit, this helmet comes with a quick-release buckle as well.
Details 
Design: Open-face type

Double-lens motorcycle helmet 

Has a quick-release buckle for a secure fit
Who is this for? 
Riding in our humid weather can be quite a pickle, especially for all you regular riders. With that said, considering an open-face helmet may be your best bet. This helmet's design is aimed to enhance better airflow which keeps your face and head cool. With its double-visor, the helmet is not only lightweight but is impact-resistant too.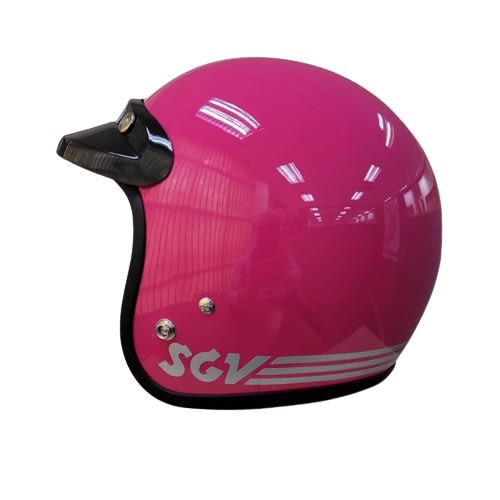 Check SGV HELMET SGV99 price below:
add_circle
SIRIM-approved
add_circle
Various colours
remove_circle
Not suitable for those with a bigger head circumference
Overview  
Wearing protective gear over your head need not be substantially expensive. As long as it serves its purpose of protecting your head, then it becomes a valuable purchase. 
Like this SGV helmet; it measures 60cm in circumference and is complete with inner thick padding for your comfort and protection. Featuring a midi-cut shape, this unisex helmet certainly goes a long way thanks to its high-quality components. 
Details 
Has a secure adjustable clip lock

Design: Half-cut design
Who is this for?  
Users praised the quality of this helmet and how it makes such a valuable purchase. As it's SIRIM-approved, this half-cut helmet combines safety and comfort to the user's advantage.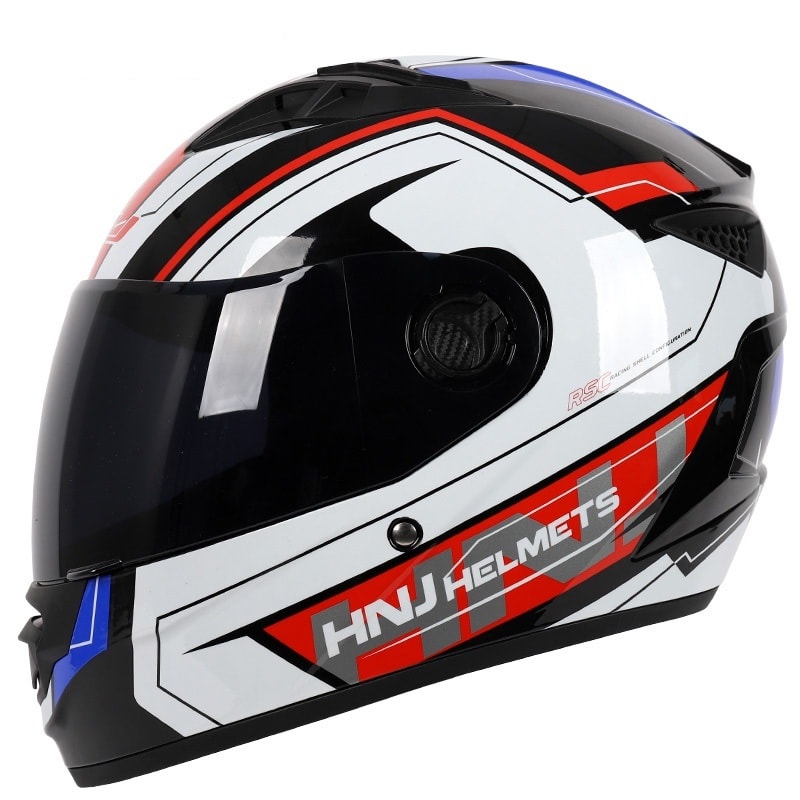 Check Motorcycle Helmet Full Face HNJ ABS price below:
add_circle
Better protection
add_circle
1-month warranty
add_circle
Available in various sizes
Overview 
Planning on a ride that's 25 mph/40 kmh or more? Your best bet then would be to go with a full-face helmet. It's much safer at protecting you from the risk of serious accidents. The enhanced high-definition pc lens accompanying this helmet proves the rigidity of the lens and avoids traces of wipe marks or slight bumps. Its inner fit is both skin-friendly and comfortable too.
Details
Design: Full-face helmet type

Suitable to wear for any weather conditions
Who is this for? 
If you're planning on a long-distance ride on your bike, you best get yourself a good helmet that not only protects you but comforts you as well. This full-face shield of a helmet will provide good protection from wind, bugs, dust, and rain that can disrupt your riding experience.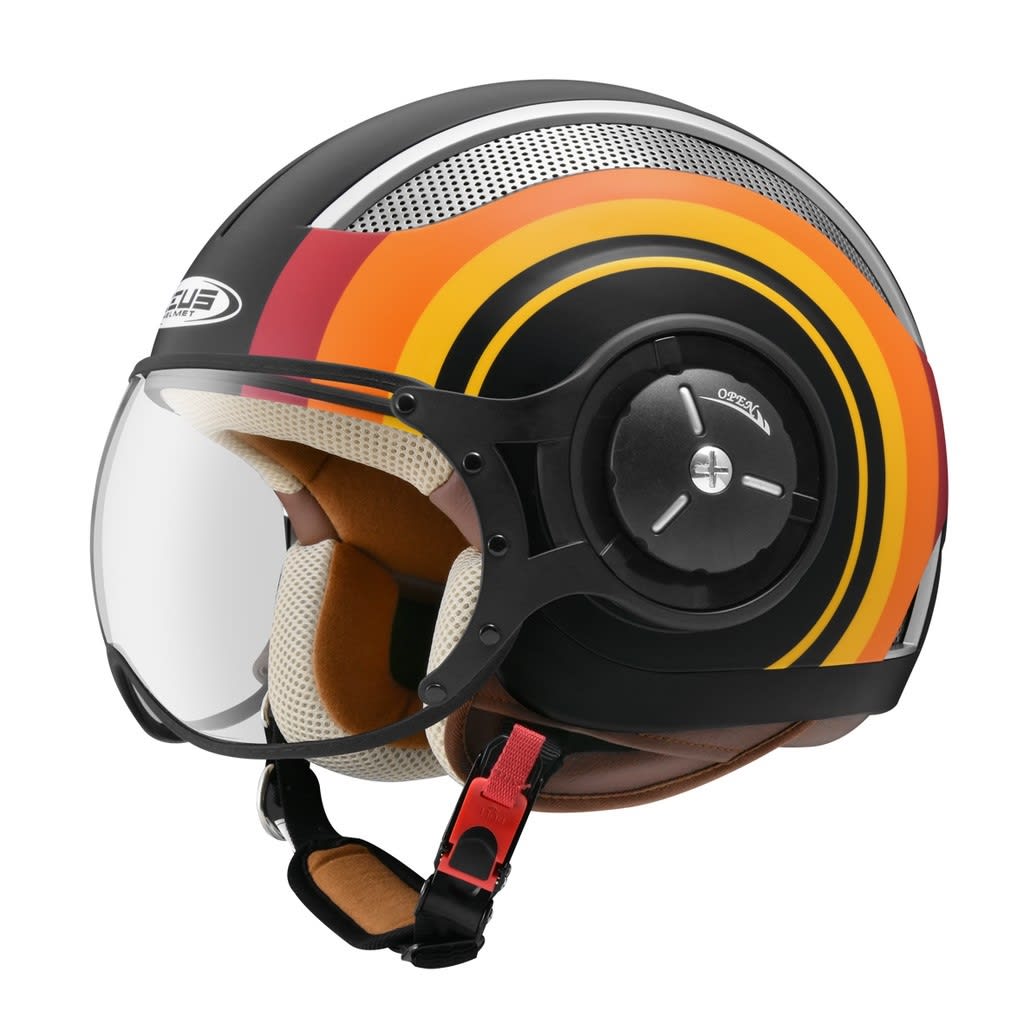 Check Zeus Scooter Vespa Helmet ZS-218 price below:
add_circle
Comes in various sizes
add_circle
Removable and washable liner
Overview    
What's the best type of helmet to look for in adult helmets? Choose the one that's rigid enough to withstand damage thus, protecting you from serious injury, and one that assures you comfort as well. 
Helmets such as the ZS-218 merges modernity and vintage all in one. The top part of this helmet is made of stainless-steel material which is combined with classic brown leather as its external liner. 
Better yet, this helmet is designed with a ZEUS Icy Ventilation System that comprises of 12 holes in the shell to offer you 180° air ventilation from either side of your head. If you don't care for that much breeze, you can choose to close its vents by rotating the mechanisms that are situated at the side plate of the visor. 
Details 
Comes with 6 deep EPS air channels from top to down 

Made up of 12 air vents 

W-shaped visor  

Anti-scratch coating visor
Who is this for?  
Apart from its 12 air vents that provide good air ventilation, the W-shape visor is surrounded by a fine frame throughout its curves that comes with a rubber trim line on the front. This prevents water from seeping into the helmet. 
Moreover, the breathable mesh fabric on the inside of this helmet helps dissipate heat which provides you with a comfortable and cooling riding experience. 
Check GTmotor Cartoon Kids Helmet price below:
add_circle
Adjustable size
add_circle
Wear-resistant
Overview 
It's extremely important to practise putting on helmets for children, especially when riding a bike with an adult. 
This GTmotor Cartoon Kids Helmet is a good choice for your kids, seemingly safe to be worn as it's made of high-quality environmentally friendly material. Plus, its anti-fog lens provides HD clarity for enhanced safety and wearability.
Furthermore, its multi-section socket provides effortless fixing of this helmet which bears a strong tensile force. 
Details 
Design: Half-face type 

Built-in safety buckle   

Suitable to be worn by kids aged 2-8 years old
Who is this for?  
Your child will be simply delighted with this helmet that's adorned with attractive cartoon designs. To boot, the EPS foam buffer layer that lines the insides of this helmet which provides good protection for your child.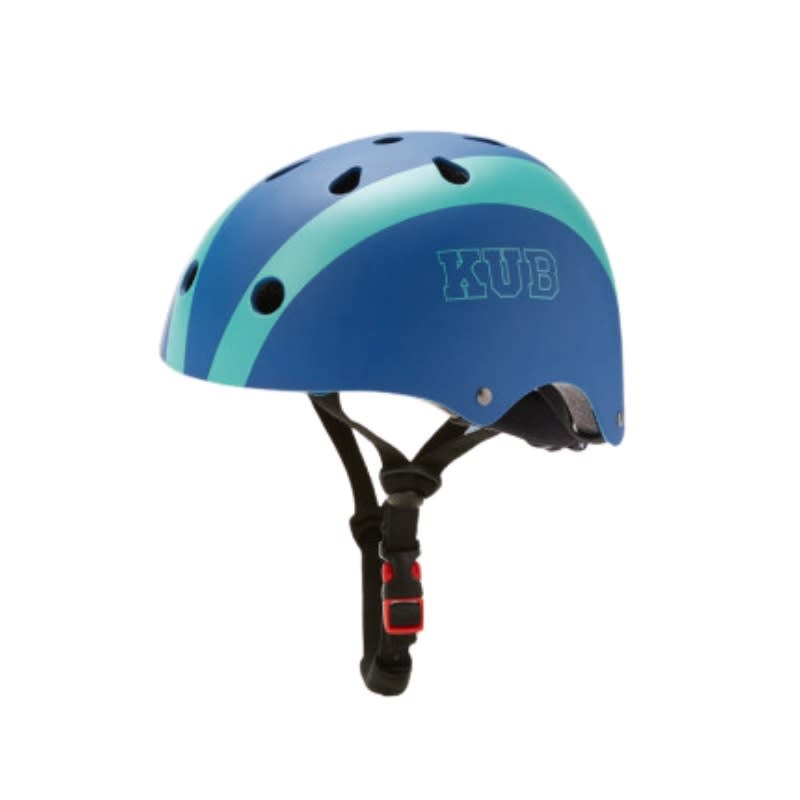 Check KUB Safety Helmet for Toddlers and Children price below:
add_circle
Adjustable strap
add_circle
Suitable for ages 2 years old and up
Overview 
Even if it's a harmless bicycle ride on the bed of lush green grass in your garden, our parental instincts would always be to spare our tiny tots free from bumps and bruises. Fear not as KUB's safety helmet offers 360° protection that safely protects your child. 
Moreover, the adjustable strap helps secure the helmet to your child's head, keeping it fit and snug. Not to mention, its inner thickened EPS liner is supported with a buffer sponge layer. How can you say no to this helmet?
Details  
360° protection

Made from ABS and EPS for ultimate protection 
Who is this for? 
This helmet is designed with 11 vent holes that offer full ventilation to your child keeping them cool and comfortable. Besides, its inner liner is easy to disassemble which makes it removable and washable. This helps keep the cleanliness of the helmet in check for your child each time he/she uses it.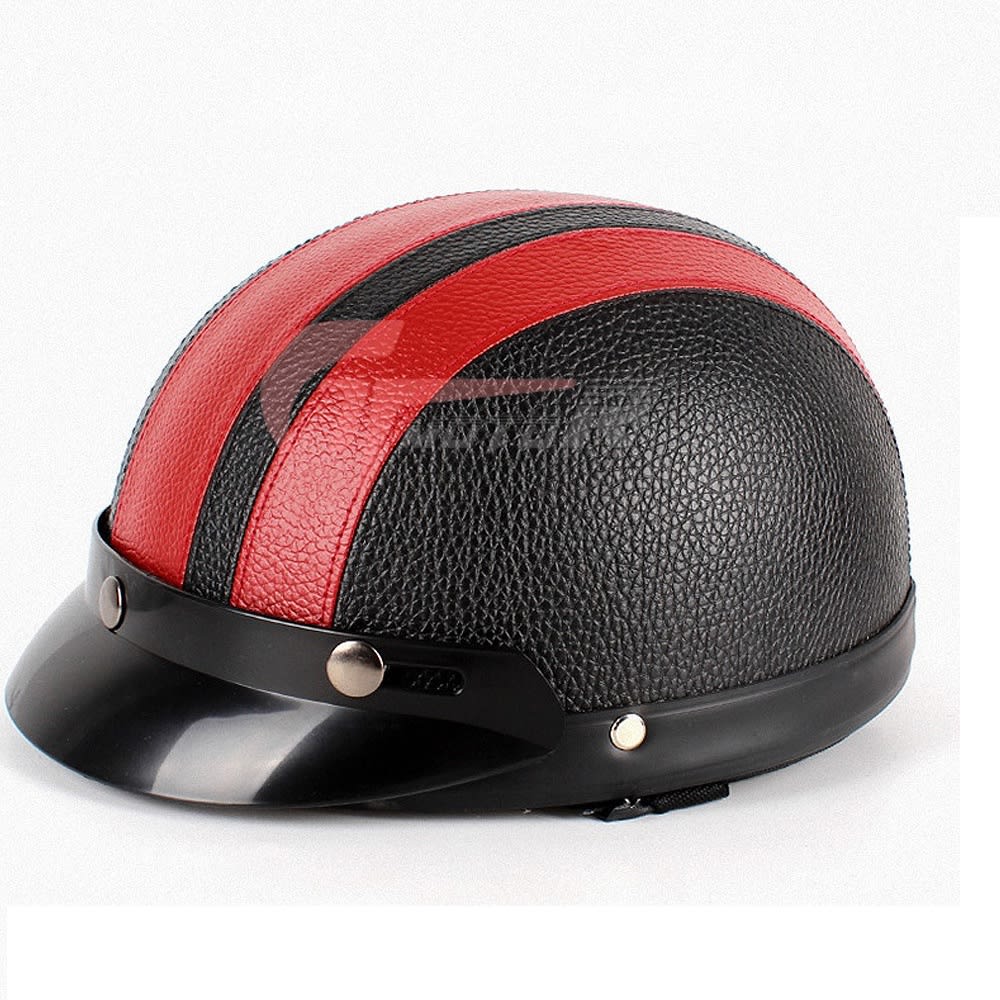 Check GTmotor Harley Retro Helmet price below:
add_circle
Comes in various colours
add_circle
Wear-resistant
Overview 
Thinking of going old-school on your scooter? Let your retro helmet such as GTmotor Harley Retro helmet do the talking. One can choose from its range of designs to go with any of their ensemble! 
Constructed with high-quality ABS and PU material, this helmet is rigid and sturdy enough to provide you with good protection. Bonus feature is that you'll find a pair of goggles attached around the helmet as well. 
Details  
Made with high-quality material that comes with good hardness

Design: Half-face type
Who is this for? 
Users were amazed at the amazing quality of this helmet and such a good price! Moreover, it provides a comfortable fit and appears exactly as advertised.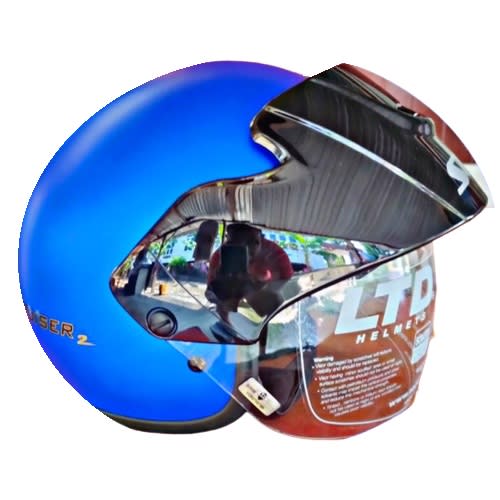 Check SGV CRUISER MATT VISOREX Helmet price below:
add_circle
SIRIM-certified
add_circle
Comes in various colours
Overview 
This demi jet helmet comes in a classic 2 tones of matte and gold finish making this one super chic for all you lady riders. 
Not only is the helmet both stylish and retro in design, it also comes with comfortable padding so it feels super comfy when being worn. There's also a buckle fastener too for added security when on the road.
Details 
Design: Half-type

Suitable for women who wear hijab 

Comes with a clear visor
Who is this for?  
Apart from the attractive colours, users praised the comfortability of this helmet. It has the right fit as it doesn't feel too tight on the head. This helmet surely makes a good purchase.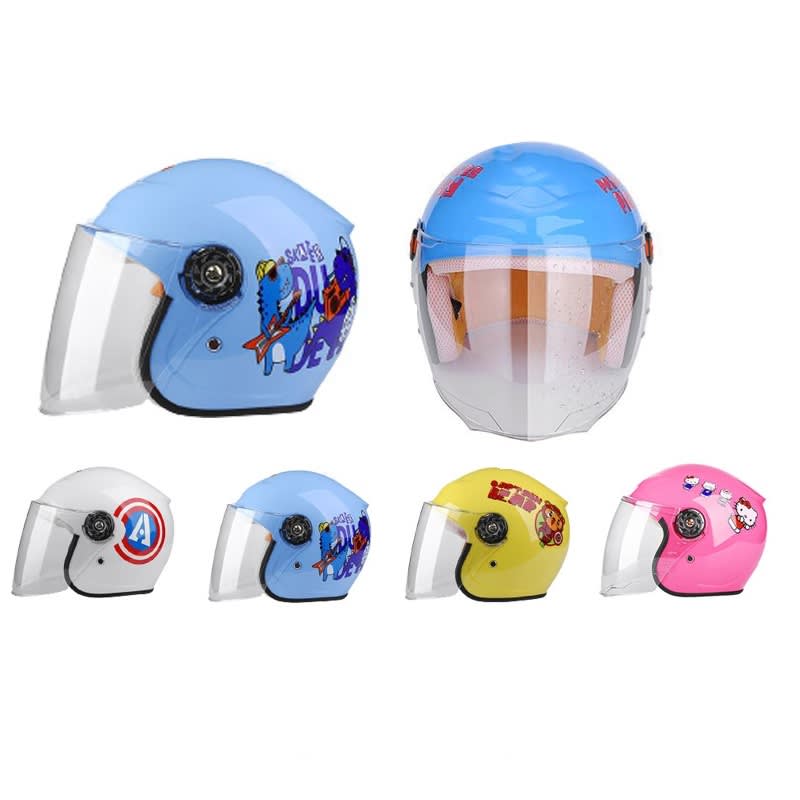 Check Children's Riding Helmets price below:
add_circle
Made with ABS shell
add_circle
Various colours and caricature designs
Overview
Helmets for children are designed to provide adequate safety. It's important to look into helmets that fit your child's head well, or else it defeats the purpose of getting one. 
Made to withstand 4 seasons, this helmet is equipped with a safety lock. Its hard ABS shell provides high-impact resistance which is more secure for your children. Even better, its visor is effective at preventing ultraviolet rays from penetrating through its shield. 
Details  
Comes with a quick-release buckle  

Suitable for children aged 2-10 years old 
Who is this for?  
Besides protecting and keeping your child safe, this helmet is designed with multiple aeration holes on the inner fabric that promises breathability and comfortability to your child. Not only for the road; this helmet goes a long way apart from being used for just riding. In fact, your child can also use this helmet for rock climbing, skating, skateboarding, and more.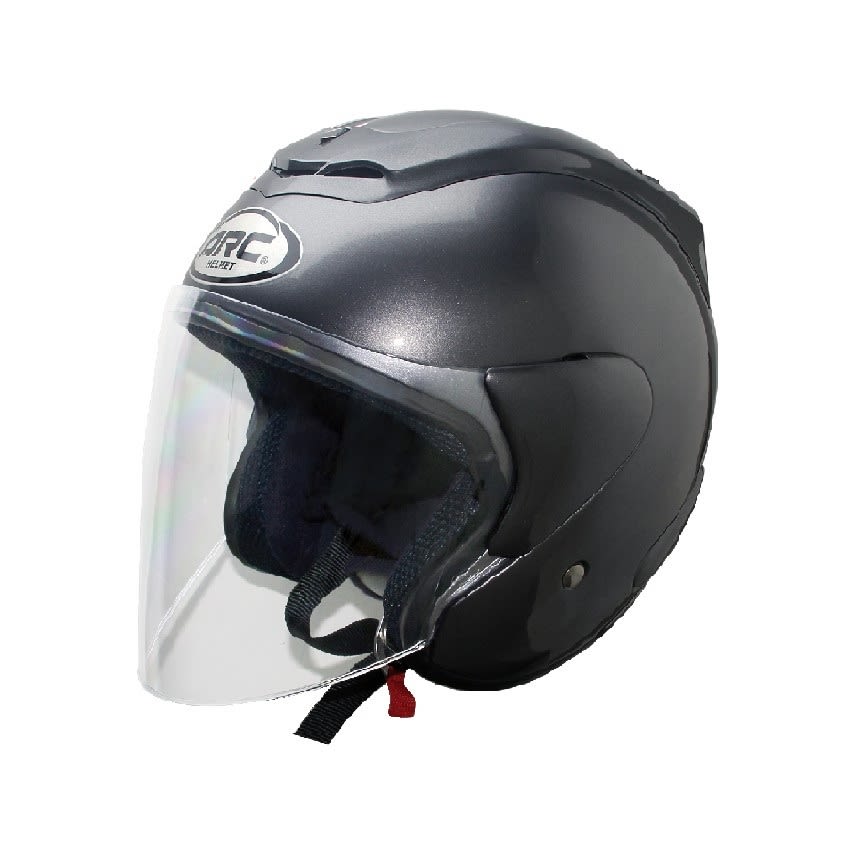 Check ARC Ritz Helmet price below:
add_circle
SIRIM-approved
add_circle
Quick release pull buckle
add_circle
Comes in various colours
Overview 
Establishing its brand right here in Malaysia, ARC helmets can be found in most if not all, of the major motorcycle retailers in Malaysia. The sleek paint of this helmet makes it irresistible to pass out on. 
Its modern and elegant design optimises the intake of air which makes wearing it a cooling and comfortable experience. Not to mention, this helmet is also complete with exhaust vents which gives good air ventilation to its rider. 
Details    
Open-face type

Designed with air inflow and outflow vents
Who is this for?  
Regarded to be a premium helmet, no one can miss the quality, design, and comfort that ARC helmets so proudly carry. Praised with 5-star ratings, users commended that this helmet is of good quality and feels comfortable to wear. 
FAQ: 
- Do I Need A License For Electric Scooter?
The answer is yes! A license is required for electronic scooters (aka, e-scooter). E-scooter is considered to be a micro-mobility vehicle. According to our Transport Minister, a valid driving license is needed to use a micro-mobility vehicle that's capable of riding above 50km/h. However, e-scooter is not allowed to be used on public roads.
E-scooter can only be ridden on private roads such as in housing areas and private developments, and even on sidewalks, footpaths, and public and recreational parks. So if you thought of replacing your motorbike with an e-scooter, better take more time to determine this.