Most personal computers these days are multimedia ready with their sound capabilities already built in. This might lead you to ask what the purpose of a sound card is then.
A sound card can help to upgrade and enhance the sonic capabilities of your computer. It can also repair any audio problems that might be found in your computer. In fact, a good sound card allows you to fully experience activities such as games and movies on your computer. It also allows professionals to input sounds to be edited.
Check out some of the top external sound cards available in the Malaysian market below: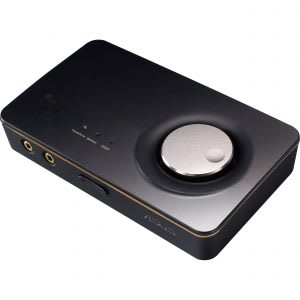 Check ASUS Sound Card XONAR U7 MKII price below:
The XONAR U7 MKII is one of Asus' best external USB 2.0 sound cards available today. It features true 7.1 channel, 192kHZ/24 bit HD surround sound capabilities, and utilises a C-Media 6632AX HD Sound Processor.
This sound card also allows users instant audio adjustments to enhance both game and media playback experience. This can be achieved through the earphone and microphone volume controls, as well as the clickable controls between earphones and speakers.
It also comes with the Sonic Studio Software for sound editing and Sonic Radar Pro for mapping opponent's locations in FPS games. The connection can be secured via analogue jacks, RCA, line in and digital inputs. Compatible with both Windows 7 and Mac OS X.
Check Alesis IO4 price below:
The Alesis IO4 is a four channel USB device equipped for both Mac and PC users. Users of the IO4 can record and monitor four channels in 16-bit mode or two channels in 24-bit mode. The audio mixer can be controlled via physical controls on the unit or within the software interface.
Apart from the four analogue and digital input and output connections, the IO4 also comes with MIDI input and output ports for direct connection to MIDI-compatible instruments. As a sound card targeted at professionals, it also comes with a comprehensive sound editing suite a copy of the Steinberg Cubase Digital Audio Workstation (DAW) - one of the best and most popular DAW for composing, editing, recording and mixing audio.
The IO4 truly turns your computer into a mobile recording studio.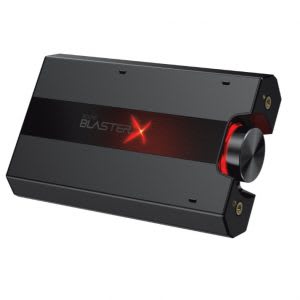 Check Creative Sound BlasterX G5 7.1 price below:
Creative's Sound Blaster is the generic driver for sound cards around the globe. Their latest offering - the pocket-sized BlasterX G5 is a USB 2.0/3.0 device. The 7.1 HD 24-bit/192kHz, 120dB audio soundcard is targeted squarely at the gaming industry and is designed to work on both Windows or MAC OS-based computers. It is also compatible with the Sony PS4 console.
The G5 has several connectivity methods and also comes with a recording software, despite its primary target audience being gamers.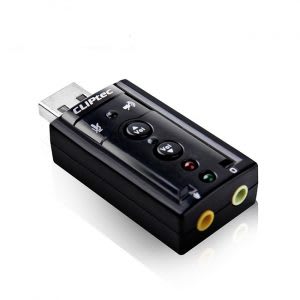 Check CLiPtec U-SOUND BMA230 price below:
CLiPtec's U-Sound BMA230 is a simple to use USB Virtual 7.1 Channel sound card. It has been designed to provide 7.1 channel and 3D sound capabilities to your computer. To use, just plug-and-play; no drivers are required at all. Once plugged in, connect a microphone to enjoy karaoke in 7.1 channel sound. This device works with all versions of Windows from Windows ME onwards.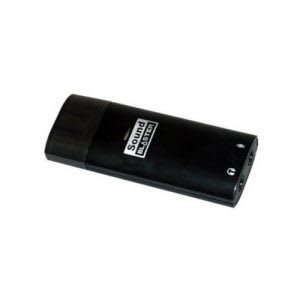 Check Creative SB1140 Sound Blaster price below:
The SB1140 is Creative's lower-end external USB 2,0 Sound Blaster. It is aimed at general computer users more than gamers. While it can still be used to enhance the audio from your games, using it to listen to music is what this sound card is best for.
The output from this 7.1 HD 24-bit/192 kHz, 120dB device is tailor-made to allow you to enjoy high fidelity music regardless of the genre from metal to classical. Simply tweak the sound settings on the Creative software mixer to suit your needs!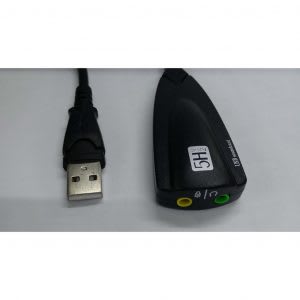 Check Steel Sound 5Hv2 price below:
Although Steel Sound is a newcomer in the sound card scene, their budget-priced 5Hv2 is raising some eyebrows. The USB 2.0 compatible card is equipped with a 16-bit ADC mic input and line in and can sample sounds at 1.48K/44.1 KHz.
The 5Hv2 also supports Xear3D, DS3D and EAX2.0 and provides true 7.1 Channel sounds. While this card is not compatible with Linux or Mac OS, it works perfectly for Windows users from Windows 98 onwards.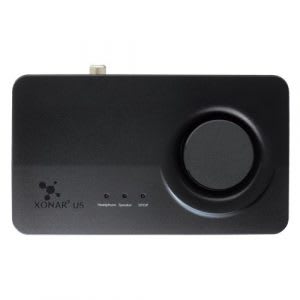 Check Asus price below:
The Xonar U5 is a compact 5.1 channel surround sound USB external sound card. It provides 192 khz/24 bit HD sounds and utilises C-Media's CM6631A Sound Processor to provide clear and detailed audio for gaming, music listening, movies or even DJing.
The sound card features an independent mic, master volume controls for instant audio adjustments, and integrated amplifiers for better audio performance. There's also Sonic Studio software included, and it works with Windows 7 and above.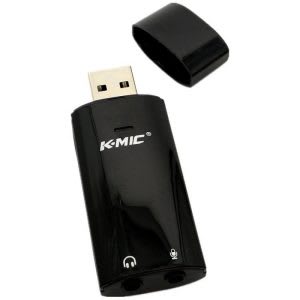 Check K-Mic USB Sound Card price below:
K-Mic's external USB sound card works with all versions of Windows from 98SE and up. Users just need to plug in and let Windows install the appropriate drivers. This card is also compatible with your computer's Bluetooth to stream audio to any speaker or headphone and provides high-quality audio for your computer.
Disclaimer: The pricing shown is just a good indication of how much these products are worth. The prices could change based on the e-commerce promotions that are going on. If some of the products are not available, do email us at [email protected] Thank you!