When you think of qwerty keyboards on smartphones, BlackBerry comes to mind. Loved and preferred by many for its data-secured and no-nonsense practicability, the BlackBerry hardly disappoints.
Considered as the world's first smartphone, these features make it perfect for a business person, who needs a practical phone for productivity purposes on-the-go.
While there are many smartphone brands to choose from today, BlackBerry is still going strong, releasing newer models that are coupled with Android OS. Staying true to its strength, the brand released BlackBerry Key2, a touchscreen-cum-qwerty smartphone.
In this world filled with smartphones of every imaginable feature, we're excited to see how well the Blackberry Key2 performs.
Body: What It's Made Of
The Key2 looks very similar to its predecessor, the KeyOne. Between the two, Key2 is a much faster phone thanks to its Snapdragon 660 processor. RAM has also been doubled to 6GB, along with a 64GB worth of storage space which is expandable up to 256GB.
Back to the Key2, you'll notice its 4.5-inch touchscreen and a 35 key backlit physical keyboard taking up more than a quarter of the entire phone. At its side are the volume and power buttons along with the BlackBerry's Convenience key, which can be used to mute calls or set as a shortcut to an app or action.
The phone sports a black textured matte casing. Weighing at 168g, the Key2 is also light to hold considering that it's just a tad smaller than an iPhone 7 Plus. All these are a nod from our palms and wrists.
Specifications
BlackBerry Key 2
Processor
Qualcomm Snapdragon 660
Memory (RAM)
6GB
Storage
64GB / 128GB
MicroSD Storage
Up to 256GB
Rear Camera (Dual)
-          12 MP, f/1.8, dual pixel PDAF

-          12 MP, f/2.6, PDAF

-          Video [email protected], [email protected]

Front Camera (Single)
-          8 MP, f/2.0

-          Video [email protected]

Screen Size
4.5 inches
Resolution
1620 x 1080 pixels
Connectivity
-          USB 3.1, Type-C

-          Bluetooth v5.0

-          Wi-Fi

-          GPS

-          NFC

Battery
3,500 mAh battery
Size
151.4 x 71.8 x 8.5 mm
Weight
168g
Operating System
Android 8.1 Oreo
Display: Big enough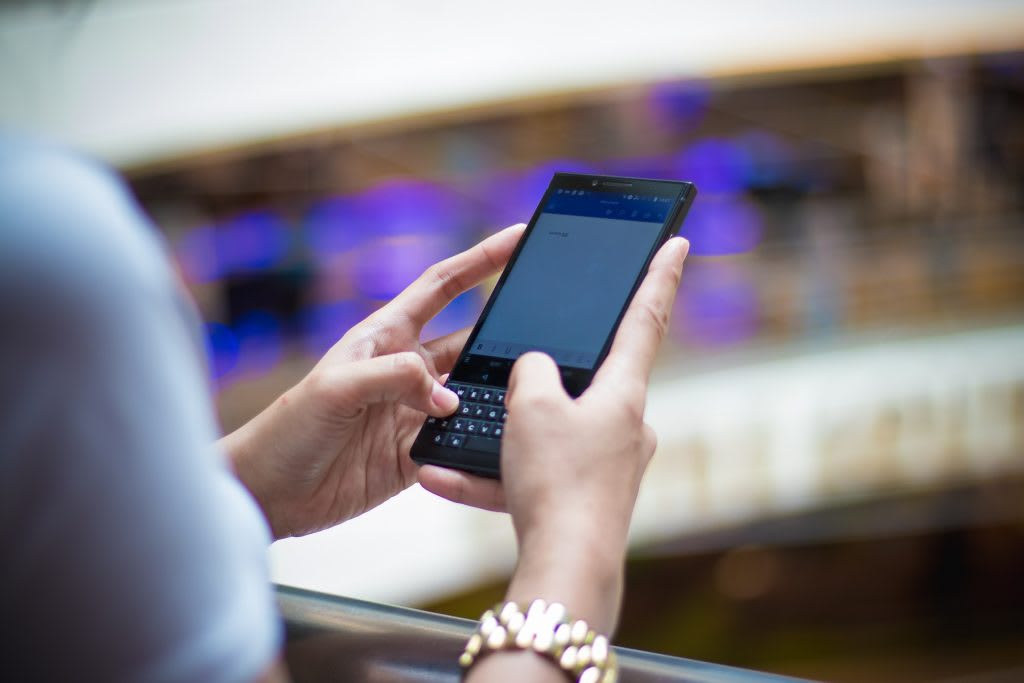 While having a 4.5-inch screen is smaller than many phones of today, it's still a good size for videos, typing and viewing documents, and even gaming.
Colours are also rich and pleasant, with the menu UI looking sleek although not as simple-looking as the iPhone. A small downside to the screen, however, is that we find it to be dimmer than many other phones. But, this is not a big issue.
Battery: Ample juice
Packed with 3,500mAh battery power, the Key2 lasted the whole day with decent usage. This includes web browsing, writing emails and documents, a few minutes of gaming and also watching videos on YouTube.
Of course, this is depending on your usage of the phone itself. You can rest easy without needing to carry a power bank. In short, you should be able to end the day with at least 20% of battery left if you use it like we did.
Keyboard: Ah, that feels good!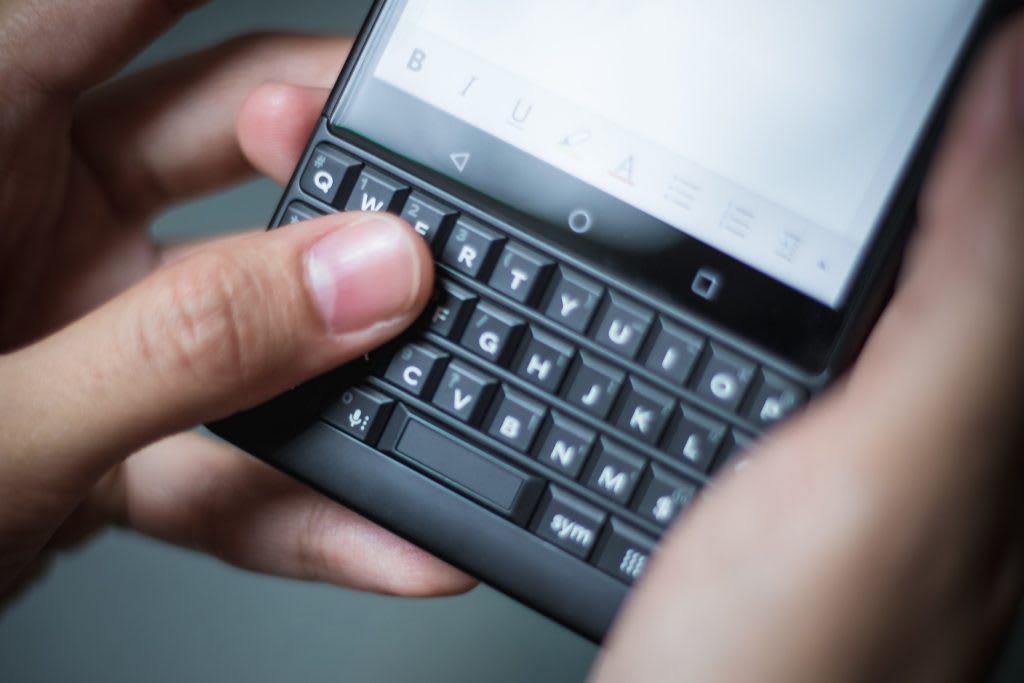 Typists will definitely enjoy the physical keyboard like we did. There's good responsiveness and a natural feel present when typing on it.
We have to admit that we're very used to on-screen keyboards, so it took us time to adjust to the physical keyboard. However, once you've settled, typing on the Key2 is much more accurate than touchscreens.
The keyboard also functions as a trackpad. This helps with easy scrolling and easing thumb movement.
We must say, that due to the keyboard's placement, our hands tend to shift towards more than the bottom half of the phone for one-hand usage. This problem is solved when you use the phone with both hands.
Camera: Decent shots for the business person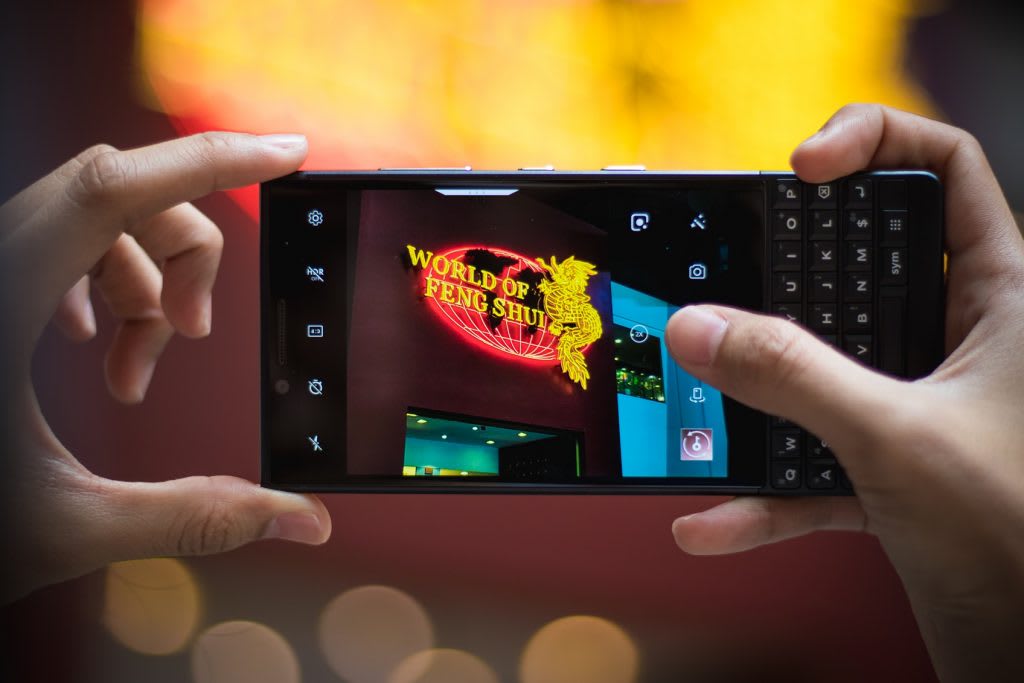 Key2 has three cameras; two 12MP F1.8 rear cameras and one 8MP fixed focus front camera.
While photos do not suffer when ample of light is present, they turned out grainy in general. Brightness is not as accurate, and colours look yellow-ish. Moreover, its portrait (bokeh) feature looks unnatural compared to notable phones with similar modes such as the iPhone X and Google Pixel.
Taking videos isn't any better too, with movements looking unnatural. The transition of each frame seemed to lack fluidity.
That's not to say that the camera is below average. It's sufficient as long as you aren't comparing it to top-rated phone cameras.
All in all, you can trust the Key2 to take decent photos and videos, but do not expect it to replace your favourite camera anytime.
Other Features: BlackBerry is tight on security!
The BlackBerry greatly shows off its special features. For starters, BlackBerry has its main Convenience key, which you can set to start a task or an app.
Not only that, you can also set each letter key with 2 tasks. This enables you to access (and also jump) apps without needing to go through your apps drawer.
And, how can we forget? The Privacy Shade app will be your best friend for increased privacy. It lets you limit content visible on your smartphone screen via a small window.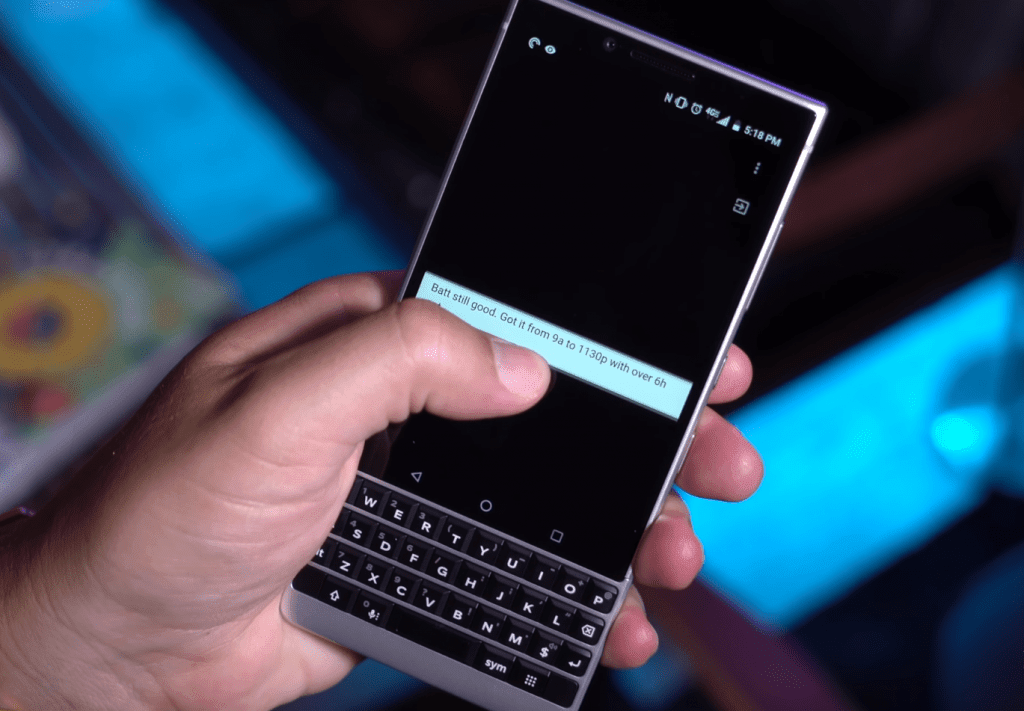 Privacy Shade, great for viewing sensitive documents in public
There's also the Redactor mode, where you can block out sensitive content on your screen. Not forgetting, the keyboard spacebar also doubles as a fingerprint scanner which lets you access secret folders and photos.
Not a fan of scanning your fingerprint? You can also set passwords in order to access them.
The Key2 is no doubt a boss when it comes to staying practical and keeping data safe.
Other media: Work hard, play hard
The phone does well when running several apps (15, to be frank) at once without showing any signs of lag. With only 4.5-inch of a display, the UI can fit many things on a page without words and apps looking too compact or messy. You'd find no problem navigating around social media apps and gaming as well.
Conclusion: Two thumbs up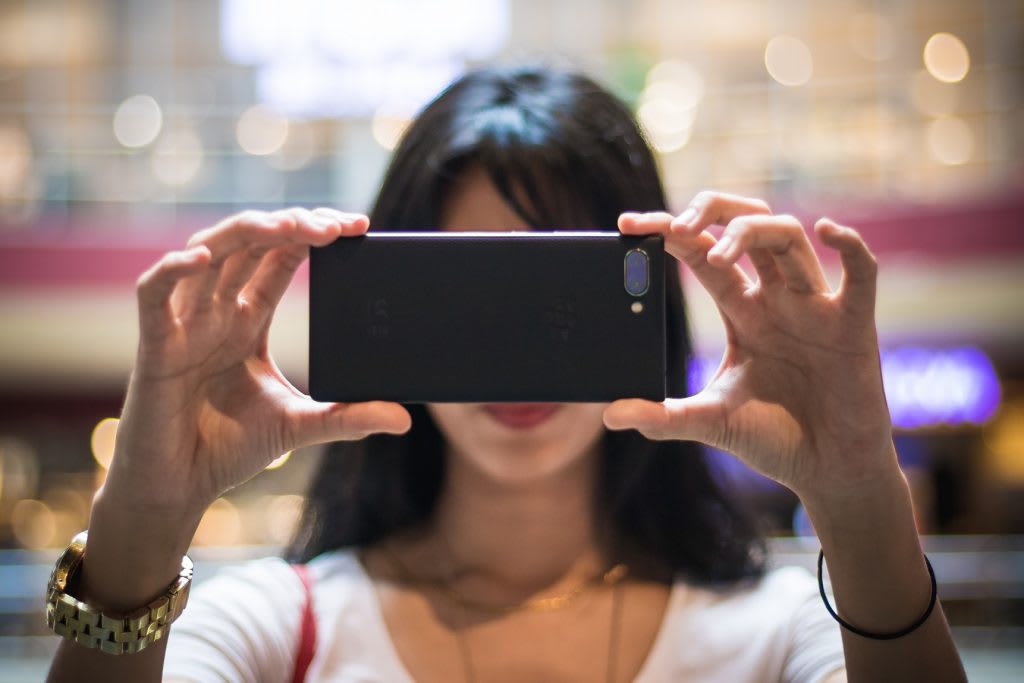 There's a lot to love about the BlackBerry Key2.
No surprise, our favourite is the comfortable keyboard. Highly functional, it's proven useful as a trackpad and fingerprint sensor, as well as being shortcut keys for tasks and apps.
We also place trust in the Key2's level of security thanks to several features such as the Privacy Shade app, and the availability of secret folders and photos which are accessible via fingerprint and password.
However, the camera was not up to our expectations, with photos coming out grainy and less detailed. Moreover, even though the colour display is good, we found the screen to be quite dim.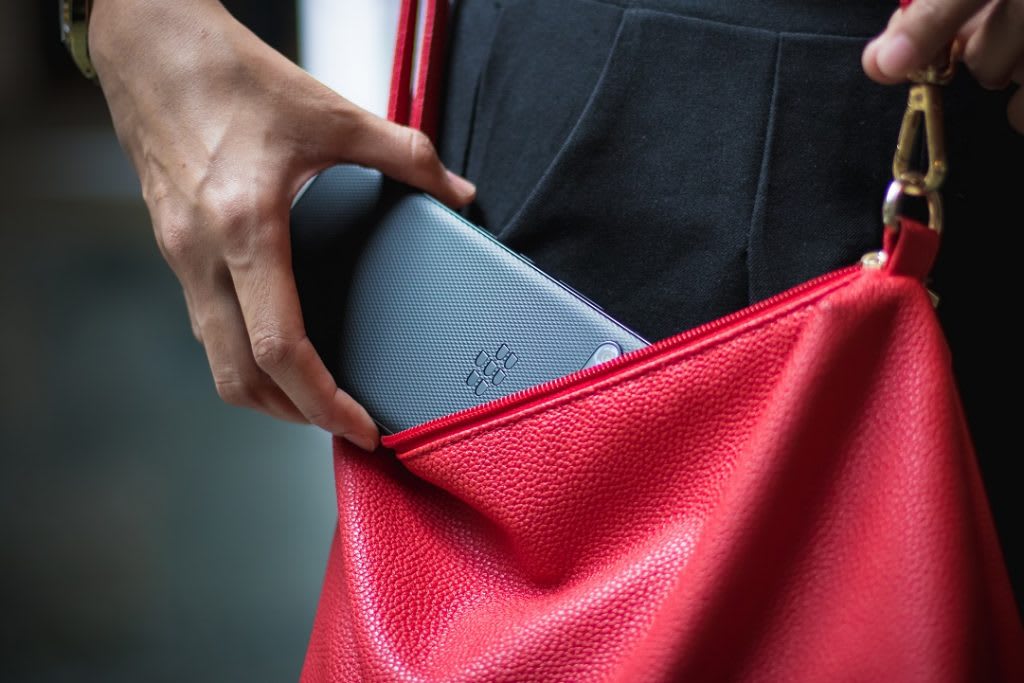 Who it's for: Business people, avid message users and keyboard lovers
If we were to have a work phone, we would go with the BlackBerry Key2. Not only do you get good data protection, the phone is super convenient and comfortable to use should you need to send long emails and messages, or even edit documents on-the-go.
Price
The BlackBerry Key2 with 64GB storage retails at RM2,599.00 in online and offline stores. You can purchase it at Shopee or Lazada.
Disclaimer: The pricing shown is just a good indication of how much these products are worth. The prices could change based on the e-commerce promotions that are going on. If some of the products are not available, do email us at [email protected] Thank you! From

RM0.00
Check BlackBerry Key2 price below:
For those who are looking to get a solid and reliable smartphone for work, and to some extent, play, the BlackBerry Key2 is the one to look at. As long as you do not see it as an entertainment hub (unless you do not mind), you will hardly have any complaints.