Let's face it, charging cables are a necessity but were there ever a time when people sincerely raved about what's the latest? How many times have you had your, or portable game console die on you because you couldn't locate the correct cable in time?
Better yet, how many times were you late in passing up an assignment because you couldn't find a USB data cable to charge your devices? It is at times like this when these charging cables become more precious than gold. Take a look at some of the best 2-in-1 cables that enables you to kill two birds with one stone.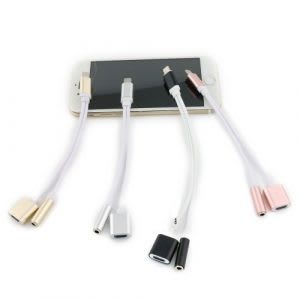 Check Audio Adapter iPhone 7 Lighting 3.5MM Aux USB Cable price below:
Need to charge your iPhone while listening to music on your headphones? Then this 2 in 1 USB audio charger cable is for iPhone users like you. The strong and durable cable is compatible with the newest IOS updates 10.3/10.4 as well as IOS 11. It allows you to listen to your music from your iPhone indefinitely as long as your charger is plugged in.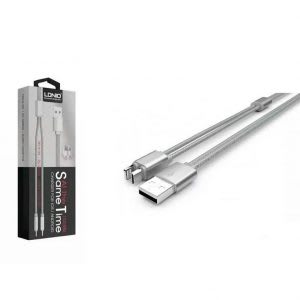 Check LDNIO LC86 2-in-1 USB Data Charger Cable price below:
LNIO's LC86 2-in-1 braided USB cable takes the functional design to new heights. The cable features a Micro USB and eight-pin iPhone head which can be attached for storage and detached for use.
Available in both gold and silver colours, the cable uses a pure copper core which is shielded in a special flat braided nylon fish skin mesh. It is both functional and beautiful to look at. Additionally, the braiding provides extra protection for the core and extends the functional life of the cable.
Check 2-in-1 USB Charger Charging Data Transfer Cable For PSP price below:
If you're tired of lugging around your PSP charger and data cable all the time, then you should invest in a 2-in-1 USB cable for your PSP. The cable can be used from any 5V USB socket available, allowing you to plug it anywhere to charge.
There's also the built-in data socket which means you can transfer data to and from your PSP to a PC; this cable is compatible with the PSP 1000-3000 series.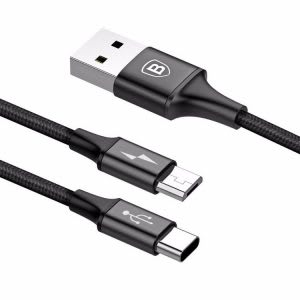 Check Baseus 2-in-1 fast charging cable Micro USB Type C price below:
Baseus, a 3C digital accessory brand, has a 2-in-1 fast charging cable with Micro USB and Type C connectors. It fits perfectly on most Android devices and provides both fast charging speed and high rates of data transmission. Aluminium alloy is found in the connector bits of the cable to prevent rust and ensure a longer lifespan. The inner core cable is made up of woven tin-plated copper to avoid breakage.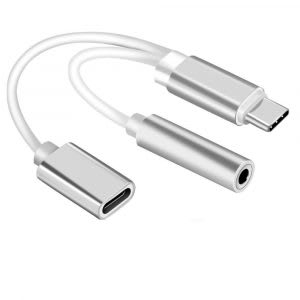 Check USB Type C Charging Plus Audio Jack Aux price below:
This 2-in-1 USB type C cable is specially designed for the latest Apple products. It's compatible with iPhone 7/7Plus, iPhone 5/5S and iPhone 6/6 S. The cable charges your devices via the Lightning 3.5mm connector and features gold-plated connectors and OFC terminals. High-grade copper is used to make the cable core to ensure high fidelity of sound and durability.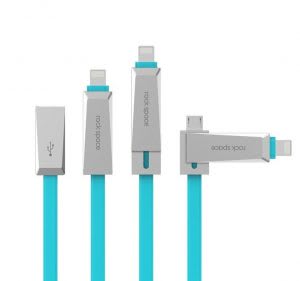 Check Rock space Blade 2 in 1 Lightning & Micro USB Cable price below:
Rockspace produces high-quality 2-in-1 cables for computer and smartphone. It allows you to charge both your iPhone and Android devices via the lightning or micro USB cable ports. The Blade features a unique switchblade design to enable fast shifting between the different port heads. This functional and fashionable cable can be chosen in an assortment of different colours such as green, white or pink to suit your style.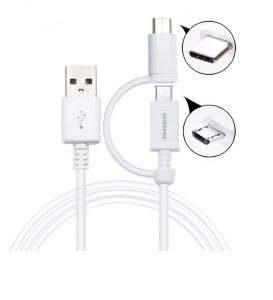 Check 2 in 1 Micro USB Combo Type C Cable Fast Charger price below:
You can charge and transfer data to your devices via the smart 2-in-1 Micro USB or Type C USB cables. Reduce your electronic clutter by bringing just one cable around. Crafted from durable and high-quality materials, this cable is designed for long-term use. It is compatible with a wide range of tablets and smartphones.
Related articles