The usual November-December monsoon season seems to have seriously… dampened our spirits. The good thing is that the holidays are around the corner, and with Christmas and the new year so close, sales are everywhere! The bad news is that dirty puddles and rainwater are just as common, which means you can't wear those new Nikes out of the house without fear of them getting absolutely filthy.
Leave the fear at home – here are a few tips to help you keep your new sneakers clean.
Cover the basics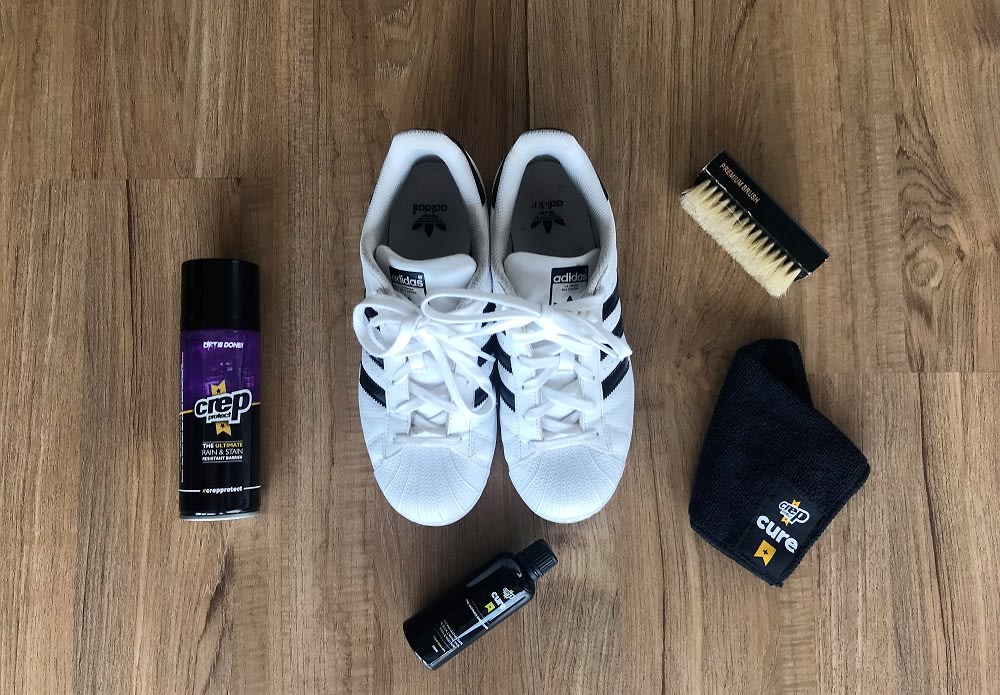 This might sound extravagant, but a sneaker-cleaning kit is super-useful. The kits are pretty basic – mostly consisting of a cleaning brush, cleaning liquid, and a microfibre cloth. Here's why they're important: they're made with sneaker-friendly products that won't scratch, fade, or harm those new Yeezy Boosts. They're also suede-friendly, so you can clean your six-inch Timberlands and suede Pumas with them, no worries. We recommend either the
Jason Markk set
or this one from
Crep Protect
.
Don't spit-clean – spot-clean!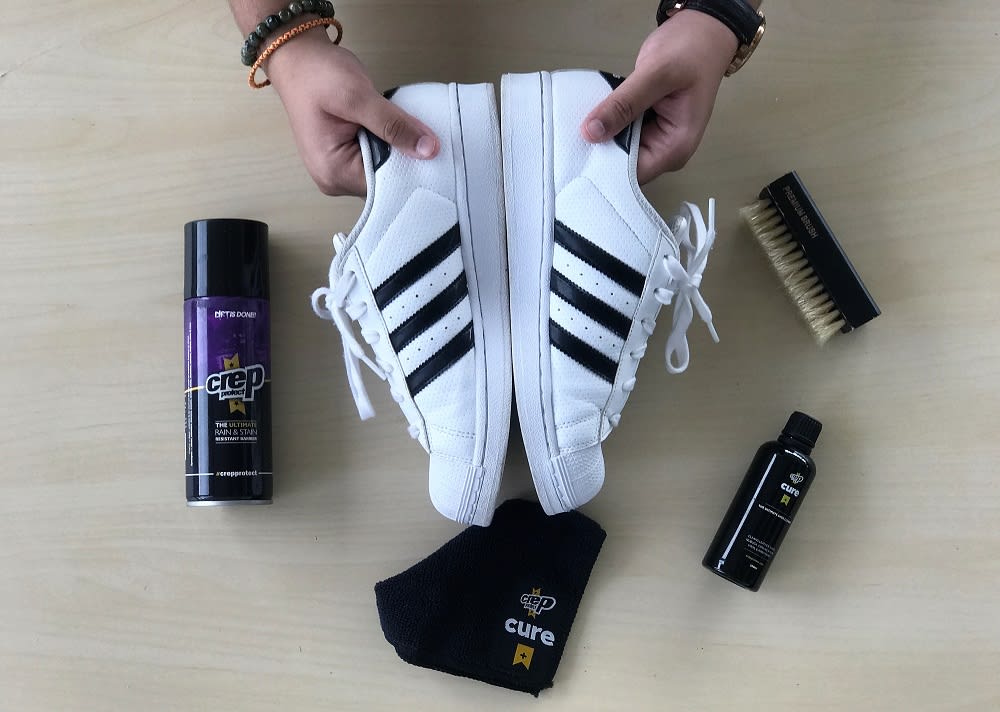 Grab an old toothbrush, fill up a bucket or basin, and take a seat – this is going to take a while. Unlace your sneakers, and knock them together by the soles. This is to dislodge the dust and other loose debris that might be clinging to it. Mix some cleaning liquid into the water in your bucket, and gently scrub the small scuffs and marks with the toothbrush. Wipe them down, and if that's the extent of the damage, you're good to go. Air-dry your precious babies, lace them up, and you're done. If they're
still
not clean, it's time for our next step…
Set your (mid)sole on fire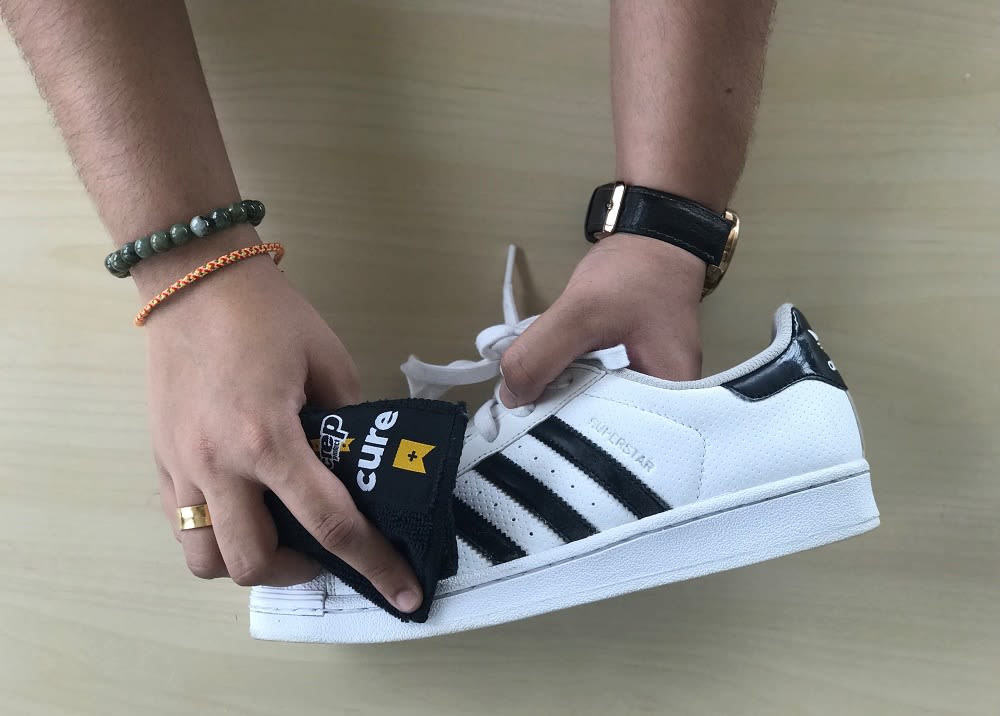 Many sneakerheads will complain about scuffs and marks on their white midsoles. Adidas Superstars and Stan Smiths are partial to these – and it's no fun at all. It's time for some magic that even Harry Potter would be jealous of. Yes, we're talking about magic erasers. These nifty little sponges claim to be able to lift stains and scuffs from just about anything, and you can even pick them up at your local
kedai runcit
. If that's out of your way, head over to Lazada, and pick up
ten magic erasers
for RM13.40. Fix up your midsole, and we can continue.
Bring out the big brush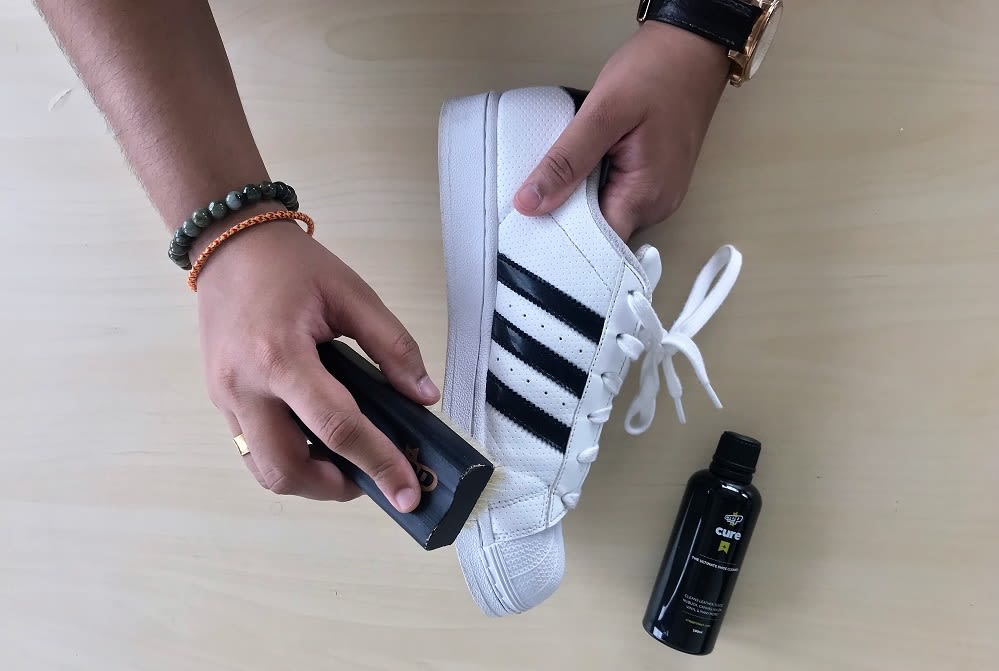 Your cleaning kit comes with a firm-bristled, sneaker-friendly brush. Wet the brush, add a couple of drops of the cleaning liquid to the bristles, and get scrubbing! Scrub in circles to produce lather, and work your way up and around the shoe. Don't forget to reapply the cleaning liquid as necessary, and be generous with it – you won't be able to get a pair of shoes clean with just four or five drops. Once you're done, wipe away the excess lather, and leave your shoes out to dry. If you're worried about them losing their shape, use a shoe tree, or stuff them with scrunched-up newspaper.
Protection is better than Cure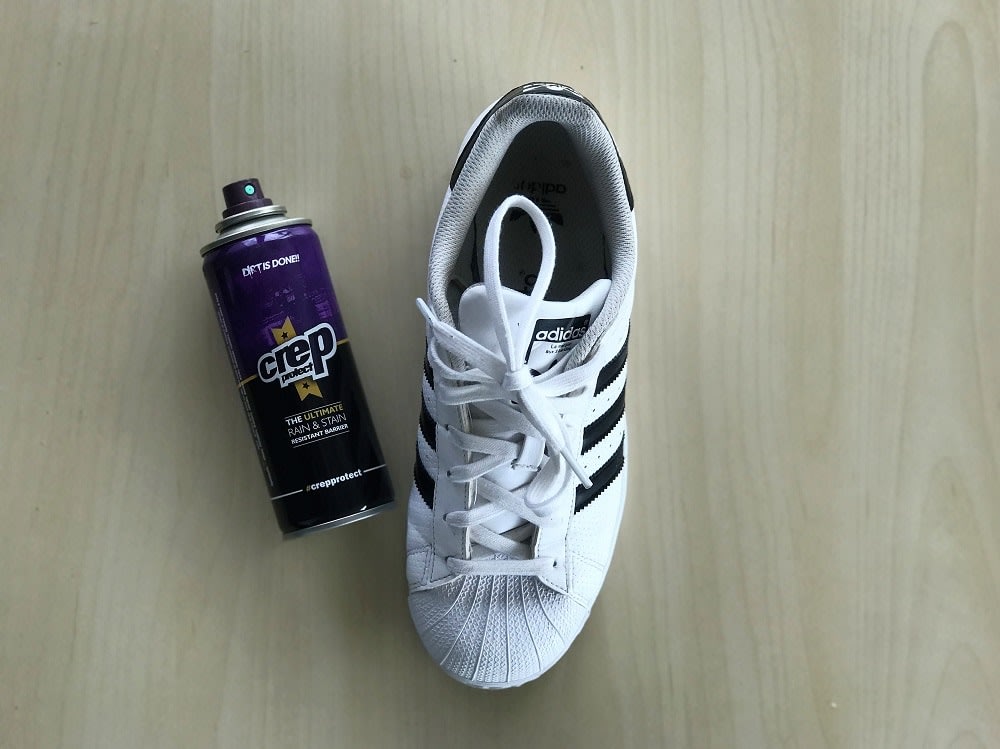 At this point, your sneakers should be prepped and ready to go! However, if cleaning them again next time is too much trouble, here's a life-saving lifehack: water-repellent spray. Our personal favorite,
Crep Protect spray
, is available at all JD Sport outlets, but if that's a little bit out of your price range, a can of
Scotchgard
will do the trick! After cleaning and drying your sneakers, spray them with a layer of this in a well-ventilated area, and leave them alone for ten to fifteen minutes. Spray them again, and once they're dry, you're good to go!
What are your lifehacks for keeping your kicks fresh?