Electric scooters are one of the hottest toys that fuse fun with functionality. The thrill of steering and accelerating give your kids an opportunity to experience a fulfilling sense of freedom.
However, choosing the right one is no walk in the park. For the fact that you are primarily distressed about the safety of your little one. We have sought out the best electric scooters to make the process a whole lot easier for you and your child's need.
Check Children Electric Mickey Scooter with Back Rest price below:
The speed of this scooter picks up slowly to prevent your child from getting a shock while riding. Suitable for kids age two to five years old, it comes with a back-support seat that prevents your child from falling off. There's a unique handle that is designed for tiny hands for added security.
A USB MP3 port lets you play your child's favourite tune with volume control at the front. It also comes with a built-in horn, headlight, speed control pedal base and a key to turning the scooter on and off. Offering the perfect combination of function and appeal, the 7V rechargeable battery is safely concealed under the seat.
Perfect for both the outdoors and indoors, it is sure to be hit among younger children with its attractive colourful designed that comes with lighting and LED flash.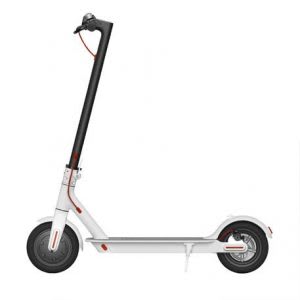 Check Xiaomi Mijia Electric Scooter M365 price below:
Measuring up to 200cm at 12.5kg with a maximum speed of up to 25 kmph, this electric scooter is excellent for elder kids. Built from aircraft-grade aluminium alloy, it folds up in seconds to maximise space and eases transportation.
The disc brakes at the rear and E-ABS braking system at the front ensures a quick but smooth halt. At night, the headlight and flashing rear brakes are powerful enough to light dark paths, and alert passersby. Equipped with the Kinetic Energy Recovery System, this scooter converts kinetic energy to electrical energy to extend the battery life.
You can download the mobile app, connect it via Bluetooth and track the remaining battery life, average speed travelled, acceleration control and cruise control. Its large inflatable tires increase stability, and a high capacity 280W battery power allows your child to enjoy the ride without running out of juice mid-play.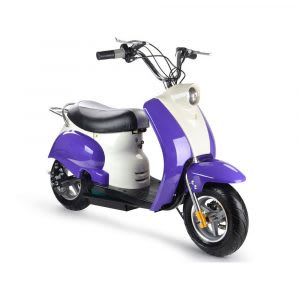 Check Vespa Children Electric Scooter price below:
Vintage-inspired on the outside, modern technology on the inside - this iconic scooter is ideal for children. The full deck has sufficient space for your child to comfortably rest their feet and Its extra big tires make it easier to balance on.
You'll notice key feature - the comfortable padded seat which doubles as a storage compartment underneath for convenience. The ultra-quiet chain-driven motor makes less noise and could speed up to 20 kmph.
For a safe and fun ride, the twist-grip control and pneumatic tires with disc braking system allow your child to control the speed of the scooter. Also, it is excellent for older kids weighing up to 40 kg.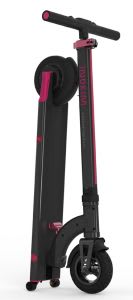 Check Inokim Mini Electric Scooter price below:
Our hot weather and lack of easy pedestrian access do not make foot power conducive. Thankfully, this electric scooter offers a safe and efficient alternative for urban commuting. Once fully juiced up, the 36V Lithium Ion rechargeable battery lasts up to 20km, with speed up to 20kmph.
This is one of the most innovatively designed scooters with a range of many exciting, and safety mechanisms parents can trust. It folds up in seconds, portable, and comparatively lightweight. An LCD display is present to monitor all aspects of usage along with front electric and rear fender breaks.
The built-in trolley wheels allow it to stand vertically to maximise storage space. Inokim promotes green energy and a healthy lifestyle choice with other user-friendly modes of transportation.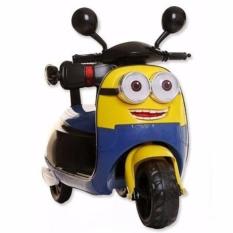 Check Despicable Me Electric Scooter price below:
Decorated with everyone's favourite yellow fellow, with brilliant LED lights and rearview mirrors, this scooter will make heads turn. It is perfect for young riders to build their confidence slowly. Although the full deck offers ample space and stability, children can practice balancing, hand and foot coordination as well as direction control.
Children that feel vulnerable to stand can enjoy their smooth cruise on a secure, adjustable seat. With just a push of a button, the scooter will slowly accelerate and gradually takes off. The same button slowly decelerates the scooter before coming to a smooth halt. A USB plug-in port for fun jams gratifies your child's learning experience as they cruise along.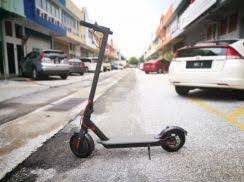 Check AEST V5 Electric Scooter price below:
Keep the good times rolling with the foldable AEST V5 Electric Scooter. The powerful 36V Lithium battery takes just 4 hours to get fully charged. A push button ensures fast acceleration while the kick-start feature facilitates a smooth start.
Powered with a DC brushless motor, it runs to give a maximum velocity up to 28 kmph with a climbing capacity of more than 20 degrees. There's a hand-operated break that gives the young rider maximum safety to control and bring the scooter to a steady halt.
It accommodates a weight capacity of 120kg and has a retractable kickstand for parking. The traditional kick-to-start function is also present to get the scooter start. Pneumatic tires are used to minimise shock while providing a firm grip on the ground. With approximately 50 minutes of extended ride time in a single charge.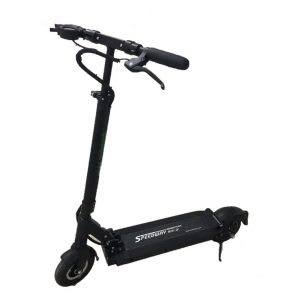 Check Speedway Mini 4 Electric Scooters price below:
This electrical scooter is specially engineered to tolerate rough roads, slopes, tricky surfaces, and moderate to high speeds of up to 60kmph. It is packed with everything your child can possibly need to stay safe and comfortable on the roads.
From cruise-control, coordinated regenerative braking system, folding handle-bars, adjustable height handle to an optional seat, the performance of this scooter speaks for itself. A rear shock system helps minimise shocks, handling potholes and uneven terrain efficiently.
You and your child can have a fulfilling sense of security knowing that they can ride and slow down safely to avoid danger. It also features bright taillights and headlights that could go up to 25 feet in front. Perfect for night rides, your child can easily be spotted by on-going pedestrians and passersby.
Disclaimer: The pricing shown is just a good indication of how much these products are worth. The prices could change based on the e-commerce promotions that are going on. If some of the products are not available, do email us at [email protected] Thank you!