Forget about the hassle of finding the right lipstick colour or your favourite light tone foundation. Put everything into a neat stash, and you'll save time in finding your favourite products. After all, organising your makeup items is like putting your life together. Discover these top 10 organisers that can help store your makeup.
Women's Round Travel Makeup Bag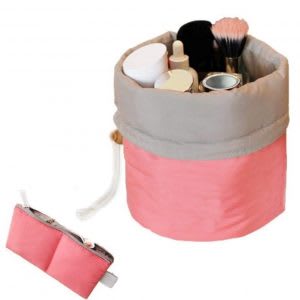 RM 4.68
Best makeup organizer bag for travel and college
This makeup bag is a must-have item for all women. Small, convenient and handy, the round-shaped bag allows you to carry your beauty essentials wherever you go. Plus, the interior side of the bag has small storage compartments to store your lipsticks and liners. You can use this affordable makeup bag for travelling, work and college.
Professional Cosmetic Makeup Case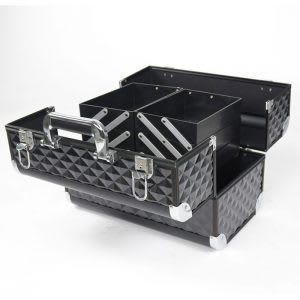 RM 108.00
Best organizer case for makeup artists
This professional makeup case is perfect for a makeup artist. It has an aluminium frame and ABS cover, which ensures durability and protects the products. There are several layers of compartments, allowing you to store all your makeup products in one place.
Arcylic Cosmetic 3/4 Drawer Make Up Storage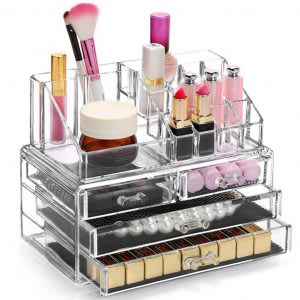 RM 27.90
Best acrylic organizer with a brush holder for your desk
This acrylic organiser consists of two separable compartments. The upper side has a few lipstick slots and a brush holder. On the lower side, there's a set of drawers with black mesh padding to store your jewellery. The item is made using clear, durable acrylic - a transparent material which allows you to see what you need instantly, so you can save time finding your makeup items.
VINS Portable Leather Makeup Brush Holder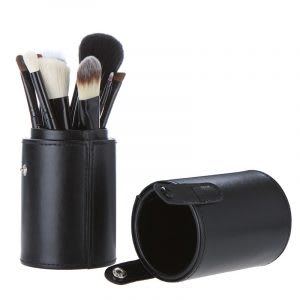 RM 16.99
Best makeup brush holder
Storing your makeup brushes right is very important to ensure the brushes are all clean. This leather, round brush holder comes with a lid and is available in three colour varieties. You can now carry your favourite brushes everywhere you go in this small and handy holder.
My Fold Away Mirror with LED-Lighted Foldable Mirror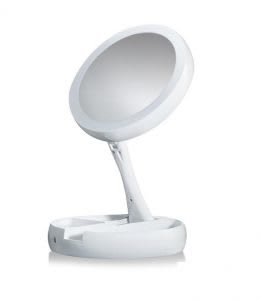 RM 22.02
Best makeup organizer with a lighted mirror for your vanity table
A lighted mirror attached to this makeup organiser is like having two birds killed with one stone. This product offers a few makeup storage compartments and a mirror with battery-powered lights. What's more interesting is that the mirror is a double-sided magnifying mirror. Now you can get your makeup on point with this stunning product.
Makeup Organizer Cabinet with Multiple Drawers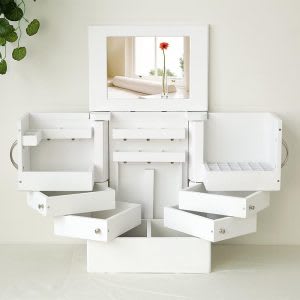 RM 480.00
Best organizer with a mirror for a lot of makeup
There's no such thing as having too many makeup products but storing them can get a bit difficult. With this makeup organiser, you can fit all your makeup products in one place. The organizer has a few layers of storage compartments and designated slots for lipsticks and liners. An added convenience is that the item comes with a mirror too.
Professional Makeup Artist Aluminium Trolley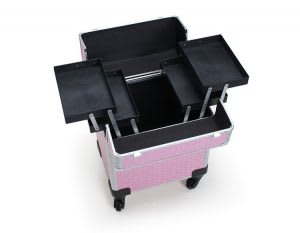 RM 141.00
Best makeup organizer with wheels and locks
A selection for the professionals, this makeup bag comes with wheels and locks. The case is large with several storage compartments, ensuring all the makeup products fit into it. There are three colours to choose from and is suitable for a professional makeup artist that is always on the go.
Makeup Storage Bag Jewellery Organizer
RM 19.90
Best makeup organizer with a handle and lid
This compact and handy makeup bag is convenient to use and allows you to carry your products wherever you go. It comes with a handle for easy carrying and a zipper lid which protects your makeup items. There are three colour variations to choose from as well. The bag has a large storage compartment on the inside with several lipstick slots and a small mirror attached to it.
Related articles