There is a steep learning curve for new parent responsibilities, and one of it is bottle- feeding a baby. With dozens of brands to choose from, it can be a daunting task to know exactly what kind of bottle is suitable.
That is why we have narrowed down the best baby bottles thanks to their practicability, god-send stellar design, smart innovation, and all-around user-friendliness.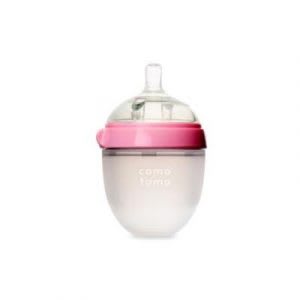 Check Comotomo Natural Feel Baby Bottle price below:
No more nipple confusion from your baby. Comotomo Natural Feel Baby Bottle makes feeding simpler, giving breastfeeding moms more freedom without worrying about their little one getting insufficient milk and nutrients.
Comotomo's wide, flexible and supple mound will ease your baby's transition from breast to bottle, emulating a skin-to-skin nursing experience. Made as a leak-proof bottle, the body is also of the same soft medical-grade silicone as the bottle nipple, so your baby's little hands can comfortably grip and hold onto it.
This bottle features a wide neck that's designed for easy cleaning. As the bottle is free from BPA, phthalates and PVC, you can boil them without having to worry about harmful chemicals being released.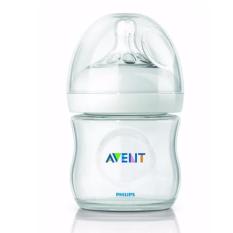 Check Philips AVENT Natural Range price below:
Prevent colic and relief your baby's tummy discomfort with the Phillips AVENT Natural Range bottles, making feeding natural for both of you.
The bottle features a clinically-proven, anti-colic nipple that flexes to your baby's feeding rhythm, which helps prevent trapped air in your baby's tummy. Its unique valve on the extra-supple nipple makes it easy for your baby to latch on, as well as opening to release air into the bottle instead of being ingested by your baby.
Available in different sizes, this BPA-free bottle possesses a wide neck that eases cleaning and for easy assembling.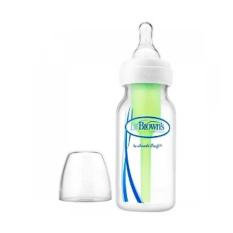 Check Dr. Brown's Natural Flow price below:
Dr. Brown's Natural Flow bottles have an original vent system that vacuums air out of the bottle. This alleviates acid reflux, gas, colic and other irritable issues to a baby during feeding time.
Another amazing feature is how the bottle's nipple venting creates a positive pressure flow to mimic natural breastfeeding movements. As air is vented out of the bottle, this maintains high levels of Vitamin A, E and C in the milk. Plus, as your baby's feeding becomes more developed, there is always the convenient option of removing the vent.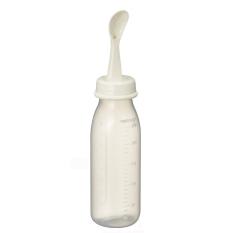 Check Pigeon Slim Neck Weaning Bottle with Spoon price below:
Parents will love this miracle, on-the-go feeding bottle. The Pigeon Slim Neck Weaning Bottle is convenient for one-handed feeding and comes with a leak-proof storage cap for spoon-sealing, making it ideal for travelling!
This soft-body bottle is also great for your baby's first experience with a spoon, eliminating any fuss of scooping. Being able to hold up to 240 ml, you can ease the first stage of weaning with juice, soup or soft solids. With this, feeding in a car or plane is now easier without risking a mess afterwards.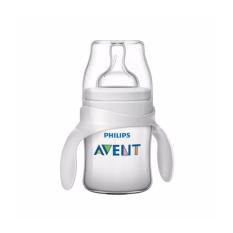 Check Philips Avent Classic Plus Bottle price below:
Starting self-feeding can be a very exciting time for both you and your baby. Let Philips Avent Classic Plus Bottle be your little one's first step to independence.
Having an easy-grip adjustable handle, the BPA-free bottle is made with an anti-colic air system which is integrated into the nipple. This helps prevent air ingestion, thus leaving your baby happy and full. With only 4 parts, it is also quick to assemble and easy to clean thoroughly.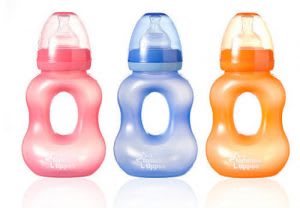 Check TommeeTippee Essentials Easy-Grip Bottle price below:
TommeeTippee Essentials Easy-Grip Bottle is perfect for tiny hands! Its soft silicone body facilitates medium flow which lowers the risks of gas being ingested by your child. A BPA-free bottle, it is easy to fill and clean without any fuss.
The bottle also comes with a leak-proof hygiene cap for sealing the nipple, greatly easing your travels. No more worrying about messy spillage on your journey!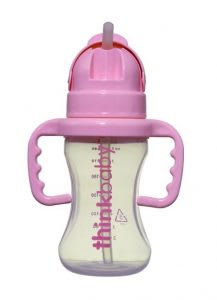 Check Thinkbaby - Thinkster Straw Bottle price below:
The ThinkbabyThinkster Straw Bottle has an extra soft, medical grade silicon straw that eases your baby's transition from a feeding bottle to a sippy cup. Its swivel top reduces chances of spillage while protecting the feeding straw from coming into contact with foreign substances.
The straw also features a cross-cut design to prevent zero leakage. To fit nicely into most cup holders, its easy-grip handles are designed to be removable. Since this bottle is free from BPA, phthalates, nitrosamines, lead PVC, PET and harmful biological harmful chemicals, parents do not have to worry about toxic chemicals leaking into the baby's milk.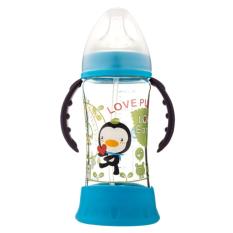 Check Puku - Glass Wide Neck Training Bottle price below:
Assist your baby in transitioning from a feeding bottle to a cup with this training bottle from Puku. This bottle has a food grade silicone nipple that is integrated with a flexible, anti-leakage straw to facilitate good air flow, thus preventing air ingesting which causes tummy discomfort.
Coming with a tight seal cover, this protects the nipple from any contact with foreign substances. The bottle is manufactured from premium glass that is both safe and heat resistant. Sporting an ergonomic design, it can fit into tiny hands while encouraging self-feeding.
Another special feature is the anti-dust cover for the nipple bottle. It is also decorated with a non-toxic print of a PUKU cartoon to amuse your baby.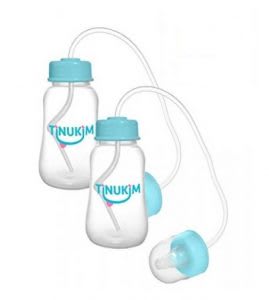 Check Tinukim Hands Free Baby Bottle price below:
Tinukim Hands Free Baby Bottle is a welcoming solution for today's busy and on-the-go parents. The bottle is equipped with removable handles, essentially encouraging independent feeding. There is also a straw that runs through the bottle. Its nipple mimics that of a breast, allowing babies to comfortably switch to bottle feeding.
Featuring a double vent nipple, this keeps air out while promoting a comfortable feeding experience for your baby. The bottle adapts a unique flow system to allow your baby in managing the milk's pace and flow. Designed to be leak-free, the bottle is clinically proven to reduce ear infections and other irritable issues that can cause discomfort to your baby.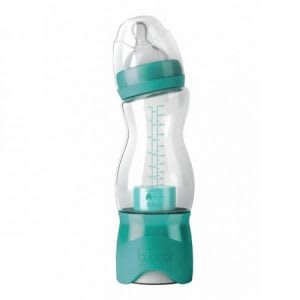 Check b.box Essential Baby Bottle + Dispenser price below:
No more fumbling and measuring baby formula when you are on-the-go, as everything is clean, hygienic and ever-ready when needed with this mixer bottle. B.box Essential Baby Bottle lets you place the formula into the compartment that attaches to the bottom of the bottle. Then fill the bottle with water.
When it is feeding time, just press the release button to mix the drink, then shake the bottle and voila, a ready meal for your baby!
The bottle's unique dual functionality allows it to be attached to a standard bottle by attaching the base cap to the bottom. However, its curved ergonomic bottle is recommended for use as it's designed for better feeding. Free from BPA, phthalates and PVC, this bottle is dishwasher and sterilizer safe.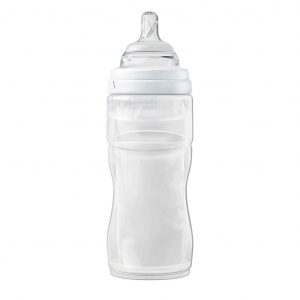 Check Playtex Baby® Nurser with Drop-Ins price below:
When breastfeeding is not an option, Playtex Baby® Nurser with Drop-Ins is the best bottle alternative to achieve your feeding goals. Clinically proven and carefully designed, each aspect of this bottle system works to closely to mimic a mother's feeding rhythm, ensuring the best, natural feeding experience.
Featuring a disposable, pre-sterilized soft liner, it gently collapses as a mother's breast does while the baby feeds, preventing air from mixing into the milk and entering the baby's tummy. This promotes air-free feeding to reduce colic.
Another reason to consider this bottle is its natural-latch nipple, which mimics the breast to ensure your baby can latch on and control the milk flow. This allows easy switching between breast and bottle.
Disclaimer: The pricing shown is just a good indication of how much these products are worth. The prices could change based on the e-commerce promotions that are going on. If some of the products are not available, do email us at [email protected] Thank you!