Touchpads or trackpads are essential items on most laptops but are rarely found on desktop keyboards, as computer mice are the dominant point and click device. Smartphones, tablets and smart TV's, on the other hand, most often utilise a touchscreen. So, if you're used to a touchpad you will most likely have to add one of these after-market options available today. We've rounded up a list of the best for different operating systems, so take your pick below.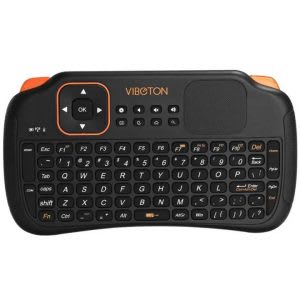 Check Viboton S1 Air Mouse Wireless Touchpad Keyboard Box price below:
Viboton's S1 is a 3-in-1 device that works as a keyboard, a touchpad and remote control for basically anything it can pair with. The touchpad function is compatible with a wide array of operating systems including the latest version of Windows and Android.
It comes with a built-in 83 keyboard for easy typing and connects wirelessly using a 2.4GHz frequency. The device runs on rechargeable batteries so you can bring it anywhere with you; no more worrying if you are chilling too far from your TV.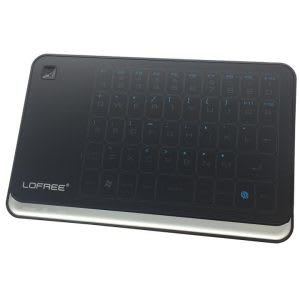 Check OEM LOFREE Wireless Mouse And Keyboard Touch Panel price below:
OEM LOFREE's new touchpad is a 2 in 1 ultra slim combo device that works both as a touchpad and keyboard.  It utilises a Nano receiver to connect using 2.4GHz wireless frequency and has a built-in rechargeable battery which lasts for 24 hours of continuous usage.
The user switches between the touchpad and keyboard mode which utilises an integrated display screen built into the device. It is compatible with Windows 7, 8 and 10 so you can efficiently use it to replace your desktop mouse on your PC or laptop.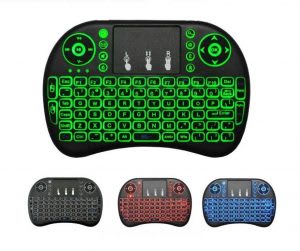 Check Genuine Backlit Mini USB Wireless Keyboard Mouse Combo price below:
If you're on the market for a cheap trackpad, this is the cheapest of the mini touchpads available while remaining feature-rich. For such a tiny device, the KM35 has a full-featured keyboard with a fantastic 92-keys albeit miniaturised with Chiclet keys.
The device also features a 360-degree flip design and connects using the popular 2.4GHz standard. Designed to be universally compatible with most of the current operating systems, this includes game consoles such as the XBOX 360 and Sony PS3.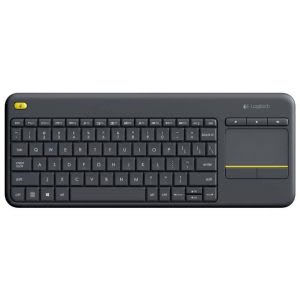 Check Logitech Wireless Touch Keyboard Plus With Built-in Touchpad price below:
Although aimed at internet-connected TVs, the Logitech Touch Keyboard K400 Plus is entirely compatible with a wide range of operating systems including Android, Windows (7, 8 and 10) and Chrome OS. It features a 10-meter wireless range that ensures a wide range of motion while using the keyboards and touchpad.
The setup is familiar to a normal QWERTY keyboard that virtually eliminates any learning curve and is an ideal replacement keyboard for those used to using a PC laptop touchpad who want to replace their mouse with a touchpad.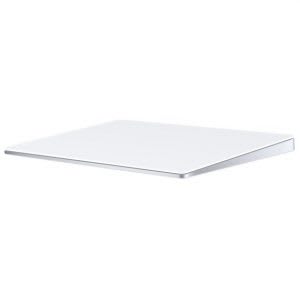 Check Apple Magic Trackpad 2 price below:
Apple is known for their innovative products, and the Apple Magic Trackpad 2 brings another first for them, introducing Force Touch to desktops for the first time. Upgraded with a 30% larger surface area, the new Trackpad has four force sensors tastefully concealed under the Trackpad's smooth surface.
The graphics niche has always been Apple's forte, and the new upgrades make the Trackpad 2 the perfect solution for graphic artists using Photoshop or drafters using Autocad.  
Check Alcatroz AirPad 1 Wireless Keyboard With Touchpad price below:
Alcatroz's new Airpad 1 is a low profile wireless keyboard with a built-in touchpad and soft touch UV coated keypads. The Airpad 1 is designed to blend in with any design easily, making it great for smart TVs and Windows PCs.
So if you're looking for a replacement for your mouse and keyboard on your PC, or need an entry device for your Smart TV, this device is a chic choice. As with most modern wireless devices, it connects using the popular 2.4GHz connection.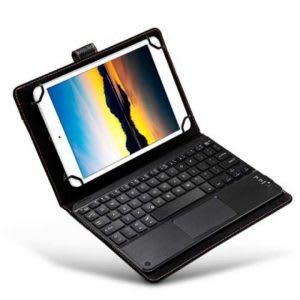 Check OEM 3-in-1 Universal Wireless Bluetooth Keyboard price below:
The 3-in-1 universal Bluetooth 3.0 Keyboard Touch Control Combo (with a protective case) is designed primarily for tablets, allows users to connect to the keyboard quickly. It is compatible with iOS, Android and Windows-based devices, and comes with a detachable PU case, which makes it easy to store the keyboard together with an 8 to 8.9 inches tablet.
The keyboard is removable from the case, and the touchpad is ultra-sensitive for ease of navigation. It also works on rechargeable batteries which have a remarkable standby time of up to 60 days.
Related articles