It's (always) the packaging that attracts us. Looking like mini tubs of ice-cream and fruit yoghurt, in those pack a big dollop of highly nutritious By Eggs clay facial mask - boasting to soothe, refresh and brighten up skin after 10 minutes. That being said, we are pretty sure it's not always as effective as what they claim, so we tested them on our editors - one with normal skin type and another with combination skin.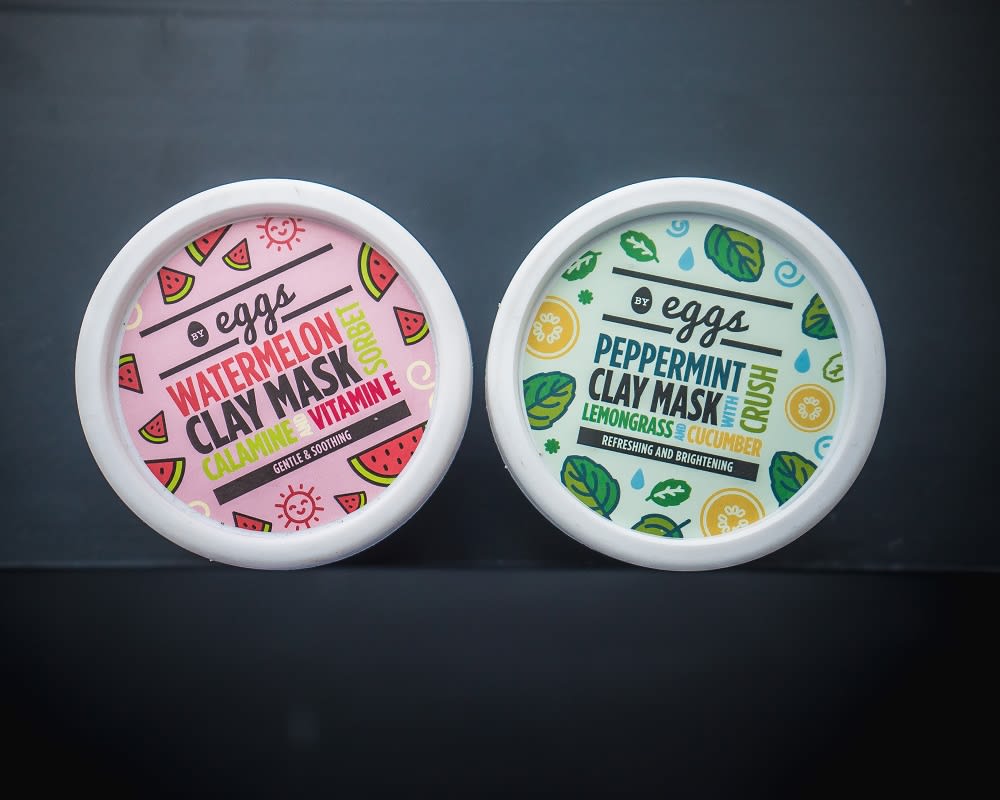 By Eggs is a Malaysian homegrown brand founded by Quinnie and Michelle, two friends who graduated with First Class Honours from the London School of Economics. Their clay masks are based on food-inspired skincare ingredients and look absolutely delectable.
So, the good people from By Eggs sent over two pods of cute-looking masks: their best-selling Watermelon Clay Mask, that is supposed to be gentle and soothing to the skin; and their Peppermint Clay Mask, which refreshes and brightens up the skin. Here's what we think.
Patrick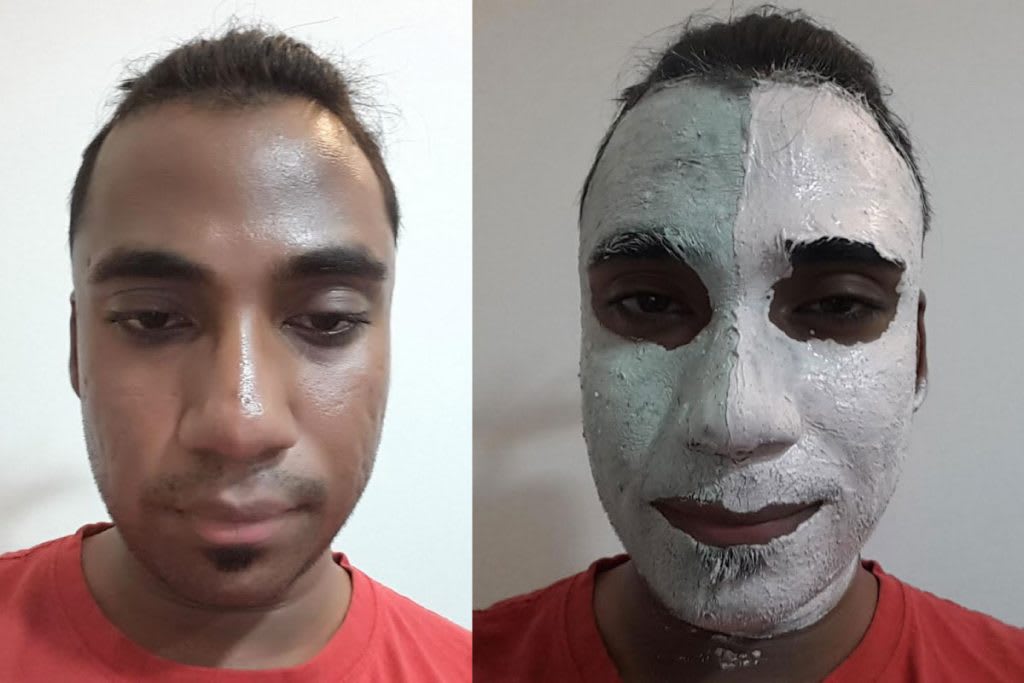 Skin type:
Combination - dry sides and an oily T-zone

Condition:
Dehydrated and Sensitive
Given my skin condition and type, it's best to use both masks at the same time on each side of my face. That way, I can test out the difference of both masks on the dryer and oilier part of my skin at the same time.
Watermelon Sorbet Soothing Clay Mask
It has an immediate soothing effect upon application and I could feel the moisture seeping into the dry parts of my skin (temple and cheeks area). It has a tingling sensation for the first three minutes, which I enjoy, and natural walnut granules acting as little exfoliants to remove my dead skin cells.
About 15 minutes in, my skin feels super moisturised and hydrated. The calamine and vitamin E has the capability to calm my acne inflammation as well. I could also skip most of my skincare routine, downsizing it to just toner and moisturizer.
Although my face feels clean and smooth, it still doesn't even out my skin tone. My pores are not tightened and my face looks as dull as before I left the mask on. Definitely not a morning pick-me-up as it doesn't lift my skin up.
This mask acts as a great deep-pore moisturizer and hydrator but I have to crack open a different mask after, one with a lightening solution and polishing ingredients to compensate for the loss of capabilities not found in the Watermelon Sorbet Clay Masque. This masque is good for dry skin and one with dehydration and sensitive skin issues.
Peppermint Crush Brightening Clay Mask 
I felt a very slight cooling effect before the tingling sensation took over for the first three minutes, not that I'm complaining. It has a mixture of peppermint oil, cucumber extract and natural mint leaves that act as a gentle skin exfoliator. It feels really subtle on my high-sensitivity bare skin.
Comparing to the Watermelon Sorbet Clay Masque, this side of my skin feels cleaner and less oily, making this product very suitable for oily skin type.
I left it on for about 15 minutes, washed it off with lukewarm water and my skin was highly moisturised but not as hydrated as I'd hope for it to be. Like the Watermelon Sorbet Clay Masque, it doesn't even out my skin tone, pores are still enlarged from the day's heat and it doesn't lift my skin up to give it a healthy effect.
The brightening effect doesn't work on my sensitive and dehydrated skin either, making this a non-suitable morning pick-me-up. Though, I'd follow up with a hydrating and lightening masque for better results. Unlike the Watermelon Sorbet Clay Masque, I'll have to carry-on with my full skincare routine after, that includes essences, ampoules and serums. That being said, people with an oilier type of skin would enjoy this mask.
Denise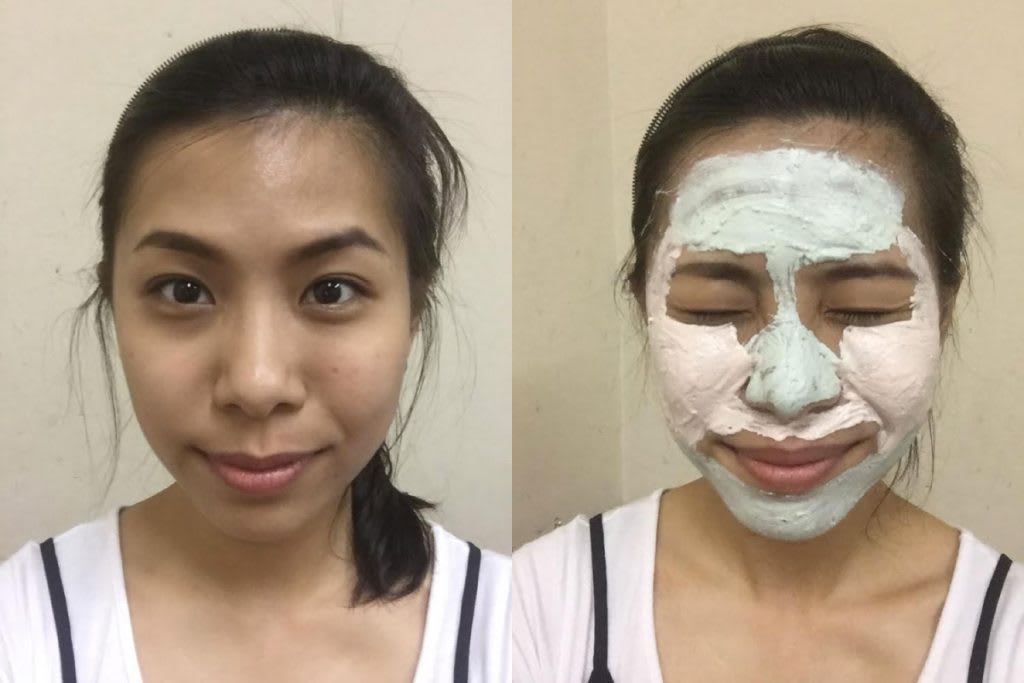 Skin type: Normal, slightly sensitive around the cheek area
Skin condition: Dull Skin
I am not one to frequent skin care products given my normal skin type, but I do enjoy pampering myself with face masks once a week. Because I have slightly sensitive skin on my left cheek, I decided to multi-mask.
Watermelon Sorbet Soothing Clay Mask
This mask smells good. Upon applying it to my cheeks, I immediately felt this tingling feeling which made me feel slightly uncomfortable. It is my first time using a clay mask and wasn't too sure if that feeling is normal. Fortunately, byEggs ensured me that this is normal as the clay and essential oils are working their magic.
After about three minutes, the tingling feeling disappears, and the mask starts to harden. What I love about this mask is the presence of natural walnut granules which helps to exfoliate the skin while I wash it off. It's killing two birds with one stone!
After washing it all off, my skin felt hydrated and slightly plumped. But that's it. It didn't cause me any problems and is good if your skin type is normal.
Peppermint Crush Brightening Clay Mask
I looked forward to using this one more because it claims to refresh the skin and brighten one's complexion. My only concern is having dull skin, so I would jump at any attempt to brighten up my face. I applied this mask on my forehead, nose, and chin.
As with the Watermelon Soothing Clay Mask, I felt the same tingling sensation, but it was cooling as well. This feeling is due to the mint leaves and peppermint oil present in the mask (which I love, by the way).
After washing off the mask, my skin looked significantly brighter. I believe it's also thanks to the mint leaves which work as really good exfoliants. Overall I enjoyed this one more than I did the Watermelon Sorbet mask.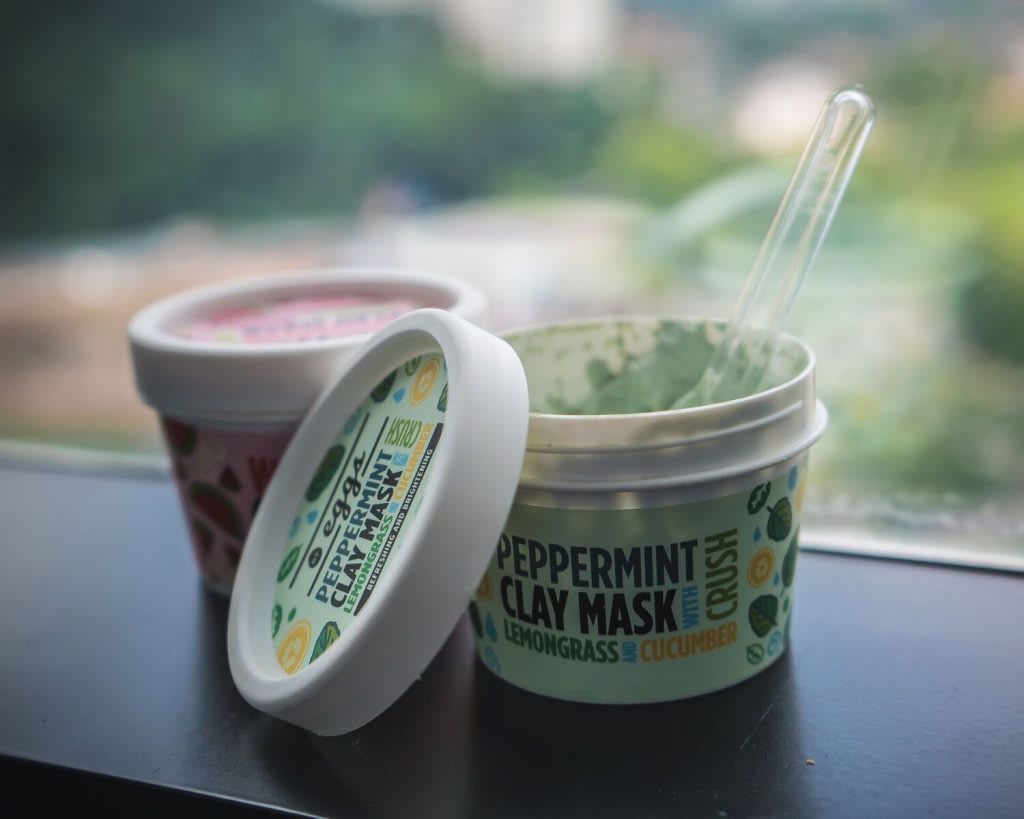 Watermelon Sorbet Clay Mask and Peppermint Crush Brightening Clay Mask aside, you can also choose from an array of By Eggs clay masks: Breakfast Cereal Moisturising Clay Mask, Summer Lavender Relaxing Clay Mask and Tiramisu Deep Cleansing Clay Mask, all at RM69 each. From

RM0.00
Check By Eggs Clay Mask price below:
Love how moisturizing these masks are but they do lack the capabilities to even out my skin tone and tighten pores.