There is a reason why cleansing falls as the first step in a skincare regime. Facial cleansing doesn't only remove debris from the face but also prepares it for the proceeding steps in our skincare routine (essence, serum, moisturizer…). This is because a clean face absorbs products more efficiently, like how a clean sponge absorbs water.
In this article, we have researched, reviewed and listed down a few affordable drugstore/pharmacy face washes which can be easily obtained from both physical and online stores. With the right cleanser, getting clear skin is not a dream at all.
What are the differences between a Face Wash and a Face Cleanser?
While the words "wash" and "cleanse" are synonyms, it is not exactly the case when it comes to a face wash and a face cleanser. Generally speaking, they both work to cleanse and get rid of the dirt from our face. But which is better for you, and which is not? Or, are they simply no better than each other? 
Let's find out.
Foaming Nature
A face wash lathers as you massage it onto the face with water, creating white foam that needs to be rinsed off. Meanwhile, a face cleanser is typically non-foaming and doesn't necessarily need to be rinsed off. They can be easily removed with a washcloth or a facial tissue. 
Take, for instance, a foaming cleanser is considered as a face wash while a lotion cleanser/milk cleanser is considered as a face cleanser.  
Functionality
A face wash removes heavy dirt that accumulates at a deeper layer of our skin and clears our pores more thoroughly compared to a face cleanser. Because of its foaming action, it tends to be harsher and more drying on the skin. 
On to the face cleanser. They do clear the impurities from our face too, but focuses on removing makeup dirt and excess sebum that stays on the skin's upper layers. Its creamy and silky texture also makes it a kinder, gentler cleanser than a face wash. 
For removing heavy makeup and double cleansing (for oily skin), a face cleanser should go first to get rid of any makeup grime, followed by a face wash to deep cleanse your pores.
Suitable Skin Types
As a face cleanser is milder and more moisturising to the skin, it is best for people with normal, dry and sensitive skin. Whereas for those with combination and oily skin, it is ideal to use a face wash for a more sufficient cleanse. 
If your skin always feel squeaky clean, tight and gets quite red after cleansing, chances are your cleanser is too harsh for your skin. Do consider switching it to a gentler one if that is the case.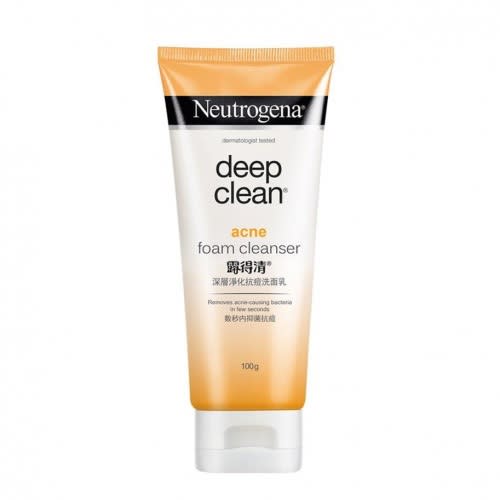 Check Neutrogena Deep Clean Acne Foam Cleanser price below:
add_circle
Contains a high amount of glycerin that helps in retaining the skin's moisture
add_circle
Provides oil-control to the skin
add_circle
Dermatologically tested
remove_circle
Not ideal for people with dry and sensitive skin
remove_circle
Contains Fragrance
Through clinical tests, this glycerin-based foam cleanser from Neutrogena vows to eliminate up to 99.9% of unwanted dirt from the face without taking the glow away. 
The anti-bacterial and anti-microbial Isopropyl Methylphenol (IPMP) used in formulating this cleanser is what makes it such a great acne-fighter. Supporting its strength, it also contains other anti-acne ingredients such as lauric acid and zinc gluconate too.
You might be thinking, "this sounds like a strong cleanser.... is it going to dry out my skin?" Well, here are a few takeaways to ease your worries. 
Firstly, the cleanser contains the brand's Natural Botanical Complex that protects the skin and helps to keep the skin hydrated and calm. Secondly, with glycerin, which is a skin humectant, as the first ingredient on its ingredient list, it is pretty promising that the cleanser is not here to strip your skin of its moisture. 
Last but not least, it is free from alcohol! As we are informed, alcohol dries out skin cruelly when used in high amounts! 
Several reviewers have mentioned that this cleanser has reduced the redness of their acne and given them a good amount of oil-control without leaving their face dry. However, reviewers with dry skin mostly find this foam cleanser a little too harsh for them. As such, we recommend this to people with combination or oily skin who struggle with acne.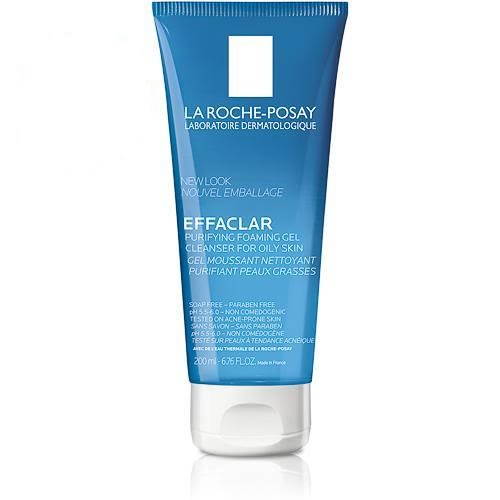 Check La Roche Posay Effaclar Foaming Gel Cleanser price below:
add_circle
Alcohol-free, Paraben-free, Non-comedogenic
add_circle
Regulates sebum production
add_circle
Maintains skin healthy pH level at 5.5 during cleansing
remove_circle
Contains Fragrance
remove_circle
Contains sulfates
Two active ingredients that can be found in this cleanser are Thermal Spring Water and Zinc PCA. While the former is an anti-irritant that leaves a soothing effect on the skin, the latter fights against acne-causing bacteria and regulates the sebum production of our pores. It'll effectively reduce breakouts and is a gold ingredient for people with oily and acne-prone skin. 
Despite its gel consistency, this cleanser can create rich white foam when mixed with water. It is specially designed to remove excess sebum and dirt on the face without disrupting its pH balance at level 5.5. Having a skin's pH level that is too high or too low will trigger an awful skin reaction which can take a long time to heal. 
Moreover, the product is alcohol-free, paraben-free, non-comedogenic and is listed as one of the Bustle Editor's picks in 2020. Do take note that Sodium Laureth Sulfate (SLES) in this product is a gentler cleansing agent and is not the same as Sodium Lauryl Sulfate (SLS), which can be very drying to the skin. 
According to the reviewers, this product has made their skin feel clean, fresh and a lot less oily, especially at the T-zone. They like how a little goes a long way, making it a worthy buy. A reviewer also mentioned that this product has improved her daughter's cystic acne condition.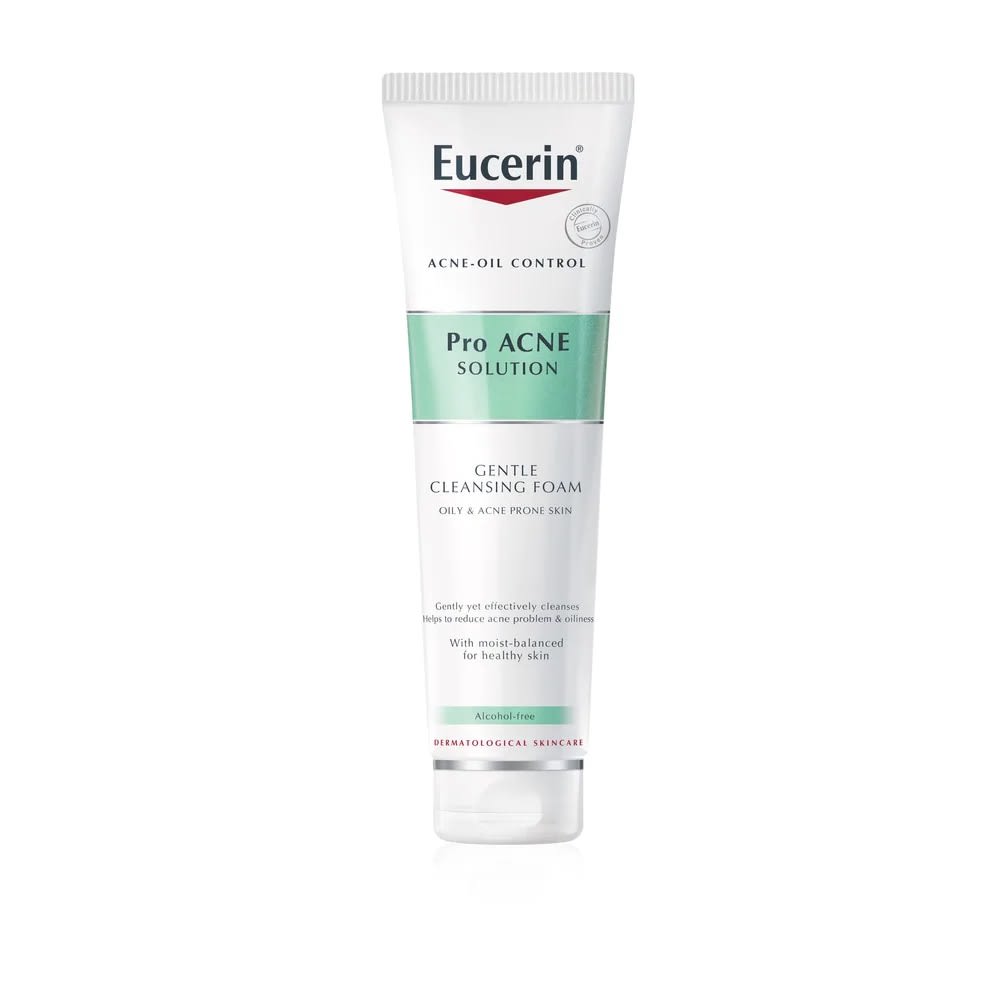 Check Eucerin Pro Acne Solution Gentle Cleansing Foam price below:
add_circle
Soothing to the skin
add_circle
Retains moisture without stripping the skin off
add_circle
Alcohol-free, Sensitive skin friendly
An alternative to the popular La Roche Posay foaming cleanser is this Pro Acne cleansing foam from Eucerin. It is sold at a much more affordable price point and works ideally for people with oily, acne-prone skin. Kick the grease away!
It contains Bisabolol, which is derived from Chamomile. This natural ingredient is quite effective at calming down acne that can trigger skin inflammation. Moreover, Bisabolol promotes skin-healing effect and even aids in reducing wrinkles in the long run, truly a saviour of an ingredient! 
There's also Lauric acid which combats acne and glycerin which helps to retain skin moisture naturally can also be found in the product. That being said, this is a cleanser that clears up our skin without over-stripping it. With its non-alcohol formulation, this cleanser promises to be sensitive-skin friendly.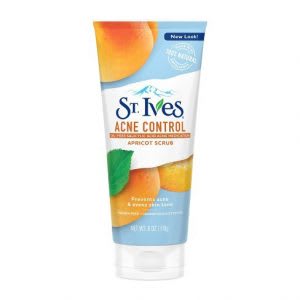 Check St. Ives Acne Control Apricot Scrub price below:
add_circle
Leaves the skin soft
add_circle
Contains Salicylic Acid
add_circle
Suitable for acne prone and oily skin
remove_circle
Not for daily use
Accumulation of dead skin cells, excess sebum and bacteria clog our pores will lead to the development of acne. Skin exfoliation, on the other hand, helps to clean congested pores and reduce the signs of breakouts. So when it's done in moderation, exfoliation gives us a softer and smoother skin that glows. 
The face scrub from St. Ives is a thick beige cream with scrub beads to deeply exfoliate the skin. Not only are the scrub beads in the cleanser obtained from 100% natural walnut shell powder, but the fragrance of this cleanser is also extracted from the natural apricots. 
As for the key ingredient, it comes with 2% of salicylic acid. Salicylic acid works as a skin exfoliant with anti-inflammatory properties and is extremely effective in treating blackheads and whiteheads.
However, we suggest for anyone to only use this product in moderation. Depending on one's skin type, overusing salicylic acid on the face might cause skin-peeling and skin-sensitivity. 
Although it's suggested by the brand to use the cleanser 3 to 4 times a week, we recommend people with normal, dry and sensitive skin to use it up to only 2 times a week.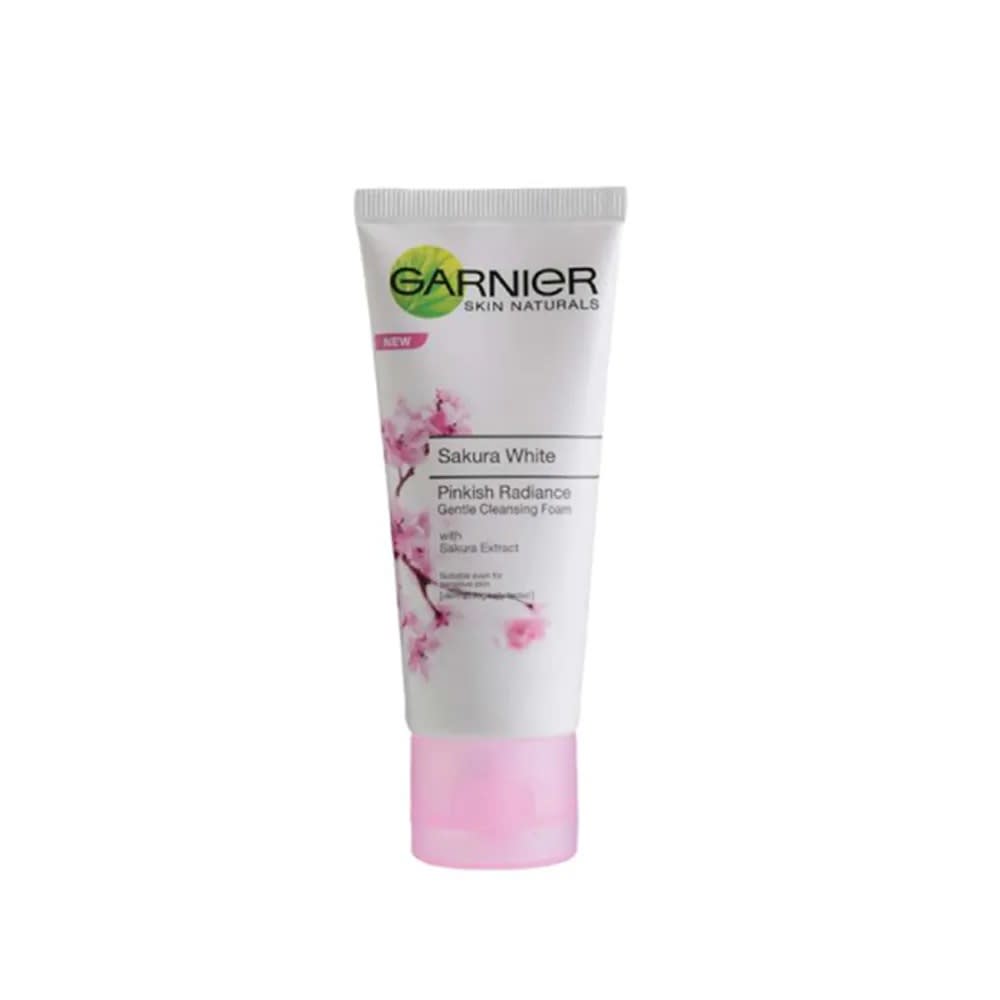 Check Garnier Sakura White Foam price below:
add_circle
Cleanses the skin gently enough without drying it out
add_circle
Exceptionally affordable
add_circle
Dermatologically tested safe for sensitive skin
remove_circle
Contains a mild fragrance
remove_circle
Isn't very effective in skin whitening and brigthening
Sakura Face Wash? Yes, you aren't seeing it wrong. This cleansing foam from Garnier contains Sakura extracts from Japan!
This cleanser aims to cleanse the face and reveal a complexion that is dewy, radiant and pinkish like Sakura. It is not only an alcohol-free face wash, but it's also dermatologically tested safe for sensitive skin. Moreover, the cleanser is infused with Ascorbyl Glucoside which is a stable form of Vitamin C that brightens up the skin, reduces hyperpigmentation and works as an antioxidant. 
Many reviewers have commented that this product has a nice smell, is soft and fluffy in texture. While it hasn't done anything impressive in whitening their skin, it is a cleanser that cleanses decently without leaving their skin feeling dry and tight. 
With its jaw-dropping affordable price point, lots of reviewers also find it worth their money. Based on the skin types of the reviewers, this should suit people with normal and combination skin well.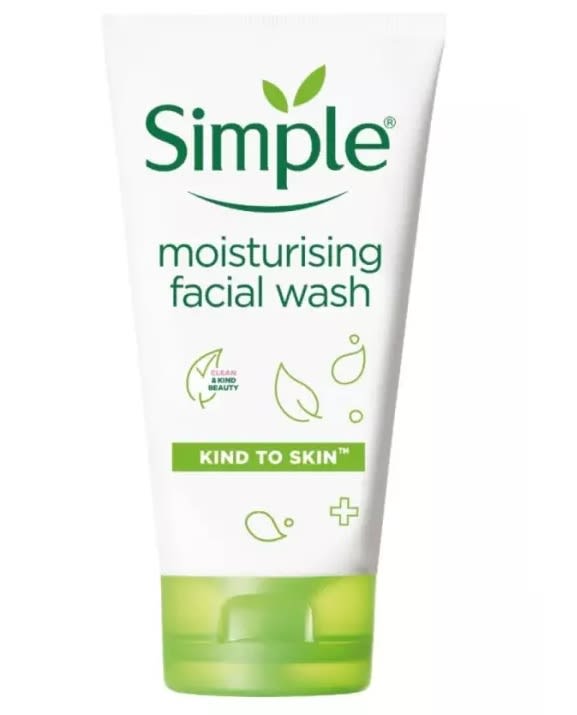 Check Simple Kind To Skin Moisturising Facial Wash price below:
add_circle
Free from artificial fragrances and dyes
add_circle
No harsh chemicals
add_circle
Suitable for sensitive skin
add_circle
Vegan & cruelty-free
It turns out that Simple really keeps their products simple. 
This moisturising facial wash from the brand is free from artificial colouring, artificial fragrance and any harsh chemicals that might upset the skin. 
Furthermore, being 100% free from soap or to be more specific, Sodium Lauryl Sulfate (SLS), it is no surprise that this face wash is formulated ideally for people with dry and sensitive skin. The reason why a soap-free face wash is more preferable is that SLS is alkaline and might dry out the skin in the long run. 
Looking through its ingredient list, the face wash is also formulated with Bisabolol to calm irritations and Panthenol which helps speed up the wound-healing process. There's also Tocopheryl Acetate(Vitamin E) which is an amazing antioxidant for the skin. So, besides cleansing the skin, the cleanser also comes with other skin benefits. 
While it is claimed to remove makeup residue, many reviewers have found it simply not enough for the job. There's still the need for a proper makeup remover before the face wash. 
Several have also mentioned how this product doesn't lather much. And last but not least, some reviewers have suggested pairing this face wash with a heavier moisturizer as it does leave their skin a little dry.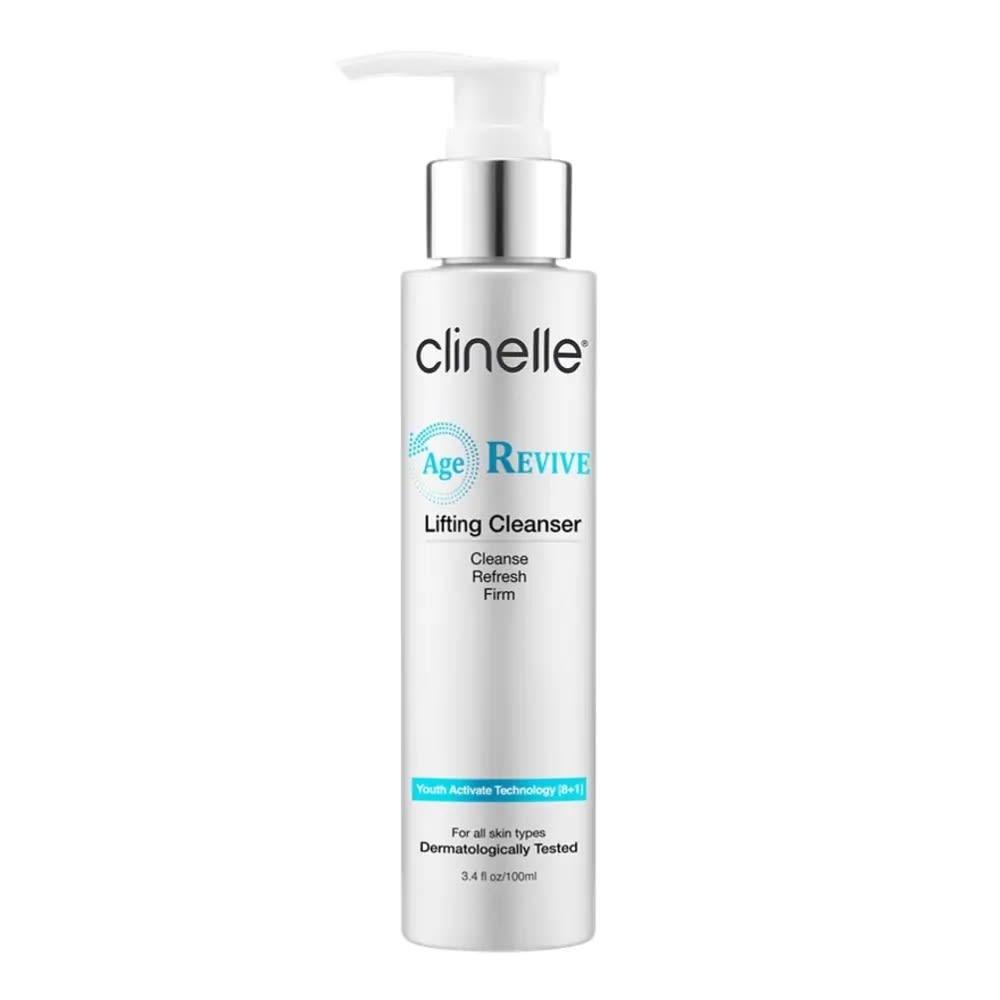 Check Clinelle Age Revive Lifting Cleanser price below:
add_circle
Youth-Activate Tecnology 8+1 that combines 9 plant exracts and works to combats signs of ageing
add_circle
Contains strong anti-oxidants
add_circle
No artificial fragrance
add_circle
No Specially Denatured Alcohol
add_circle
No artificial coloring
While face washes are typically about purifying and cleansing the skin, they can also offer skin-firming benefits. 
The Age Revive Lifting Cleanser from Clinelle incorporates ingredients that rejuvenate our skin effectively, making the skin young-looking again. Those ingredients include Spilanthes A. flower extract, Anti-UV Rays like Dimethylmethoxy Chromanol and also the brand's innovative Youth-Activate Technology 8+1. 
First up, Spilanthes A. flower extract has antifungal properties and aids in reducing wrinkles on the face. Then there's Dimethylmethoxy Chromanol which is a powerful antioxidant that safeguards our skin from the harmful UV rays and pollutants in the air. 
Meanwhile, Youth-Activate Technology 8+1 is a combination of 9 plant extracts that works together to slow down the ageing process of our skin and enhance skin elasticity. Through this combination of ingredients, it's quite interesting to see the researchers' thought of mixing several plant extracts in order create a cleanser that delivers skin benefits. 
Finally, the anti-ageing and skin-firming performances of this cleanser are further enhanced by the brand's Advanced Smart Delivery System. This system ensures the product gets absorbed better into the skin.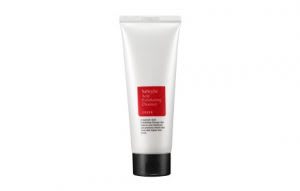 Check Cosrx Salicylic Acid Exfoliating Cleanser price below:
add_circle
Made with natural botanical ingredients
add_circle
Travel friendly
remove_circle
Not suitable for dry skin
Korea is surely a serious player when it comes to its skincare game. The reason why we find this gentle exfoliating cleanser from Cosrx one of the best salicylic acid face washes on the market is that it doesn't only serve us the benefits from salicylic acid. But, it is also packed with several great ingredients that give us happy skin.
Besides containing 0.5% of salicylic acid which is a BHA exfoliant that eliminates dead skin cells, other acne-fighting agents like Tea Tree Oil and Willow Bark Water can also be found in this product. Tea Tree Oil isn't only great for clearing blemishes but it also soothes the skin well and is an antioxidant. 
What's more, the product is formulated with glycerin to keep the skin hydration level checked without stripping off its moisture. 
This cleanser is claimed to be suitable for all skin types and even gentle enough on sensitive skin. According to reviewers, their acne has slowly diminished after using the cleanser once a day, 3 to 4 times a week. While the result isn't instant, this is their go-to face wash whenever they are struggling with breakouts. It has also kept their face soft and less greasy.
Check Garnier Skin Naturals Light Complete Foam price below:
add_circle
Fresh lemon essence to brighten up skin complexion
remove_circle
Result is short-lived and normal
remove_circle
Contains too many fragrance ingredients
remove_circle
Not sensitive-skin and dry-skin friendly
Unclogging the pores and improving skin complexion are what this foaming cleanser from Garnier goes after. It is enriched with fresh lemon essence that flushes away the toxins in our skin, brightens it up and lightens skin pigmentation. 
The product is of a creamy texture that lathers well with water and can be easily rinsed off, so it's quite a comfortable, basic cleanser to use.
Still, reviewers have found that this is quite an ordinary face wash very with its skin-brightening effect short-lived and needing. Nonetheless, because of its affordable price point, many of them are willing to repurchase as long as it doesn't break them out. 
With that much being said, let's talk about its biggest downside. 
It contains quite a lot of unnecessary fragrance ingredients. Suggested by its ingredient list, it comes with Linalool, Limonene and Benzyl Salicylate which all give a floral, citrusy scent. They are allergenic and very likely to sensitise the skin. So, to sensitive skin and dry skin people, take note!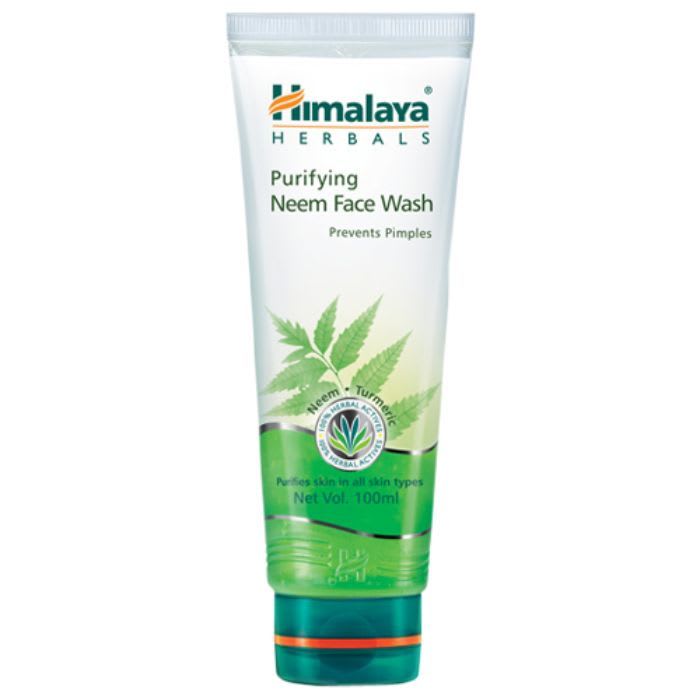 Check Himalaya Purifying Neem Face Wash (100ml) price below:
add_circle
Contains anti-inflammatory key ingredients like Turmeric and Neem
add_circle
Cleanses the skin well
remove_circle
Doesn't foam up much, according to the reviews
remove_circle
Contains fragrance
remove_circle
is unnaturally bright green in color, according to the reviews
Did you know that men have thicker and tougher skin texture? As such, we recommend men to try out this product as it's a more effective face wash that can meet their skin needs. 
This Himalaya's face wash contains some of the most uncommon ingredients for a cleansing product which are Neem and Turmeric. The former has been known as a popular ingredient that's used in traditional Indian remedies to treat skin issues. It is not only an excellent anti-fungal, but also an anti-ageing element that boosts and maintains skin firmness. 
As for Turmeric, it is recognized as one of the most potent wound-healing agents for the skin. This is because it contains curcumin components, which comes with benefits like easing skin inflammation and reducing skin cell oxidation. Turmeric also helps to purify the skin, giving it a glow from within. 
With its soap-free formulation, the face wash promises to penetrate deeply yet gently, into the skin and take away all unwanted impurities. Several reviewers have shared their pleasant experience with this product. One of them has even described the face wash as "Cut through grease like a knife through butter". 
Nevertheless, do take note that this face wash has a bright green hue, which some people find it a concern.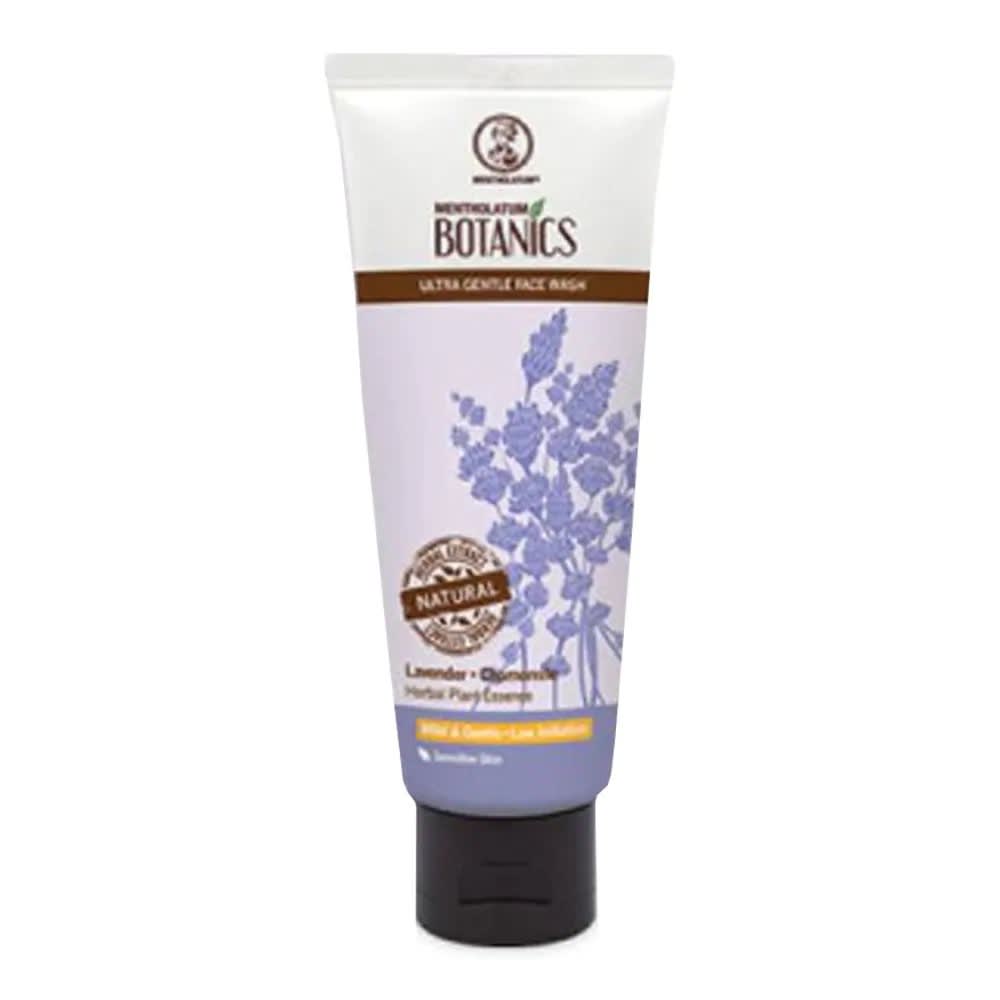 Check Botanics Gentle Facial Wash price below:
add_circle
Uses natural plant extracts with soothing and calming effect
add_circle
Has Aloe Vera for wound-healing and boosts skin cell regeneration
add_circle
Contains natural skin moisturizer - Shea Butter
remove_circle
Shea butter can clog the pores, thus it's not ideal for people with acne-prone and oily skin
For those who'd like to seek help from mother nature about their skin woes, try Botanics! This face wash from Botanics is fortified with natural herbal ingredients that not only cleanses the skin, but also work to better the skin's condition in time. 
The Botanics Gentle Facial Wash is formulated with natural plant essences from Chamomile, Lavender and Calendula. These popular flower ingredients all carry anti-inflammatory properties that soothes and calm the skin, making up for a face wash that's pleasant and ultra-gentle to use.
Also, it is fortified with natural Aloe Vera extracts that possesses amazing skin-healing properties as well as speed up skin cell regeneration. 
Shea butter, which is considered as an excellent skin moisturizer that tones and smoothens the skin, is also on the ingredient list. However, as shea butter carries the risk of clogging pores and causing acne, we don't suggest people with acne-prone and oily skin to use this face wash.
Disclaimer: The pricing shown is just a good indication of how much these products are worth. The prices could change based on the e-commerce promotions that are going on. If some of the products are not available, do email us at [email protected] Thank you!