As the Raya season is just around the corner, you're probably already on the lookout for some traditional, homemade cookies. Why not buy some buttery, mouth-watering Kuih Raya online? The options are endless.
Food certainly brings people together, and more so during celebrations. Enjoying festive desserts and cookies with your loved ones, regardless of where you are, is a sweet way to connect.
Ahead, check our some of the best Muslim-friendly halal Kuih Raya cookies that you surely will want a taste of this festive season!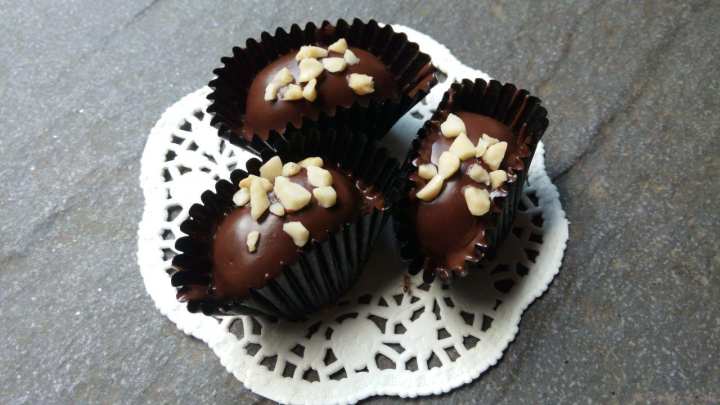 Check London Almond Cookies price below:
You know it's the start of a festive season when these babies come out. With a whole lot of almonds, a layer of buttery-texture and a rich chocolate coat these biscuits are a favourite among everyone and it'll surely bring a smile upon anyone who gets a taste of this goodness.
Container size/quantity: mini, medium, jumbo/ 400g(Shopee)

Key ingredients: Anchor butter/ Buttercup butter, Beryl's chocolate, almonds

Taste: Sweet & nutty

Halal: Yes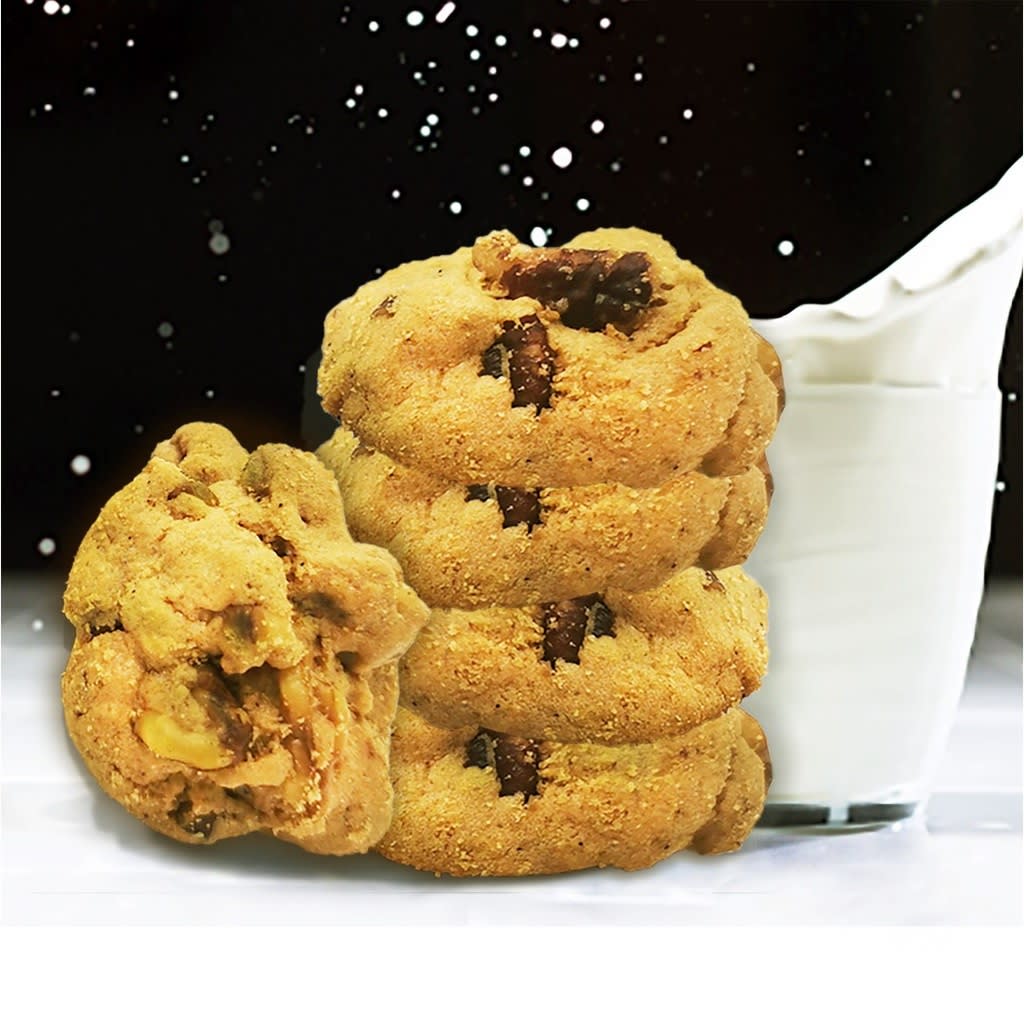 Check Walnut Pecan Butter Cookies price below:
This nutty surprise from Nutty Lover is sure to give you a burst of flavour with every bite. Freshly baked to perfection with minimal sweet ingredients and only the best of premium nuts, this crunchy number is the insatiable buttery taste you'll need.
Container size/quantity: 300g

Key ingredients: Walnut, Pecan, Wheat Flour, Rice Flour, Sugar, Butter, Egg, Salt,Sodium Bicarbonate, Vanilla Flavour

Taste: Crunchy and less sweet

Halal: Yes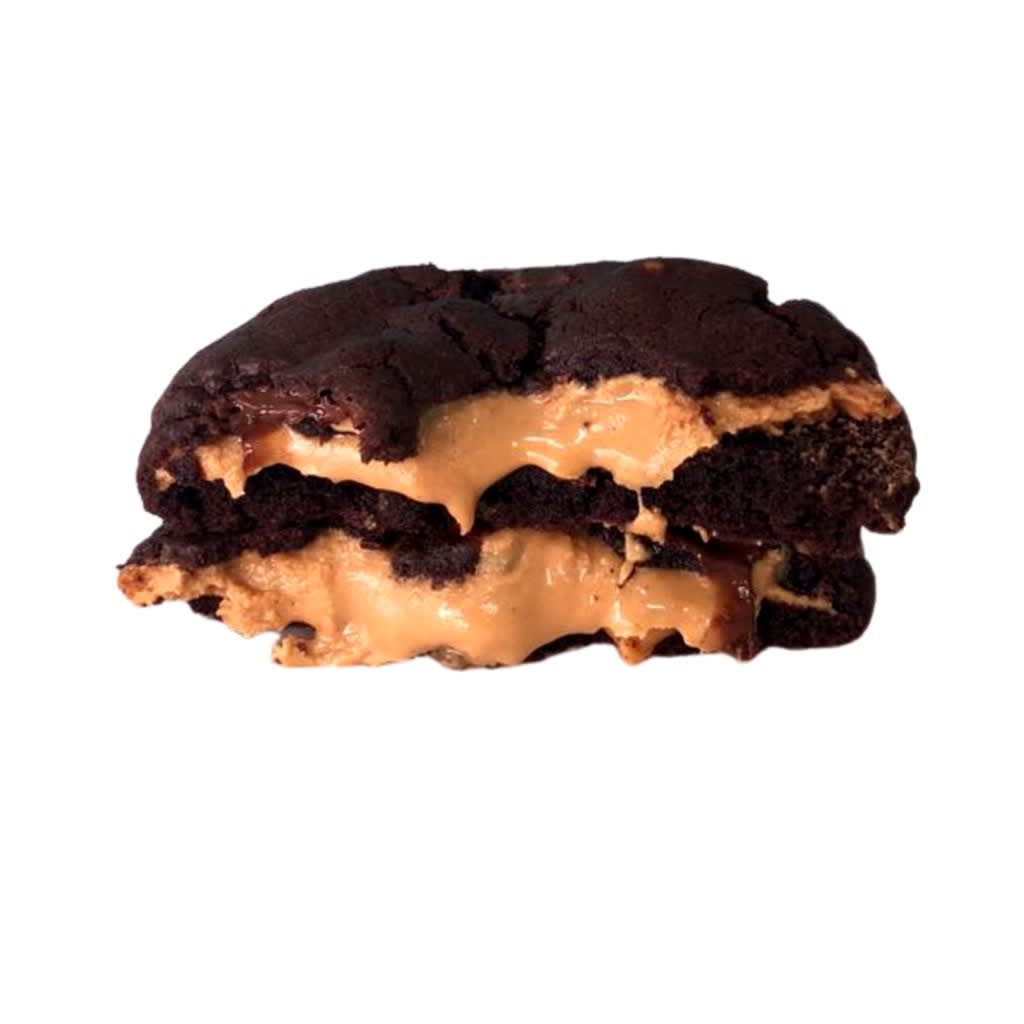 Check The Skinny Bakers Stuffed Reese's Peanut Butter Cookie price below:
The Skinny Bakers have envisioned the perfect cookie for all you peanut butter lovers out there. Made with double chocolate, bits and pieces of Reese's peanut butter chips and loaded fully with peanut butter inside, this affordable soft cookie will make you purchase a second and a third!
Container size/quantity: Single pack

Key ingredients: Double Chocolate, bits of Reese's Peanut Butterchips, Peanut Butter - Reese's

Taste: Subtle sweetness & earthy

Halal: Yes 
Check Premium Homemade Pineapple Tarts price below:
These bite-sized pastries which are filled with pineapple jam, is a staple dessert, especially in Southeast Asia during any festival season. Its soft, melt-in-your-mouth buttery texture will always leave you craving for it more. Plus, it's not too sweet too!
Container size/quantity: 12/27/45 pieces
Key ingredients: Butter, Q.B.B Ghee
Taste: Sweet and tangy
Halal: Yes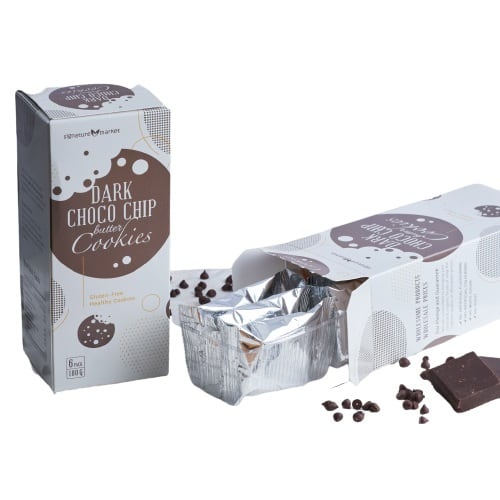 Check Signature Market Dark Chocolate Chip Cookies price below:
Signature Market's cookies have always been somewhat, popular and desirable. Healthy and gluten-free, this baked treat rids you the fear of allergies and unnecessary additives. Not too rich nor sweet, there's also no artificial colouring, flavouring, trans fat or even any soy products in it! Now are you ready to chow on them this Raya?
Container size/quantity: 6 pieces(individually wrapped)
Key ingredients: Rice Flour, Maize Flour, Dark Chocolate Chip, Brown Sugar, Sea Salt, Natural Baking Powder (Aluminium Free), Butter
Taste: Sweet 
Halal: Yes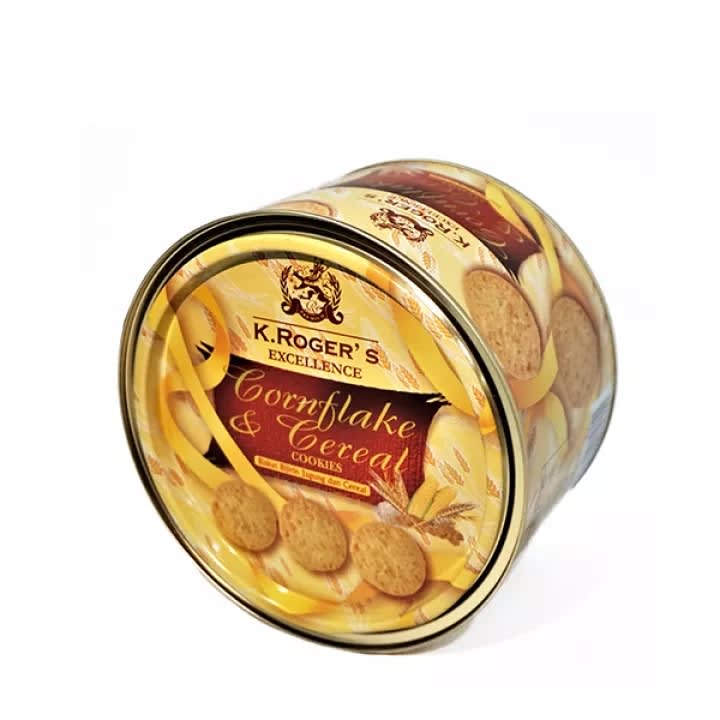 Check Cornflakes Cookies price below:
If it's good enough as a breakfast food, then it surely is good enough to be in cookies! These Danish buttered cookies are a crunchier and healthier choice as well as being vegetarian, although it contains some gluten and dairy. Be reminded however that if you don't keep it in an airtight container, you can say goodbye to that crunchy exterior.
Container size/quantity: 400g
Key ingredients: Contains gluten, oats, and dairy
Taste: Sweet 
Halal: Yes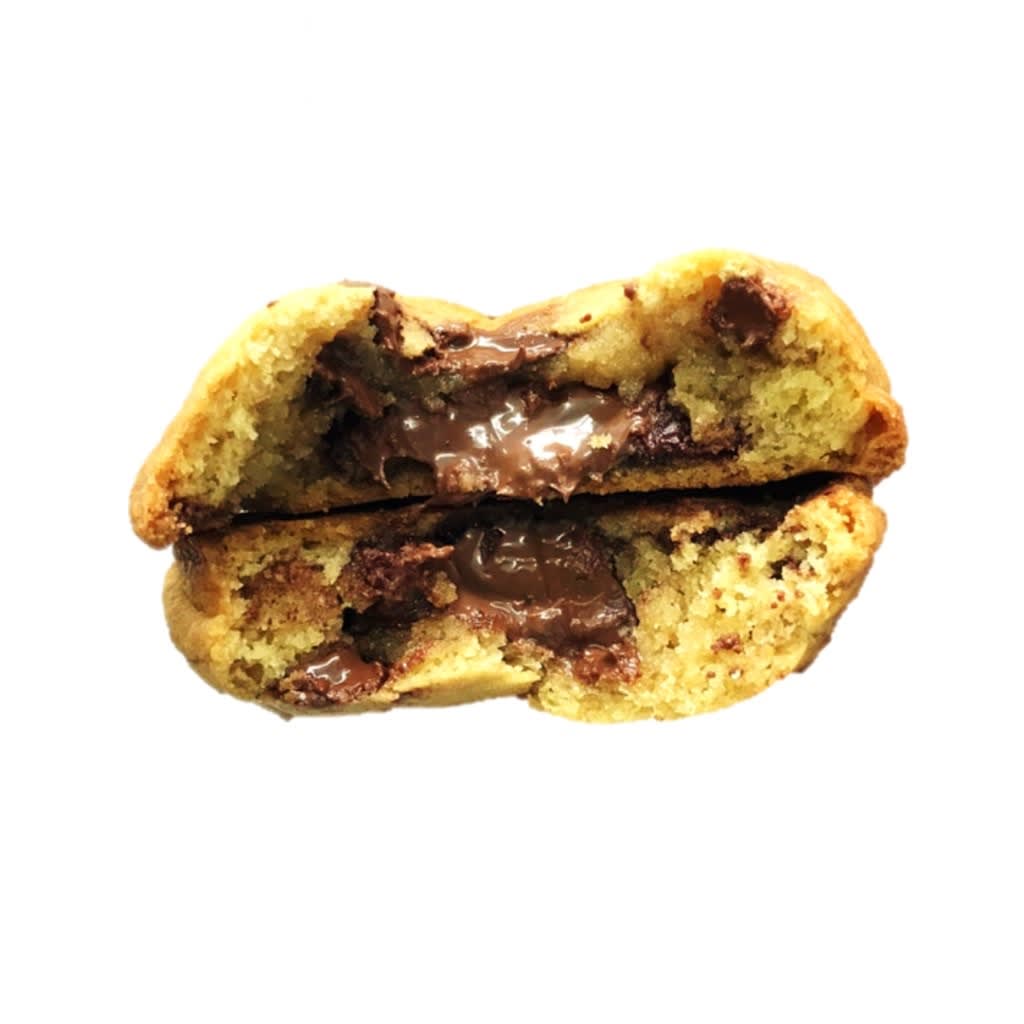 Check Nutella Cookies price below:
Now, this cookie type needs no introduction at all. It is a variation of the Skinny Bakers' original chocolate chip cookie dough. Here, Nutella's glorious hazelnut cocoa spread is filled with a generous amount of the chocolate spread gooey goodness into the soft cookies; what an indulgence! You'll surely want more than one!
Container size/quantity: Single pack(70g/piece)
Key ingredients: Unsalted Butter, Unbleached flour, sugar, eggs, baking soda, cornflour, salt and 18g of Nutella spread
Taste: Sweet 
Halal: Yes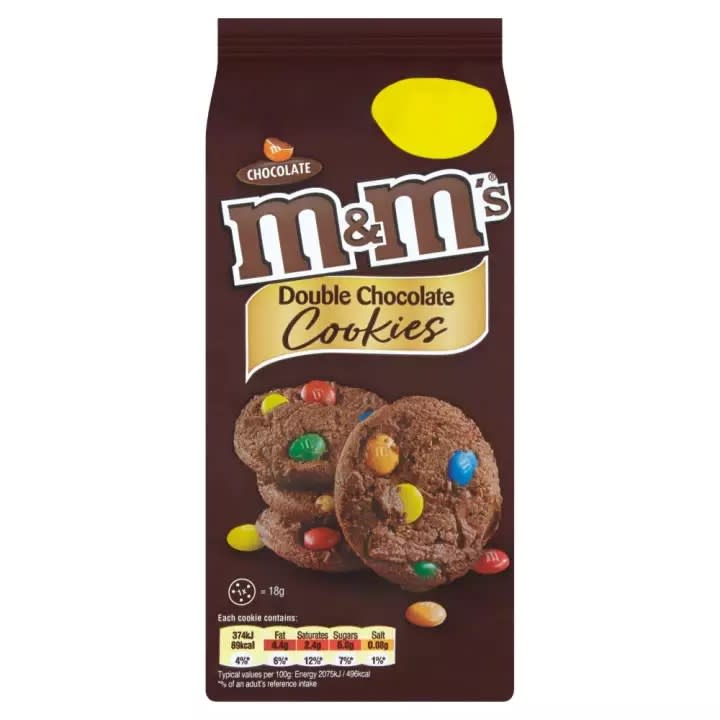 Check M&M Double Chocolate Cookies price below:
If you love M&Ms these cookies will be a treat! While this may not be a traditional cookie to gorge on during Raya, it will surely be a treat for the little ones. Soft on the inside yet, chewy on the outside, it's very very chocolatey; how can chocolate-lovers resist this?
Container size/quantity: 144g
Key ingredients: Wheat flour, Sugar, Butter oil(from milk), Fat reduced cocoa powder, Whey or Whey Permeate (from Milk),  Salt, etc.
Taste: Sweet 
Halal: Yes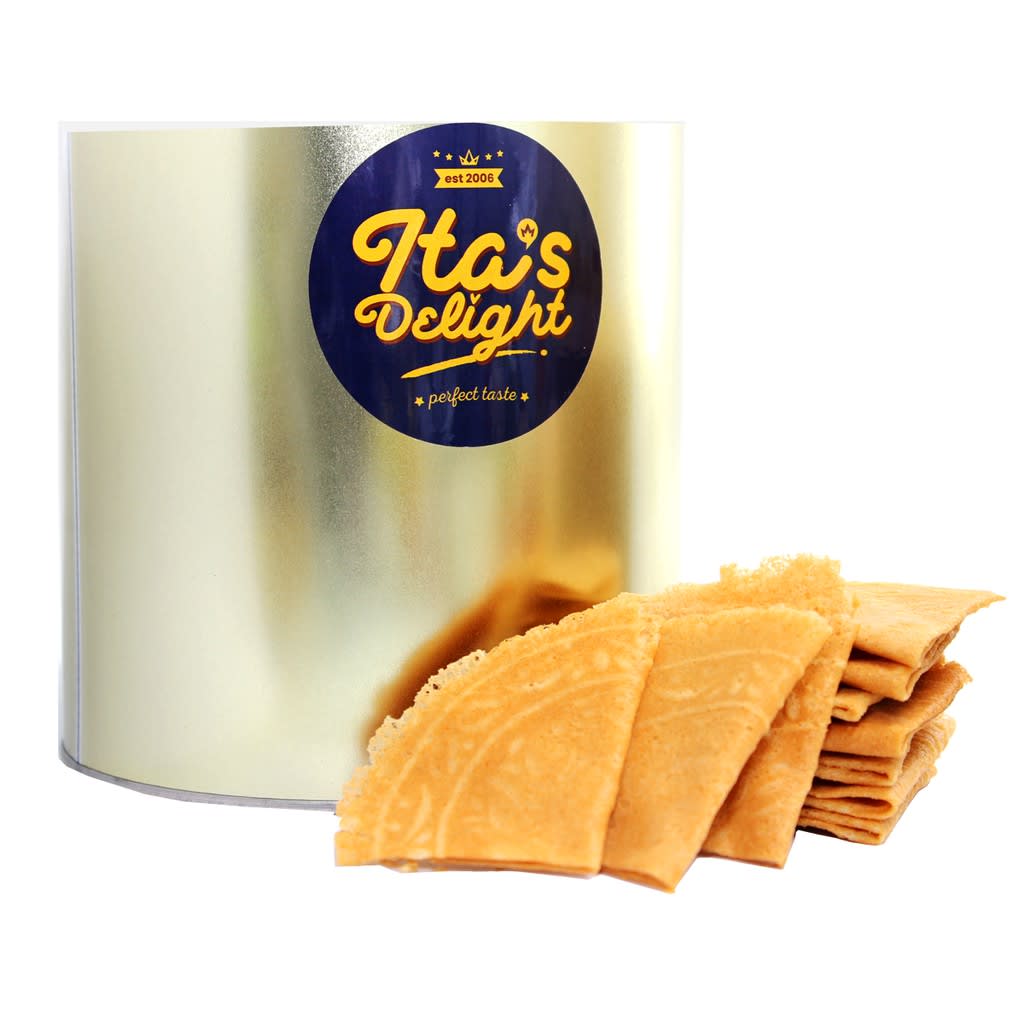 Check Kuih Kapit Raya price below:
Also another 'fan' favourite during the festive seasons; kuih kapit, also fondly known as love letters biscuit, is a must have at every house for every festive season. This thin waffle-like biscuit has a very light and crisp texture which is made with coconut milk, egg and caramelised sugar. Quite a simple yet delightful treat to have any time of the year.
Container size/quantity: +/- 80 pieces
Key ingredients: -
Taste: Crunchy/Sweet
Halal: Yes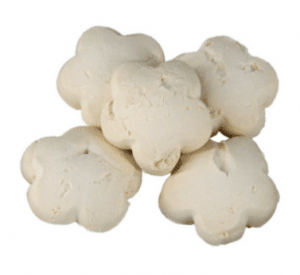 Check Kuih Bangkit price below:
If you haven't heard of it before, kuih bangkit, also known as tapioca cookies, is made from sago starch and is a local favourite for most festive seasons. Compactly sized, the best part about this biscuit is the fact that whether you choose to lightly crunch into it or just pop it into your mouth, the cookie immediately melts in your mouth when eaten, leaving you wanting more!
Container size/quantity: 500g
Key ingredients: Coconut cream, tapioca flour
Taste: Sweet 
Halal: Yes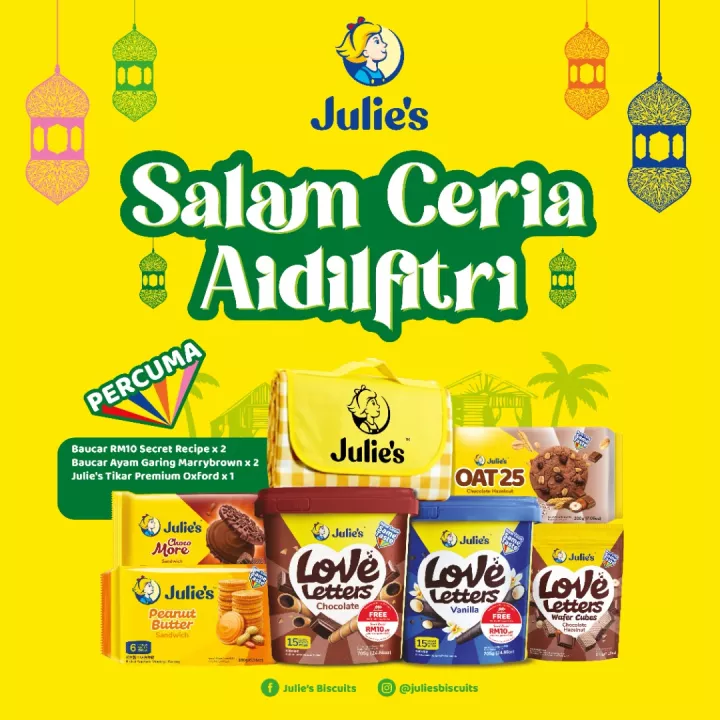 Check RAYA HRP Julie's Biscuits Combo price below:
If your family is a friend of Julie's, this bundle is perfect for you this Raya! Comprised of crowd favourites like peanut butter sandwich cookies and two tubs of their infamous love letters. You'll also receive a free mat(read: tikar) from Julie's as well as F&B vouchers.
What you'll get: Love Letters Chocolate 705g x 1 tub, Love Letters Vanilla 705g x 1 tub, Love Letters Wafers Chocolate 150g x 1 pack, Choco More Sandwich 160g x 1 pack, Peanut Butter Sandwich 180g x 1 pack, Oat 25 Chocolate 200g x 1 pack, FREE Julie's TIKAR x 1 unit, FREE F&B Vouchers x 2 units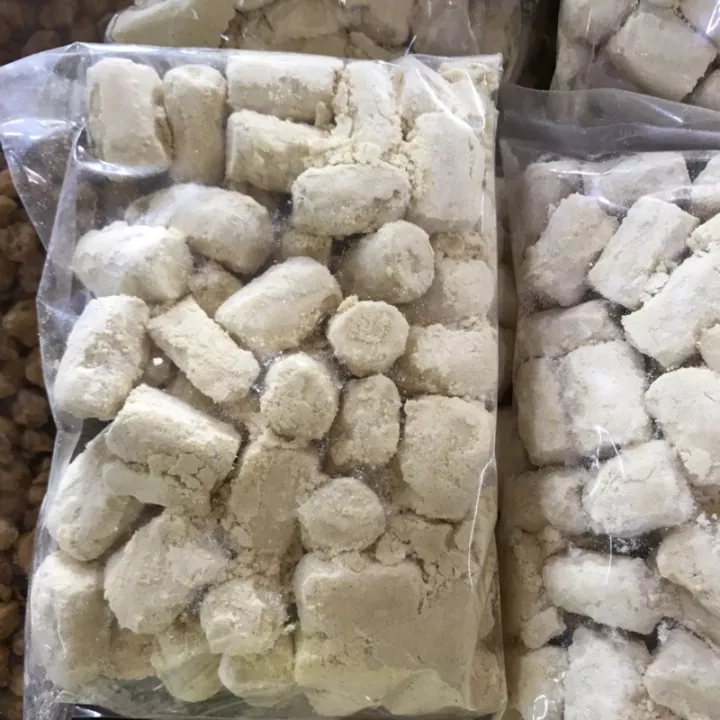 Check Batang buruk price below:
No Raya is complete without batang buruk. It's a traditional peanut cookie that's made of a mixture of three types of flour; wheat, coconut, and rice. Kneaded and formed into a cylindrical shape, its centre is hollow. Coated with green bean powder, it's sweet and melts in your mouth.
Not your typical "cookie", you should give it a try if you've never had it. You don't know what you're missing out on!
Container size/quantity: 350g
Taste: Sweet
Halal: Yes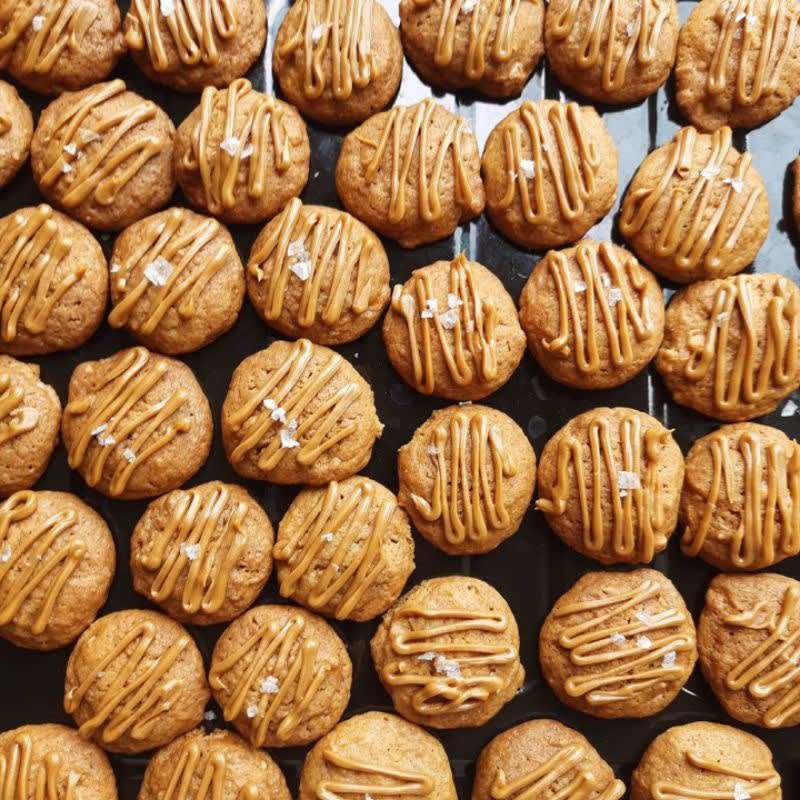 Check Biscoff Butterscotch Cookies price below:
Calling all Biscoff fans! This Raya, indulge in these Biscoff butterscotch chip cookies. These are yummy and crunchy with a generous amount of Biscoff drizzled on them. At 110g a pack, they're a real bargain!
Container size/quantity: 110g
Key ingredients: Wheat flour, corn flour, brown sugar, butter, egss, sea salt
Taste: Sweet
Halal: Yes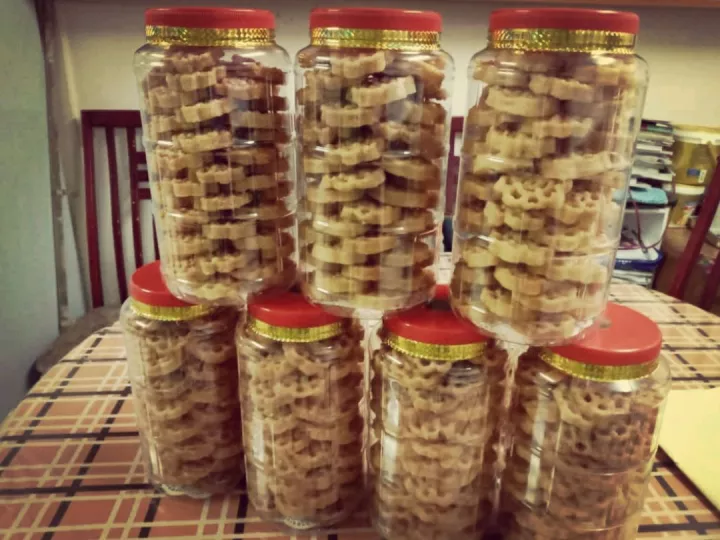 Check Kuih ros price below:
Kuih ros is a deep-fried rose cookie. Made of rice flour, it's crunchy and is sure to be a hit with your guests this Raya. 
More: