Choosing the right eye cream has always been a tricky part of skincare considering there is such a wide variation of eye creams on the market. 
Whether it is a high-end eye cream or an affordable drugstore eye cream, they are usually developed to address skin concerns like wrinkles, dark circles, and puffiness. Each eye cream will be formulated with different active ingredients such as retinol, vitamin C & E, and hyaluronic acids to tackle each concern. 
Some people would also prefer to use a dermatologist-tested or ophthalmologist-tested eye cream to minimise the risk of getting a skin allergy. 
---
Table of Contents
---
To make shopping easier for everyone, we have gathered a list of the best eye creams in Malaysia that one can go for in tackling his/her specific concerns.
Best Eye Creams in Malaysia
---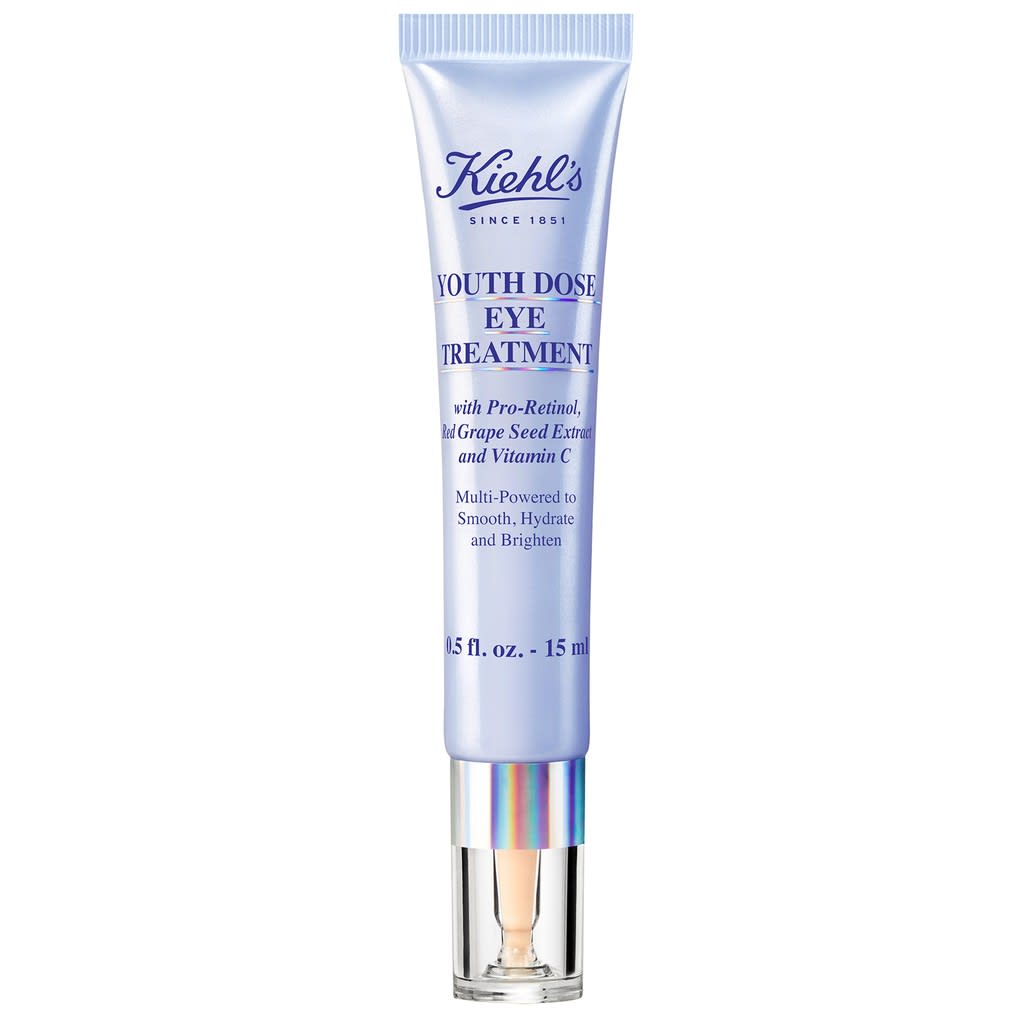 Check Kiehl's Youth Dose Eye Treatment price below:
add_circle
Contains several anti-ageing ingredients
add_circle
Improve skin texture, hyperpigmentation, dark circles, and eye puffiness
add_circle
Go well under makeup
remove_circle
Not very budget-friendly
3 dots of this Youth Dose Eye Treatment from Kiehl's are all you need to banish sagging eyelids and crow's feet. 
Key Feature
Its key ingredients are Pro-Retinol, Vitamin C, and Grape Seed Oil, which are all superstar elements for anti-ageing skincare.
Retinol helps in smoothening out wrinkles and restoring skin firmness whereas vitamin C promotes skin cell turnover as well as brightening the skin. Regarding Grape Seed Oil, it is a powerhouse of vitamin E. They protect the eyes from harmful UV rays which are a culprit of ageing. 
This eye cream is also good for depuffing the eyes and reducing dark circles thanks to the caffeine content in it. Caffeine works by stimulating blood circulation around the eyes and ease inflammation. 
Testimonies
Users started noticing a change in their skin texture, dark circles, and fine lines after weeks of using the eye cream. They've also found it non-irritating and wears well under makeup.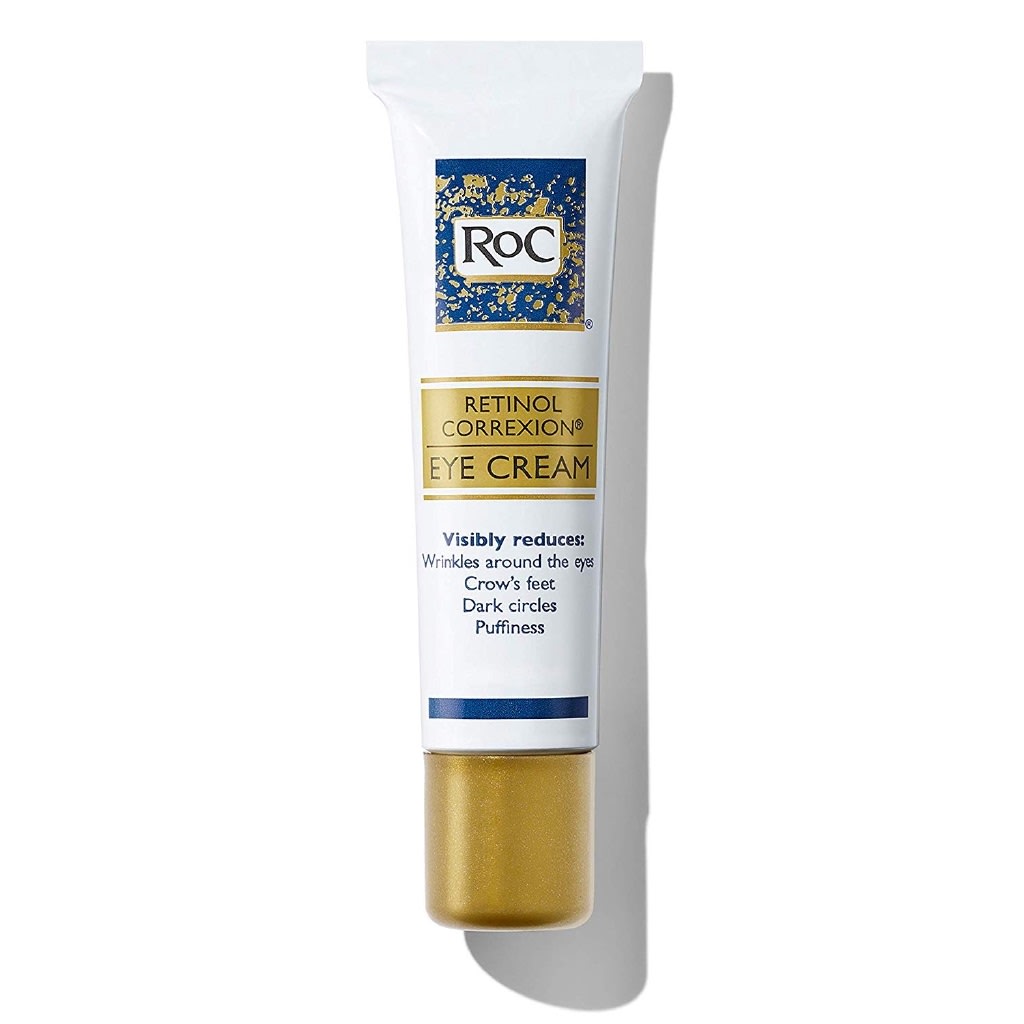 Check RoC Retinol Correxion Anti-Aging Eye Cream price below:
add_circle
Fragrance and essential oil-free
Having won the "Allure Best of Beauty Award" and "Glamour Beauty Award: Best Eye Cream", it is no surprise that the Retinol Correxion Eye Cream from RoC has always been their best-seller. 
Key Feature
The retinol technology from RoC has gone through more than 100 clinical studies and 75 safety studies, resulting in their products delivering effective results. One can also expect a reduction of under-eye puffiness in 4 weeks and a reduction of wrinkles in 12 weeks. 
To minimise the possible irritation from Retinol, the eye cream comprises several soothing ingredients like Panthenol, Copper Gluconate, and Zinc Gluconate. They all protect the skin and speed up wound healing too. 
Testimonies
According to reviews, a tube of this eye cream is said to last users a long time. Despite its steep purchasing price, many have found it economical enough for multiple repurchases. Many have also seen a reduction in fine lines and dark circles.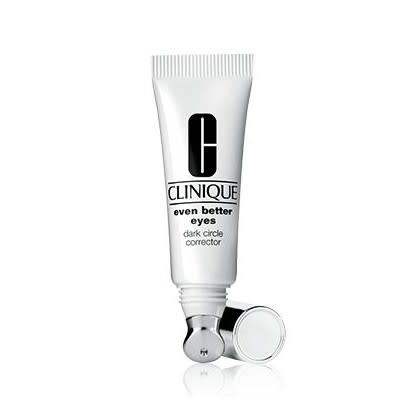 Check Clinique Even Better Eyes™ Dark Circle Corrector price below:
add_circle
Praised to deliver promising results
add_circle
Contains a variety of peptides and lipids to keep the skin firm
add_circle
Has vitamin C to help brighten the skin
add_circle
Cooling metal tip to massage puffy eyes
Struggling with dark circles and eye bags? Check out the Dark Circle Corrector from Clinique.
Key Feature
This eye cream contains several kinds of peptides and lipids to improve skin tone and skin elasticity. Its Glycerin and Caffeine content also keep the eyes hydrated and less puffy. Additionally, Vitamin C and Olive Fruit Extract are incorporated into the product to further brighten up the skin and fade dark circles. 
Packaging-wise, the product is designed with a metal tip that is used to massage the skin around the eyes. It provides the eyes with an instant cooling effect and improves blood flow. 
Testimonies 
Many customers swore by this product and claimed that it was the only thing that has worked for them. They started noticing a result after 2 weeks to 1 month.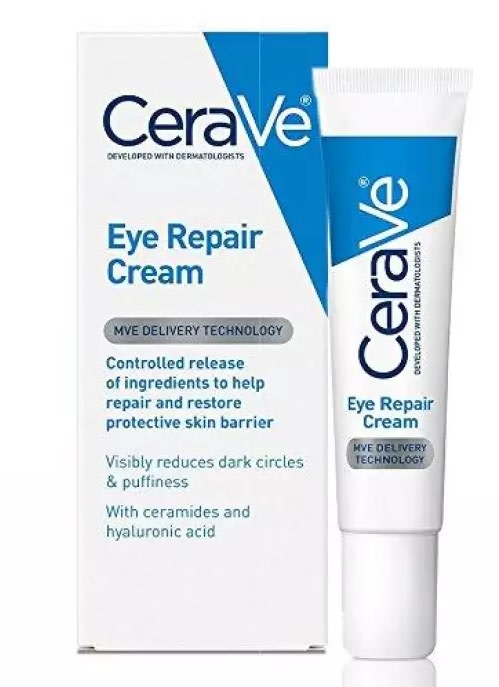 Check Cerave Eye Repair Cream price below:
add_circle
Tackles both dark eye circles and puffy eyes
add_circle
Very hydrating
add_circle
Lightweight texture
add_circle
Free from alcohol, fragrance, and essential oil
remove_circle
Pricey for its volume
The Eye Repair Cream from Cerave may just be your next holy grail to get rid of dark eye circles. It's known for its moisturising yet non-greasy texture, making it comfortable to use.
Key Feature
Comprising of Niacinamide, Ceramides and Hyaluronic Acid, this eye cream supports the eyes with intense hydration and a healthy protective barrier. As skin dryness is one of the triggers for dark circles, keeping the skin hydrated is always the fundamental step to combat them.
Besides, Niacinamide is also an excellent component to treat skin hyperpigmentation thanks to its skin-brightening properties. To further diminish dark circles, the eye cream is enriched with the brand's Marine & Botanical Complex which contains red algae, aloe vera, and horsetail.
Testimonies
Many users have found this eye cream to perform well, just as how it claims to do. Most have found the product to be very hydrating for them. Nevertheless, some of them found it pricey for its volume.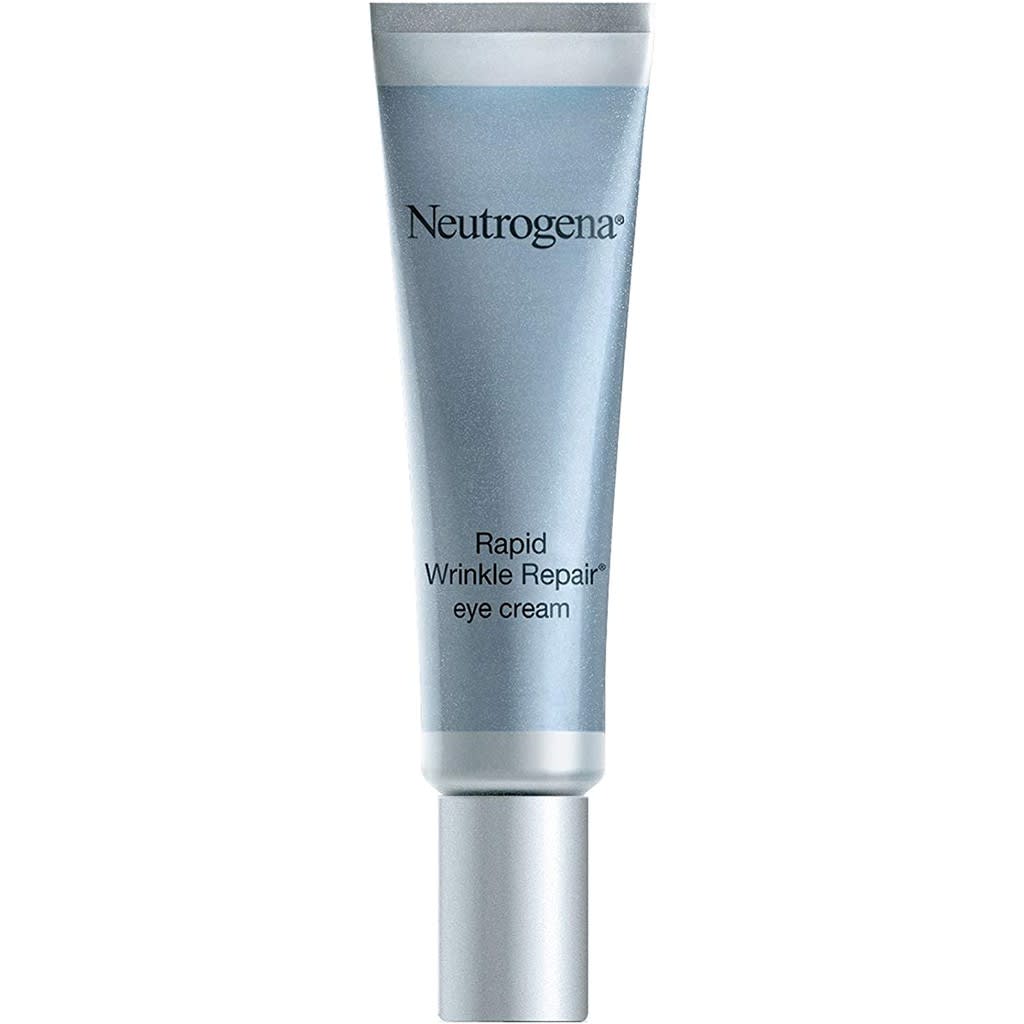 Check Neutrogena Rapid Wrinkle Repair Eye Cream price below:
add_circle
Great as an all-in-one eye cream
add_circle
Very effective ingredients used
add_circle
Not irritating according to user reviews
Time to break free from stubborn crow's feet with Neutrogena's Rapid Wrinkle Repair Eye Cream. It claims to show results in just 1 week!
Key Feature
Some of its notable ingredients include Glycerin, Retinol, Ascorbic Acid (Vitamin C), and Glucose Complex. 
Retinol is both anti-ageing and anti-wrinkle. It has been proven to even out skin texture and noticeably reduce the appearance of fine lines. The Glucose Complex is combined into the product for enhanced performance on Retinol's part. 
As for glycerin, it restores the skin barrier and thoroughly replenishes the skin, which is good for treating skin dryness. 
Testimonies
Users were pleased with the product as it worked well just as claimed and is quite affordable. They also loved how it didn't irritate their eyes despite containing higher retinol content than most.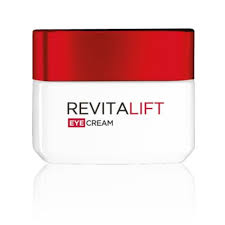 Check L'Oréal Paris Revitalift Anti-Wrinkle and Radiance Eye Cream price below:
add_circle
Contains premium Pro-Retinol ingredient for anti-ageing
add_circle
Utilises caffeine to alleviate dark circles and puffiness
add_circle
Has Vitamin E and soothing ingredients to strengthen the skin barrier
add_circle
Easy application
add_circle
Budget-friendly
Grab this budget-friendly yet high-quality L'oreal Paris Revitalift Eye Cream from your favourite drugstore. One thing's for sure is that it won't disappoint. 
Key Feature
To start, this eye cream is infused with Pro-Retinol and Caffeine. The former is a powerful anti-ageing ingredient while the latter helps with dark circles and eye puffiness. 
Apart from that, the product carries Kernel Oil which is a superb moisturising botanical oil that's packed with antioxidants. It targets radical damage and adds radiance to the skin. 
Centella Asiatica and Adenosine which are anti-inflammatory can also be found in the product. Such ingredients soothe the eyes as well as promote wound healing and skin barrier-strengthening. 
Testimonies
Users have expressed their satisfaction with the product. They found it easy to be put on, comfortable to wear and that it gives noticeable improvement.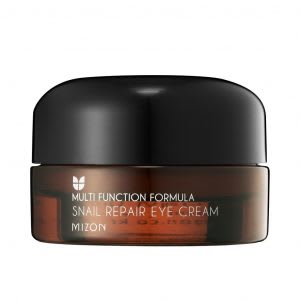 Check Mizon Snail Repair Eye Cream price below:
add_circle
High concentration of Snail's Mucus to hydrate and repair the skin barrier
add_circle
Claimed to be effective results on dark circles and wrinkles
add_circle
Reasonably-priced
add_circle
Non-heavy and fast-absorbing
Being multi-functional yet affordable, the Snail Repair Eye Cream from Mizon has been many K-beauty devotees' favourite.
Key Feature
The eye cream is formulated with 80% of Snail Secretion Filtrate, which is amazing in repairing and hydrating the skin. It also contains the all-star ingredient namely Niacinamide to lighten the under-eye area and promote collagen production. 
Additionally, it can reduce wrinkles around the eyes with its Adenosine and Amino Acids content. Such ingredients smoothen the skin texture wonderfully while increasing its firmness. 
Testimonies
Based on reviews, this eye cream has helped users in visibly improving their dark circles. Many have also mentioned that the product was adequately moisturising to their eyes nor was it heavy.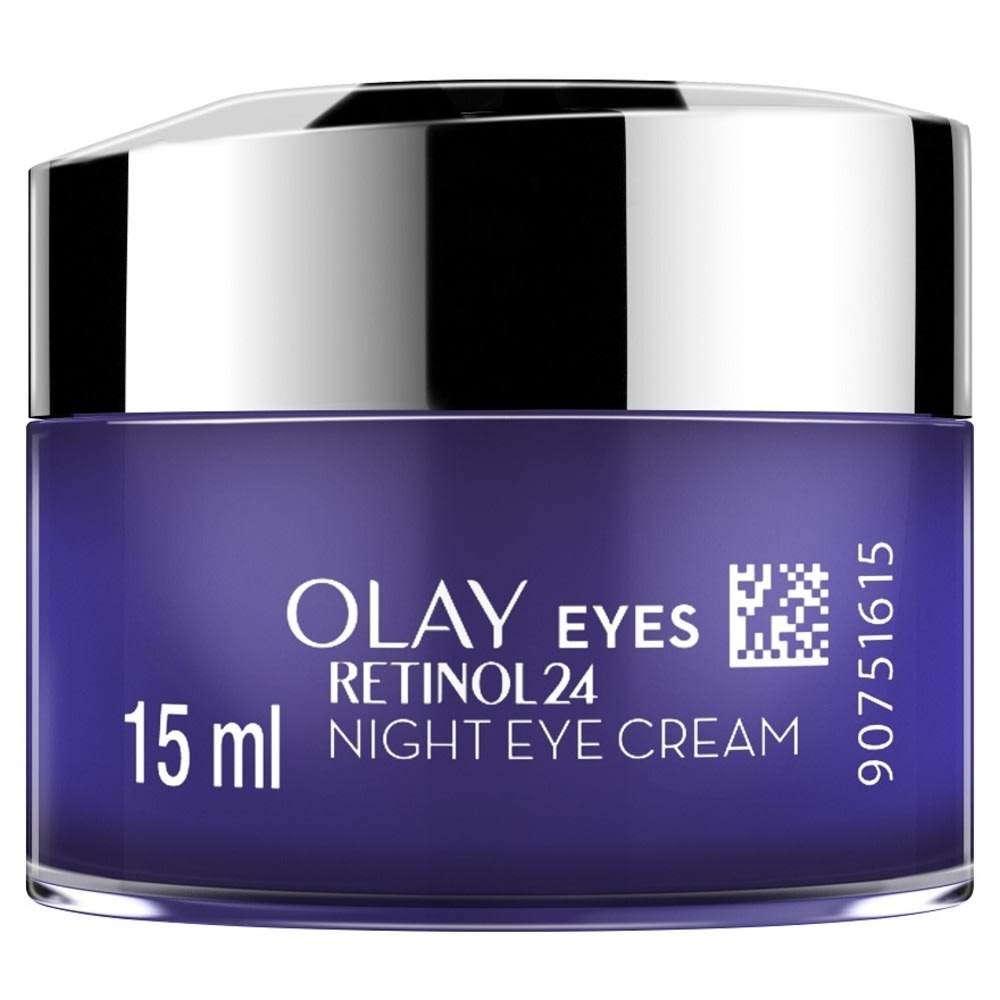 Check Olay Regenerist Retinol 24 Night Eye Cream price below:
add_circle
Free of fragrance and dyes
add_circle
Suitable for daily use
add_circle
Instant absorption
Is it possible to stop the clock? That's a yes if you have the Retinol 24 Night Eye Cream from Olay. This eye cream is a fighter against multiple signs of ageing. 
Key Feature
The eye cream relies on its effectiveness from the 2 types of retinoids in its formulation to treat wrinkles and dark spots around the eyes. Said retinoids are further supported by the brand's Niacinamide technology to supply the skin with even more anti-ageing benefits. 
Meanwhile, Niacinamide is wonderful for reinforcing the skin barrier, reducing skin hyperpigmentation, and stimulating collagen synthesis.  Furthermore, the product is infused with a good amount of antioxidants (Tocopheryl Acetate) to heal the skin from any sun damage. 
On a side note, it is suggested introducing the eye cream slowly into the skincare routine (using it 2 or 3 times a week) as the product contains a high amount of retinoids.  
Testimonies
While some users experienced a slight burning sensation from the product in the beginning, their skins adjusted to it and started noticing a good result. It is commonly reviewed that this product's effectiveness is even better than many expensive eye creams that users have used.
Check Estee Lauder Advanced Night Repair Eye Supercharged Complex Synchronized Recovery Cream price below:
add_circle
Packed with antioxidants
add_circle
Contains probiotics that protect eyes from UV rays and blue light
add_circle
Contains ChronoluxCB that improves skin texture and diminishes fine lines
add_circle
Lightweight texture
Hitting your 40s? No worries. Restore the youth of your eyes with this Advanced Night Repair Complex from Estee Lauder. 
Key Feature
The eye cream carries a high concentration of probiotic components to protect the eyes from UV rays and blue light. And with the exclusive ChronoluxCB™ used in this product, the cream works to boost the repairing process of the eyes and improve the skin texture. 
Furthermore, with its Caffeine, Soybean Extract, and Watermelon Extract content, it works to alleviate dark circles in just 3 weeks. Such three ingredients also heal the eyes from radical damage as they are loaded with antioxidants. 
Testimonies
Many customers noticed an improvement in the wrinkles around their eyes after weeks of using this eye cream. Their eyes appeared plumped and less droopy too.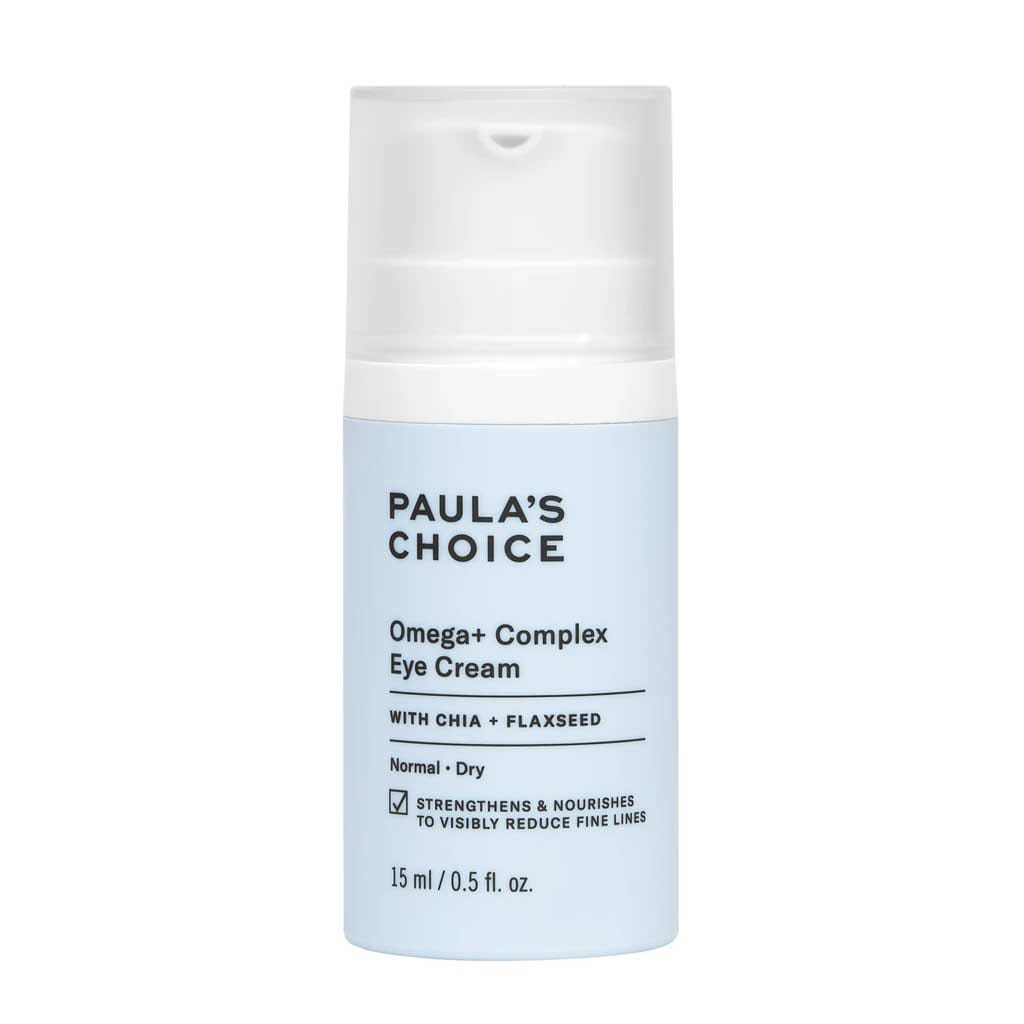 Check Paula's Choice Omega+ Complex Eye Cream price below:
add_circle
Packed with different nourishing fatty acids that combat signs of early ageing
add_circle
Contains ceramides to keep the skin nourished
add_circle
Has multiple skin-brightening ingredients
The Omega+ Complex Eye Cream from Paula's Choice is a great option for people who are dealing with early signs of ageing. Here is why. 
Key Feature
This eye cream is packed with omega 3, 6, and 9 which are good fatty acids that play a vital role in combatting signs of ageing. They repair rough skin, keep the skin nourished and build protective skin barriers.
Moreover, the eye cream carries Niacinamide, Mulberry, and Licorice to brighten up the skin and alleviate dark circles. Several Ceramides are also included in the formulation to lock moisture in the skin and counteract dull-looking eyes. 
Performance
This product has been approved by many users as it made their eyes healthier-looking and plump. It felt nourishing, didn't sting the eyes and that it was very easy to apply.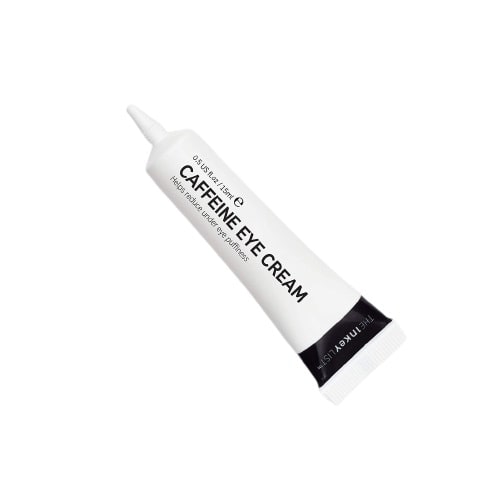 Check The Inkey List Caffeine Under-Eye Serum price below:
add_circle
Nourishing to slow down ageing
add_circle
Targets dark eye circles and puffy eyes
add_circle
Superb hydrating capabilities
remove_circle
Less noticeable result in de-puffing the eyes
Choose this Caffeine Under-Eye Serum from The Inkey List to kickstart your "Eye Cream Journey". It is excellent in re-energising the eyes and slows down signs of ageing.  
Key Feature
The eye cream comes with a good amount of Glycerin, Squalane, Lipids, and Hyaluronic Acid which are all superb emollients to help keep the skin supple. After all, adequate hydration is key to a healthy skin barrier and fewer wrinkles. 
Its caffeine content fights against eye puffiness and dark eye circles. Moreover, the cream works to defend the skin from UV rays and environmental pollutants that can speed up ageing. Additionally, amino acids in this product don't only slow down collagen degradation but also accelerates collagen production.
Testimonies
Many users have claimed that this eye cream reduced their dark circles and that it's moisturising. As for de-puffing the eyes, there was an improvement but isn't as noticeable as on dark circles.
---
How to Choose an Eye Cream:
1. Choose an eye cream based on your age or concerns:
There isn't really a one-size-fits-all when it comes to skincare products. According to dermatologists, people can start using an eye cream once they hit their 20s. 
In the 20s, the aim is to prevent premature ageing. One can opt for eye creams that target puffy eyes, dark circles, and dryness.
When you hit your 30s, the focus is to tackle early signs of ageing. One can opt for eye creams containing a good amount of antioxidants, skin-brightening ingredients, and amino acids.
And when you're in your 40s, 50s and beyond, it is about fighting against all visible signs of ageing like wrinkles, dark spots, and sagging skin. One can opt for eye creams with keywords like "anti-wrinkle", "anti-ageing", and "firming". 
2. Focus on eye creams with these ingredients:
Retinol: A potent, well-studied anti-ageing ingredient. It keeps skin firm and reduces fine lines by speeding up skin regeneration.

Vitamin C: A great antioxidant and skin-brightening ingredient. It treats hyperpigmentation such as dark eye circles and dark spots around the eyes. They also defend the eyes against ageing-related skin problems. 

Caffeine: A famous "eraser" for dark circles. It encourages blood flow and de-puffs the eyes.

Ceramides: A skin-identical ingredient. It prevents water loss from the skin, keeps skin moisturised and maintains skin health. 

Niacinamide: An all-star ingredient that brightens the skin, keeps it healthy, treats fine lines and more.
3. Avoid eye creams with toxic ingredients like paraben, bad alcohol and fragrance.
Using skincare products with toxic ingredients may do more harm than good to especially sensitive skin. While the ingredients might not instantly cause an awful reaction on some people's skin, they can potentially do so. High concentrations can irritate the skin, deteriorate the skin barrier and cause the skin to be prone to breakouts.
---
Related Eye Cream Recommendations