If you're a makeup enthusiast, you'll know that choosing the right makeup to match your skin type and tone is a tough-enough task without having to worry about how you'll get it off. However, the right makeup remover can make a world of difference to your future makeup days. What's important is it keeps your skin healthy for the long run.
Here are some of our favourite makeup removers for a variety of skin types and makeup users that you can get in Malaysia.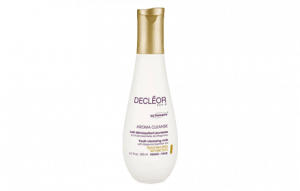 Check Decleor Aroma Cleanse Youth Cleansing Milk price below:
This hydrating cleansing milk is specially formulated for aging skin to remove makeup while keeping skin soft, supple and moisturized and looking young.
The cleansing milk contains several ingredients such as sweet almond oil, magnolia essential oil and hyaluronic acid which is beneficial for mature skin.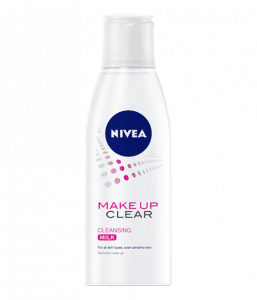 Check Nivea Make Up Clear Cleansing Milk price below:
A hydrating and moisturizing makeup remover is what you should look out for if you have dry skin.
This cleansing milk makeup formula removes makeup without leaving your skin feeling greasy and contains grape seed oil. It is a nature-derived antioxidant that moisturizes your skin while cleansing without leaving residues such as colourants, alcohol, paraben, perfume or silicone. Keep your skin well hydrated and clear with this makeup remover cleanser.
More: Keep Your Skin Makeup-Free with these 6 Makeup Removers from Sephora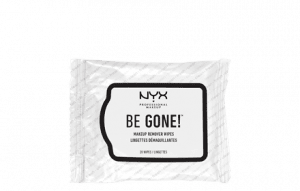 Check NYX Professional Makeup Be Gone! Makeup Remover Wipes price below:
If you're looking for a convenient, on-the-go solution to your makeup removal needs, then the NYX makeup remover wipes is a great choice. This gentle cleansing wipe removes makeup and even waterproof mascara with ease. The formula leaves skin feeling clean and fresh.
Best of all, it is quick to use, convenient to carry, does not require a rinse-off and can be easily disposed of once used.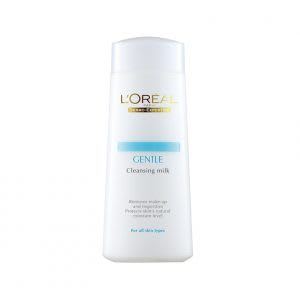 Check L'Oreal Gentle Range Cleansing Milk price below:
This gentle cleanser removes light makeup and impurities effectively while hydrating and soothing skin. Lipoproteins protects the skin's moisture levels to ensure skin is soft and supple.
This cleanser can remove most makeup in one go but will need to be applied twice if wearing heavy makeup. It is also a cheaper option for those looking for something simple and effective.
More: 7 Eye Makeup Removers from Korea for Your Delicate Eyes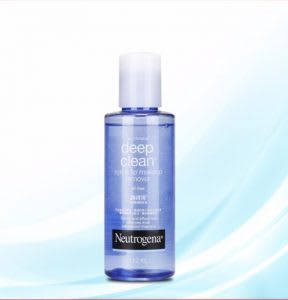 Check Neutrogena Deep Clean Oil Free Makeup Remover price below:
Those with oily skin fare better with oil-free makeup removers as adding more oil to the skin can cause more breakouts. Cleansers that are good for this category should also contain ingredients that soothe the skin and lack additives such as fragrances, oils and volatile alcohols. Note that fatty oils such as cetyl, stearyl and cetearyl alcohol do not irritate skin like volatile alcohols do and don't cause dry skin.
This Korean makeup remover removes even waterproof makeup quickly and contains aloe and cucumber fruit extracts, which are good for soothing and moisturizing oily skin. Use this oil-free makeup remover to keep your face clean and healthy without having to worry about any oily residue.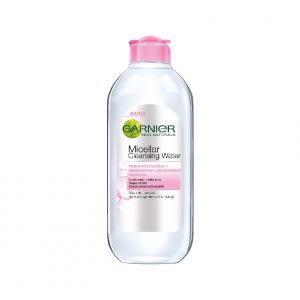 Check Garnier Skin Naturals Micellar Cleansing Water for Sensitive Skin price below:
add_circle
Contains micelle
add_circle
Suitable for sensitive skin
add_circle
Leaves the skin soft
add_circle
Good value for money
If you have fickle skin, you have to ensure that both makeup and makeup removers used are not too drying, harsh or contain ingredients that irritate skin. Using micellar water solves this problem as not only is it effective in removing makeup, it doesn't rinse away natural oils on your skin like some cleansers do. Therefore, keeping your skin from drying out.
This all-in-one cleanser is powerful yet gentle to the skin and can be used for face, lips, and eyes. The formula relies simply on micelles in water acting as surfactants that capture and lift away dirt, oil, and makeup. There'll be no need for harsh rubbing to keep your face clean, hydrated and refreshed.
This is a great value buy as well if you're looking for an effective makeup remover to suit any skin type within a reasonable price range.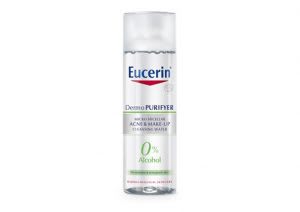 Check Eucerin Dermo Purifyer Acne & Makeup Cleansing Water price below:
If you have acne-prone skin, try to avoid cleansers that contain additives such as fragrances, oils and volatile alcohols, which can cause irritations and allergies. A good choice is this specially derived formula by Eucerin. It is designed as a makeup remover for acne-prone skin that won't cause a break out while removing water-soluble eye and face makeup.
It unclogs and tightens pores to reduce the re-occurrence of acne and contains a combination of active ingredients. These include APG complex, gluco-glycerol and hyaluronic acid which are especially good for your skin.
This cleanser is non-comedogenic (does not clog pores) and can help keep your face and the skin around your eyes clean, calm, soft and better prepared for regeneration.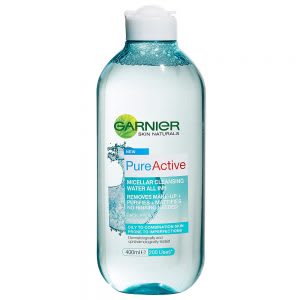 Check Garnier Skin Naturals Pure Active Micellar Cleansing Water price below:
If you have combination skin, you'll know that trying to manage oil and dryness levels on different parts of your face can be a challenge. This is why a gentle, non-oily makeup remover may be your best option.  
This all-in-one makeup remover and cleanser can effectively remove even waterproof makeup. It leaves your skin clean, hydrated and refreshed without the need for harsh rubbing during application.
The micelles in micellar water are effective in dissolving a variety of makeup products such as foundation, eye makeup, and mascara. It also removes sweat and excess oil, making the formula an effective combination of makeup remover and cleanser.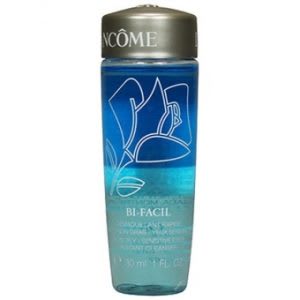 Check Lancome Bi-Facil Non-Oily Sensitive Eyes Instant Cleanser price below:
If you're a big mascara and eyeshadow fan, you'll love this solution that is capable of dissolving eye makeup, including waterproof mascara.  
This specially created formula for sensitive skin around the eyes and contact lens wearers contains a disinfectant molecule (polyaminopropyl biguanide) found in contact lens cleaner. It works to purify and cleanse skin as well as act as a preservative and anti-microbial ingredient in this makeup remover.
The surfactants in the bi-facil formula (shake to activate bi-phase formula) lifts dirt, oils, and makeup from the skin to cleanse it and are least likely to irritate the skin and eyes. Hence, making it perfect for sensitive skin types and for products that come into contact with your eye.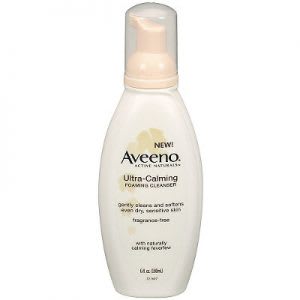 Check Aveeno Ultra-Calming Foaming Cleanser For Sensitive Skin price below:
If you have rosacea, you'll need a makeup remover that suits sensitive skin. It has to be gentle, alcohol-free and fragrance-free to help maintain your skin's pH level and not strip layers of skin.
However, you'll need an effective cleanser, especially for around the eyes if you have ocular rosacea. This is because bacteria and yeast build-up in those areas can aggravate the condition. Soothing and natural anti-inflammatory ingredients can also help calm irritated skin.
The Aveeno gentle foaming cleanser is specially formulated to suit your needs. It effectively lifts dirt, oil, and makeup without overdrying or aggravating even very sensitive skin.
The secret to it is its Active Naturals Calming Feverfew, a natural ingredient related to chamomile that reduces the appearance of redness. It is soothing to the skin and gentle enough for everyday use.
It is also hypoallergenic, non-comedogenic (doesn't clog pores) and fragrance-free, which means your skin, which makes it suited for sensitive skin that occurs with rosacea.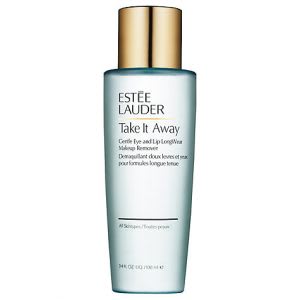 Check Estee Lauder Take It Away Gentle Eye and Lip Long Wear Makeup Remover price below:
This highly effective makeup remover formula can easily dissolve long-wear and waterproof makeup. It is gentle enough for sensitive skin and hence is suitable for lip and eye makeup removal.
The formula also contains aloe vera and other botanical ingredients that are good for soothing the skin while leaving it clean, soft and supple. It is ideal for all skin types, is fragrance-free and does not leave an oily residue or greasy after-feel.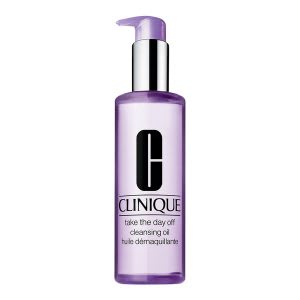 Check Clinique Take The Day Off Cleansing Oil price below:
This Clinique cleanser is a water-soluble cleanser that feels oily but is oil-free. It contains oil-like ingredients as well as emulsifiers. This allows the cleansing oil to be rinsed off easily with water as a milky emulsion.
It effectively dissolves heavy foundation, eye makeup, waterproof mascara, oil, and impurities and leaves no residue when rinsed off. It is fragrance-free and does not contain potentially irritating ingredients, which makes it suitable for all skin types.
Specially designed for those with heavy makeup and who routinely use long-wearing formula, Take The Day Off Cleansing Oil makes the job of removing makeup at the end of the day an easy task.
Check Nars Gentle Oil-Free Eye Makeup Remover price below:
For those with eyelash extensions, you'll want to take care to use a makeup remover that is oil-free as any oil will loosen the glue bonding your extensions. The Nars formula is ultra-gentle, oil-free and effective in removing traces of eye and lip makeup in this situation, even waterproof ones.
It is enriched with cucumber and aloe vera, which soothe the delicate eye area and leave skin calm, clean and refreshed without an oily feel. It is also gentle enough for contact lens wearers, non-comedogenic (does not clog pores), fragrance-free and contains hyaluronic acid known for comforting and hydrating skin.
More: 5 Quick Makeup Removal Ideas for Busy Malaysians On-The-Go
Disclaimer: The pricing shown is just a good indication of how much these products are worth. The prices could change based on the e-commerce promotions that are going on. If some of the products are not available, do email us at [email protected] Thank you!