You might be thinking, "Why should I invest in a gaming monitor over a regular monitor?". Well, gaming monitors have different features and technologies in comparison to regular monitors. These features are what will contribute to an overall greater gaming experience for the user (that's you!). You wouldn't want grainy pixels or experience lagging when you're gaming, would you?
So, here are some of the best gaming monitors in Malaysia that's been commonly talked about.
Disclaimer: Aside from the "Top Pick" where the writer is able to conduct a full-on review, other products on this list are gathered based on in-depth research and understanding from experience with similar products.
---
8 Best Gaming Monitors in Malaysia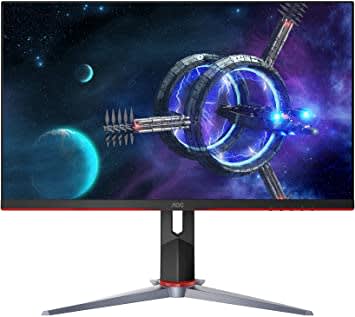 Check AOC 27G2 Gaming Monitor price below:
add_circle
Ergonomic feature with an adjustable stand
add_circle
Design that takes up minimal desk space
remove_circle
Colours may not be as vibrant compared to other monitors
Why It's Our Top Pick:
If you are used to laptops and/or have a limited desk space, this monitor is for you! The AOC 27G2 will fit nicely on your desk. 
From a testament of a friend who purchased this monitor to start streaming gameplays, the monitor fits well on a small-sized desk. Frame rate performance is also pretty acceptable when playing action based games. With that, we highly recommend the monitor for beginners who are interested in propelling their gaming journey with proper equipments!
Overview:
The AOC 27G2 is a G-Sync compatible,144Hz monitor. In short, these contribute to having a smooth gaming experience as they dish out more frames per second. In terms of viewing, there's 178/178-degree wide visual space, allowing you to experience the game from different viewing positions without much reflection. Enhancing your viewing experience further is the fact that there's HDR mode to give gaming visuals an extra kick in intensity.
For your eye health, there is an "AOC Low Blue Mode" which helps to filter out harmful blue light without compromising your monitor screen's quality. Finally, the monitor is able to connect to both HDMI and DisplayPort devices.
Performance:
This is a budget gaming monitor fit for users who are not full-time or hard-core gamers. Not only that, but with its budget, it's perfect for those who are new to investing in a full-fledge gaming set up. We have to note that some reviewers found the colours to look slightly washed out on screen.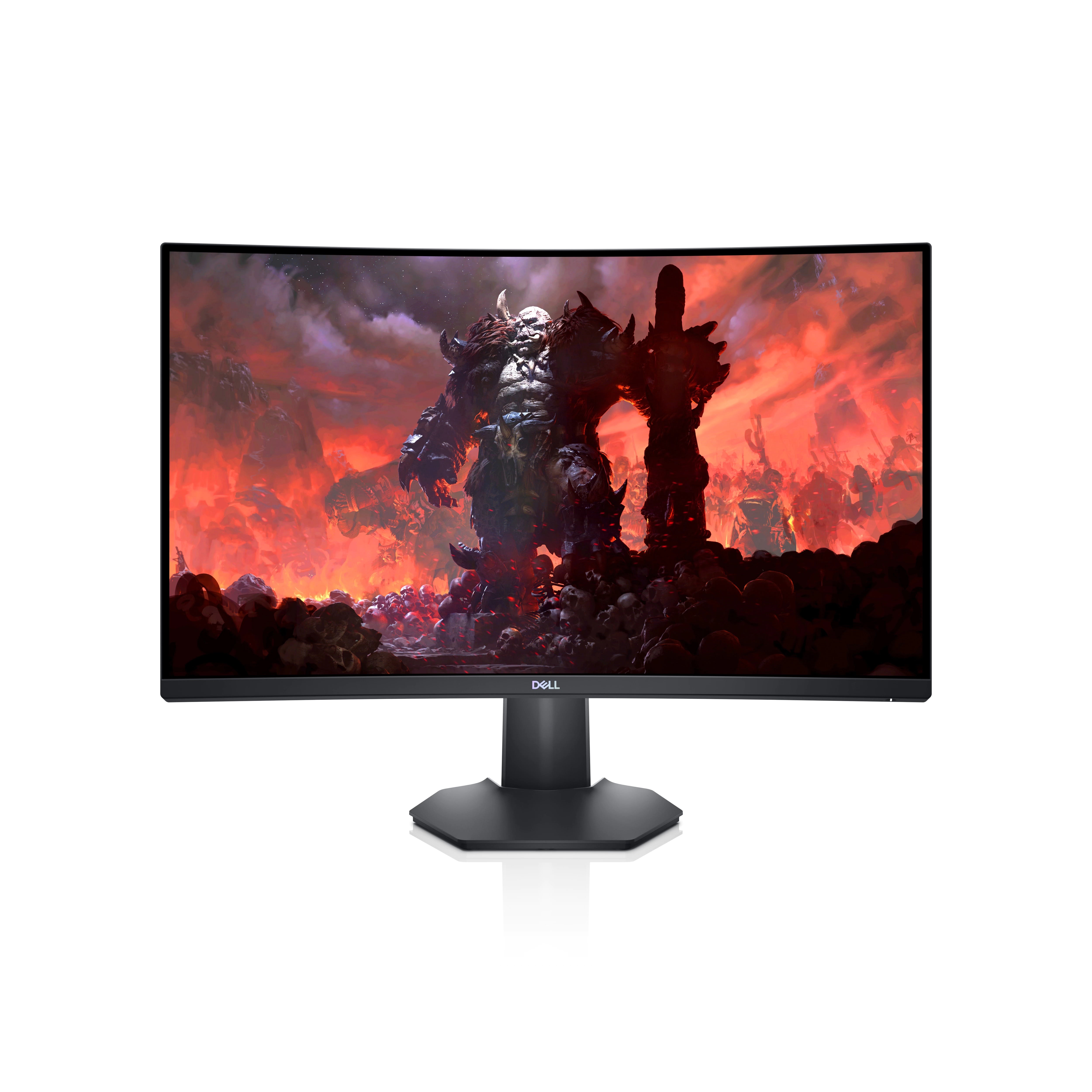 Check Dell S2722DGM price below:
add_circle
165Hz refresh rate prevents lagging
add_circle
Adaptive sync available
add_circle
Good core image quality
remove_circle
No HDR support
remove_circle
Some motion smearing
Some say that a 27-inch monitor provides the perfect amount of vision field and that it doesn't take up too much space on your desk. So if you are looking for a 27-inch gaming monitor from a reputable brand, the Dell S2772DGM might be for you.
Overview:
A real treat when using this monitor is that it has a higher refresh rate (165Hz). There's also AMD FreeSync Premium Technology to contribute to stutter-free gameplay. The best part? This monitor is enabled with gaming console VRR supportability so console fans can enjoy some action out of this monitor too. 
With the 1ms MRPT / 2ms gray-to-gray response rate, it helps to eliminate motion blur on your monitor. Though this monitor does not have a borderless design, its narrow border will not be an obstruction if you decide to add on monitors.
In order to ease the eyes from excessive strains, the monitor has a flicker-free screen, combined with a "ComfortView" software that filters out harmful blue light from your screen. To add, the monitor is sturdy and rests on an adjustable stand. Further enhancing gameplay, the Dell S2772DGM has three user-defined profiles, allowing you to personalise your gaming experience whether you want to focus on frame rates or shadow control.
Performance:
Notably, reviewers praised this monitor for its quick response time and low input lag. However, some have pointed out that motion smearing can happen when visuals are of dimly-lit scenes.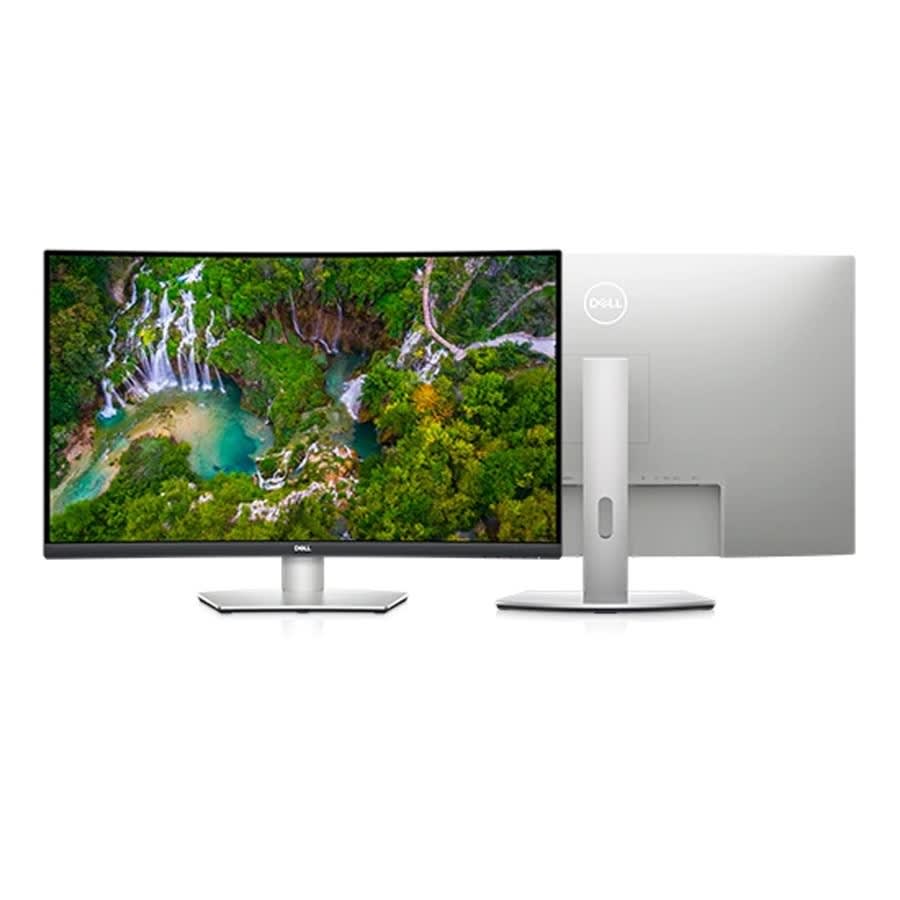 Check Dell 4K S3221QS Curved Monitor price below:
add_circle
Good build quality & elegant design
add_circle
Stunning 4K resolution
add_circle
Accurate colours
remove_circle
Only 60Hz refresh rate
With a curved screen, it lessens the need to adjust your seating position for the best viewing experience. Thus, instead of looking for a monitor with a bigger screen, get the Dell S3221QS which is a 31.5-inch 4K monitor that supports HDR content playback! 
Having a resolution quality in 4K UHD, this curved monitor creates a great cinematic experience for both your movies and gameplays.
Overview:
Aside from a rich display resolution, the monitor is also equipped with AMD FreeSync technology and ComfortView technology to allow for a seamless and strain-free viewing pleasure. Additionally, the screen is designed with a vertical Alignment (VA) technology and a wide colour coverage, making the colours pop on your monitor. Sound system-wise, it has built-in dual 5W speakers. 
There are also built-in dual HDMI ports for you to easily connect it with your console or computer setup. In fact, to allow for extended viewing capabilities, there's a handy Picture-by-Picture (PBP) feature that lets you easily split your screen into two sides just like smartphones. You can even watch different content simultaneously from different PC sources.
Performance:
Reviewers have warned that this monitor is more suitable for those who do not play fast-paced games, as this monitor works at 4K between 30-60Hz. Some reviews also pointed out that the built-in speakers could be better.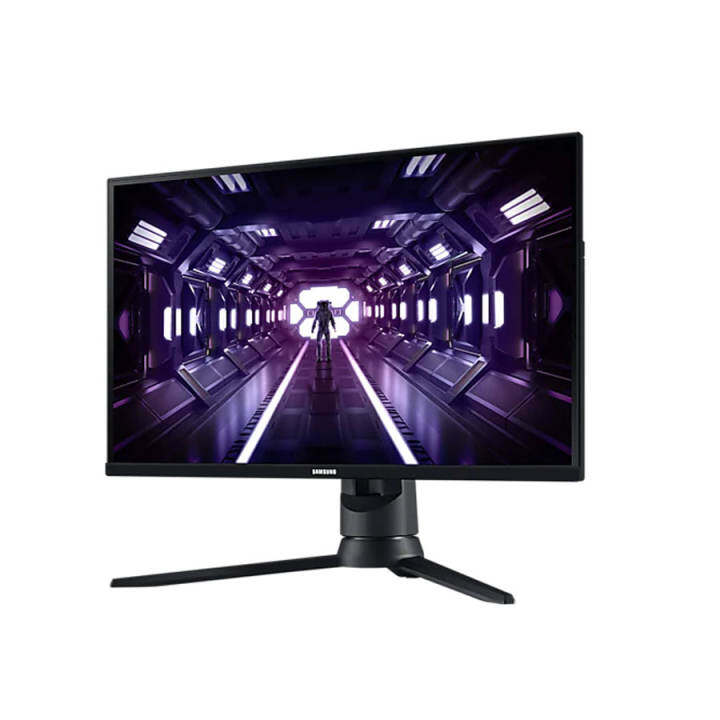 Check Samsung Odyssey G3 (LF27G33TFWEXXM) price below:
add_circle
Smooth gameplay, sharp display
remove_circle
Mixed reviews on monitor's actual response rate
Looking for a reasonably great-value monitor? The Samsung Odyssey G3, which has the likes of 144hz frame rates and a sleek build, may just fit the bill!
Overview:
Like our recommended AOC monitor, this is a 144Hz monitor with a fast 1ms response time. However, the Samsung Odyssey G3 Monitor stands out with its "AMD FreeSync Premium" feature. This helps to reduce screen tearing, stutter, and input latency. 
The Samsung Odyssey G3 has low framerate compensation, which lessens lagging in-game. Not only that; for your convenience, this monitor is pretty "flexible". Not only does it have an adjustable stand but the monitor can be tilted, swivelled, or rotated to a different angle depending on what suits you.
This monitor also has a neat 3-sided borderless design, allowing you to add on more monitors seamlessly in the case of expanding your peripheral vision.
Performance:
While several reviews have praised the quality of the display, a minor gripe is that several think this monitor is outperformed by other models when it comes to image sharpness/crispness. One user experienced some blurring on their monitor while loading up their game.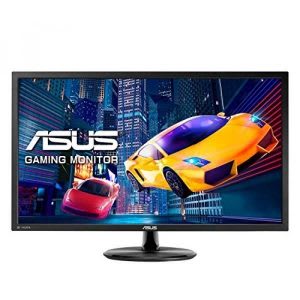 Check ASUS VP28UQG price below:
add_circle
Allows for 4K gaming
remove_circle
Display lacks contrast, colours might look washed-out
If you're in it for a cheap monitor with 4K resolution, there's only one monitor to look at - ASUS VP28UQC.
Overview:
This 28-inch screen monitor sports a display with a refresh rate of 60Hz. Despite its budget price compared to other ASUS models, it has many  of ASUS' signature gaming features. For instance, there's FreeSync and G-sync compatibility features. Moreover, its eye-strain easing technology and flicker-free screen helps to contribute to a better (and more comfortable) gaming experience on your eyes.
Performance:
While all is well for casual gamers, some have mentioned that the monitor stand has limited adjustment, with the only option being tilting. Overall, users think that this monitor is still a great bargain. Given the average frame rate count, this gaming monitor is better suited for console gaming rather than PC.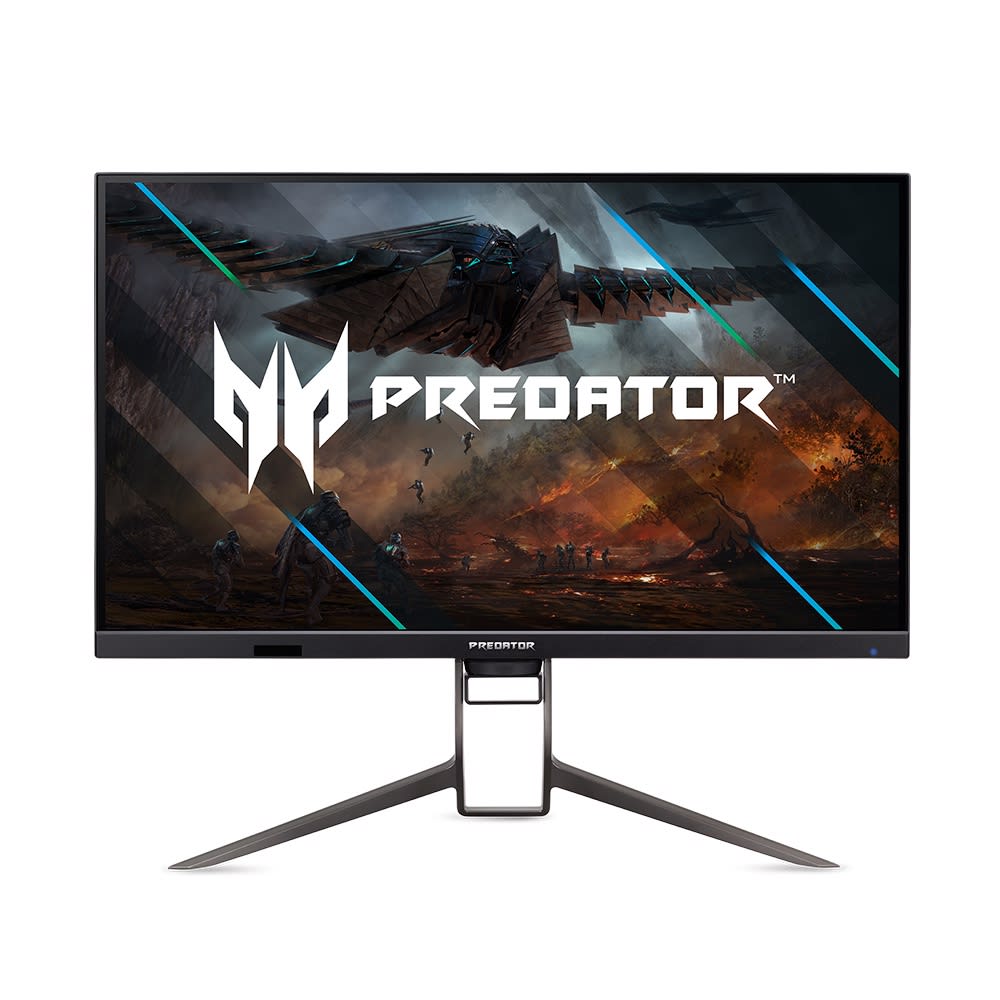 Check Acer Predator XB323QK price below:
add_circle
Adaptive sync support
add_circle
Flexible, works with most game consoles
4K displays are now the must-have feature for most monitors. But truthfully, not all 4K displays are made equal! If you're looking for the best within the category, Acer's Predator line has the answer with their Acer Predator XB323QK!
Overview:
For starters, the Acer Predator XB323QK is a 31.5-inch monitor with an anti-glare surface. Alongside the 4K UHD resolution is a 144Hz refresh rate display. What's appealing to many users is its "ErgoStand" which allows you to swivel, tilt and adjust the height of your monitor to fit to your preference. 
In terms of compatibility, the monitor is able to support connectivity with Playstation, Xbox, Nintendo Switch consoles and PCs. No matter what you're playing, the monitor has "ProxiSense"; a sensor that automatically dims your screen's brightness or turns itself off when it's not needed. Worth mentioning is also the monitor's built-in 4W stereo speakers.
Performance:
Reviewers mentioned that this monitor is on the bulky side, so it is something to keep in mind if you have a small desk space. Aside from the satisfactory performance, a user did comment that the HDR mode and placement of the on-screen display buttons could be improved. The sound system is decent too, though it's better to invest in standalone speakers instead.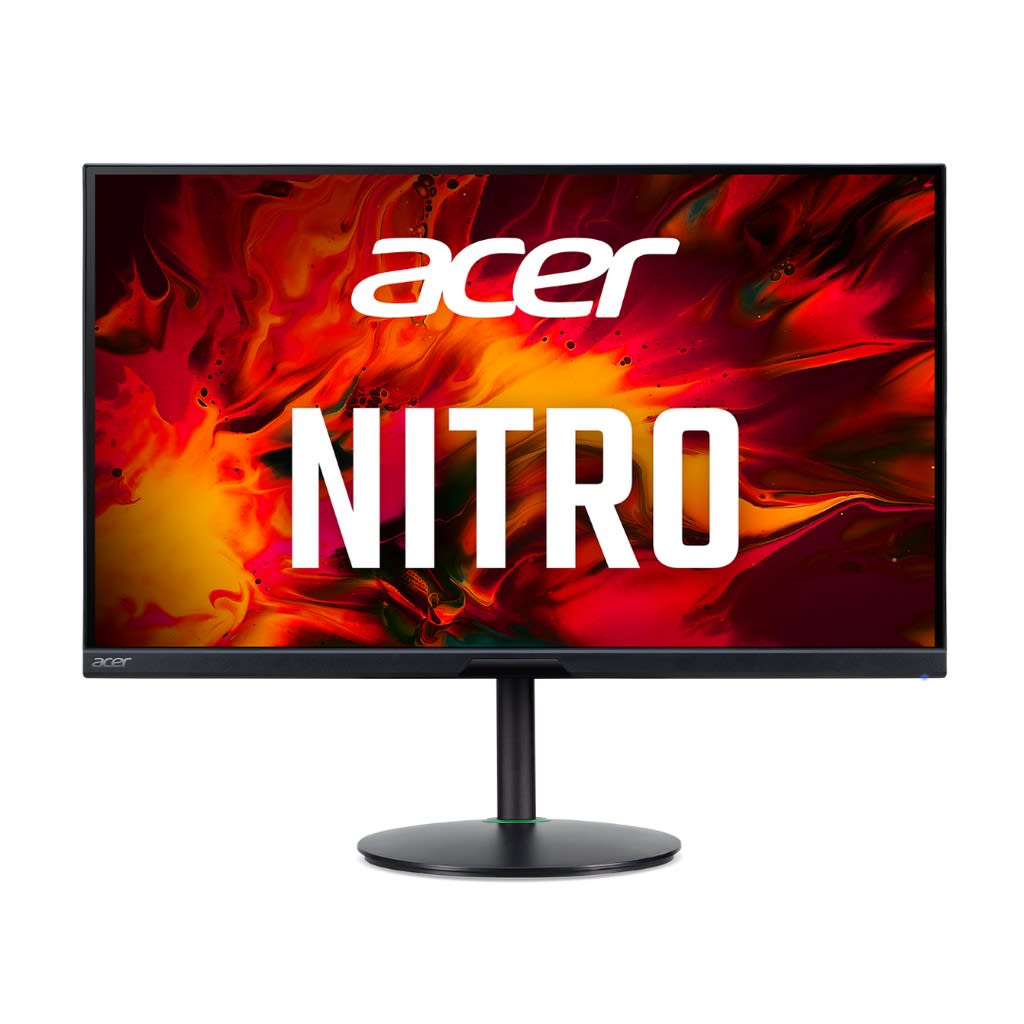 Check Acer Nitro XV282KKV price below:
add_circle
Two HDMI 2.1 ports available
add_circle
Very high frame rate
remove_circle
Average contrast ratio
Looking for a gaming monitor that'll make both computer and console games look great? The Acer Nitro XV282KKV has a couple of HDMI 2.1 ports and would be perfect for the likes of PS5 and Xbox Series X gaming consoles.
Overview:
An astounding feat; the Acer Nitro XV282KKV has a 300Hz refresh rate, which contributes to a better gaming experience especially for 'heavier' games be it console or for FPS computer titles. It also has AMD FreeSync Premium and a 178-degree viewing angle for your ease of use. 
This monitor has enhanced WQHD resolution, which contributes to more vibrant colours on your monitor. Adding more feats to its plate is a DisplayHDR 600 certification, contributing to greater colour accuracy and contrast. Moreover, Acer's "BlueLightShield", flicker-free technology, and low dimming functions will help filter out harmful blue light as you are using your monitor.
Performance:
Reviewers have greatly praised this monitor's performance for its low lag rate and HDR-compatible screen. However, there are mixed reactions on how different generation consoles perform with this monitor. Reviewers also recommend investing in external speakers to have a better audio experience.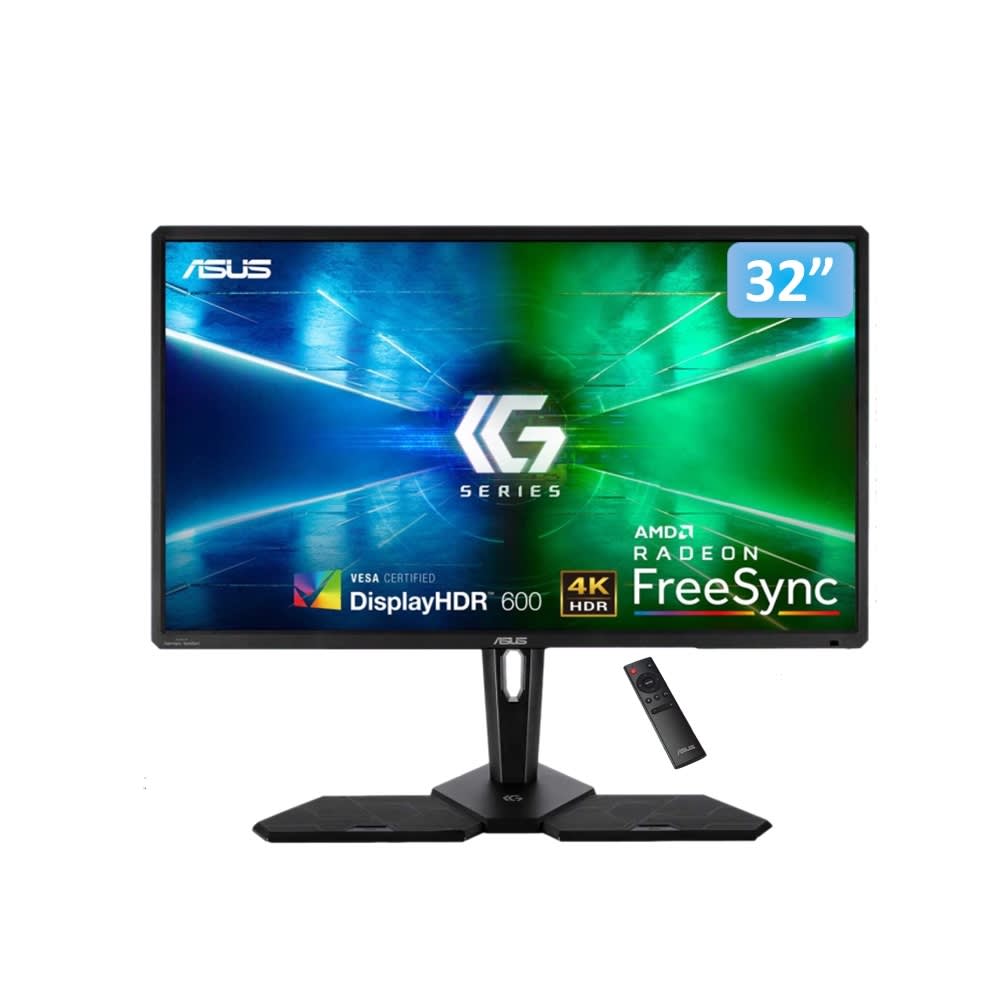 Check ASUS CG32UQ Monitor price below:
add_circle
4K resolution and HDR quality
add_circle
Gaming console-focused monitor
remove_circle
Chunky monitor - will take up more space
If you're able to splurge more for a gaming monitor that also supports your gaming console, the Asus CG32UQ may just be what you're looking for!
Overview:
The ASUS CG32UQ is a 31.5-inch 4K HDR gaming monitor that's compatible with Xbox, PlayStation and Nintendo Switch consoles. It has a "GameFast Input Technology" to reduce latency between game input and result. In short, it contributes to smoother and greater gameplay immersion. The monitor is also equipped with AMD Radeon FreeSync technology, which helps to prevent visual tearing across your monitor. 
To further enhance player preferences, there are 4 custom game-audio profile settings you can enjoy your game based. The different modes are settings based on visual types: first-person shooter (FPS), racing, combat, and movie mode. 
Ensuring that performance is up to par, there's a "Halo Sync" feature to reduce the glare in high-contrast scenes. And though this is a chunky monitor, it has 3 HDMI 2.0 ports for further display expansion!
Performance:
There are many praises for the quality and crispness of the images on this monitor. The praises aren't just reserved for gameplay but also for watching shows online with 4K benefits for you to enjoy in your viewing experience. 
Since it's a chunky monitor, we weren't surprised to see comments on portability difficulty. Although the monitor is not the size of a TV, it would still fit and look large on a regular desk.
---
Why invest in a gaming monitor over a normal monitor?
At times, a regular monitor may seem better than say a budget gaming monitor. So why can't we use a regular monitor instead of a gaming monitor? For very simple reasons, a gaming monitor is vital in enhancing your gameplay experience and even skills for competitive titles:
In general, gaming monitors are specifically catered to gaming, hence they are often optimised to have higher resolution and better visuals.

For example, they tend to have better frame rates, which is especially helpful in accommodating fast-paced games.

Moreover, there are features to help protect the user from harmful blue light so that you can game for a longer period of time comfortably without straining your eyes.

Other features that not all regular monitors have are the likes of adjustable monitors which help with viewing ergonomics for an extended comfortable gaming experience.

Finally, most have special features to create smoother gameplay. They are typically built with software that caters to faster response time and lesser lag.
---
Related articles: