We've all been there – on that carefully-planned weekend trip, with a full itinerary… then arriving at your destination, and realizing that you're way too exhausted to do anything. Sometimes, you don't even want to leave your hotel, choosing instead to lounge by the pool with a drink of your choice.
The thing is, how are you going to tell people that you were actually on holiday, instead of holed up in your bedroom, watching Netflix? The solution is simple – book a place to stay that's impressive enough to post on Instagram!
Here's a little secret: there are a ton of undiscovered gems hidden away in the heart of Bangkok, that'll look fantastic on the 'gram, and won't smash through your budget and have you eating roti kosong or Maggi noodles for the rest of the month.
The Posh Phayathai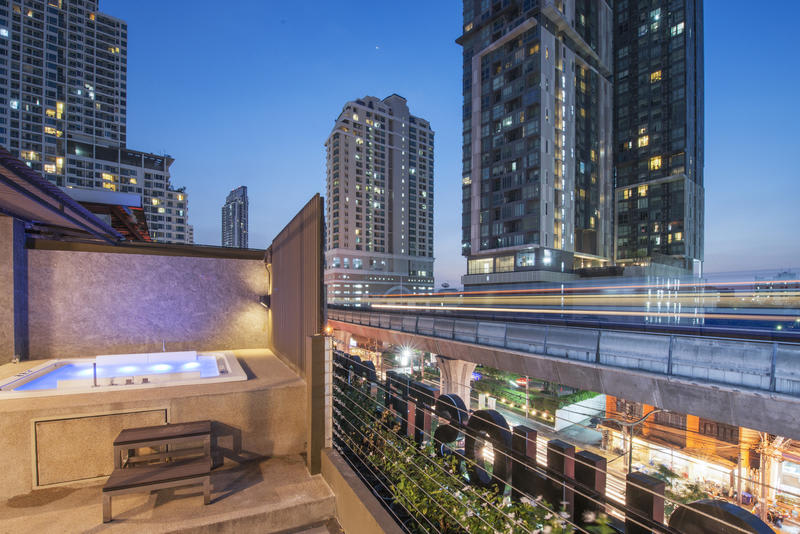 From RM 71 per night
The Posh Phayathai is fantastic for group getaways! It's clean, comfortable, and close enough to the Phaya Thai station, the Baiyoke Sky Tower, and the Pratunam market – so your restless friends and family members will have lots to do.
If you don't feel like leaving the hostel, you're very welcome to occupy yourself with the pool table in the communal area or take a nap on one of the hanging chairs by the hot tub on the deck! When you get hungry, fire up the BYO al-fresco barbecue. The hostel itself is described as a luxury hotel, with warm wood accents. No one will believe that you paid so little for such fun.
Address: Bangkok Ratchathewi Phayathai Road
The Parkland Phetkasem-Thapra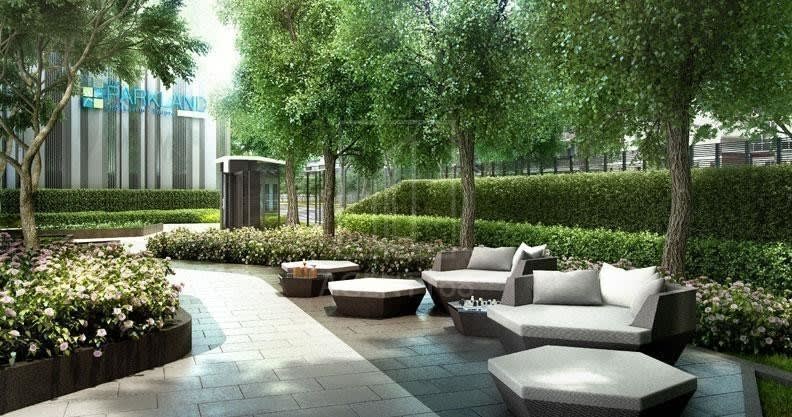 From RM 97 per night
For a more authentically-Thai experience, book a night at The Parkland! Since it's an apartment, you'll live like a local… a very fancy local, that is. A stay at The Parkland grants you access to the pool, the gym (don't skip #legday, even if you're on vacation!), and the sauna. Did we mention that it's fully-furnished and equipped?
For extra entertainment, you're offered a fantastic view of Pattaya City, so crack open a cold one and catch up on your people-watching. Plus, if you do feel the urge to leave this paradise, you'll be glad to know that you're incredibly close to Wat Arun and Wat Kalayanamitr Varamaha.
Address: Bangkok Thon Buri Ratchaphruek Rd., Bukhono
B Republic Condo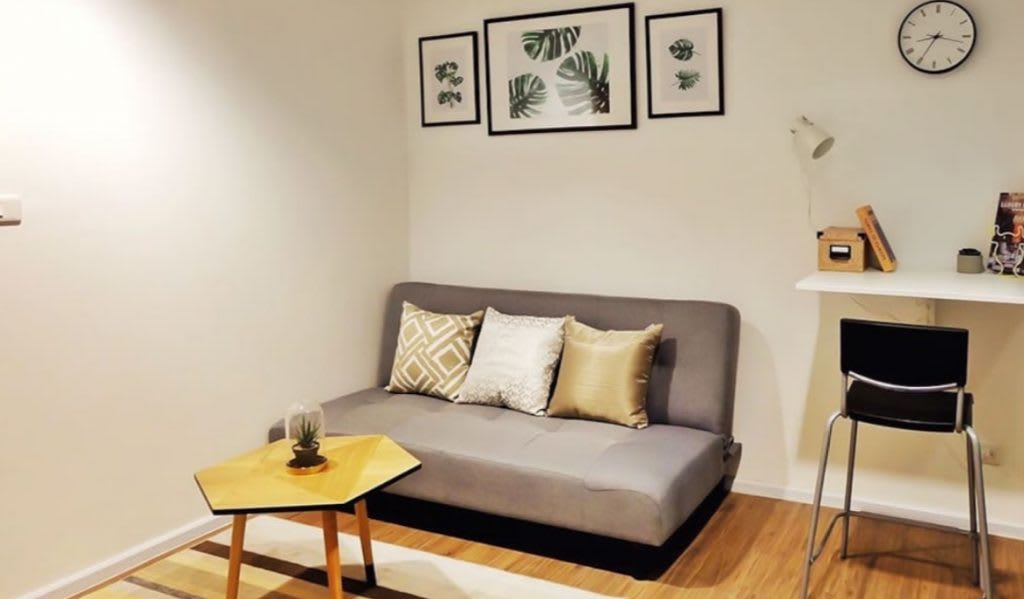 From RM 145 per night
When you book a night at the B Republic Condo, we guarantee that you'll be booking into the hipster apartment of your dreams. Tiny, but tastefully decorated, you won't be able to take your eyes off the décor – paintings, prints, sculptures, and the odd old-school pinboard. Since it's fully-equipped, feel free to bust out those cooking skills, too.
While the B Republic Condo isn't particularly close to anything specific, we love how cheap taxi rates are in Thailand, so if you really want to go out, you're close to two train stations, as well as the Srinakarin Night Market, and the King Rama IX Park.
Address: Bangkok Phra Khanong Khwaeng Bang Chak
Bangkok Cha-Da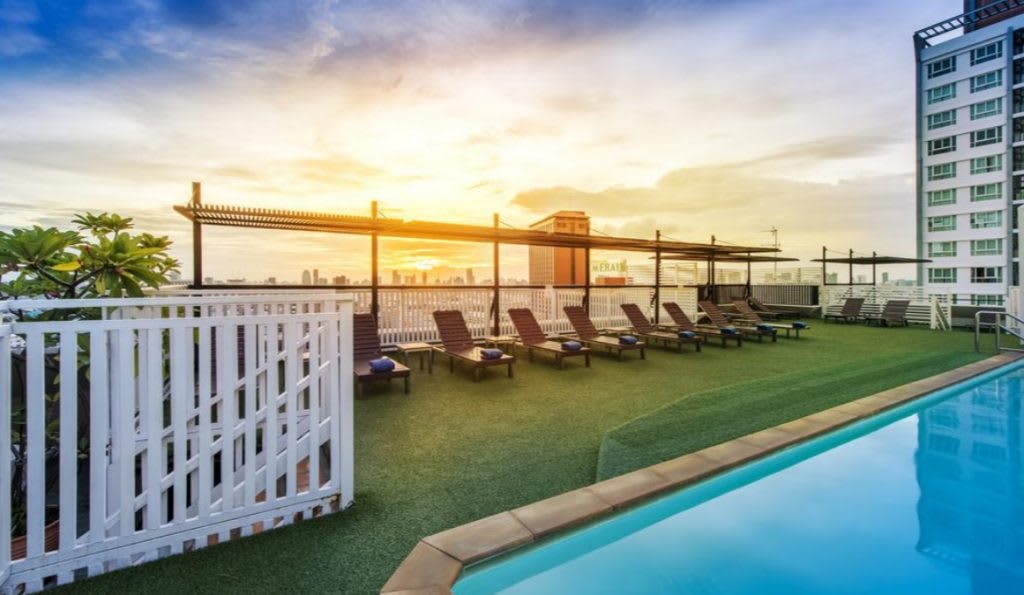 From RM 178 per night
With its rooftop pool (yep, the sunsets are spectacular) and fully-furnished family suites, a stay at the Bangkok Cha-Da is definitely more luxurious than the lodging at your usual weekend getaway. It's decorated in bright colours, and the Thai influence in its design and décor is visible throughout the hotel, so you know that every single picture you take here will be lit.
Sure, there might not be much else to do, so if cabin fever starts to get to you, you're covered! You'll be walking distance from two train stations, the Huai Khwang night market, and the Siam Niramit; once you regain your strength, get out and explore!
Address: Bangkok Huai Khwang Ratchadaphisek Rd
FX Hotel Metrolink Makkasan Bangkok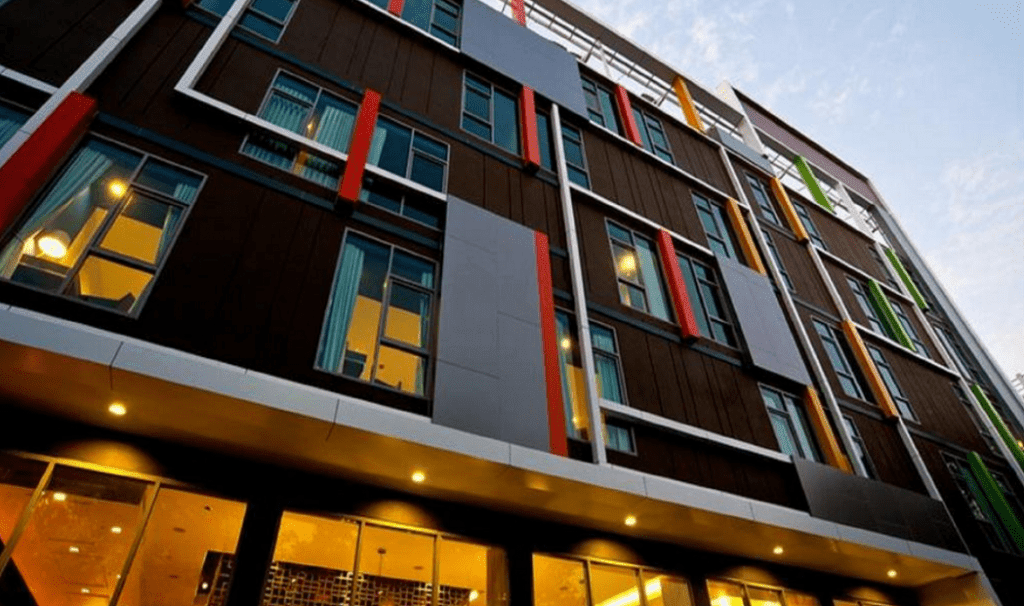 From RM 178 per night
When the FX Hotel decided to go with colour-blocking décor, they decided to go all-in. Fitted with orange and blue furniture, we weren't so sure about how it'd work – but it does! In fact, put together with the steel lighting fixtures and embellishments, it encompasses futuristic South East Asia perfectly.
Did we mention that there's a rooftop pool, a gym, and that you'll be sleeping in 330-thread count sheets? Plus, if you find yourself dying of boredom after two days by the pool, head out to Sukhumvit – believe us; you'll be entertained in no time!
Address: Bangkok Ratchathewi Asoke - Dindaeng Rd., Makkasan
Trang Hotel Bangkok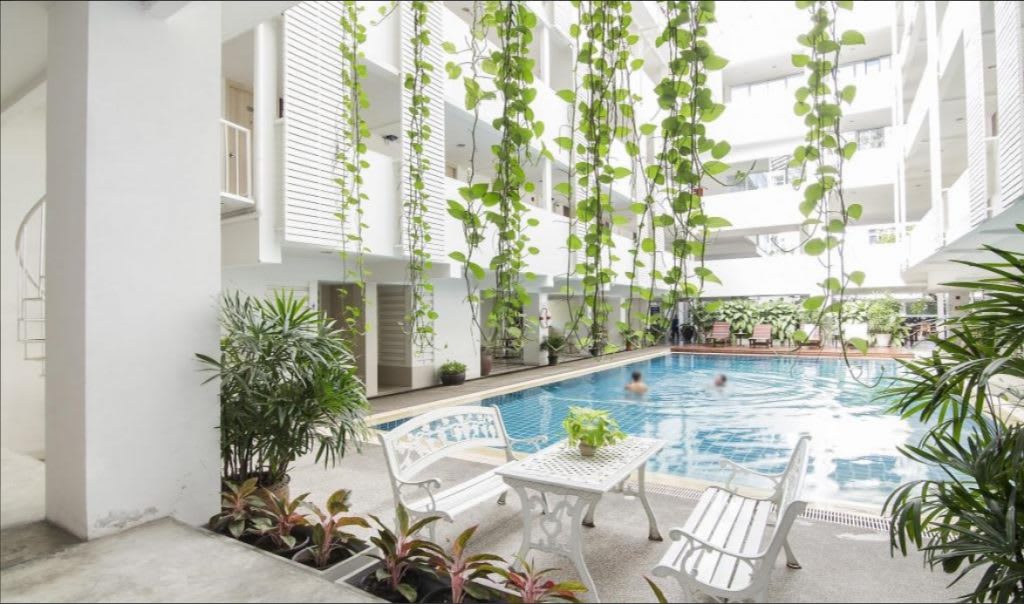 From RM 189 per night
The Trang Hotel is an oasis in the city – it's built like a resort you'd find on an island. With lots of wooden decks to lounge on and soak up the sun, an enclosed pool area, a garden, and an outdoor bar, it'll be like the island getaway you've been wanting… without the sand, and while everyone else shops, of course.
Speaking of shopping, you're connected to two train stations, so hopping in and out of the city isn't a problem at all! If you're feeling spiritual, you're also walking distance from the Wat Bowonniwet Vihara – get those blessings!
Address: Bangkok Phra Nakhon Bang Khun Phrom
W Station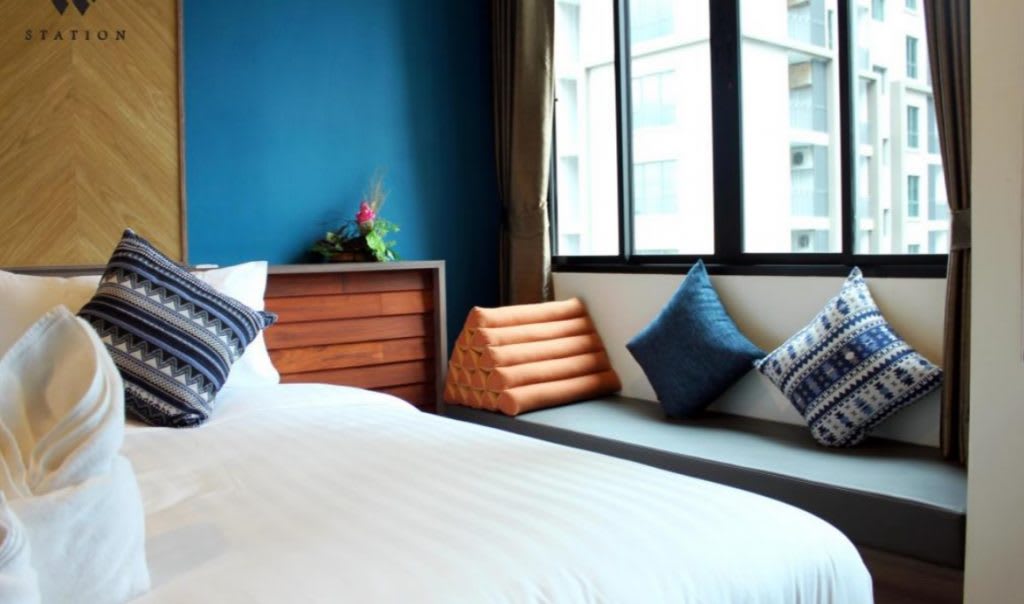 From RM 229 per night
Described as a Thai-modern art hotel, we'd be remiss if we didn't mention W Station's welcoming, chilled-out vibes. The exterior itself is eye-catching, painted in a lovely shade of blue, with intricate metalwork up and down its façade. The rooms are clean and comfortable, with beautiful Thai-inspired prints scattered across the cushions and tiles.
While the hotel itself is stunning and will definitely be the most aesthetically pleasing part of your trip, don't discount the fact that you'll also be close enough to visit The Jam Factory – the famous Thai café and bookstore, and Asiatique The Riverfront, so be prepared to grab a couple of cheeky cocktails and do a little shopping!
Address: Bangkok Khlong San 26 Krunthonburi Rd. Soi 2
Citrus Sukhumvit Soi 11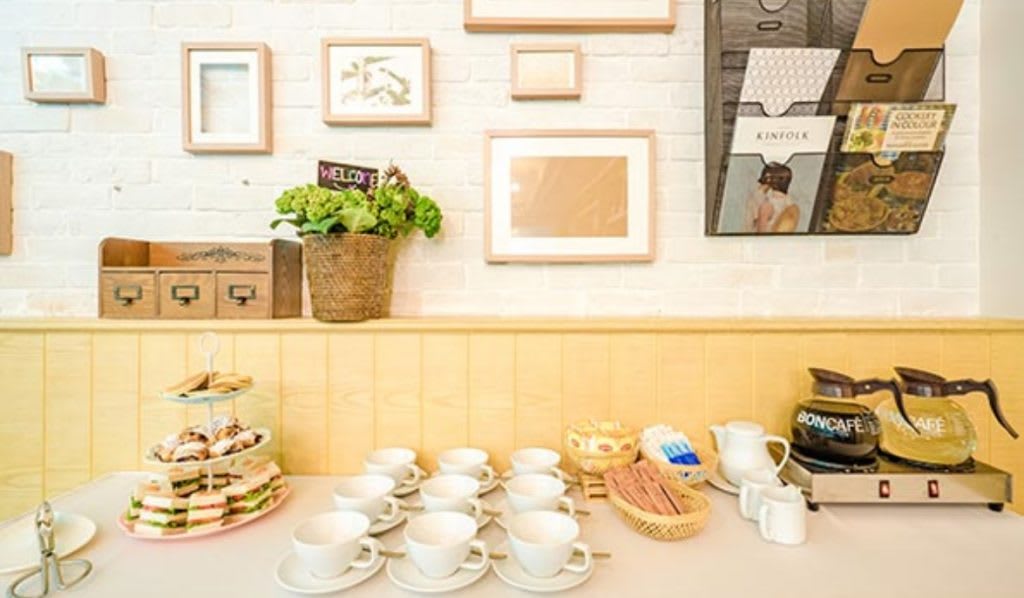 From RM 267 per night
With its dark wooden accents and little splashes of electric blue (yep, we're starting to see a pattern, here), the Citrus isn't a hotel you'll want to leave. While it's in one of Bangkok's busiest shopping districts, we guarantee that you'll be more than entertained by the stunning views of the city, the gym, and the delicious food options at the adorable French-style restaurant.
If that isn't enough to entertain you, take comfort in the fact that you're walking distance from not one, but two train stations, and one express boat stop. You'll be in the city in no time! When it's time to leave, don't fret about missing your flight – the Citrus offers you access to a free airport shuttle. Need we say more?
Address: Bangkok Watthana Klongtoie-Nue Wattana
Baan Noppawong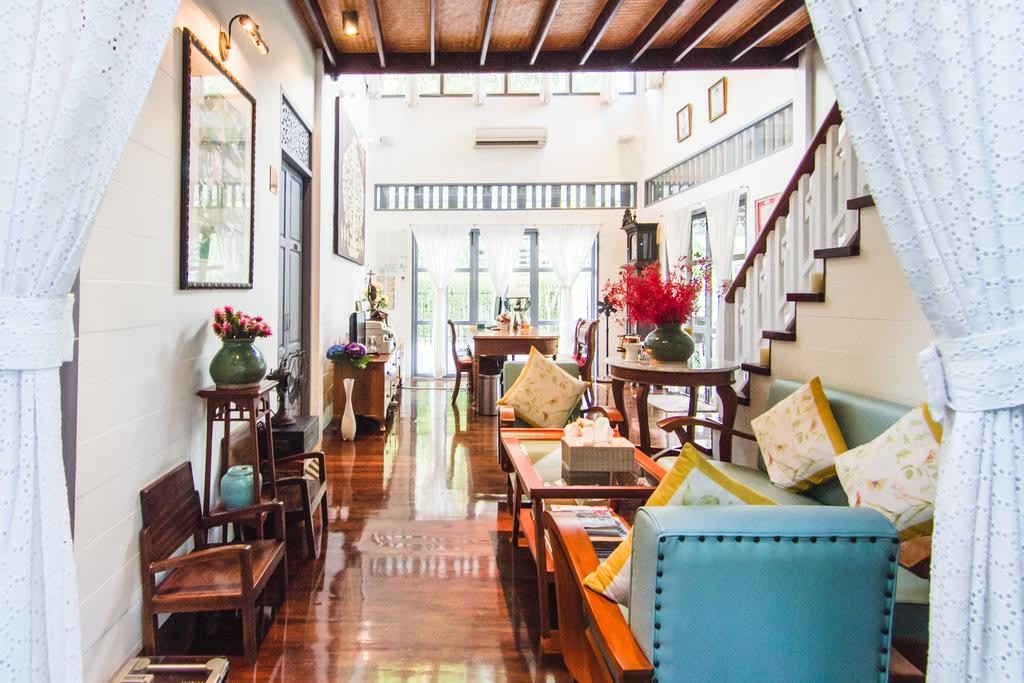 From RM 302 per night
While a night at Baan Noppawong might seem a little pricey, it's definitely worth it for that authentic Thai staycation experience. You'll experience a Thai-style home, and authentic antique Thai furniture – bed frames, chairs, tables, you name it. It makes for some stunning photographs, and a holiday you'll be able to talk about for years to come.
We should also tell you that Baan Noppawong is its own little paradise; sure, you might be in the heart of Bangkok, but you're also surrounded by greenery, with the option to lounge around on lawn furniture in the stunning garden. You won't want to leave, but at that price, you might have to.
Address: Bangkok Phra Nakhon 112-114 Soi Damnoen Klang Tai, Ratchadamnoen Klang Rd. Bowon Niwet
Baan Pra Nond Bed and Breakfast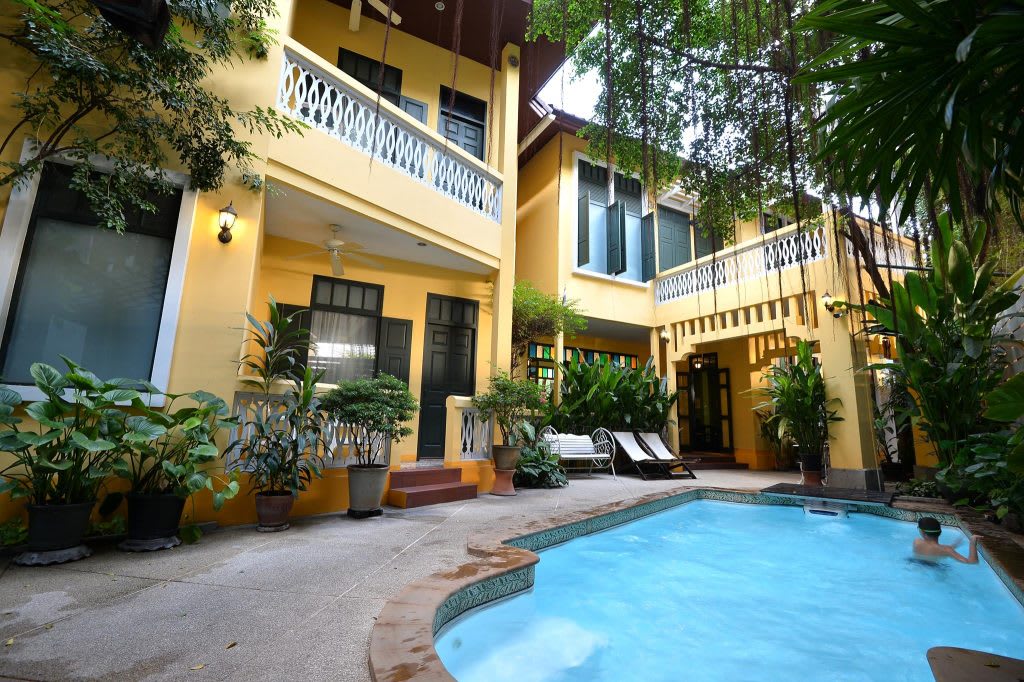 From RM 326 per night
If you're a history buff, you absolutely have to stay here! Baan Pra Nond Bed and Breakfast used to be the home of a Supreme Court Justice of Thailand… although they don't tell you which one (maybe you should head over there to find out). It's been renovated, so while this is a colonial-style home, you can expect all the modern comforts that come with the best of them.
The décor is decidedly colonial-inspired, but the muted colours and arrangements look like something out of a Wes Anderson film. You'll also have a pool to splash around in, and can enjoy the lush patch of green – a rarity in most Bangkok homes. Plus, how many of your friends can say that they've stayed at the home of a former Thai Supreme Court Justice? You'll be the first!
Address: Bangkok Sathon 18/1 Thanon Charoen Rat, Khwaeng Yan Nawa
Disclaimer: The pricing shown is just a good indication of how much these accommodations are worth. The prices could change based on the e-commerce promotions that are going on. If some of the products are not available, do email us at [email protected]. Thank you!