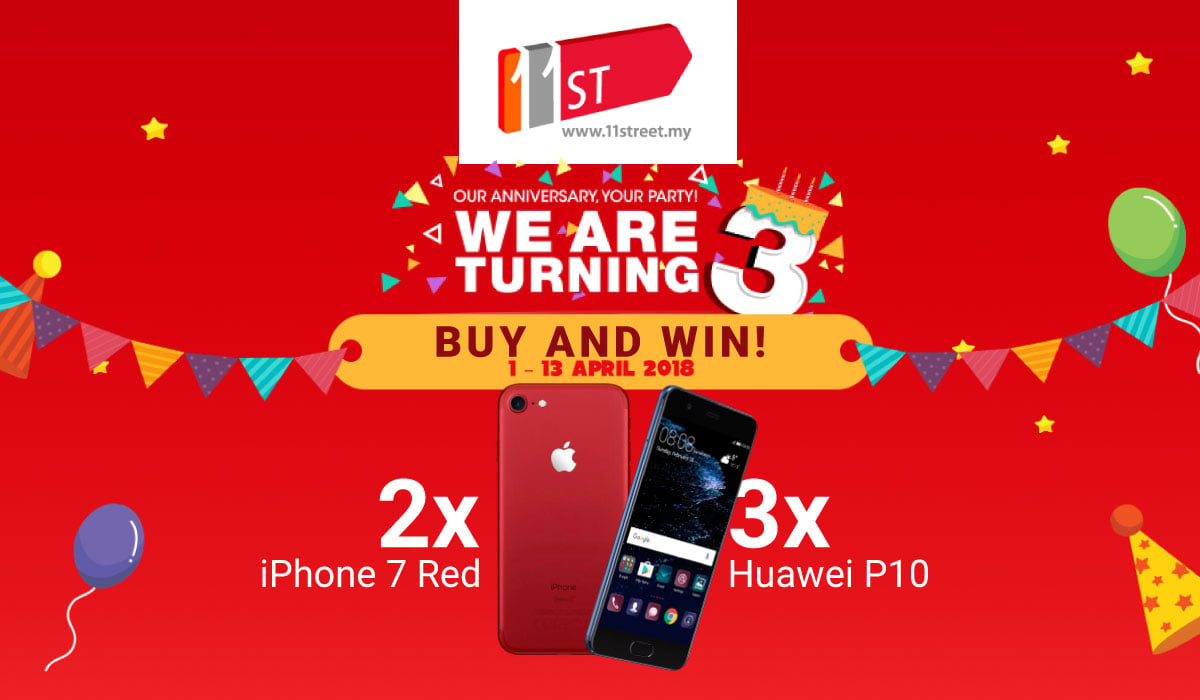 It seemed like only yesterday when 11street launched here in Malaysia. Without us realizing, it's already been 3 years, which means it's time for a big birthday bash! From now until 13 April, shop at 11street and stand a chance to win 1 out of 5 smartphones. Find out how below.
How to Join?
Participation is actually very simple. All you need to do is to enter your email* below and make a purchase at 11 Street!
Your entry has been submitted. Please refresh the page for resubmission
Contest Mechanics
In order to be counted as a valid entry for the prize giveaway contest, the participant will be required to fulfil the steps of (1) enter their email address and (2) click "Shop Now" then (3) make a purchase at 11street website directly.
There will be a total of 5 (five) lucky winners. The top 2 (two) highest spending participants will be given the opportunity to pick the prize between the iPhone Red Edition and Huawei P10. The remaining prizes available will be a lucky draw, given to 3 (three) lucky participants who has made a minimum purchase of RM80
Users can accumulate their spending by repeating step 1 before making their purchase.
Terms & Conditions
Purchase entries on 11street's Mobile App will not qualify for this contest
The participants can accumulate their purchases by submitting the same e-mail address and clicking "Shop Now" button before making their purchase. The total amount of your submitted spending will add up when the contest ends.
Contest period is from 29th March 2018 – 13th April 2018
Purchase entries that fall in the case of returns and refunds will be forfeited and not counted.
Prize giveaways will occur after your participating entry has been fulfilled and delivered. The winners will be contacted by 28th May 2018.
Contest entries with fraud payments and cancelled orders are automatically disqualified.
The organizer deserves the right to change, cancel, terminate, extend, or suspend the contest at any time without prior notice
If a winner cannot be contacted or does not respond within seven (7) working days, the prize or prize notification will be invalid and the winner forfeits all rights to any prize. All decisions of the Organiser are final and binding in all respects.
If winners fail to collect their prize within two (2) weeks upon receiving the winner announcement notification, their prizes will be forfeited.
The organizer shall not be held liable for entries that are lost, late, insufficient, or incomplete.
The organizer shall reserve the right at its absolute discretion to review and vary the winner selection process at any given time without prior notice
The organizer reserves the right to substitute the prizes with others at similar value without prior notice. All prizes are non-transferrable, non-returnable, and non-exchangeable for cash
The organizer reserves the right to withdraw the prizes should the selected winner(s) fail to comply to the terms and conditions
Acceptance of prize(s) constitutes permission to The Organizer and its agencies to use the Winners' names, photographs and/or videos for purposes of publicity, advertising, promotional/marketing activities and/or trade at any time without further compensation or notice.
By participating in this contest, participants undertake they shall not bring any claims or actions against The Organizer, whether in contract, tort or otherwise.
Related articles