Drones of today are more advanced than ever before. They're able to fly farther and faster and are equipped with more sophisticated cameras, making this an ideal moment to get one. There are a lot of great options to pick from, whether you're an experienced pilot or just getting started with shooting aerial photographs and videos.
If you want to buy your first drone, why not start with some cheaper models that are just as capable as their more expensive brethren? We've listed some of the best budget drones under RM700 here to help you choose.
7 Best Affordable Drones Under RM700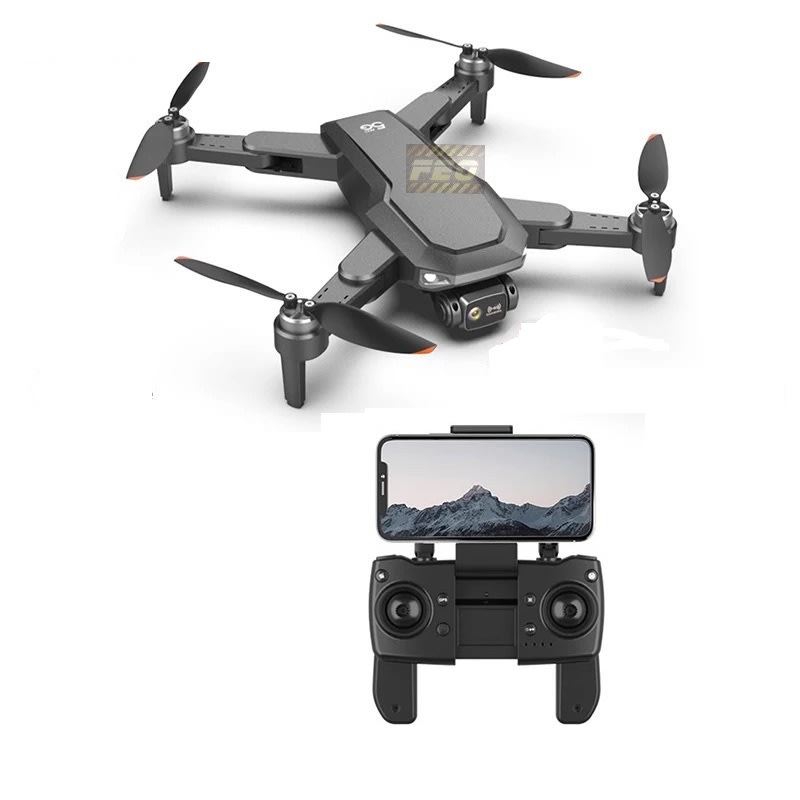 Check FEO X1 Pro price below:
add_circle
Quiet but powerful brushless motors
add_circle
Gesture photos and videos
add_circle
Intelligent obstacle avoidance system
remove_circle
Only 25 minutes of flight time
Why It's Our Top Pick:
With the X1 Pro drone which tops our list of budget drones, you can make use of all its features for the best flight photography, filming and pretty much general fun. What's special about this drone is that it has an Obstacle Avoidance sensor system that intelligently prevents the drone from hitting walls, buildings and obstacles during flight.
Overview
This compact quadcopter drone is equipped with goodies for smooth flight, notably the optical flow positioning and assured GPS-assisted navigation for more accurate direction control. When the drone is connected to the UAV app through 5G WiFi, you can capture and transmit images and videos while in flight with the ESC wide angle camera. 
Other great features include a built-in Return to Home (RTH) function, which helps accurately return your drone when the battery is low or out of range, and waypoint flight mode, which allows you to draw a designated flight route for your drone.
FEO X1 Pro Specs:
Image Sensor:

CMOS and 360° Obstacle Avoidance sensor

Camera:

6K ESC 120° wide-angle Camera

Photo / Video Resolution:

5300 x 4075p / 2048 x 1080p 

Navigation:

GPS

Sensing Type:

6-axis gyroscope, GPS sensor

Battery:

Rechargeable 3000mAh battery

Max Flight Distance:

3000m

Max Flight Time:

25 mins

Weight:

618g

Dimensions:

245 x 302 x 52 mm
Who is this for?
The well-rounded features and specs of the FEO X1 drone is good enough for recreational aerial filming and photo capturing. A great choice for beginners, you'll definitely appreciate the flight experience from this drone.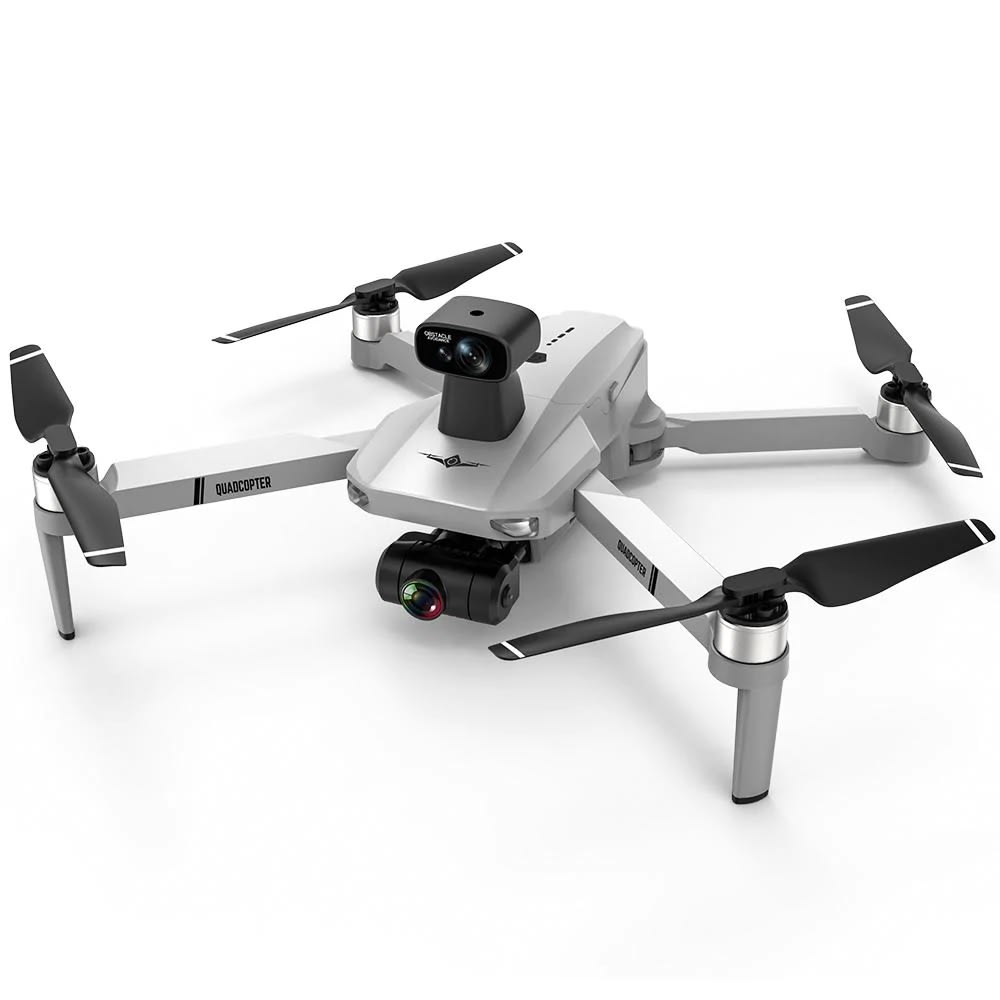 Check KF102 Max price below:
add_circle
Smooth and stable video shooting
add_circle
6K quality support
add_circle
Obstacle avoidance system support
remove_circle
Only compatible with 5G WiFi smartphones
Overview
With a remote control distance of about 1200 meters, built-in Electronic Image Stabilization (EIS), and the ability to attach additional fun accessories such as the water cannon or hook, this drone was built for fun. One drawback of this package is that it's only compatible with 5G WiFi-supported devices.
But what the drone's great for is the gimbal feature which reduces the shakiness of recorded footage and gives clean and smooth tracking shots during flight.
 KF102 Max Specs:
Image Sensor:

CMOS and 360° Obstacle Avoidance sensor

Camera:

6K HD ESC Camera

Photo / Video Resolution:

4096 x 3072p / 1920 x 1080p

Navigation:

GPS

Sensing Type:

2-axis Gimbal 

Battery:

2200mAh

Max Flight Distance:

1200m

Max Flight Time:

22.5 mins

Weight:

350g

Dimensions:

320 x 300 x 65 mm
Who is this for?
If you're looking to buy a drone that promises smooth footage for cinematic projects, this one fits the bill and you can't go wrong with flying drones for personal entertainment, so give this a try!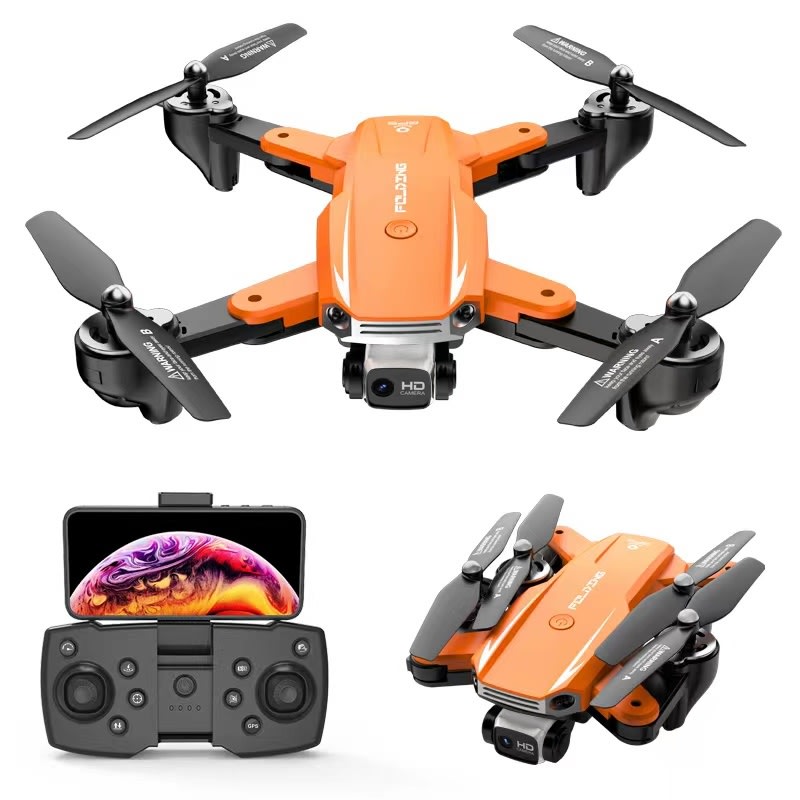 Check S6 Foldable Drone price below:
add_circle
GPS Positioning Return system
add_circle
6K Dual HD camera
add_circle
Light and portable
remove_circle
Cheap material
Overview
The S6 Aerial Camera UAV is an affordable WIFI-equipped drone that comes with a built-in adjustable 6K 90° camera, 6-axis gyro, and a 4 channel controller with 3000-metre range. The WiFi support means that you can control the phone using an app on your smartphone and even stream videos and still shots directly to your phone. 
You won't ever have to worry about losing the S6 drone thanks to a cool little feature included – the one button return to home function, allowing you to call the drone back to you with the push of a button thanks to the GPS precise return technology. Also, the drone will return automatically when it's out of range or low on battery.
S6 Aerial Camera UAV Specs:
Camera:

6K ESC Camera 

Photo / Video Resolution:

5300 x 4075p / 2048 x 1080p

Navigation:

GPS

Sensing Type:

6-axis gyroscope sensor

Battery:

2500mAh

Max Flight Distance:

3000m

Max Flight Time:

30 mins

Weight:

300g

Dimensions:

370 x 370 x 60mm
Who is this for?
Still new to drones and worried that you might lose control of it while learning? Fear not, the GPS positioning return feature will assure no loss of your newly-bought drone and you can start flying away without getting worked up.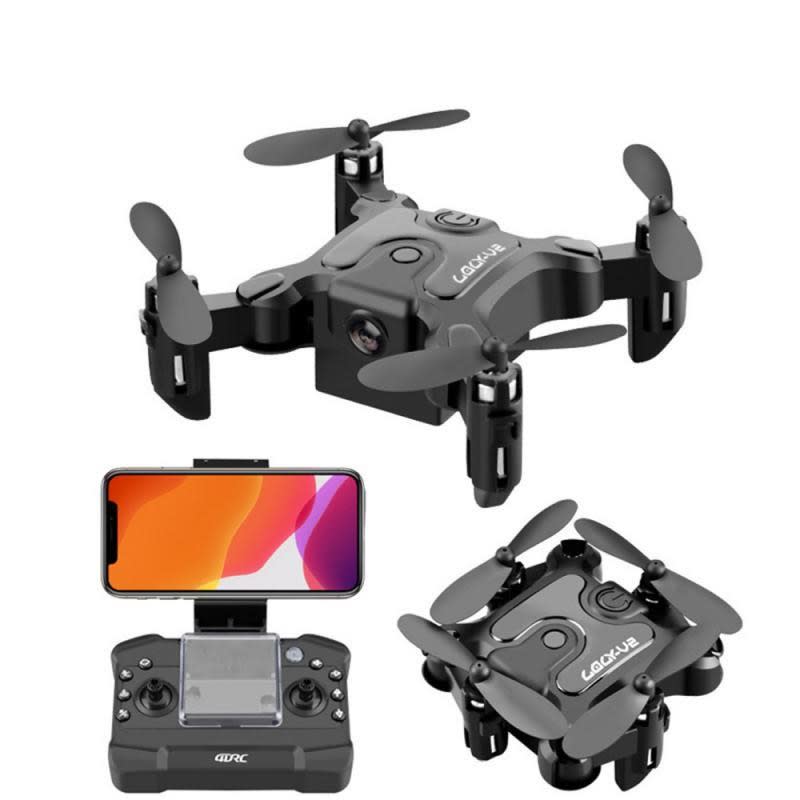 Check GOCHANMI Mini Drone price below:
add_circle
Light and compact
add_circle
Headless mode for no distinguishable flight direction
add_circle
Double speed switching
remove_circle
Poor photo and video quality
remove_circle
Only 80m flight distance
Overview
The GOCHANMI Mini is a full-featured drone despite its small size. It supports WiFi, and has a built-in 720P HD camera capable of video and stills and streaming them directly to your mobile device. 
Added bonuses include a one-key return home button to make the drone return with one push of a button, intelligent gesture-recognizable photo taking, air press hover mode to hover in one place as you shoot, and mobile phone control of up to 80 metres. 
GOCHANMI Mini Specs:
Camera: 4K UHD Camera
Photo / Video Resolution: 1080 x 720p
Navigation: No
Sensing Type: 6-axis gyroscope
Battery: 700mAh
Max Flight Distance: 80m
Max Flight Time: 15mins
Weight: 200g
Dimensions: 95 x 95 x 30 mm
Who is this for?
The GOCHANMI Mini is the perfect drone to take on your travels. It's so small that it'll fit in the palm of your hand. The drone is fully featured and folds neatly into a compact bundle which you can easily store in your backpack or even a large fanny pack.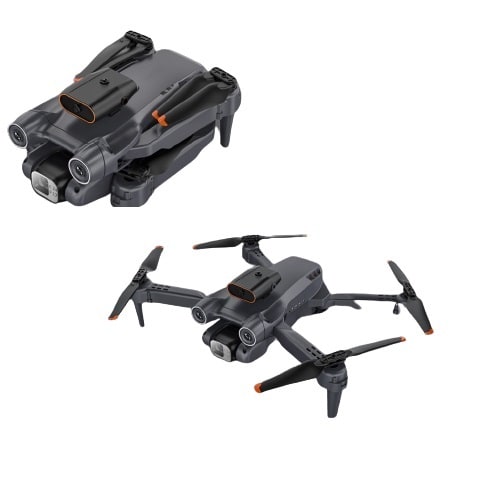 Check P12 Mini price below:
add_circle
High definition pictures
add_circle
Ability to return home
remove_circle
Unable to connect to 5G internet,
remove_circle
Battery does not last long
Overview
Whoever said size matters was lying because the P12 Mini proves them wrong. The drone may be small, but it delivers a strong performance compared to "normal"-sized drones, including decent features such as a high-resolution camera, an electrically tuned camera, and a button that returns the drone to the owner. 
P12 Mini Specifications
Camera: Dual 1080p lens

Photo/Video resolution: 1080p resolution 

Battery: 3.7V 1800mAh lithium polymer battery

Max Flight Distance: 3000 meters 

Max Flight Time: 15-30 minutes 

Weight: 255g

Dimensions: 20 x 25 x 5.5 cm
Who Is This For? 
This drone is suitable for those who do not want to carry around a bulky drone and need a lot of storage space. The P12 Mini is a lightweight drone capable of delivering great performance despite its size!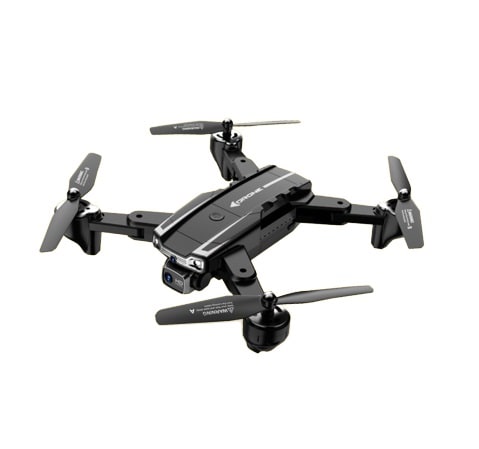 Check A5S Drone price below:
add_circle
Suitable for beginners
add_circle
Easy to control
add_circle
Decent image quality
remove_circle
Internet connection required
remove_circle
Controller comes in Chinese only
remove_circle
Heavier than other budget drones
Overview
Back in the day, you would need to use a crane to get an impressive aerial shot, and it's not the most convenient as you'd need licensed personnel to operate the heavy machinery. These days, all you need is a drone.
Grabbing aerial photos and videos is easy peasy with the A5S drone as it can deliver pictures and videos with up to 4K resolution. It also has a surround shot and a 360-degree roll to achieve the best shot possible. No shot is impossible because the A5S drone has an intelligence obstacle avoidance feature to prevent the drone from crashing onto an obstacle. In addition, an intelligent following system tracks your target without having you control it.  
A5S Drone Specifications
Image Sensor: Intelligence obstacle avoidance, optical flow sensor 

Camera: 4K HD Pixel Camera 

Photo/Video resolution: 8K High Definition  

Navigation: Double GPS/Optical Flow 

Battery: 3800mAh battery

Max Flight Distance: 3000 meters 

Max Flight Time: 30 minutes 

Weight: 1kg

Dimensions: 23.5 x 23.5 x 5 cm
Who Is This For?
The A5s drone is perfect for those looking to capture breathtaking shots from high up at a low cost. If you ever get distracted with your shots and lose control of your drone, do not fret as there is a return-to-home feature that would allow the drone to return to you.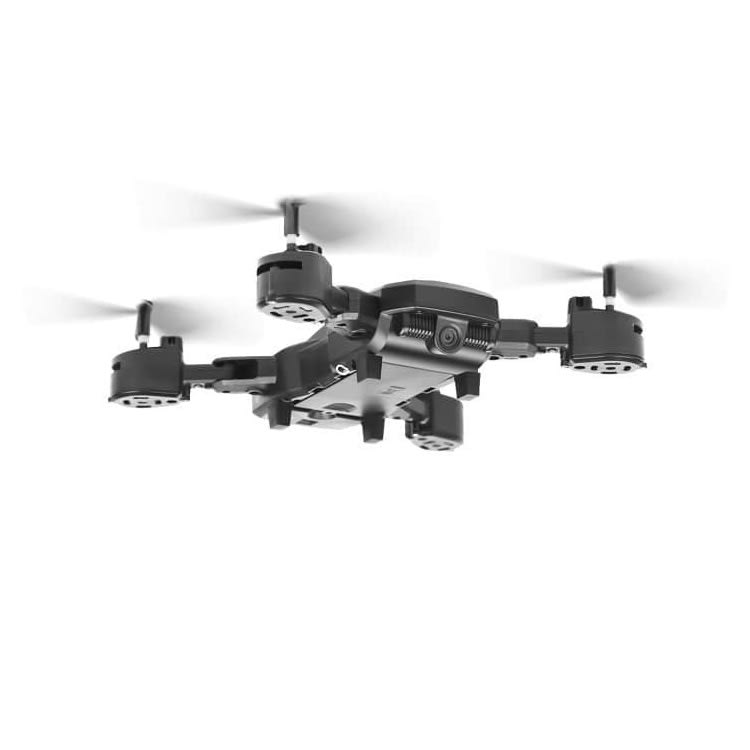 Check F185 Pro price below:
add_circle
Comes with a 4K resolution camera
add_circle
Height Hold mode
Overview
The F185 Pro comes installed with a height hold mode, which makes sure the drone can hover steadily in the air to take the perfect shot. This drone is designed to take the perfect videos as there is an infrared obstacle avoidance function. With this function, you can switch between three infrared rays and avoid obstacles as it flies, thus extending the service life of the drone. 
With VR support, you can sit in the comfort of your home and experience flying around nature at the same time, and have a tour of your neighbourhood on the air instead of being on the road. There is also a beauty filter that allows you to adjust how pretty you look in the picture before taking it. 
F185 Pro Specifications
Camera: 120-degree 4K Dual Camera 

Photo/Video resolution: 4K High Definition Resolution 

Sensing Type: 6-axis gyroscope sensor 

Battery: 3.7V 1800mAh lithium battery  

Max Flight Distance: 150 meters 

Max Flight Time: 8-12 minutes 

Weight: 92.5g

Dimensions: 21.1 x 21.4 x 4.99 cm
Who Is This For?
With VR support and a height hold mode, the F185 Pro is designed for those who enjoy flying but without the fear of crashing. Furthermore, this drone is also perfect for those wanting to know more about what's up in the sky!
FAQ
Can drones fly in the rain?
As long as your drone is certified waterproof, it's safe for you to fly it on a rainy day, but it's not advisable to do so. Drones (and generally other electrical equipment) have highly sensitive electronic parts and water could cause damage to them, leading to short circuits too. Since drones equip venting holes that expose the electronics inside, it'll be wise to not fly your drones when it rains. After all, in bad weather, the rain is not the only thing you need to worry about: wind can also blow your drone off course.
Depending on certain drones, each of them has a different range of flight distance. The mini ones could only fly in a range of around 100m, while the high-end drones can have a flight range of 4 to 8 kilometres.
Do you need a licence to fly a drone?
Simply put, in Malaysia, you can fly your drone recreationally to shoot videos and capture aerial photographs without a licence. However, there are certain laws and regulations that require you to own a drone operating permit from CAAM (Civil Aviation Authority of Malaysia) before flying it. For example, you'll need to apply for a permit if:
Your drone's weight is greater than 20 kg, so it must be registered, and you must hold either a Private Pilot Licence or a Commercial Pilot Licence.

Your drone is used for aerial work purposes such as mapping, inspection or surveying.

The drone is flying in restricted areas such as class A, B, C, or G airspaces, within an aerodrome traffic zone, at a height of more than 122 metres above the surface of the earth, and in certain locations such as Istana Negara, Putrajaya, KLCC and the Parliament.
---
Related Articles