He's popped the question and your big day is just around the corner. It is completely normal for you to be losing your mind over wedding preparations and worrying about every little thing that could go wrong.
Choosing your own wedding dress can be very stressful, and don't even get us started on bridesmaids' dresses. They have to match the wedding theme and complement the bride's dress – without drawing too much attention away from the bride. That's why we're here to help reduce the load with these stunning bridesmaid dresses that you can't say no to.
Check ZALORA Bridesmaid Multi Ways Bustier Maxi Dress price below:
Mix it up with this bridesmaid dress that can be worn multiple ways. The bandeau on this long stunning blue bridesmaid dress allows you to mix and match, so your bridesmaids can wear the same dress in different styles. Tie a criss-cross pattern around your neck or just keep it simple with a waist tie ending with a ribbon.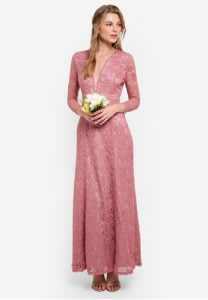 Check ZALORA Bridesmaid Deep V Neck Lace Dress price below:
Remember how Kate Middleton's wedding dress was the most talked about as it was so beautiful and elegant? If you're looking for something like that, then this is the one for you as it definitely gives off similar vibes but not too much that it steals the spotlight from the bride. The deep V-neckline on the dusty pink dress makes the dress look sexy but the long-sleeved lace arms keep it conservative and elegant.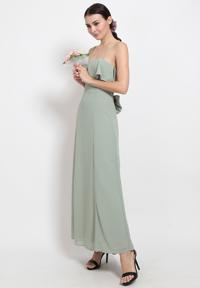 Check Lowela Bow & Fishtail Maxi Dress Bridesmaid price below:
If you're looking for something more subtle and muted, this mist green dress blends in nicely, especially at an outdoor wedding. This pastel maxi dress has a gorgeous oversized bow and fishtail detail at the back, giving this otherwise plain dress a touch of poise.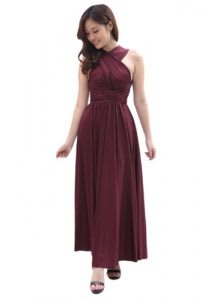 Check COVETZ Wedding Kaelyn Convertible Maxi Dress price below:
Now here's another dress that can be transformed into a million styles. Let your bridesmaids have their fun in expressing their own style with this versatile dress. This deep burgundy bridesmaid dress is also one that can be worn post-wedding to formal dinners and cocktail parties – just switch it up!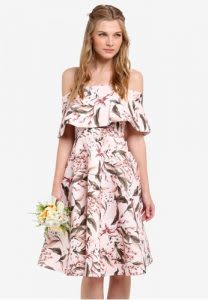 Check ZALORA Bridesmaid Off Shoulder Fit & Flare Dress price below:
These days, many couples are getting creative with their wedding venue. As creative as holding their wedding in the forest – yes, I'm not kidding. If this is something that you're going for, then a floral dress is perfect for the occasion. This off the shoulder dress is for sure to blend in with nature and the foliage, which makes it great for garden weddings as well! Plus, the short length of the dress will prevent it from getting dirty and dragging on the ground.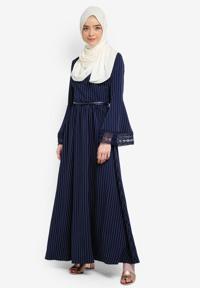 Check Zalia Lace Trim Wrap Dress price below:
If you're a little more conservative, here's a more modest dress that even Muslims can wear as a bridesmaid dress. The style of the dress may be conservative, but it is still fashionable. The little details such as the small belt around the waist and the lace trim detail on the sleeve just tie in perfectly with the whole dress.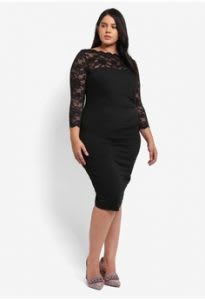 Check Goddiva Plus Size Midi Dress With Lace Neckline price below:
The struggle is real when it comes to finding a plus size dress that fits well, without compromising the style and design. No more of that as we have found the one for the plus-sized women out there! This black lace dress with a sheer lace detail at the neckline give it a sexy edge, you can even show some leg in this knee length dress.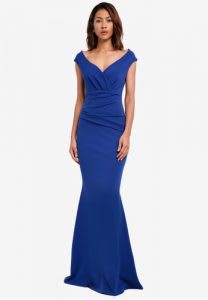 Check Goddiva Bardot Pleated Maxi Dress price below:
Going with a bright vibrant colour such as this royal blue bridesmaid dress is definitely risky. This bold colour is definitely not for everyone, but with the sweetheart neckline, it compliments the collarbones (which is sexy, by the way). This slim fit dress grips onto your curves but flares out at the legs, so your bridesmaid can still strut down the aisle with ease.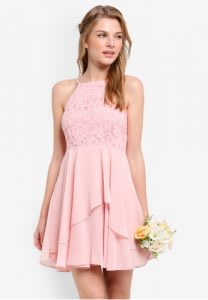 Check ZALORA Bridesmaid Lace Bodice Fit & Flare Dress price below:
Want to look effortlessly beautiful but you're on a budget? Don't worry, we've got you covered. This pink bridesmaid dress is simple, yet elegant with its lace bodice and asymmetrical detail. Walking around is no problem with this dress as it's flowy and has a relaxed fit.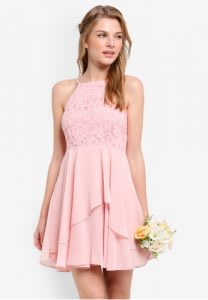 Check COVETZ Wedding Kaelyn Convertible Maxi Dress – Baby Blue price below:
Dress up your bridesmaids like Greek goddesses with this beautiful baby blue convertible dress. This dress is so versatile, you can even wear it after the wedding – don't let that money go to waste. Style it however you like by playing with the arrangement of the straps, you just have to be creative!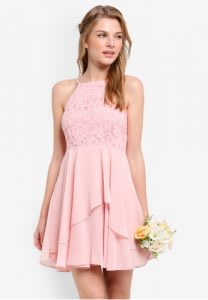 Check COVETZ Wedding Kaelyn Convertible Maxi Dress – Champagne price below:
Not only does champagne taste good, but it also looks good when worn – and this dress is proof of that. With its soft toned colour, it does not distract the attention from the bride, so this dress is definitely bride approved! This is also a convertible dress and can be styled in multiple ways.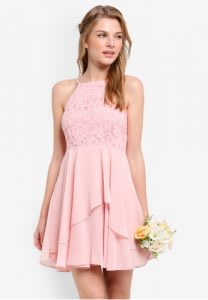 Check COVETZ Wedding Kaelyn Convertible Maxi Dress – Lilac price below:
This dreamy-looking lilac dress is practically made for weddings. Lilac is such an ethereal colour, it'll captivate the room. Another convertible dress in this list – there is no end when it comes to styling this dress. This is piece is definitely suited for modern weddings!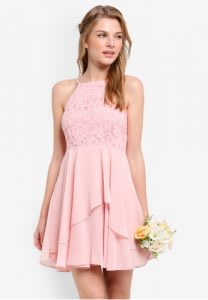 Check COVETZ Wedding Kaelyn Convertible Maxi Dress – Tiffany Mint price below:
No, we're not talking about a Tiffany ring but it's almost as good. It's a Tiffany Mint bridesmaid dress. Do you have fussy bridesmaids? Well, this dress might just be the answer to your prayers. Your bridesmaids can now choose which way to wear their dress with this convertible number – strapless, halter, double straps, and more, it's all theirs to decide!
Disclaimer: The pricing shown is just a good indication of how much these products are worth. The prices could change based on the e-commerce promotions that are going on. If some of the products are not available, do email us at [email protected] Thank you!