The MeCool M8S Pro L came in a much larger white box. Because of this, I didn't expect it to be so small. But it is – open up the box, and it fits in the palm of your hand. It's extremely compact, so right off the bat, I was impressed with its ability to fit into smaller spaces in a nondescript manner – and its all-black exterior won't ruin any aesthetic you've already got going on.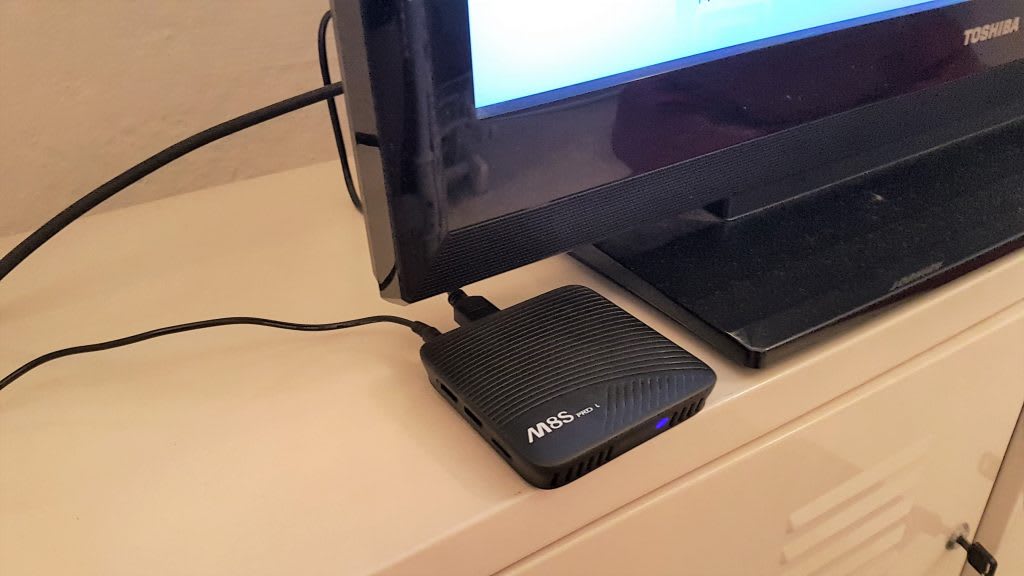 We were off to a good start. But how did it stack up against its larger counterparts? Was it able to stream that latest episode of American Crime Story with the best of them? I'm also an avid believer in the "connect your laptop to the TV via HDMI cable method" – would it convert me? I put it through the wringer – just to tell you how it worked out for me. Here's my review of the MeCool M8S Pro L Android Box.
Uh… What's an Android Box?
My sentiments exactly. Essentially, an Android Box is a device that turns even the most basic TV into a smart TV. Simply connect it to the Internet, hook it up to your TV, and there you go – sorted!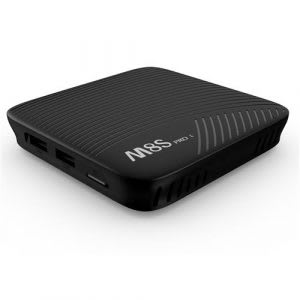 This. This is an Android TV Box.
Many Android Boxes offer different services, depending on what you want to do. There are Android Boxes that cater to watching sports or the latest movies, custom music entertainment systems set up via your TV, or simply playing video games.
It's called an Android Box because it runs Android software (usually a version or two behind the latest updates) – sorry, Apple fans. Still, you don't have to have an Android smartphone to use an Android Box, so if you've been wanting a smart TV but don't have the budget to make this dream a reality, then consider getting an Android Box.
If you're still really pressed about it, though, then maybe you should consider getting an Apple TV.
Anyway, tell us about the one you used!
We were sent an Android Box from a seller on Lazada. As I mentioned, I expected it to be a lot bigger than it was. I was pleasantly surprised when it fit into the palm of my hand. In the box, you'll find a remote control for your Android Box and all the necessary cables and wires to connect it to your TV. There's also a little instruction booklet to teach you the basics.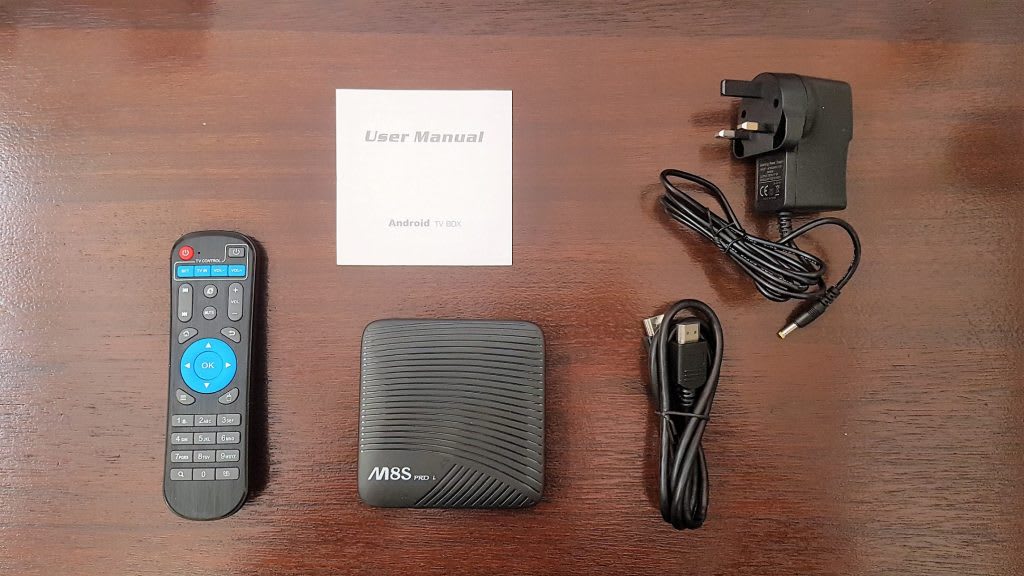 What you're not seeing is the number of times the HDMI cable zapped me as I tried to set it up.
The setup was simple enough. I connected a couple of wires, sorted out the Android Box's Internet connection – and that was it! We were good to go. Of course, this process might not be as easy for people with lower Internet bandwidth, especially since the MeCool M8S Pro L is said to operate best on Internet speeds of 4MBPS and up. If that's not possible, your viewing process will definitely be more than a little pixelated.
Specs
| | |
| --- | --- |
| CPU | 8 Core |
| RAM | 3 GB |
| FPS | 4K, 60 FPS |
| ROM | 32 GB – 25 GB available for use |
The easy setup, however, makes it a great product for people with older family members. You know; people who don't know how to download or stream things on their laptops. Set this up for them and leave them to it. You can even download additional apps to keep them happy and occupied. The MeCool M8S Pro L is operated via its own remote controller. This means they won't have to worry about fussing with unfamiliar devices. It's as easy as they come.
Did you mention apps?
I did! Since the Android Box operates on Android OS, it comes a number of Android apps pre-installed. There's the Google Play Store, and APK Installer – two Android must-haves. There's also Netflix and iFlix for all your TV needs, both Malaysian and international! For everything that isn't on these streaming services, there's Kodi. Now your grandma can catch up on her Bollywood films, or her favourite K-Dramas.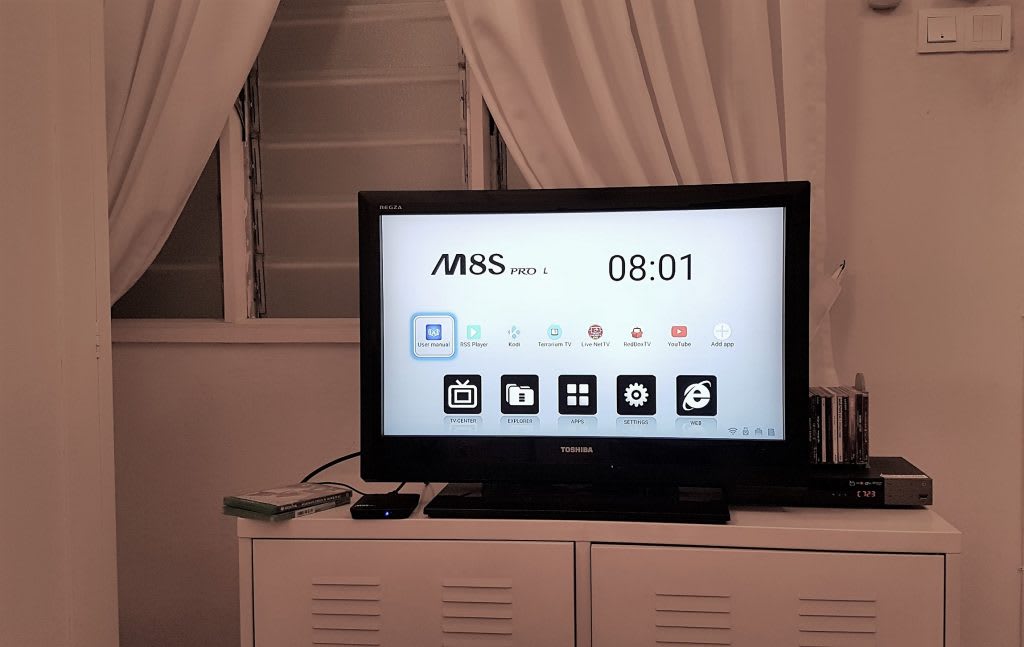 Look at all these apps!
You're also equipped with Mega Box for Korean movies, and Terrarium TV for the latest TV shows. You'll also find Newest Movie HD for... you guessed it, the latest movies, and Kokotime, which lets you watch both movies and TV shows for free. All these apps should be enough to keep you occupied. Be warned, though; many of these apps operate in tandem with torrenting sites, so copies of new movies aren't always clear. It might be more convenient to wait a little while and watch them when HD copies are available.
If these apps aren't enough, or you're purchasing this Android Box for the purpose of gaming, the MeCool M8S Pro L is equipped with 32 GB of internal memory (of which 25GB is available) for the rest of your app needs!
But really… what are your thoughts?
Interesting question. As I've mentioned, I'm partial to using my laptop to download and stream movies and TV shows. If I'm watching something with family or friends, connecting my laptop to the TV via HDMI cable is foolproof. However, the process of lugging my laptop over to the TV, connecting it, and then disconnecting it can get old, really fast.
The MeCool M8S Pro L was convenient for accessing the latest movies and newest episodes of my favourite TV shows. Once it was plugged in and connected to the Internet, there was no need to disconnect it after I'd had my fill of Brooklyn Nine-Nine. Plus, its tiny black form was so inconspicuous that it took three days for anyone to notice and ask me what it was!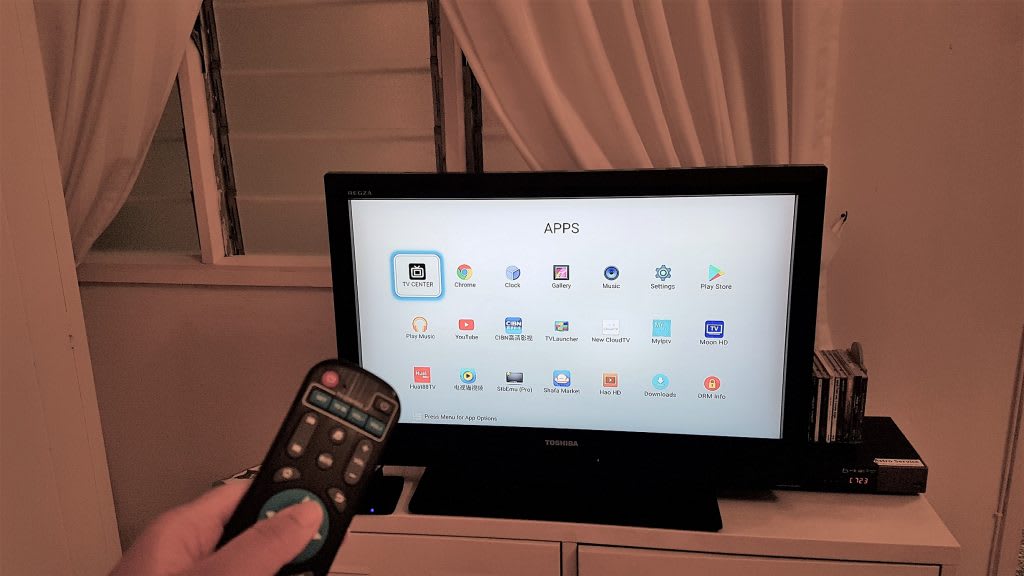 Attempting to make things happen.
Once I found that I could download some of my favourite movies right onto the MeCool M8S Pro L, I was sorted. I watched The Royal Tenenbaums and the Ghostbusters remake, enjoying the crystal-clear display thoroughly. If my TV had been any bigger, it probably would've felt like I was right there, part of a severely dysfunctional white family, or fighting ghosts alongside Kristen Wiig.
Is there anything bad about it?
Well, yes. While there were many positives to the MeCool M8S Pro L, there were some aspects that I decidedly didn't enjoy. The retail page on Lazada advises you that if you're installing your Android Box, you should have an Internet speed of 4MBPS to ensure that your vision is going to be crystal clear.
I was able to achieve this Internet speed, but I still found many of the TV shows I streamed to be shown in less-than HD. It's also got to be said that many Malaysian Internet service providers aren't up to achieving this speed. This reduces the MeCool M8S Pro L to just another streaming device, incapable of HD viewing.
I also found the lack of a keyboard to be a little frustrating. I know, I know – there are plenty of wireless keyboards out there that I can purchase to go with this, but many other Android Boxes come with a keyboard built into the remote for easy searching and viewing. Still, if the MeCool M8S Pro L came with one, I'd probably never get off YouTube, so I suppose it's for the best.
So… What's the verdict?
Sure, I understand why someone would want an Android Box – I get the appeal. They're compact, easy to install and operate, and in some circumstances, they can work really, really well. However, personally, I felt like this one was more trouble than it was worth. Until someone can provide me with an Android Box that'll broadcast all the glorious blood and gore of Sharknado all over my TV screen, I'll stick to plugging the HDMI cable into the laptop.
However, if you're in need of a quick fix, and someone you know doesn't know how to operate a laptop but wants to watch their TV shows – this is the perfect thing for them. Also, if you'd like to have a look at other options, do check out our list of the best android boxes in Malaysia.
Disclaimer: The pricing shown is just a good indication of how much these products are worth. The prices could change based on the e-commerce promotions that are going on. If some of the products are not available, do email us at [email protected] Thank you!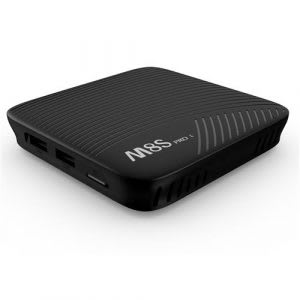 From

RM329.00
Check Mecool M8S Pro L Smart Android TV Box price below:
add_circle
Offers a multitude of TV shows and movies with a one-time payment
add_circle
Compact exterior and neutral colour – it goes with any pre-existing entertainment set up
add_circle
Numerous apps can be installed; games, movie apps, your only limit is your imagination
add_circle
Extremely easy to use – access it with a click of the remote
add_circle
You're guaranteed after-sales service, if something goes wrong
remove_circle
TV shows and movies might not be in HD, depending on Internet speeds
remove_circle
Due to its promised performance and its small size, it might overheat on occasion
remove_circle
For some apps, such as Netflix or iFlix, a subscription is still required
remove_circle
You don't have the freedom of a keyboard with this package, but a compatible wireless keyboard can be purchased
remove_circle
Slow response time between remote control commands and screen reaction, which probably won't be fixed by after-sales service
Android TV Boxes are a great concept, but this one from MeCool has a long way to go before it's a convenient device, broadcasting crystal-clear TV shows and movies.