Technology is aggressively upgrading everything, and skateboards are no exception. With electric motors and batteries becoming smaller but more powerful, kicks are no longer the only means to move your board.
Thanks to the availability of electric skateboards, you can now travel and glide without breaking a sweat. Here are our top 6 electric skateboards that are reliable, safe, and worth the money.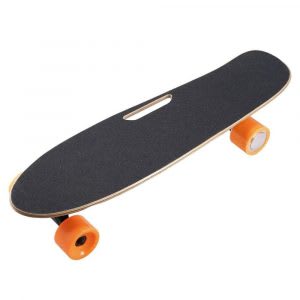 Check Gift 4 Wheel Electric Skateboard price below:
The first one on our list is super affordable, but that doesn't mean it's a low-quality electric skateboard; it's more of a staple. Granted it's not going to amaze the pros, but it will do more than enough for the average consumer.
This board's maximum range is 10 kilometres, and its top speed is around 15 km/h. Depending on your weight though, its speed and range vary – the heavier you are, the slower it gets. It can take on a 120-kilogram person, but that's the limit.
Although there's nothing fancy when it comes to how fast and far it can go, it's lightweight so you can perform a few tricks like an ollie. Plus, it's small and has a handle so you can carry it around easily.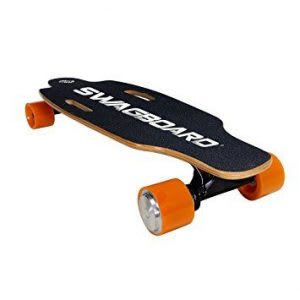 Check Swagboard NG-1 price below:
If you're all about cruising and none of the jumps, the SwagBoard NG-1 by SWAGTRON is for you. It's more of a longboard, so it's easier to balance and has a faster speed.
The SwagBoard is able to clock in 17 km/h, and it's even faster on a flat surface or downhill. It also has a better range (15 kilometres) than the first product. Additionally, its deck is made from Canadian maple wood, so it can take a beating if ever you want to practice some tricks on it – but it's not going to be easy.
The best part we love about this board is its remote control. It has a feature that allows you to choose a certain speed and lock onto it, but the brakes need some getting used to as it's a bit abrupt. Nonetheless, you can glide and have fun without keeping your focus on the throttle.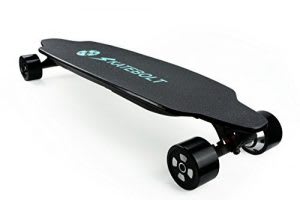 Check Skatebolt price below:
The next electric skateboard is all about speed, the Skatebolt. For starters, it's the only one on this list that can go up to 40 km/h smoothly. To put that into perspective, that's the same speed as a galloping horse. Plus, it has an excellent 25-kilometre range.
Aside from its superior speed, it also has a durable deck and a magnificent build. As a result of that, it can support up to 130 kilograms of weight. But, perhaps, the most surprising feature is its smooth brake system – even at such speed, it's able to stop gently.
The Skatebolt is an electric skateboard that can probably replace your motorcycle. However, there are just two problems. First, it's huge and heavy (around 9 kilograms excluding its charger and remote). Second, it's expensive. But if you want to commute in a fast, enjoyable way, we can't recommend anything else more suitable than this.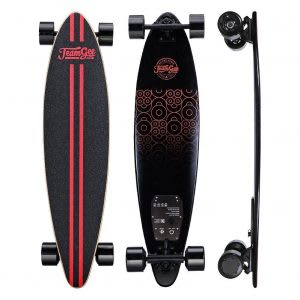 Check Teamgee Electric Skateboard price below:
There's only one electric skateboard on this list or in the entire market today that's as slim as a regular board, and that is the Teamgee Electric Skateboard. First of all, it's far from cheap; it'll cost you about RM 5,000.00. But if you're okay with that, you're going to love its classic appearance.
Its deck, wheels, and trucks are all made from high-quality materials. Moreover, it's got a very catchy print that's going to get a lot of attention. Aside from its looks, you'll also appreciate its top speed (30 km/h). Although it only has a maximum range of 16 kilometres due to its slim design, it's going to allow you to easily do a number of tricks.
The Teamgee also has two useful features: a taillight to keep you safe at night and regenerative braking to help extend battery life on downward slopes. So you'll probably get more than 16 kilometres as long as you hit the brakes from time to time.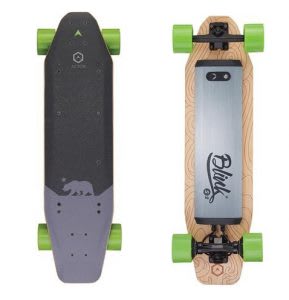 Check Acton Blink S price below:
Do you recall the second product, the Swagboard NG-1? Well, this skateboard is the complete opposite of that, the Acton Blink S. If you're the type who loves to kickflip and do 360s here and there, this board won't let you down.
We've mentioned lightweight on a number of boards on this list as a positive attribute, but the Acton Blink S just kills it with a stunning 4.9-kilogram weight (it's the lightest of the bunch). That means it's just around a kilogram heavier than a regular board. Even though it's super lightweight, it can still support a 110-kilogram person.
Here are the not-so-good things about it though. One, it's slow for RM 4,700.00; its top speed is just around 24 km/h. Two, it only has an 11-kilometre range, which is quite disappointing at that price point. Nonetheless, it gives you a dependable push to help you heelflip or do whatever fancy trick you want to do effortlessly.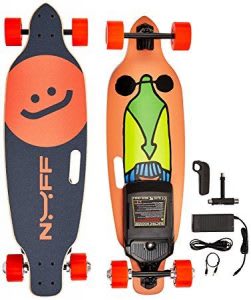 Check NUFF Electric Skateboard price below:
Last on our list is a well-balanced mid-range electric skateboard that's not too expensive or too cheap, the NUFF Electric Skateboard. First things first, it has an impressive speed of up to 38 km/h and a maximum range of up to 20 kilometres. It's also got some attractive style to it and a handy handle for a more convenient carry.
This electric skateboard, however, can do very limited tricks due to its weight. It's about 11 kilograms, which is heavy and a bit annoying when carrying it for an extended time. Also, it has a very bulky battery, and it may sometimes hit the ground when riding on uneven surfaces.
But overall, it's more than enough for a pleasurable commute. If you want a versatile board that's not going to break the bank, this board is for you.
Disclaimer: The pricing shown is just a good indication of how much these products are worth. The prices could change based on the e-commerce promotions that are going on. If some of the products are not available, do email us at [email protected] Thank you!